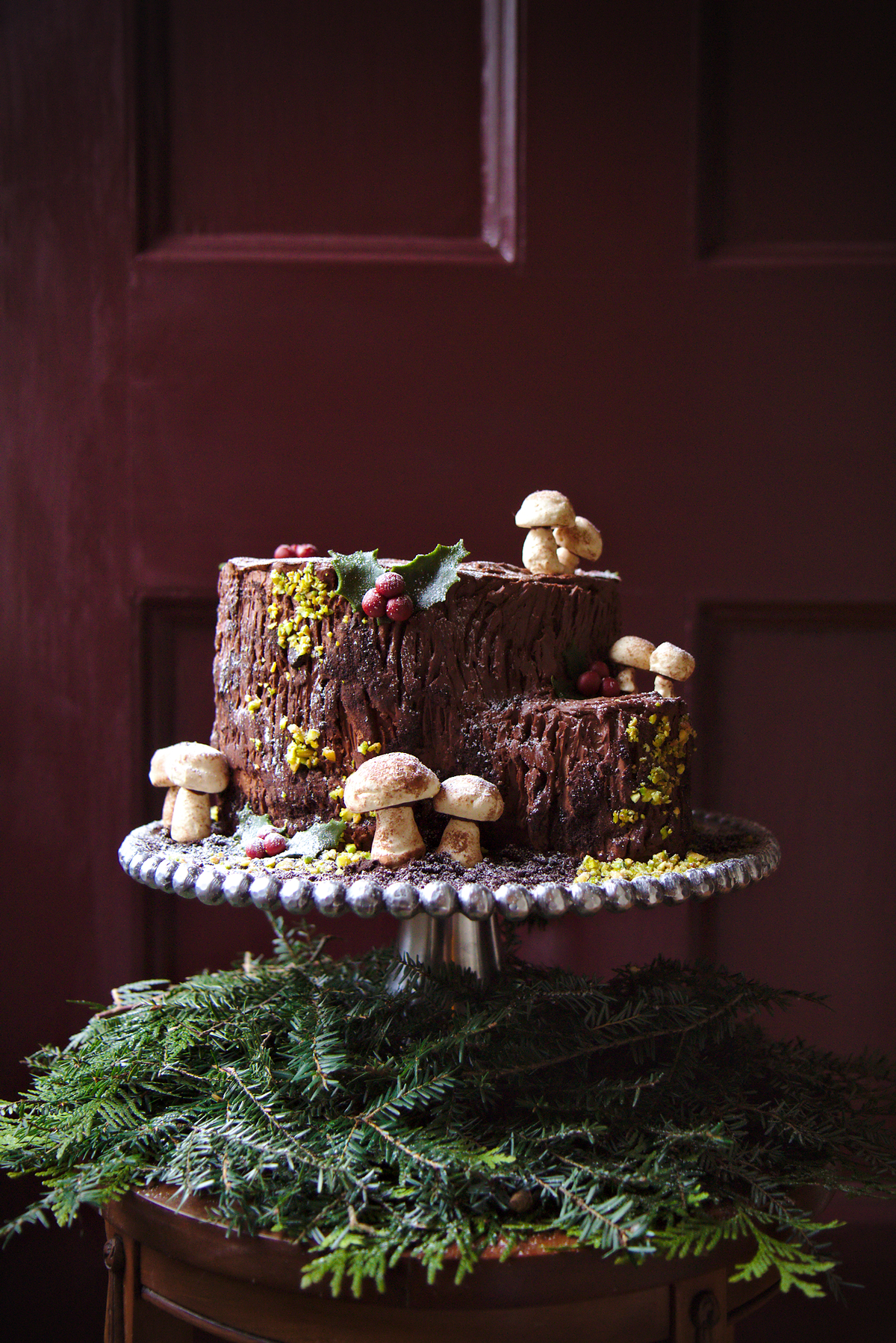 Mais non, mes chéris, pas une bûche!  Vraiment une souche!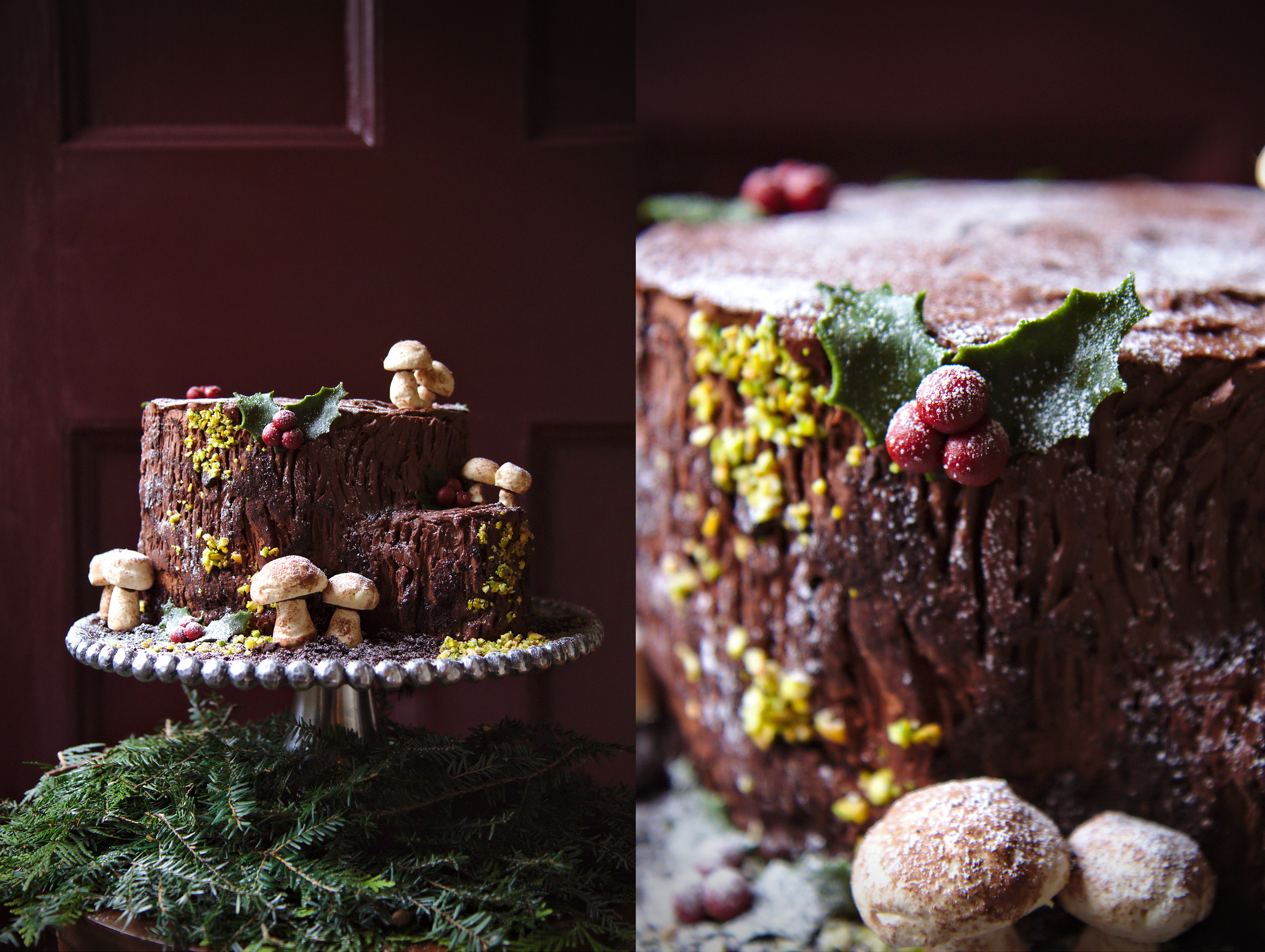 That's right, we just upended the Yule log—literally.
Took the classic bûche de Noël and made it into a souche de Noël.
A stump!  A stump de Noël.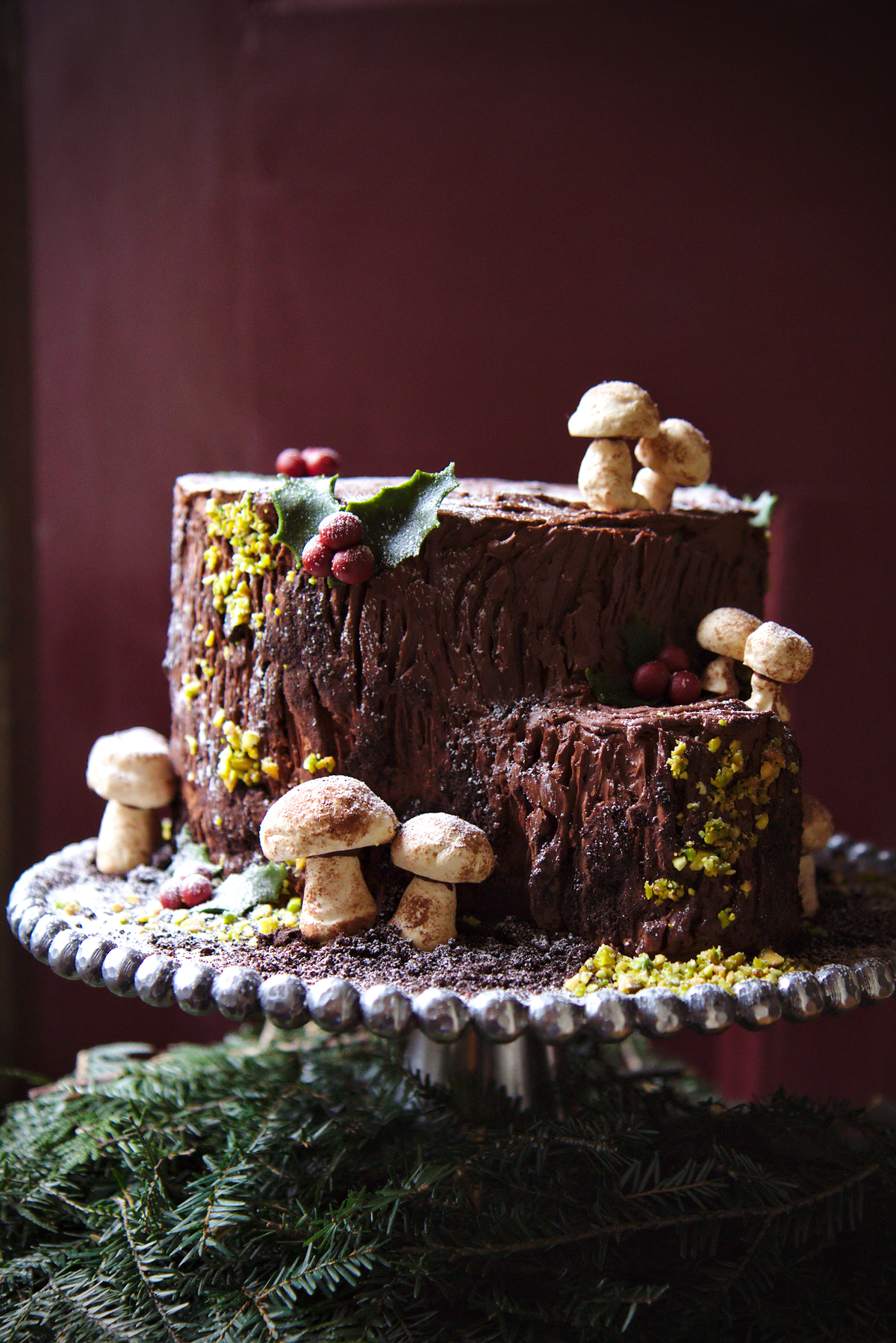 This cake is an endeavor.  It's intricate; it's large.
But while detailed, it's also charmingly rustic.
It doesn't have to be perfectly made—rough scratches around the bark make it all the more realistic.
Fallen moss and dirt add character to the forest floor.
Crooked mushrooms—perfect.  They don't pop out of the ground white and symmetrical, after all.
Basically, this cake can be a little rough around the edges and still sparkle and shine.
The whole is much greater than the sum of the parts.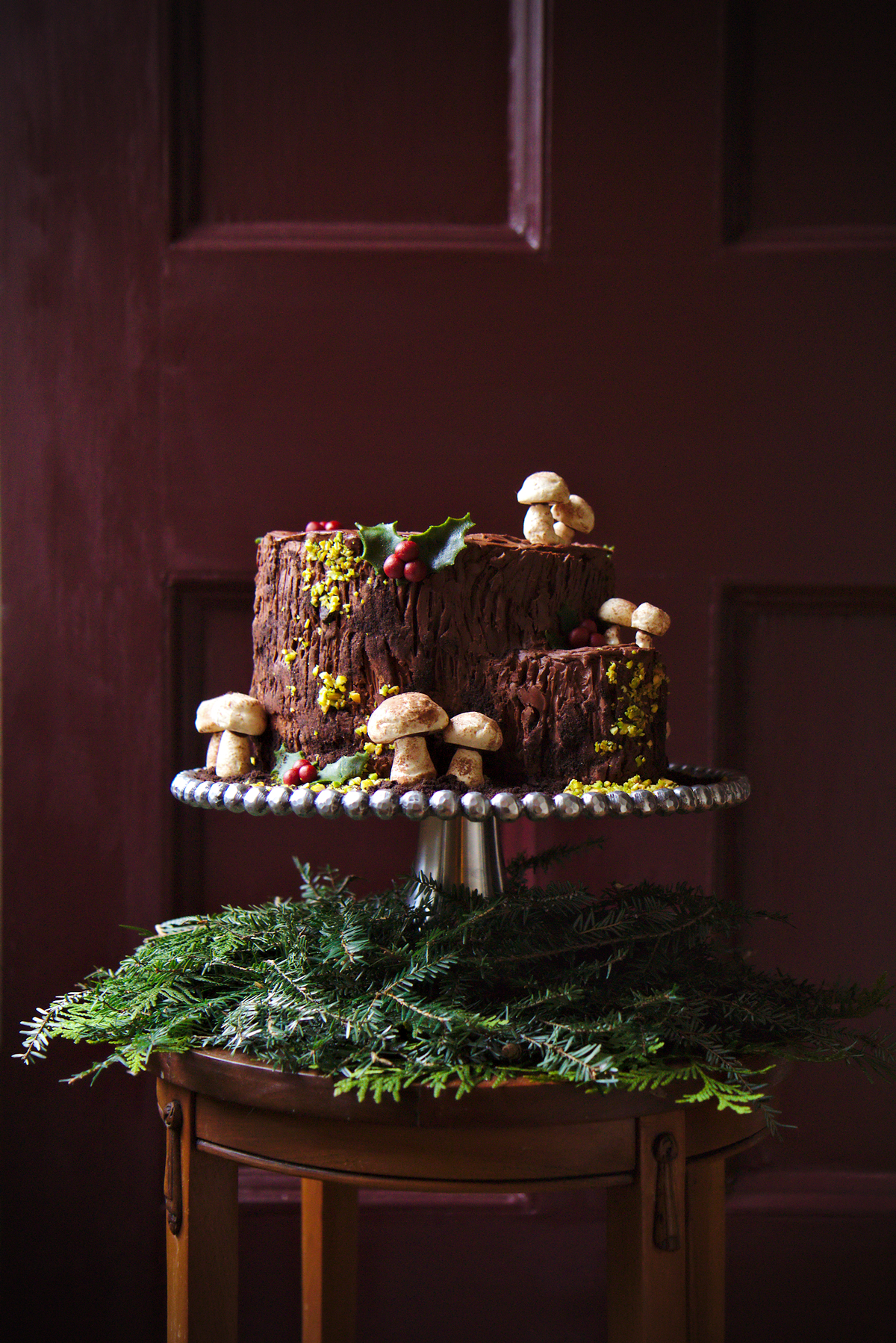 The first component of the cake is a buttery, yolk-rich eggnog cake, redolent with nutmeg and whiskey (traditionally rum, but peruse your own liquor cabinets for anything boozy).
It comes out of the oven as fragrant as can be.
Brushing with maple-whiskey syrup adds more flavor and ensures that the cake stays moist.
It also adds a nice kick, hey-o!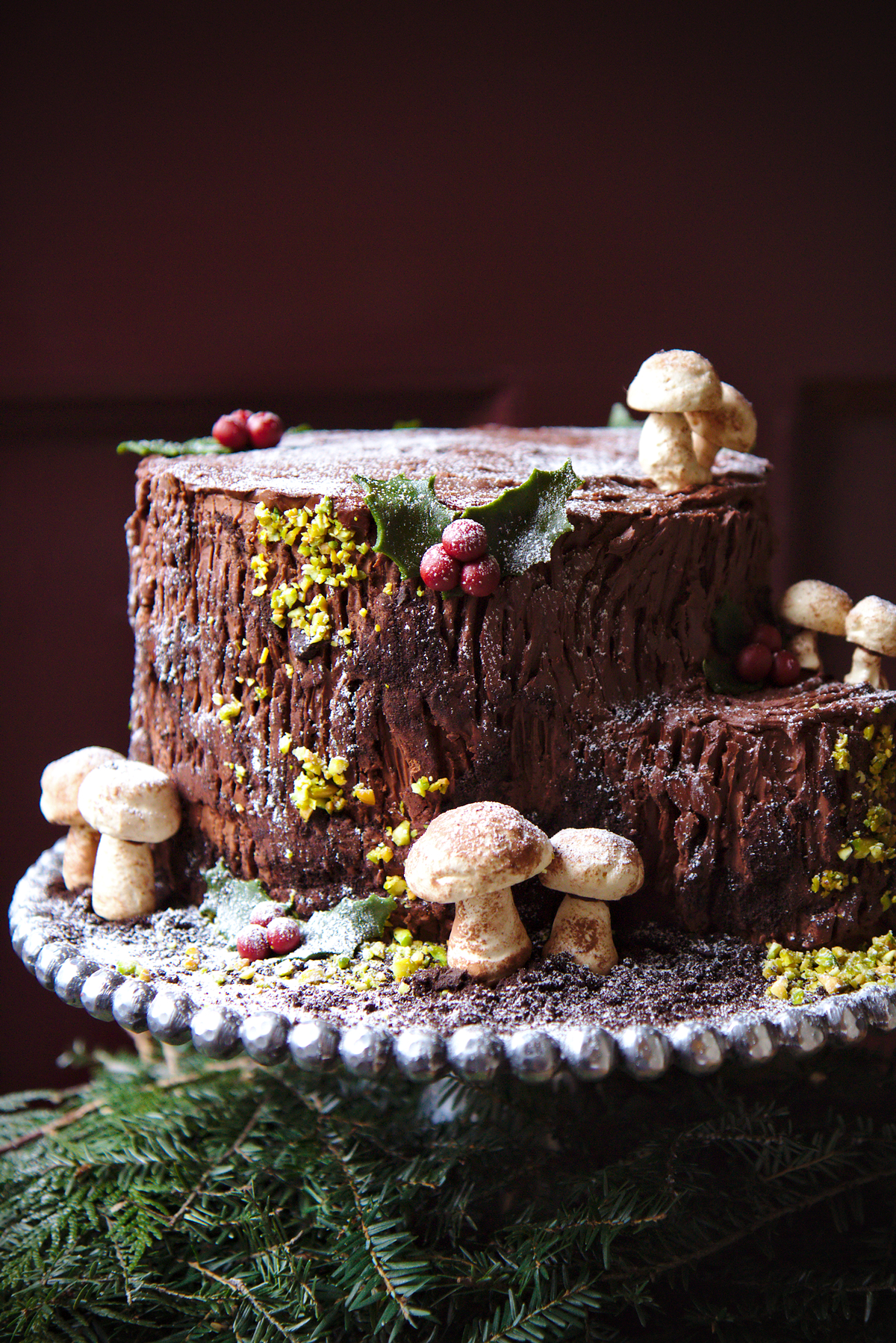 The whipped ganache that covers the cake is rich and thick, with a touch of salt and deep, dark bittersweet chocolate.
The cream keeps it light and fluffy, so that you don't have a big brick of solid ganache bark.
The dirt is made from chocolate cookie crumbs and the moss from chopped pistachios.  Both add a little crunch and texture and a realistic touch.
Also, both are good to snack on.  Just saying.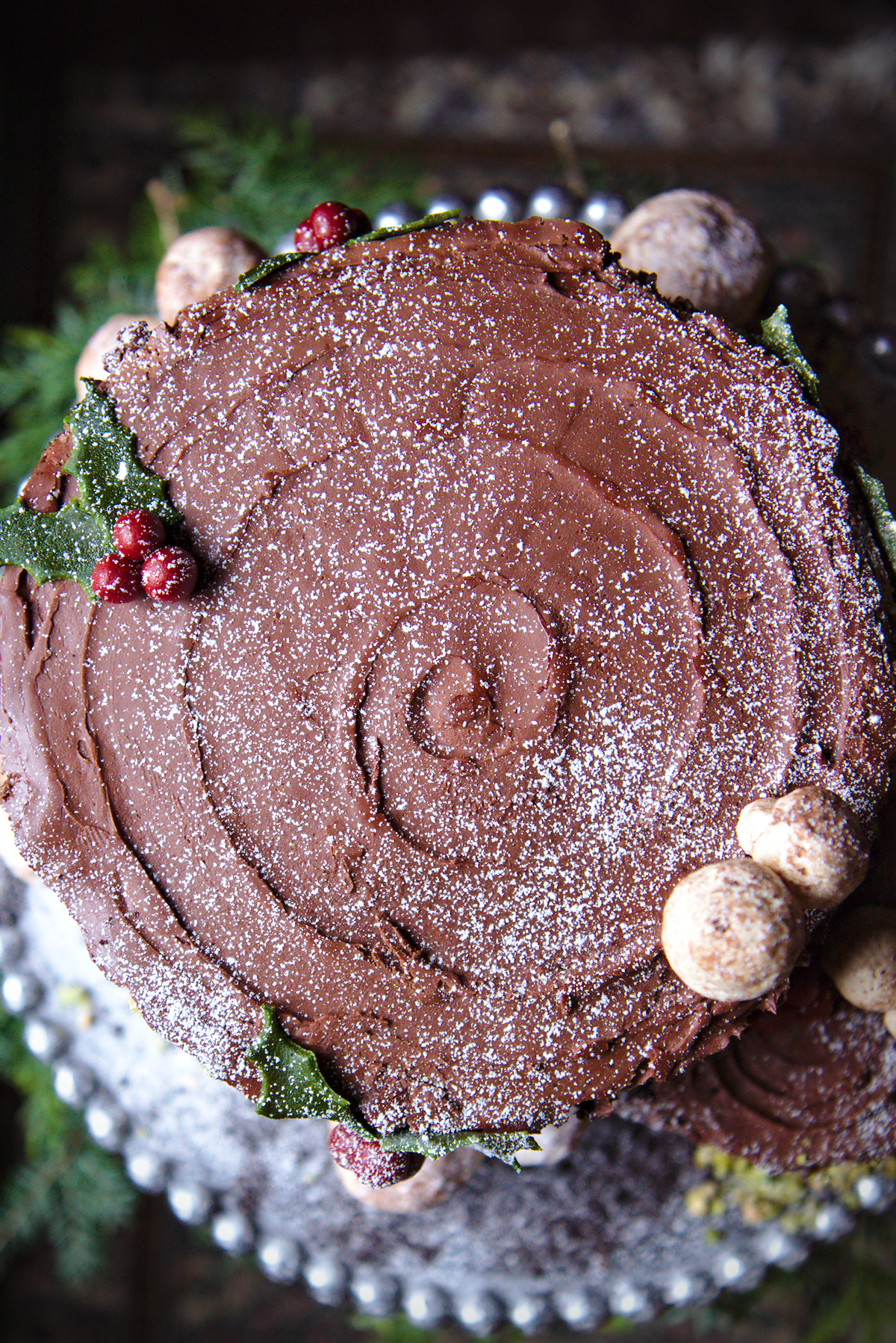 The final touches are the mushrooms and the holly branches.
The mushrooms are made of Italian meringue, dried in the oven until super crunchy and crispy.
They're sweet and soft on the inside, like marshmallows, but have a crisp shell which is brushed lightly with cocoa powder to mimic real mushrooms.
I got the idea from the wonderful, brilliant Stella of Bravetart.
They're pretty damn cute, I must say.
The holly branches are made of marzipan, colored with a touch of cocoa for depth and plenty of food coloring.
I'm addicted to marzipan—the sweet almond taste is so good!  When you add a hint of cocoa, it only gets better.
Adding a tiny bit of cocoa is a great way to deepen the color of food coloring and make it seem more realistic.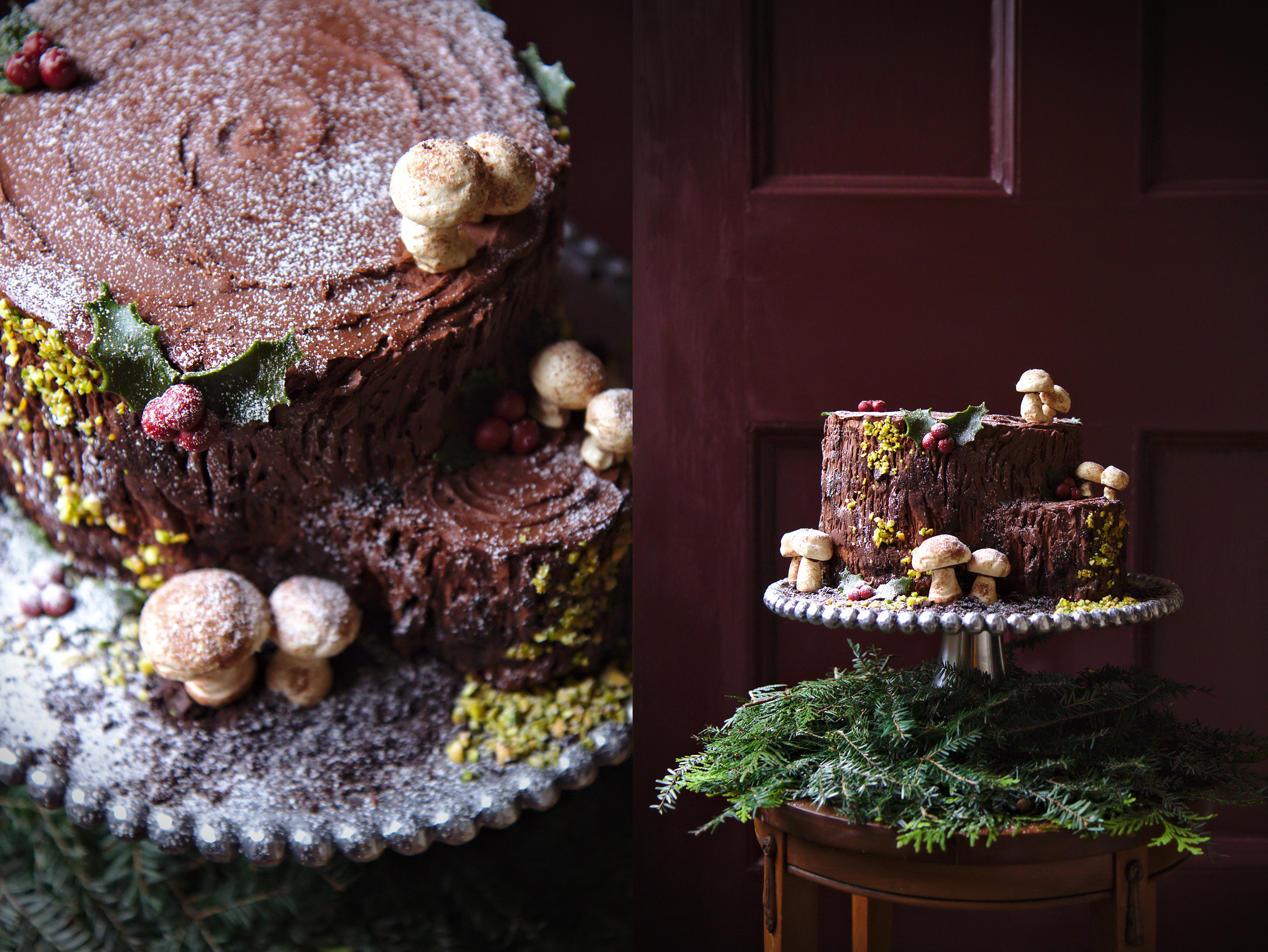 The end result is five layers of golden cake, wrapped in dark chocolate ganache and garnished with magical little touches of the forest.
A sprinkling of snow brings the whole thing to life—it's an enchanted cake, really.
It's also a showstopper.  Definitely worthy of Christmas dinner, the necessary showpiece dessert that sparkles and shines and captures all eyes.
It may be a bit of work, but not much more than any regular layer cake.  And in my humble opinion, it's worth it.
It's a cake to show off and take many pictures with; it's a cake of which to be very, very proud.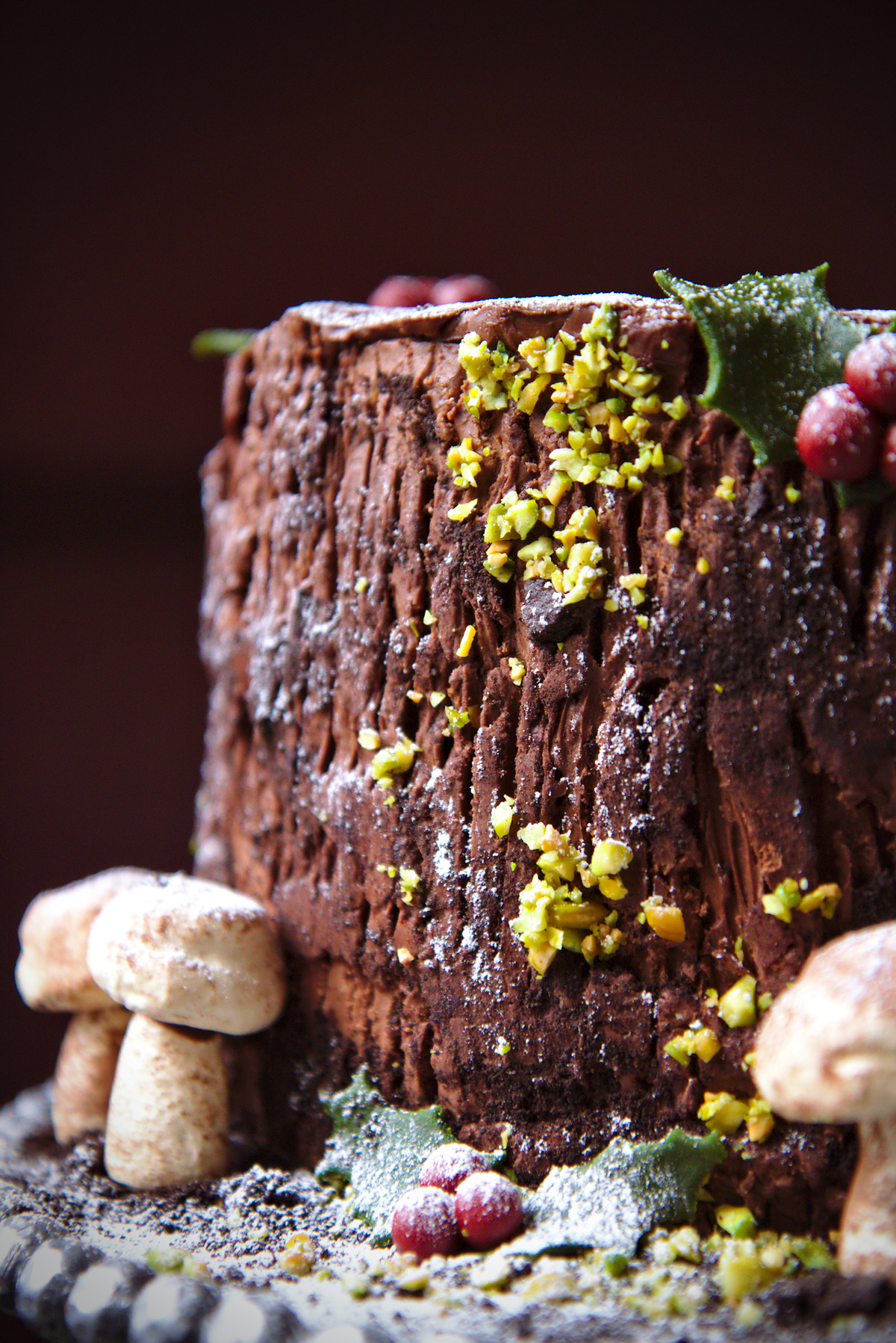 "'Twas the night before Christmas, when all through the house
Not a creature was stirring, not even a mouse;
The stockings were hung by the chimney with care,
In hopes that St. Nicholas soon would be there;
The children were nestled all snug in their beds;
While visions of sugar-plums danced in their heads…"
—A Visit from Saint Nicholas, Clement Clarke Moore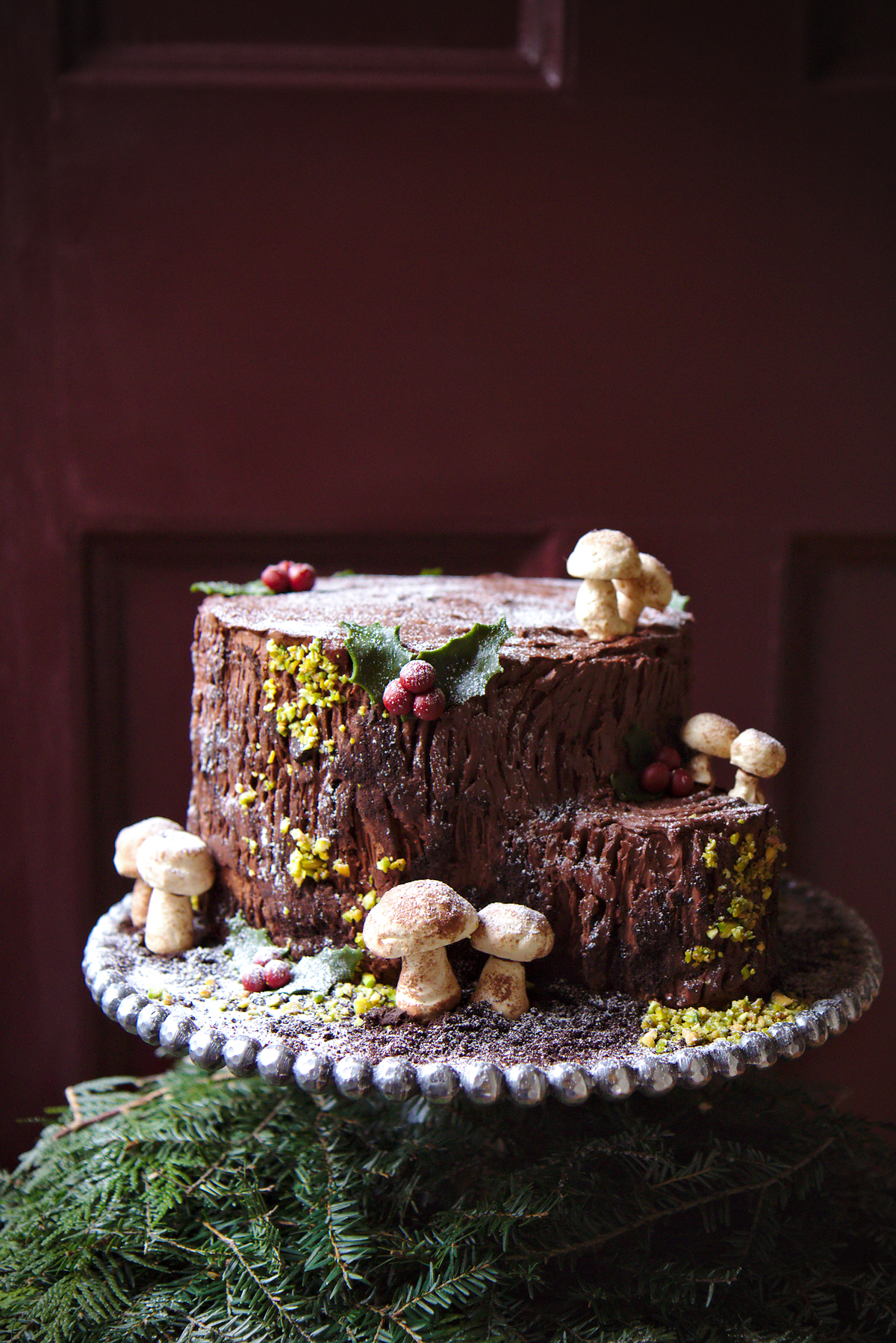 Happy Christmas to all, and to all a good night!
Love, your resident holiday-crazed blogger.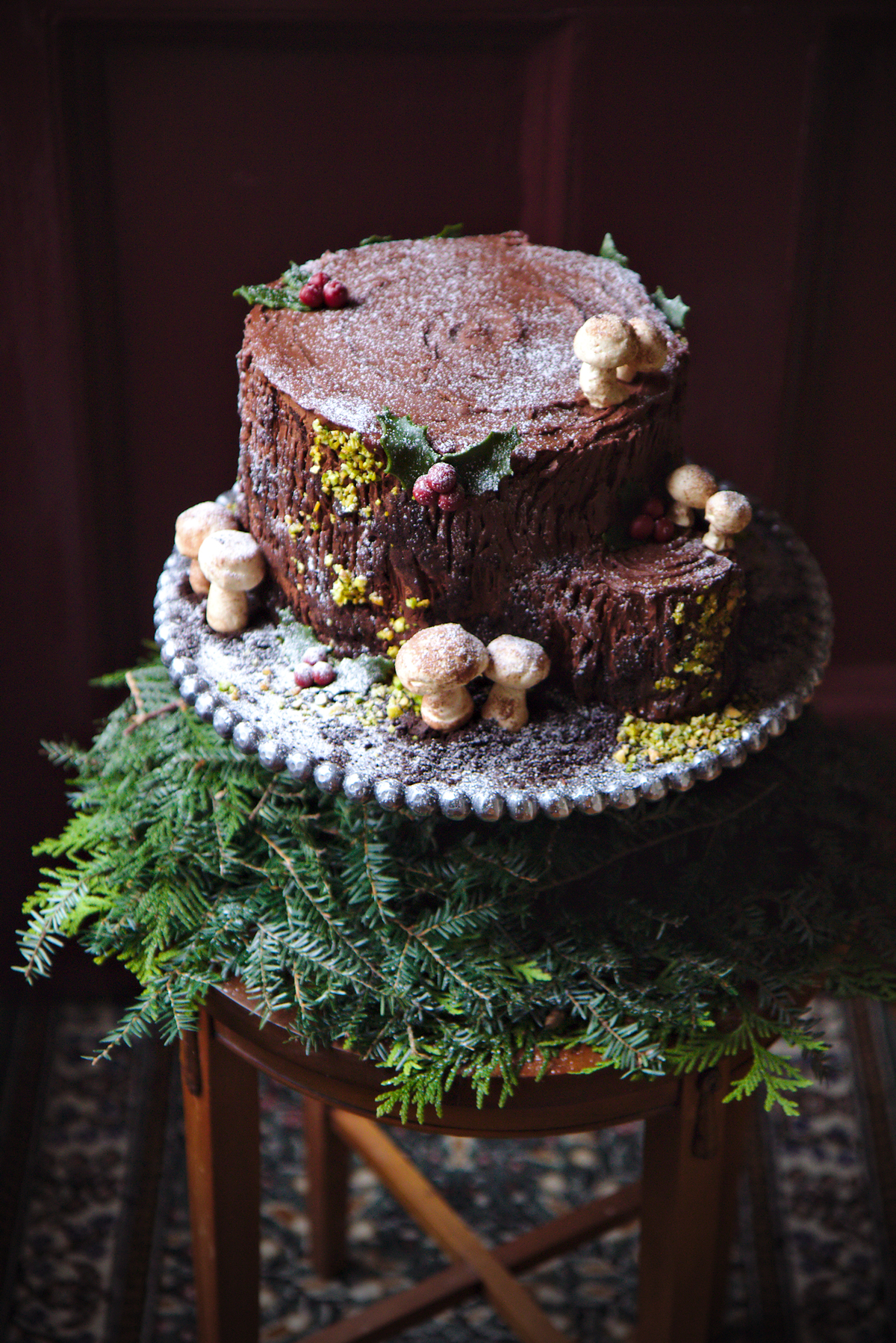 Souche (Stump) de Noël
cake portion adapted from Joy of Baking
makes 1 large 8-inch cake
for the eggnog cake (you'll need 1.5 times this recipe, to make 5 8-inch layers and 4 cupcakes):
2 2/3 cup (260 grams) all-purpose flour
1/3 cup (40 grams) cornstarch
3 1/2 teaspoons baking powder
3/4 cup (170 grams) butter, soft
3/4 teaspoon kosher salt
1 1/3 cups (265 grams) sugar
1/4 teaspoon freshly grated nutmeg
6 large egg yolks (110 grams)
2 tablespoons (30 mL) rum or whiskey
1 tablespoon (15 mL) vanilla extract
1 cup (240 mL) milk
for the maple soak:
1/3 cup (80 mL) maple syrup
2 tablespoons (30 mL) whiskey or rum
for the whipped ganache (may need to double; a reader found she needed approximately twice as much frosting):
18 ounces (500 grams) bittersweet chocolate
2 pinches kosher salt
2 cups (500 mL) heavy cream
for the meringue mushrooms:
3 egg whites
small pinch cream of tartar
3/4 cup (300 grams) sugar
pinch of salt
1/4 cup (60 mL) water
cocoa powder, for dusting
to assemble:
marzipan holly branches
chopped skinned pistachios
crushed chocolate cookies
powdered sugar, for dusting
directions:
Make the cake: grease and flour 4 8-inch round pans and preheat the oven to 350 degrees F.
Beat the butter for 3 full minutes, until light and fluffy.
Scrape the sides of the bowl, add the sugar, nutmeg, and salt and beat for 3 more minutes.
Add in the eggs and beat for 5 full minutes, until mixture is fluffy, shiny, and pale white—it shouldn't be gritty.
Whisk vanilla extract, milk, and whiskey then beat slowly until partway combined.
Place the flour, cornstarch and baking powder on top of the batter, then gently stir to combine everything, making sure to scrape the sides of the bowl.
Portion batter out into the prepared pans and bake for 20-25 minutes, until springy to the touch and a tester comes out clean.
Allow cakes to cool completely. (You'll need to make another half-batch of batter, baking 1 8-inch round and 4 cupcakes.)
Meanwhile, bring maple syrup and whiskey to a boil, then immediately remove from the heat and allow to cool.
Brush cooled cakes with the whiskey syrup.
Make the chocolate ganache: chop chocolate finely and place in a bowl with the salt.
Heat cream to boiling, then pour over the chocolate and let sit for 4 minutes.
Whisk the chocolate and cream together, starting slowly, speeding up until the ganache is smooth and shiny.
Allow to cool until room temperature, then whip with a mixer until fluffy.
Frost two cupcakes into a tower to make the small stump; put 1/3 cup frosting between each layer and also place a crumb coat on the cake.
Using the rest of the frosting generously, to frost the cake roughly.
Use a fork to scrape the sides to look like bark, and swirl the top to look like the top of a stump.
To make the meringue mushrooms, preheat oven to 225 degrees F.
Place egg whites and cream of tartar in the bowl of a stand mixer fitted with a whisk attachment.
Place sugar, water, and salt in a small pot over medium heat.
Start to whisk the egg whites.
By the time the egg whites are at stiff peaks, the syrup should be at 240-245 degrees F.
Pour the hot syrup into the meringue while whisking at high speed.
Pipe the meringue into stem and cap shapes on parchment paper-lined sheets.
Bake for 2 hours, turning the oven to 175 degrees F after 90 minutes.
Allow to dry in the oven until mushrooms peel off the parchment paper.
Dust the caps with cocoa powder and rub in with your fingers.
Use your cocoa-y hands to lightly rub the stems to make them slightly colored too.
Decorate the stump with chocolate cookie crumbs around the bottom, pressing some into the sides of the cake.
Place mushrooms and holly branches around the cake, and press some chopped pistachios into the bark to be "moss."
Dust a little powdered sugar over the top, and then impress all your friends and family with your very own stump de Noël!