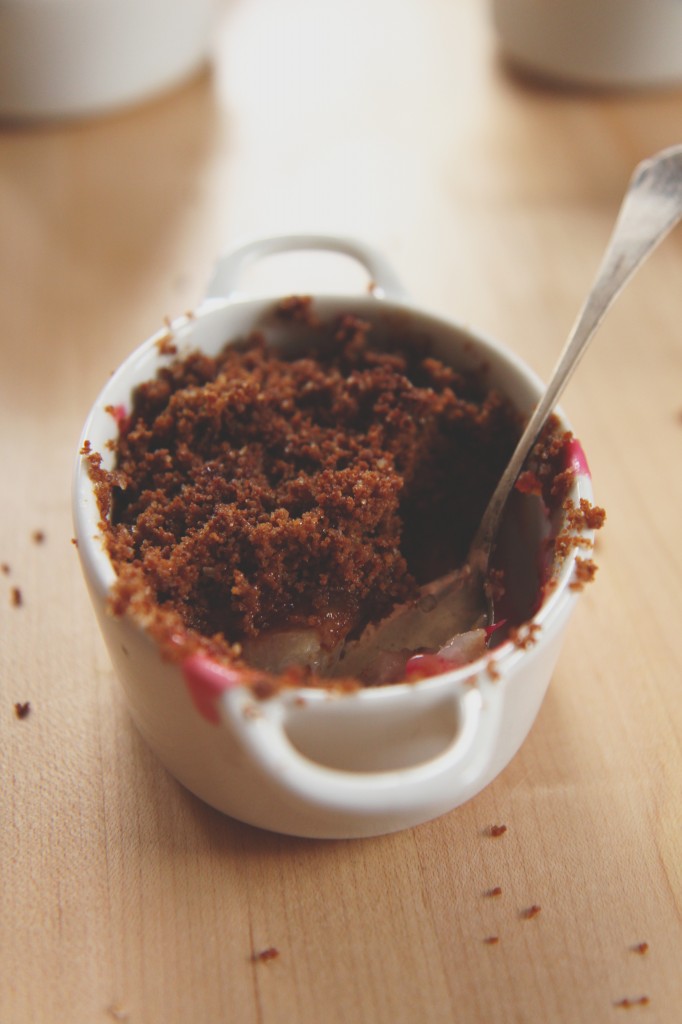 Snorfle, sniffle, slurp.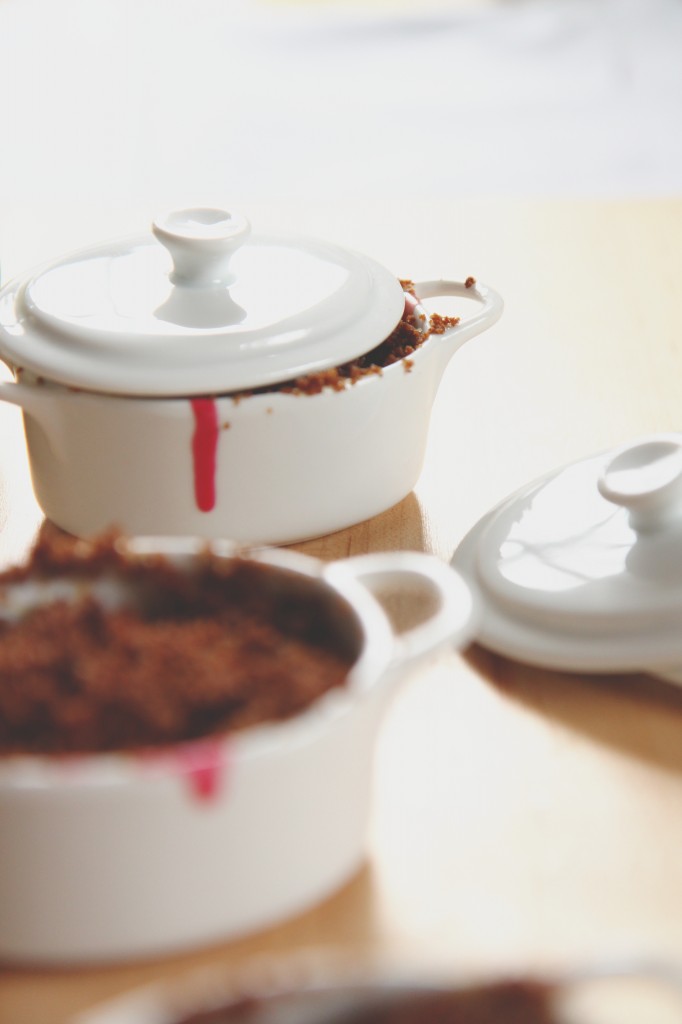 Can we take a moment to appreciate the ridiculous names bestowed upon cobblers, crisps, and the like?
Betty, buckle, cobbler, crisp, crumble, grunt, pandowdy, slump, zonker(????).
whaaaaaaaaa why why why why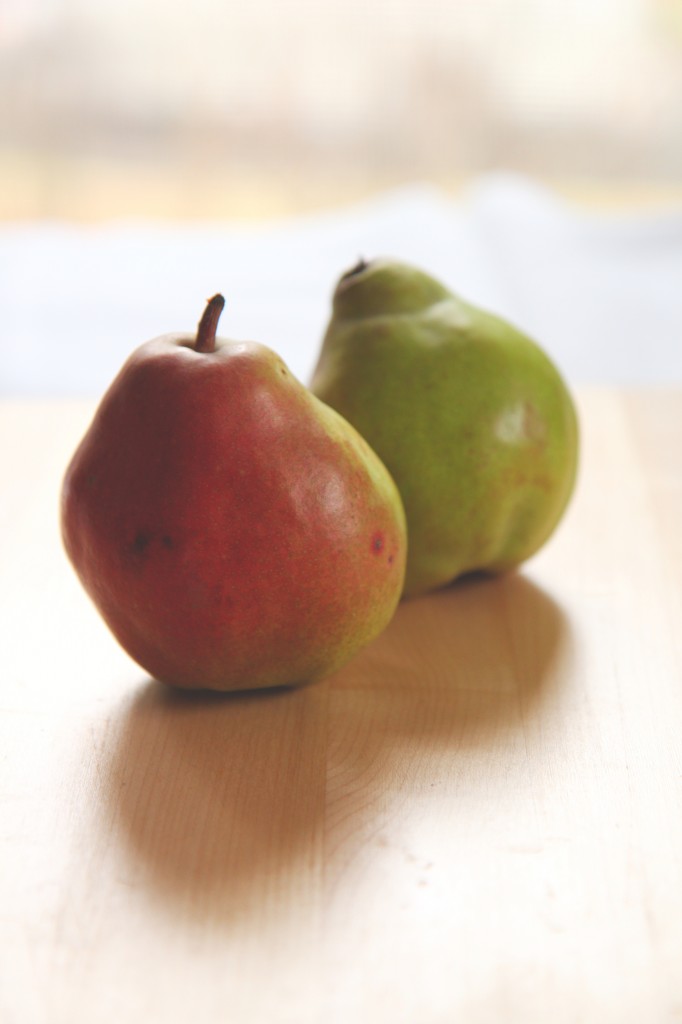 Despite their stupid names, these kind of desserts are delicious, and what's more, crazy easy and fast.
Perfect when you need a quick fix of warm, cozy dessert. (Which, in my case, is 24/7.)
Chop up seasonal, fresh fruit (it can even be a little underripe.  We don't judge here.) and toss it with some sugar, salt and flour/cornstarch.
No need to measure, just go with your heart by taste.
Top it off with buttery cookie crumbs (I wish my whole life were topped with buttery cookie crumbs) and bake it.
SO EASY GUYS WHY AREN'T WE ALL DOING IT?!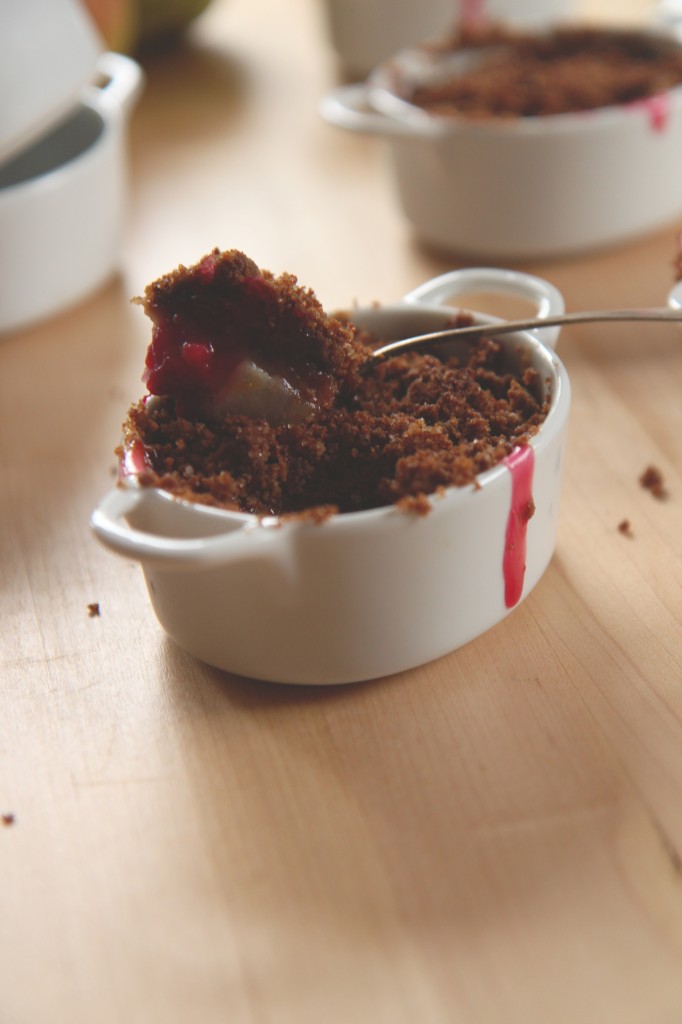 This is the best crisp I have ever tasted. Ever.
I've made it a few times, in a few different forms.
The first time, about 3 years ago (is 2011 really 3 years ago?! Have mercy.), I baked it in a big heavy dish, and served it with vanilla ice cream.  I was blown away.
In fact, I was so impressed that I then made it into a crumble pie (think dutch apple pie).  The pie was good, but, can I be honest, people?  It was more work.  And the best part was the filling and topping anyways.  So I do not advocate the pie version.  It's fussier and not worth it.  Keep it simple, stooopid.
And now, I've made it into tiny little individual crisps, so you don't have to think twice about eating four.
For once in my life, I'm not exaggerating.  Seriously. Best crisp I have EVER. HAD.
Sweet and juicy from the pears, tart and punchy from the cranberries, and spicy and rich from the buttery gingersnaps.  
I'll never look at plain pear crisps the same way.  There's no going back once you try this combo.
Read: try this combination.  For your own sake.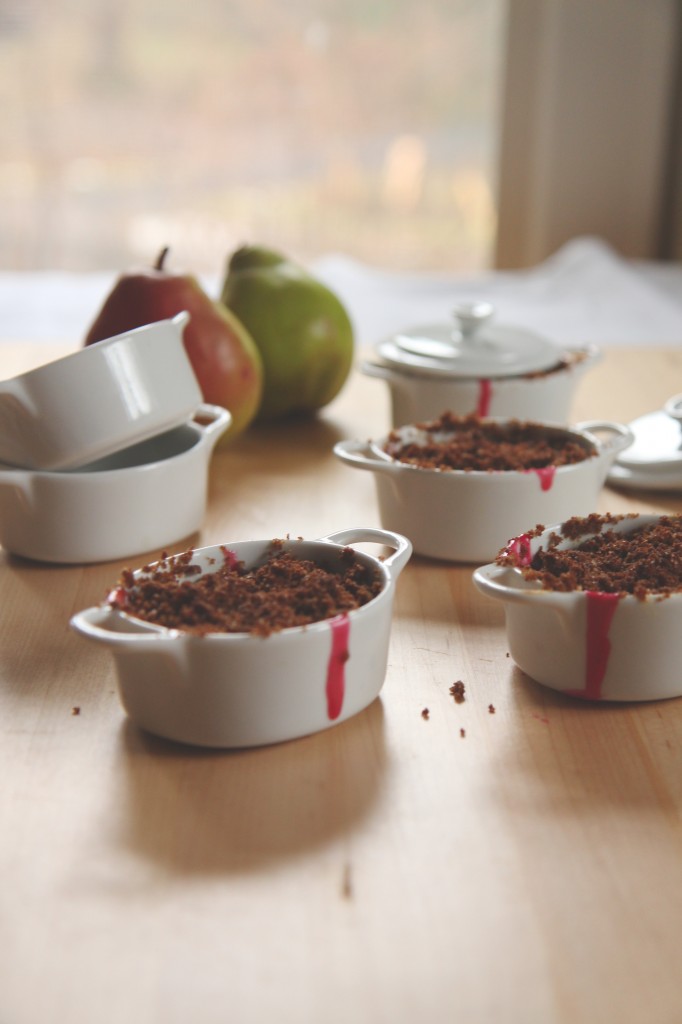 Okay, time for an explanation about these mini crisps/crumbles/whatever you want to call them.
Other than being delicious, they are dead simple.
I didn't use a recipe.  Here's what I did:
peel, core, and dice a couple d'anjou pears
toss 'em with lemon juice, a couple tablespoons of sugar and flour, and some fresh cranberries
throw a bunch of gingersnaps into my food processor and grind them into crumbs
add a hefty pinch of pepper, ginger, brown sugar, and salt
melt some butter and pour it in until the crumbs get clumpy
dump the fruit into serving vessels, top with a shit ton of gingersnap crumb stuff
bake until bubbling and burbling
eat
eat
eat.
If you want more solidified measurements and directions, check out Deb's (AWESOME) recipe.  Seriously thankyouthankyou Deb for leading me to this delicious flavor combination.  Heaven.