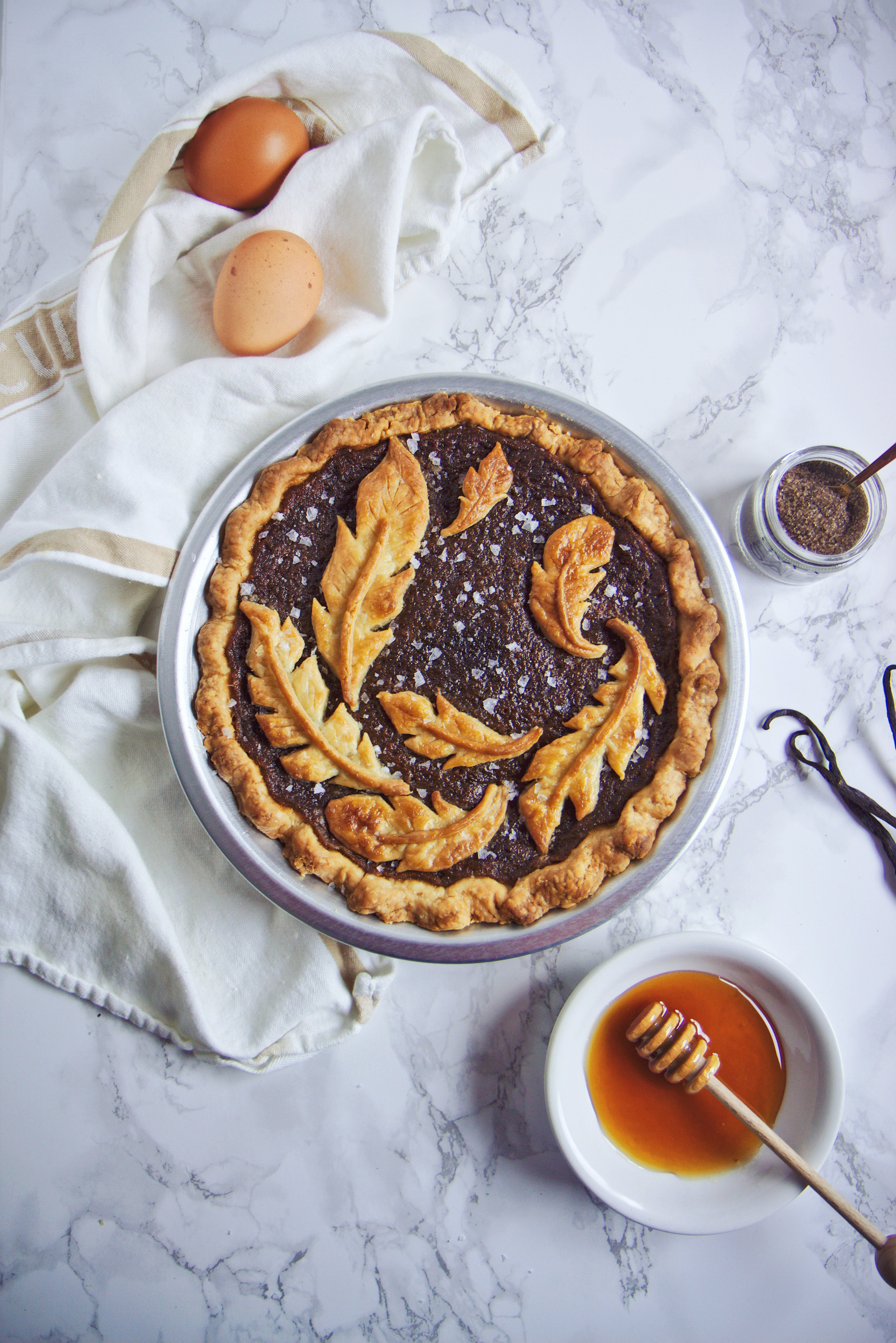 Light-winged Smoke! Icarian bird,
Melting thy pinions in thy upward flight;
Lark without song, and messenger of dawn,
Circling above the hamlets as thy nest;
Or else, departing dream, and shadowy form
Of midnight vision, gathering up thy skirts;
By night star-veiling, and by day
Darkening the light and blotting out the sun;
Go thou, my incense, upward from this hearth,
And ask the gods to pardon this clear flame.
—Henry David Thoreau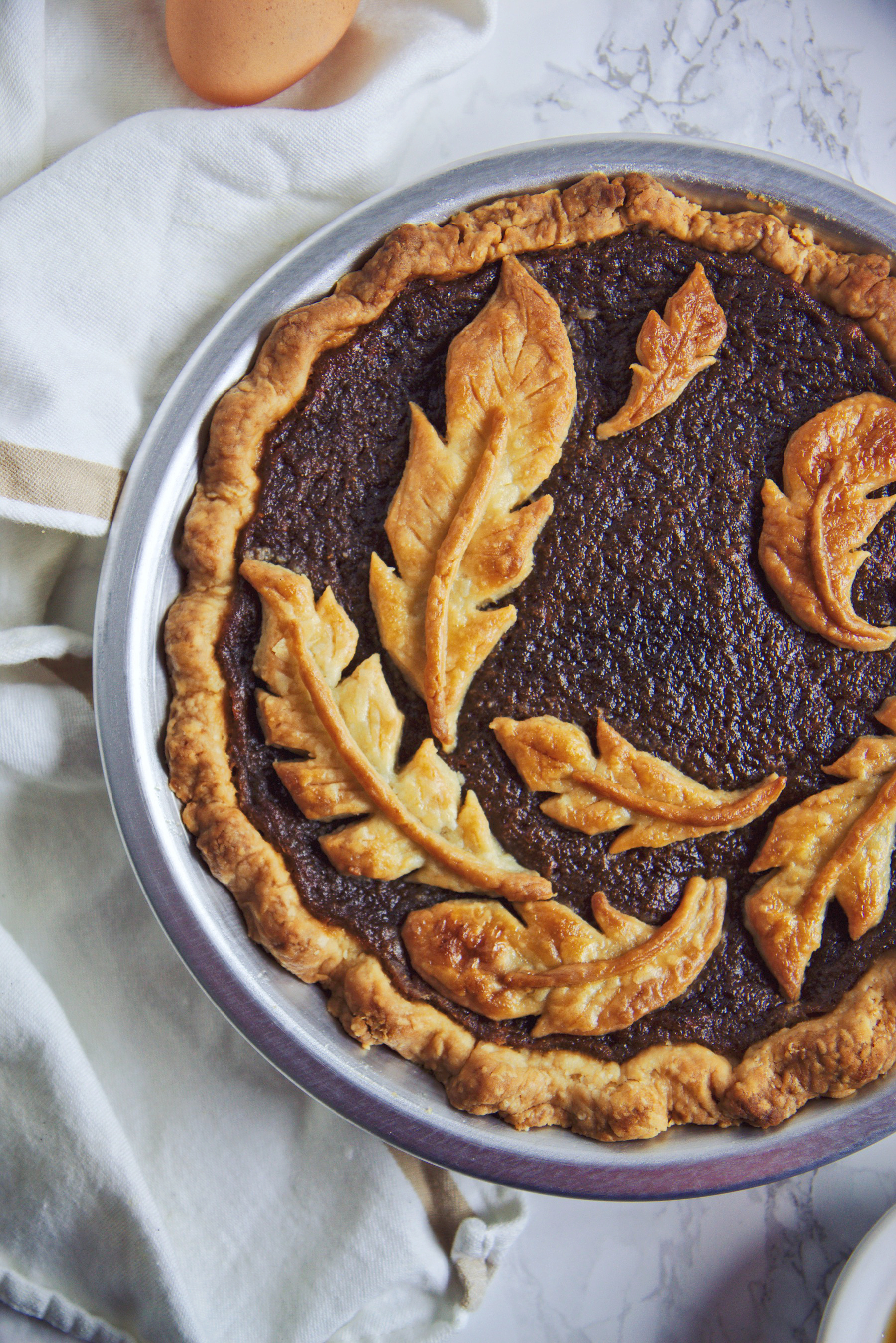 Happy pi day, party people! Here are 1000 pieces places of pi, to celebrate:
3.14159265358979323846264338327950288419716939937510582097494459230781640
62862089986280348253421170679821480865132823066470938446095505822317253594081284
81117450284102701938521105559644622948954930381964428810975665933446128475648233
786783165271201909145648566923460348610454326648213393607260249141273724587006606
31558817488152092096282925409171536436789259036001133053054882046652138414695194
15116094330572703657595919530921861173819326117931051185480744623799627495673518857
527248912279381830119491298336733624406566430860213949463952247371907021798609437
027705392171762931767523846748184676694051320005681271452635608277857713427577896
091736371787214684409012249534301465495853710507922796892589235420199561121290219
60864034418159813629774771309960518707211349999998372978049951059731732816
096318595024459455346908302642522308253344685035261931188171010003137838752
8865875332083814206171776691473035982534904287554687311595628638823537875937
519577818577805321712268066130019278766111959092164201989…
And yes, this is being posted at 1:59 GMT. It's the little things that make me happy, ok?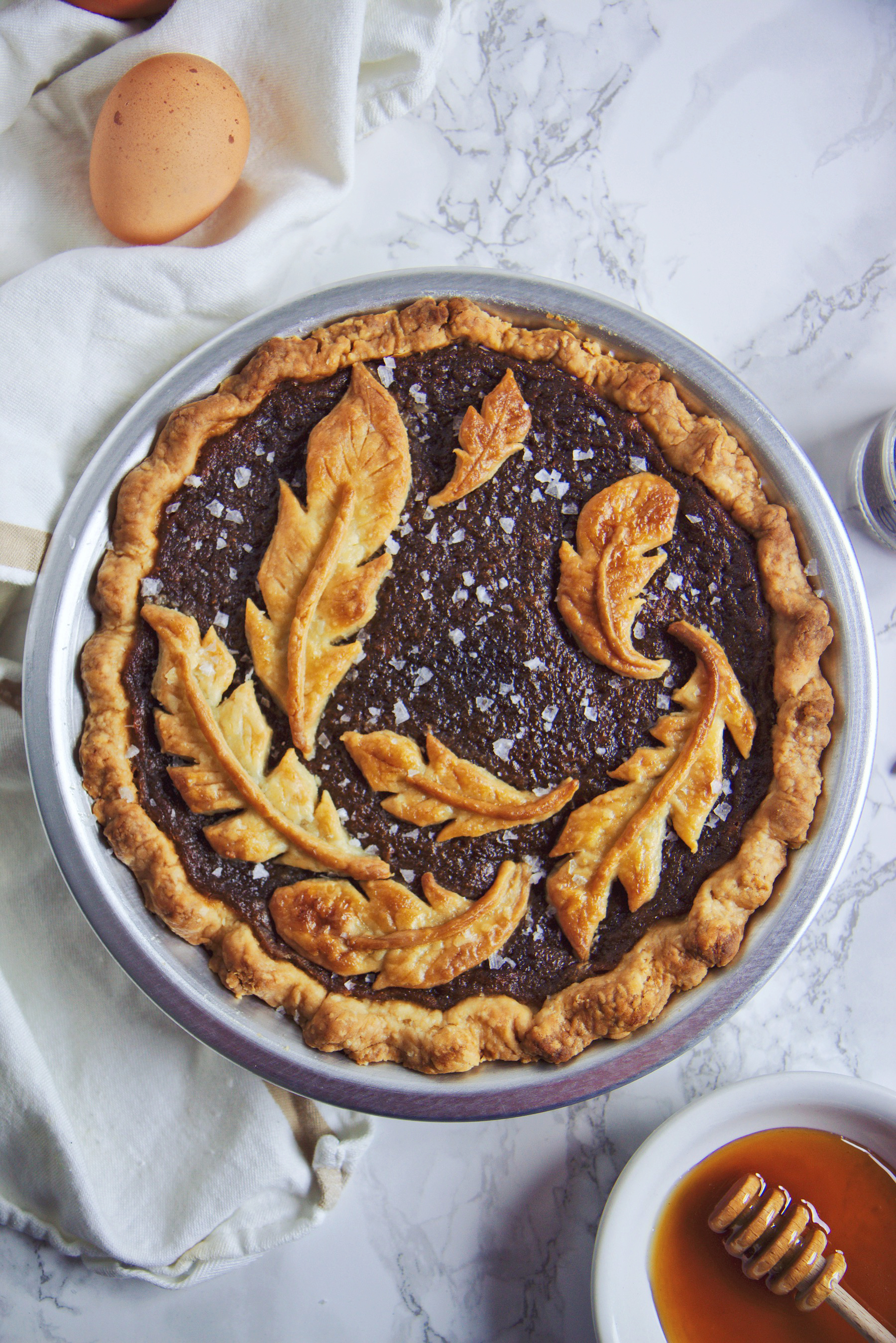 Pi day is pretty much as close to a universally celebrated holiday in the food blogosphere as you can get.
This is especially true given that pies are currently in vogue on Instagram.
I often marvel at the virality of Instagram trends, and food trends in general.
They burst in very quickly—due to the low barrier of entry: read a recipe, get some ingredients, voilà—and then slowly trickle down, normalizing after some time.
We've had cupcakes. Macarons. Funfetti. Marzipan. Salted chocolate chunk shortbread. Pan-banging cookies. Intricately decorated pies. Fruit roses. Drip cakes. Unicorn cakes. Ice cream (à la Katherine Sabbath) cakes.
I don't particularly dislike trendy foods. In my opinion, they are distinct from fashion trends, because it is very rare that they ever go completely "out of style." Good, delicious food is always welcome.
I happily read recipes for cupcakes and drip cakes, use marzipan and sprinkles liberally, and regularly ask myself why I don't have a stash of Alison's or Sarah's cookies in my freezer for, um, emergencies.
I, however, don't frankly want to buy a Chanel fanny pack to fit in in 2018. They may have come back from their heyday in the 80s, but in between now and then, they were considered ugly.
TBH, they just are ugly. Even when they're trending and "considered" fashionable. Can we just, like, cut it with the freaking fanny packs? Topshop is literally calling them bumbags. Nordstrom calls them bag belts. SERENITY NOW!
I am sorry if you own a Chanel/Gucci fanny pack. Mostly because you own an overpriced wallet-belt, but secondarily because I may be offending you.
Clearly, I had to get that off my chest. Were we talking about pie?
Anyways, even when I'm on the tail end of a food trend and everyone and their mother has already done the damn thing before me, I still find myself inspired by the plethora of pictures that I see on ig.
I've been meaning to bake more pies, and pi day is as good of an excuse as any.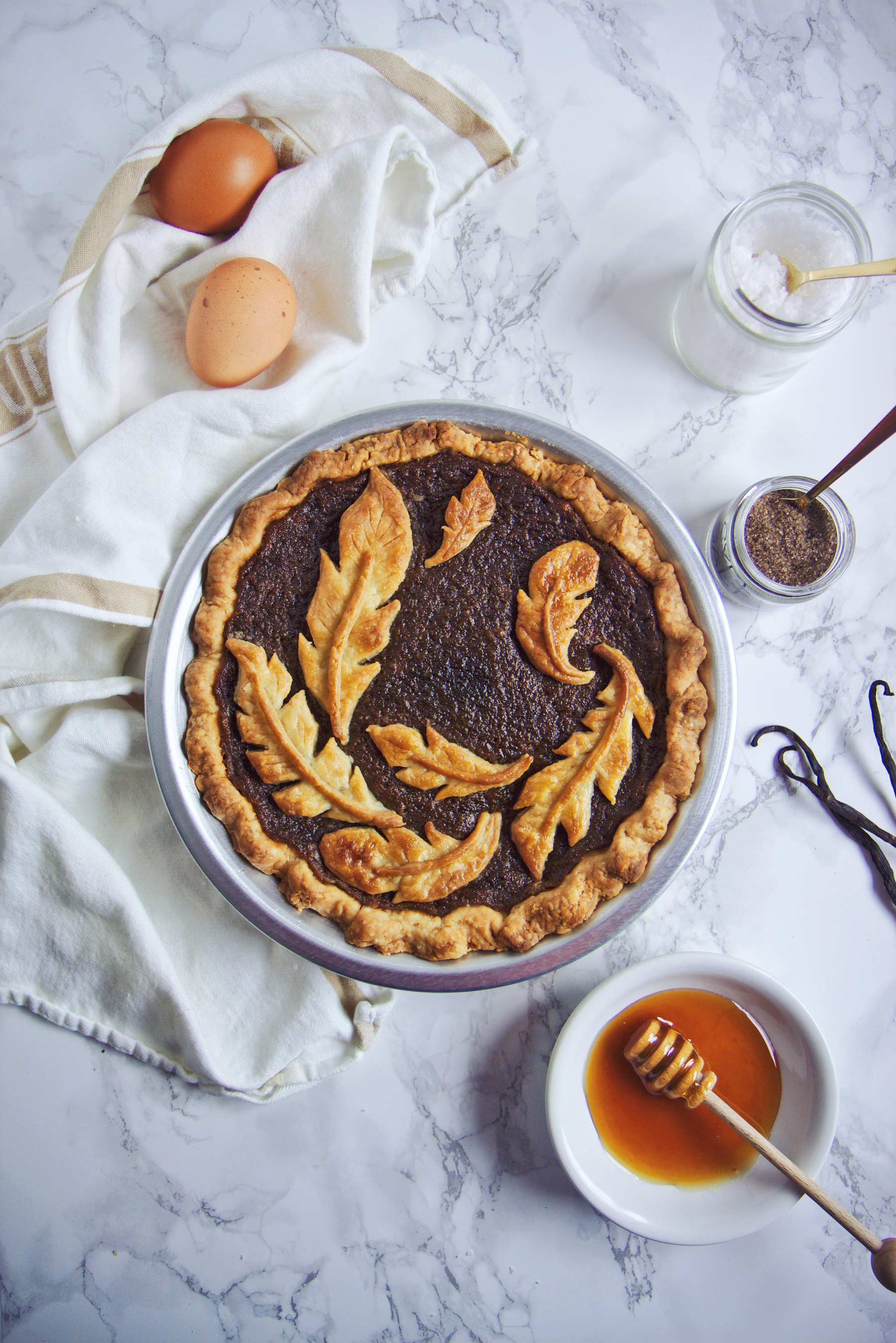 I want to share some amazing pie recipes, new and old, that have been said inspo for me:
Chocolate pies like WHOA:
Katie's chocolate chess pie. That! Chocolate! Whipped! Cream! Cloud!
Cindy's chocolate mudslide pie. I need all my pies to be spiked with Irish cream and Kahlua from now on, nnnkay?
Ashlae's vegan chocolate mousse pie. Chocolate mousse, peanut butter whip, pretzel crust… Ooooof.
Uniquely flavored/hella creative pies:
Michelle's purple sweet potato pie. Level up your sweet potato pie game, friends. And, can we talk about the color….?! Wig snatched.
Amy's blueberry, peach, and basil pie. Turns out the queen of cakes makes ridiculously aesthetic pies, too (but of course she does!).
Naomi's lemon meringue pie pops. These are SO twee and fun. I think I could eat 7 of them.
Linda's apple pie with a purple blueberry crust. This pie spawned a whole new generation of insta-worthy pies, with gorgeous naturally colored and flavored crusts. The forefront of pie-nnovation!
Also, any mention of pie trends necessitates a mention of Lauren of the instagram Loko Kitchen, whose meteoric rise is owed solely to her crazy beautiful, ridiculously perfect pies. Respect.
Apple pies that have me feeling like November can't come soon enough:
Erin's apple and blackberry pie. You guys, this chick makes the most incredible pies. The level of detail is beyond what I can even dream of and I can truly get lost in her mesmerizing designs. The best part? Her crust is still flaky flaky flaky AF.
Courtney's caramel apple pie v3.0. I would like to faceplant into that caramel puddle, please and thank you.
Deb's apple pie cookies. No recipe from SK ever really goes wrong, does it? This one is no exception. These have a crust to filling ratio that I can get behind. I've made 'em multiple times, and I can't wait until apple season is back and I can make them again.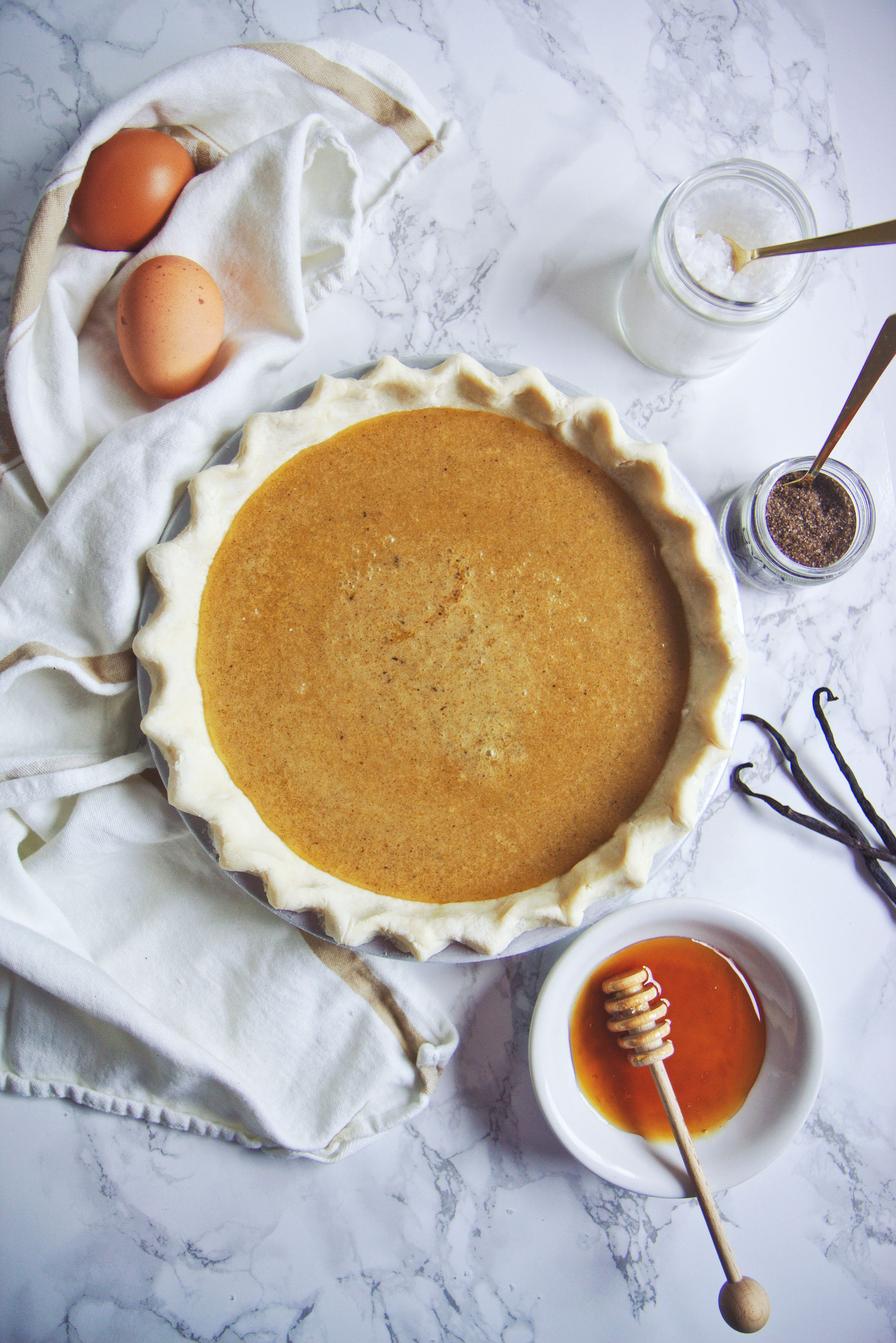 I'm beyond excited to share today's recipe. It honestly rivals all the pies I've ever made.
It is an adaptation of a very popular recipe from the NYC pie shop, Four & Twenty Blackbirds.
This is a brown butter smoked salted honey pie. YAH. I know.
The pie starts with a sturdy all-butter pie crust, shatteringly crispy and layered.
To make the filling, butter is browned until nutty and freckled; liberal amounts of smoked salt, vanilla bean seeds, and clover honey are added while it's warm, so they melt into a glossy, flecked puddle.
The smoked alderwood salt weaves its way into the pie with sexy subtlety, adding saltiness and a kiss of je ne sais quoi that plays altogether too nicely with the vanilla bean and honey.
Eggs and a pinch of white cornmeal provide body, apple cider vinegar balance, and an unctuous stream of heavy cream is stirred in for smoothness.
The mixture is strained into the chilled shell and baked until it puffs into a golden dome, then delicate decorations slicked with cream are laid on top and baked until the pie is deep brown and barely jiggly.
It's finished with a haphazard scattering of jagged salt flakes that up the saltiness in every other bite and provide the occasional unexpected soft crunch.
The most difficult part of this whole baking endeavor is waiting for the pie to chill completely. This is key to setting the custard properly, but the smell of the pie is so intoxicating that it's tempting to cut into it right away. Trust me, the wait is worth it.
This pie is quite similar in texture to a crack pie, or a chess pie, or a vinegar pie (if you've never had any of these, think of a pecan pie without any pecans).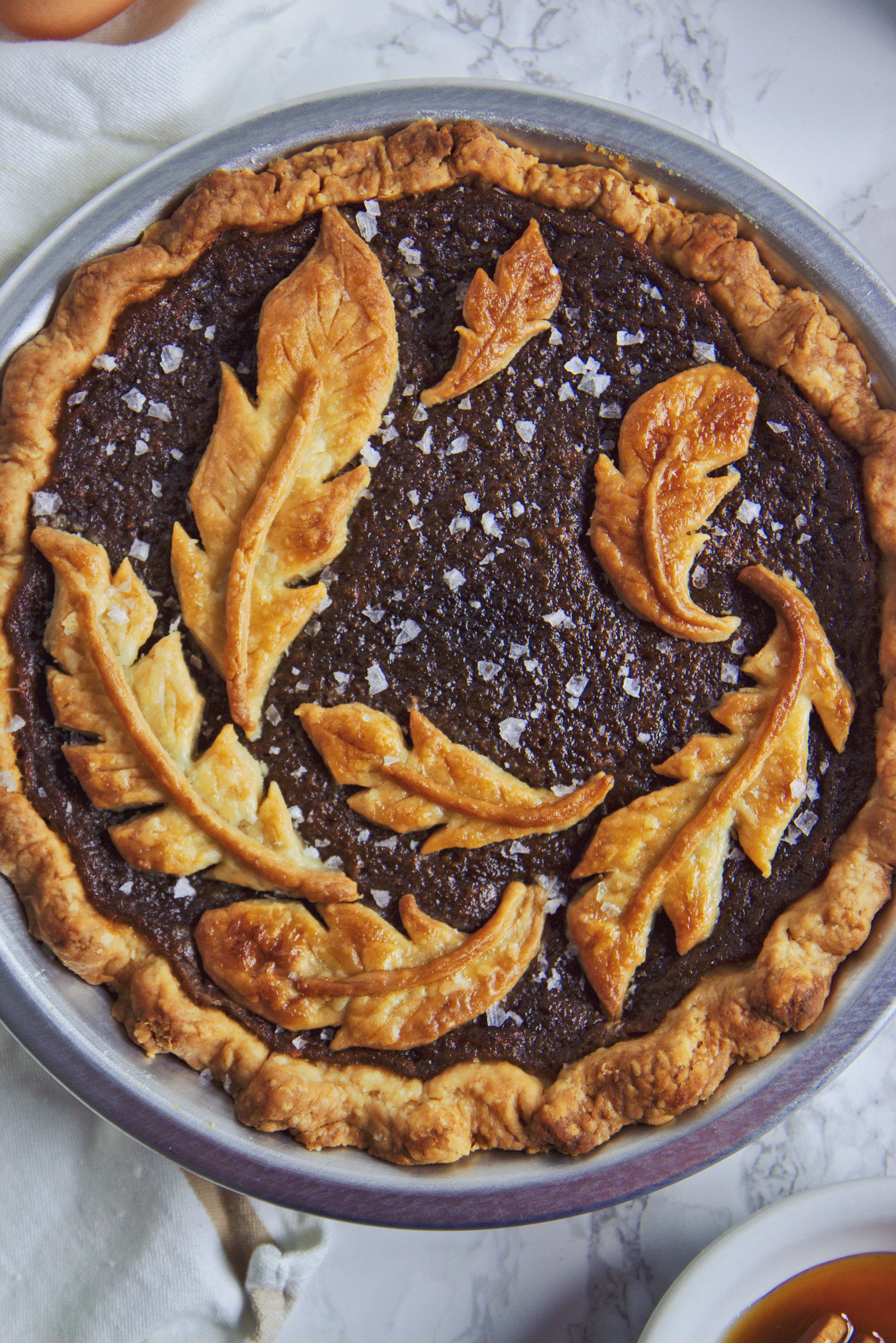 People really, really liked this pie.
Luca said, and I quote, "[this] puts the YUM in daYUM."
Naomi said it was the best pie eating experience of her life, and she's had my peach pie and I even made her a crack pie for her birthday in December! She actually preferred this to crack pie, and so did I.
Here's why: I think that the pairing of a sweet filling with a traditional pie crust is better than the oat cookie crust of crack pie, which is a lot of sugar, to the point that it gets a bit cloying. Additionally, the oat cookie crust tends to be more stodgy, especially when chilled. This crust stays crisp and thin, even after the cooling period.
(Another tester described the all butter crust as "unreal." Four & Twenty know their ish, y'all.)
I also prefer this recipe to standard chess pies: the honey adds a more complex flavor than straight up sugar does. The addition of smoked salt and vanilla beans rounds out the complexity. (Do note that you could easily swap the smoked salt for non-smoked varietals and still have an outstanding pie.)
I also like the addition of a couple tablespoons of cornmeal: it is utterly indiscernible, except that the filling has more body that a simple custard. I'm interested in subbing oats or toasted breadcrumbs for the cornmeal.
In fact, I am quite sure I will be returning to this base recipe to test out other flavors, textures, etc. It is an excellent pie.
I fully understand why it has been so popular.
Here's to [brown butter smoked] salted honey pie being a lasting trend!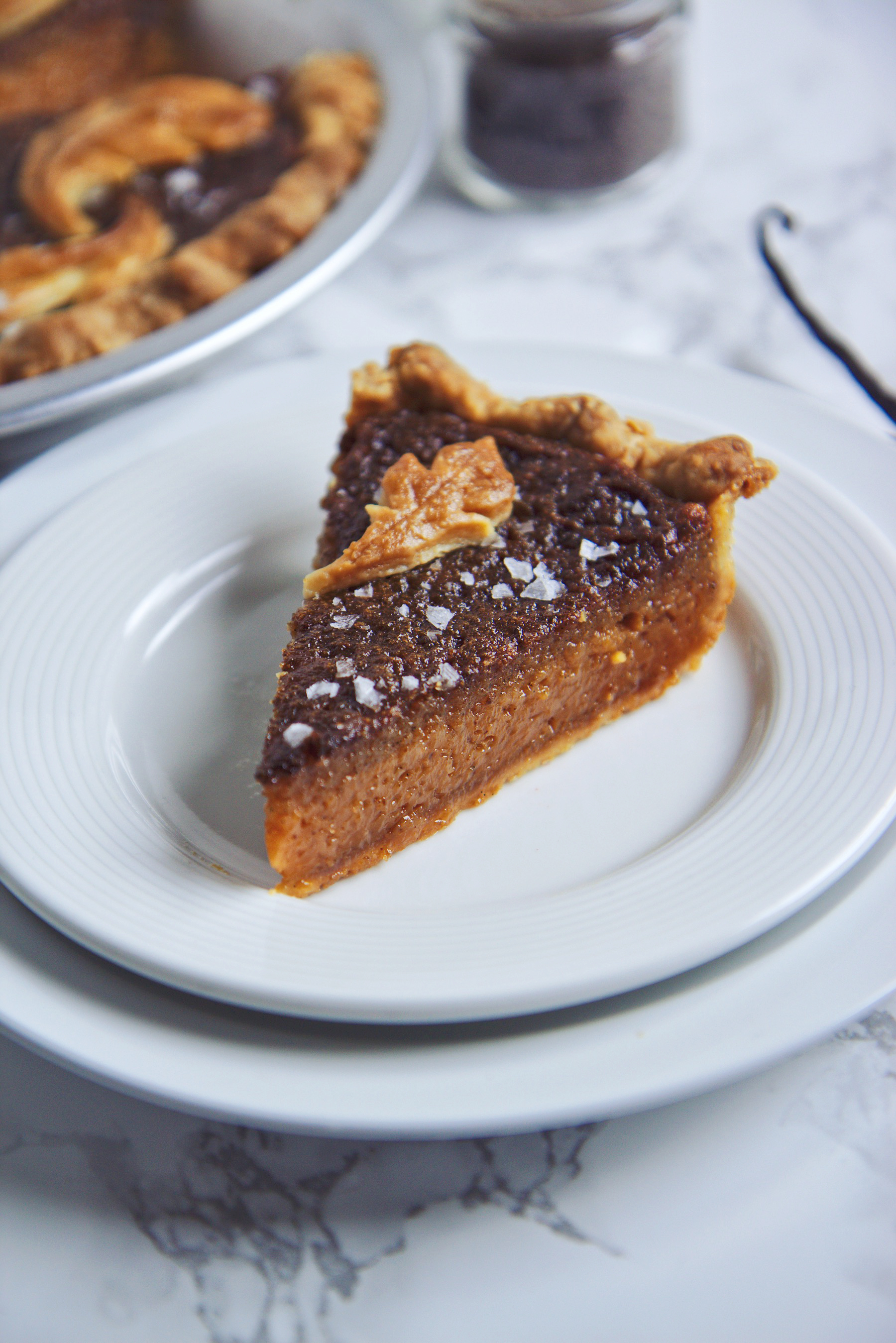 Pi day, previously:
2017: vegan campfire pie
2016: brûléed citrus and lime pie
Pie, previously:
2017: perfect peach pie
2016: pumpkin meringue tart
2015: apple, pear, butterscotch, and cheddar pie
2015: fig, rosemary, and lemon tart
2014: coconut buttermilk chess pie
2014: peach slab pie
2014: American pie
2013: Pumpkin spice brown butter chocolate pecan pie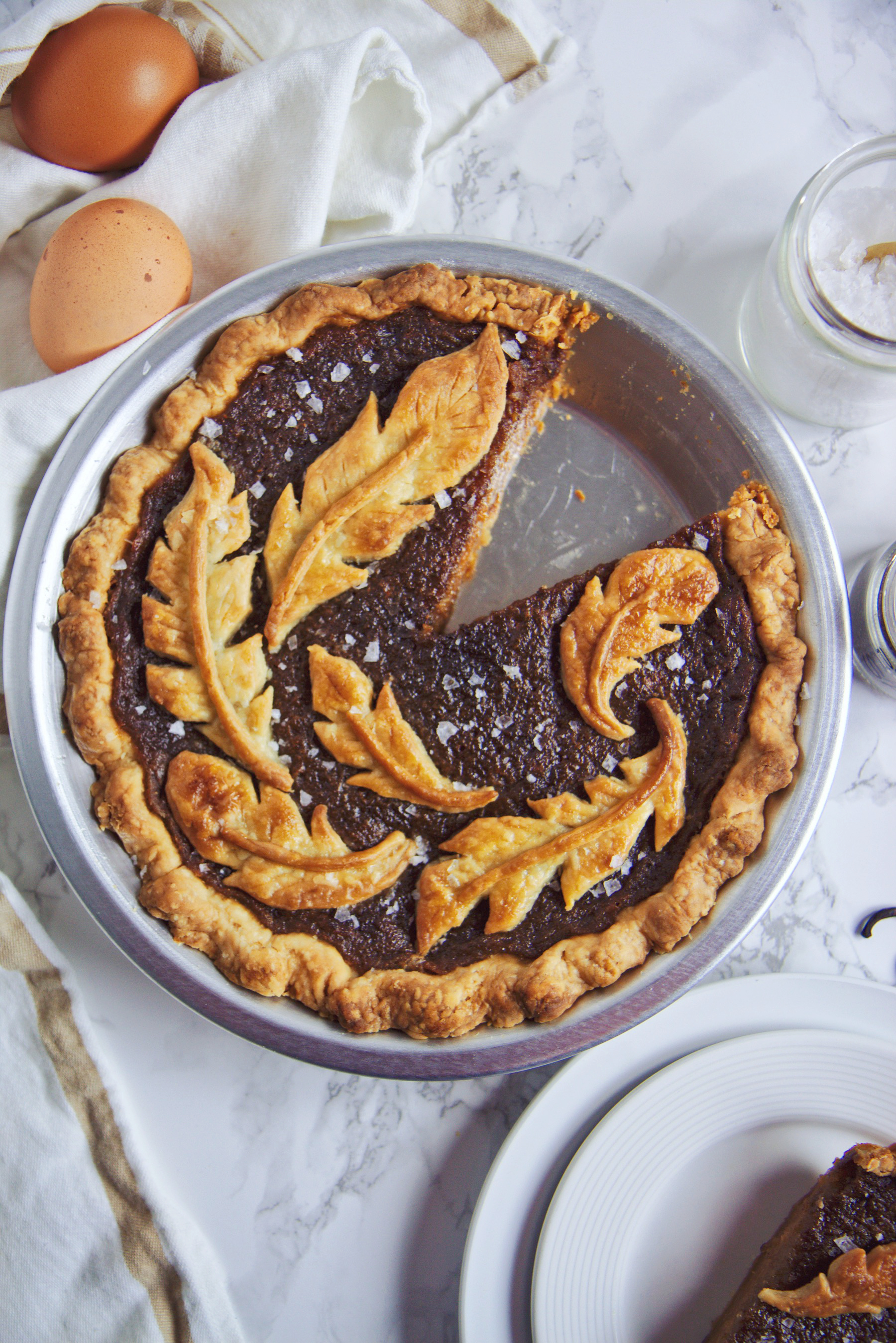 P.S. Because I vowed to share this silliness every year on this day:
Cosine, secant, tangent, sine,
Three point one four one five nine,
Square root, cube root, BTU,
Sequence, series, limits too.
Themistocles, Thucydides, The Peloponnesian War,
X squared, Y squared, H2SO4.
Who for? What for? Who we gonna yell for?
Go, Maroons.
Logarithm, biorhythm, entropy, kinetics,
MPC, GNP, bioenergetics!
Maximize and integrate, titrate and equilibrate—
Go, Maroons.
—Very Unofficial UChicago football cheer
(And apparently also shared among other famously nerdy schools? Who knows where this even came from?)
P.P.S. For the curious, moyamoya means puff of smoke in Japanese.
It's also a rare cerebrovascular disorder. And, uh, on that note, here's a pie recipe?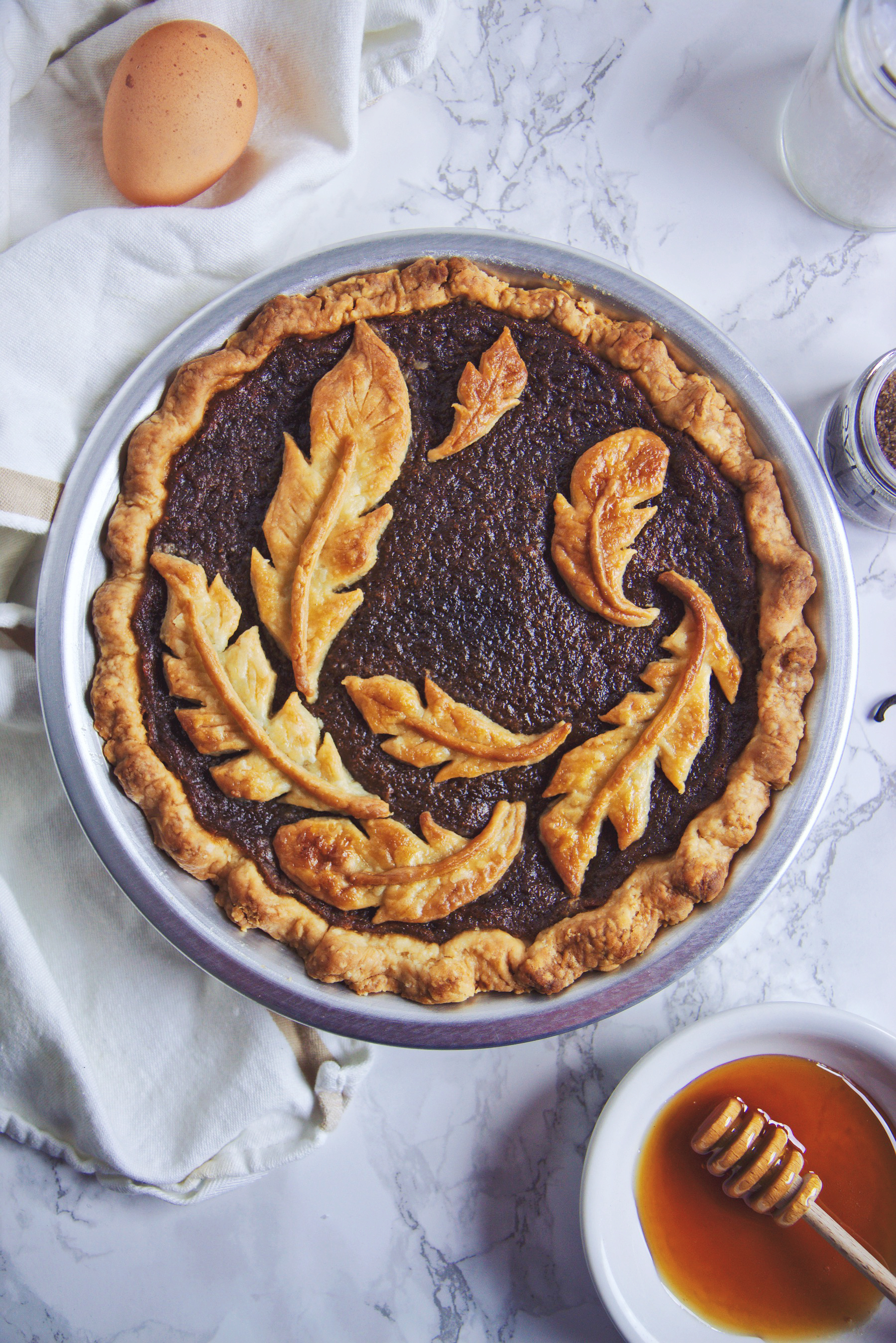 Brown Butter Smoked Salted Honey Pie
makes 1 9-inch pie
adapted from The Four & Twenty Blackbirds Pie Book
ingredients:
for the pie crust:
150 grams (1 1/4 cups) unbleached all-purpose flour
1/2 teaspoon salt
1 tablespoon granulated sugar
113 grams (1 stick, 8 tablespoons) cold unsalted butter
120 grams (1/2 cup) cold water
30 grams (2 tablespoons) apple cider vinegar
1/2 cup ice cubes
for the filling:
113 grams (1 stick, 8 tablespoons) unsalted butter
150 grams (3/4 cup) granulated sugar
2 tablespoons white cornmeal
3/4 teaspoon smoked salt
seeds from 2 vanilla beans
255 grams (3/4 cup) honey
3 large eggs, at room temperature
120 grams (1/2 cup) heavy cream, plus an extra tablespoon for decorating
2 teaspoons apple cider vinegar
1-2 teaspoons soft sea salt flakes (for finishing)
directions:
Make the crust: whisk flour, salt, and sugar together.
Add water, vinegar, and ice cubes into a bowl together.
Cut and mix the butter into the flour mixture until the largest piece is pea-sized.
Sprinkle on the ice water 1 tablespoon at a time so that you can gather the dough into a cohesive mass. (I used ~4 tablespoons, but this is highly variable! Use your hands and eyes to judge this.)
Divide dough into two unequal disks: one that is ~3/4 of the dough and one that is a little less than 1/4 and refrigerate for at least 30 minutes.
Roll out the large disk into a 10 1/2 inch round and drape over the pie plate, crimping the edges, then refrigerate.
Roll the other disk out and cut out shapes as desired; freeze the shapes while you make the filling and preheat the oven.
Preheat oven to 375 degrees F.
To make the filling: brown butter in a large saucepan until it is darkened and nutty-smelling.
Pour over granulated sugar.
Whisk in cornmeal, smoked salt, vanilla beans, and honey (mixture may not homogenize at this point due to the large amount of fat).
Whisk in eggs one at a time, making sure that they fully incorporate before adding the next.
Whisk in the heavy cream and apple cider vinegar.
Strain the mixture through a sieve directly into the pie crust.
Place pie on a baking sheet and place in oven.
When the filling has partially set (still wobbly and jiggly in the center, but not runny at all), about 35 minutes, brush the extra tablespoon of cream over your frozen decorative shapes.
Remove pie from the oven, and arrange shapes (carefully!) how you desire.
Return pie to the oven on the top rack to encourage browning of the decorations and bake for an additional 10-20 minutes, or until the center is barely jiggly and the pie has puffed on the edges and the decorations are browned.
Allow to cool completely, then ideally chill for at least 2 hours or overnight. (The texture will be better if allowed to chill down, but serving from room temperature is also good! Don't sweat it too much.)