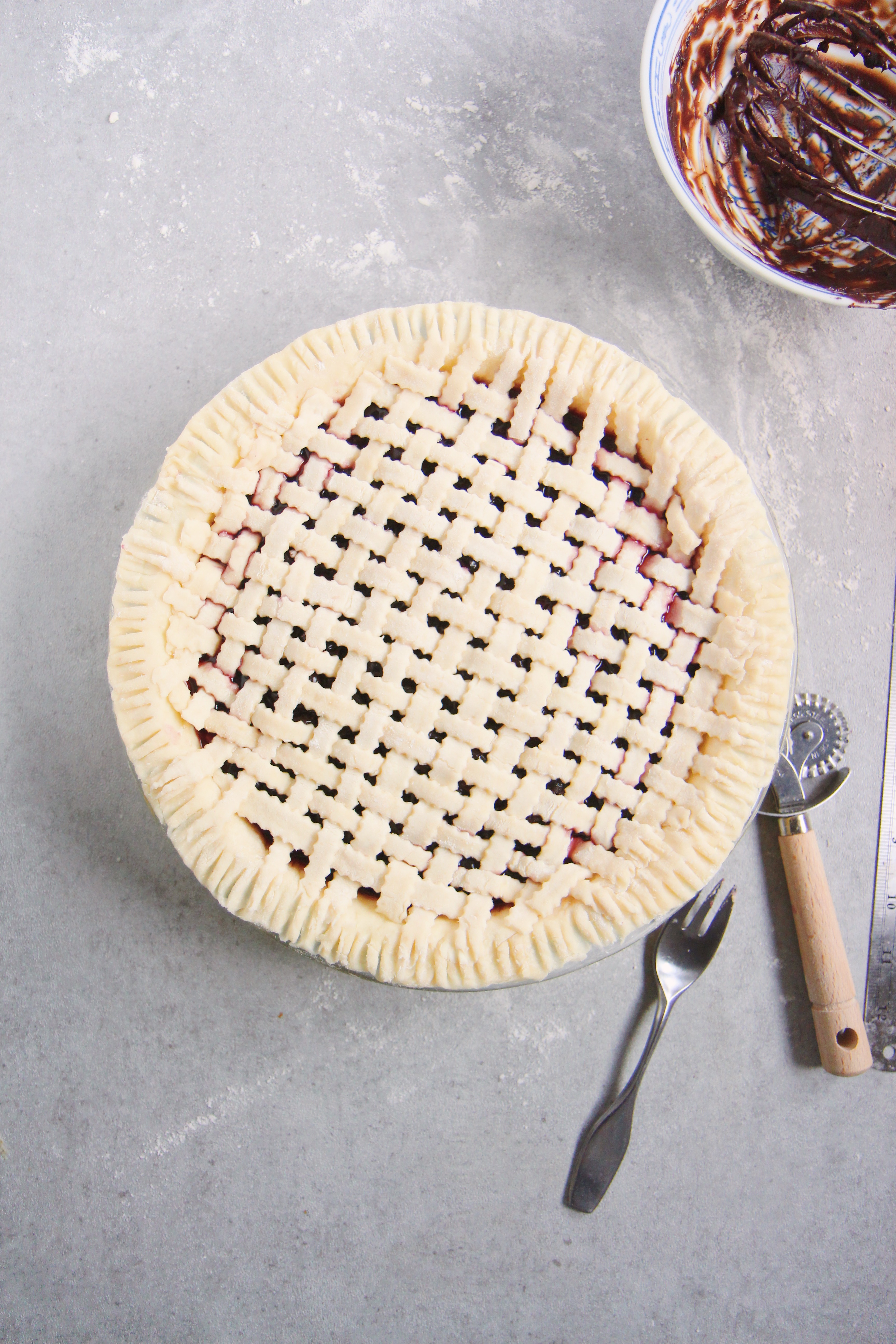 It looks ugly, but it's clean.
Oh momma, don't fuss over me.
The way she tells me I'm hers and she is mine;
open hand or closed fist would be fine.
Blood is rare and sweet as cherry wine.
Hozier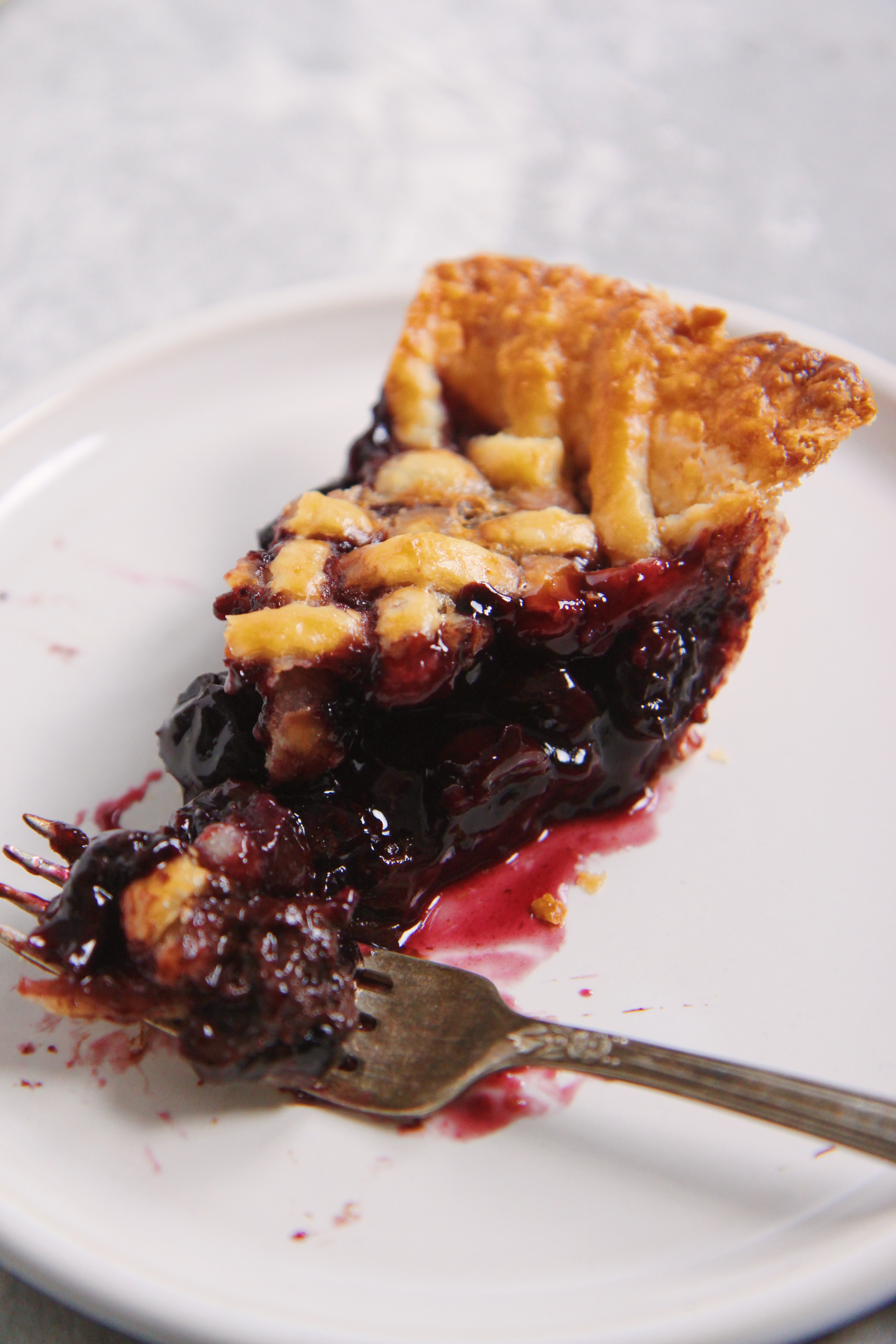 3.14: happy pi(e) day!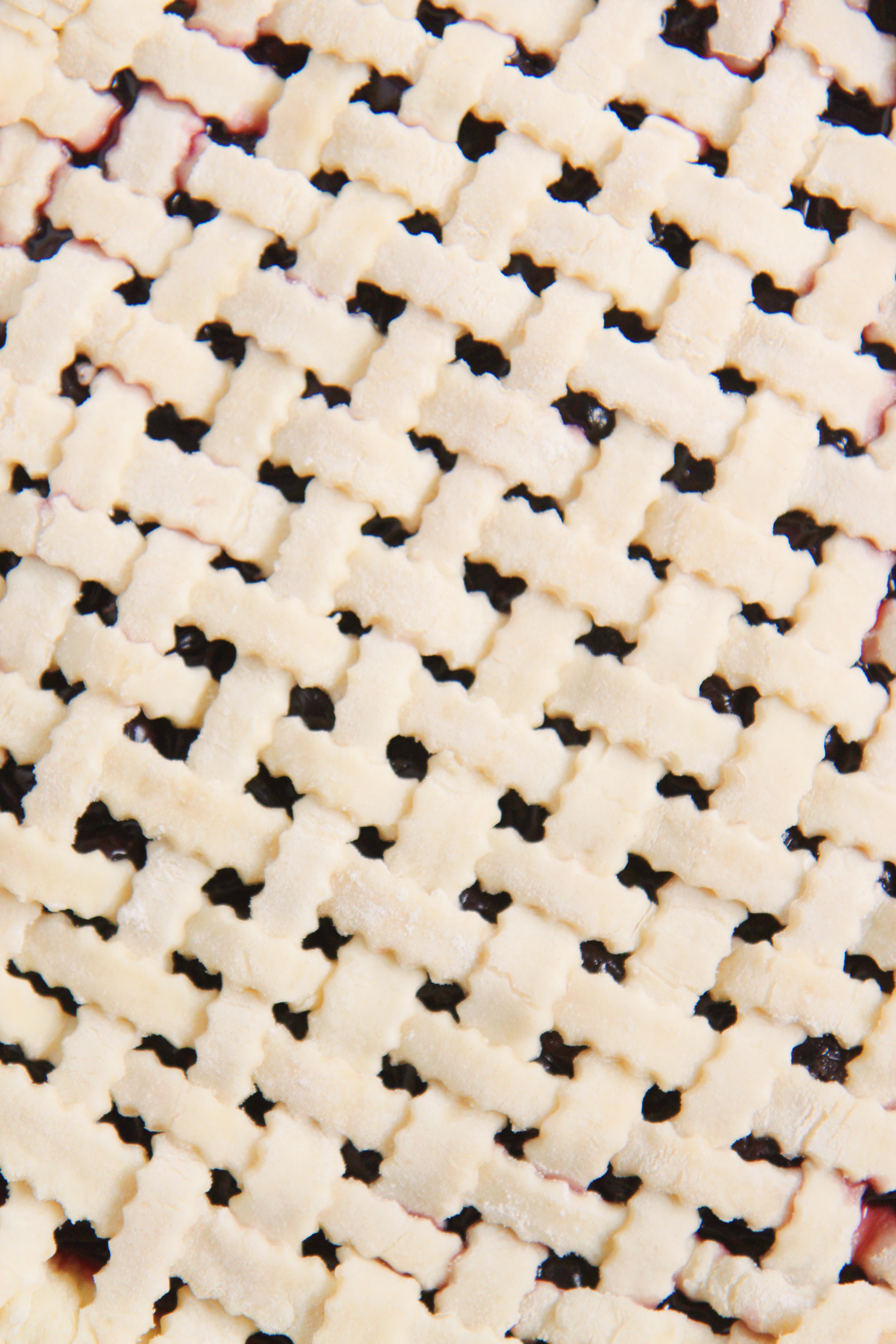 I was gifted two absolutely beautiful ceramic jars last year, and each contained treasure.
One is printed with bright red strawberries; the other with intricate royal blue patterns.
I have been trying to think of what to do with each of them for months now. They seemed too precious to crack open without a plan.
Every time I opened my cupboard, my eyes alighted on the jars, but I still couldn't decide.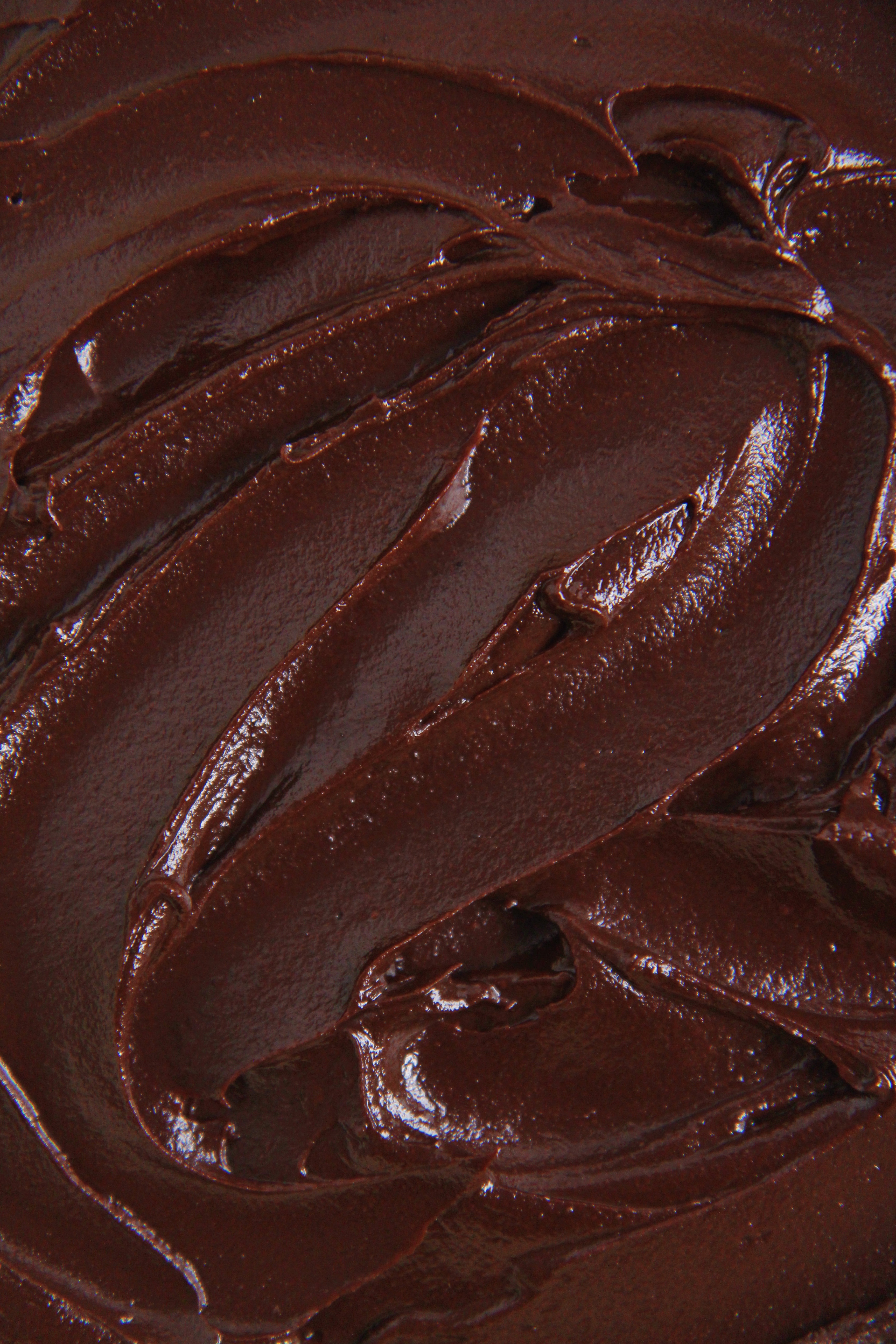 Finally, I decided to use the blue jar to help celebrate this faux, food holiday.
I straight up could NOT open it. I used a rubber band, I used a shirt, I heated up the cap with hot water and tried. I was sweating and swearing and very put out.
So I put the jar down and walked away, disgruntled. I watched some Mari Kondo (that show heals me spiritually).
I gave it one more try and pop! it opened.
Inside were the most fragrant cherries, slightly boozy and mesmerizingly black.
I fished one out to try it—the almond flavor was pleasantly strong and complimented the slightly bitter cherries perfectly.
Definitely worth the struggle.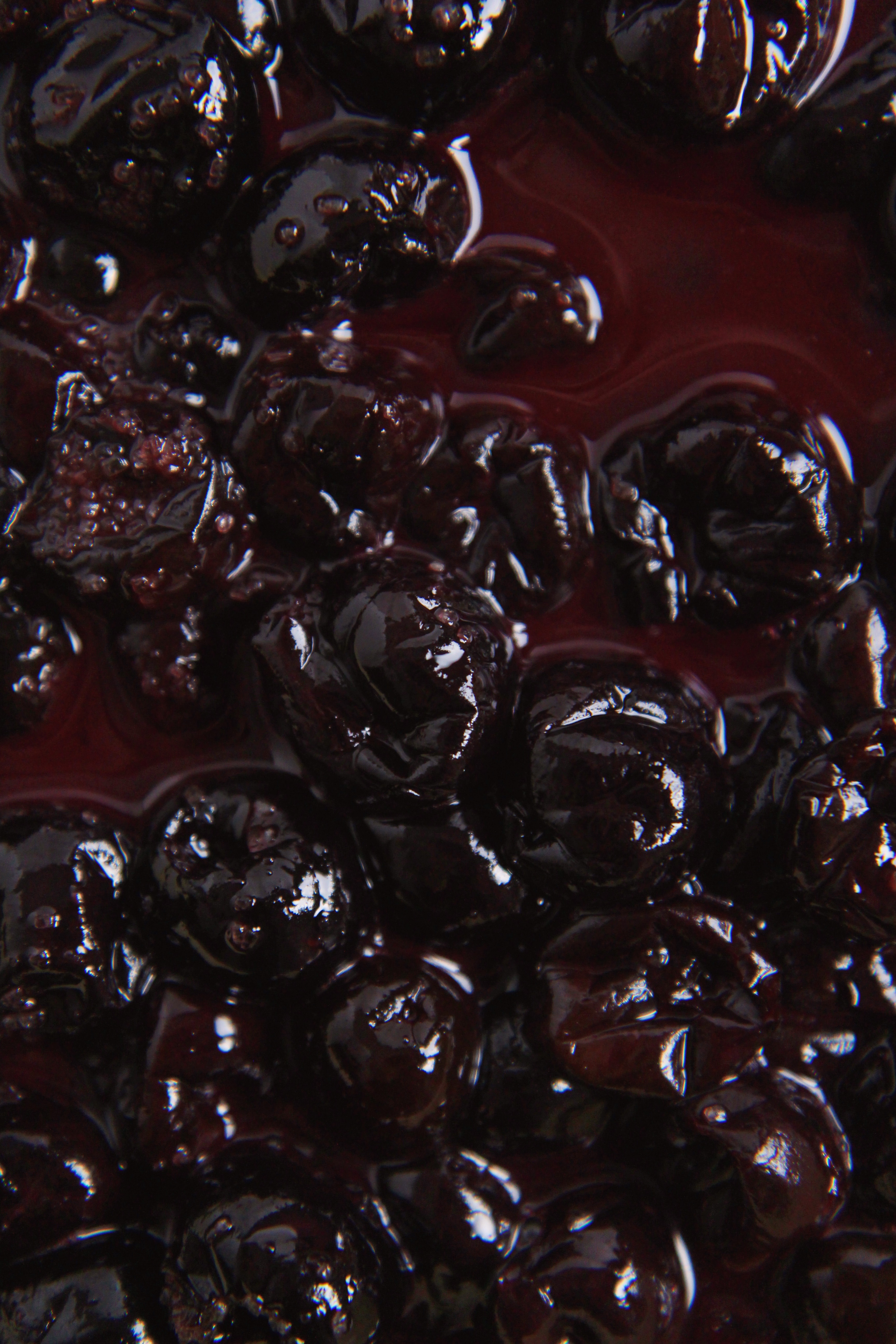 They were no ordinary cherries; they were Amarena cherries, from the historic Italian company, Fabbri.
The company is 114 years old, and was started by Gennaro Fabbri as a distillery.
The cherry recipe was his wife Rachele's: there was a wild black cherry orchard near the store in the small Emilia Romagna town of Portomaggiore. She picked and slowly cooked and candied them in syrup.
The cherries were so delicious and precious that Gennaro bought an intricate ceramic jar from Riccardo Gatti, an artist from Faenza, for his wife to store them.
Since then, Amarena cherries have remained popular and are still made of wild black cherries and sold in the iconic white and blue jars.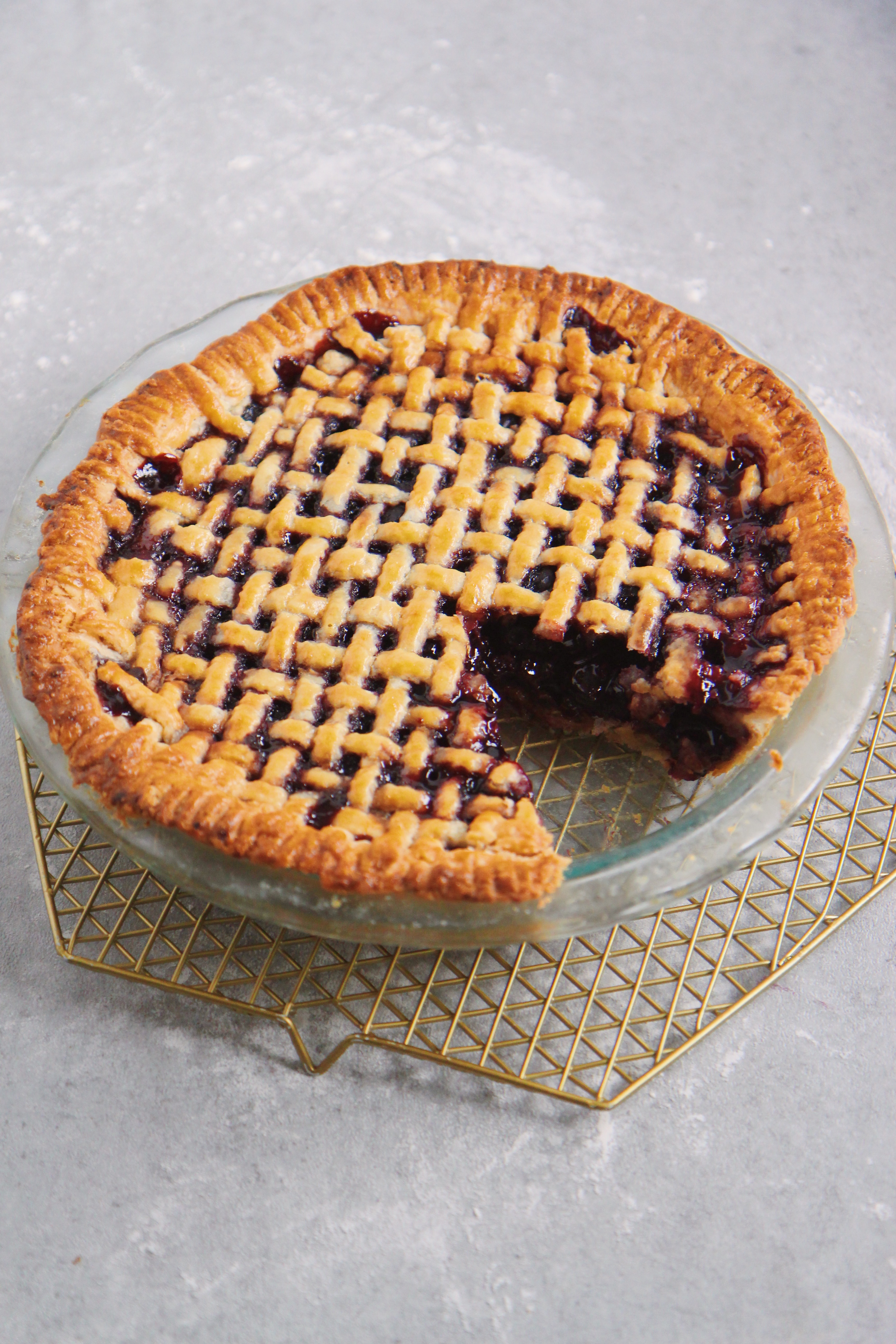 While not necessary to make a delicious cherry pie, the luxurious addition of these cherries really is lovely.
I also love to have a piece of history in my kitchen; I will keep the gorgeous jars for flowers and my own preserves.
I adore the combination of cherry and chocolate (an especially classic way to use Amarena cherries), but I wanted to have a baked pie rather than a chocolate cream one.
I'd never made a black bottom pie, so I set my heart on creating one.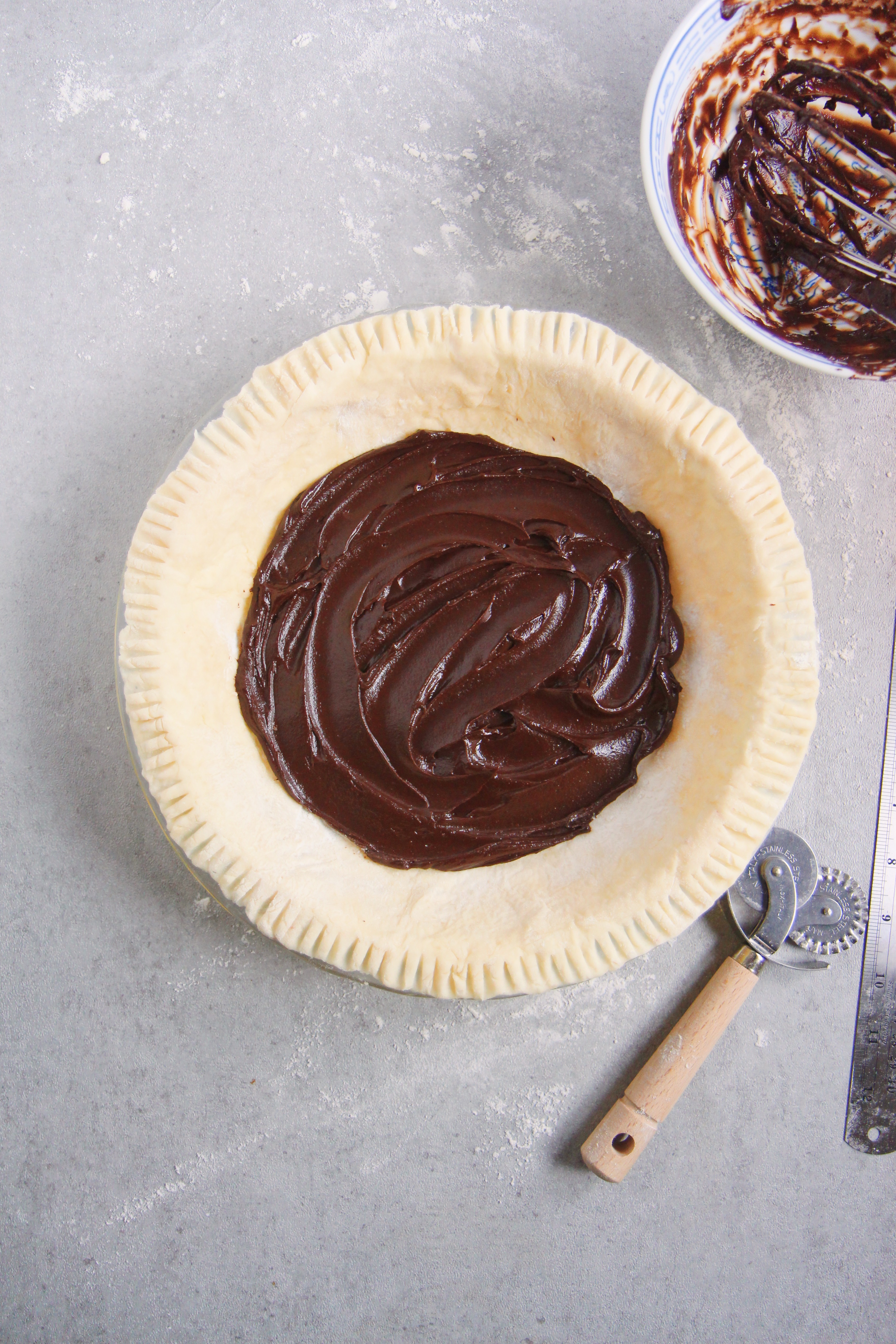 To make a black bottom pie, a thick layer of rich dark chocolate ganache is spread over the bottom crust.
For the filling, sweet black cherries are combined with Amarena cherries, demerara sugar, and tapioca starch.
The glossy cherries tumble over the ganache, and a tight-woven lattice blankets all.
After baking, though it loses some shapeliness, the crust becomes shatteringly crisp and the filling marries with the chocolate at the bottom.
The cherries are round and juicy without being messy and rolling around willy-nilly.
The slicing of this pie is rather easy and clean thanks to the ganache, which keeps the bottom crust together and allows for laughably easy transfer to a plate (a moment I usually attempt with breath bated and a single drop of sweat rolling down my temple).
The combination of flavors and textures is heavenly, and almost naughtily rich.
It would be devilishly good with a scoop of vanilla ice cream gelato.
I still have a large portion of Amarena cherries left, and I believe a black forest cake is in my future.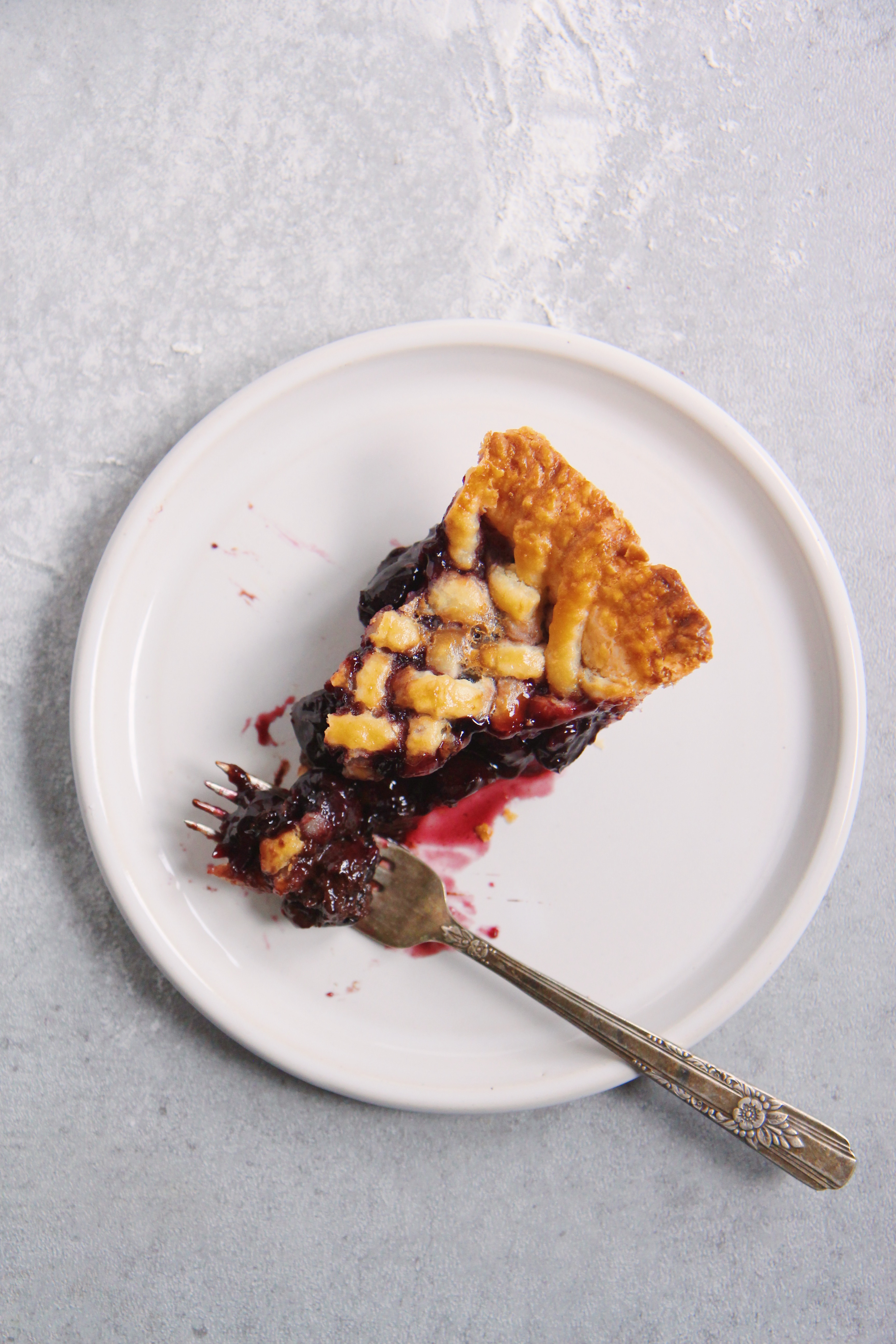 A few tips on this pie (and others):
Using a thermometer can really improve your pies. It gives you a sense of certainty and takes some of the scary guesswork out of pies.
I like glass pans or dark metal pans; I don't use ceramic pans often.
I baked this pie in a 9.5 inch pan, and it resulted in crisp, thin dough. This was definitely not the most stress-free way to make the pie, since it requires rolling out the dough very thinly and may seem like you don't have enough to stretch to fit. It also makes the dough more likely to snap back (see the below picture to see where shrinkage happened). If the idea of all of this stresses you out, just use a 9-inch pie pan.
Stella Parks has discussed why she prefers tapioca start for pies, and I fully agree. In fact, for the vast majority of pies I bake, I use tapioca starch (and sometimes a tablespoon of flour). It's unobtrusive in flavor and predictable in behavior. Plus, I just sub it in for cornstarch in almost every recipe where cornstarch is called for.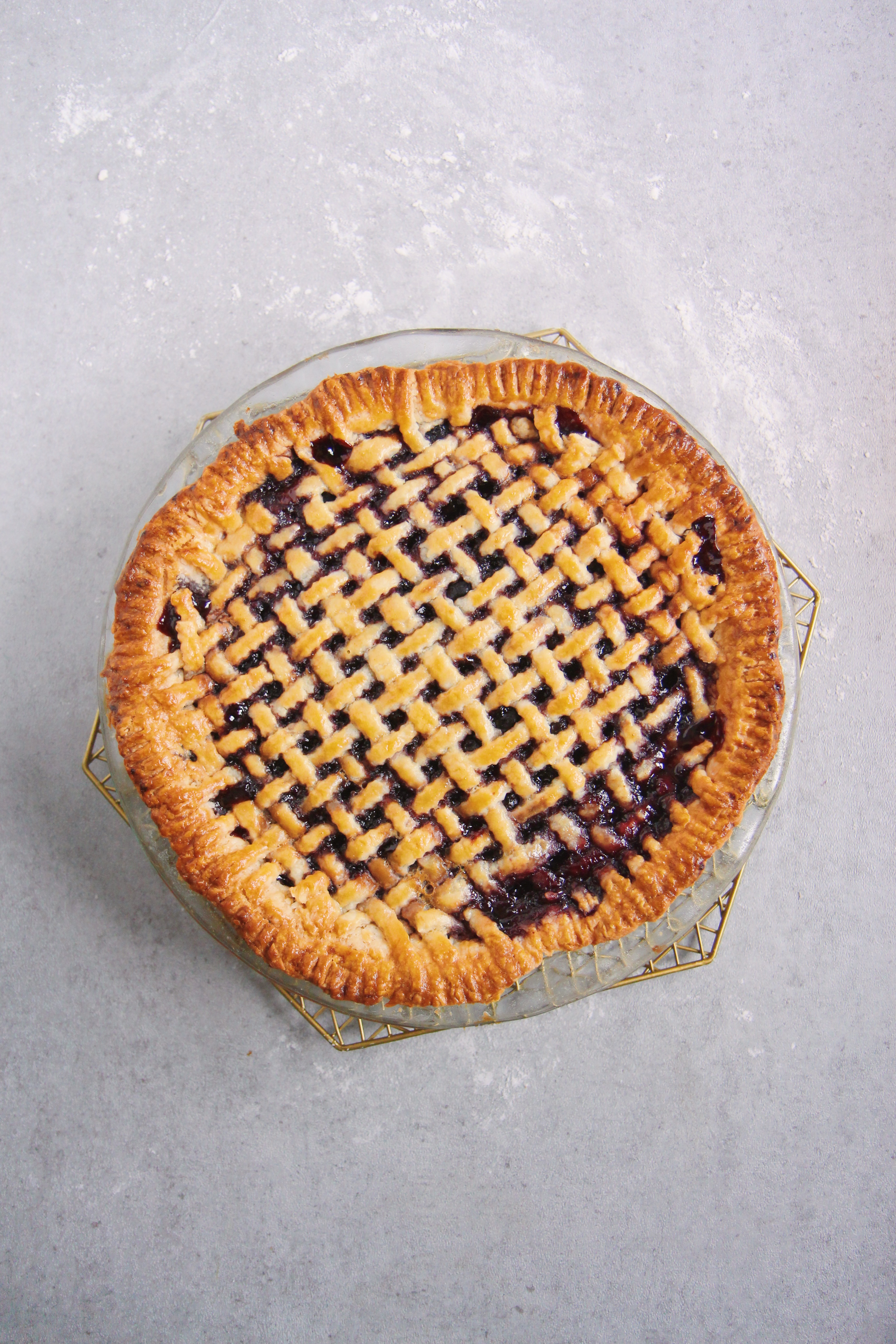 Pi day, previously:
2018: Brown Butter Smoked Salted Honey Pie
2017: vegan campfire pie
2016: brûléed citrus and lime pie
Pie, previously:
2018: plum and frangipane pie
2017: perfect peach pie
2016: pumpkin meringue tart
2015: apple, pear, butterscotch, and cheddar pie
2015: fig, rosemary, and lemon tart
2014: coconut buttermilk chess pie
2014: peach slab pie
2014: American pie
2013: Pumpkin spice brown butter chocolate pecan pie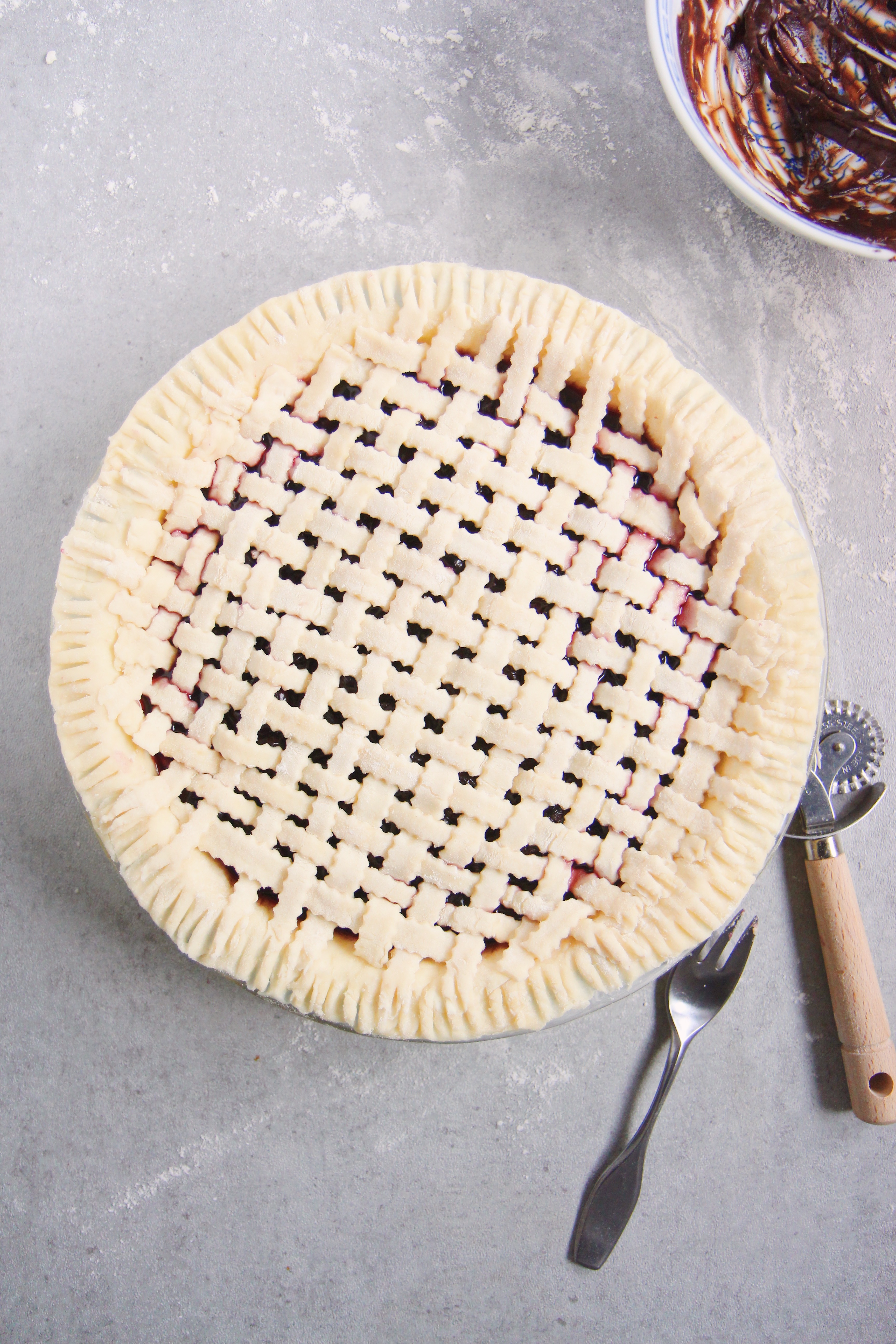 P.S. Because I vowed to share this silliness every year on this day:
Cosine, secant, tangent, sine,
Three point one four one five nine,
Square root, cube root, BTU,
Sequence, series, limits too.
Themistocles, Thucydides, The Peloponnesian War,
X squared, Y squared, H2SO4.
Who for? What for? Who we gonna yell for?
Go, Maroons.
Logarithm, biorhythm, entropy, kinetics,
MPC, GNP, bioenergetics!
Maximize and integrate, titrate and equilibrate—
Go, Maroons.
—Very Unofficial UChicago football cheer
(And apparently also shared among other famously nerdy schools? Who knows where this even came from?)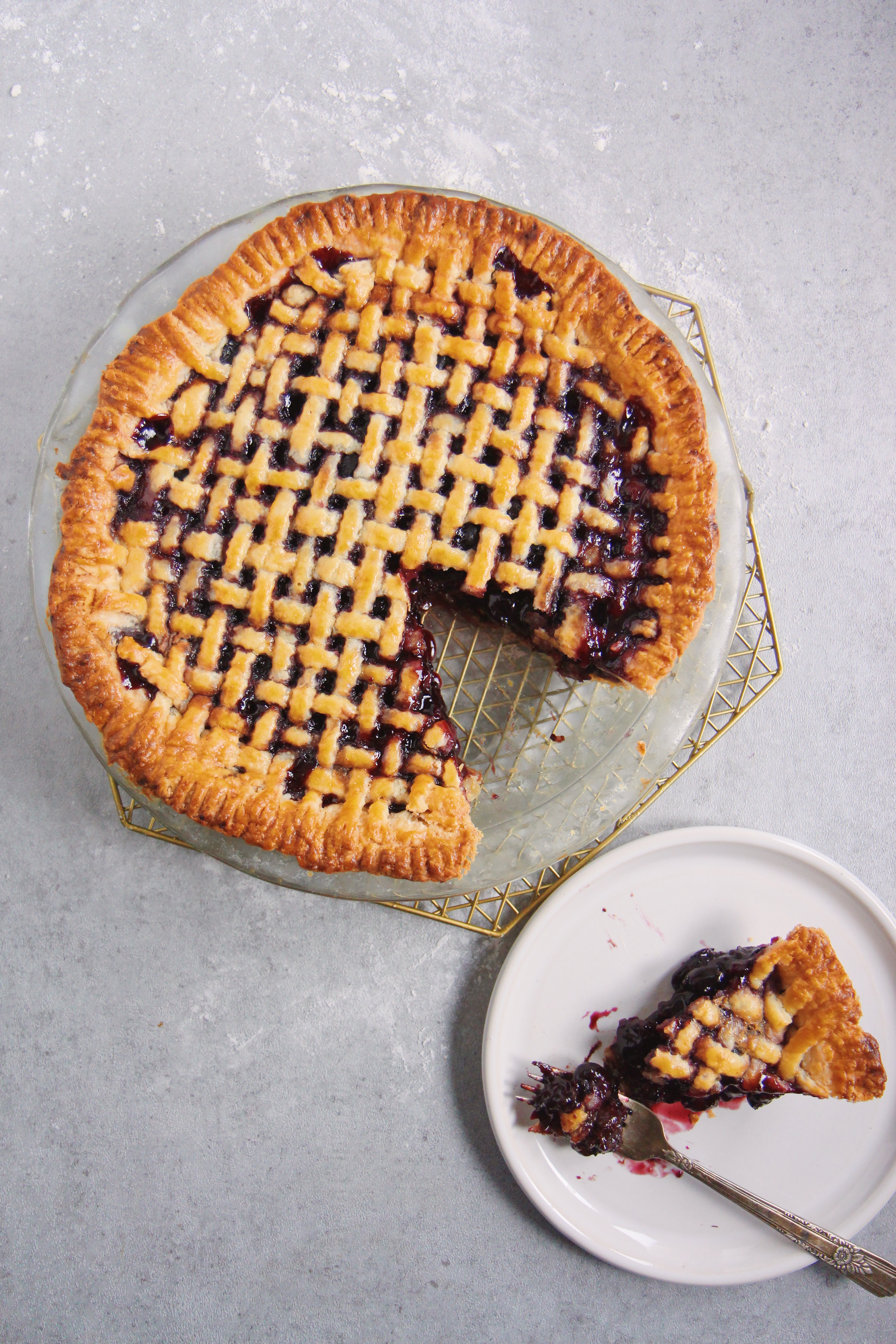 Black Bottom Cherry Pie
gently adapted from the brilliant Stella Parks
makes 1 9-inch or 9.5-inch pie
ingredients:
for the crust:
225 grams (1 2/3 cups) all-purpose flour
1 tablespoon sugar
1/2 teaspoon (4 grams) sea salt
225 grams (2 sticks, 8 ounces) unsalted butter, cold
120 grams (1/2 cup) cold tap water

for the filling:
115 grams (4 ounces) bittersweet chocolate, chopped
60 grams (1/4 cup) heavy cream
790 grams (28 ounces, 5 heaping cups) pitted cherries
50 grams (1/3 cup) amarena cherries, drained
200 grams (1 cup, 7 ounces) demerara sugar
3/8 teaspoon sea salt
40 grams (1/3 cup plus 1 teaspoon) tapioca starch

to assemble:
1 large egg
1 tablespoon heavy cream
directions:
Make the dough: stir flour, sugar, and salt together in a large bowl.
Cut butter into cubes, and toss with dry ingredient mixture.
Smush each cube flat by pinching it.
Stir in the water, then knead dough gently until it comes together in a shaggy ball.
(Stella notes that the dough temperature should register between 65 and 70 degrees F; refrigerate if it's warmer.)
Roll dough into a rectangle.
Do a double book fold: imagine a line that divides the rectangle in half, then fold over each side to meet there (i.e. fold in quarters, with the edges meeting in the middle).
Fold over the two leaves to get another rectangle.
Roll the rectangle out once more, and repeat the double book fold.
Divide in half.
Roll out one half into a 12-14 inch circle, then transfer to a pie plate and refrigerate (it's okay if the sides hang over).
Roll out the other half into a large rectangle, then use a pie or pizza cutter to cut thin, even strips. Refrigerate until assembly.
Make the ganache: place chopped chocolate and heavy cream in a small bowl.
Microwave for 15 second intervals until mostly melted; whisk together until shiny and smooth.
Allow to cool slightly while you prepare the filling.
Stir cherries, amarena cherries, sugar, salt, and tapioca starch together.
Smooth the ganache into an even layer over the bottom of the chilled crust.
Scrape the cherry filling into the prepared bottom pie shell.
Trim edges and crimp as desired.
Top with lattice strips, weaving to make a tight pattern.
Refrigerate and preheat oven to 400 degrees F.
Whisk egg and cream together.
Brush over chilled top crust.
Place pie on a parchment-lined rimmed baking sheet.
Bake until crust is golden, about 1 hour.
Tent with foil as necessary to prevent burning.
Continue baking until filling is bubbling, about 15 minutes more. (Stella notes that you should bake until pie reaches an internal temperature of 213 degrees F on a digital thermometer.)
Cool pie until no warmer than 85 degrees F on a digital thermometer, about 3 hours depending on the type of pie plate (at higher temperatures, filling will be runny and thin).