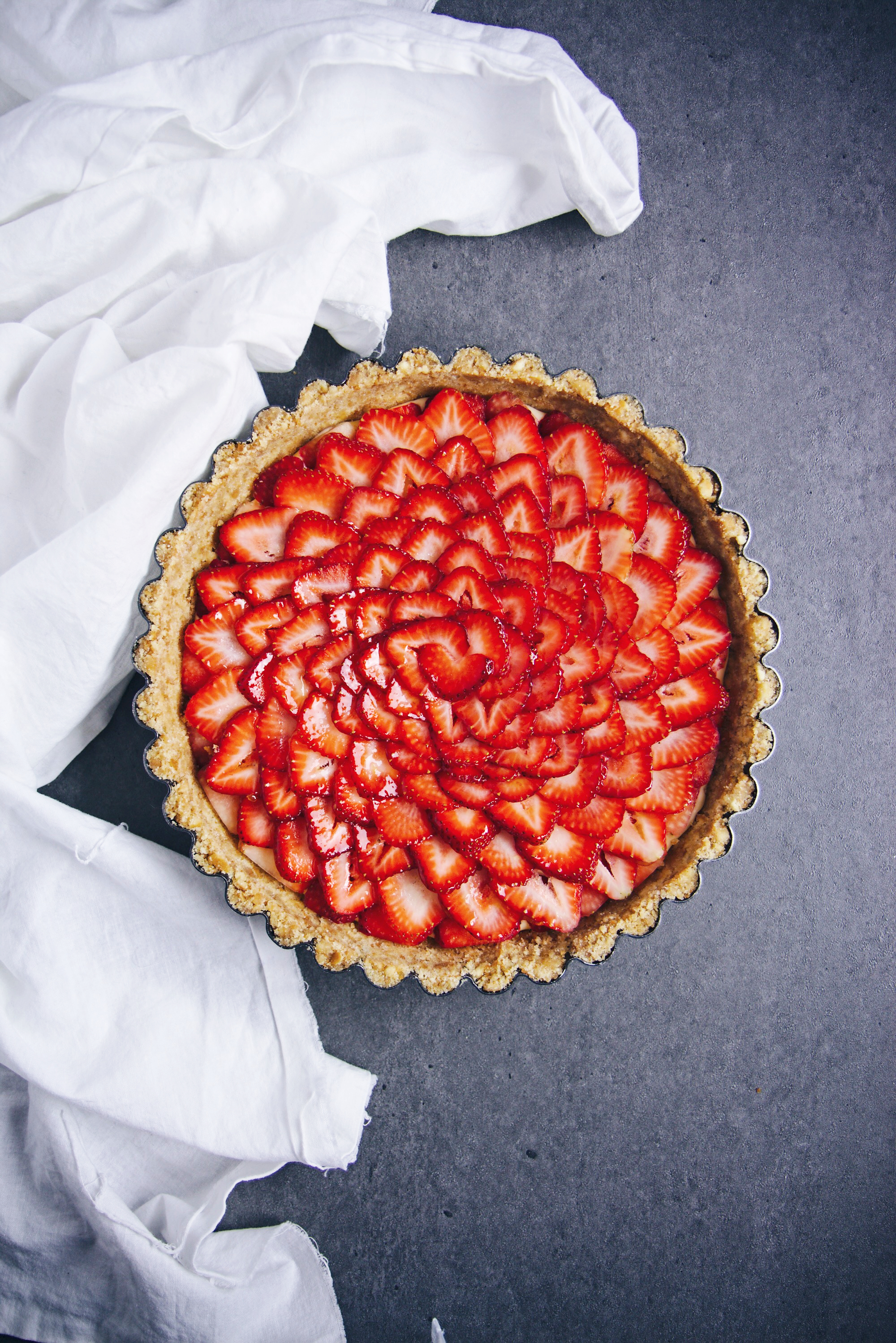 The sweetest surrender of winter
She put up a flag it is waving
The thunder of summer is rumbling in
And I haven't seen you in days
And my how that feeling has changed.
I have been homesick for you since we met.
A Father's First Spring, The Avett Brothers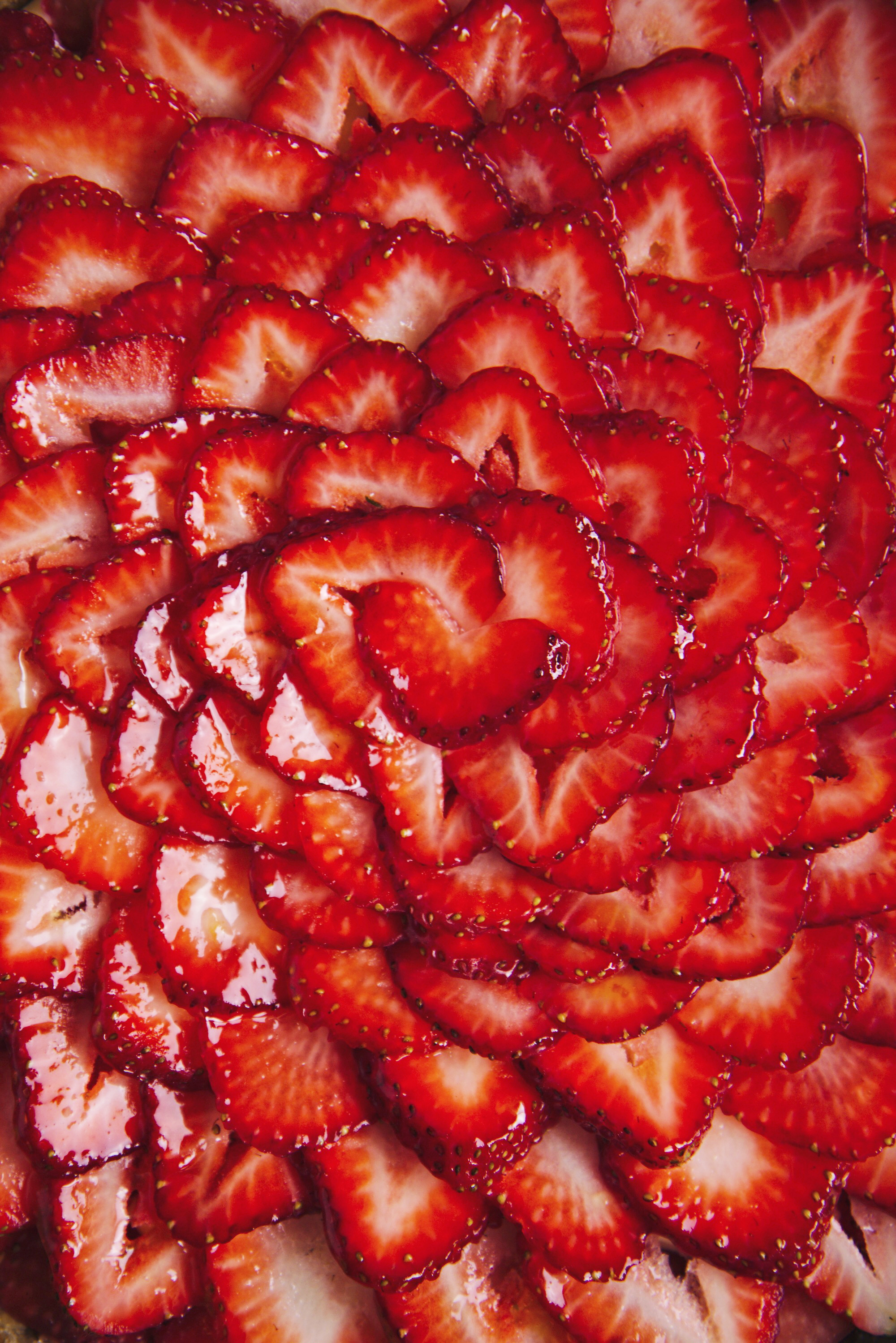 Honestly, I feel seen by this satire piece. A little too seen.
Why is the universe trying to @ me?!
OKso… Scroll to the bottom for the recipe for this fabulous, no-bake, super easy summer strawberry tart. And ignore the rest of my babbling. Thankyou.
No prose today, no chopped up "poetic" lines.
Just things that make my heart go thump. That are mostly related to food.
This cake, nothing short of glorious, from Michelle, who made it from Lyndsay's new book Coco Cake Land stopped me in my tracks as I scrolled through instagram, enough so to make me immediately open up her blog on my computer so I could see it full screen.
While the oven is off, I've been making salads on salads, but mostly the same ones on repeat. This spicy sweet slaw with peaches may have to be entered into the rotation, because the combination of ingredients seems delightful.
This! Picnic! Has! Me! Inspired! Courtney's posts always bring a smile to my face, and this one was no different. So dreamy and aesthetically pleasing: and that cherry clafoutis looks like a recipe I need to try stat.
In the same cherry vein, Scott's rustic cherry galettes "kissed with cognac and floral orange" are simply divine, no? I haven't made a single cherry thing this summer, which is sad indeed.
Jamie Beck of Ann Street Studio has to be one of the most brilliant creatives out there right now. Her photos make me want to say fuck it and pack up all my things and leave New York for the French countryside. Consider this a warning that they may do the same to you when you see them.
I've picked yoga back up and have been thoroughly enjoying the Y7 in my neighborhood. It's a cracking good workout, and sweatier than you can believe.
Ariana Grande's new album… (I didn't particularly want to like it! But I can't stop listening to the title track! Help-me-I-am-stuck-in-an-endless-pop-earworm.)
Quinoa tabbouleh with tons of lemon juice.
In season cherry tomatoes (the little orange ones, especially).
Raw walnuts straight from the freezer for snacks. I don't know why I love this one so much.
Strawberriessssssssss.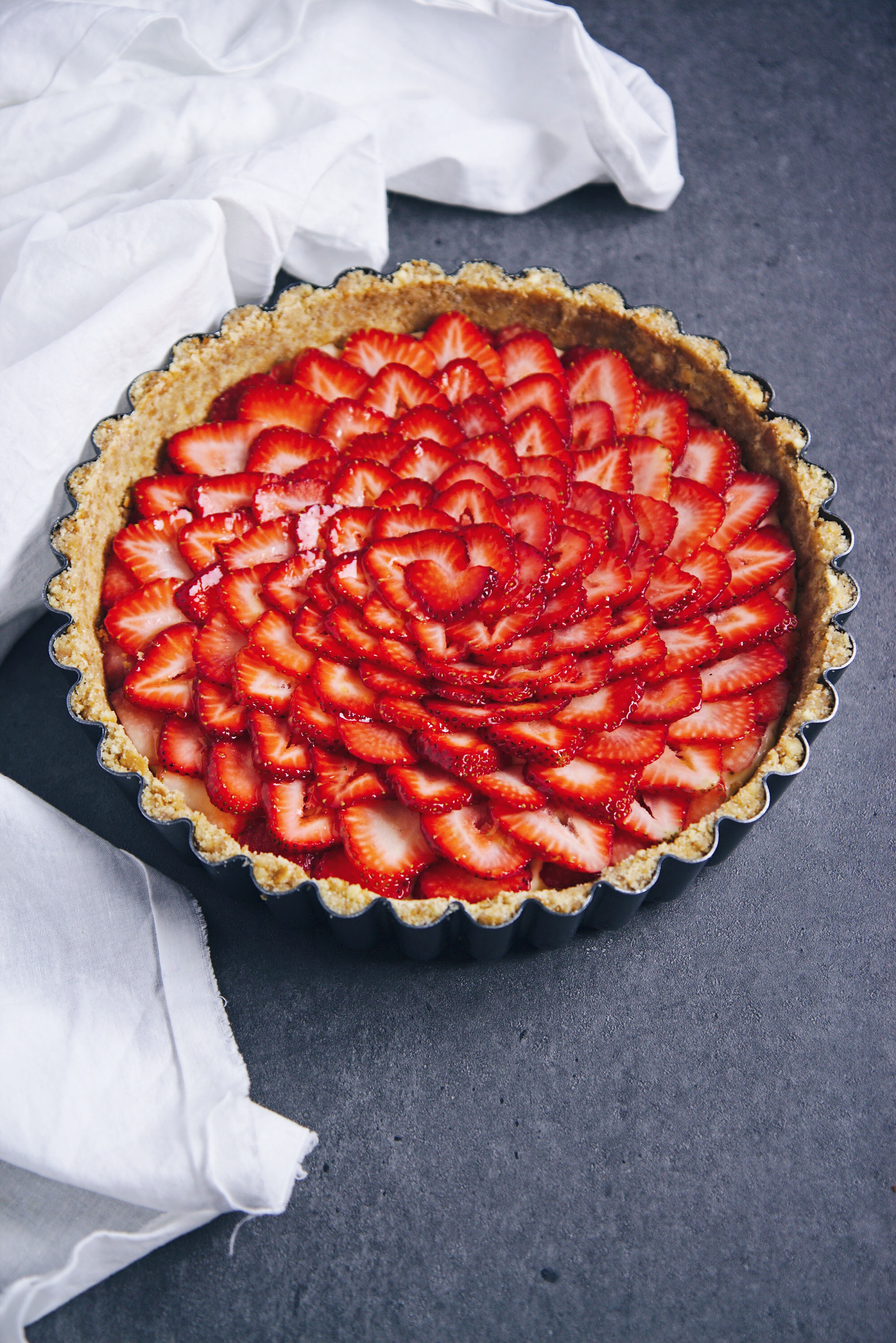 Since Miss Summer's tyrannical reign still grips New York City in sweaty, vice-like jaws, I have absolutely zero desire to even LOOK at my oven, let alone turn it on. I mean, yech.
This tart is thus happily no-bake. I made it in honor of dear Miss Naomi, who recently ditched me and broke my heart switched jobs to a fabulous new workplace. Hurrah!
Nilla wafers, with their sandy vanilla sweetness, are crumbled up and mixed with a hefty pinch or two of salt and plenty of melted butter. Pressed firmly into the pan, it's just a titch different from a graham cracker crust—a little less nubbly, and with a stronger buttery profile.
It's delicious and somewhat unexpected, and it's a blank canvas for the fruity fillings.
Next, tart, lush lemon cream is spread thickly over the crust. It's like a lemon curd that has been emulsified further with extra butter, rendering it super silky and smooth without losing the true, clean citrus profile.
Thinly sliced strawberries, brimming with juice and summer tidings, are carefully arranged on top and brushed with the thinnest layer of jam to keep them shiny.
This is a simple, easy-to-make tart, but it showcases the best of summer baking sans oven. I hope you love it as much as my friends did!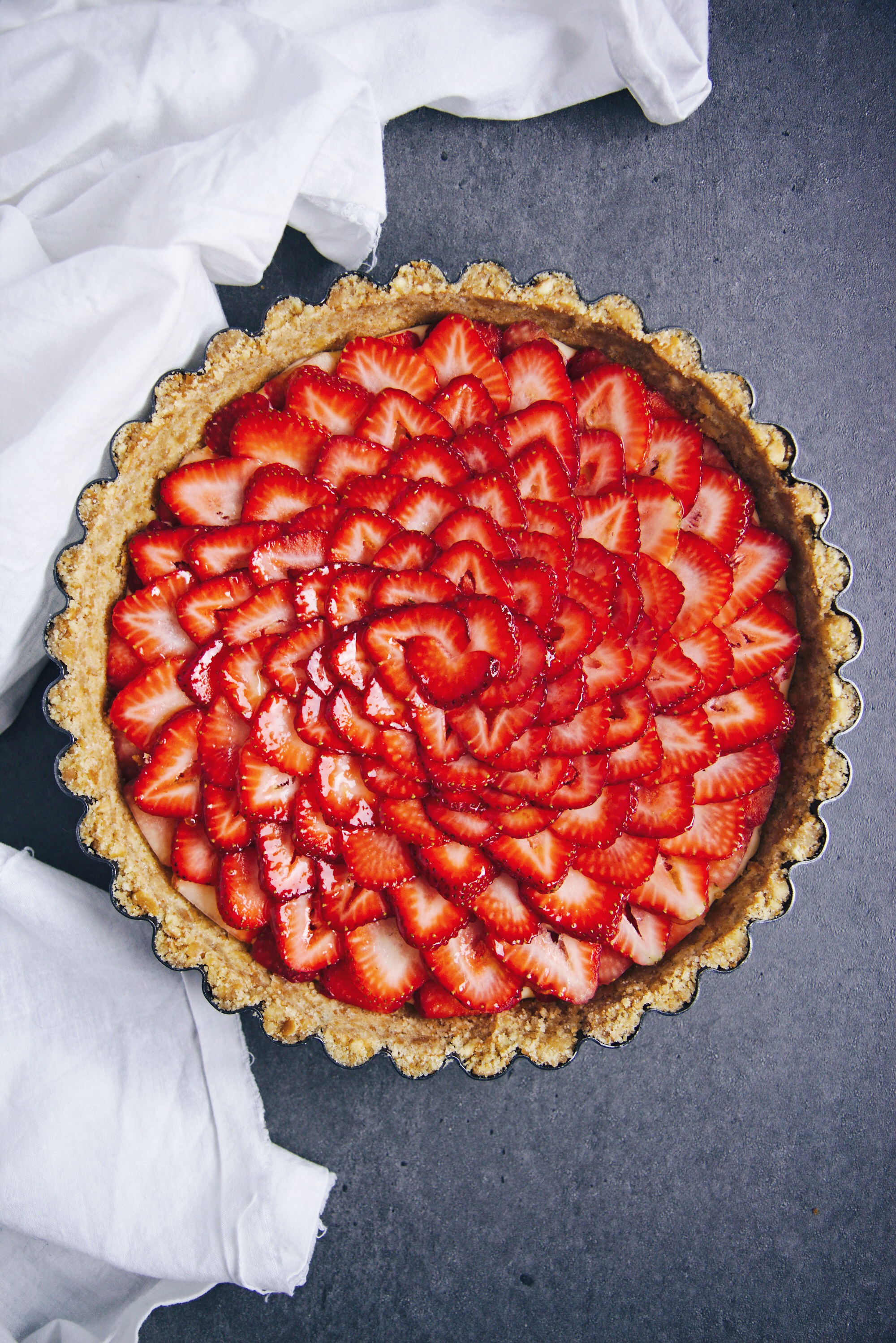 No-Bake Strawberry and Lemon Cream Tart
makes 1 9-inch tart
ingredients:
for the crust:
336 grams (12 ounces) Nilla wafers (or other dry vanilla cookie)
25 grams (2 tablespoons) granulated sugar
1/2 teaspoon salt
113 grams (8 tablespoons) butter
for the filling:
1/2 cup plus 2 tablespoons (150 grams) lemon juice
3/4 cup (150 grams) sugar
pinch salt
3 eggs
1 egg yolk
1/2 cup (113 grams) butter, cut up
to assemble:
1 pint strawberries
marmalade or jam, for brushing, optional
directions:
Make the crust: pulverize cookies into crumbs.
Mix in sugar and salt, then drizzle in the butter until texture is like wet sand and forms clumps when pinched (depending on the humidity of your kitchen, you may not need all of it. If things are still dry after 1 stick of butter, you can add a tablespoon of heavy cream).
Press into 9-inch tart pan and refrigerate.
Make the filling: place lemon juice, sugar, salt, eggs, and egg yolk in a bain-marie (a bowl over a simmering pot of water).
Whisk vigorously over medium-low heat until combined; whisk every 30 seconds or so to prevent lumps from forming.
Cook for 7-10 minutes, until thickened and at a low boil.
Remove from heat and pour into a blender canister or another bowl if you have an immersion blender.
Allow to cool for 5 minutes, then add the pieces of butter in and blend on high speed until light in color and thick.
Allow to cool completely before spreading into tart shell.
Slice strawberries very thinly (about 1/8 thickness) and group by size.
Starting with the largest slices, ring the edge of the tart, points facing outward.
Repeat, making concentric circles with smaller and smaller sized berries.
In the center, place a strawberry cut into a heart.
Gently brush with warmed marmalade or jam, if desired (this will lock in the juices).
Tart best served the day it's assembled, although it will last in the fridge overnight.