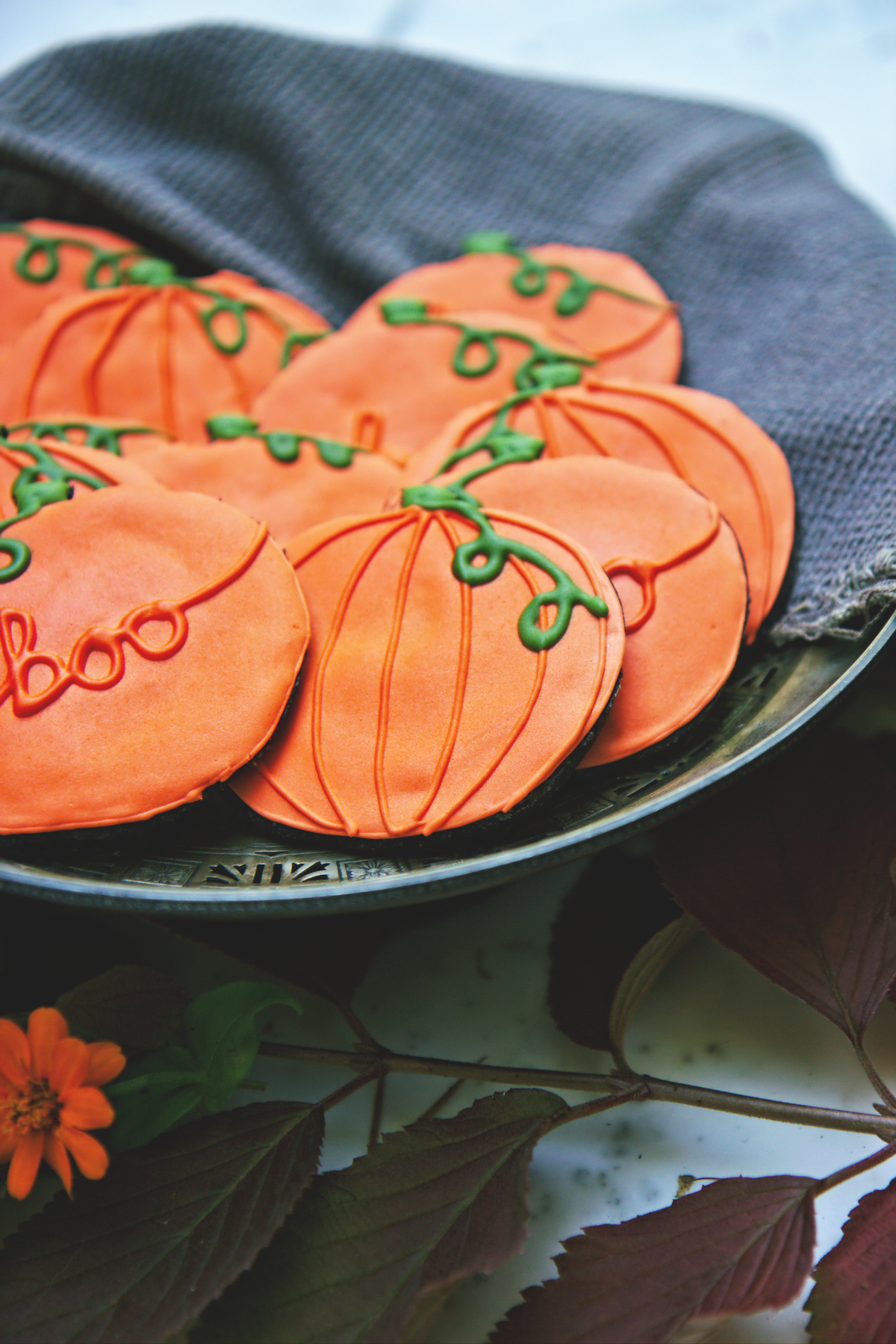 "Even miracles take a little time."
—Fairy Godmother, Cinderella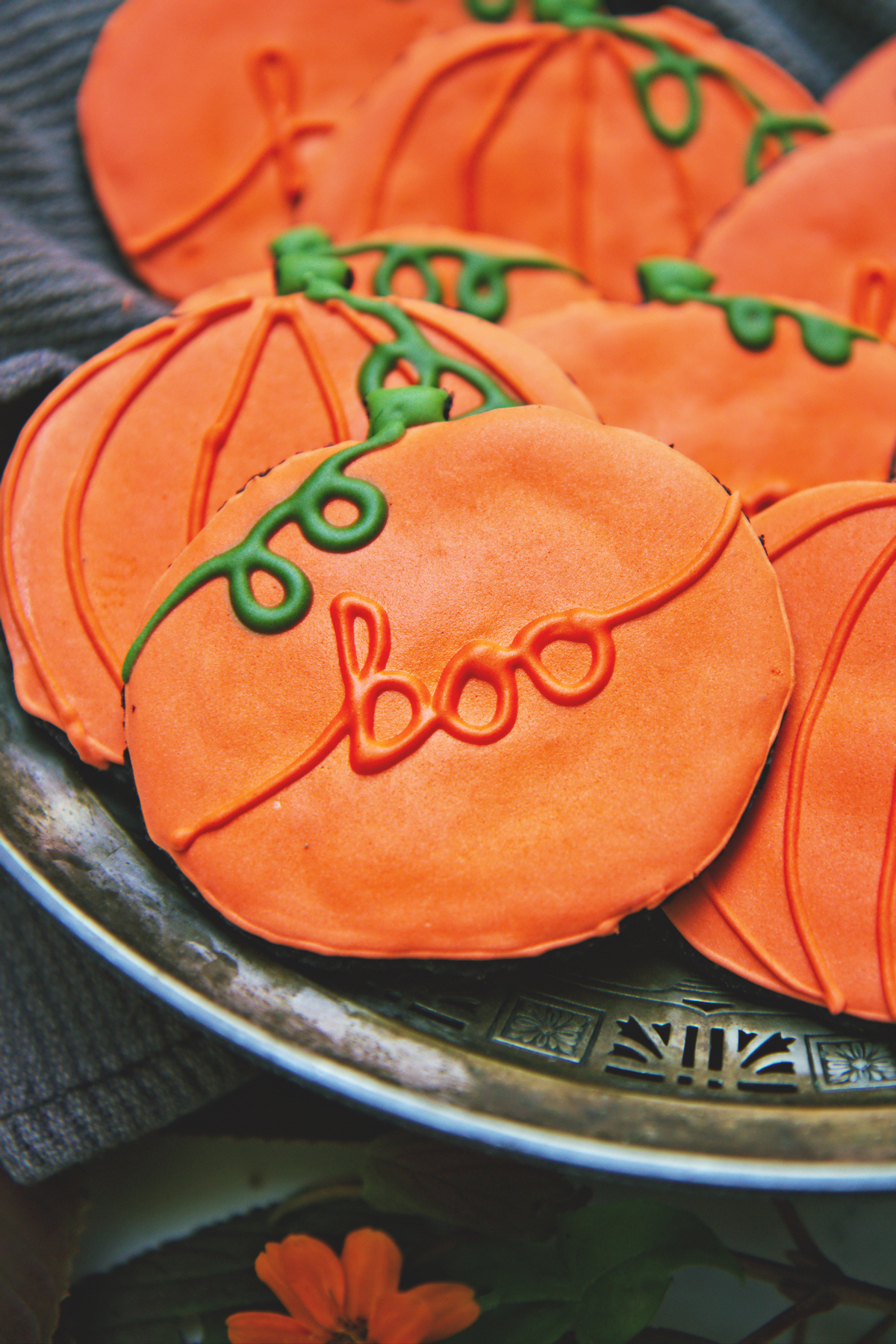 It's October….!!! It's October 15th….!!!
I have to start planning/making/prepping Alexa's birthday cake, which means we're definitely in mid-October and fast approaching Halloween.
Don't ask me how.  I think September might have gotten sucked into a time warp.
I want to make some Halloweenie treats for the blog, as it's one of my favorite holidays. I just hope I have enough time to prep + write them!
Especially a certain cake that I've been plotting since June or so.  Funny because I'm not joking lol.
(All of my favorite holidays are in the Autumn/Winter: Halloween, Thanksgiving, & Christmas.  Le duh.)
I also have to havetohaveto figure out what the heck I'm going to dress up as.  Any ideas?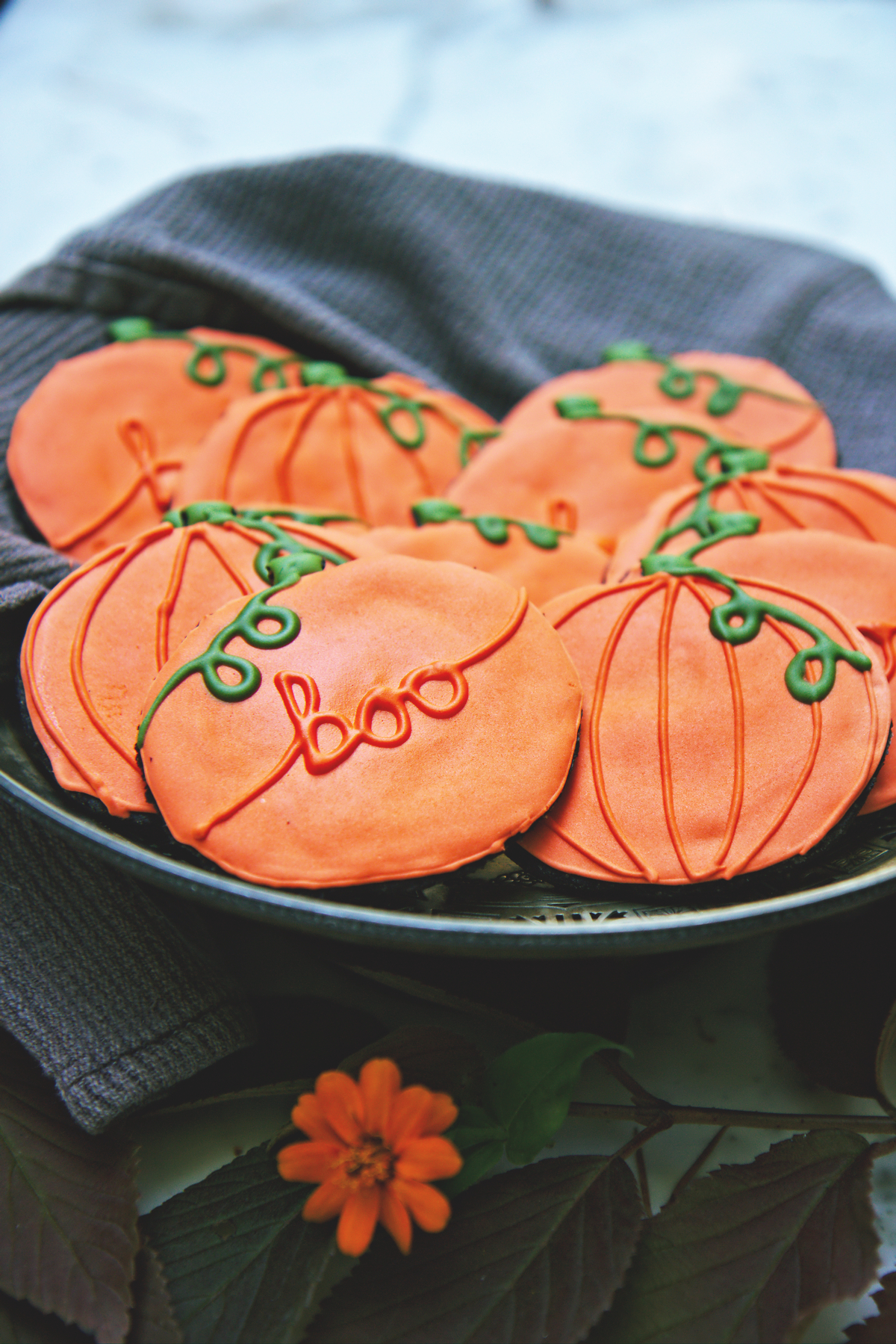 To get in the not-so-spooky spirit, I have these cute little pumpkin roll-out cookie for you today.
They're not pumpkin flavored, unlike 99% of what will be floating around the internet for the next month and a half, but they're pumpkin shaped and that's practically as good.
I thought about putting pumpkin purée in my cookie base, but I knew it would be far too wet and wouldn't give me a nice crisp cocoa cookie like I wanted.
So these are my simplest, go-to chocolate roll-out butter cookie dough, with a heaping spoonful of cocoa powder and a fair pinch of salt that plays off the super sweet royal icing, which is also simplified by using egg whites instead of meringue powder (which I seem to never be able to keep hold of.  Kitchen elves, I tell you.).
They're rolled out extra thin to give extra crunch, shaped into pumpkins and baked off, then filled with royal icing, and given a scrawl of cursive and a swirly little vine to finish them off.
You can, of course, use meringue powder if you're worried about the safety of the egg whites.  I will highly recommend Bridget's recipe—when I have meringue powder on hand (never), it's the one I will always choose.
These are very crisp, chocolaty cookies, with a bit more complexity than their decorated blonde cousins thanks to the extra hits of salt and cocoa.  Perfect and adorable for autumn with a cup of milk or tea!
One thing is for certain—by the time the clock strikes midnight, these will have disappeared!
Bippity boppity boo…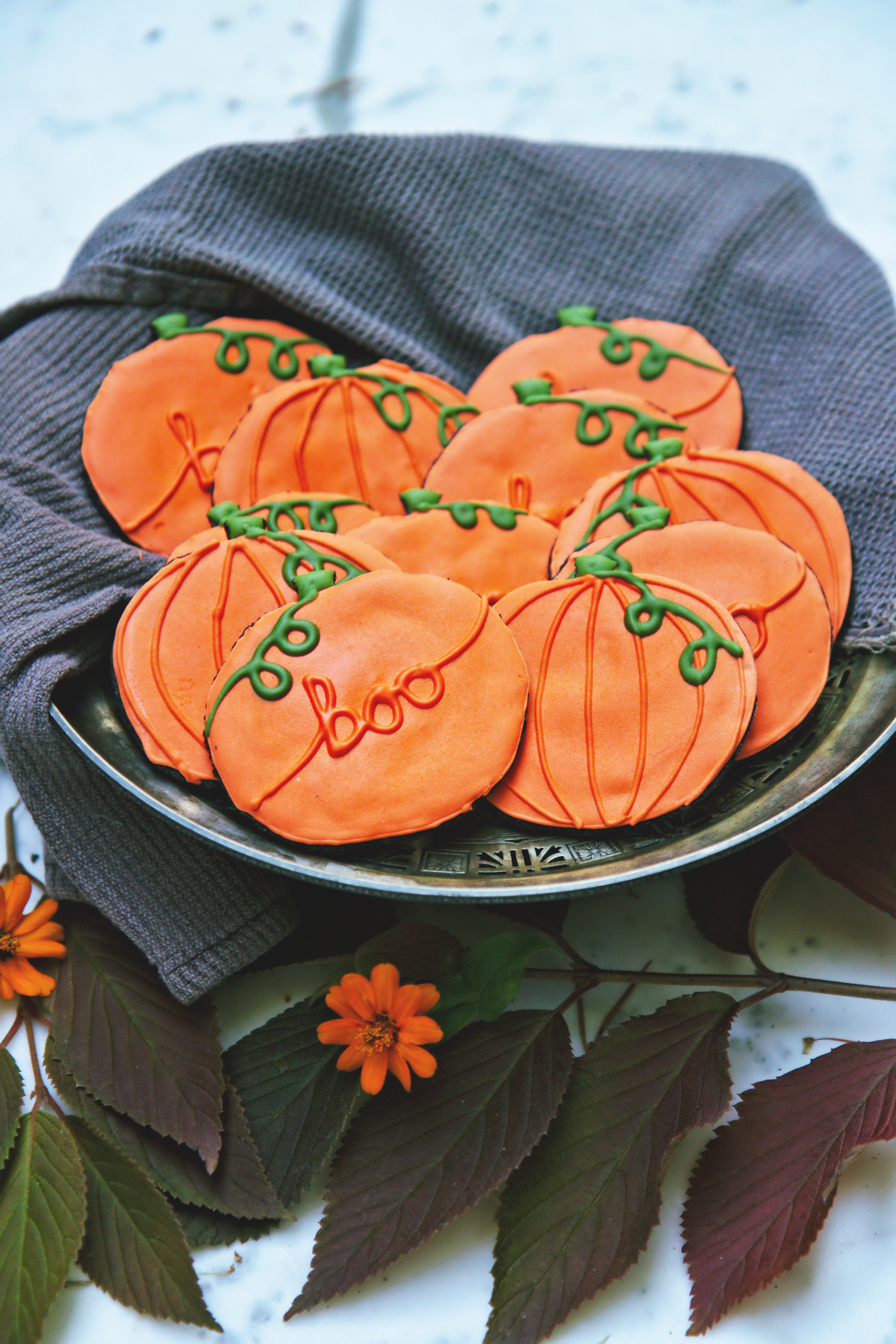 Decorated Chocolate "Pumpkin" Cookies
makes 20 2-inch cookies
ingredients:
for the cookies:
300 grams (2 1/2 cups) all purpose flour
60 grams (1/2 cup) cocoa powder
225 grams (2 sticks, 8 ounces) butter, soft
200 grams (1 cup) sugar
1 teaspoon kosher salt
1 large egg
2 teaspoons vanilla extract
this recipe for royal icing
directions:
Make the cookies: line 2 baking sheets with parchment paper and preheat the oven to 350 degrees F.
Lightly flour a flat surface, a rolling pin, and a pumpkin-shaped cookie cutter (or whatever shape you want).
Whisk flour and cocoa powder together.
Place butter in the bowl of a stand mixer fitted with the paddle attachment and beat on high for 2 minutes.
Add in the sugar and salt and beat on high for 3 more minutes.
Add the egg, scrape the sides of the bowl, and beat for 5 minutes.
Scrape the bowl, add in the vanilla extract, and mix on low until combined.
Add in the flour and cocoa powder and stir until the dough comes together.
Turn dough out onto floured surface and roll out to 1/8 inch thickness.
Cut out shapes, then knead dough and re-roll.
Repeat until all the dough has been used.
Place cookie shapes onto the baking sheets and freeze for 15 minutes.
Bake for 8-10 minutes, until fragrant and crisp on the edges and the center is set.
Allow to cool completely before frosting.
To make the royal icing, place egg whites in a bowl with the cream of tartar and salt.
Whip on high speed until soft to hard peaks form.
Sift the powdered sugar over the egg whites, then whisk until completely homogeneous and no lumps remain.
Add water as needed, 1 teaspoon as a time, to get to a wipeable consistency.
Split out 1/3 cup for the green, and tint the rest orange.
Of the green frosting, split out 2-3 tablespoons to be the fill, and thin a little more to create runny frosting.
Of the orange frosting, split out 1/3 cup to be thick, pipeable consistency (don't add water to this part), and thin the leftovers to a runny consistency.
To decorate, pipe an orange edge around the main part of the pumpkin.
Do the same with green on the little stem.
Allow to set for 5-10 minutes, then flood the orange part of the pumpkin.
Repeat with the stems.
Allow to set for 30-45 minutes, until matte.
Pipe a little vine from the stem coming down the main part of the pumpkin, then pipe thick orange frosting into pumpkin grooves or a little cursive "boo."
Allow to set completely, 3-5 hours, before serving.
Cookies keep in an airtight container for up to a week.