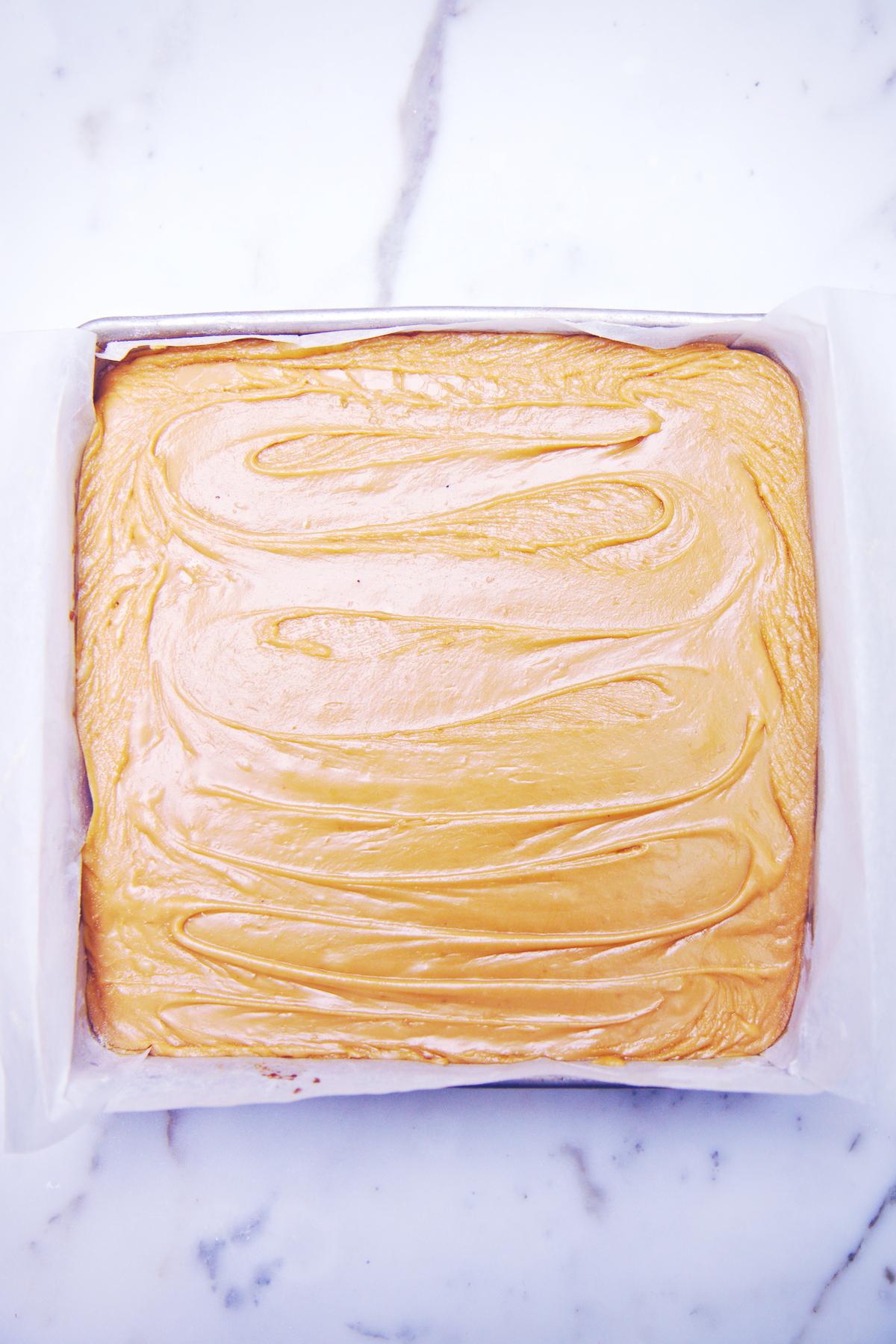 "Please understand that I am in
full rebellion
against my own mind; that when I live
I live by impulse, by emotion,
by white heat."
—Anaïs Nin, Henry and June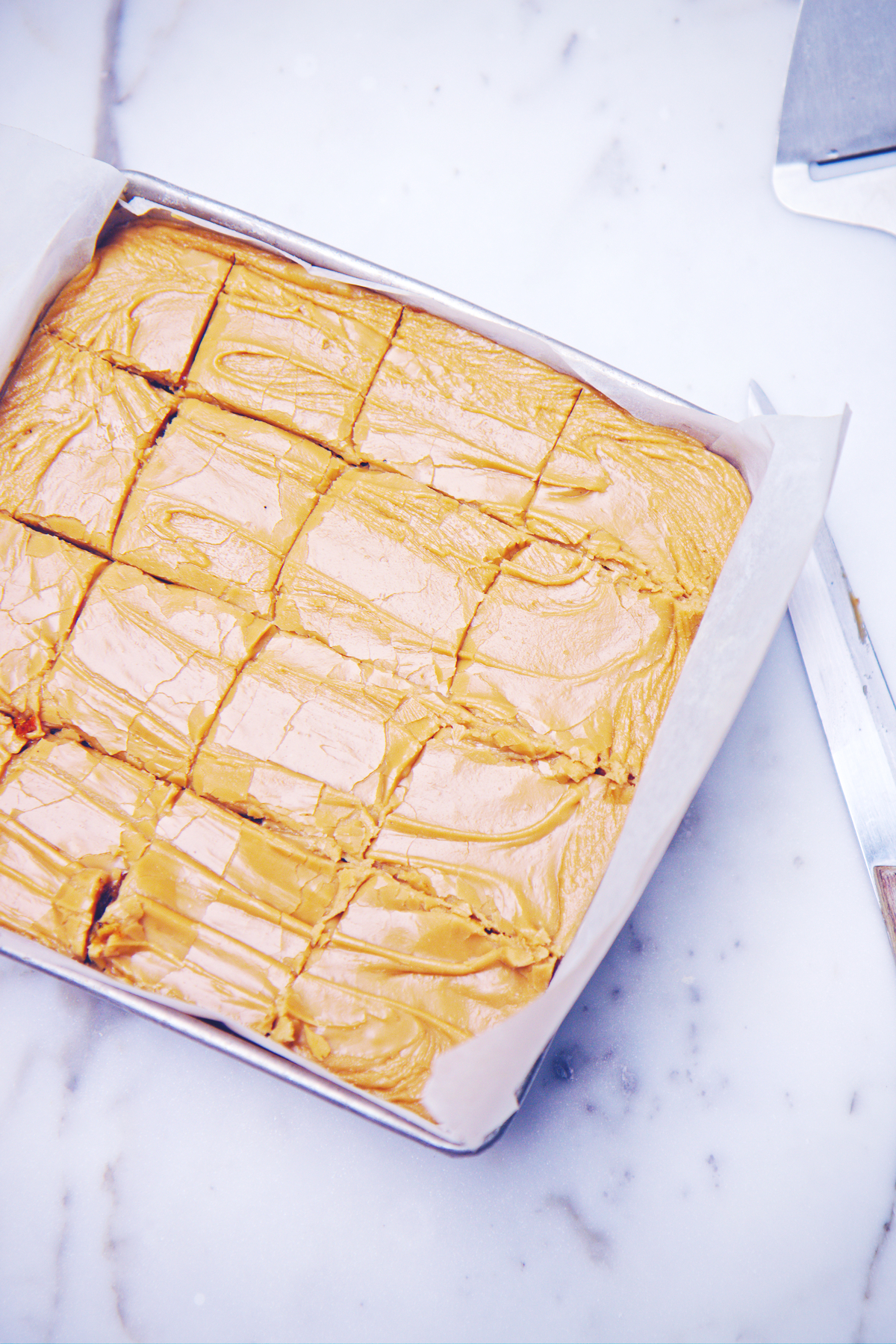 The French, in their effortless elegance, make a difference between kitchen and bathroom sinks.
Un évier et une lavabo.
They draw the line at owl's ears: ones with visible ears are les hiboux, while ones without are les chouettes.
There are three words for frost, seven for ice.
Five for window, four for wall.
There's even a phrase in French for the phenomenon of the urge to jump off of tall buildings/cliffs/balconies/heights:
l'appel du vide.
(Literally: call of the void.)
There are other nuances threaded into the language that make translation tricky; this is one of the most fascinating parts of non-native languages, I think.
Idioms and untranslatables that might confuse anyone hearing them for the first time.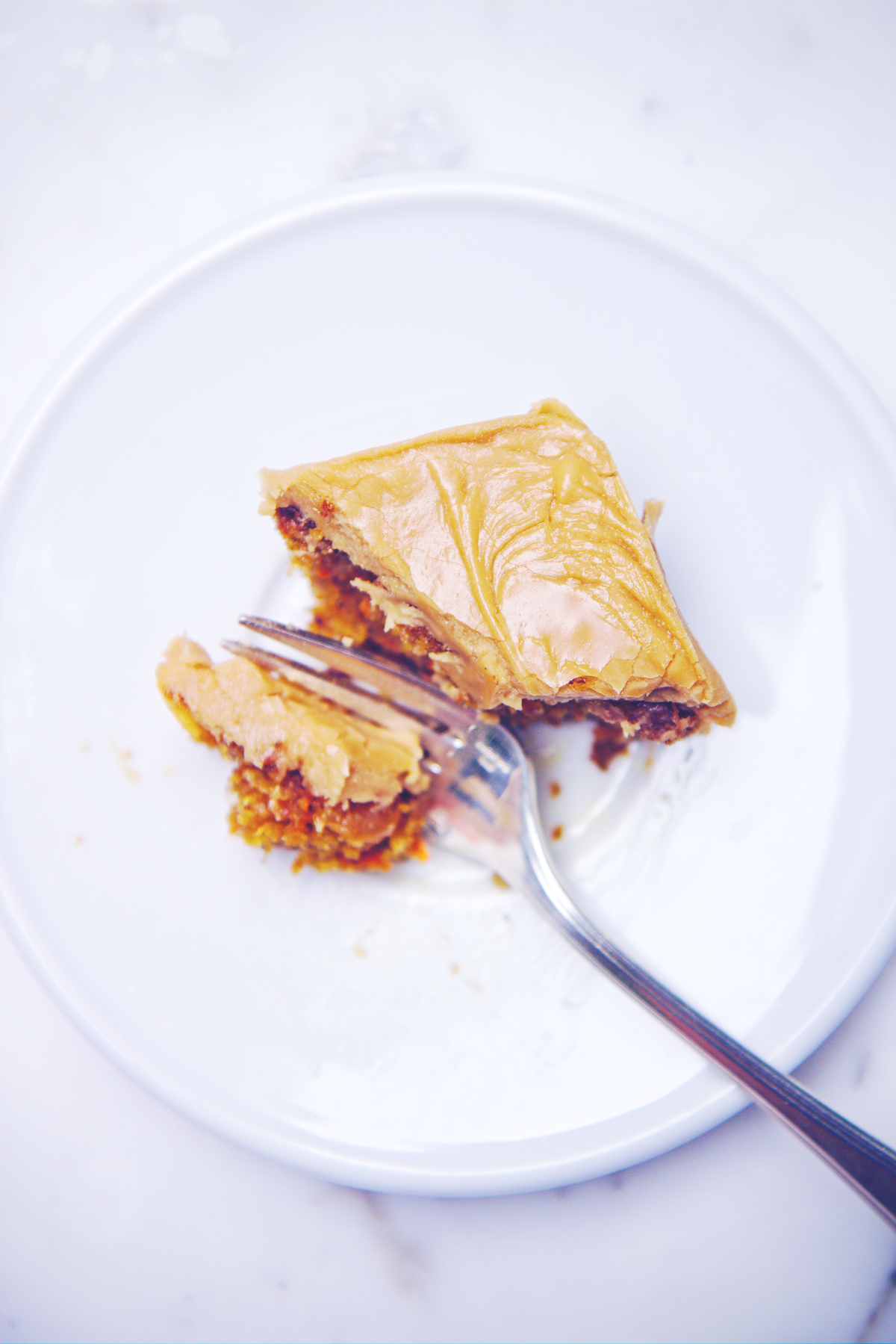 This cake is totally autumnal, so in the same vein, here are some fantastic fall links for you to peruse.
OMgomgomg. Michelle made brown butter pumpkin cinnamon rolls with crème fraîche glaze and they are so fluffy and beautiful I am seriously losing my mind.
These ultra healthy sugar free apple, almond, and buckwheat muffins from Green Kitchen Stories look so comforting (that applesauce center wooooow) and I want to eat 3 for breakfast like, right now, please.
On the savory side, stew is my favorite kind of meal.
Customizable, easy, makes leftovers.
I gravitate towards middle Eastern flavors (za'atar is my go-to spice blend) when I'm cooking, and this squash and bean stew over brown rice is my idea of a perfect fall meal.
Side note: I really want SK's Bowl + Spoon because, like I said, that's the kind of cuisine/meal that just gets me.
See also: this butternut squash chili. Oyyyyyy so warm and spicy and squash-y.
Last one: drooling over this dutch apple pie with muscovado toffee sauce.  Crumbly and salty-sweet and layers upon layers of apple drenched in toffee sauce…
I am quite partial to a good apple pie.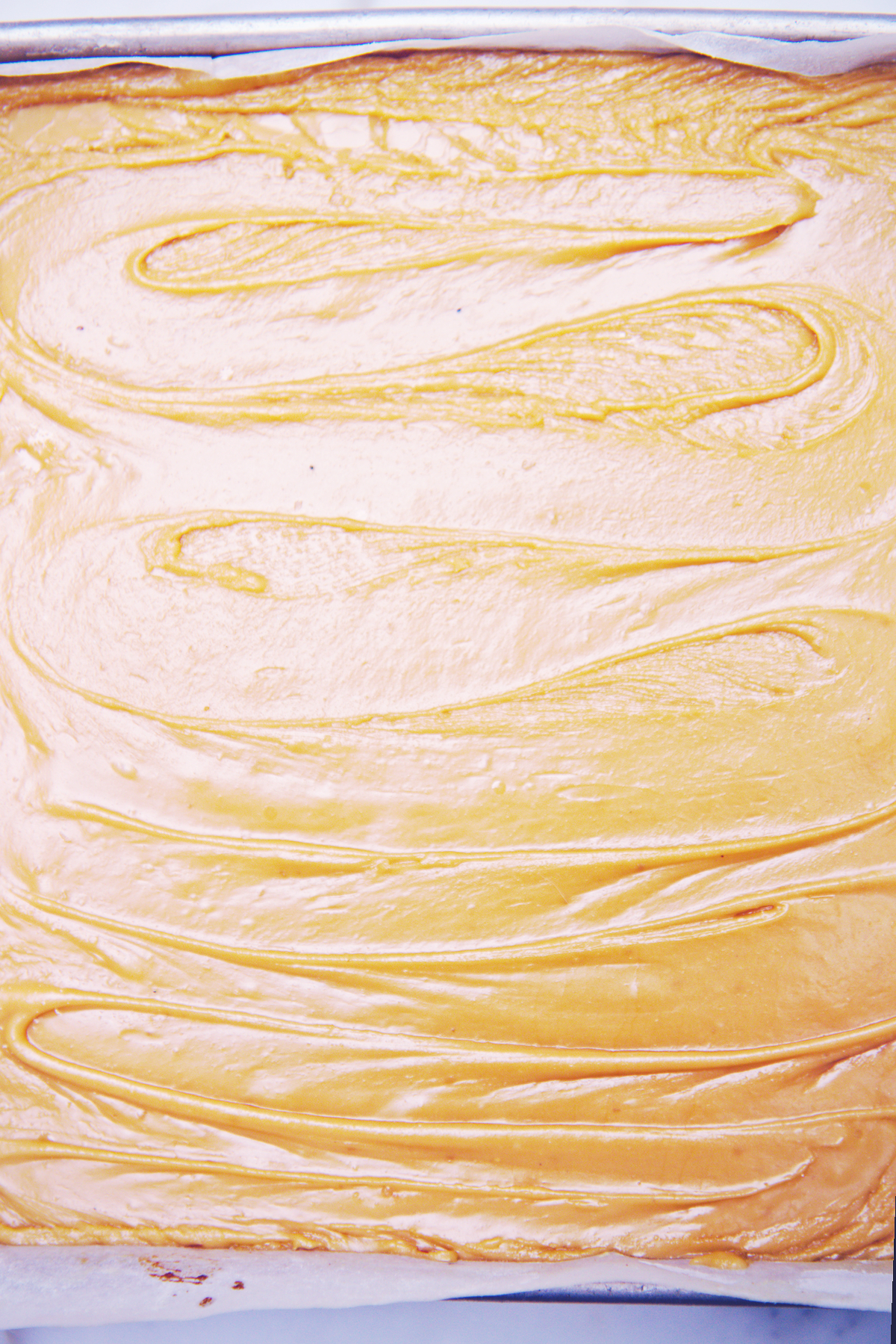 Where to start with this carrot cake…
First of all, it is remarkable how well the mélange of ingredients mesh in this cake.
The sheer number of mix-ins might make one wary, but you absolutely must trust me, because the resulting cake is nothing short of phenomenal.
It is exactly how I like my carrot cake: moist, dark, spicy, fruity, and chock full of little surprises in each bite.
And lots and lots of carrot!
The cake is healthier than most carrot cakes, which are always touted to be calorie bombs in disguise.
The amount of refined sugar is drastically reduced by using coconut sugar, which is dark and a little smoky tasting.  It lends the cake an extra deep, caramel flavor.
The cake itself is dairy free, with MCT-rich coconut oil standing in for butter.
The frosting has a cracked, shiny, swirly top.
It's lusciously rich on the tongue, with butter and brown sugar creating an extremely rich caramel flavor.
It's good while soft and melty and fantastic when cold, which firms it up into a fudgy consistency.
It's a rich frosting to pair well with the dense, moist cake beneath.  A wimpy frosting would have no impact and no chance of competing with the cake.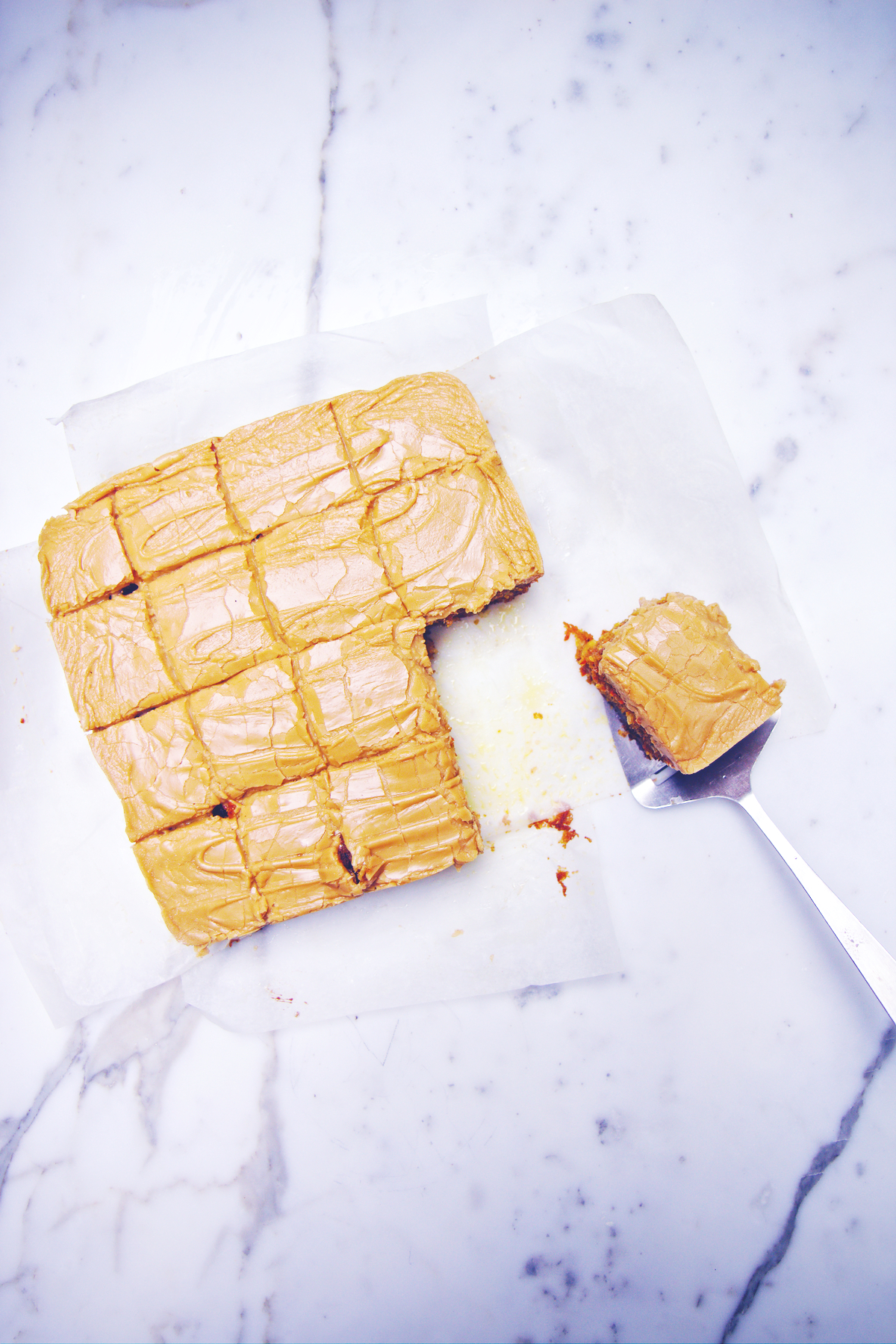 The cake is filled with grated carrots and apples for earthiness and a firm bite; coconut sugar and flaked coconut add a whisper of the tropics and a hint of caramel and smoke; candied ginger and a pinch of cinnamon, nutmeg, and cloves add a spicy note; juicy golden raisins are sweet and unexpected; finally, toasted chopped walnuts give an ever-so-slight bitter nuttiness to each bite.
The frosting deserves a whole host of adjectives of its own.
This is seriously the best frosting of this sort (spread over warm sheet cake) I have ever in my life tasted or imagined.
Unlike the cake, it is in no way healthified.
It's made of copious amounts of butter and brown sugar, and is literally liquid fudge that is spread over the warm cake and then allowed to set into luscious, creamy goodness.
It's sweet and salty and a little caramel-esque, with a crunchy, shiny top layer and a buttery center below.
I want to spread it on every single sheet cake I ever make.
This would be incredible with applesauce cake, or chocolate cake, or caramel cake, or coconut cake… or a spoon, or cardboard.  You get the point.  It's good.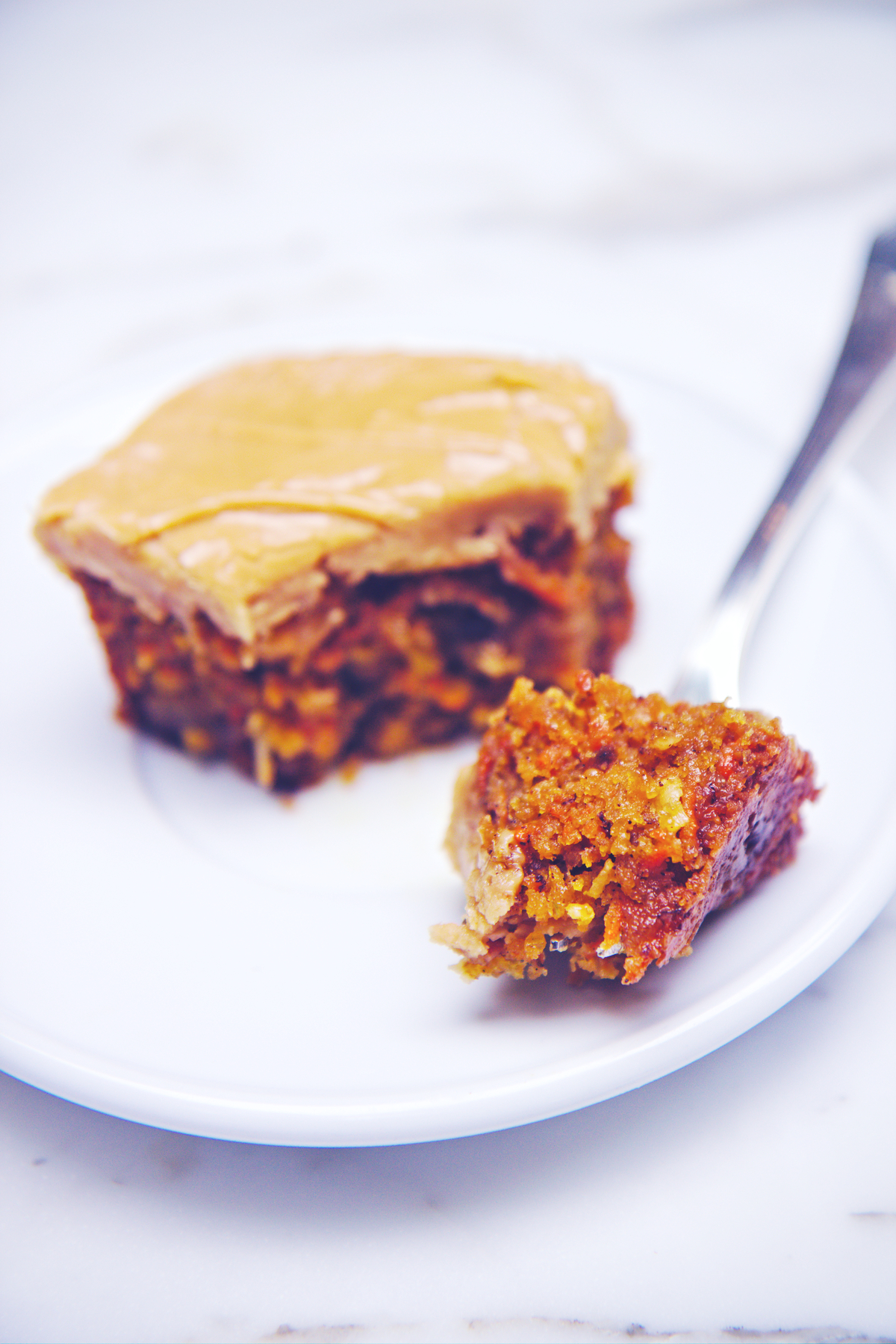 Kitchen Sink Carrot Cake with Brown Sugar Fudge Frosting
makes 1 9×9 inch cake
frosting adapted from KAF
ingredients:
for the cake:
2 eggs
100 grams (1/2 cup) granulated sugar
75 grams (1/4 cup plus 2 tablespoons) coconut sugar (or brown sugar)
170 grams (3/4 cup) coconut oil, melted
1 teaspoon kosher salt
120 grams (1 cup) flour
3/4 teaspoon baking powder
1/2 teaspoon baking soda
1 teaspoon cinnamon
1/4 teaspoon nutmeg
1/4 teaspoon cloves
200 grams (1 1/2 cups grated) carrots
2 small granny smith apples, grated
1/2 cup toasted chopped walnuts
1/2 cup shredded coconut
1/2 cup candied ginger, chopped
1/2 cup golden raisins
for the brown sugar fudge frosting:
100 grams (7 tablespoons) butter
130 grams (2/3 cup) brown sugar
1/4 teaspoon plus big pinch kosher salt
60 grams (1/4 cup) milk
275 grams (2 1/4 cup) confectioner's sugar
directions:
Make the cake: preheat oven to 350 degrees F and grease a 9×9 inch pan; line with parchment and grease the parchment as well.
Whisk eggs, sugars, oil, and salt together until homogeneous and light in color.
Add the flour, baking powder, baking soda, and spices on top.
Fold in until halfway incorporated, then add the grated carrots and apple on top and fold until completely uniform.
Stir in walnuts, coconut, raisins, and candied ginger.
Pour batter into prepared tin and bake for 30-40 minutes, until a tester comes out with a few moist crumbs.
Allow to cool while you prepare the frosting.
Make the frosting: melt butter, brown sugar, and salt together until completely incorporated.
Whisk in the milk and powdered sugar until a thick frosting comes together.
Allow to cool for 5 minutes, then spread over the partially cooled cake, swirling with a palette knife as desired.
Serve cake room temperature or slightly chilled for denser cake.