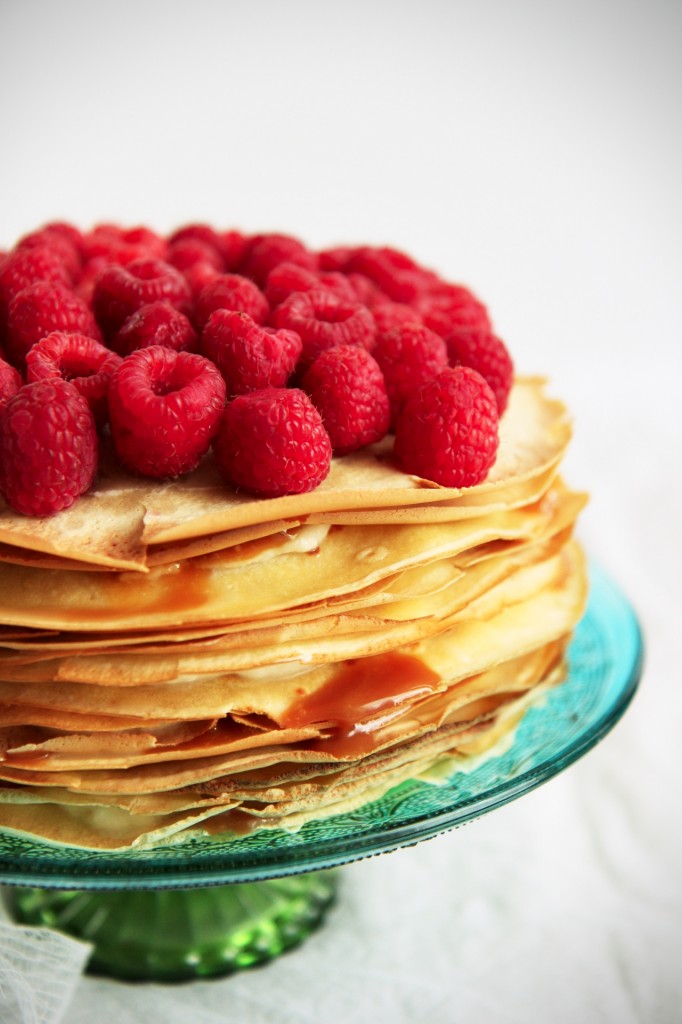 Soft does spring press on,
by briefest glimpses of the sun.
And eagerly do buds break,
warm winds whisp'ring them awake.
Quiet pinks and palest yellows
shade the undersides of petals.
The breeze is scented, sweet,
caressing the world out from its sleep.
Life unfurls far as the eye can see;
birds and blooms fill every tree.
Warbling melodies call from above,
honeyed confessions of new love.
–4/21/14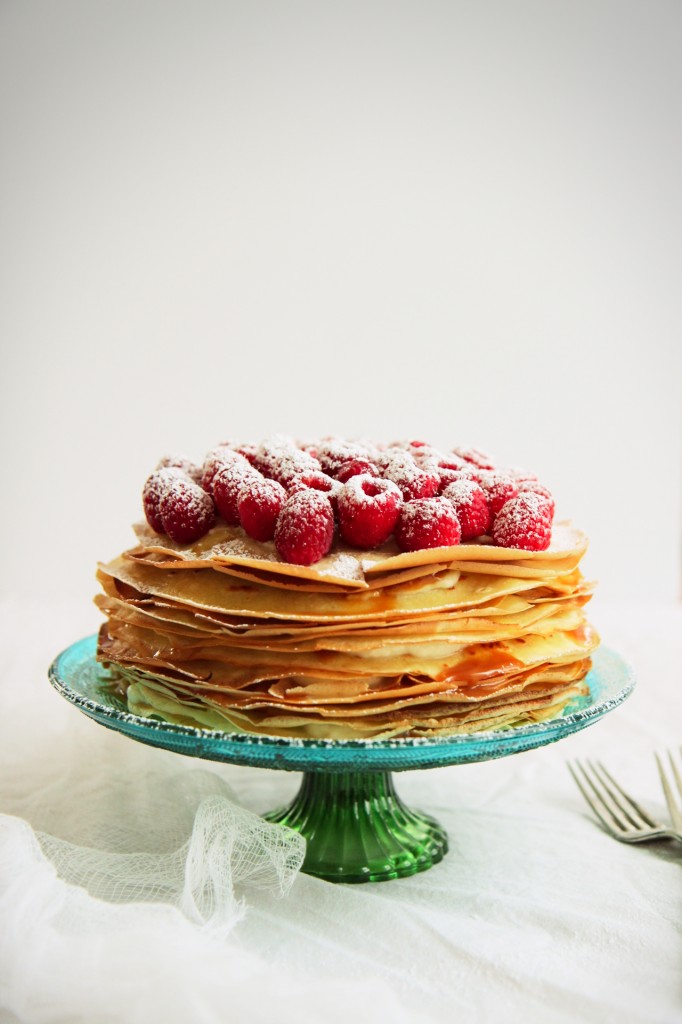 Mother Nature has spread her arms, her wings, and enveloped my world in a deeply perfumed embrace.
I am humbled by and grateful for the beauty of spring.
Winter brought me to my knees, yet the long, dark months have served to make the sunshine even brighter, the flowers even sweeter, the buds even more promising.
I am doing my best to welcome life back in.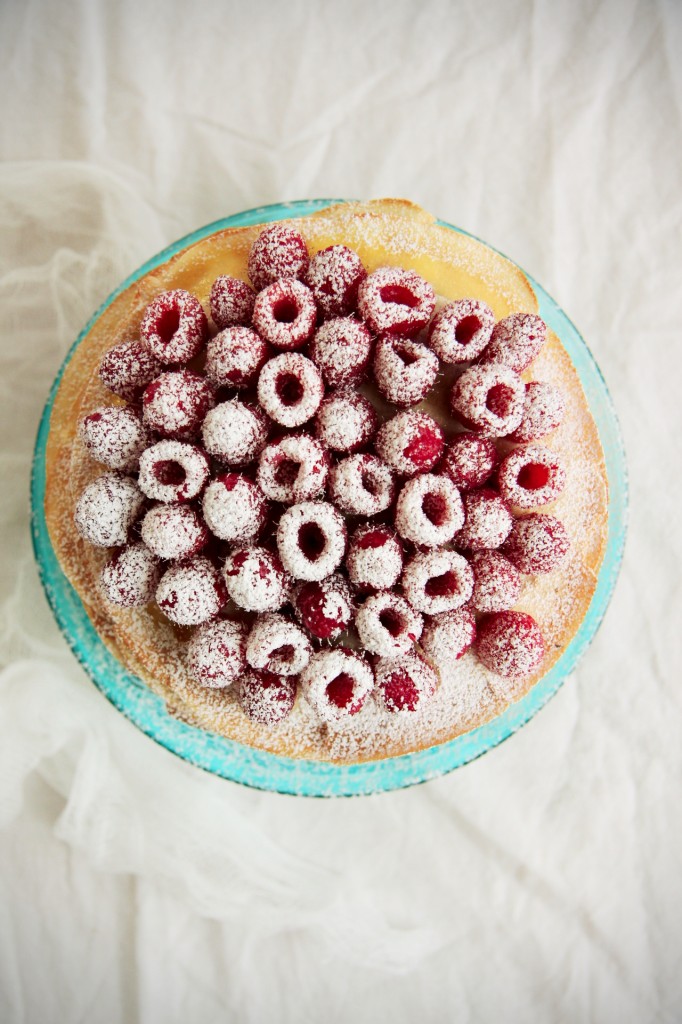 Forgive me my long absence, I am aware that a week is an uncharacteristically long break between posts.
Life has been crazy lately.
Assignments, papers, reading, problem sets, events, deadlines, on top of socializing and trying to let loose– they all pile up like pollen, itching the OCD part of my brain and making it sneeze with fear and dissatisfaction.
As I was falling asleep last night (around 3 am…), I tried to remove myself from the pile-up, to look at it from an external point of view.
To let my mind float up, extended from my body, and look down at myself and the growing number of duties beside me.
It did not go as planned.  You know what happened?  I had a panic attack.
I couldn't help but think about all the things that were due, all the sleep I wouldn't get, all the little things I do and have done wrong.
How I can't and won't be able to do everything I need and want to.
How I have over-scheduled myself, over-promised my time, over-stretched my mind.
How fine of a wire I am balancing on, eternally teetering between breakdown and triumph.
I know it's a part of life to be challenged and be forced to keep on pushing through; I'm trying enormously to keep that in mind.
The funny thing is how well so many things have been going.  I'm happy.
Life is so so good.  Busy can be good.
We live in a busy, productive society– but sometimes I just feel terribly overwhelmed by the culture of stress that prevails, especially here at UChicago.
It's easy to fool yourself into thinking that you should be busy busy busy all the time, but it's not sustainable.
I'm glad I only have 10 weeks of this, because I'm not sure how much longer I could realistically survive.
Downtime is just as important as the pep and the pomp.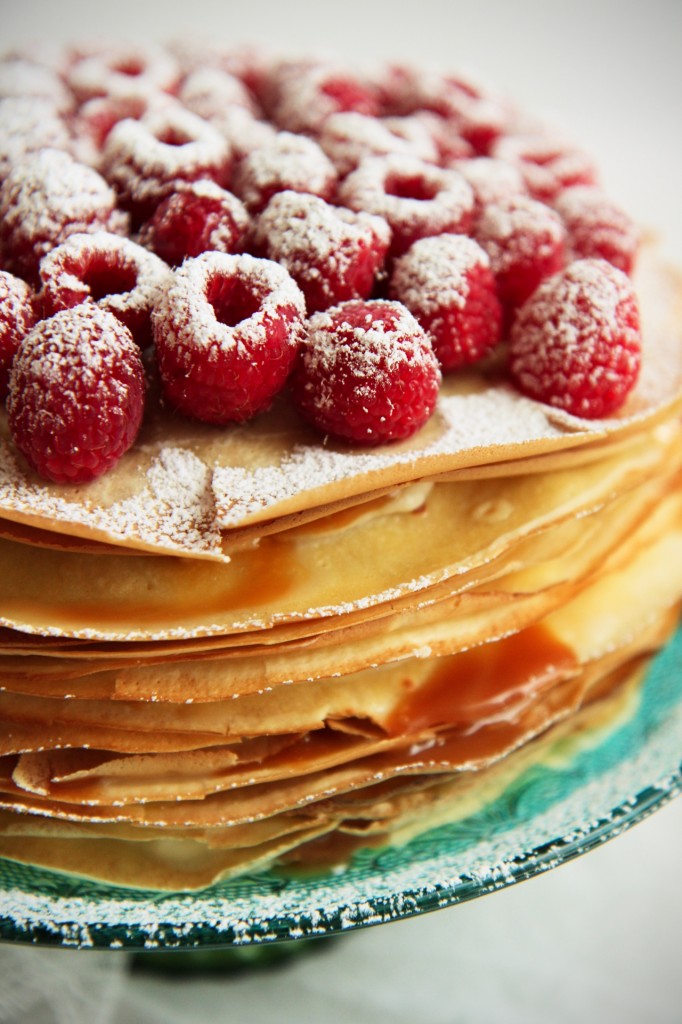 This crepe cake celebrates the fresh berries that are beginning to call out in the markets.
By late spring, our baskets will be brimming with the first crop of sweet, juicy local raspberries.
The ones that topped this cake were perfect, but they came from California.
Those lucky bastards are spoiled with luscious local produce all year long.
The cake itself is a stack of simple crepes that melt on your tongue, thin and lacy with crisped edges, spread with sweet, rich mascarpone cream and sea-salted caramel with just a whisper of darkness, a near-burnt profundity that adds complexity; tart, juicy raspberries and a shower of powdered sugar complete it.
The sum is greater than the parts– it ends up looking quite fancy for being a no-bake affair!
My friends and I each enjoyed a slice as we sat around a table catching up.
A wonderful slice of relaxation.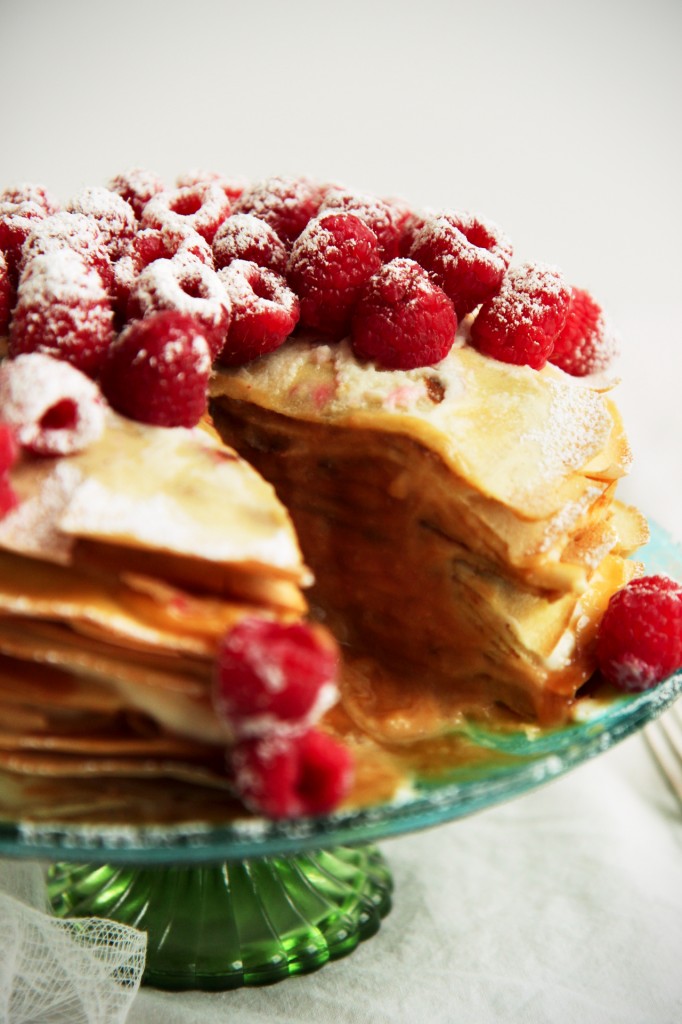 A few tips and tricks for making this beautiful cake:
Don't panic while making crepes!
Invest in a nonstick skillet– a small one will do.
Even if you avoid nonstick for fear of flaking coating, it's worth having such a skillet for making crepes.
You won't really need to butter your pan, which prevents weird fried edges and allows the crepes to cook evenly.
It also takes the hassle out of flipping the crepes– just slide a spatula or fork around the edges, and carefully pick up the crepe with your fingers to flip it quickly.
Keep your heat on medium-high.
Too cold, and the crepes will take forever and will not brown correctly.
Too high, and you'll get bubbles that eventually burn.
Do the prep in pieces.
Make the crepes a day (or two!) ahead.  Lay them out on a baking sheet with parchment in between the crepes, wrap them in saran wrap and refrigerate them.
Make the caramel the night before– just leave it on the counter in a bowl to cool.
Make the mascarpone cream right before you use it; it takes all of five minutes to whip together.
Once the main components are all in place, it's a breeze to stack up.  Methodical, really.
A spoonful of cream, a drizzle of caramel, another lacy crepe.
Rinse and repeat.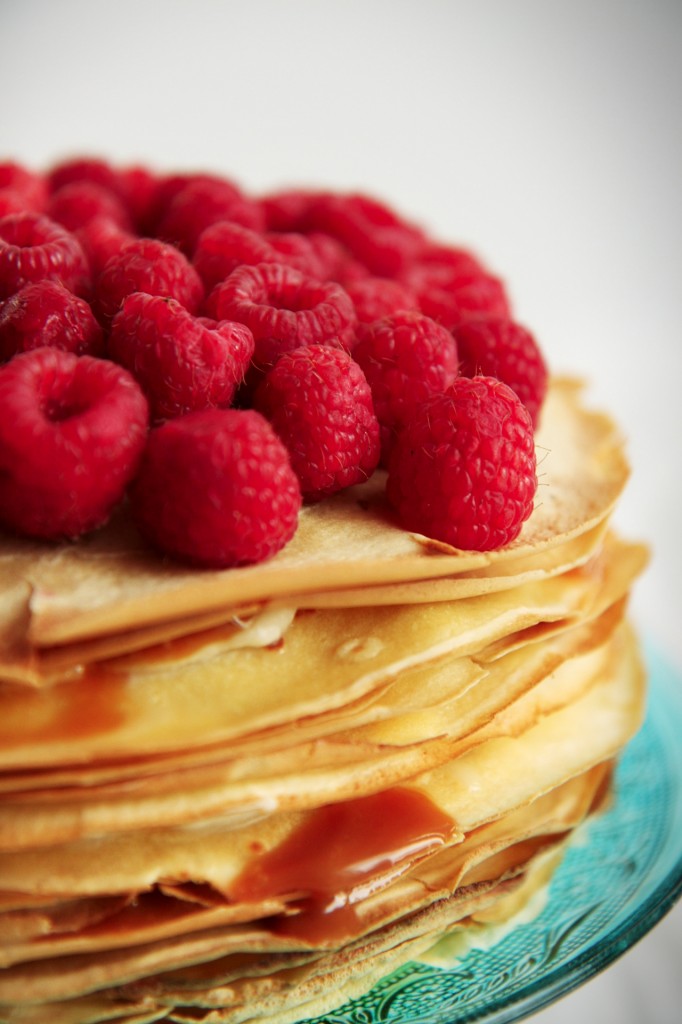 Caramel Mascarpone Crepe Cake
crepe portion adapted from Poires Au Chocolat
ingredients:
for the crepes:
50 grams (4 tablespoons) butter, melted
220 grams (1 3/4 cups plus 1 tablespoon) flour
pinch of sea salt
4 eggs
400 mL (1 2/3 cups) milk
100 mL (7 tablespoons) water
for the salted caramel:
100 grams (1/2 cup) sugar
30 grams (2 tablespoons) water
1 tablespoon corn syrup
1/2 teaspoon flaky sea salt
90 grams (1/4 cup plus 2 tablespoons) heavy cream
25 grams (2 tablespoons) butter
for the whipped mascarpone:
228 grams (1 cup) mascarpone
180 grams (3/4 cup) heavy cream
115 grams (1 cup) powdered sugar
tiny pinch sea salt
1 teaspoon vanilla extract
to assemble:
1-2 pints raspberries
powdered sugar
directions:
Make the crepes: combine all ingredients in a blender canister or in a large bowl with a hand blender.
Blend on high for 1 full minute, until no lumps remain.
In a hot nonstick, 7-inch skillet, brush a tiny (1/2 a pea) amount of butter.
Pour 1/4 to 1/3 cup of batter into the skillet and swirl quickly to create an even, thin layer of batter.
Allow to cook for 3 minutes, until golden and browned, then flip the crepe with a spatula and your fingers.
Allow the other side to cook for 2 minutes, then remove the crepe and place on a parchment lined baking sheet.
Continue to make crepes until all the batter is gone; you should have 20 or so crepes.
After you have filled up one layer of crepes on the baking sheet, place another layer of parchment on top, then continue to layer crepes as they are made.
Next, make the caramel: combine sugar, water, corn syrup, and salt in a small pot.
Heat on medium-high heat, swirling but not stirring, until a deep golden color.
Remove the pan from the heat and, moving very quickly, whisk in the heavy cream and butter.
Whisk until very smooth, then pour into a container and set aside to cool; caramel will be exceedingly hot.
While the caramel cools, make the mascarpone mixture: beat mascarpone until very soft, then add in the heavy cream and beat until fluffy.
Add in the salt, powdered sugar, and vanilla, and beat until mixture is light and fully combined; there should be no lumps.
To assemble the cake, layer the first crepe with a spoonful of mascarpone and a heavy drizzle of caramel.
Layer the next crepe on, carefully and gently smoothing on the mascarpone and caramel.
Stack up all the crepes, saving a small amount of mascarpone for the top crepe; spread it thinly and use it to attach the raspberries.
Dust with powdered sugar, and serve in generous wedges.