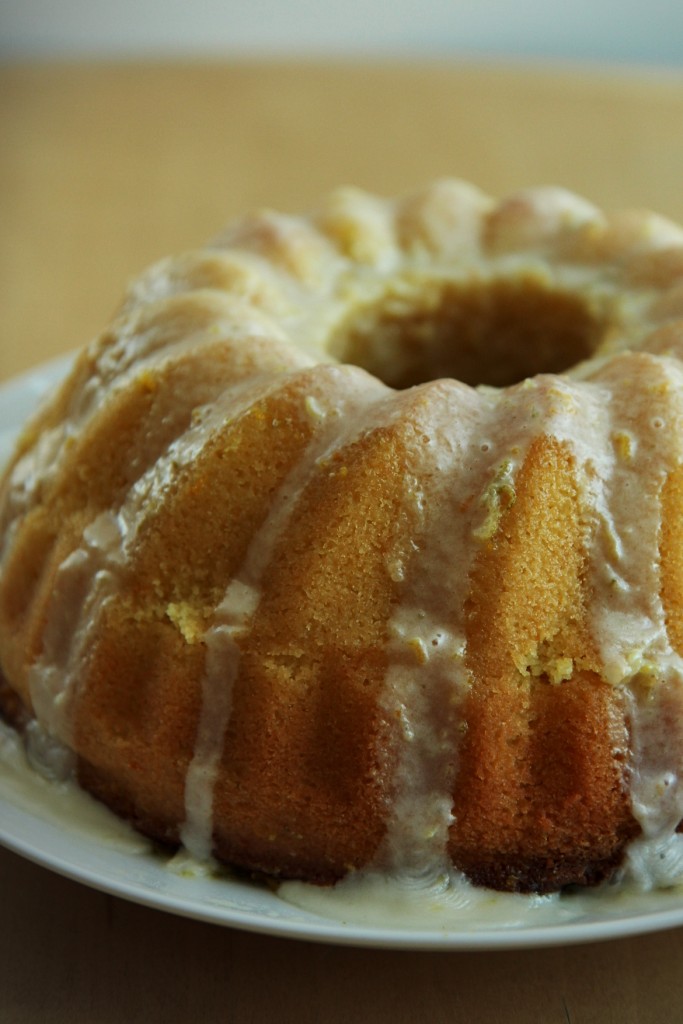 Yonder see the morning blink:
The sun is up, and up must I,
To wash and dress and eat and drink
And look at things and talk and think
And work, and God knows why.
Oh often have I washed and dressed
And what's to show for all my pain?
Let me lie abed and rest:
Ten thousand times I've done my best
And all's to do again.
–A.E. Housman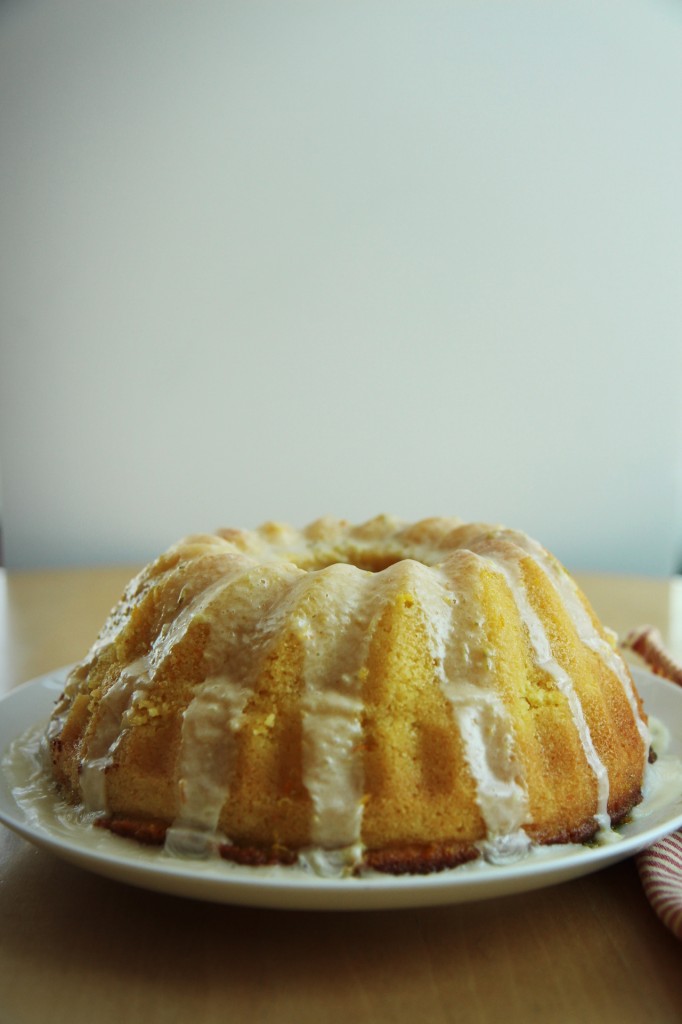 Hi friends!  This is a quick update/reassurance for today.
I've got a few great things coming your way, they just need extra time, work, and love, all of which are in short short supply right now.  Things are a little hectic/crazy/busy in my life at the moment, but it will all settle down shortly.
One of these days, I'll get the chance to sleep for a full 8 hours.  One of these days.
For now, here is the most delicious pound cake I have ever tasted in my entire life.
Buttery, soft, tender pound cake with piles of citrus zest–lime, lemon, and orange– is brushed with a honey lime glaze and topped with a decadent vanilla honey cream icing.
The edges are ever so slightly crispy and crunchy, thanks to the unique shape and surface area of a bundt pan, and all these exterior nooks and crannies are saturated with salty-sweet honey glaze and icing; the interior is moist with delicate citrus flavor and pure buttery texture heaven.
The bright citrus zests add to the gorgeous yellow color– just like the daffodils that have cheerily sprung up around campus!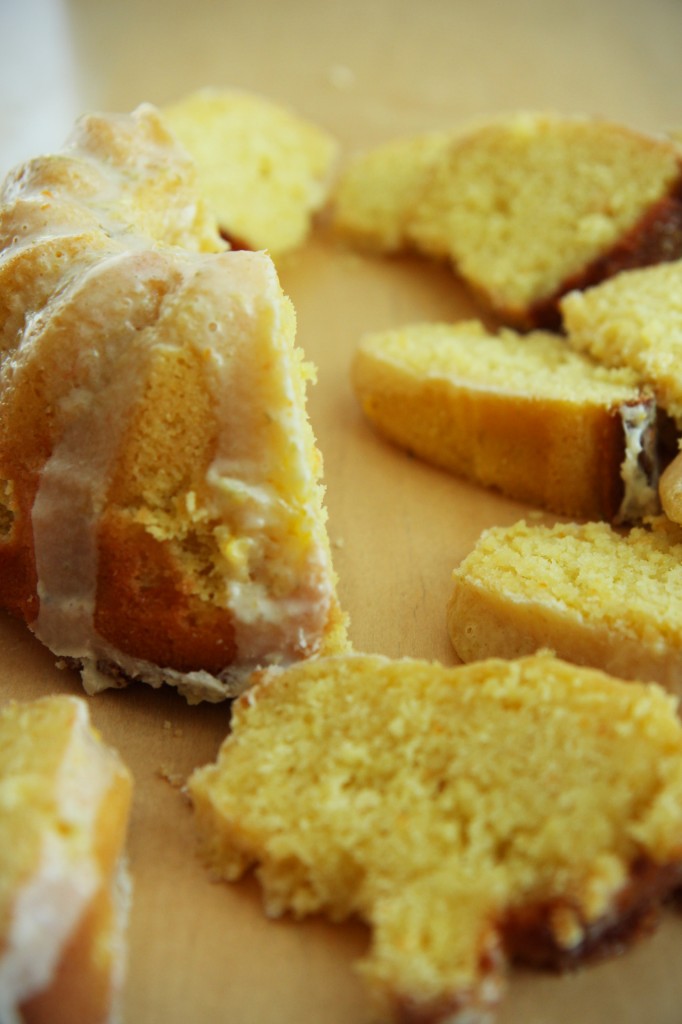 Twice-Glazed Citrus Honey Pound Cake
cake portion adapted from Bon Appétit
ingredients:
for the cake:
1 cup (16 tablespoons) butter
2 teaspoons kosher salt
2 1/2 cups sugar
zest from 2 lemons
zest from 2 oranges
zest from 1 lime
4 eggs
1 cup milk
1 1/2 teaspoons apple cider vinegar
3 cups flour
1 tablespoon baking powder
for the lime glaze:
zest from 1 lime
juice from 1 lime
juice from 1 lemon
pinch kosher salt
1 tablespoon honey
1-2 cups powdered sugar, as needed
for the vanilla honey cream icing:
2 tablespoons heavy cream
1 tablespoon honey
big pinch kosher salt
1 teaspoon vanilla extract
1-1 1/2 cups powdered sugar, as needed
directions:
Preheat oven to 350 degrees F and grease and flour a 12-cup bundt pan very well.
In the bowl of a stand mixer, place the butter and salt.
Beat for 4 minutes, until softened and very fluffy.
Scrape the bowl and add the sugar and citrus zests, stirring slowly at first, then increasing the speed up to high; beat for 3 more minutes.
Scrape the sides of the bowl and add in the eggs; beat for 3 more minutes.
Stir the milk and apple cider vinegar together; stir the flour and baking powder together in another bowl.
At the same time, going very slowly, add the milk and flour mixtures, alternating if need be but largely adding them simultaneously to the egg mixture with the mixer running.
Once all the flour and milk has been added, scrape the sides of the bowl and beat for a minute longer to ensure homogeneity.
Pour the batter into the bundt pan and bake for 50-60 minutes, until a tester comes out clean.
Meanwhile, make your glazes: whisk the ingredients for each glaze together in separate bowls until no lumps remain.
Add 1 cup of powdered sugar first; if the glazes are still too runny, just add more powdered sugar.
When the cake comes out of the oven, allow it to cool for 10 minutes, then turn it out onto a serving plate.
Cover the cake in as many layers of lime glaze as you can, then allow it to cool for 10 more minutes.
Whisk the vanilla honey icing together to ensure that it is pourable, then spread it over the top of the still-warm cake.
Icing will drip and melt down the sides of the cake.
Allow to cool completely, then slice and serve!