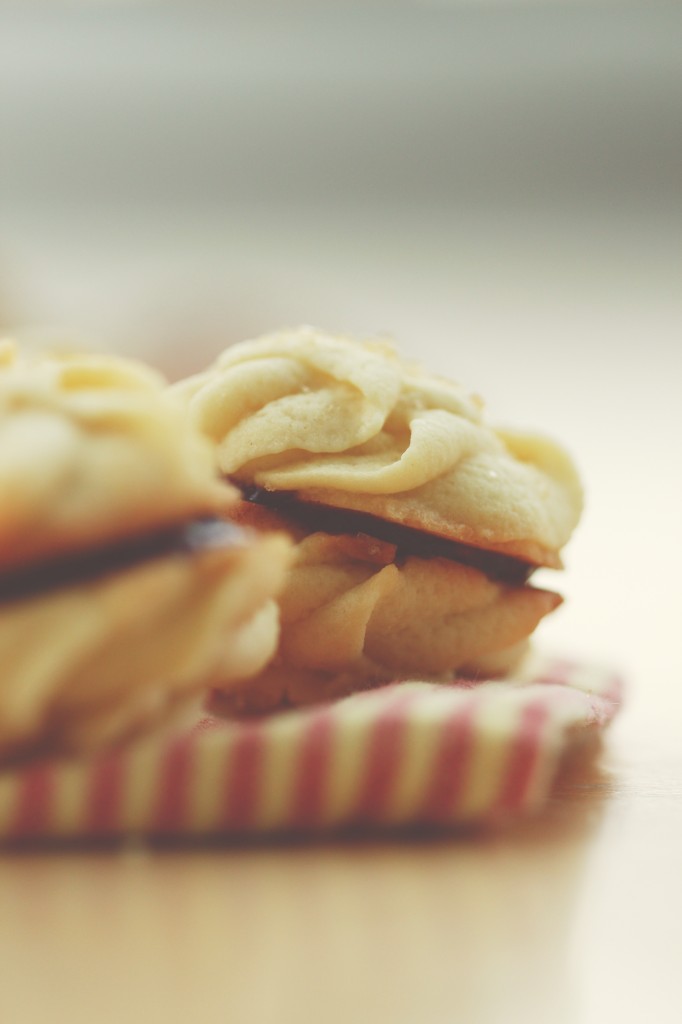 "Sea lion woman,
dressed in green
silver lining and golden seams."
-Feist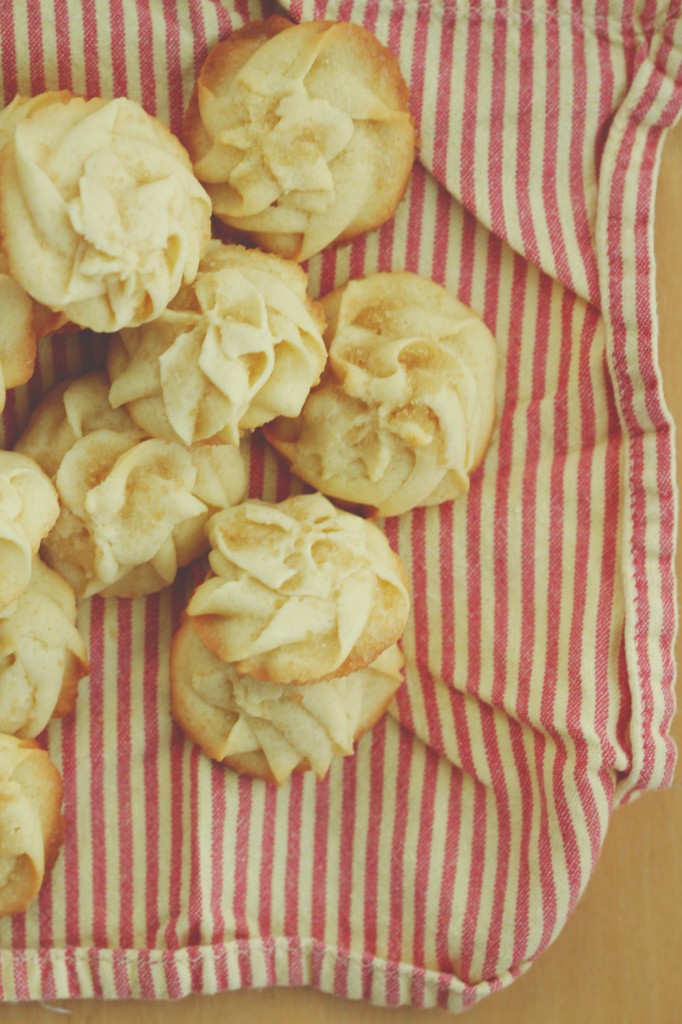 I've been listening to all the Feist in my iTunes library, hitting repeat like it's going out of style.
I can't help it!  I love Feist.  I love her lyrics and I LOVE her voice.  Ohmagah.
I'm really digging the album "The Reminder" in particular.  It helps me during these (many) late nights studying, studying, stuDYING.
(The second round of midterms has descended upon uChicago.  We mortals are withering.  Or, I am, at least.)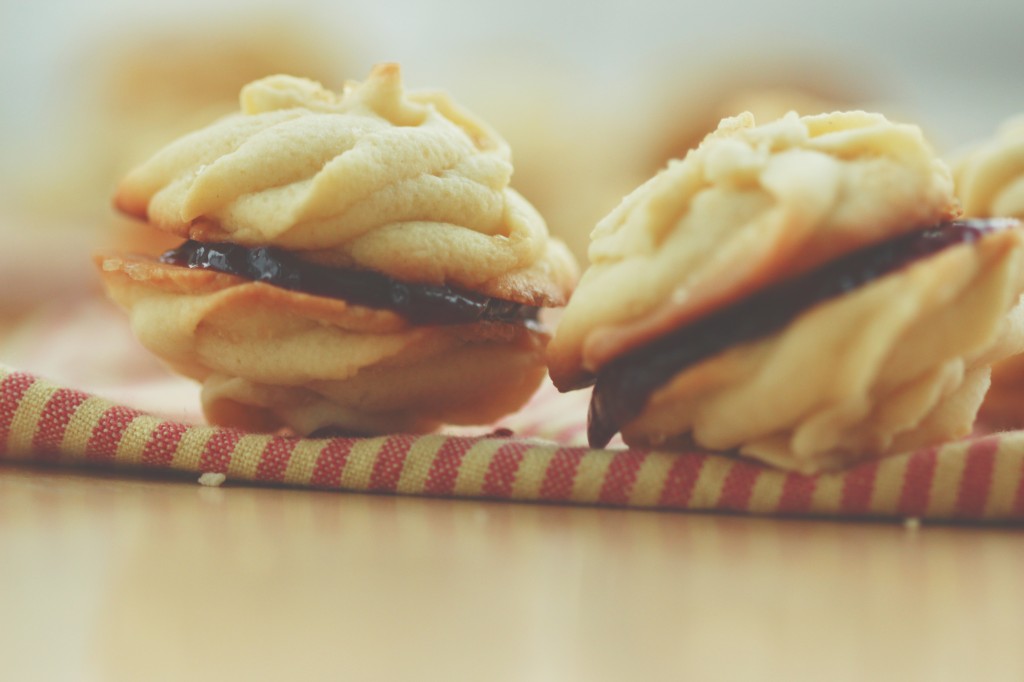 If I were more patient, this post would be happening in, like, a month.
But.
Like, have you met me read this blog?
I am not about that waiting life.
So, these cookies are kind of Christmas-y.  Deal with it.  Now that Halloween is come and gone, you're going to see winter holiday celuhbrayshuns popping up left and right.  I guarantee it.
Besides, who says spritz cookies have to be for Christmas only?
Traditionally, sure.  WHATEVER. I don't care.  I firmly believe there is nothing wrong with wanting buttery, sugary, little cookies at all times.
Right?
I had a luxurious package of Kerrygold in the fridge calling to me to make something buttery, something that would showcase its richness.
Butter cookies seemed like a good place to start.  (Ugh. Duh.)
I wanted something different from my standard, go-to 1-2-3 cookies (although those are still my favorites).
Something with a high butter content, so that the extra fat in the Kerrygold would really shine: European butters make especially crisp, tender, and yet soft baked goods.
Spritz cookies were just the ticket.
Little golden pinwheels, piped out and sprinkled liberally with turbinado sugar.
Sandwiched with raspberry jam, they're like little gems.  Bite sized cookies=snacky, addictive cookies.
Make them now, make them in a month.  Butter is ALWAYS seasonable.
P.S. IS THIS REAL LIFE.  OMG.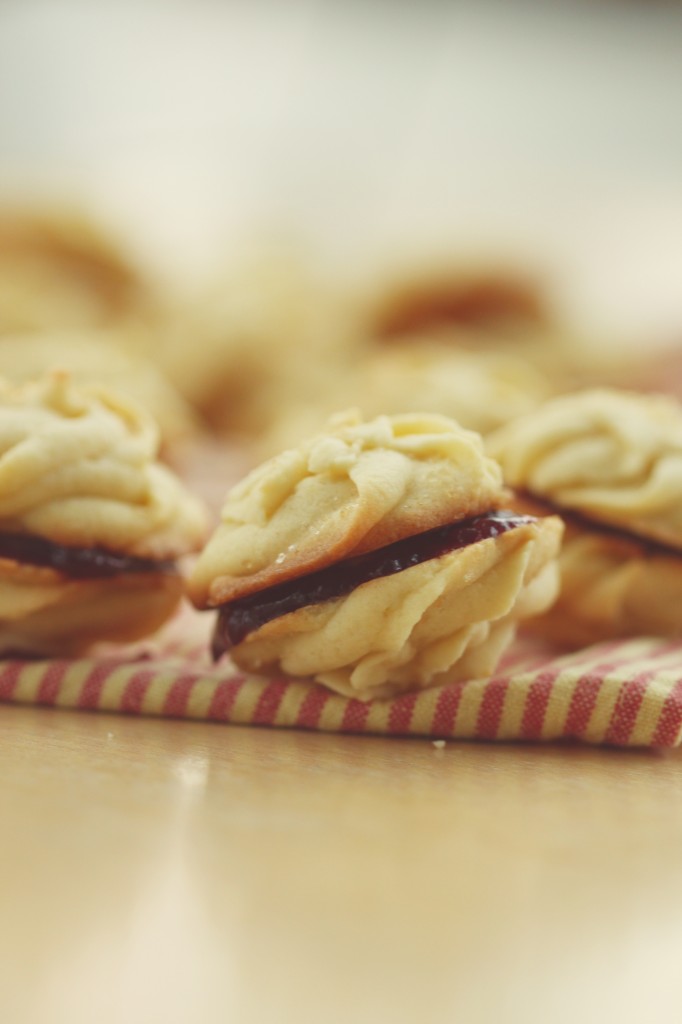 Spritz Sandwich Cookies
adapted from Baker's Royale
ingredients:
1 cup (16 tablespoons) good quality unsalted European butter, like Kerrygold, cut into small chunks
2/3 cup granulated sugar
pinch kosher salt
1 cup powdered sugar
1 egg plus 1 egg yolk
1 teaspoon vanilla
6 tablespoons milk
3 cups flour, plus 2 tablespoons
6 tablespoons cornstarch
turbinado sugar, for sprinkling
jam, for sandwiching, if desired
directions:
Preheat oven to 350 degrees F.
Line 2 baking sheets with parchment or silpat.
Prepare a pastry bag with a star tip, or any desired tip, or prepare a spritz cookie press.
In a stand mixer fitted with the paddle attachment, beat the butter with the granulated sugar and salt for 3 minutes, until soft, light, and fluffy.
Scrape the sides of the bowl and add the powdered sugar, egg, egg yolk, and vanilla; mix on low to combine, then beat for 2 minutes.
Scrape the sides of the bowl and add the milk; mix until homogeneous.
Add in the flour and cornstarch in two additions, mixing slowly to combine after each one.
Fill the pastry bag with the batter (you'll have to fill it multiple times), and pipe out desired shapes.
Sprinkle with turbinado sugar, and bake for 8 minutes, until set and lightly golden.
Allow to cool, then sandwich with some jam!