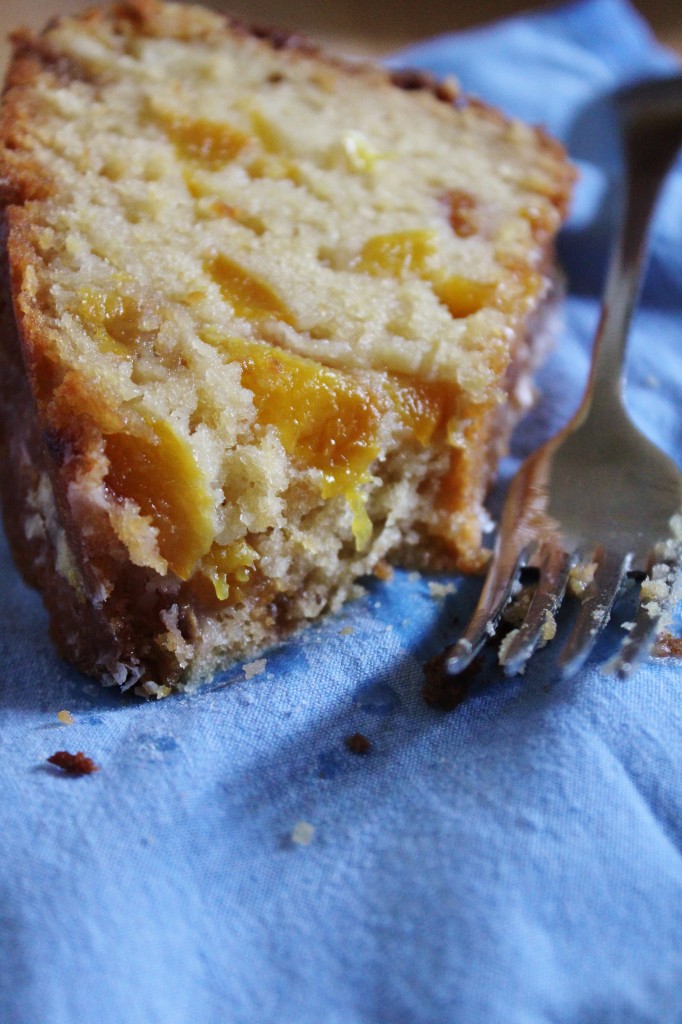 … I like big bundts and I cannot lie…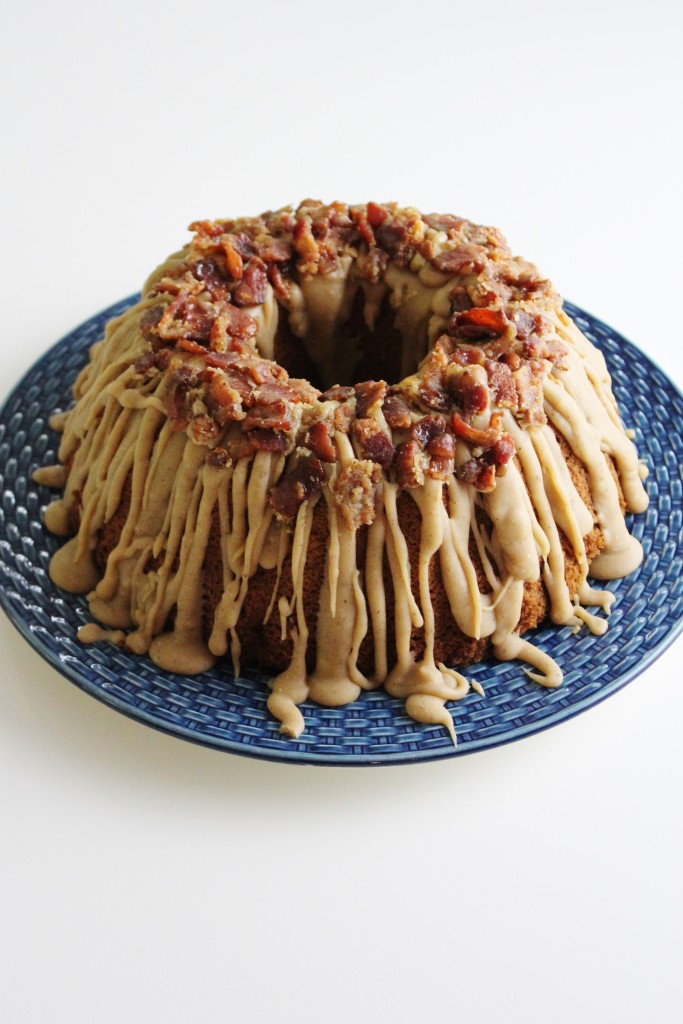 I just hate photographing them.  In fact, I gave up photographing both of these cakes, both primarily because I kind of hate the shape of my bundt pan.
It's great for making a dramatic cake without needing layers, but I can't get the knack of photographing them.
They're so… large and in charge.  Sometimes I feel awkward taking photos of them.
Like that maple bacon cake above and below?  I couldn't get a single photo to not look lurid, so I threw in the towel, put in on a plain white floordrop, and took 3 photos of it.  Screw it. It's not very attractive anyways.
The ginger-peach-lemon cake, I had 5 minutes to take photos of before needing to go to yoga.  It was still steaming, but the light was fading and I didn't have my new (!!!!) lighting setup just yet.
So, I put it on a wood board next to a window and took 5 photos of it.  Screw it.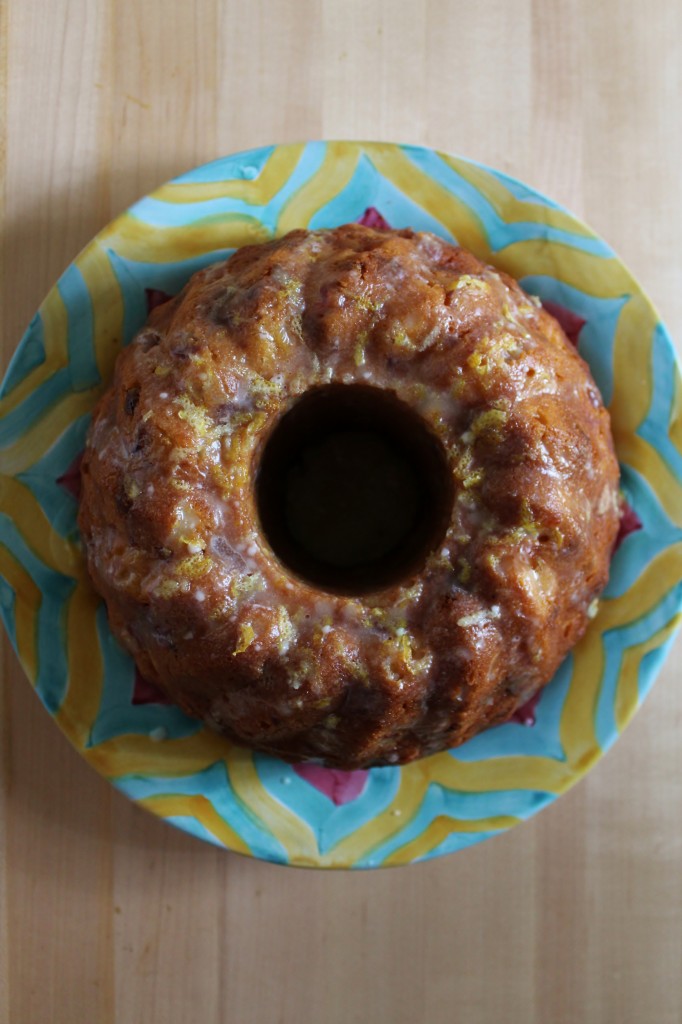 Bundt cakes are meh fun.  They're quick and easy, and if made correctly, they're quite delicious.
However, I have had (and made) many a dense, rock-like bundt cake.
The peach-ginger-lemon bundt cake was quite the opposite.  It was fluffy, moist, and flavorful.
However, now that peaches are out of season, I'm going to instead share the recipe for the maple-bacon-brown butter bundt cake that I Jackson-Pollacked for my brother's birthday.
It might very well have been dense… I couldn't exactly slice into it and eat a piece before shipping it down to D.C. for his birfday.  That's bad form.
To be honest, I also think it's ugly.  So let's pray that it tasted good…
The recipe came from Martha, though, and lord knows I trust her.
Here goes: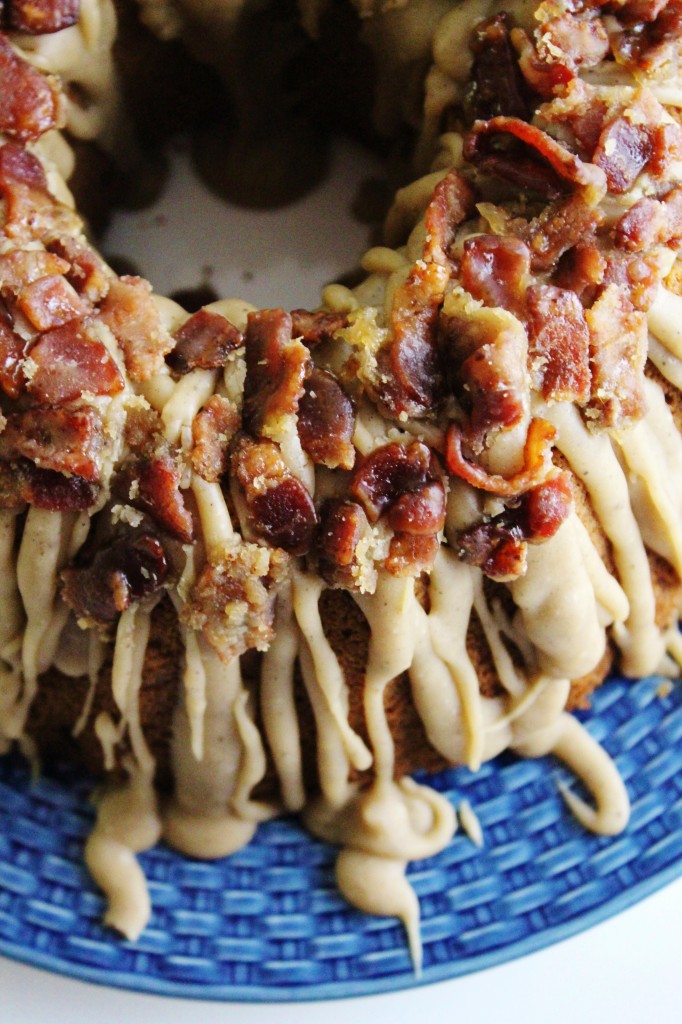 Maple Brown Butter Bacon Bundt
adapted from Martha Stewart
ingredients:
2 cups flour
2 teaspoons baking powder
1/2 teaspoon baking soda
1/2 teaspoon salt
12 tablespoons butter, browned
1/2 cup packed brown sugar
2 eggs
1/2 cup maple syrup
2 teaspoons vanilla
1 cup buttermilk
directions:
Preheat oven to 350 degrees F.
Grease and flour a bundt pan.
Whisk the flour, baking powder, baking soda, and salt together.
Whisk the butter, brown sugar, eggs, maple syrup, and vanilla together.
Whisk the flour and buttermilk into the maple syrup mixture, alternating between dry and wet.
Pour into prepared pan and bake for 35 to 40 minutes, until a cake tester comes out clean.
Top with glaze and glazed bacon.
for the glazed bacon:
ingredients:
4 ounces bacon, cut into little lardons
1 tablespoon brown sugar
directions:
Cook bacon until crispy.
Drain fat and reserve for use in the glaze.
Return bacon to pan and add in the brown sugar.
Heat just until sugar melts, then spread out onto a piece of wax or parchment paper and allow to cool completely.
for the glaze:
ingredients:
6 tablespoons butter
fat rendered from 4 ounces of bacon (sub 1 1/2 tablespoons butter)
3/4 cup confectioner's sugar
1/4 cup nonfat dry milk powder
3 tablespoons pure maple syrup, or as needed
directions:
Brown butter in a saucepan.
Once brown, dump in the sugar and bacon fat and whisk, creating what I like to call a "sugar roux".
Once a creamy paste has formed, add in the maple syrup and powdered milk and stir.
Stir in extra maple syrup, as needed, to create a pourable but thick glaze.