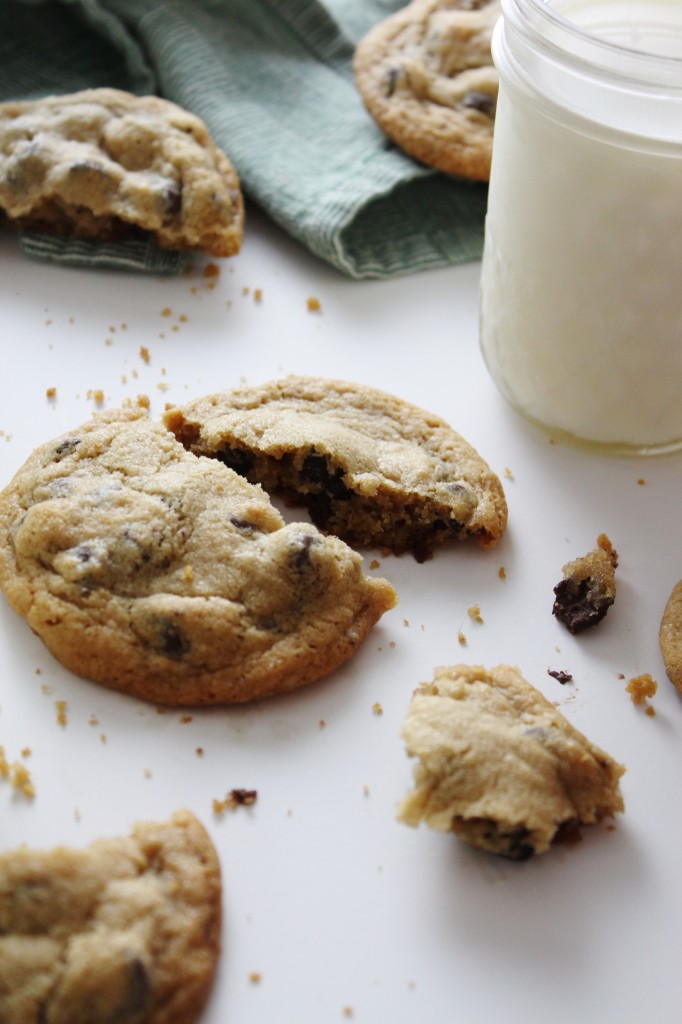 "You are braver than you believe, and stronger than you seem, and smarter than you think."
-Christopher Robin, Winnie the Pooh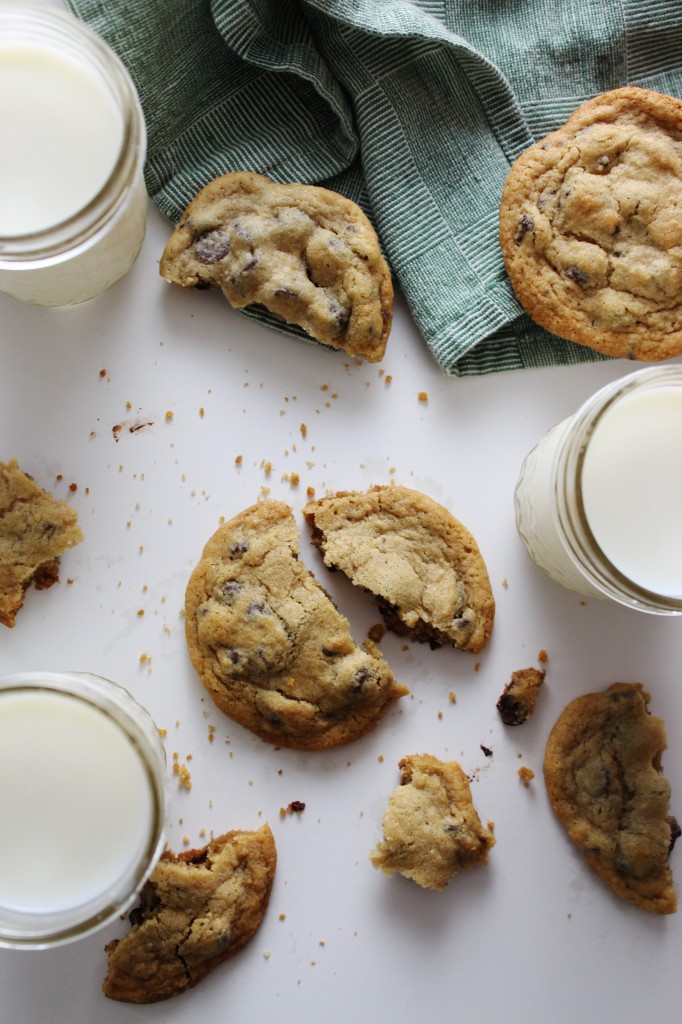 The leaves are only just starting to turn.
Usually, by now, they'd be bursting full of vibrant colors.
Things are slow to change, this year.
My surroundings are as reluctant as I am, even in this year of many changes.
I leave for college tomorrow.
I'm wracked with nerves… I don't know what to expect, other than a homesick few weeks, as I've been warned by my friends, ever the experts.
Thus, I am seeking comfort wherever I can find it.
Sleeping late, appreciating every soft, enveloping minute in my wonderful bed.
Taking hot, drawn-out showers, reveling in the steamy, private, fruitily fragrant confines of my bathroom.
Snuggling with my animals (or, rather, forcing them to snuggle with me) for just a little longer, just a little longer, just…
I'm nervous, but I'm not scared.  There's an important difference there.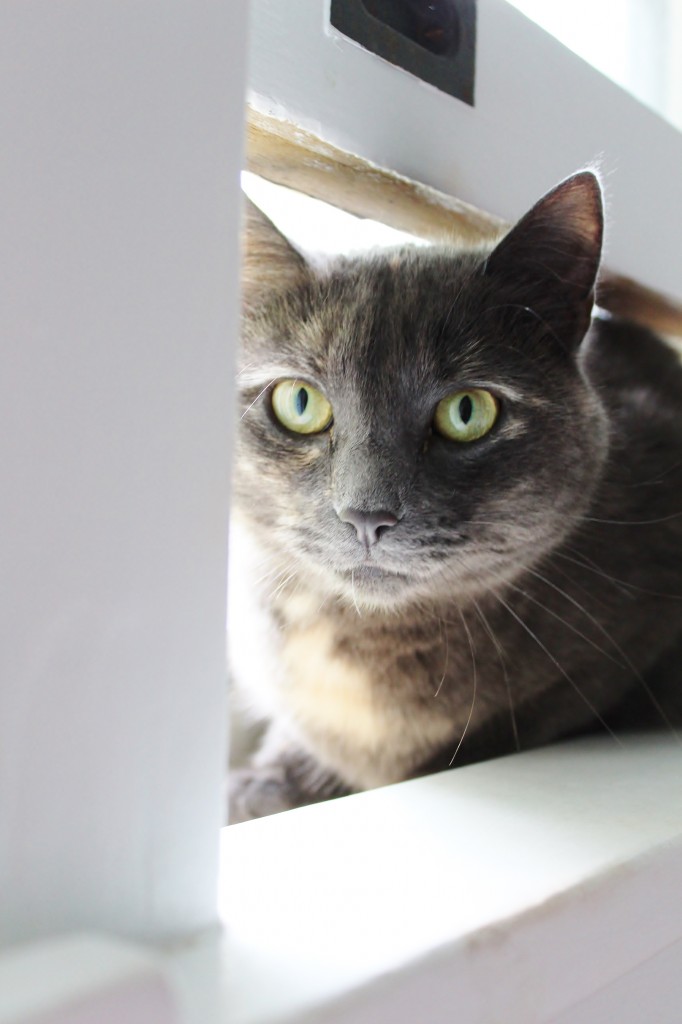 There may be nothing more cozy and comforting in this world than a freshly baked, still-warm chocolate chip cookie with a glass of cold milk.
These aren't anything new or surprising- they're classics, which isn't to say they're not amazing.
After all, they are classics for a reason.
They're chewy, soft, and have a perfect twang of salt to complement the chocolate and brown sugar.
These are perfect chocolate chip cookies, if you're into soft cookies.
Which I am.  Very much so.
Comfort cookies, indeed.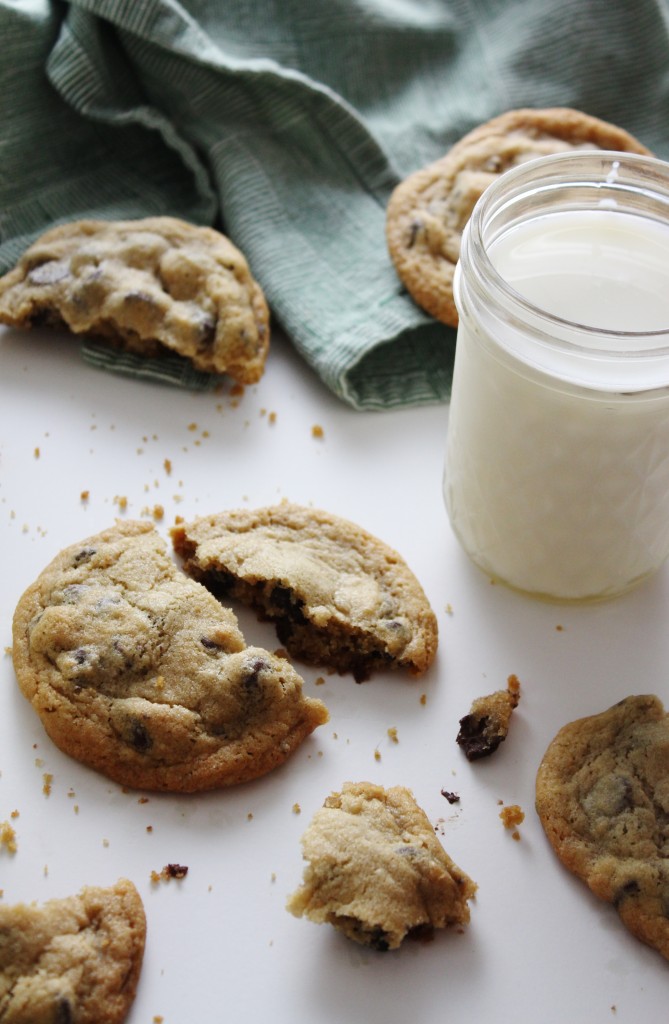 Classic Chocolate Chip Cookies
adapted from the awesome Sally's Baking Addiction
makes 16
ingredients:
170 grams (3/4 cup) butter
150 grams (3/4 cup, packed) brown sugar
50 grams (1/4 cup) granulated sugar
1 egg
2 teaspoons vanilla
240 grams (2 cups) flour
2 teaspoons cornstarch
1 teaspoon baking soda
1 teaspoon kosher salt
1 heaping cup chocolate chips
directions:
Place butter and sugars in the bowl of a stand mixer.
Beat on low until just combined (about 1 minute), then increase speed and beat for 4 minutes.
Scrape the sides of the bowl and add the egg; beat for 5 minutes (set a timer).
Scrape the sides of the bowl, add the vanilla, and mix until combined.
Whisk the salt, baking powder, cornstarch, and flour together, then add to the batter with the mixer running on low.
Mix just until combined (30 seconds-1 minute), then add the chocolate chips and stir just until evenly distributed.
Portion out the dough with a large cookie scoop (1/3 cup capacity) onto parchment-lined sheet pans; 8 cookies per sheet.
Preheat oven to 350 degrees F.
Chill the scooped cookies, either in the freezer or in the fridge.
Once the oven comes to temperature, remove the cookies from the freezer/fridge and place in the oven.
Bake for 12 minutes, rotating once in the middle.
Cookies will be puffy when you take them out of the oven, then will deflate as they cool.
Enjoy warm!