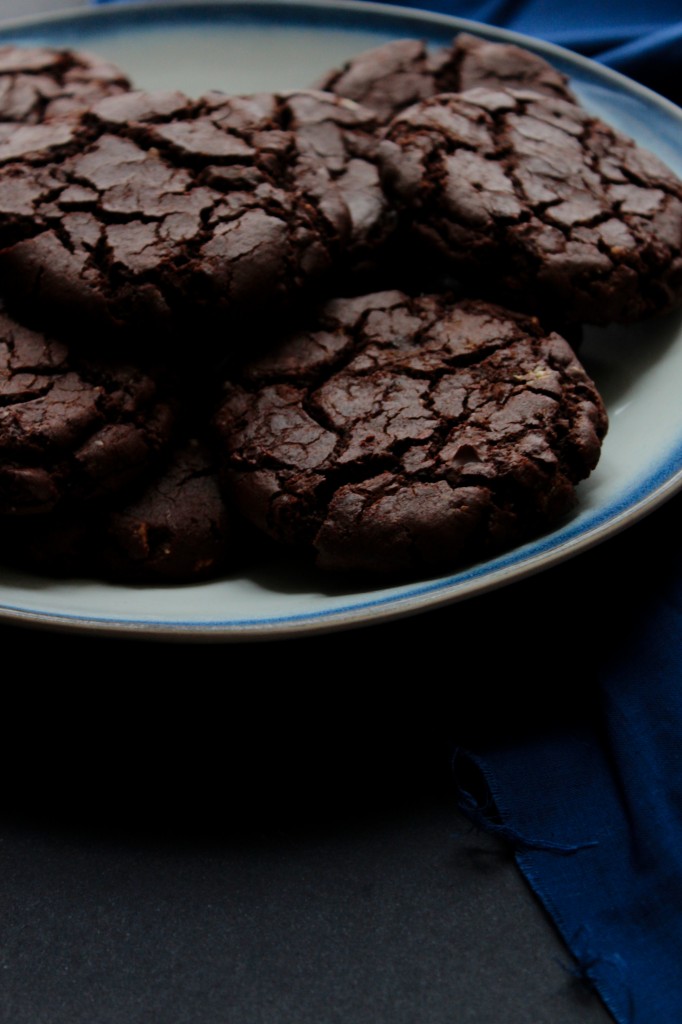 The chocolate in these cookies is just the tip of the iceberg.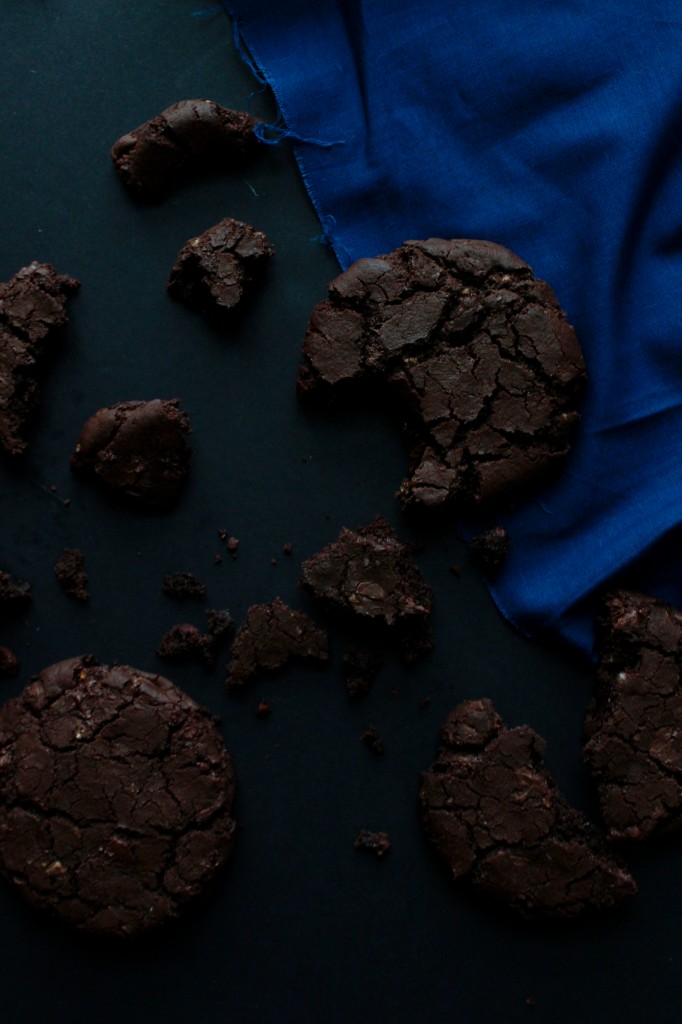 These are the kind of cookies best enjoyed with a cold, creamy glass of milk.  They're deeply chocolaty, but not singularly or overwhelmingly so.
The cinnamon adds a layer of depth and warmth which is pleasantly unexpected.
The candied ginger punctuates the richness with characteristic sharp and spicy kicks.
The entire cookie dough is heavily salted, to play off the richness and sweetness.
Other than caramel (and maybe even more so than caramel), chocolate is my favorite flavor to pair with lots of salt.
Something is truly magical about salt and baked goods.  It can really make or break a dessert.
I'm studying rite na.  Actually, I'm procrastinating. (what's new?!)
All I want is one of these cookies.  The most difficult part about college has been eating dining hall food, day in and day out.
Yesterday, I made my own *real* food and now I'm craving home-cooked meals.
I made roasted butternut squash with cinnamon, rosemary, and coconut oil with roasted chickpeas and sautéed kale, all served with lemon and Greek yogurt.  It was heavenly.
Of course, I'm already planning my Thanksgiving menu, something which I'm sure you'll hear all about in the months to come.
I pre-ordered the bird for my family from Shelterbelt farm, in Caroline, NY, 15 minutes from my home.
They go really quickly.  The farm also has amazing honey!
(If you live in the area, check them out!!)
The only thing I want more than a fresh baked cookie right now is maple-roasted, garlicky brussels sprouts with cranberries.
As my friends all now say, I'm a goat.
Sorry bout it!
Have a cookie.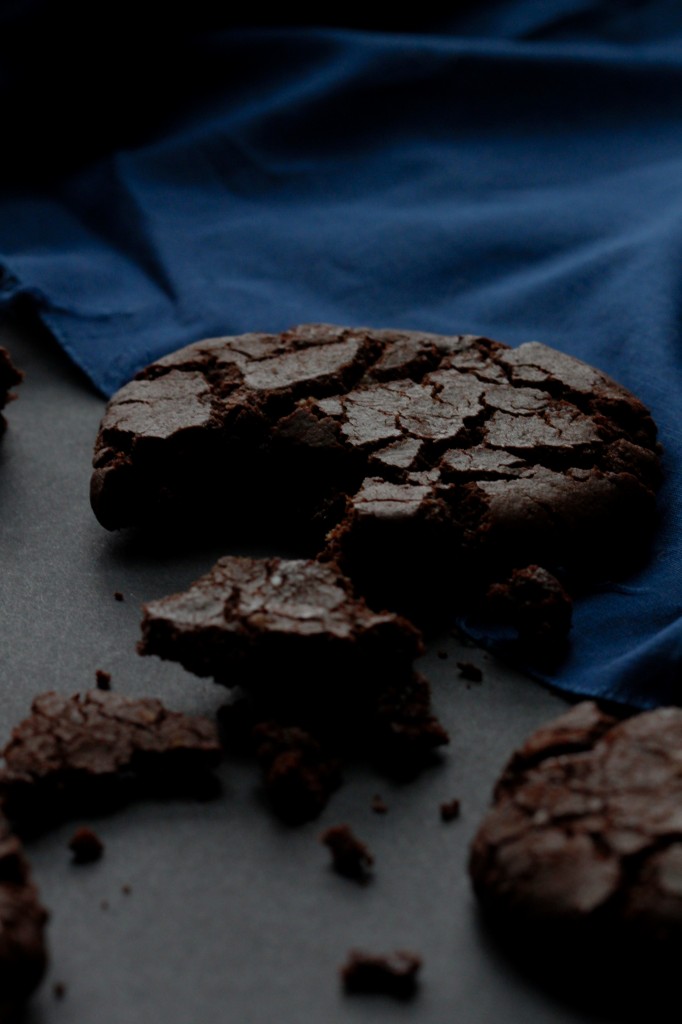 Salted Cinnamon and Ginger Double Chocolate Cookies
adapted from Beth of the kick-ass Local Milk
makes 15 large cookies
ingredients:
195 grams (1 1/2 cups) AP flour
110 grams (1 cup) cocoa powder
10 grams (2 teaspoons) kosher salt
4 grams (3/4 teaspoon) baking powder
4 grams (3/4 teaspoon) baking soda
1 teaspoon cinnamon
218 grams (1 cup packed) light brown sugar
150 grams (3/4 cup) granulated sugar
165 grams (3/4 cup) butter, cut into small pieces
2 teaspoons vanilla extract
2 eggs
1 1/4 cup chocolate chips or chunks
1/2 cup chopped candied ginger (I used candied ginger that my chem TA made for the class!!)
directions:
Whisk flour, cocoa, salt, baking powder and soda, and cinnamon together.  Set aside.
In the bowl of a stand mixer fitted with a paddle attachment, place the butter.
Beat butter until softened, about 1 minute, then stream in sugars all at once.
Increase speed to medium and beat for 3 minutes.
Scrape the sides of the bowl, add the eggs, and beat for 3 more minutes on medium-high speed.
Scrape the sides of the bowl and add in the dry ingredients all at once.
Stir the batter together on low speed, then stir in the chocolate and ginger.
Chill the dough for at least 30 minutes in the refrigerator, and up to overnight. (You will have to let it warm up a bit the next day if you refrigerate it all night.)
When ready to bake, line 2 baking sheets with parchment and preheat oven to 375 degrees F.
Scoop out large portions of dough with a large cookie/ice cream scoop (about 1/3 cup), and roll into balls.
Place 1 1/2 inches apart on the baking sheets.
Bake for 4 minutes, then pull them out of the oven and flatten to about 1/3 inch height with a flat spatula.  (This will give soft centers and nice craggy outsides.)
Return to the oven and bake for approximately 6 more minutes, until the tops are cracked but the centers are still soft.
Remove from the oven and allow to cool slightly; enjoy warm with a glass of milk!