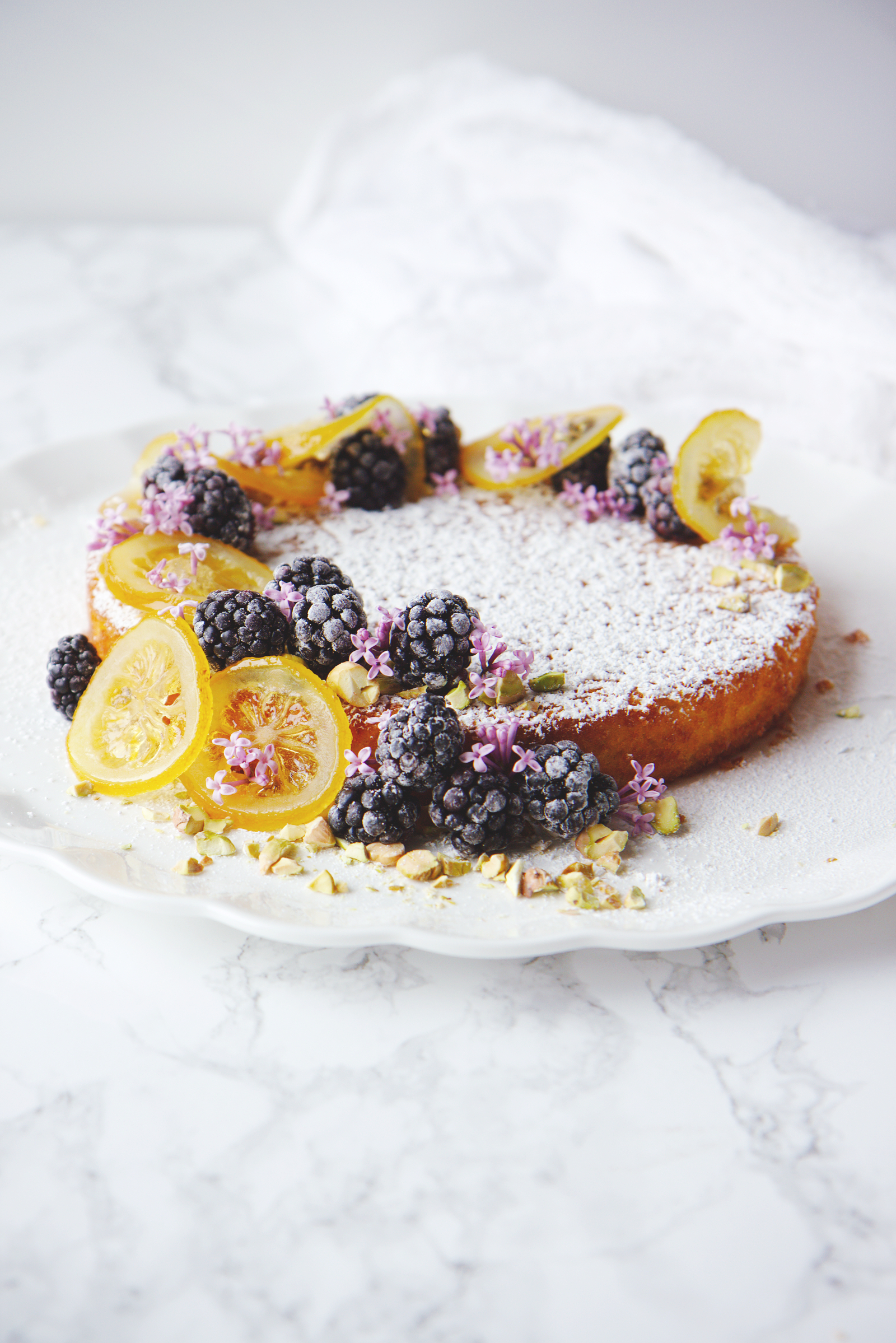 "You aren't a flower, you're every blossom in the wood blooming at once.
You are a tidal wave. You're a stampede.
You are overwhelming."
― Leigh Bardugo, Crooked Kingdom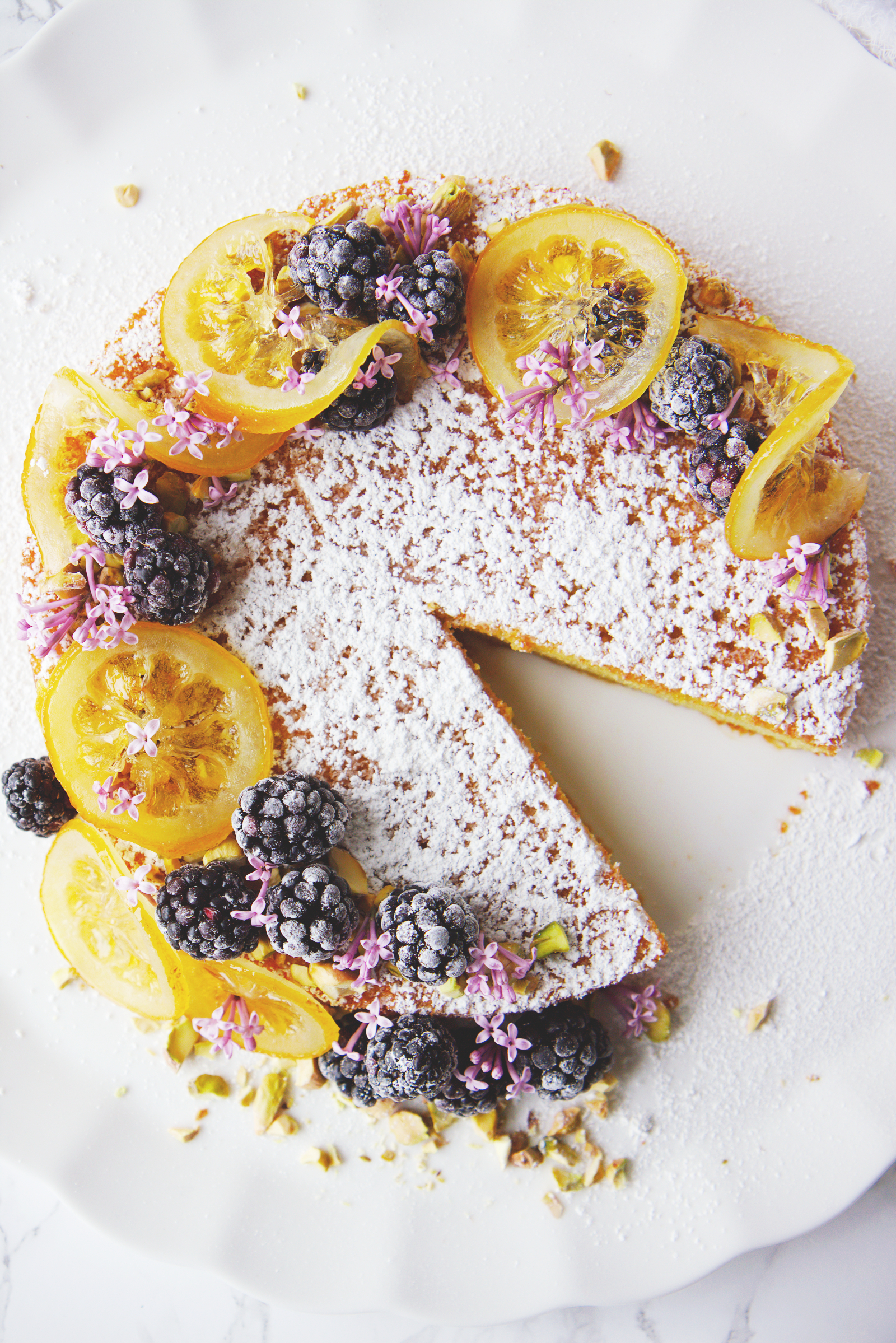 Words are not my strong suit right now.
I have been absent—there have been reasons, and there have been reasons.
Good and bad, both escape me before I can write them down here.
I want to keep this space a little bit sacred, for my own sanity.
It will all come out, eventually, although I am avoiding bottling up the months of June and July too tightly inside myself.
Again: for my sanity.
I have chosen to journal them in another place, rather than here, so don't worry: I'm letting my mind run loose a little.
So, so. I am back!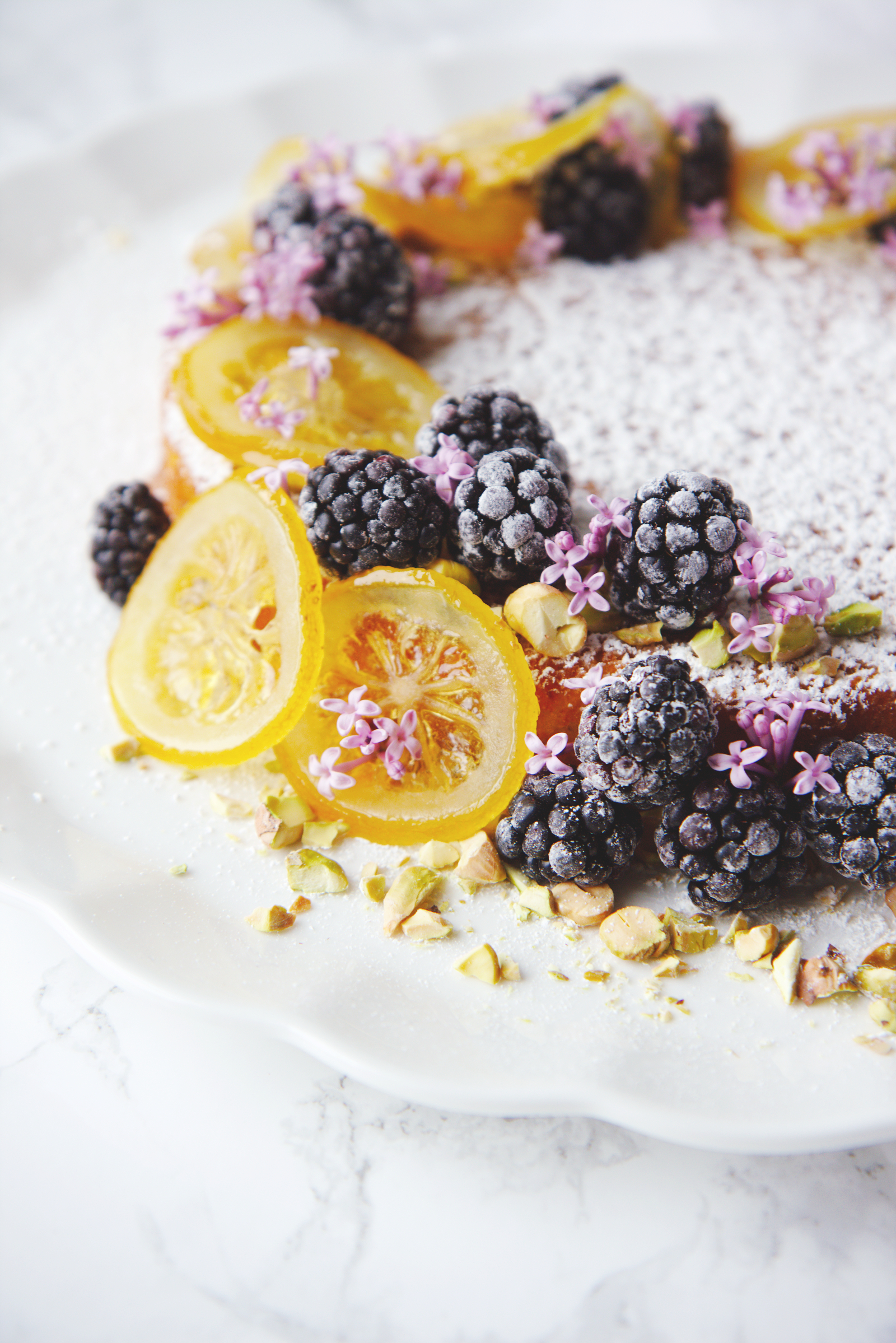 And. Do you know what else is back?
Game of Thrones.
You can catch me lurking in the ASOIAF reddit, or watching endless Youtube analyses, furiously texting theories with my BFF Sam or my brother, winding down endless Wiki pages—just generally with my head in the Westerosi clouds.
A girl is very happy.
Note that this cake baked into smaller tins would be a marvelous recreation of Sansa's favorite lemon tea cakes, without a doubt. If you need something to bring to your next watch party and you want to impress, this is just the treat.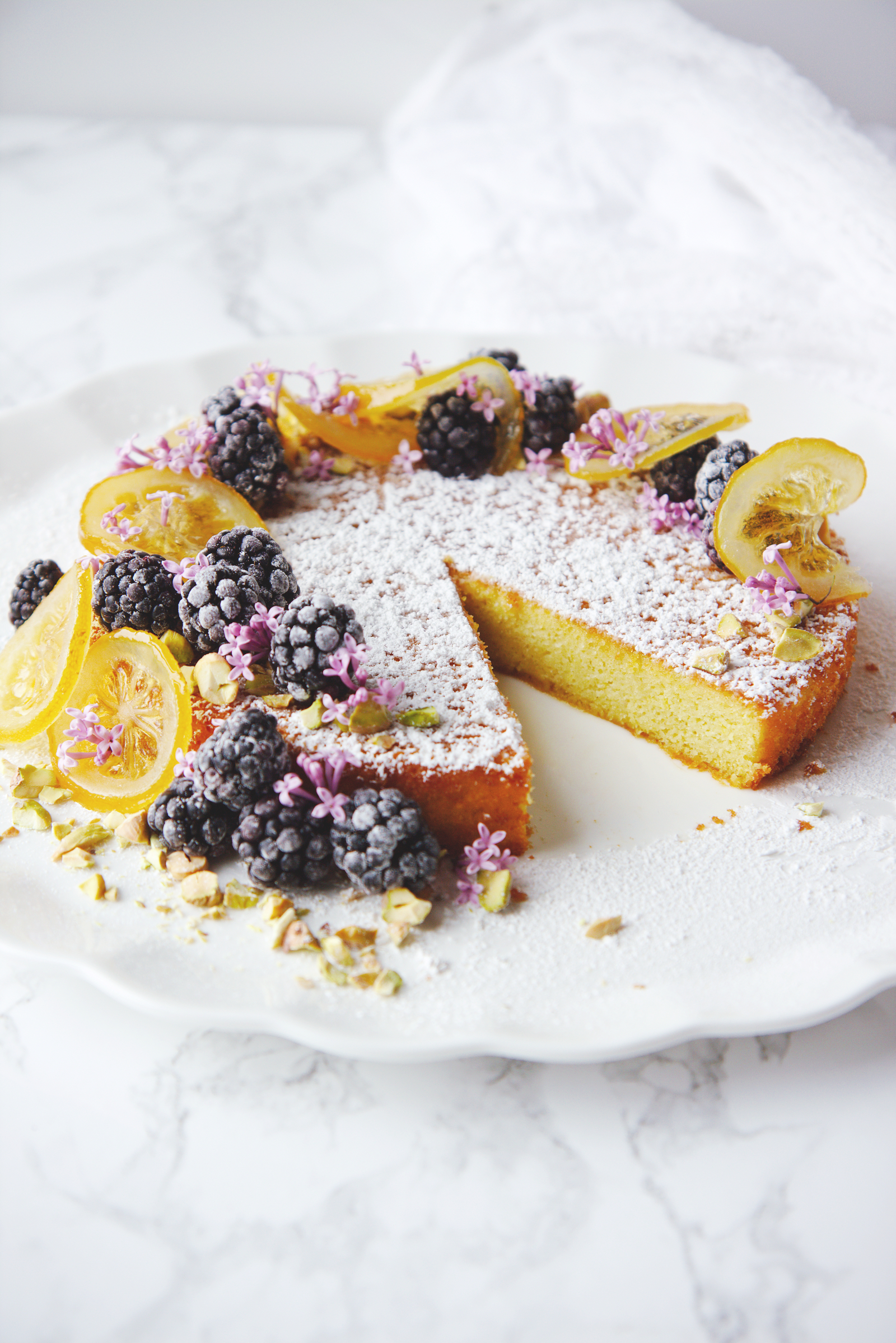 Speaking of watching, you should read this article about Buzzfeed's Tasty if you are at all interested in the future of the online food community and/or have ever watched one of their ubiquitous videos (I can say beyond a shadow of a doubt that you have probably seen at least one). It is a fascinating look inside the company.
I can personally while away full hours just scrolling through their videos…
As far as other news and articles go, read them as you see fit. I could link to a million more NYTimes articles that I have pored over or rolled my eyes while reading in recent days.
Empower and equip yourself with knowledge, if I may so kindly suggest. Never let anything that you would not have considered normal a few years ago pass by undetected amidst the chaos of our world.
I personally read the news constantly.
In truth, the news is literally the only thing of which I have become an increased consumer lately.
In all other aspects of my life, I am trying to focus on what is, rather than what if.
That is to say, not many shiny new purchases to show off. Just more knowledge in my noggin'.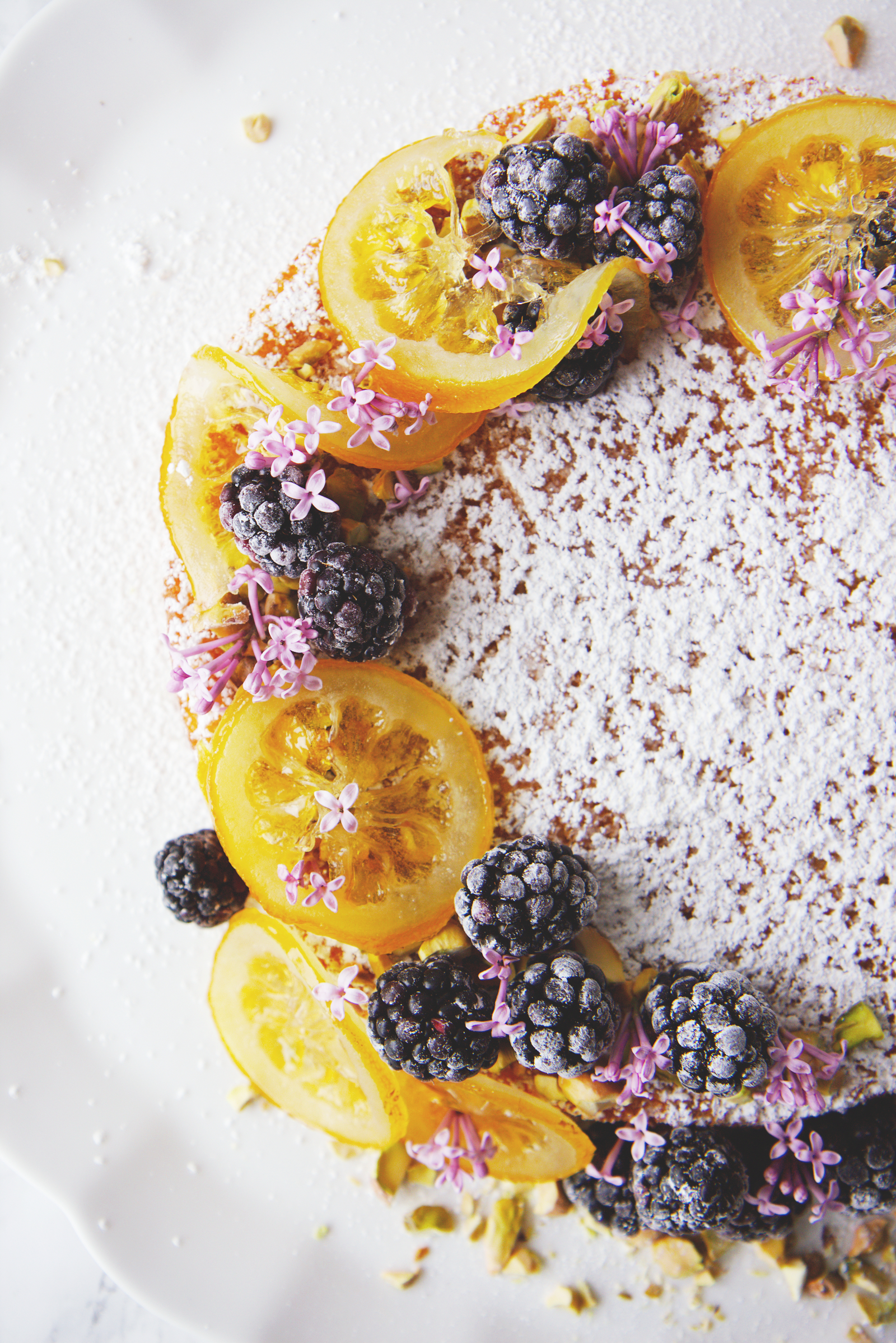 Oh! Also speaking of watching, I have finished the Handmaid's Tale.
I felt satisfied having completed it.
I don't really know how much I want another season—I know some people are chomping at the bit for one, but although I did enjoy the show fully and sincerely, I feel lukewarm about seeing the series continue.
I met a colleague of mine whose name is Hannah (and as some of you may know, my middle name is Hannah) and she was joking that we pretty much have all the biblical names in the office.
I said that we just needed Rachel's handmaid, and neither of us could remember her name despite having both watched the damn show.
The day I finally remembered to look it up—Bilhah—and tell her, the show was nominated for an Emmy.
What a funny coincidence.
The Emmy nom leads me to believe there will be more seasons; our society does tend to milk until dry, it seems.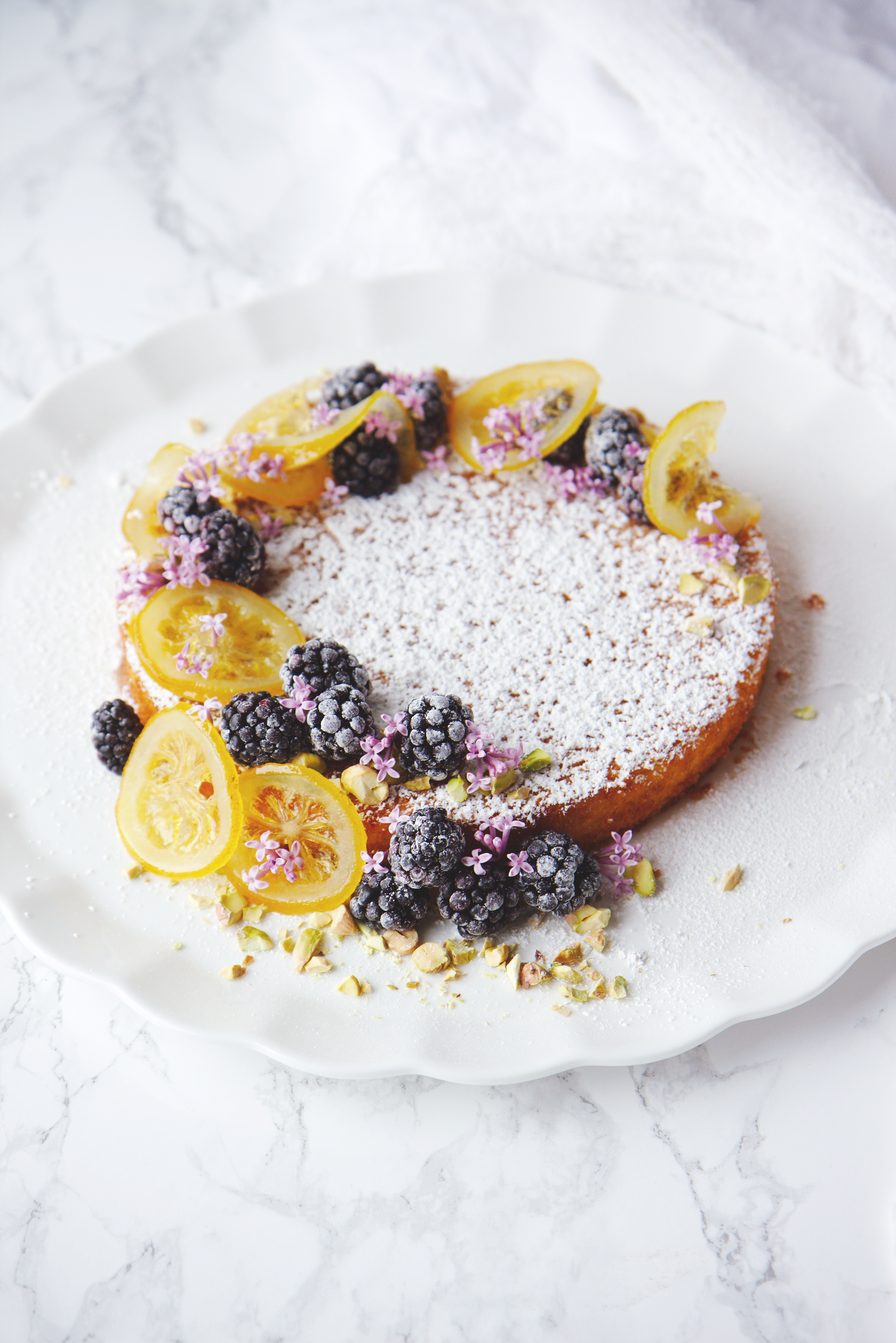 In food-related news, I have been sticking almost exclusively to a dairy-free + largely egg-free diet (except for Halo Top, cause oh my GOD that stuff is good and I am irrevocably hooked) since I discovered that dairy might not sit well with my skin. I cut it out last summer, but it has become much easier and practical now that I am a Real Adult and cooking 98% of my meals.
I do miss cheese, like, a lot. I'll be honest.
I've been meal prepping my breakfasts, lunches, and snacks for the work week, and it feels great.
The shopping on Sundays is not the most fun, but getting it all out of the way and not worrying about planning or lugging groceries daily through New York makes it worth it.
I eat the same things happily every day. I am the most staid creature of habit.
As long as I get my favorite foods in (cruciferous vegetables, preferably kale, usually twice a day and strawberries, often frozen and slightly thawed so that they're like sorbet), I am content.
Since I added seafood into my (as I mentioned above) essentially vegan diet, I've found protein to be a lot easier to come by. I still stick to my vegan staples of seitan and tofu, though. I love bouncy, chewy foods, so those come more naturally to me than they may to others.
By the way, did you know that some people consider mussels and oysters to be vegan? We all have to make our own choices, of course, and I am less concerned with perfect labels than I once was. But it is an interesting ethical question to ponder.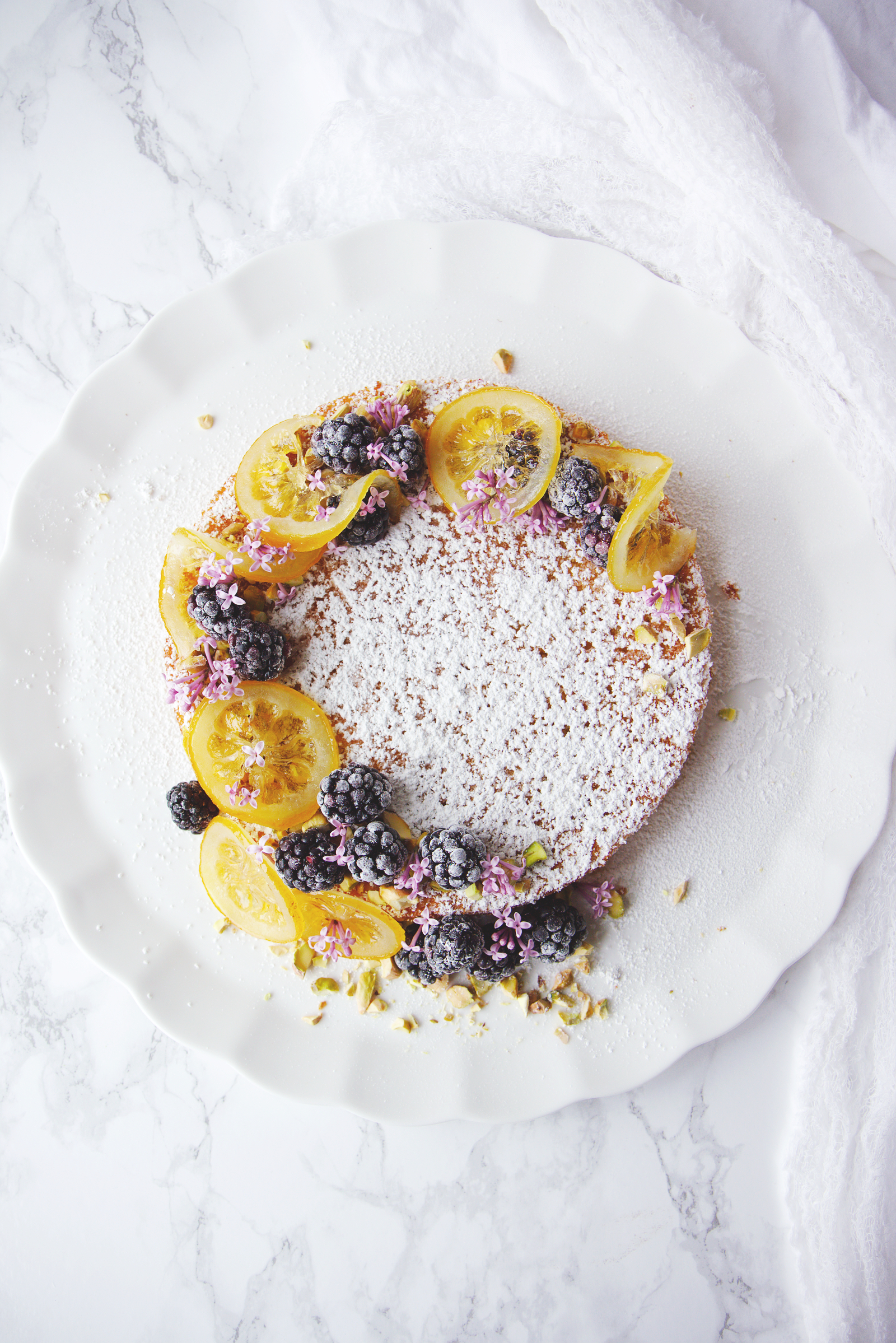 This cake is a luxurious experiment in dairy- and gluten-free baking.
My last post was also dairy-free: these little strawberry orange shortcakes.
Although neither is vegan (both contain eggs), don't worry, because I have a vegan cake coming very soon. Watch this space!
Today's cake is a citrus and almond affair, dense and plush and delightfully tangy.
It is lightly spritzed with lemon syrup, moistening it and bringing it one step closer to a melt-in-your-mouth pudding. The top is finished with powdered sugar, chopped pistachios, sweet juicy blackberries, and candied lemons.
This cake is bursting with flavor and texture, and is made with the most simple ingredients—you can garnish it a lot more minimally if you desire. Overall, it is much greater than the sum of its parts.
It is light without being wishy-washy, and it is a great choice if you need to serve people with varying food allergies. The only fat in the recipe comes from the almonds and egg yolks—no oil!
And no one will miss the dairy or gluten… My taste testers didn't even blink or pause between inhaling bites when I told them.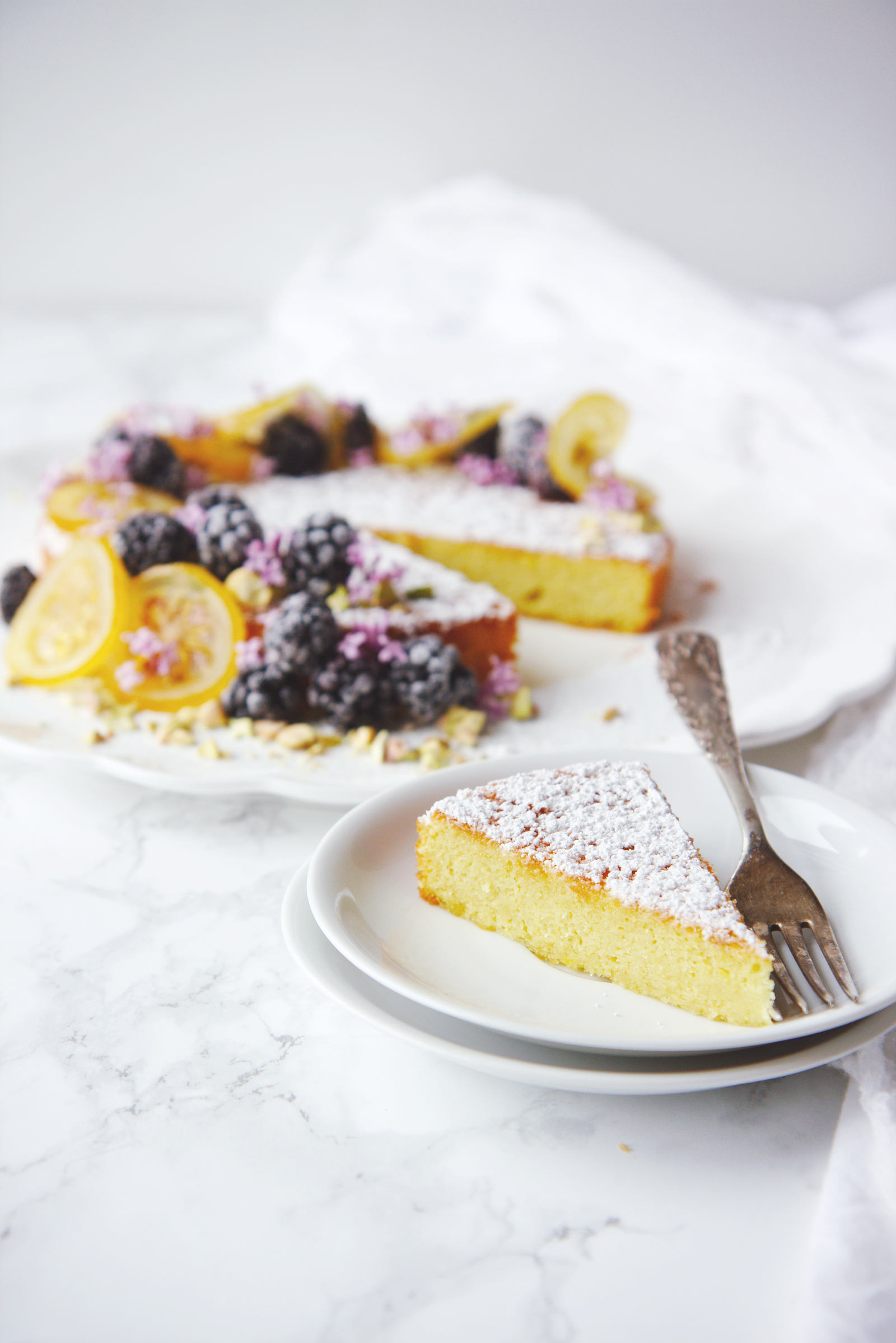 I think this would be fabulous with orange zest, topped with a little dark chocolate ganache and whipped (coconut) cream; or served warm with raspberry sorbet or pistachio ice cream.
Add some fresh rosemary to the batter and serve it with vanilla crème anglaise and a drizzle of good olive oil and a pinch of flaky sea salt, if you want to get really fancy.
That does sound good… I rather wish I was in a lovely garden enjoying a slice right now. Hmm.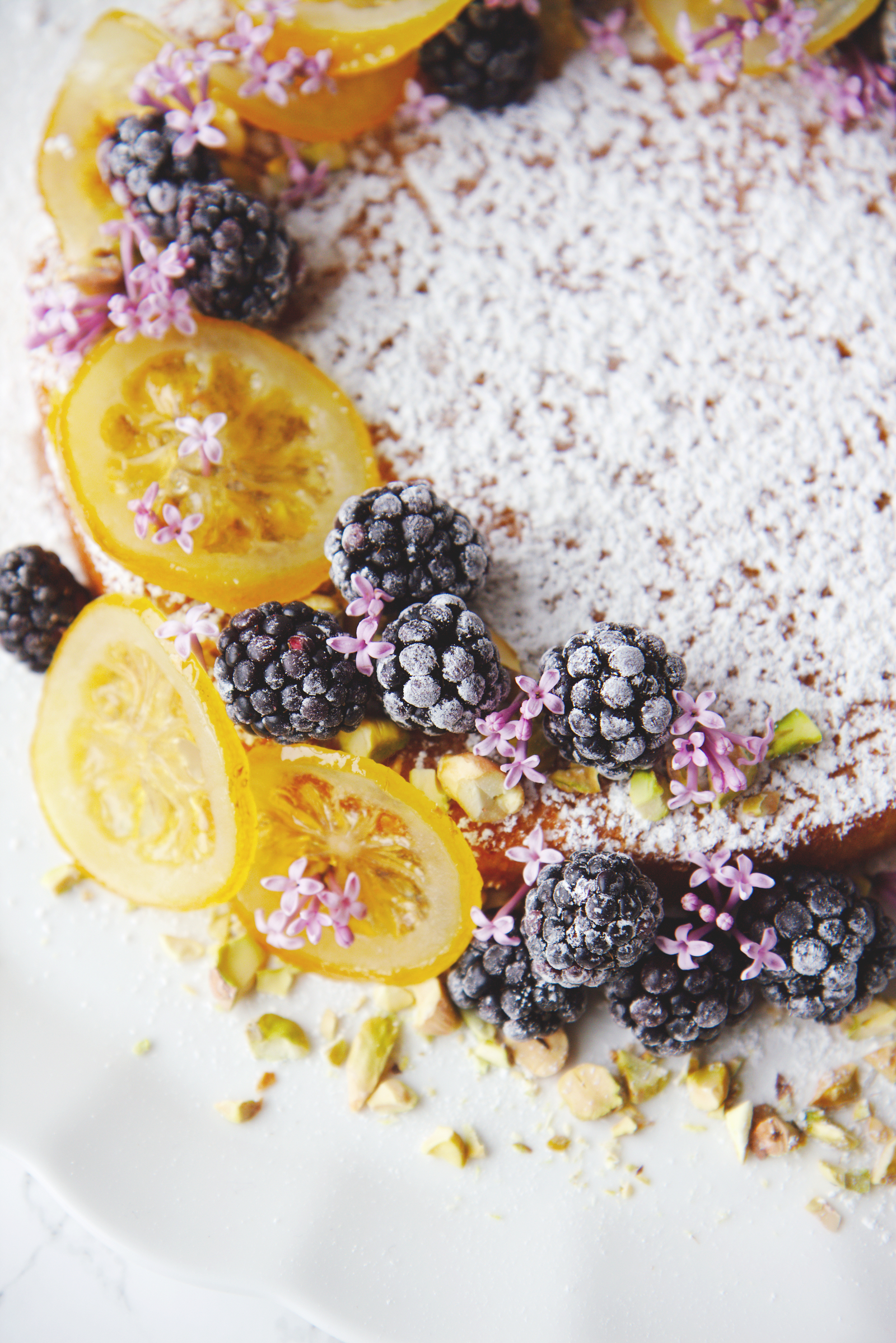 "I've known a great number of clever men. I've outlived them all.
You know how?
I ignored them."
—Lady Olenna Tyrell, S7 E2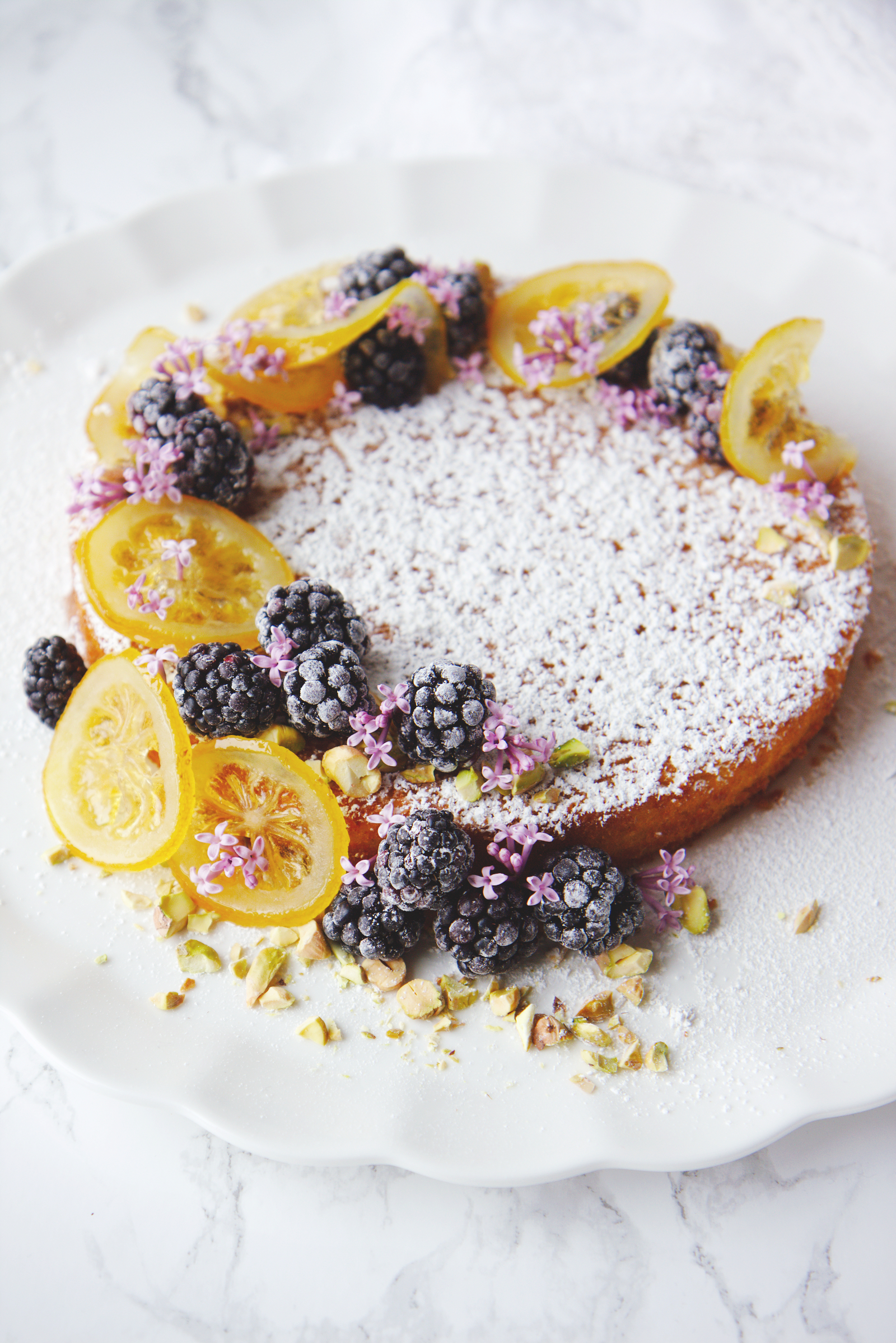 Dairy- and Gluten-Free Citrus Almond Cake
makes 1 8-inch cake
ingredients:
for the citrus almond cake:
4 eggs
zest of 2 limes
zest of 2 lemons
100 grams (1/2 cup) granulated sugar, divided in two
150 grams (1 1/2 cups) almond flour
1 teaspoon baking powder
juice of 1/2 lemon
1/2 teaspoon kosher salt
for the candied lemons:
1 lemon
200 grams (1 cup) sugar
240 grams (1 cup) water
to assemble:
2 tablespoons lemon syrup, reserved
powdered sugar, as desired
blackberries
chopped pistachios
edible flowers, as desired
directions:
Make the cake: preheat oven to 350 degrees F.
Grease and flour (with GF flour) an 8-inch pan.
Separate the eggs; whisk the yolks with half the sugar and the citrus zests until lightened in color.
Add the other portion of sugar to the egg whites and whisk until soft peaks form.
Add the almond flour, baking powder, lemon juice, and salt to the yolk mixture and stir until homogeneous.
Gently fold in the egg whites, then pour the batter into the prepared pan.
Bake for 25-30 minutes, until a tester comes out clean and the center springs back.
Allow the cake to cool completely.
Meanwhile, make the candied lemons: slice the lemon into very thin slices.
Bring a pot of water to a boil, then blanch the lemon slices.
Empty the pot of water; add the sugar and cup of water and stir over low heat just until the sugar is dissolved.
Add the blanched lemon slices and allow to simmer until the rind is translucent, about 45 minutes.
Reserve 2 tablespoons of the syrup.
Lay onto parchment paper and allow to cool.
To assemble, brush the cake with the reserved syrup.
Roll the blackberries in a little bit of powdered sugar, and dust the cake with powdered sugar.
Decorate the cake with chopped pistachios, candied lemons, blackberries, and edible flowers, if desired.
Serve at room temperature with tea.
SaveSave
SaveSave
SaveSave
SaveSave
SaveSave
SaveSaveSaveSave
SaveSaveSaveSave
SaveSave
SaveSave
SaveSave
SaveSave