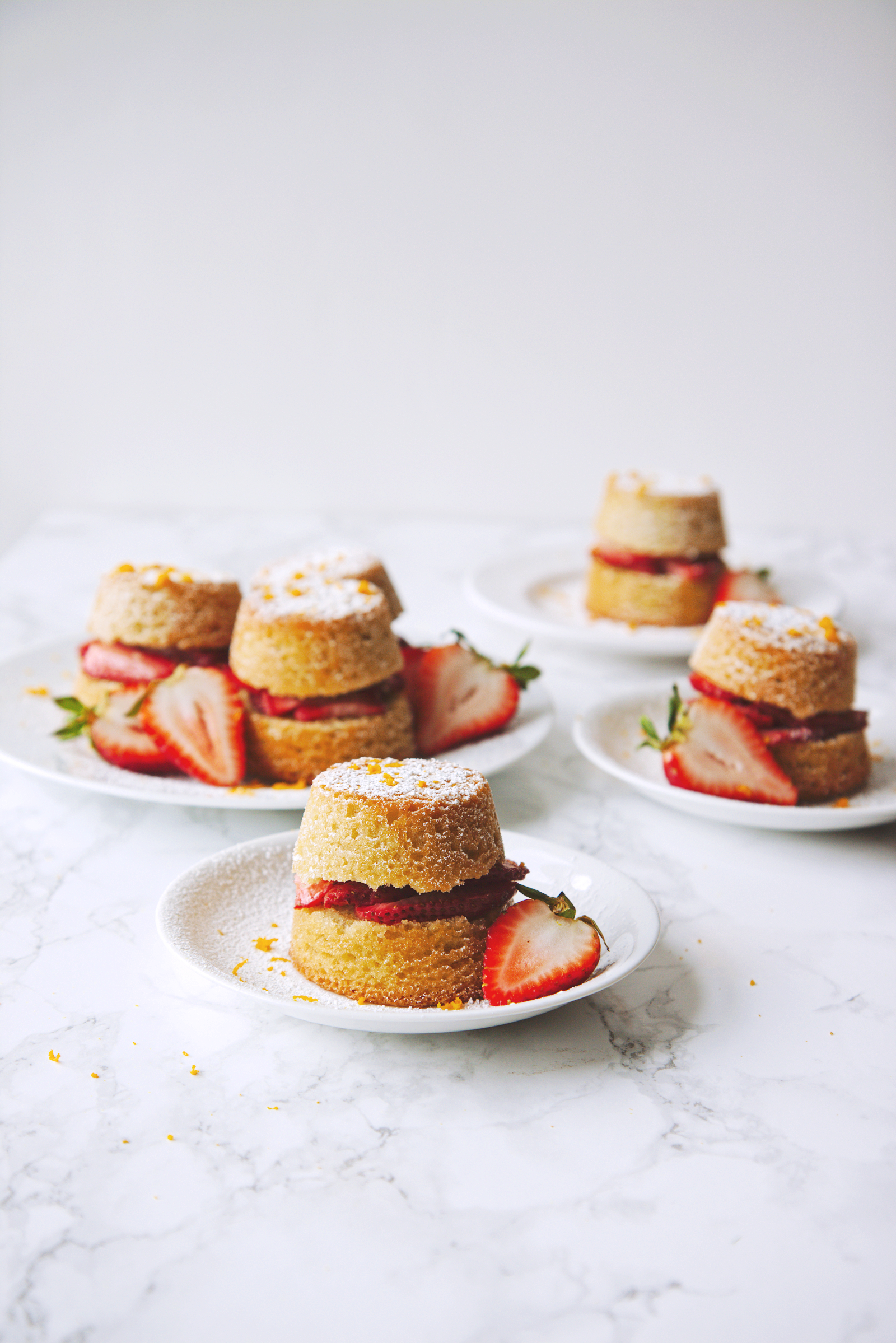 If an intelligence, at a given instant, knew all the forces that animate nature and the position of each constituent being;
if, moreover, this intelligence were sufficiently great to submit these data to analysis, it could embrace in the same formula the movements of the greatest bodies of the universe and those of the smallest atoms:
to this intelligence nothing would be uncertain, and the future, as the past, would be present to its eyes.
—Laplace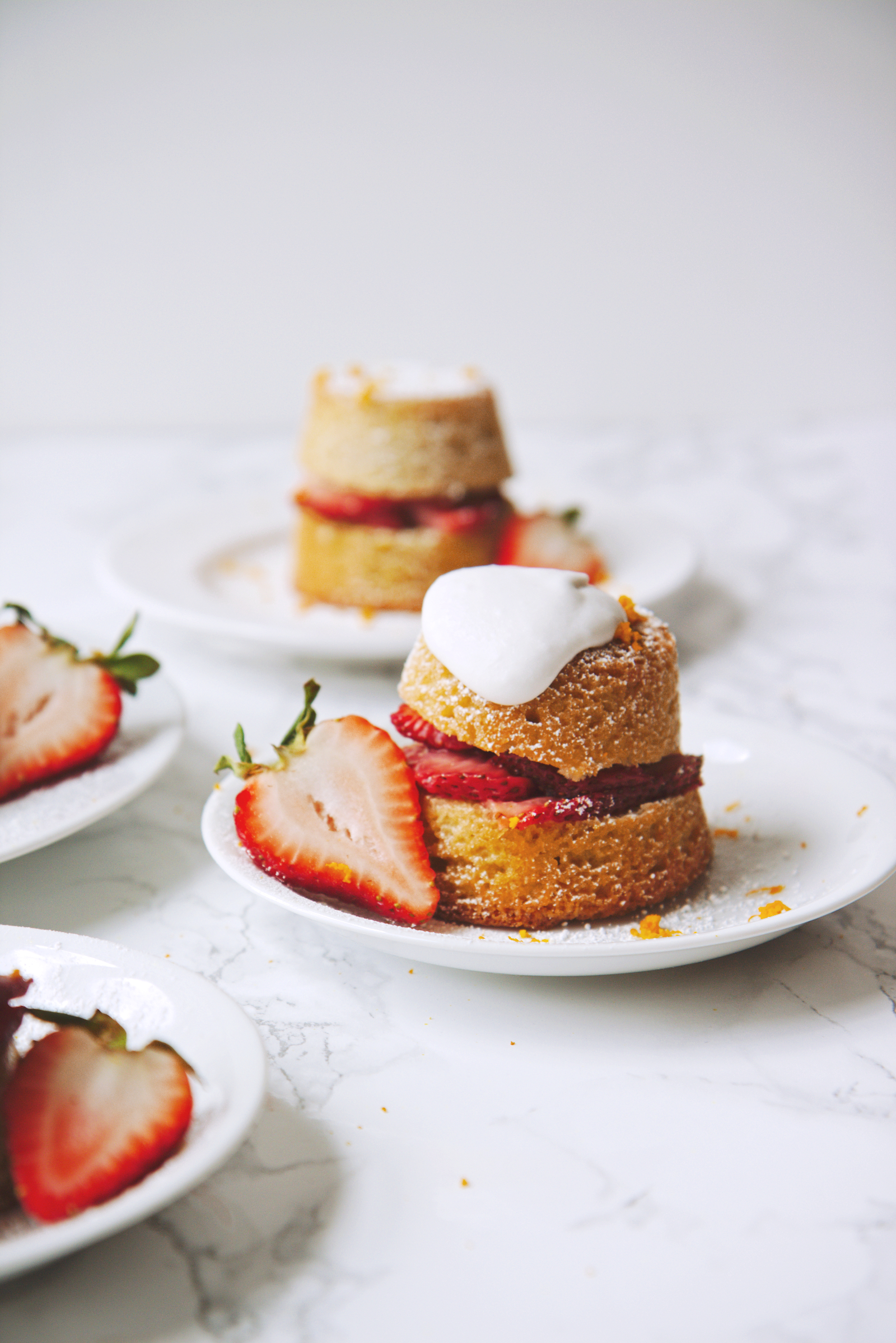 I took a class this past quarter called History of Statistics.
It was taught by a professor who knew my grandfather well. Additionally, in an amazing twist of small-world fate, his father taught MY father in a class called History of Economics, when my dad was getting his PhD at UChicago. It was an excellent class to cap off my stat minor, and I recommend it to anyone who can get in off the competitive waitlist.
At the beginning of the quarter, we had a question on a homework that stumped (I think) everyone in the class. The question that was posed was: what was the sweet that Pierre-Simon invented?
Don't even try to google it, guys. Been there, done that. It is thoroughly un-googleable.
The answer: in 1826 there was a landmark two volume book about gastronomy published by Brillat-Savarin (as in the Savarin cake). In it, a dessert was attributed to the statistician.
Strawberries ********* **** ****** *****.
Literally, that's the whole of it.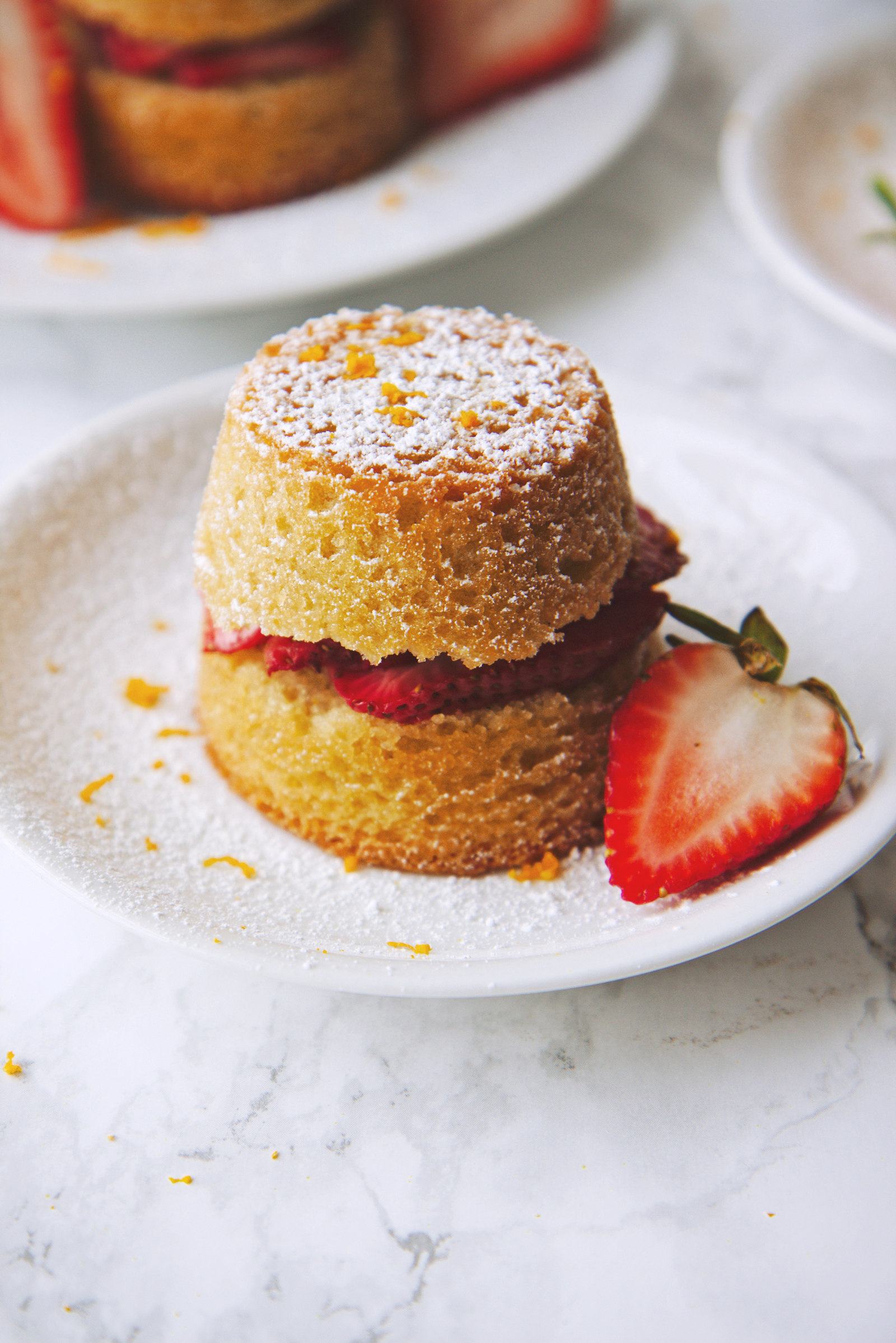 Anyways, the other day I found myself with a bunch of spring strawberries and some aging oranges that needed to be used or eaten. I thought back to Laplace's dessert, and how I could modify it and make it… more, um, interesting.
These dairy free strawberry shortcakes are what I came up with, because I've been eating dairy free a lot lately and want to challenge myself to bake dairy free as well.
The cake itself is a dairy free pound cake, made with vegan butter, cashew yogurt (I like Forager), and a hint of orange zest; it is moist and dense and bakes up perfectly golden.
I brushed the cut cakes with an orange simple syrup to infuse them with stronger flavor.
The strawberries are treated as Laplace would have demanded: sprinkled with the juice of an orange (and a little hit of sugar), but then I roasted them in the oven to bring out a toasty, caramelized flavor that is absolutely divine.
The cakes are layered with the roasted strawberries, topped with lightly sweetened coconut cream, confectioner's sugar, and more orange zest.
Overall, they're not too sweet and preserve a true strawberry and orange flavor; they store very well as the syrup helps retain their moisture. The serving size is just right for one person, although I know for a fact that some of my testers ate two…
They would be perfect for any summer event, from a BBQ to a tea party.
Note that you can substitute dairy items and still have very happy results: butter for the vegan butter, sour cream or full-fat yogurt for the cashew yogurt, and whipped cream or ice cream for the coconut cream.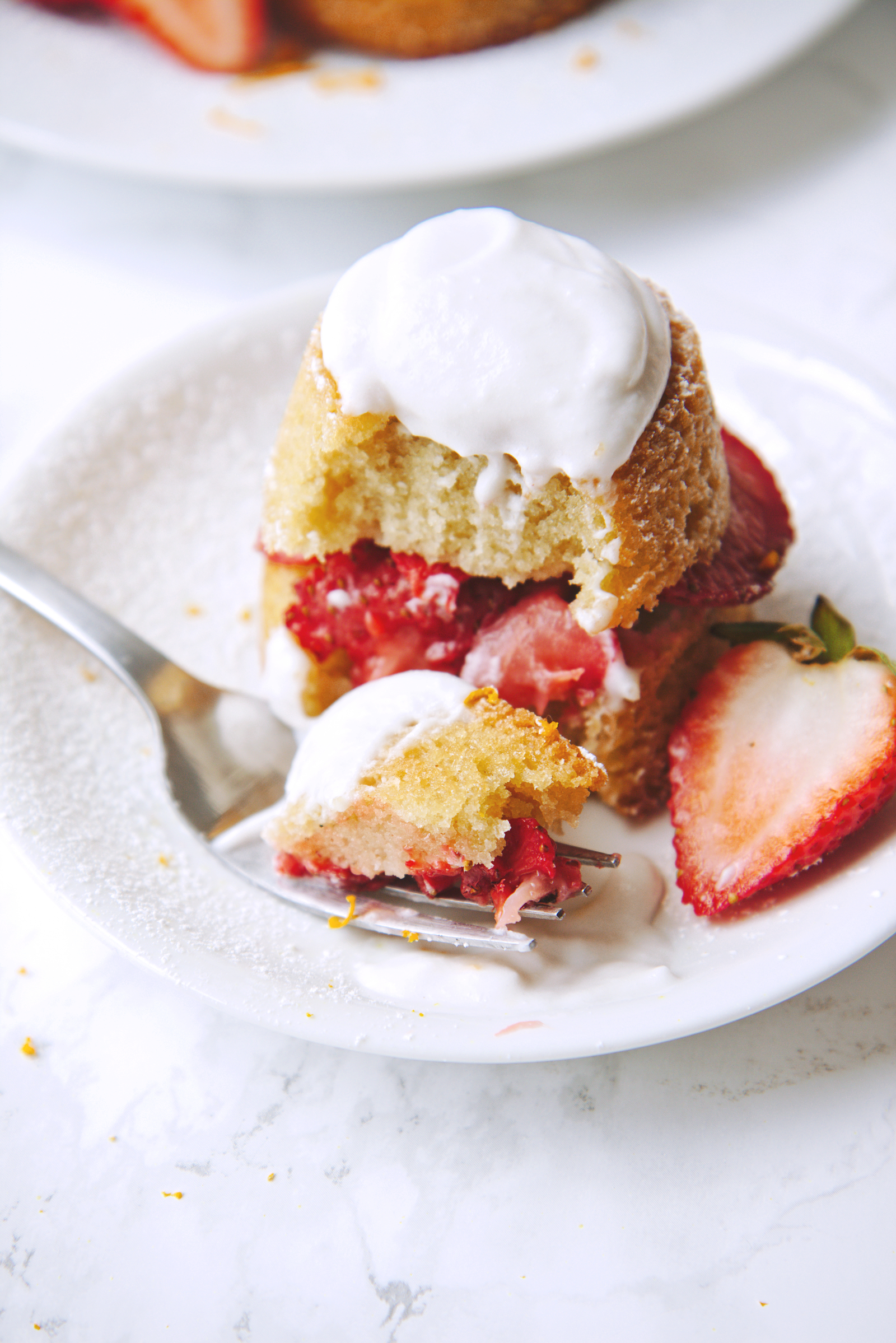 Happy summer, friends! Here's to strawberry season.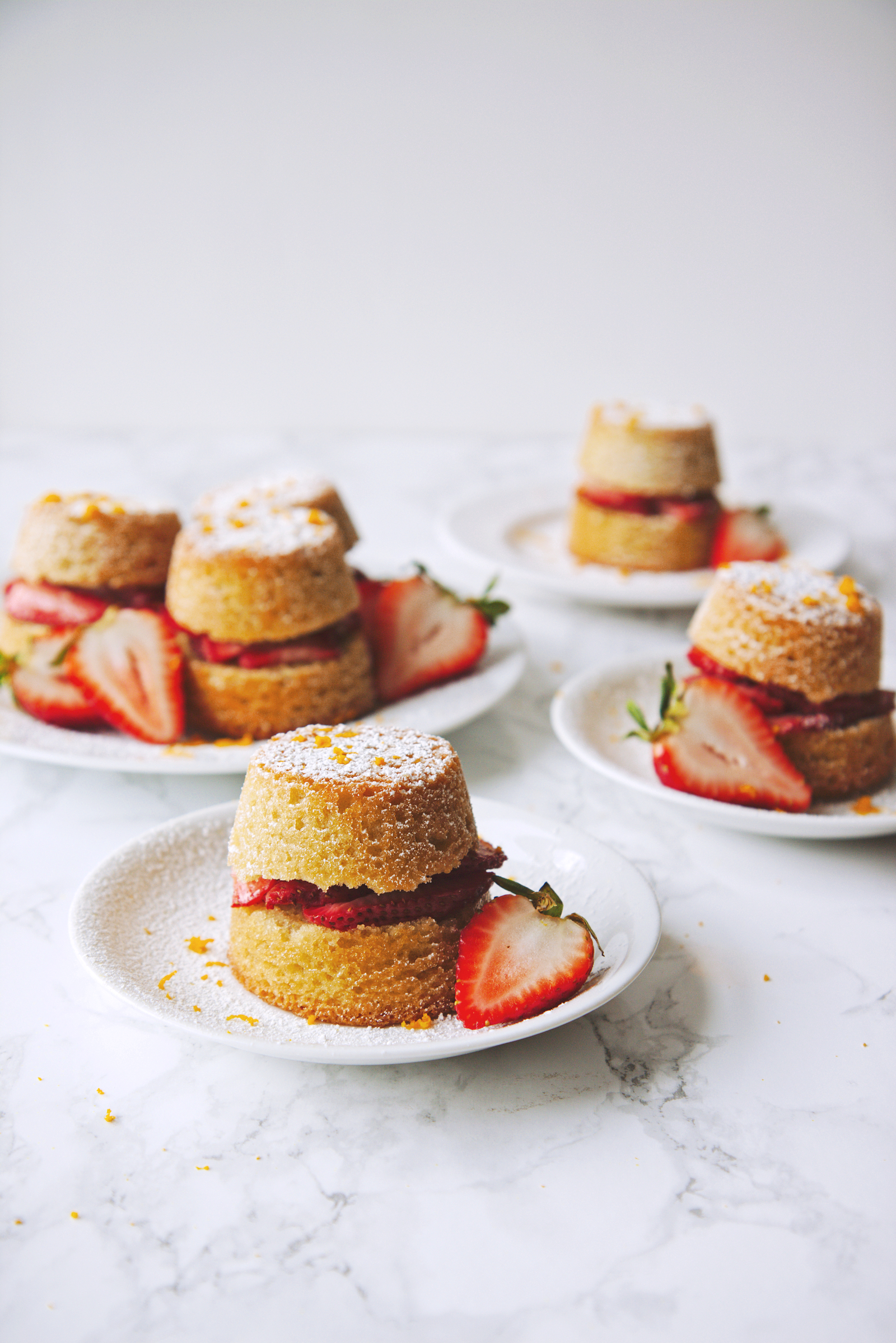 Dairy Free Strawberry Orange Shortcakes
makes 6 large, 12 small shortcakes
ingredients:
for the cakes:
113 grams (1 stick, 8 tablespoons) vegan/dairy free butter, softened (can substitute regular butter)
250 grams (1 1/4 cup) sugar
1/4 teaspoon salt
3 eggs
120 grams (1/2 cup) cashew yogurt (can substitute sour cream or yogurt)
180 grams (1 1/2 cups) AP flour
1/8 teaspoon baking soda
zest of 1/2 an orange
for the strawberries:
15-20 large strawberries, sliced thinly (about 2-3 cups)
juice of 1 large orange
1 tablespoon sugar (optional)
to assemble:
45 grams (3 tablespoons) water
15 grams (1 tablespoon) orange juice
50 grams (4 tablespoons) sugar
zest of 1/2 an orange
coconut cream (see here for a tutorial) (can substitute whipped cream or ice cream)
zest of 1/2 an orange
confectioner's sugar
directions:
Make the cakes: preheat oven to 350 degrees F and grease and flour 6 extra-large muffin tins, or 12 regular sized muffin tins.
Whip vegan butter on high speed for 3 full minutes, until light and fluffy.
Add in the sugar and salt and beat for another full 2 minutes.
Scrape the bowl and add the eggs; beat for another 3-4 minutes until fluffy and not gritty.
Stir in the cashew yogurt.
Add the flour, baking soda, and orange zest.
Scoop the batter into the prepared pans.
Bake for 18-22 minutes, or until a tester comes out clean (small cakes will likely need shorter baking, check them around 15 minutes).
Allow to cool completely before cutting in half.
To make the strawberries, lay the slices on a parchment lined baking sheet and sprinkle with the orange juice and sugar.
Bake at 350 degrees F for 15-20 minutes, or until softened, juicy, and fragrant.
Allow to cool completely.
Make the orange syrup: stir water, sugar, orange juice, and orange zest together and bring to a boil.
To assemble, brush the cut halves of the cakes with the orange syrup.
Sandwich a few strawberries with the cakes.
Dust with confectioner's sugar, orange zest, and serve with coconut cream or ice cream on the side.