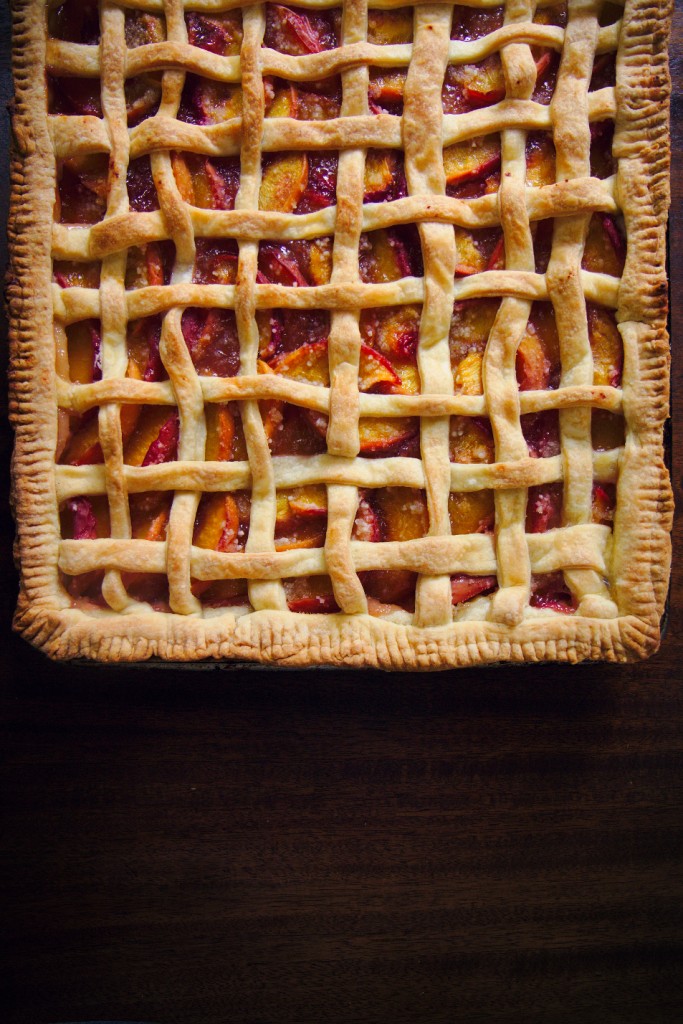 How to make a peach pie.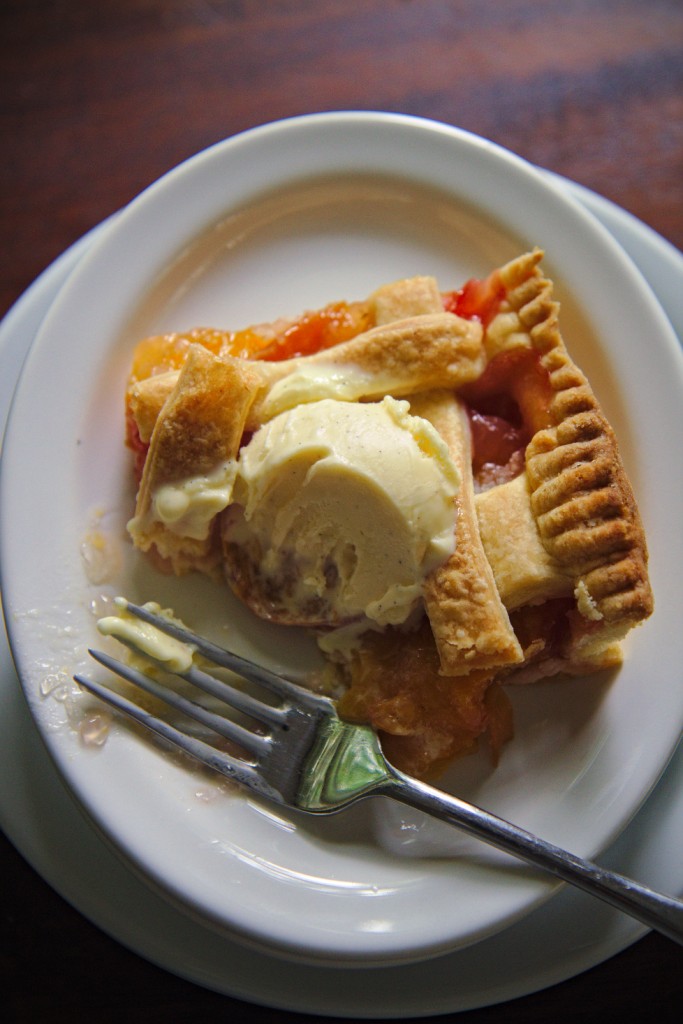 Start this pie in the middle of a hectic week, a week when nothing seems to go right, and most things seem to go to shit.
Wish for some therapy or someone who can write code, write your blog, write your to-do lists, your journal even, who can get inside your head and do some serious junk organization.
Find yourself peeking in the fridge instead. (Always.)
Start this pie with Butter.
Everything truly therapeutic starts with butter.
One big fat pound of butter. (Made from 2 and a half gallons of milk, churned and shaken and agitated into creamy gold.)
Maybe life just shakes shakes shakes the shit out of you until you're sweet, fat butter, too.
Contemplate this thought as you slice up the cold cold butter into neat cubes.  Decide you are not wholly against such a philosophy.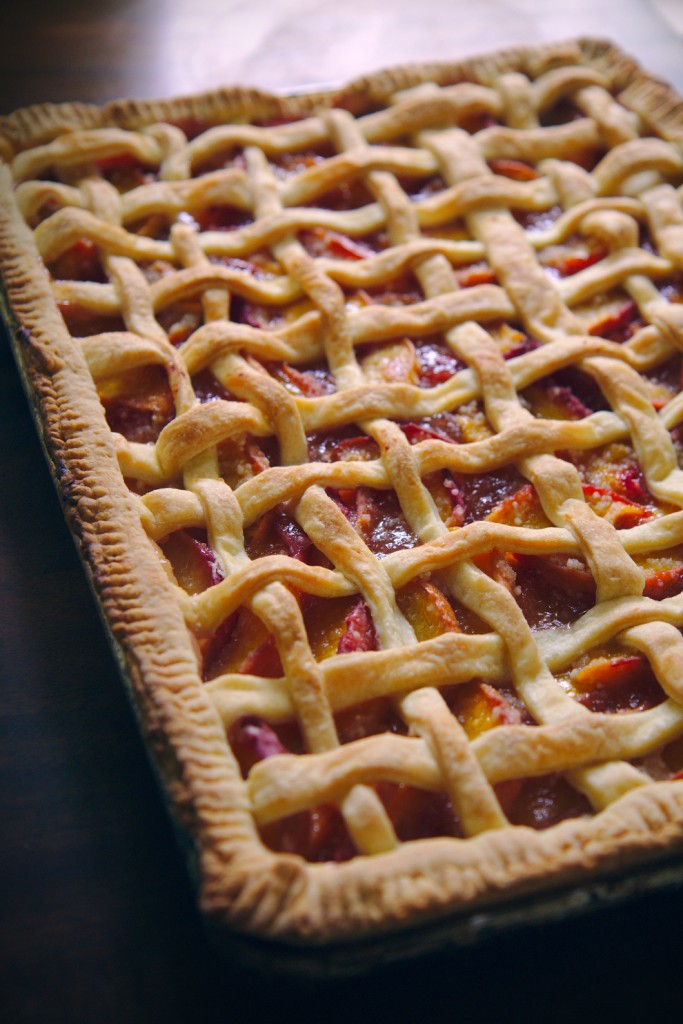 Butter and flour and a spoonful of sugar.  Two pinches of salt.  Add a few extra grains because you've been forgetting the salt lately.
How can you forget the salt?  That most important seasoning, the holy grail of sharpening and fine-tuning sweet flavors.
Forgetting salt because salt is lost on you, as is fiery curry powder and lashings of sweet maple syrup and bright fresh basil.
Forgetting salt because you're walking around in a foggy world.
Not being able to taste or smell anything becomes tiresome.
How can a head cold possibly last this long?
How can I possibly not taste the goodness of Nutella?
Something is seriously wrong here.
Your body needs healing, needs a full night's rest, a cup of hot tea, and, at this point, probably a miracle from a Shaman.
But you need to stop whining about being sick.
Choose to focus on pie instead.  Pie dreams.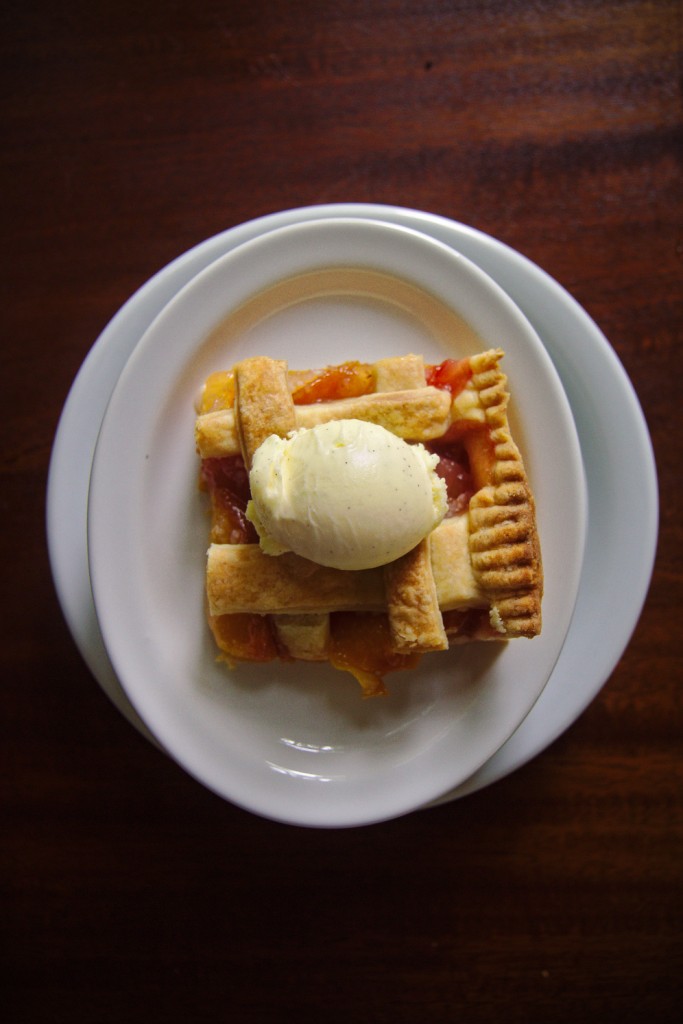 Find yourself elbow deep in dough.  Pat, fold, repeat.  Marvel at the layers of butter which, when place in a hot hot hot oven will melt and evaporate, forming the flaky crusts of dreams.
Grab a whole bunch of plump peaches.  Count them out onetwothree … eight nine ten.
Hold one up to your nose, so close that its soft fuzz tickles.
Breathe in the scent of summer, of warm days in the sun, of trees heavy with promises.  That much you can smell.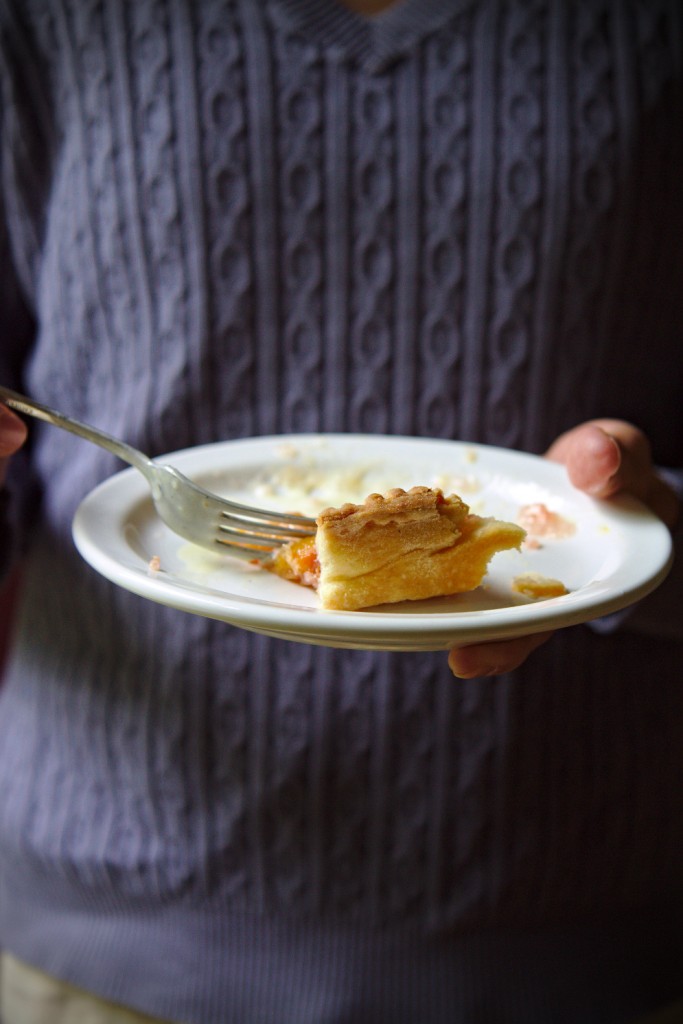 Slice them up, neat eighths halved again, tossed in sugar and tapioca for body, a touch of nutmeg and lemon juice to coax out profundity—and salt, just a pinch or two to temper the sweetness.
Spread the peaches thin over vast expanses of dough.
Cut long strips of the remaining dough.  Realize how wonky they are–this one too long, this one way too short—but carry on anyway.  Decide on the spot that anyone who complains about the way this damn pie looks shan't have any pie.
Weave a very bendy lattice, cursing the heat the whole while (who in their right mind chooses an 80+ degree day to deal with finicky pastry?  Me.).  Over, under, over, over… shit. Under, over…
Crimp the edges, throw it in the oven.
Get the f out of the nine million degree kitchen.
Come back only when the scent of peach and butter and caramel has filled your home, enough to penetrate even your nose's rhinovirus ether.
Admire the pink that has bled out from the skin, turning the yellow fruit into a veritable rainbow of magenta, orange, and yellow.
Swat away hungry passerby.  Promise them a slice, after photos only.  Paws off.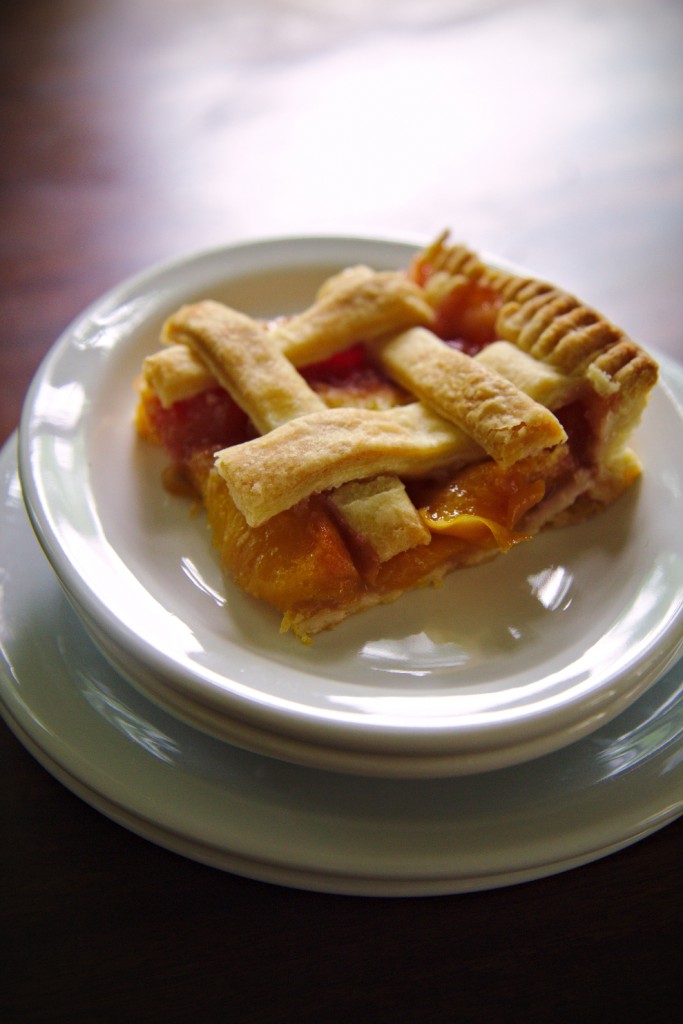 Make the executive decision to take this pie over the top.
Whisk, whisk, whisk cream, a touch of sugar, an entire vanilla bean, and egg yolk after egg yolk together.
Cook until your pinky leaves a trail on your spatula.  Test multiple times, with multiple fingers.  This is important.
Chill, chill, churn—the creamiest vanilla bean ice cream emerges, yellow with yolks and flecked and fragrant with vanilla seeds.
Test it straight out of the ice cream machine, with multiple spoons.
This is also important.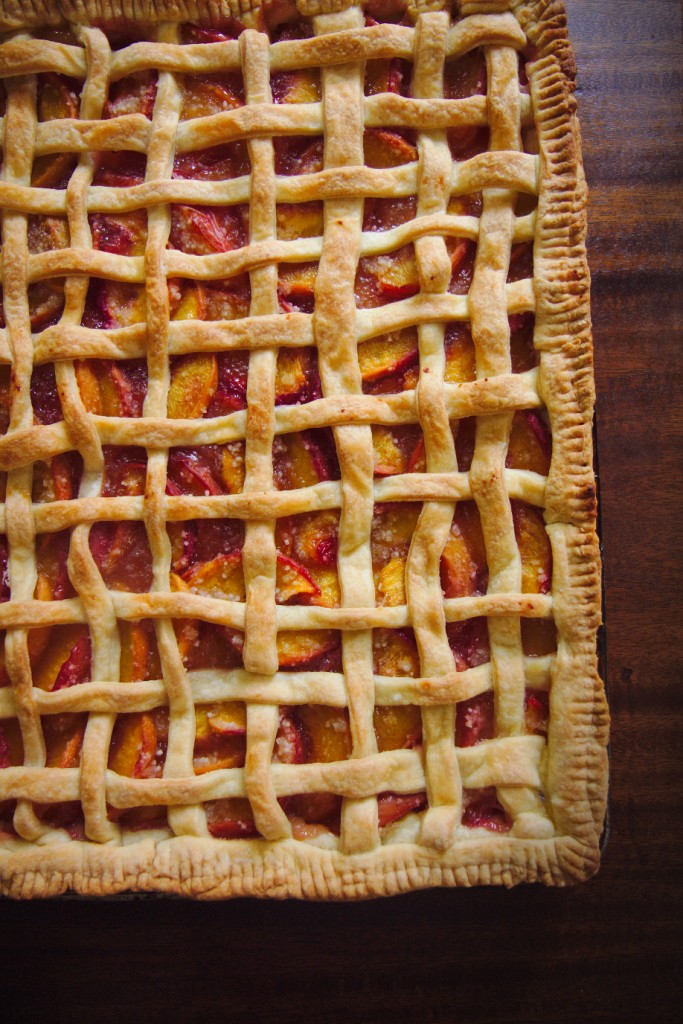 This slab pie serves an army, or at least a small village.
A couple of teenage boys, a group of good friends.
Bring it to a party, and be the star.
Easy to eat because the filling to crust ratio is just right for portability, even when cut into generous sizes—no skimpy hand pies—large enough for a crowd, and delicious, which is obviously the most important part.
Or, eat it at home, on a plate, in your kitchen, with a hot cup of tea and a scoop of cold vanilla ice cream.
The simple pleasure of fresh peach pie with homemade ice cream is difficult to surpass.
It is quintessentially summer.

Peach Slab Pie
makes 1 17×12 inch pie
ingredients:
for the crust:
450 grams (1 pound) butter, cold and diced
630 grams (5 cups) flour
50 grams (1/4 cup) sugar
2 teaspoons kosher salt
ice water, as needed (at least 120 mL—1/2 cup)
for the filling:
10 large peaches
1 cup turbinado sugar
5 tablespoons quick cooking tapioca
3/4 teaspoon kosher salt
juice of 1/2 small lemon (about 1 tablespoon)
nutmeg, to taste (perhaps 1/8 to 1/4 teaspoon)
directions:
Make the crust: whisk flour, sugar, and salt together.
Add in the butter chunks and toss them with your hands to coat all of them in flour.
Begin to smash each chunk between your fingers, so that all of them are sheets rather than cubes.
Rub some of the mixture between your palms so that the butter breaks up into even smaller chunks and the mixture looks like coarse sand.
Leave about 1/3 of the butter in small, thin sheets; you want sizes to vary from about the size of a chickpea to sandy textured pieces.
Drizzle in ice water, 1 tablespoon at a time, as you stir with a wooden spoon.
Stop adding water when the clumps stick to your spoon; gather up all the pieces and mold them together—the dough should not be dry or crumbly.
Pat the dough out into a long, thin rectangle about 1/2 inch thick.
Fold each of the ends over the center like you're folding a letter.
Pat out the dough again into a rectangle and repeat the folding twice more.
Divide the dough into two pieces and wrap in saran wrap; refrigerate for at least 45 minutes and up to 1 night.
Meanwhile, make the filling: slice up peaches into thin pieces—cut the peach into eighths and then cut each eighth in two or three.
Place the turbinado sugar and tapioca into a food processor and process until the tapioca has been ground down a bit.
Mix half of this with the sliced peaches and place in a colander or sieve over a bowl to drain for at least 30 minutes.
After chilling, roll out half of the dough (it will be quite thin) and fit into a greased 17×12 inch sheet pan.  Leave the edges hanging over slightly; return to the fridge or, better yet, place in the freezer.
Finish the filling: remove the peaches from the colander and discard the collected juice.
Toss the peaches with the remaining sugar mixture, the salt, the nutmeg, and the lemon juice.
Preheat oven to 400 degrees F.
Roll out the other half of the dough and cut into thin strips (measure them: some should be 18 inches and some 13, to ensure they make it all the way across the pie).
Remove the bottom crust from the freezer and spread the peaches thinly over it; try to get them in an even layer.
Working quickly, weave your lattice over the peaches—I found the easiest way to do so was not by folding the strips back on themselves, as is commonly done, but actually weaving the short strips under the long strips, since they were so long.
Using a fork, crimp the edges to seal the lattice strips to the bottom crust.
Pop it in the oven (you may want to place another sheet pan underneath it to prevent drips) and bake for 40 to 50 minutes, until the crust is golden brown and the filling is bubbling.
Remove from oven and let cool.
Creamiest Vanilla Bean Ice Cream
adapted from the NYT
makes a generous pint
ingredients:
1 cup heavy cream
1/4 cup half and half
1/4 cup low-fat milk (I had 1%; if you drink whole, use 1/2 cup and leave out the half and half)
1/3 cup sugar
2 tablespoons corn syrup (optional, can sub honey or maple syrup if you don't mind flavoring)
pinch kosher salt
3 egg yolks
scrapings of a vanilla bean
directions:
Whisk together all of the ingredients very well.
Place in a small sauce pot over medium heat and add the vanilla bean pod.
Whisking constantly, cook until the mixture is a bit thicker than heavy cream—a finger dragged across the back of a spatula should leave a trail.
Remove from heat, remove vanilla pod, and cool completely.
Chill in the fridge for at least 1 hour and up to 1 night well-wrapped.
Churn according to manufacturer's instructions.