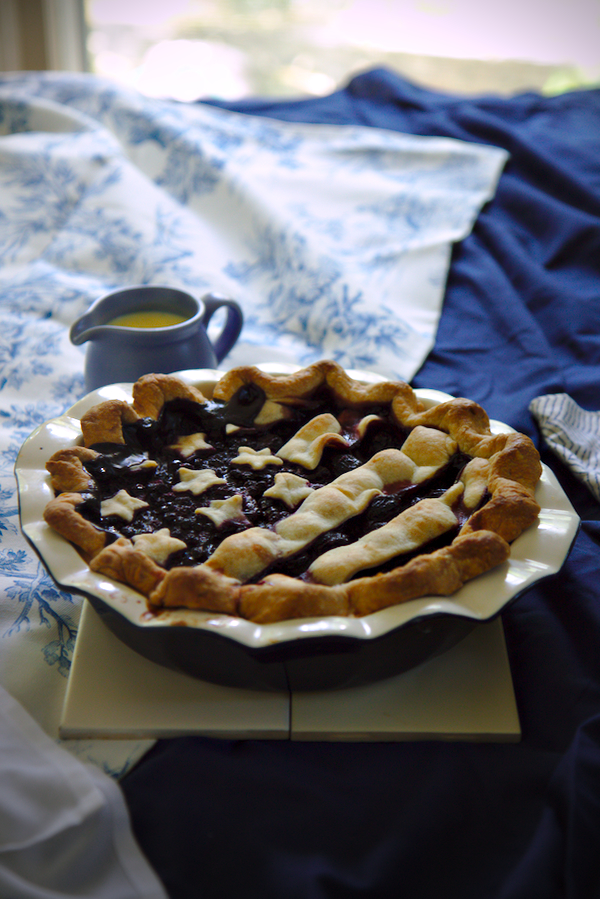 I know that you're in love with him
'cause I saw you dancin' in the gym
You both kicked off your shoes,
man I dig those rhythm and blues
I was a lonely teenage broncin' buck,
with a pink carnation and a pick-up truck,
but I knew I was out of luck
the day the music died.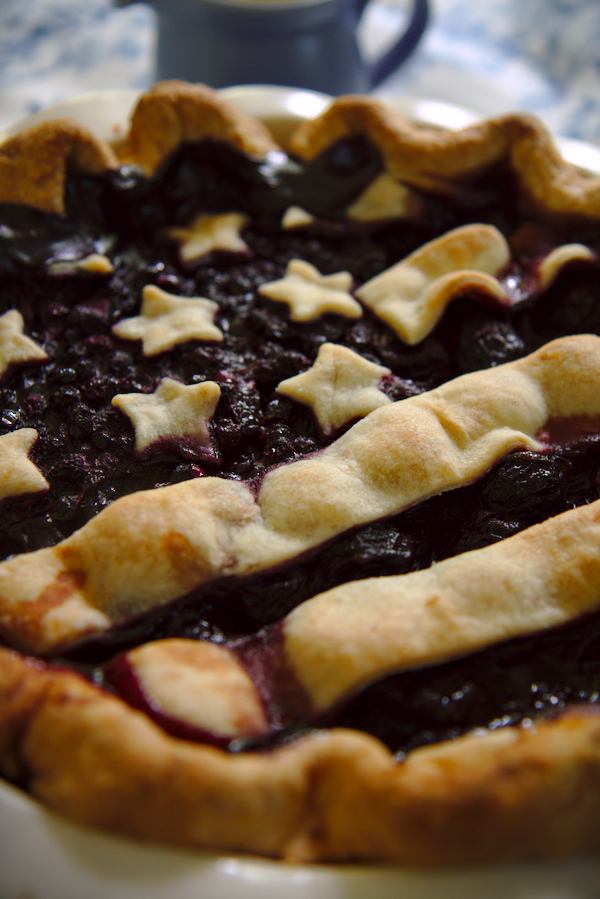 Happy Fourth of July!!
AKA happy birthday America!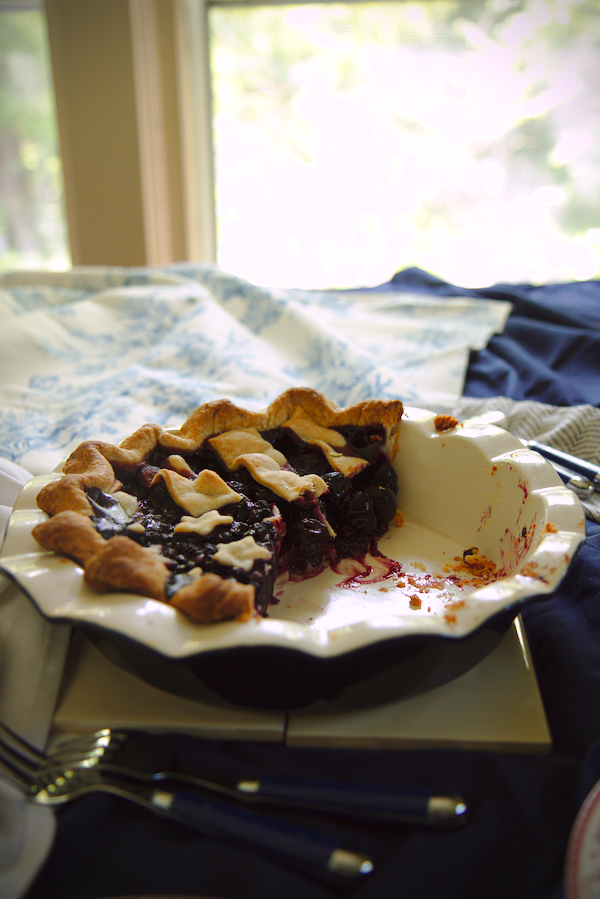 What do y'all think of the new blog?
It took me forever to update, and now I have a snazzy new sidebar where you can access archives, subscribe, search, and click through to important (read: pretty) posts.
Let me know if you have any problems, or if things seem glitchy.
I'll try to get them worked out ASAP.
Note: to click through to see or make comments, click on the top of the post in the meta tag (date posted/comments) or just click on the post and scroll to the bottom.
Also note: blank spaces will soon be filled.  Please ignore the giant gaping holes… I am trying to iron things out.
(I am quite bad at it.)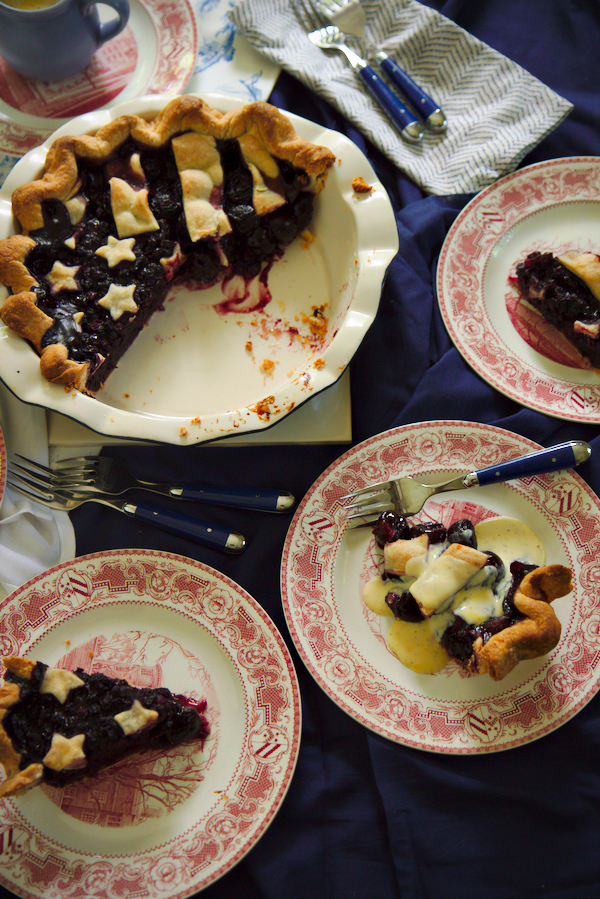 Y'all. There is a reason 4th of July rhymes with PIE.
(No, it's not a coincidence. You hush.)
It is our god-given right to eat pie while celebrating the US of A.
We have lots and lots of traditional pies that originate here in America—thick shoofly, key lime, pecan, etc.
I had my heart set on a red, white, and blue pie—a true American Pie—for the 4th of July.
(Although now, I am realizing… shoofly, Ju-ly… that might have to happen too!  Oh well, more pie to eat..)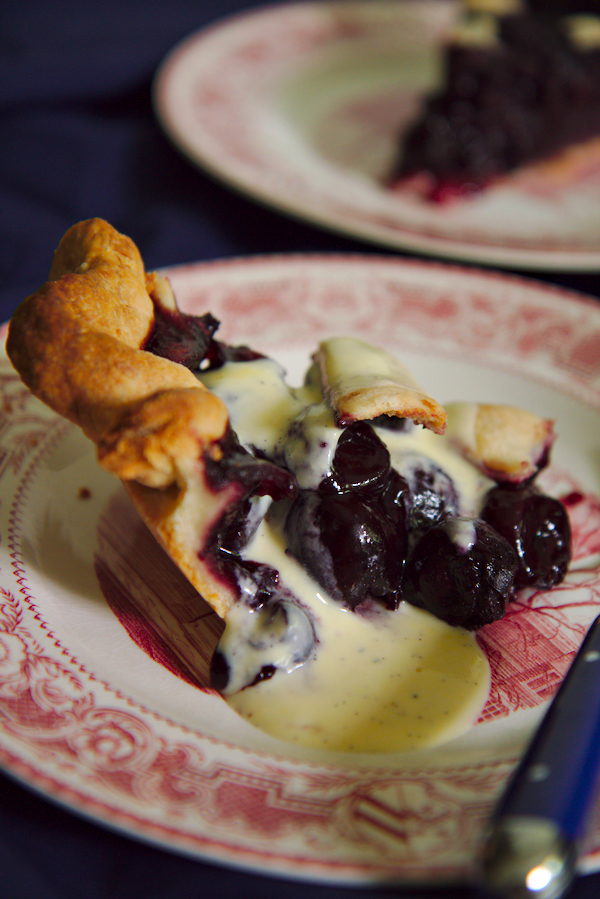 American Pie.  American Flag Pie.
Wild blueberries make up the upper quadrant, with dark sweet cherries comprising the rest; the entire thing is encased in and carefully decorated with flaky, buttery pastry; rich, creamy vanilla bean custard adds a touch of white!
This pie is so dang cute, and delicious to boot. That vanilla bean custard, man. I could put that on cardboard and eat it for breakfast, lunch, and dinner.
I love the combination of cherry blueberry, and if you're not looking to American-ize your pie, just chuck everything in and top it with a lattice or even a full crust.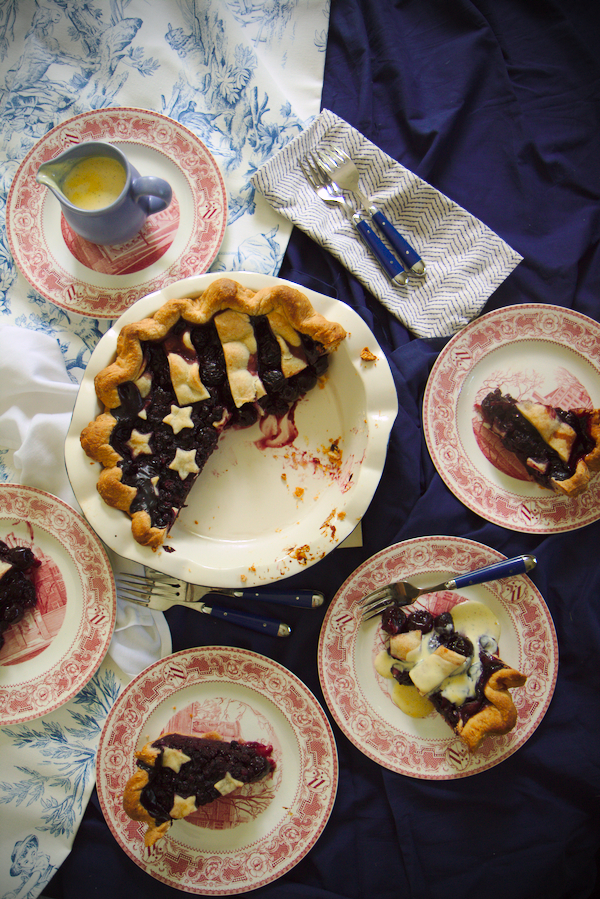 I hope all of you have a safe, sunny, and fun Fourth of July! May you eat BBQ and patriotic desserts and break out the bathing suits and have a great time celebrating our country.
America!!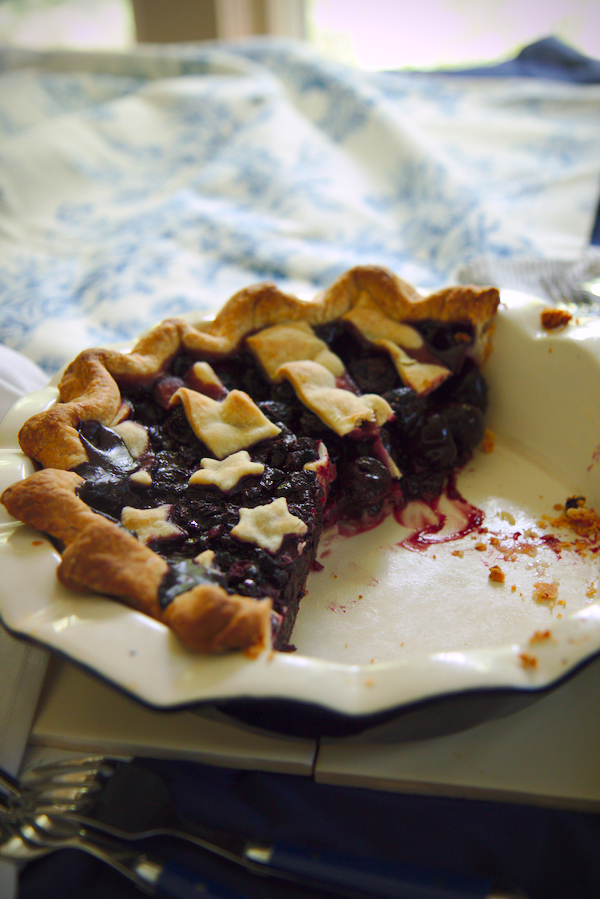 Pee Ess:
I know some of my readers like to connect with me via instagram (and Pinterest). Click on the little instagram icon in the About the Author section and it will direct you to my profile. Same for Pinterest!
(Picture below is from my instagram, taken with iPhone and edited with Afterlight.)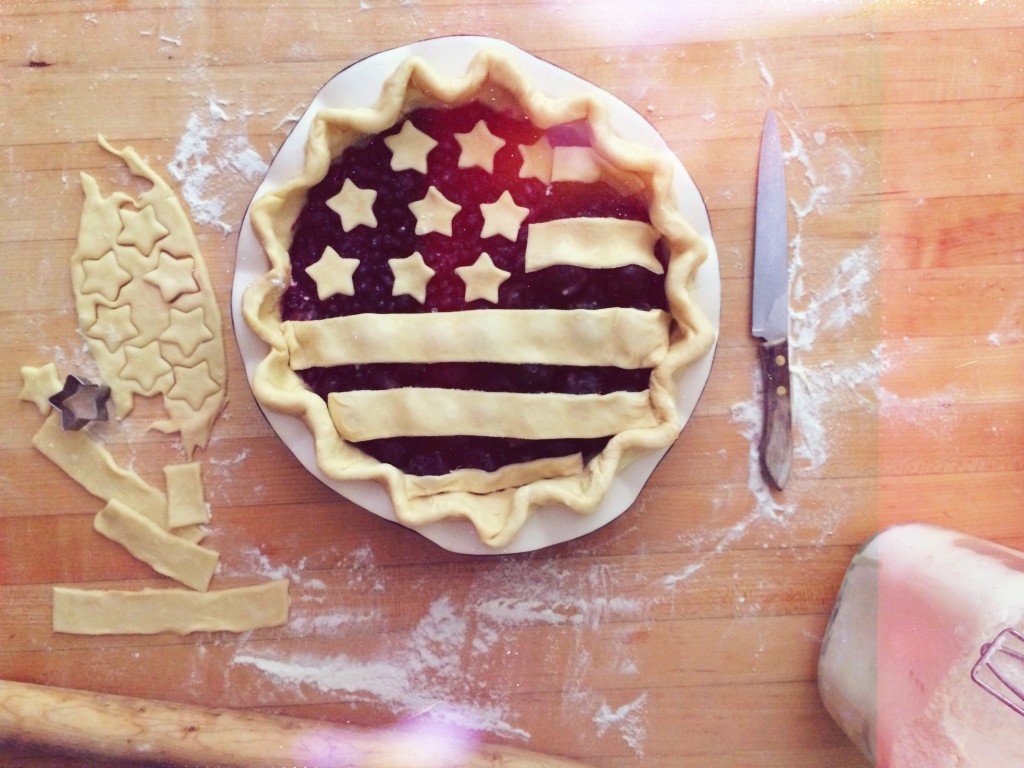 American Pie with Vanilla Bean Custard
makes 1 10-inch pie
ingredients:
for the crust: 2 1/2 cups flour
2 tablespoons sugar
3/4 teaspoon kosher salt
16 tablespoons butter, cubed and cold
ice water, as needed
for the filling:
2 1/2 cups frozen wild blueberries (or about 2 cups big fresh blueberries)
5 cups halved cherries (about 1 1/2 pounds frozen or 1 3/4 pounds fresh)
juice of 1 lemon
1 1/4 cup sugar
1/3 cup cornstarch
pinch of salt
for the vanilla bean custard:
1 cup heavy cream
1/4 cup lowfat milk
3 egg yolks
3 tablespoons plus 2 teaspoons sugar
scrapings of 1/2 a vanilla bean
directions:
Make the crust: place flour, sugar, and salt in a large bowl.
Dump all the cold cubed butter into the bowl and begin to smash all of the cubes to sheets.
Rub some of the mixture between your hands so that it's sandy—you're going for a crumbly, sandy mixture wherein the largest pieces of butter are about the size of a marble and flattened into a sheet.
Begin to stir in the cold water, 1 tablespoon at a time; you will likely need 4-6 tablespoons, but it all depends on kitchen environment, so go slow.
You want the dough to come together into a ball but not be sticky at all.
Turn it out onto a lightly floured surface and pat it into a long rectangle about 1/2 inch thick.
Fold over the edges like you're folding a letter, then pat the folded dough out into another rectangle; repeat twice more for a total of 3 folds.
Divide the dough in two and pat into disks; wrap each in saran wrap and refrigerate for at least 30 minutes.
After 30 minutes, roll one out of the disks to a 14 inch diameter—it should be about 1/8 to 1/4 inch thick.
Fit the dough into a pie pan and loosely fold excess edges over temporarily; place in the fridge while you make the fillings.
Preheat oven to 375 degrees before making the fillings.
Place the cherries in a large bowl with the juice of half a lemon.
Place the blueberries in another bowl with a little less than the juice of half a lemon.
Stir the cornstarch, sugar, and salt together and divide it roughly into thirds: toss blueberries with 1/3 and the cherries with 2/3 of the mixture.
Roll out the other pie crust and cut into stripes and stars.
Spoon the blueberry filling into 1/4 of the pie (unfold the edges so they hang over the pan), and the cherry into the other 3/4.
Lay on the stripes and stars, then fold up the overhanging crust and crimp.
Bake for 50 minutes to an hour, until the crust is golden and the fillings are bubbling.
Meanwhile, make the custard: whisk all ingredients together and place them in a small sauce pot over medium-low heat.
Cook, stirring nearly constantly, until the mixture thickens up slightly—it should still be liquid, but when you drag your finger across the spatula, a trail should remain (like the texture of quite cold heavy cream).
Pass through a strainer and chill until ready to eat.
Serve the pie warm with cold custard sauce!