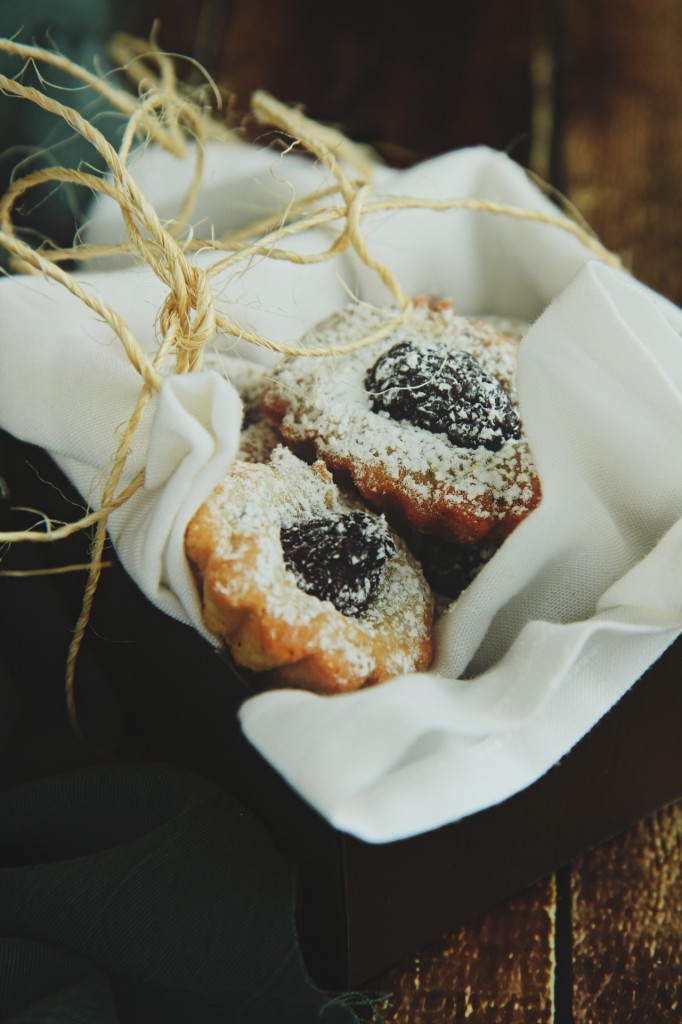 As if every cake weren't worth its weight in gold.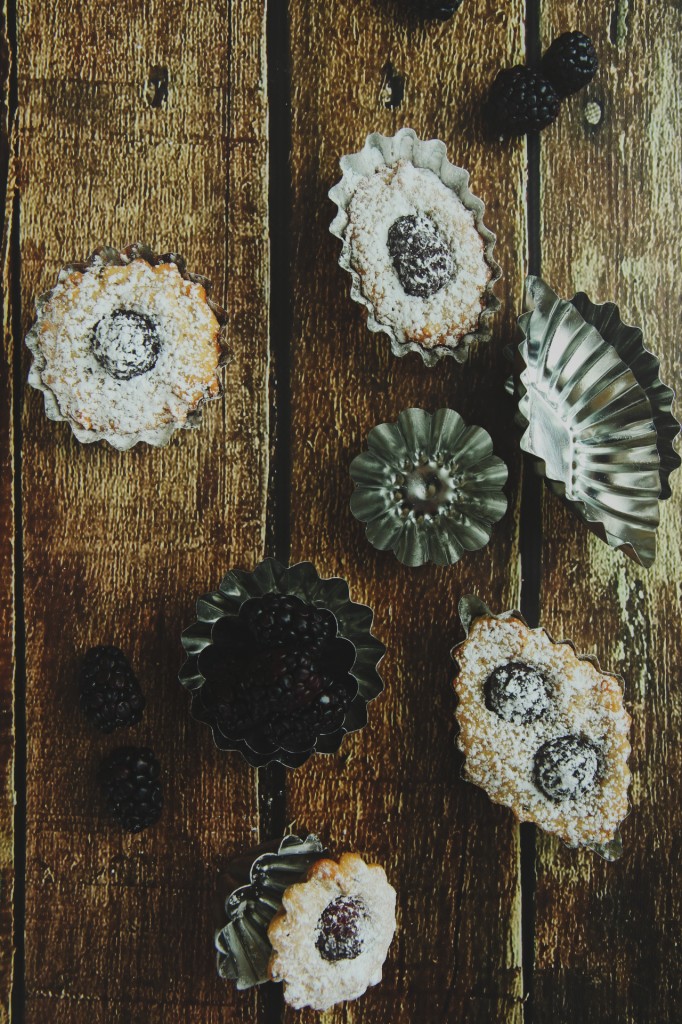 The story about financiers goes something like this:
A French boulanger named Lasne noted that the businessmen who frequented his shop, which was located near the Bourse (financial district of Paris) were in need of a sweet snack that could be eaten on the go, sans fourchette.
The rich little cakes named for the rich financiers of the Bourse were baked in rectangular molds, so as to shape them like bars of gold.
Little ingots of cake.  The only true currency in my world.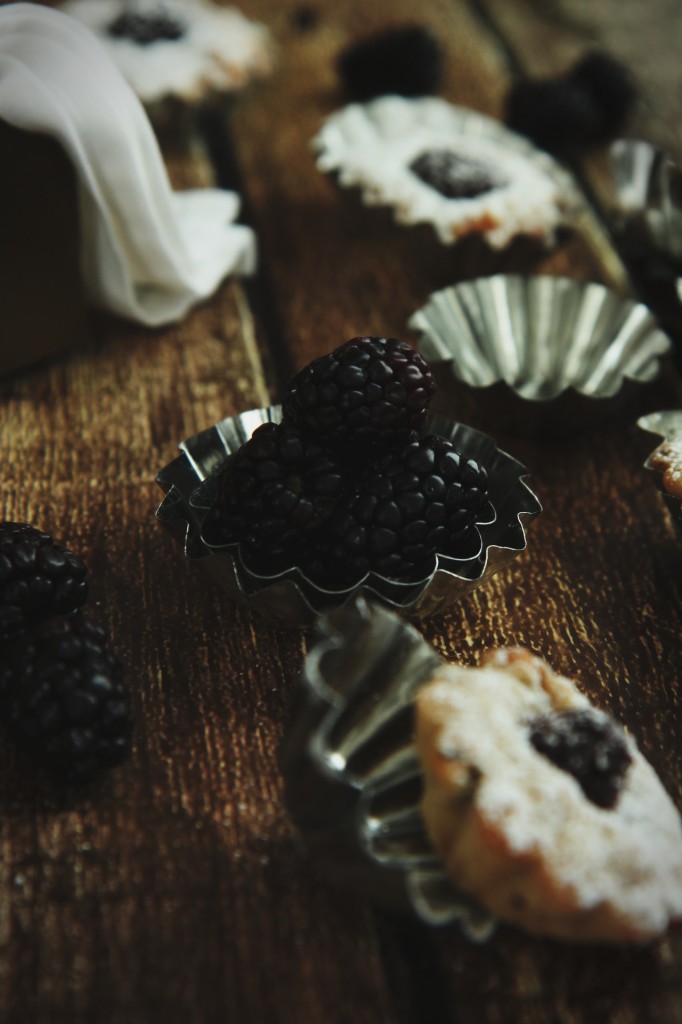 Financiers, classically, are a simple almond cake base, made with egg whites, almond flour, and heaps of beurre noisette.
The high proportion of browned butter gives these little guys crisp edges, while the almond flour keeps the interior soft and pillowy.
The absence of leavening creates pleasantly dense cakes, packing tons of flavor into each little bite, yet keeping the pastries from feeling heavy or weighty.
They're actually quite light, and not sweet at all.  Very French.
Other nuts can be used, and fruits or jam are often dolloped into the batter.
Here you can check out various pastry chefs' takes on the financier.
It should be noted that financiers are essentially the same as friands from Australia, though they are shaped a little differently.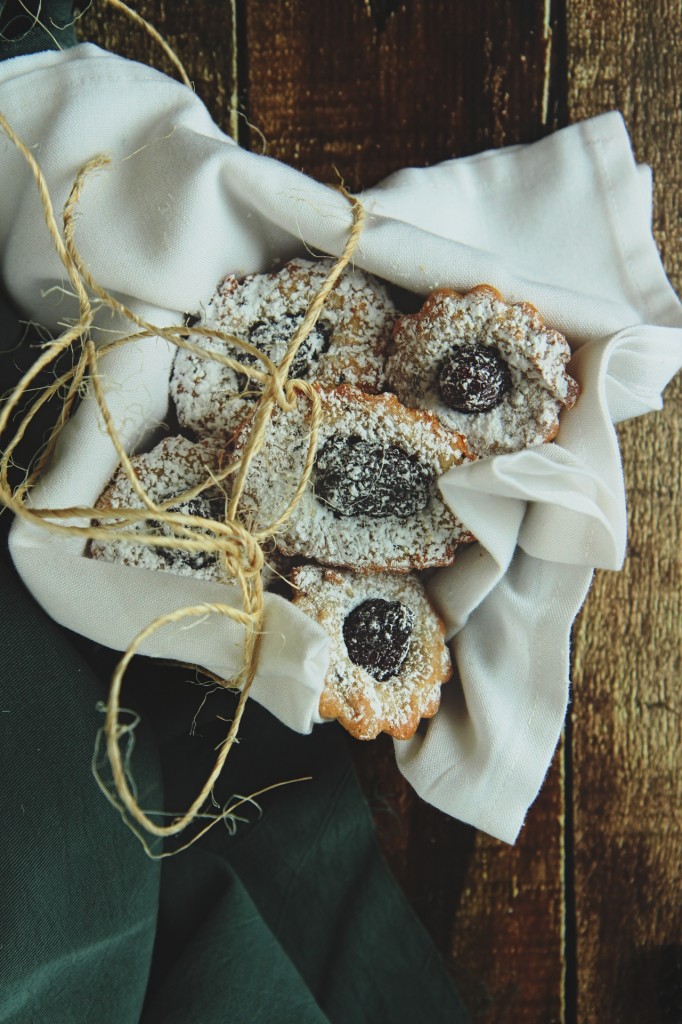 Here, the classic almond base is updated with brown sugar,
a tablespoon of crushed jasmine tea, fragrant and fruity, with delicate floral overtones,
a couple of tart blackberries, pressed deep into the batter where they become jammy and sweet,
and is baked in adorable little tart molds.
They can be baked in mini muffin tins, friand molds, cupcake liners, tart molds, etc.
I could even see the batter becoming a sort of torte, baked in a larger pan.
I can't emphasize how transcendent these would be with a cup of good, strong, milky black tea and a dollop of clotted cream.
The cakes aren't too sweet, and are equally appropriate for breakfast (ahem) as for tea, as for an evening nibble.
They keep supremely well, so you can dole them out as payment for favors.
That is, if they last long enough.
Mine didn't…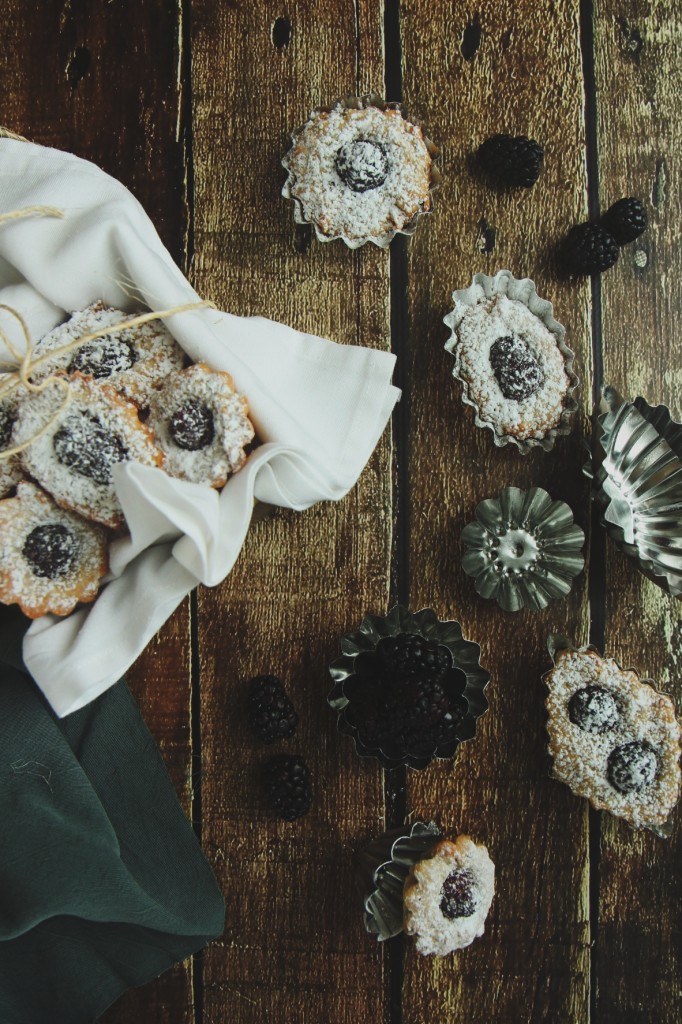 Jasmine and Blackberry Financiers
adapted from Kristen Kish via Food and Wine
makes around 18 small financiers
ingredients:
3.5 ounces (7 tablespoons) butter, browned
2 egg whites
1 tablespoon plus 1 1/2 teaspoons sugar
pinch of sea salt
3/4 cup brown sugar
1/2 cup plus 3 tablespoons flour
1 tablespoon cornstarch
1/2 cup almond flour
1 tablespoon finely crushed jasmine tea
30 or so blackberries
directions:
Preheat oven to 375 degrees F.
Grease and flour 18 small molds very well, or spray liberally with baking spray with flour.
Whisk egg whites with granulated sugar just until foamy; add in brown sugar and sea salt.
Dump dry ingredients over the egg white mixture; as you gently fold them in, add the brown butter all at once and fold until batter is homogeneous.
Spread the batter into the tins and press a few blackberries into each financier.
Bake for 15 minutes, until the edges are golden and the centers are risen but still slightly soft.
Remove from oven and let cool completely; dust liberally with powdered sugar and serve with extra blackberries and tea.