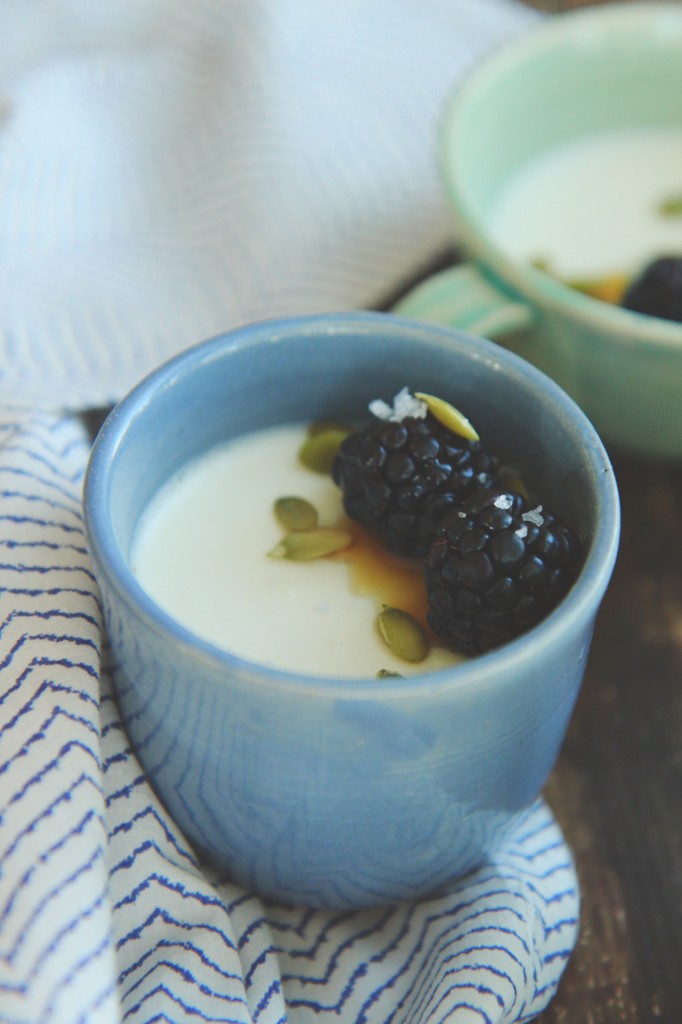 Time and patience change the mulberry leaf into silk.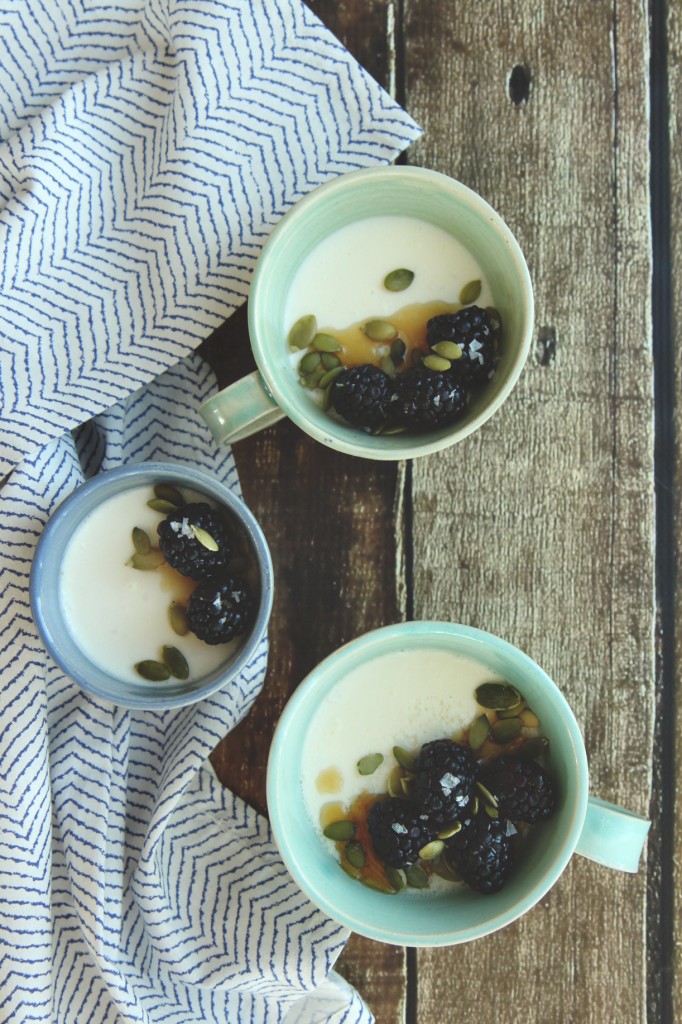 I have to come clean with a recent addiction.
I am hooked on The Sopranos.
It finally happened.  I started watching, and now I can't stop.
Season 3 and still going strong.
I wouldn't have expected myself to enjoy it as much as I do.
The complexities and fine details are what make HBO shows so great, and seeing as The Sopranos arguably started this vein of television (plot intrigue, very nuanced characters, lots of action and violence and detail), it is no exception.
It's so bad.  I can sit and watch 3 episodes in a row and forget where I am.
It is an incredibly immersive show.
(In other Rachel-TV-addiction news: watching this and this and now this makes me want to cry and pee myself because I cannot wait one minute longer for Season 4 of Game of Thrones.  I. Am. So. Fucking. Impatient. Excited.
Currently reading A Sword of Storms… and… I just can't even any more.  GEORGE.)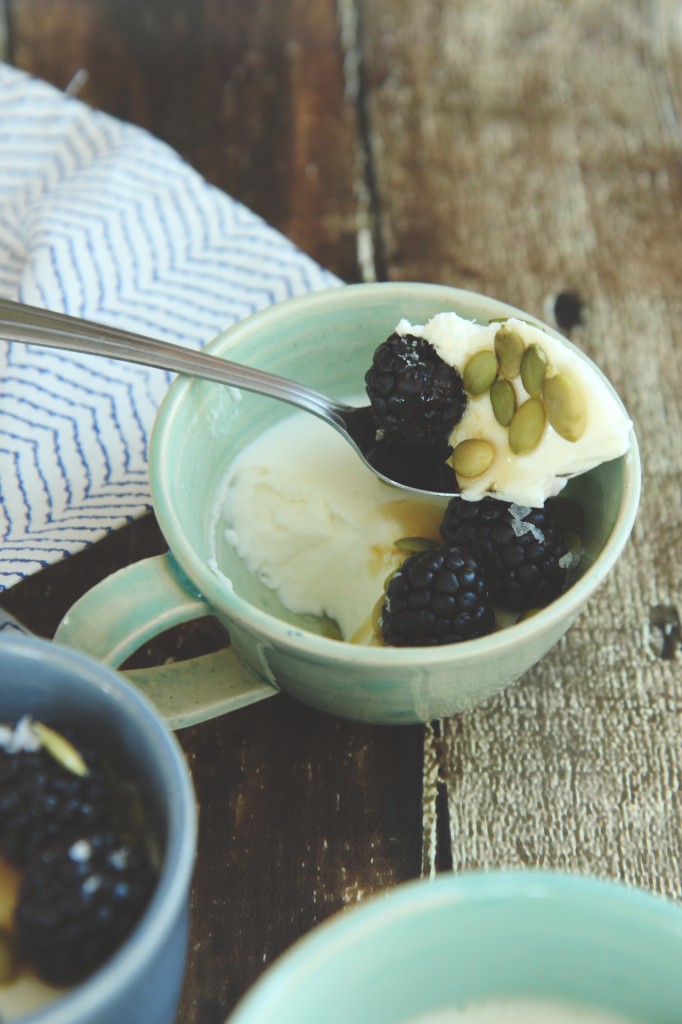 Anyways, let's talk panna cotta.  A true Italian masterpiece.
Panna cotta = "cooked cream."
This delightfully simple dessert originated in Northern Italy, and consists of cream, milk, and sugar being cooked together with a touch of gelatin (fish bones, in ye olde days, but, um, ick).
The resultant custard is softly set and light on the tongue, each spoonful melting to nothing.
It's fast, easy, versatile, impressive and a great make-ahead dessert.
I clearly have nothing but good to say about panna cotta.
A note: a good panna cotta should be smooth and silky, not gelatinous or rubbery.
Especially panna cotta that won't be turned out of its mold.
It shouldn't be too firm: this is not Jell-O, people.  Thank god.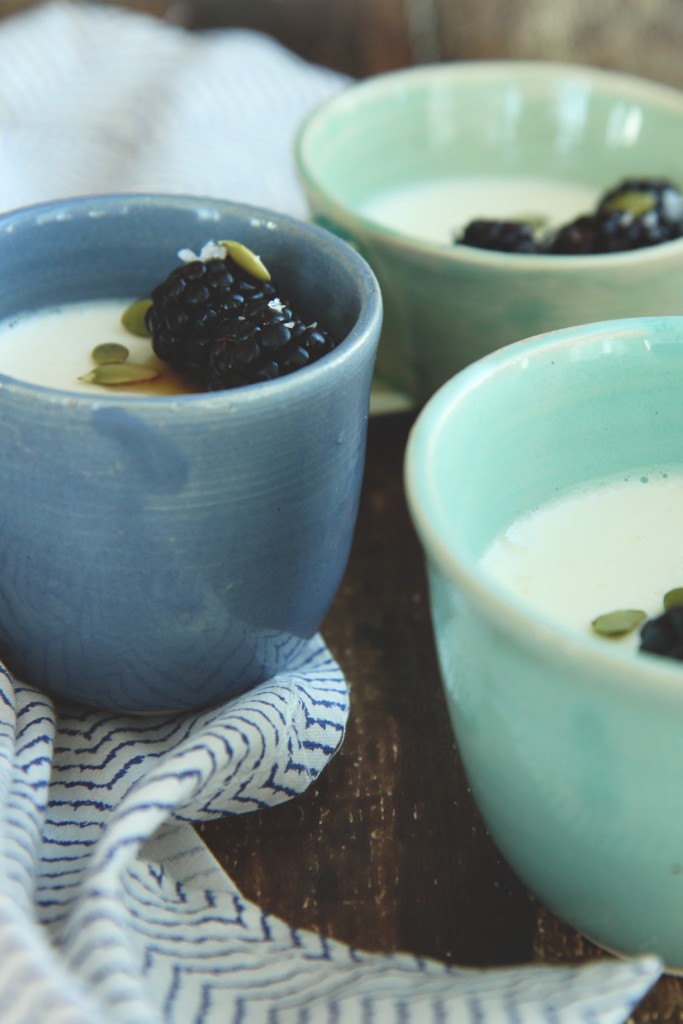 Since panna cotta has no eggs to dull the flavor, it's a great foil for fruits, nuts, and other flavors.
This panna cotta is made with buttermilk, which cuts the cream and sits super clean on the tongue.
It adds a certain je-ne-sais-quoi, so that the base itself has some personality, and the dessert isn't all about the toppings.
(I'm looking at you, fro-yo.)
You can let your imagination run wild; the flavor of the pudding itself is only slightly tangy, and not overpowering in the least.
While it's refreshing on its own, I have a million and one ideas of toppings or mix-ins.
Here, I've topped each panna cotta with a splash of thick, round Grade B maple syrup, sweet and earthy,
a few fresh, plump, tart blackberries,
a smattering of crunchy, nutty pepitas,
and a hefty sprinkle of Maldon salt.
A few more ideas: add chopped fresh peaches to the base before it sets, then top with caramel and pecans and more thinly sliced peaches.
Stir some melted white chocolate into the base, top with pomegranate seeds and chocolate ganache.
Zest a lemon into the base, top with honey, hazelnuts, and raspberries.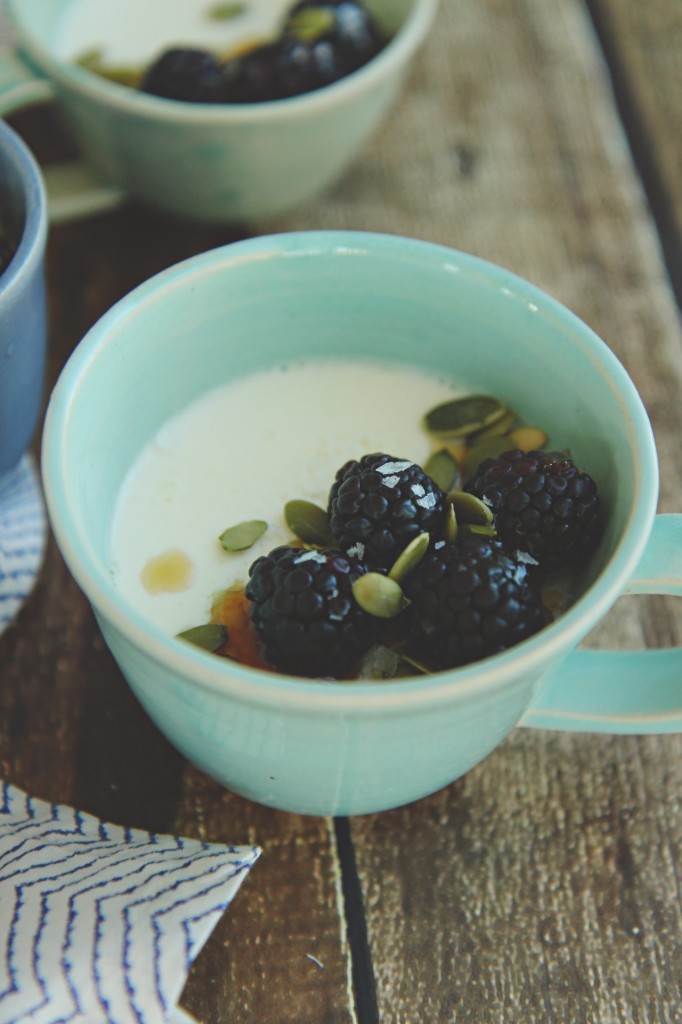 While we're talking about addictions, I also need to mention Maldon sea salt.
It's been a craze for a long time, but I never felt the urge to give into the fad.
I refused that little white rock box during many a grocery trip.  Then one day, I gave in.
And thus did it begin, my love affair with this stupid salt.
I put it on everything, from chocolate to broccoli.
I love the crunchiness; I love the pure sea flavor; I love the look of those flakes.
You saw it on these tarts and these chocolates, and now, here, on panna cotta.
A little dusting of salt can truly make the difference between a blah dessert and a lively, exciting one.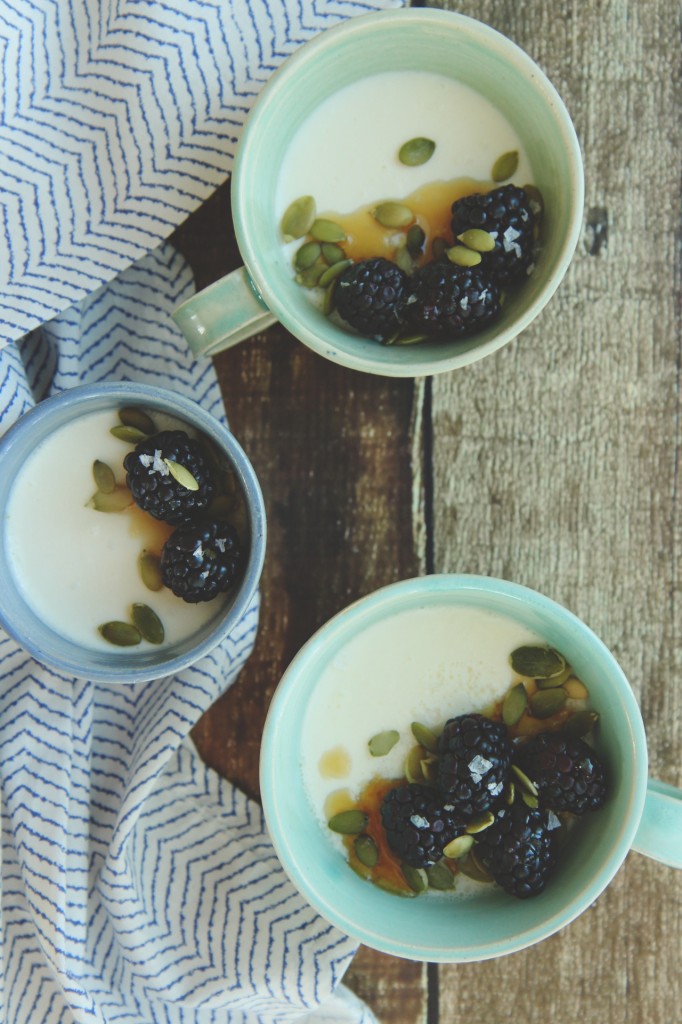 How amazing are these little teacups?
I purchased them from a girl who lives in my house, at our house auction.
I fell in love at first sight and was willing to outbid anyone who dared go against me.
They are seriously precious; the color palette could not be more my aesthetic.  (Seriously, just take a look at my Pinterest color board.)
In addition, I love that they're different sizes and shapes.  So dainty and adorable!
I want to (re)learn how to throw, so that I can make more plates and cups and cake stands… Oh my.
This cannot be good.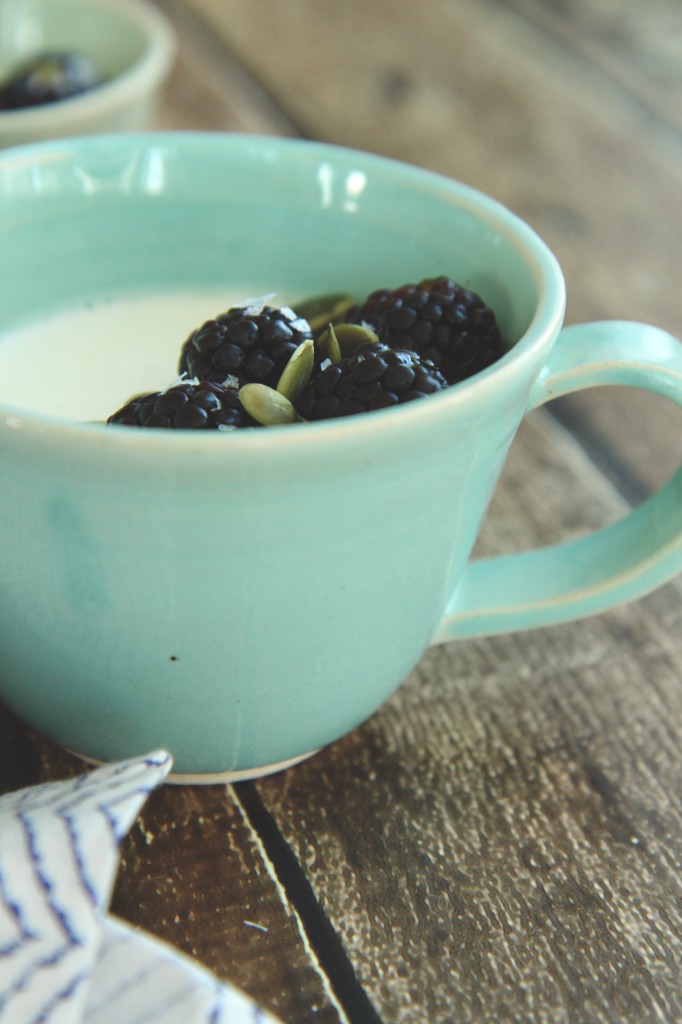 Buttermilk Panna Cotta
adapted from Donna Hay
makes 4 small ramekins
2 teaspoons gelatin
3/4 cup plus 2 tablespoons buttermilk
1 3/4 cups plus 2 tablespoons heavy cream
1/4 cup sugar
pepitas, maple syrup, berries, flaky sea salt, to garnish
directions:
Mix the gelatin with 2 tablespoons of the cream and set aside to bloom.
In a small saucepot, combine buttermilk, heavy cream, and sugar.
Bring to a boil, stirring constantly to prevent a skin from forming.
Remove from heat and vigorously whisk in the gelatin, ensuring that all of it dissolves.
Pour into molds and set in the fridge until firm, at least 2 hours.
Garnish with berries, a splash of maple syrup, and a sprinkle of pepitas and flaky sea salt.