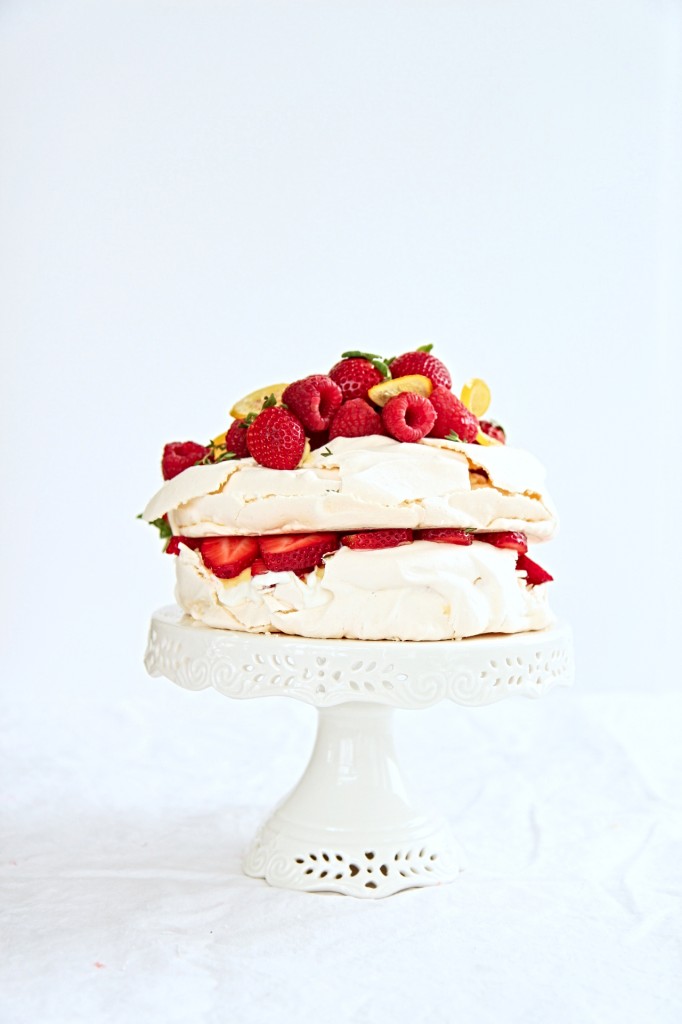 "There are many things we would throw away if we were not afraid that others might pick them up."
-Oscar Wilde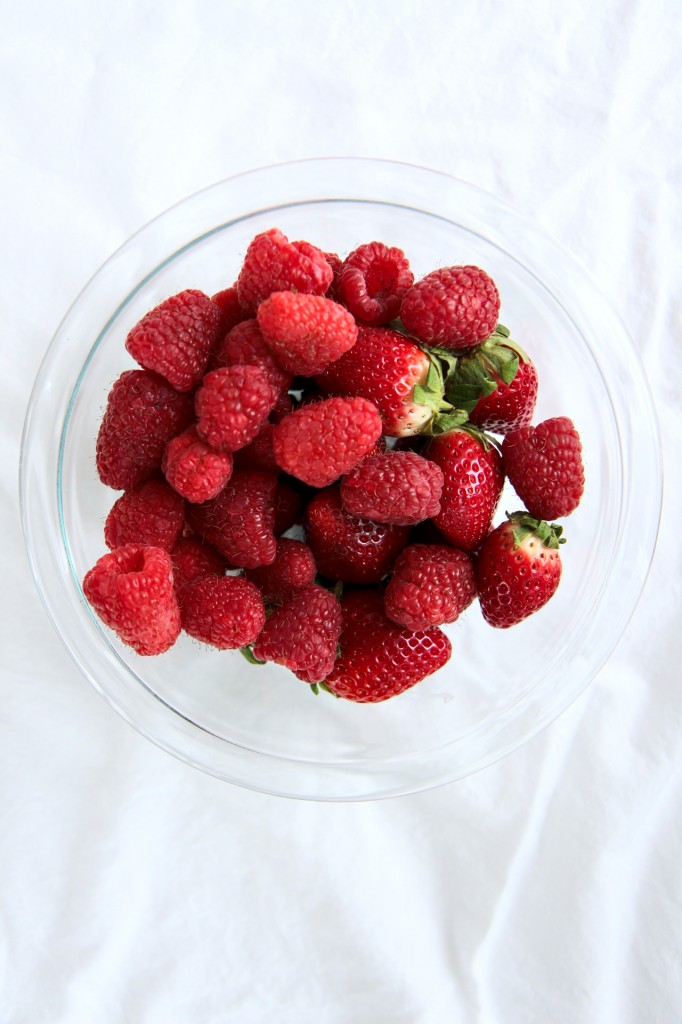 January is a fragile month.
The new year is only just hatching, stretching its wings, ruffling its feathers, blinking awake.
The sun is slowly becoming stronger, the days longer.
It is the month of resolutions, ever so delicate, easily crushed in their nascence.
We are all only dipping our toes in the cold, cold new waters.
Not a one of us knows what the year will bring—a terrifying and invigorating prospect.
How has it come to pass that the end of this first month of 2014 is nigh?
January has flown by in a blur, spinning me around in a whirled frenzy of snow and wind.
I shiver to think of what this year holds—whether it is borne from excitement or dread, I cannot say.
It could also be the ungodly cold here in Chicago.  I don't know.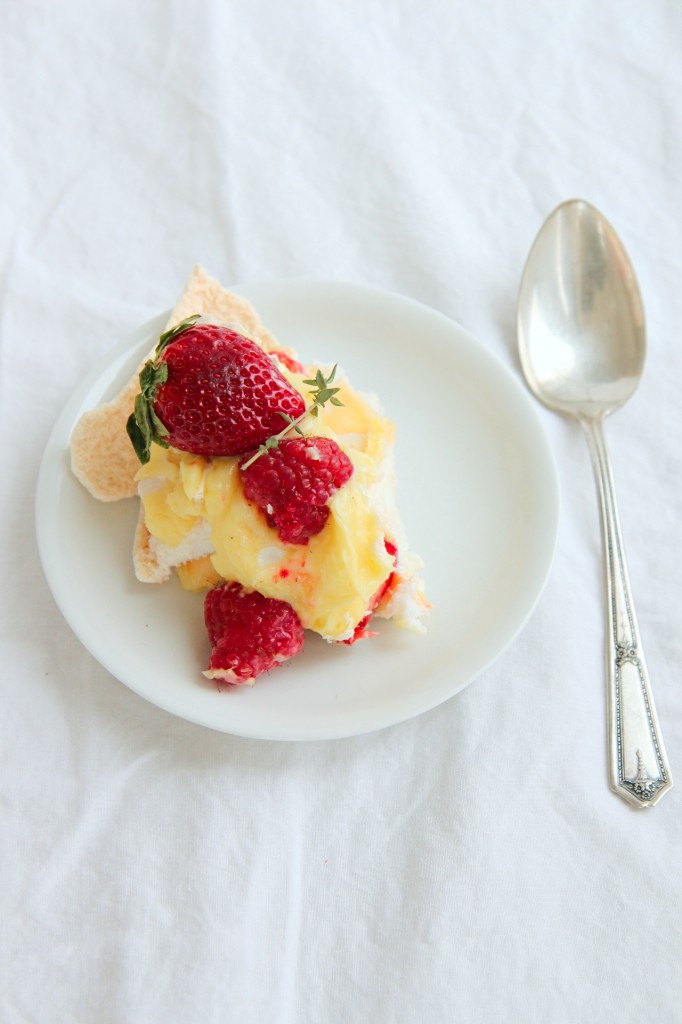 January is a month of citrus.
Though, I must admit, you cannot tell as much from my archives.
January 2013: puff pastry tutorial, coconut mochi, s'mores cake, conversation heart cookies, nutella-raspberry-brown butter crumb bars, maple-bacon and Vietnamese coffee doughnuts, gâteau des rois.  Only one had citrus…
January 2014: Peppermint-chocolate cookies, PB cupcakes, pear-cranberry-ginger crisps, earl grey cupcakes.  Ahem.  Still none.
This pavlova is my answer, my remedy, then, to the absent citrus in what I have just declared to be a month of citrus.
Specifically, lemon.
January is a lemon month.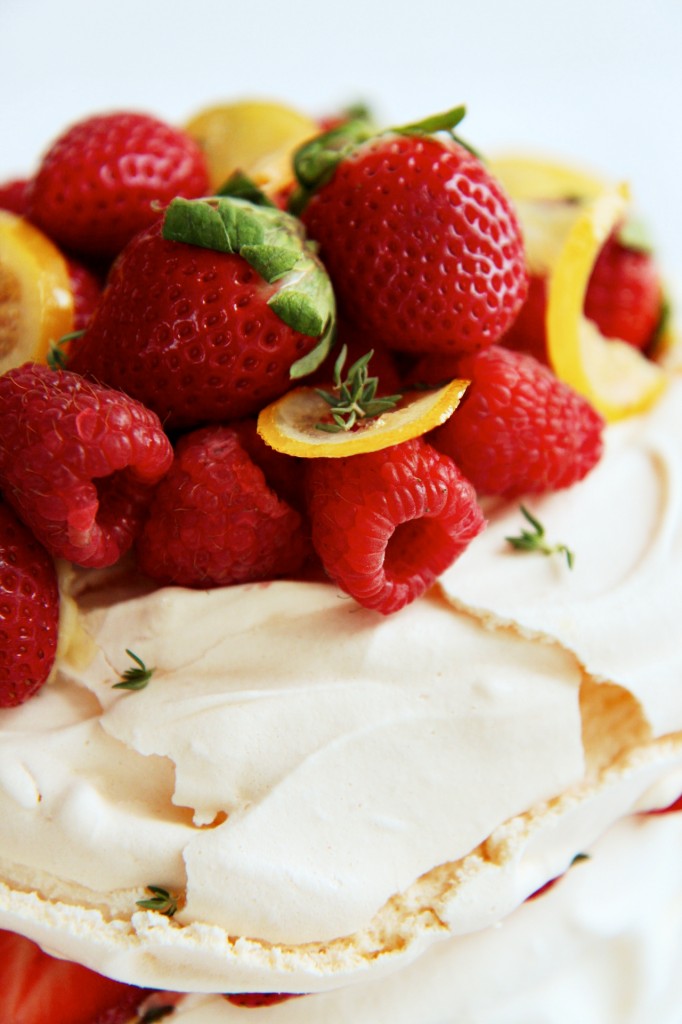 Lemon.  Perky, bright, sunny.
Lemon.  Tart, balancing, acidic.
Lemon lemon lemon, I'd choose over chocolate any day.  (Freak.)
The first time I met a meyer lemon was 2006.
I received the January issue of Martha Stewart Living.
As I tore through it, my 11 year old self soaking in every hit of inspiration, I fell upon this cake.
I wanted to cry.  I wanted to make this cake so incredibly badly, but knew it was out of my reach.
This cake prominently featuring these mysterious meyer lemons was all I wanted.  And I couldn't have it.
I begged my parents to let me make it.
They said, "um… no. We don't need a 3 foot high, 3 tier meyer lemon cake.  Stop reading Martha Stewart, you little weirdo."
Everything was so beautiful and yellow and happy and lemony.
It was torture.
And what the hell was a meyer lemon, anyway?
Can you tell what a strange, disturbed child I was?  A Martha Stewart addict from a young age.
It explains so much, don't it?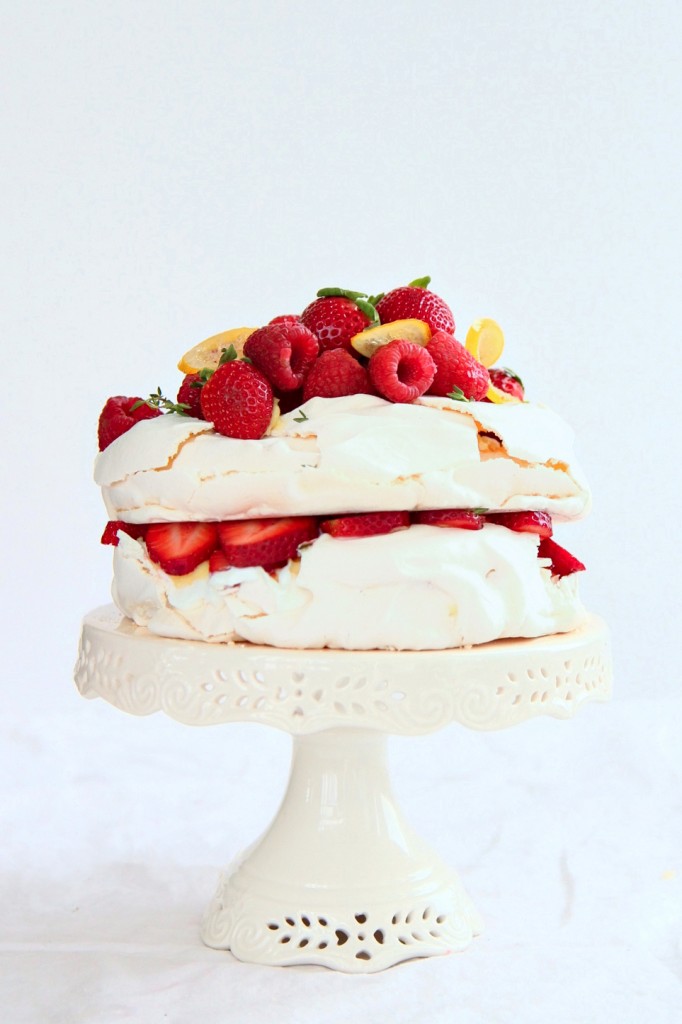 In a month where stagnation is banished, where the wheels are turning and the world is changing, lemon is ideal.
It's fresh and lively, something which I appreciate when the fresh produce situation is somewhat abysmal.
Lemon never fails to awaken the palette.
It's a clean flavor, and after all the heavy desserts of December, we can all use a flavor boost.
Pavlova.  Also perfectly suited for January, with its light airiness and minimal sweetness.
Good for resolution breaking, but not resolution destroying, ja feel?
It's probably my favorite dessert.  Which is a big, big deal.
I wrote a sonnet inspired by rhubarb, which was featured in my first pavlova. (I have no words for the white balance in those photos.  Please accept my apologies.)
I had pavlova for my 18th birthday cake, a simple one-layer affair, covered in coconut/mascarpone fluff, passionfruit sauce, and tumbling raspberries.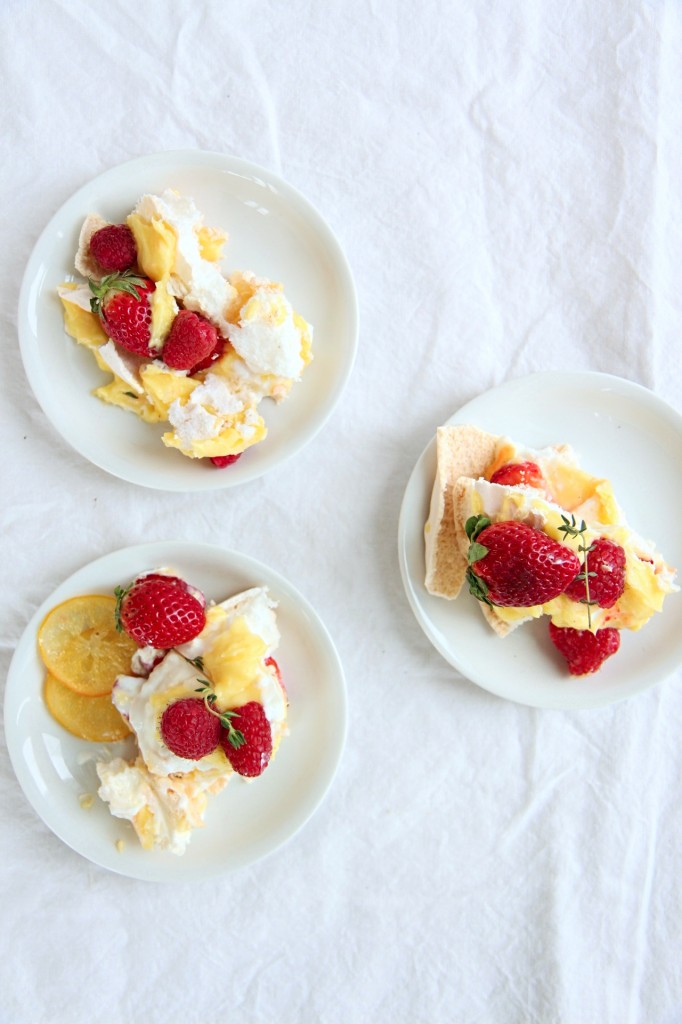 And now, here we are.
This pavlova focuses on tartness, allowing the meyer lemons to shine.
A supremely light meringue base, crispy and crackling on the exterior, pillowy marshmallow on the inside, is
layered with barely sweetened Greek yogurt,
thick and luscious meyer lemon curd,
fresh bites of strawberries and raspberries, and
finished with a sprinkle of earthy, grounding thyme and
tart, chewy candied meyer lemons.
My pavlova cracked, pretty badly.  I ain't stressed about it.
See, I thought it would be genius to layer the yogurt and curd onto the layers before stacking them.
What anybody with a shred of common sense would quickly see is that the meringue was too delicate and fragile to stand up to the thick sauces and promptly crrrrrraacked.  *shit shit shit*
Oops.  It's okay.  Pavlovas crack and crumble; it's part of their personality, their patina.
Get over it.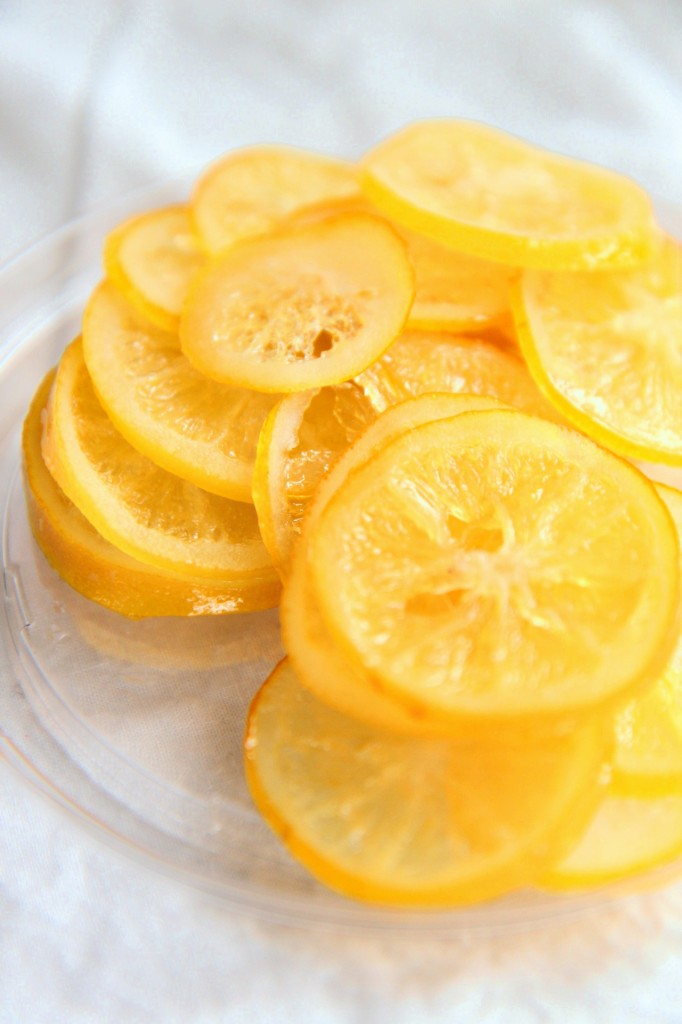 Once I was done photographing the cake, I realized how futile it would be to try to keep it on the cake pedestal.
It was already slip sliding around, as I didn't secure it to the stand with a daub of lemon curd, as I should have.
Things were cracking, falling, toppling.
So, I plopped it into a bowl, shoved the leftover fruits on top, and called it a day.
The secret?  It tastes just as good smashed up, packed into a bowl, smashed to bits and spooned straight into your mouth as it does dressed up, stacked, and eaten from a proper plate.
And thank goodness for that.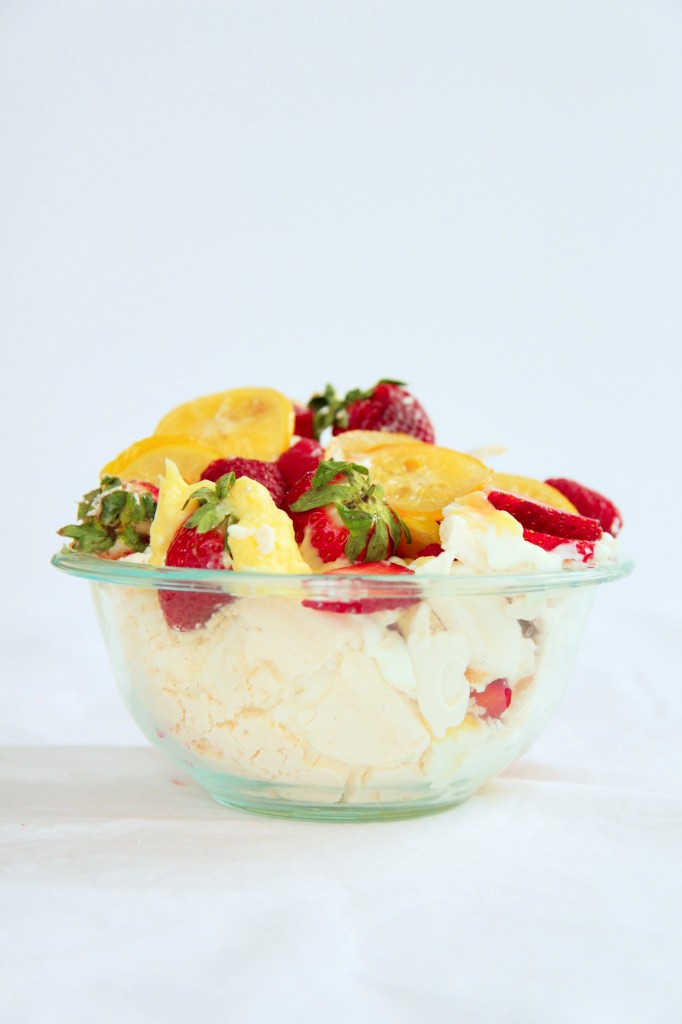 Meyer Lemon, Berry, Thyme, and Yogurt Pavlova
meringue base from Donna Hay
lemon curd adapted from Use Real Butter
ingredients:
for the meringue base:
4 egg whites
1 cup granulated sugar
2 tablespoons cornstarch
2 teaspoons white vinegar
for the lemon curd:
1 1/2 cups water
3/4 cup sugar
6 tablespoons cornstarch
4 egg yolks, beaten
3 tablespoons butter
1/2 cup meyer lemon juice
zest of 2 meyer lemons
for the candied lemons:
2 meyer lemons, sliced very thinly
2 cups sugar
2 cups water
to assemble:
3/4 cup plain Greek yogurt
3 tablespoons confectioner's sugar, sifted
1 pint strawberries, 1/2 hulled and sliced, 1/2 whole
1 cup raspberries
Fresh thyme
directions:
Make the meringue base:
Preheat oven to 250 degrees F and line a baking sheet with parchment.
Trace 2 6-inch circles (you could do 8- or 9-inch, but it won't be as tall.) with pencil, then turn the paper over.
Begin to whip egg whites with a stand mixer.
When soft peaks are just starting to form, stream in the sugar very slowly, one tablespoon at a time, until the meringue has reached very stiff peaks.
Gently fold in the vinegar and cornstarch.
Spread the meringue out around the traced circles.
Bake for an hour and a half, then turn off the oven and allow the pavlova to cool completely inside the oven.
Make the lemon curd:
Place water and sugar in a large pot.
Bring to a boil, then whisk in cornstarch.
Bring to a boil; mixture will be very thick and gloppy.
While whisking egg yolks, take a spoonful of the cornstarch mixture and quickly combine; continue to add, by the spoonful, until about 1/3 of the hot cornstarch mixture has been added.
Whisk the egg yolk mixture back into the corn starch mixture, and return to very low heat.
Whisk in the butter, then, off the heat, carefully whisk in the lemon juice and zest.
If any lumps are present, blitz the curd in a blender until smooth.
Make the candied lemons:
Bring a large pot of water to a boil and prepare an ice bath.
Place the very thinly sliced lemons in the boiling water and cook for 20 seconds.
Remove to the ice bath and allow to cool completely.
Meanwhile, add 2 cups sugar and 2 cups water to the pot and bring to a simmer, until the sugar is dissolved.
Add the lemon slices and allow to simmer for 45 minutes, until softened and no longer bitter.
Assemble the pavlova:
Whisk the yogurt and confectioner's sugar together.
Spread a thin layer over the first pavlova layer, then spread half of the lemon curd onto the yogurt.
Top with the sliced strawberries and a sprinkling of thyme.
Add the second meringue disk, and top with the remaining yogurt and lemon curd.
Arrange the fruit on top of the lemon curd, and sprinkle more thyme leaves over.
Serve with a spoon, in bowls.