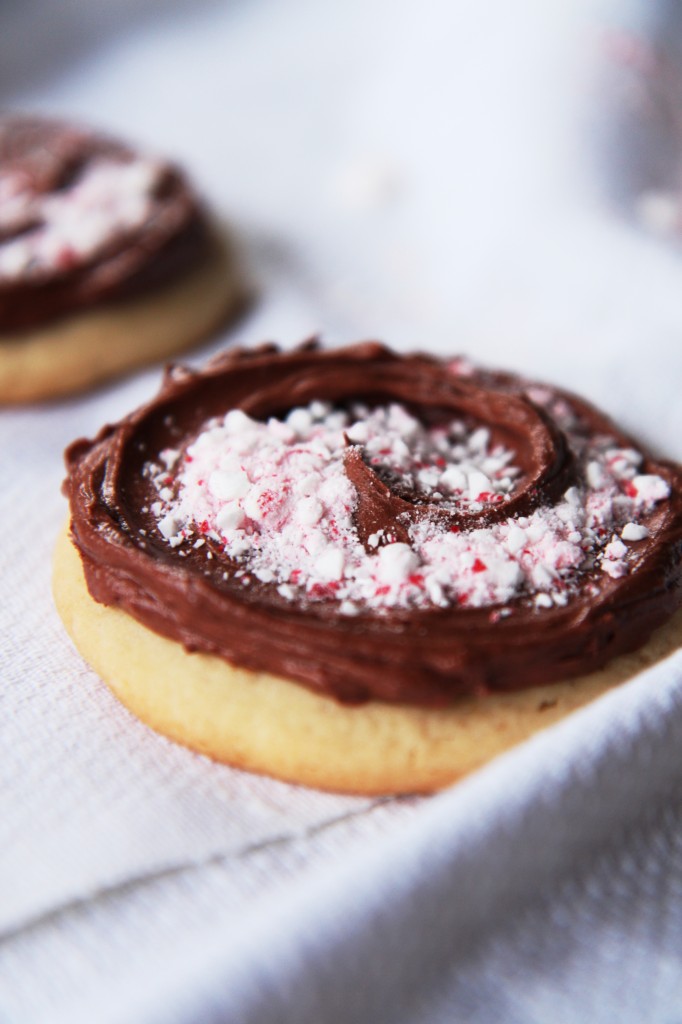 This post is a wee bit out-of-season.  You might not be able to find candy canes at the grocery store.
Check the clearance section.  If you still can't find any, you're S.O.L.
Just kidding.  I advocate the use of sprinkles, as you probably already know.
I've made lofthouse-style cookies once before, and dumped on the brand in a whiny post a lo o o o o ong time ago.
I am not providing a link to said post, and don't you go nosing around for it either, primarily because the photos look like they were taken with a flip phone from 2007 (Razr, anyone?  I had the Pebl.  Gr8.) and I don't want to be reminded of that.
Ok?  Ok.  Glad we talked about this.
These lofthouse cookies are the (late) peppermint post that I promised would infuriate you.
Be happy, because I came thisclose to not only posting a candy cane post after the holidays, but making it a repeat recipe from the-post-that-shall-not-be-named-searched.
THISCLOSE.  But.  I found another promising recipe, and ran with it.
This one uses cake flour and corn starch, as well as shortening (Don't look at me like that. I know. Deal with it.) to keep the cookies super soft and fluffy, where the last recipe used sour cream.
These were more cakey than real lofthouse cookies, but nevertheless, delicious, and pretty damn close to the addictively gross originals.
I topped them with a salty espresso + chocolate buttercream and a smattering of crushed candy canes for crunch. (Hellooooo alliteration nicetomeetyou.)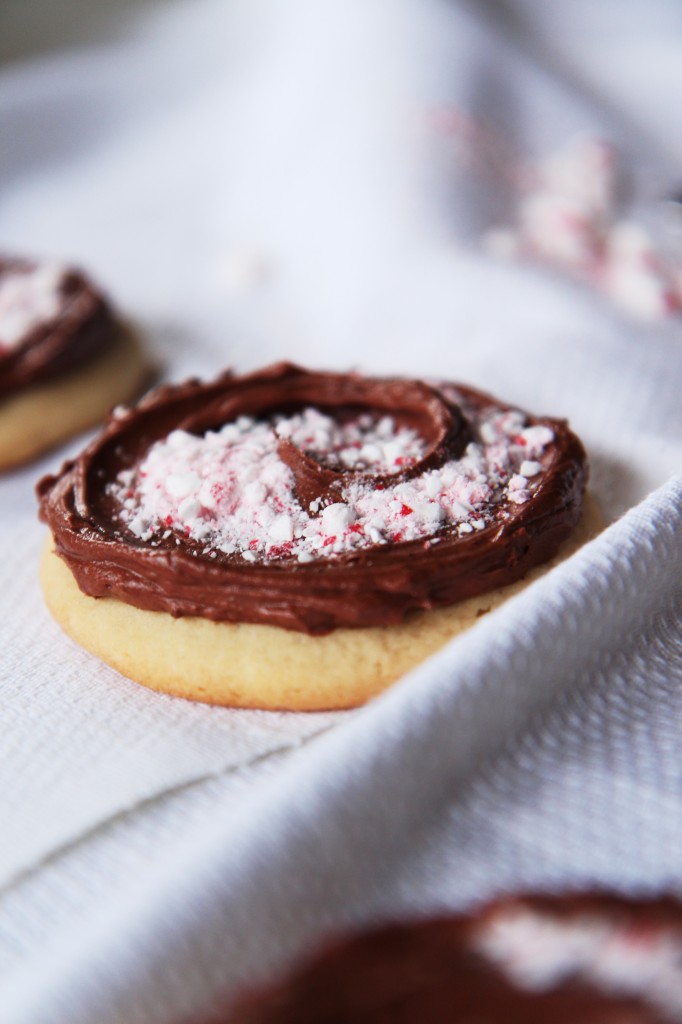 P.S. I realize that these photos are very similar looking.  No, this isn't one of those spot-the-difference games.
I'm just lazy, which should further confirm your idea of me as a bad blogger.
Anyways!  Good luck finding candy canes.  Ha.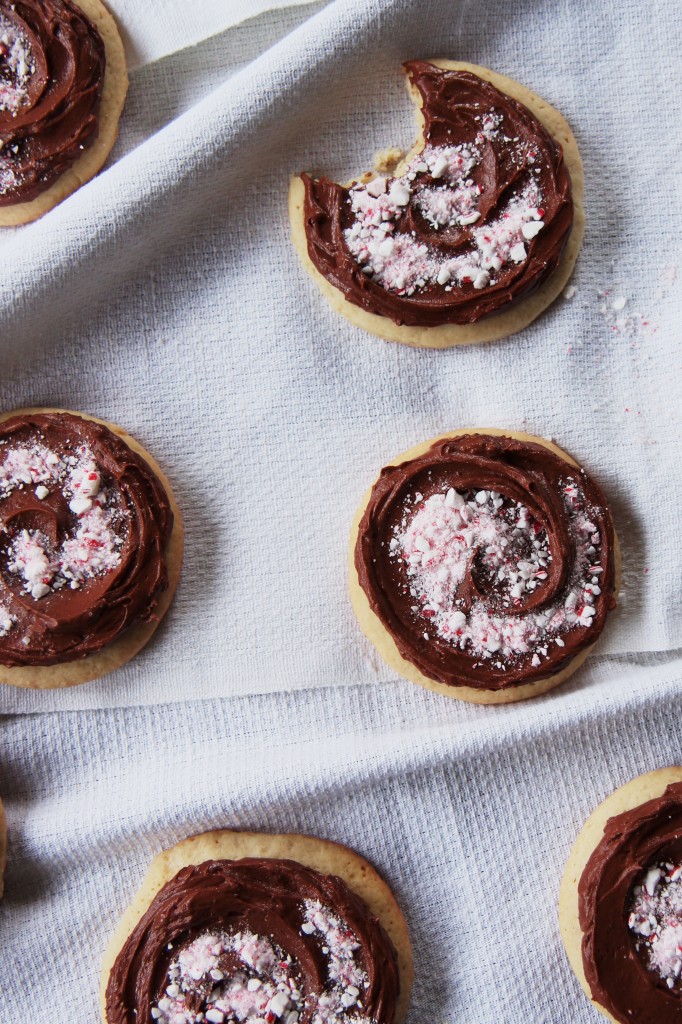 Chocolate and Peppermint Lofthouse Cookies
makes about 15 cookies
cookie portion adapted from Cooking Classy
ingredients:
for the cookies:
300 grams (2 1/2 cups) cake flour
2 teaspoons cornstarch
1 1/2 teaspoons baking powder
110 grams (1/2 cup, 8 tablespoons) butter
55 grams (1/4 cup, 4 tablespoons) vegetable shortening
200 grams (1 cup) granulated sugar
scant 1/2 teaspoon kosher salt
1 egg plus 1 egg white
1 tablespoon vanilla extract
for the frosting:
60 grams (~2 ounces) dark chocolate, melted
110 grams (1/2 cup, 8 tablespoons) butter
1 tablespoon cocoa powder
2 teaspoons espresso powder
45 grams (1 1/2 cups) powdered sugar
1/2 teaspoon kosher salt
to assemble:
2 candy canes, chopped finely or ground in a food processor
directions:
In the bowl of a stand mixer, add the butter and shortening and beat for 2 minutes.
Add in the sugar and salt and beat for 3 minutes.
Add the egg and egg white as well as the vanilla and beat for 4 full minutes.
Meanwhile, whisk the flour, cornstarch, and baking powder together.
Scrape the sides of the bowl after 4 minutes of beating, then add in the flour mixture and mix on low speed until combined.
Refrigerate the dough for at least 1 hour.
Preheat oven to 350 degrees F.
To bake, remove the dough from the fridge and roll out to 1/2 inch thickness, or perhaps a little less, on a well-floured surface.
Cut out desired shapes and place on parchment lined baking sheets.
Bake for 8-10 minutes, until set.
To make the frosting, beat the butter and espresso powder on high until very soft.
Sift the powdered sugar and cocoa powder over the butter and mix on low; mixture will be dry.
Add the salt and, with the mixer running on medium speed, stream the melted but cooled chocolate into the frosting.
Beat until completely homogeneous.
To frost the cookies, place a generous tablespoon of frosting onto the cookie, and spread out with a butterknife or offset spatula.
Dust with candy cane pieces.