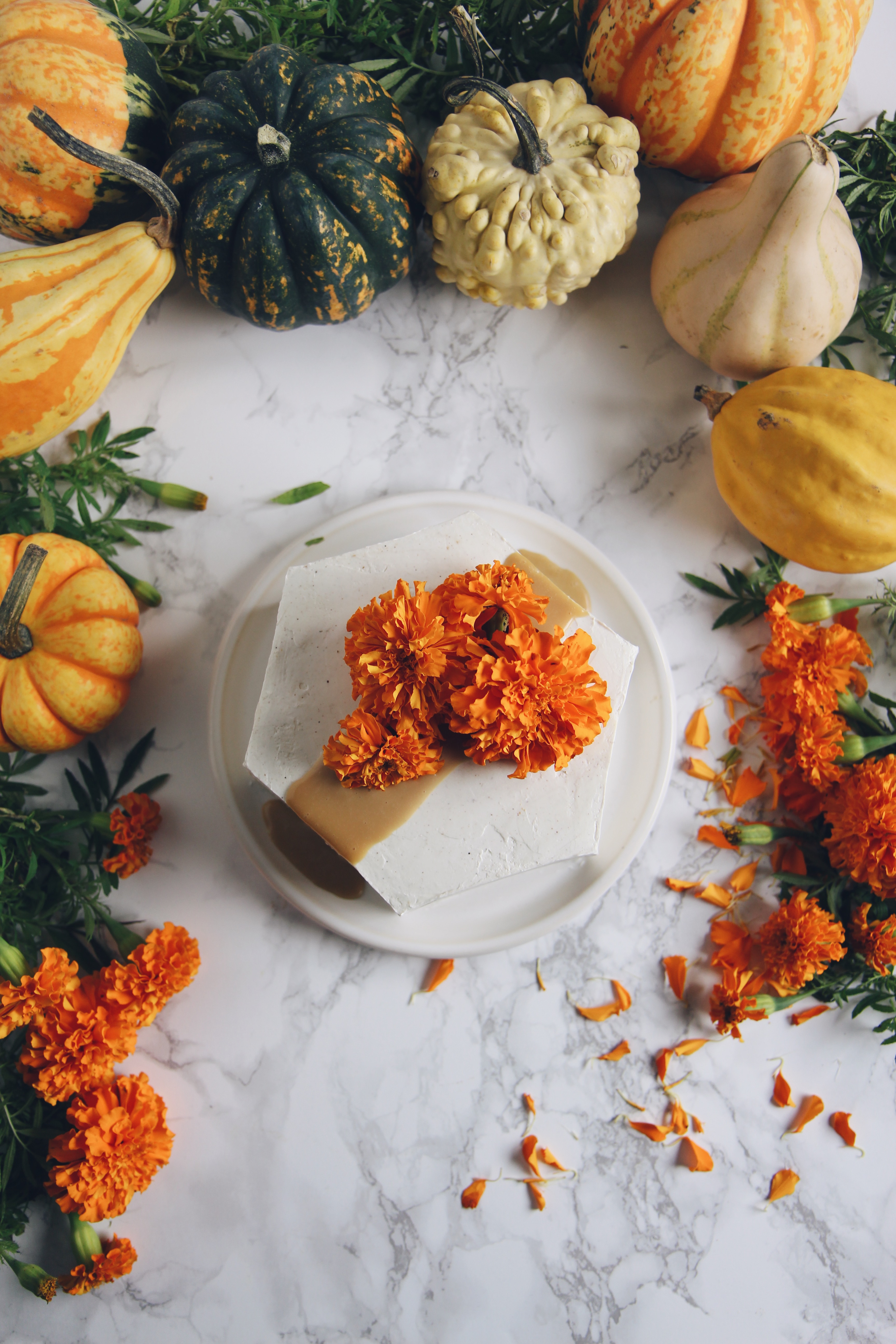 "There is no exquisite beauty… without some strangeness in the proportion."
― Edgar Allan Poe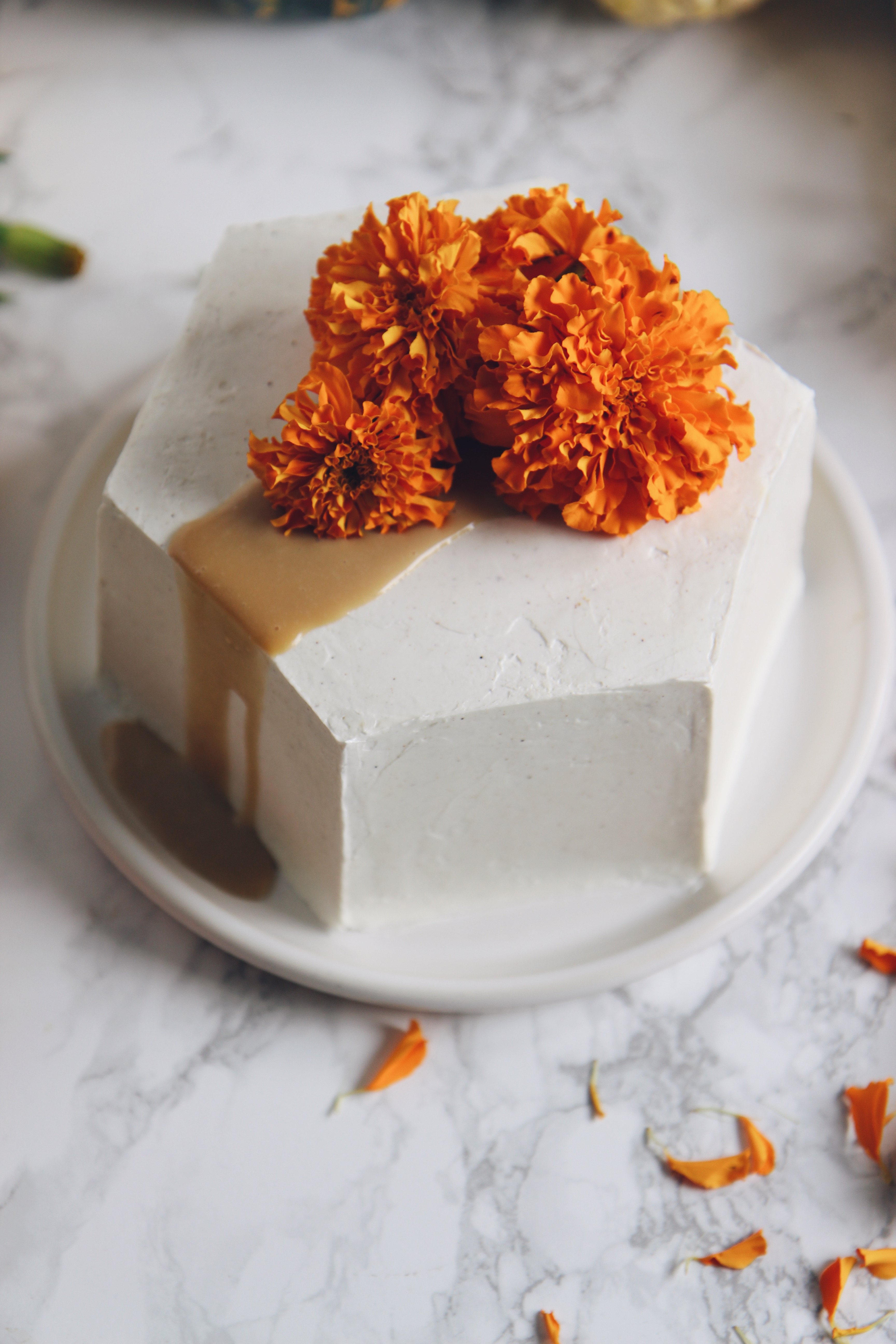 It's Autumn.
The days are cool and bed is extra cozy.
Finally, even New York City is bearable.
It's time to embrace pumpkin everything, Beloved!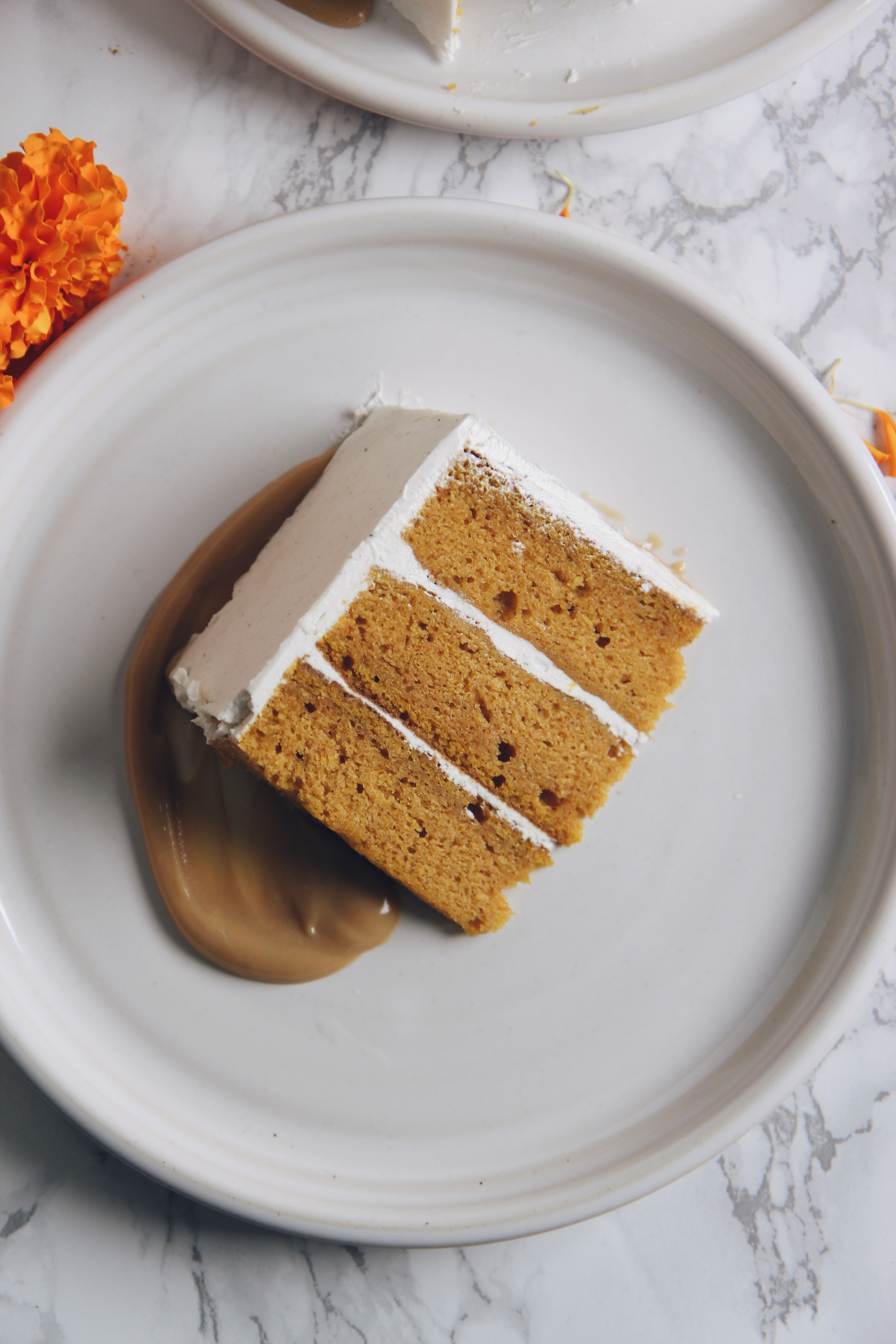 Things in my life have been happy-crazy-busy, and will be for the foreseeable future.
Taking time to create can sometimes add extra scheduling stress, but when I make something I'm truly happy with, I'm reminded why I love blogging and baking so much.
I've been planning to make a hexagonal cake for ages now—but it's remained on my ideas/to-make list, gathering dust.
When I finished the photos and stepped back, mouth full of a bite of cake, I was overcome with an indescribably proud and excited wave of emotion.
I love sharing things here, with you. I can't imagine life any other way.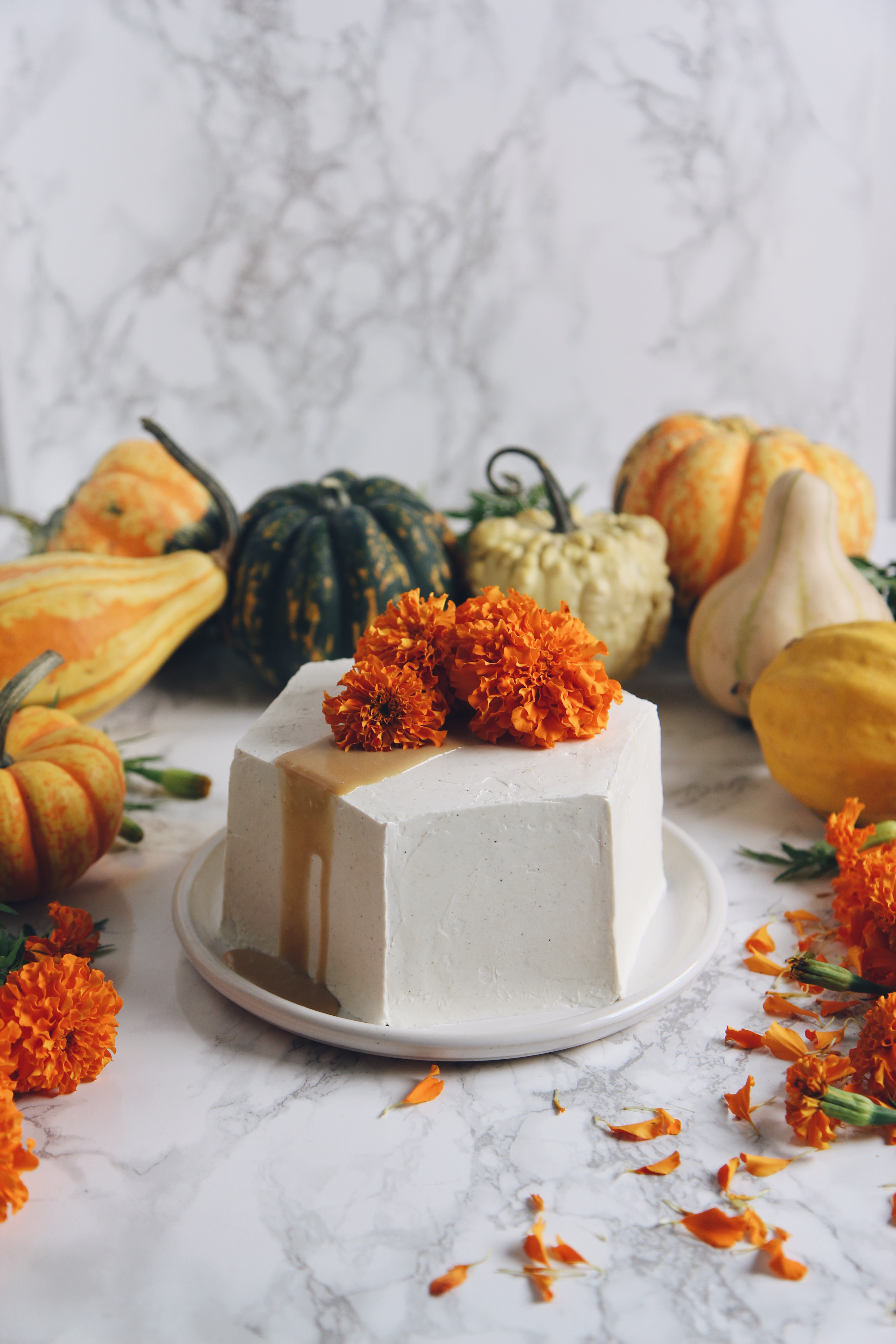 I had my heart set on using dulcey chocolate here, and I couldn't find it anywhere, frustratingly.
I decided I'd take the extra step and caramelize white chocolate myself, but I had inadvertently put time constraints on myself (this post had to be done today, to be part of the virtual pumpkin party!), and worried it wouldn't come out perfectly.
I always worry when I try something new for the first time in the kitchen.
Luckily for me, I stopped at a different Whole Foods on my way home from work one night. The lines were all super long, and I resigned myself to one that didn't quite seem interminable.
Much to my surprise, the side section of this line had many containers of dulcey fêves. I snatched one up and silently thanked the universe.
This serendipity made making this cake even more satisfying.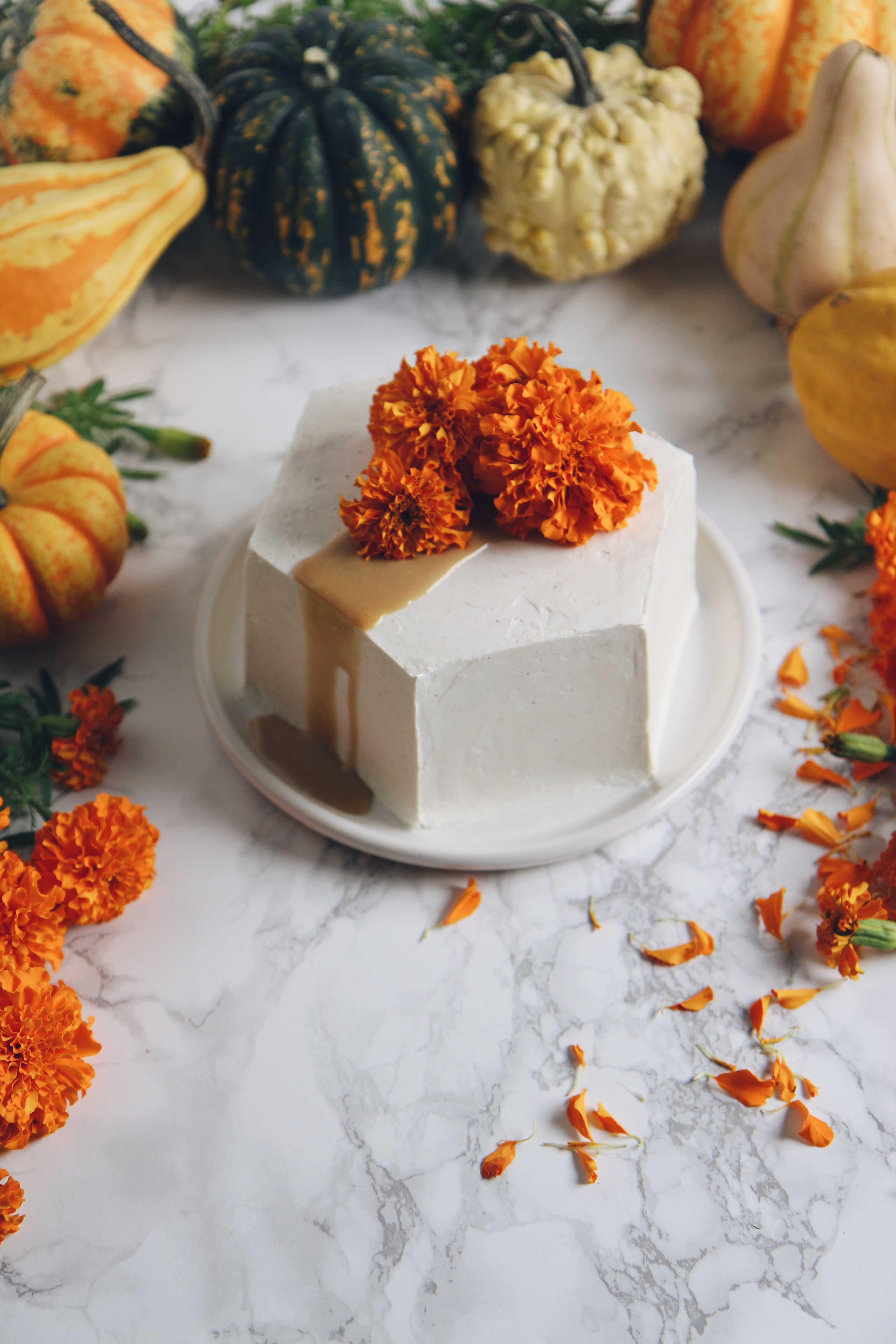 This cake is a classic pumpkin base, soft and moist without being dense.
It's carved into hexagonal shapes and briefly frozen to ensure crisp edges.
The cake is enrobed in spiced Italian meringue buttercream, silky smooth and redolent with cinnamon, nutmeg, and cloves, balanced with a hit of salt.
A modest drizzle of Valrhona dulcey chocolate ganache, which bewitchingly tastes like caramel and white chocolate at the same time.
Sliced and served with an extra swirl of dulcey chocolate, this is autumnal heaven.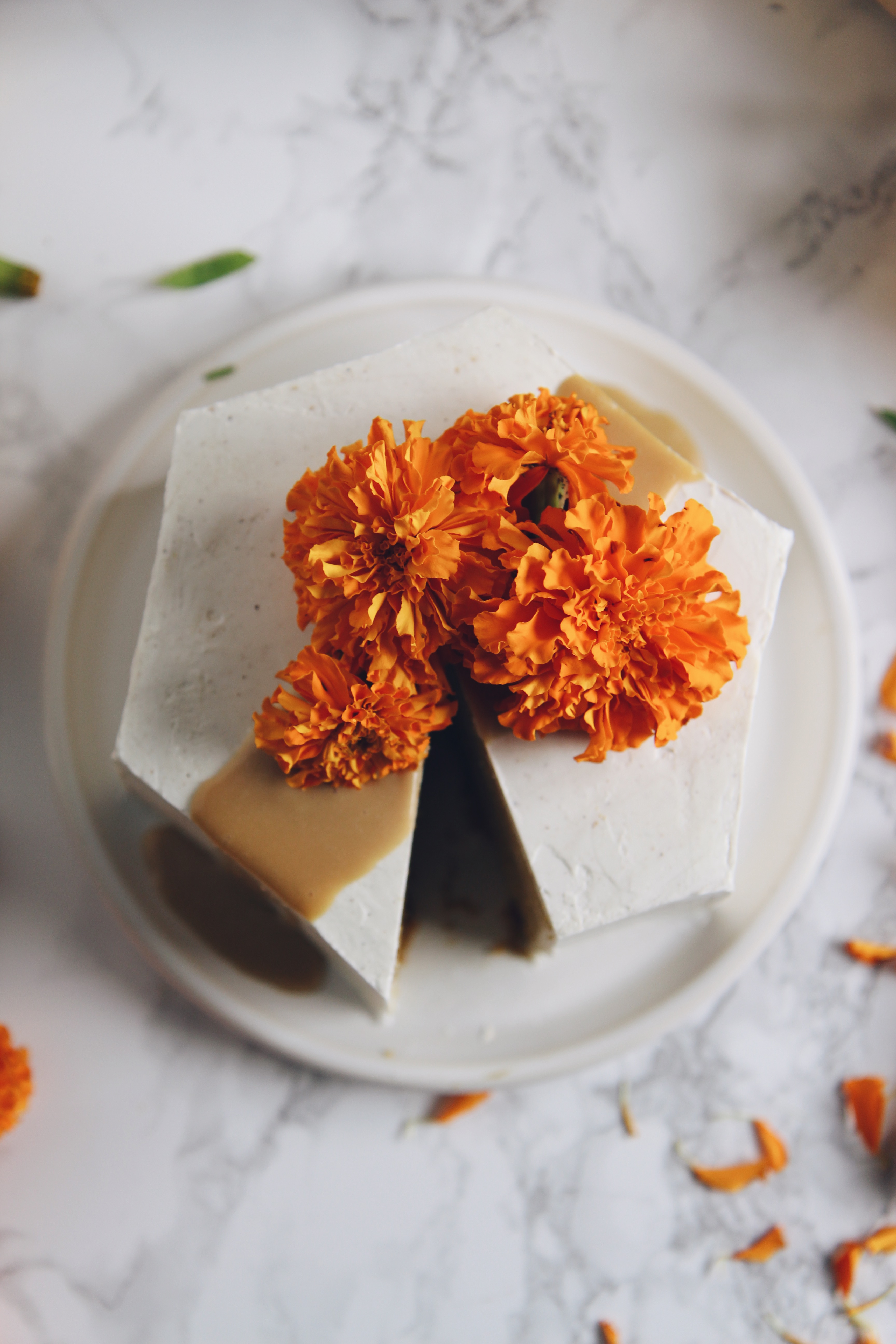 Here's the link to the 2018 virtual pumpkin party!
Big thanks to Sara (Cake Over Steak) for hosting this party again! It's such a fun way to share with other food bloggers and our readers.
Last year, I made a No-Bake Checkerboard Pumpkin Cheesecake.
The year before that, I made Pumpkin and Condensed Milk Cakes.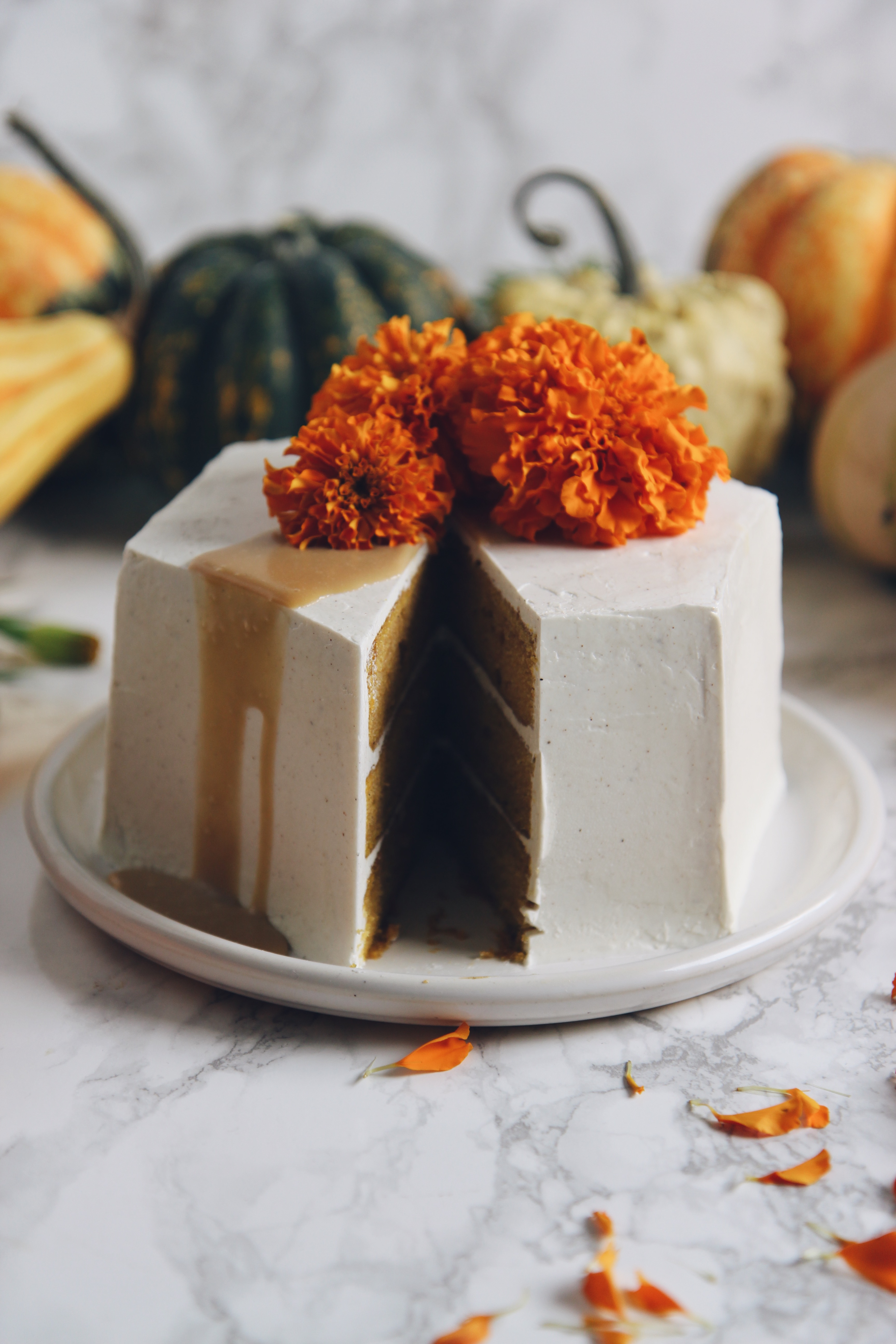 Pumpkin Cake with Spiced Meringue Buttercream
makes 1 3×8 inch round cake or 1 3×6-inch hexagonal cake
ingredients:
for the pumpkin cake:
170 grams (3/4 cup, 1 1/2 sticks) butter
42 grams (3 tablespoons) neutral oil
300 grams (1 1/2 cups) sugar
20 grams (1 tablespoon) molasses
3/4 teaspoon salt
2 teaspoons cinnamon
1/2 teaspoon nutmeg
1/4 teaspoon cloves
1/2 teaspoon ground ginger
3 eggs
300 grams (2 1/2 cups) flour
2 teaspoons baking powder
1 teaspoon baking soda
400 grams (1 3/4 cup, ~1 can less 2 tablespoons) pumpkin puree
for the spiced meringue buttercream:
2 egg whites
100 grams (1/2 cup) sugar
1/2 teaspoon kosher salt
1 teaspoon cinnamon
1/4 teaspoon nutmeg
1/8 teaspoon cloves
1/4 teaspoon ground ginger
226 grams (2 sticks, 16 tablespoons) butter
to assemble:
84 grams dulcey chocolate
70 grams (4 tablespoons plus 2 teaspoons) heavy cream
directions:
Make the cake: preheat oven to 350 degrees F.
Grease and flour 3 8-inch round pans.
Whip butter and oil together until smooth and shiny, about 3 minutes.
Add in sugar, molasses, salt, and spices and whip on high for 3 more minutes.
Scrape sides of bowl and add in one egg; beat for a full minute before scraping sides again and adding the next.
Repeat once more so that all the eggs have been fully incorporated, then scrape the sides of the bowl.
Add flour, baking powder, and baking soda on top of the batter.
Add the pumpkin on top of the dry ingredients.
Slowly start to stir; mix on low until the pumpkin and dry ingredients are mostly incorporated.
Scrape the sides of the bowl once more and stir on medium speed to ensure that everything is homogeneous.
Portion out batter evenly into the prepared pans.
Bake for 30-40 minutes; a tester should come out with a few moist crumbs and the internal temperature of the cake should register around 210 degrees F.
Allow to cool completely.
If carving the cake, wrap and freeze the cakes for at least one night.
Carve the cakes into a hexagonal shape using a template and freeze again.
Make the icing: place egg whites in the bowl of a stand mixer fitted with the whisk attachment.
Place sugar, salt, and water in a small pot over medium heat, fitted with a candy thermometer.
Begin to whisk egg whites while syrup heats up.
Once syrup reaches 245 degrees F, the egg whites should be at semi-stiff peaks.
Pour the hot syrup into the meringue while beating at high speed.
Whip until the meringue is glossy and cooled to body temp.
Add the spices, then beat in 1 tablespoon of the butter at a time, beating until the frosting comes together into a glossy, fluffy, light mixture.
Make the ganache: heat heavy cream until simmering, then pour over chopped chocolate.
Allow to sit for 3 minutes, then whisk quickly until the ganache comes together in a shiny, smooth, homogenous mixture.
Allow to cool while you frost the cake.
Frost the cake with a crumb coat, then chill for a few minutes.
Finish frosting the cake and chill for at least 15 minutes.
Pour the ganache over the cake as desired.
Decorate with edible flowers!