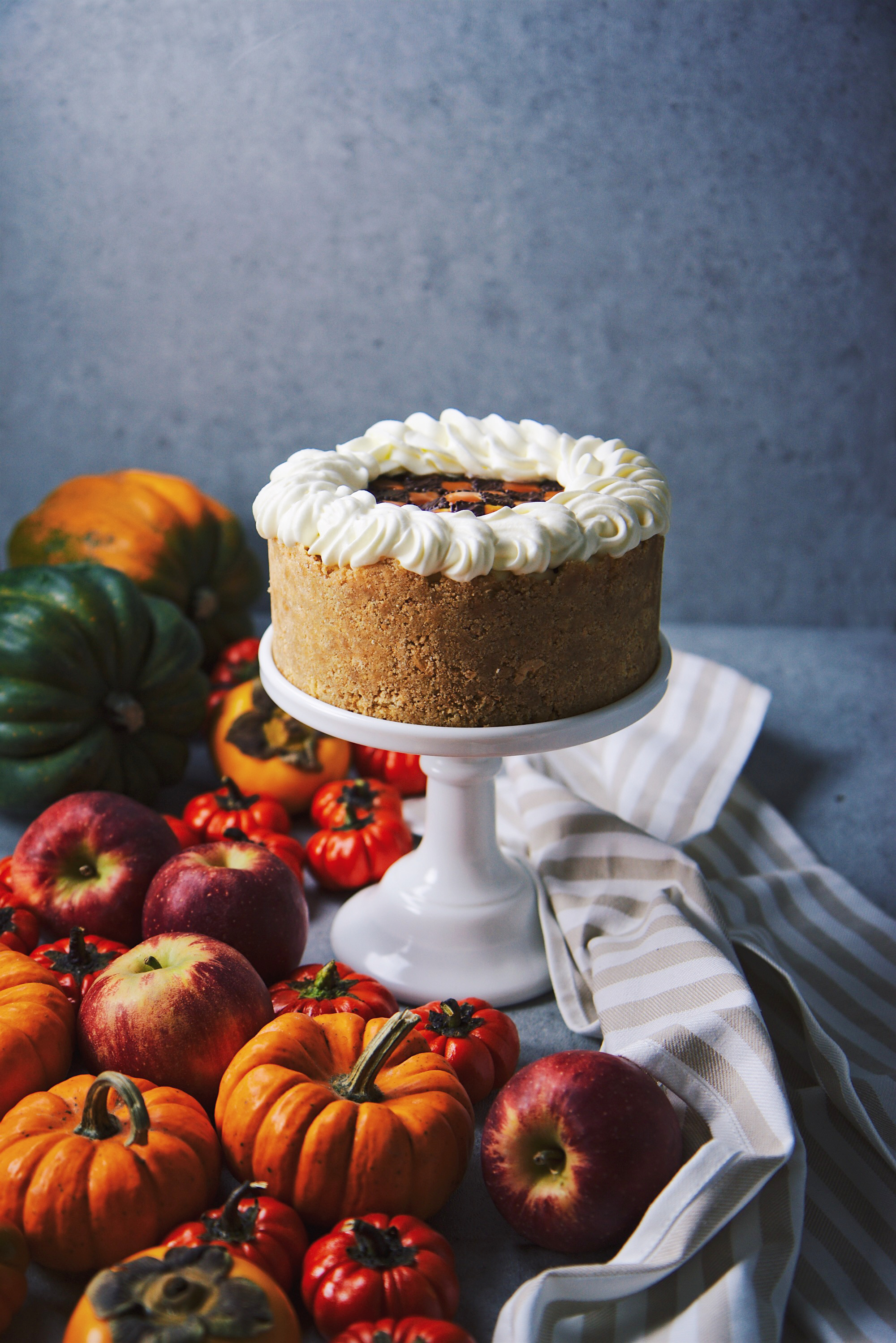 "Without error there can be no brilliancy."
—Emanuel Lasker
The 2017 #virtualpumpkinparty is here, folks!
Click here for the page on Sara's website.
Big thanks to Sara (Cake Over Steak) for hosting this party again! It's such a fun way to share with other food bloggers and our readers.
Wow, it's been a while since I've last posted. I have so many wonderful fall things to share with you, so expect to see fresh content here more often in the coming few months.
Especially now that we're in holiday mode! Halloween, then Thanksgiving, then the winter holidays. Ugh, I'm so ready for it.
As lovely as they are, I'm more than ready to wipe away the vestiges of summer that still cling to New York in the form of 75 degree days and bright green leaves.
Give me all the chilled winds and decorative gourds and chai teas and fall foliage.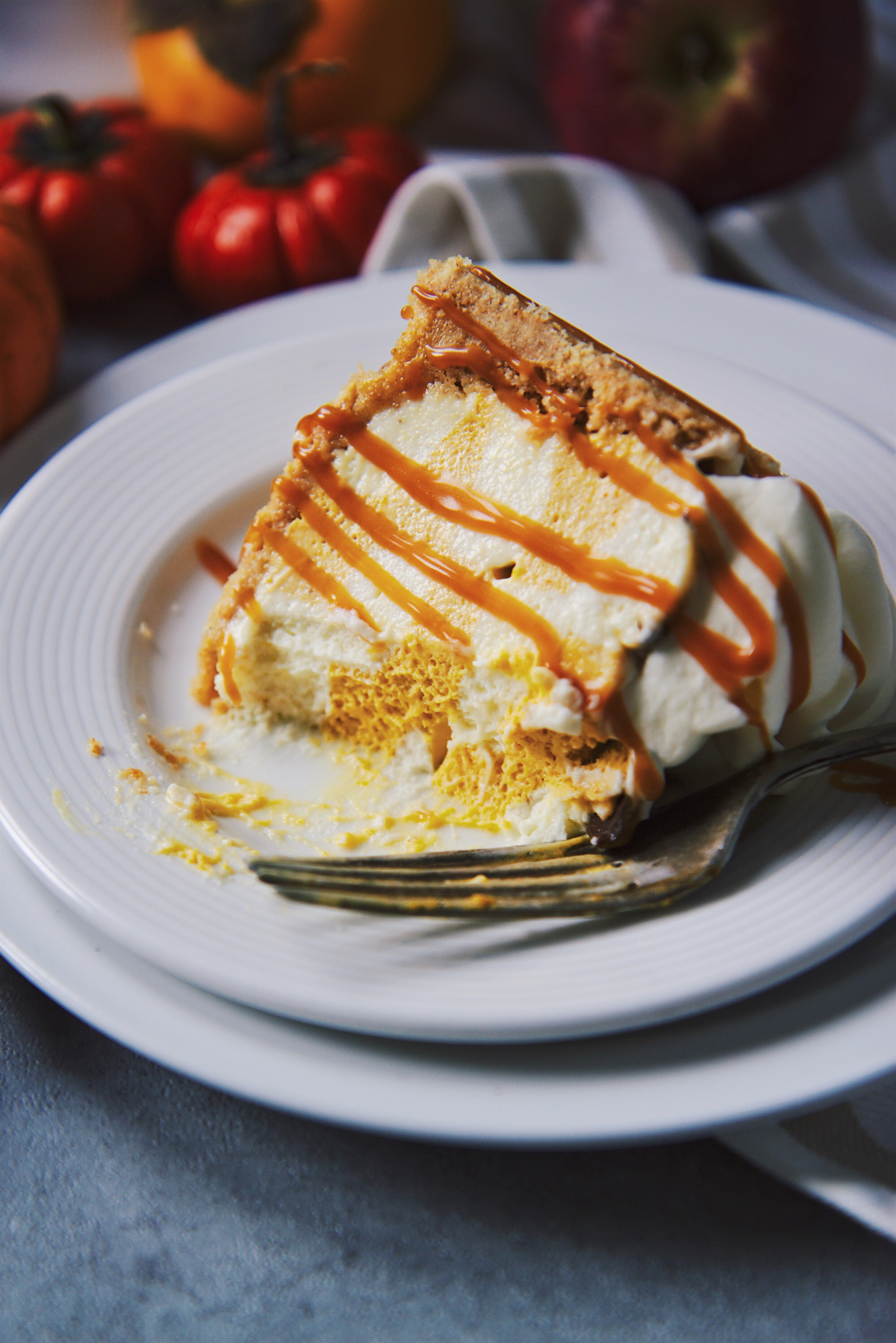 I have had precious little sleep of late, so I'm not able to find many words at the moment. My brain is pretty mushy right now, and I need a solid 12 hour deep sleep to replenish my mind.
Although this way we can circumvent my usual bland blathering about life and get to the goods (AKA cheesecake) much faster.
Plus, I think most prefer the pumpkin pictures to another embarrassing and squashy diary entry. (See what I did there? Hahaha yeah it makes no sense and I need sleep.)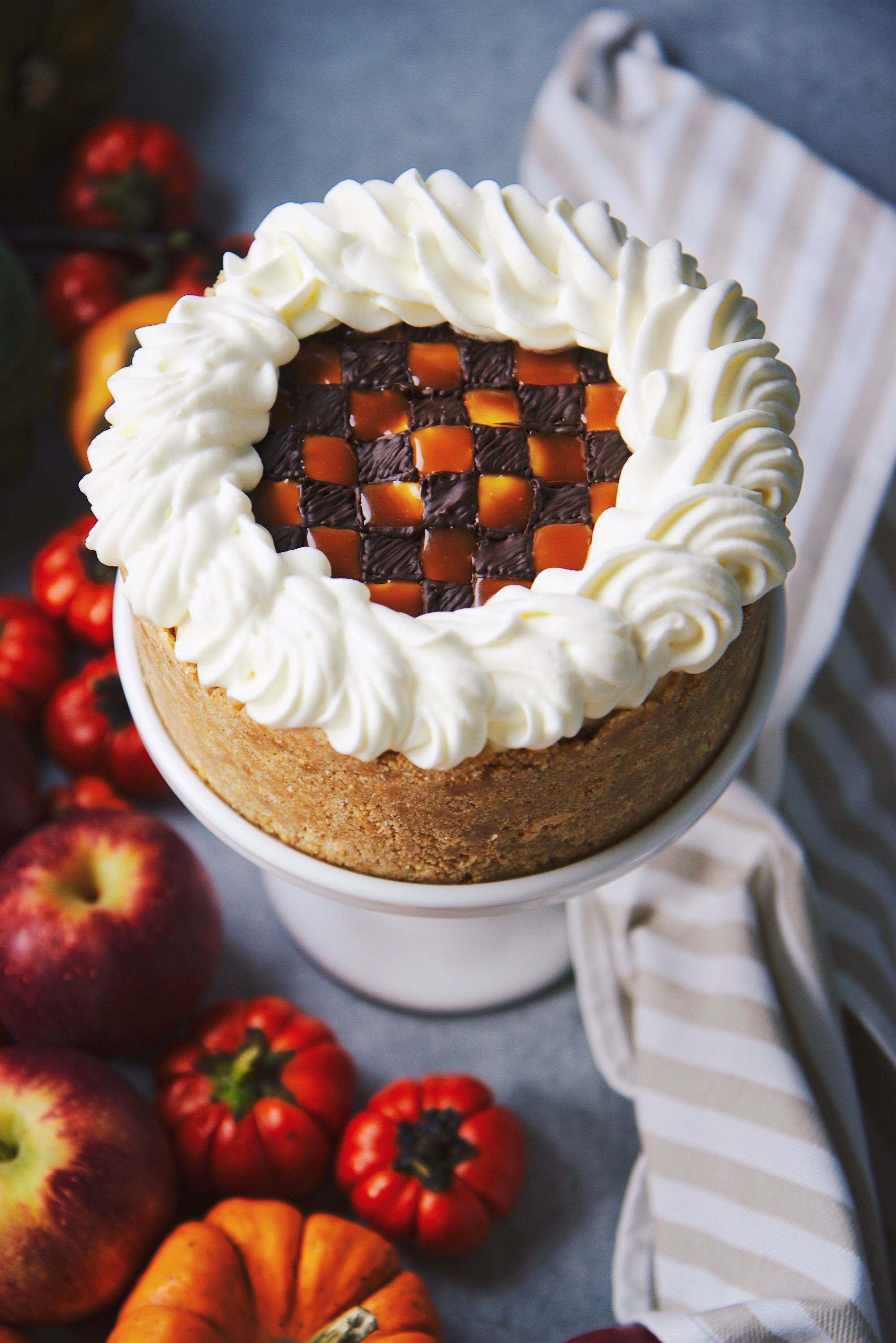 I just reread all of the Harry Potter books (…all in one week…); late night reading is at least partially to blame for my recent lack of sleep. I thoroughly enjoyed the reread; it had been a long time since my last.
I always find that Harry Potter gets me into an autumnal and wintry mood, because even though the books stretch over all parts of the year, J.K. Rowling's descriptions of the great hall on Halloween and Christmas are transportive and ultra-dreamy.
I've started reading LoTR now. Definitely going to take me more than a week to finish it.
By the way, if you have Amazon Prime, you can download the single-volume version for free to your kindle (or phone) right now!
I've also discovered that you can download certain magazines for free as well—there are a lot of great Thanksgiving issues out right now.
I've got to start preparing my menu! Eeeeek!!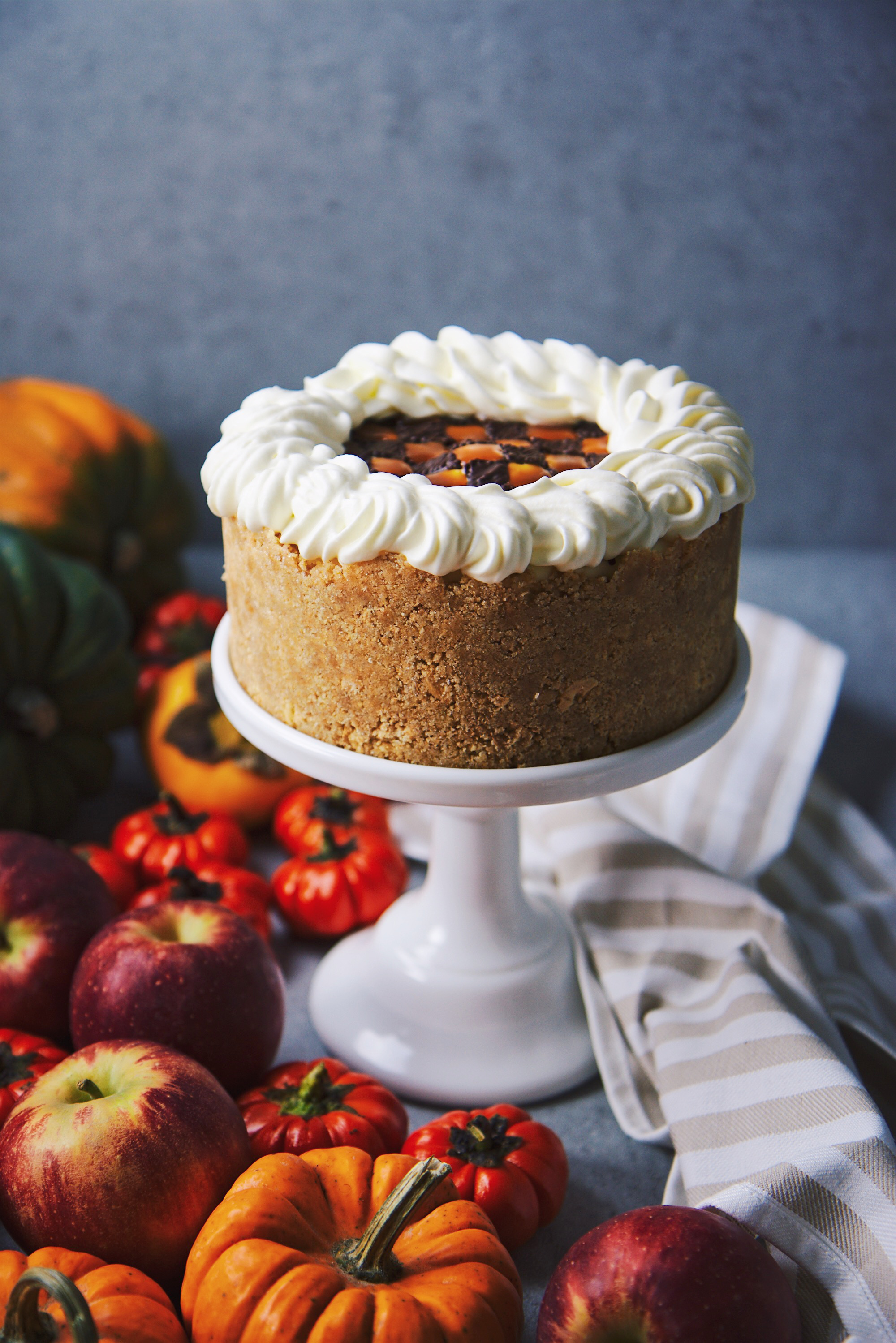 I'm not going to lie, this is a very involved pumpkin cheesecake.
It is probably too involved to make it onto our holiday table, given that I usually make three different desserts. This one is a stand-alone treat, for sure.
It's made easier by virtue of being no-bake, but if you were to forgo making two separate mixtures and just make the whole thing pumpkin, it's going to taste exactly the same. I promise.
So, no sweat if you're not into all the fussy piping detail. I wish I had made mine cleaner, so you'll probably see this technique repeated in the future when I have more time to practice.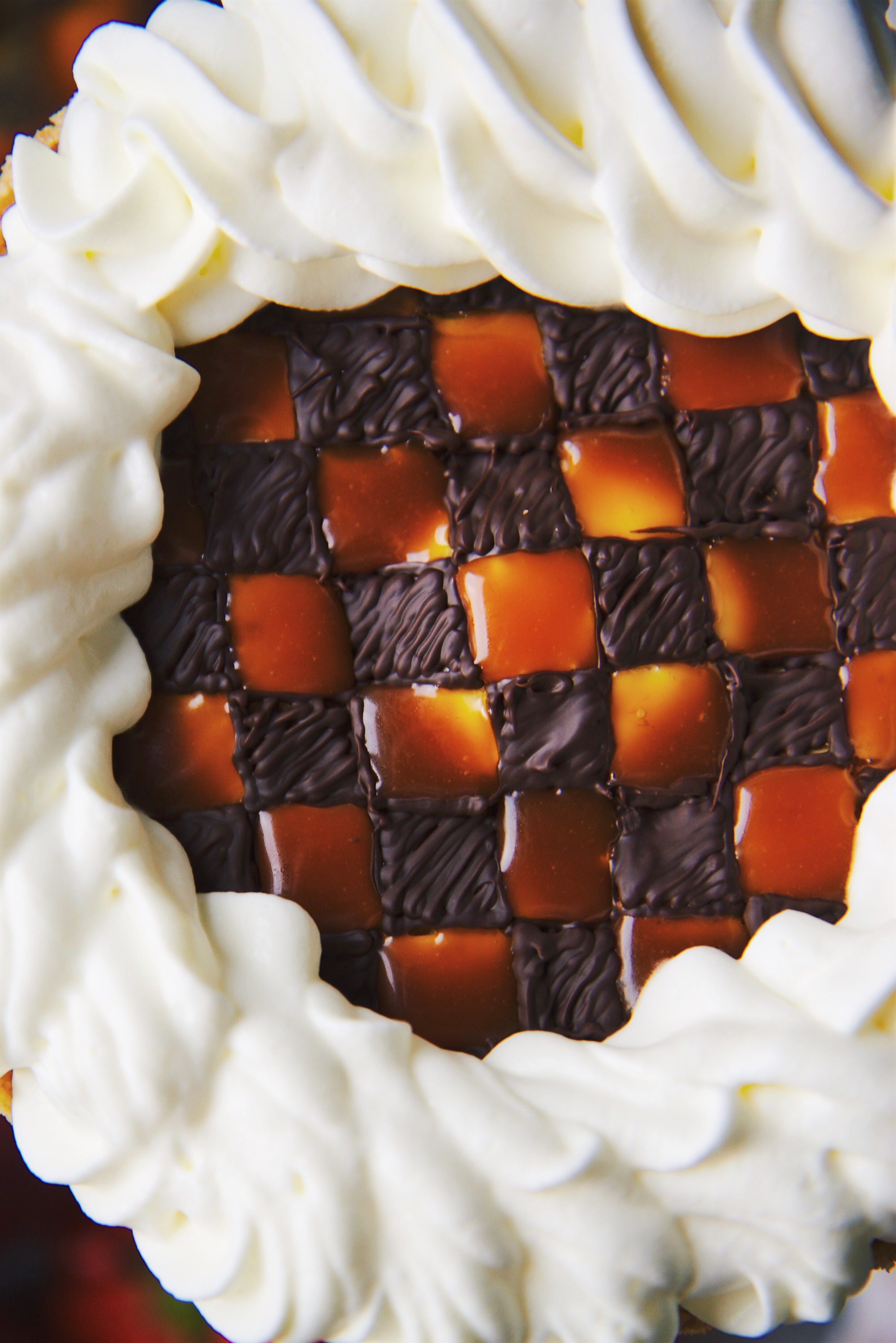 This cheesecake is incredibly creamy and light, and avoids any of the rubberiness to which no-bake cheesecakes sometimes fall prey.
The simple crust is sweet and buttery and holds together without baking; it stretches up the sides of the whole cheesecake so you don't have to line your pan (holla!).
The filling is half classic cheesecake, half pumpkin spice. It is tangy and rich, and the spices add balance to the earthiness of the pumpkin. Cloves, cinnamon, and ginger are just about the most warming combination of spices I can think of. Add a pinch of nutmeg if you've got it on hand.
On top, a checkerboard of dark chocolate and salted caramel adds whimsy to the bake, and clouds of fluffy, barely sweetened whipped cream cut the texture of the cheesecake wonderfully.
All in all, this cheesecake is undeniably impressive, and when you cut into it, the surprise of the checkerboard filling makes it even more attractive. The more careful you are with your piping, the cleaner your interior will be (mine is a little bit wonky, frankly).
Pumpkin, previously:
chocolate pumpkin cake with meringue ghosts
pumpkin meringue tart
pumpkin and condensed milk cakes
double pumpkin cake
dairy free pumpkin bundt cake with lemon glaze
pumpkin cream cheese crepe cake
brown butter pumpkin kanelbullens
brown butter pumpkin and cranberry upside down cake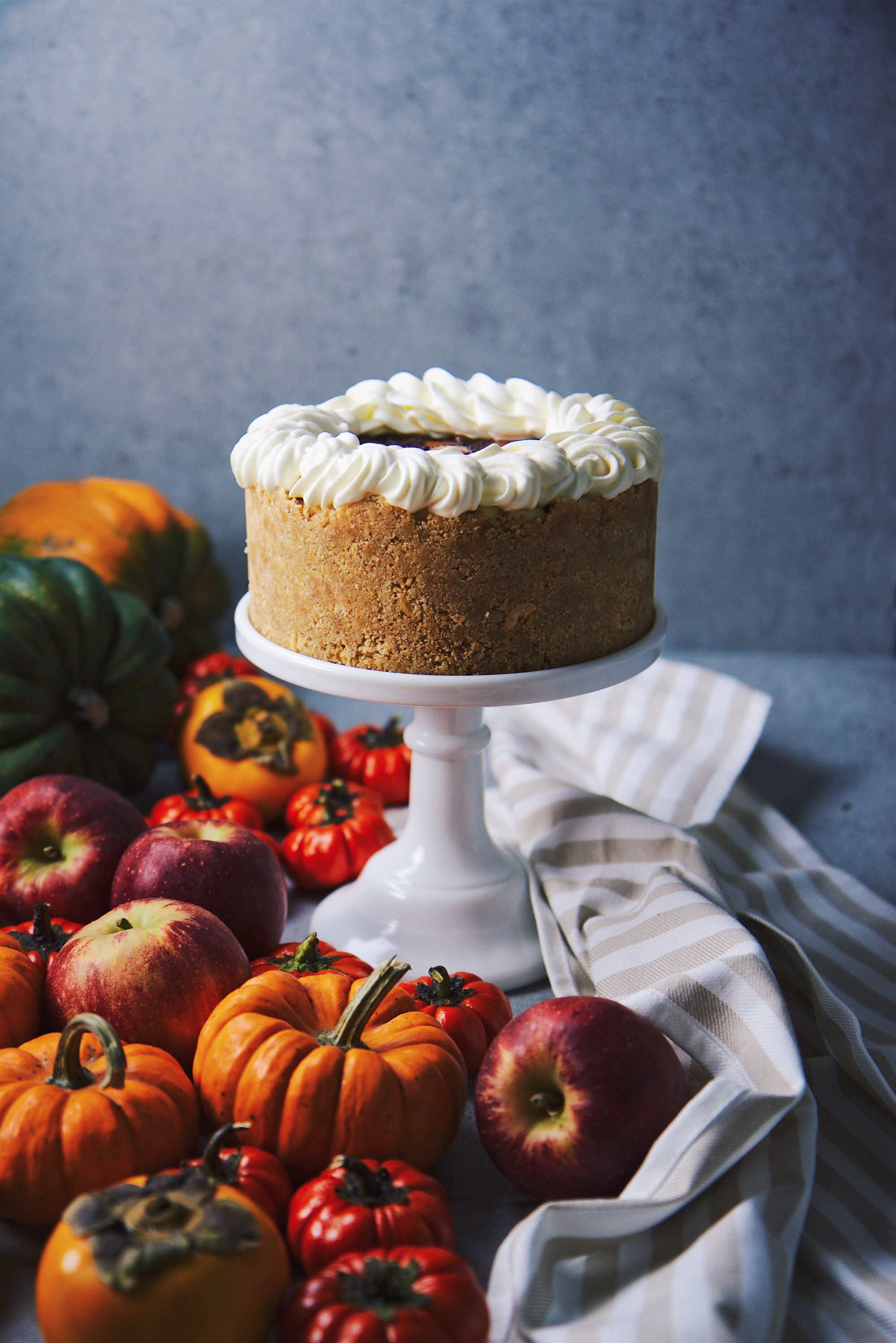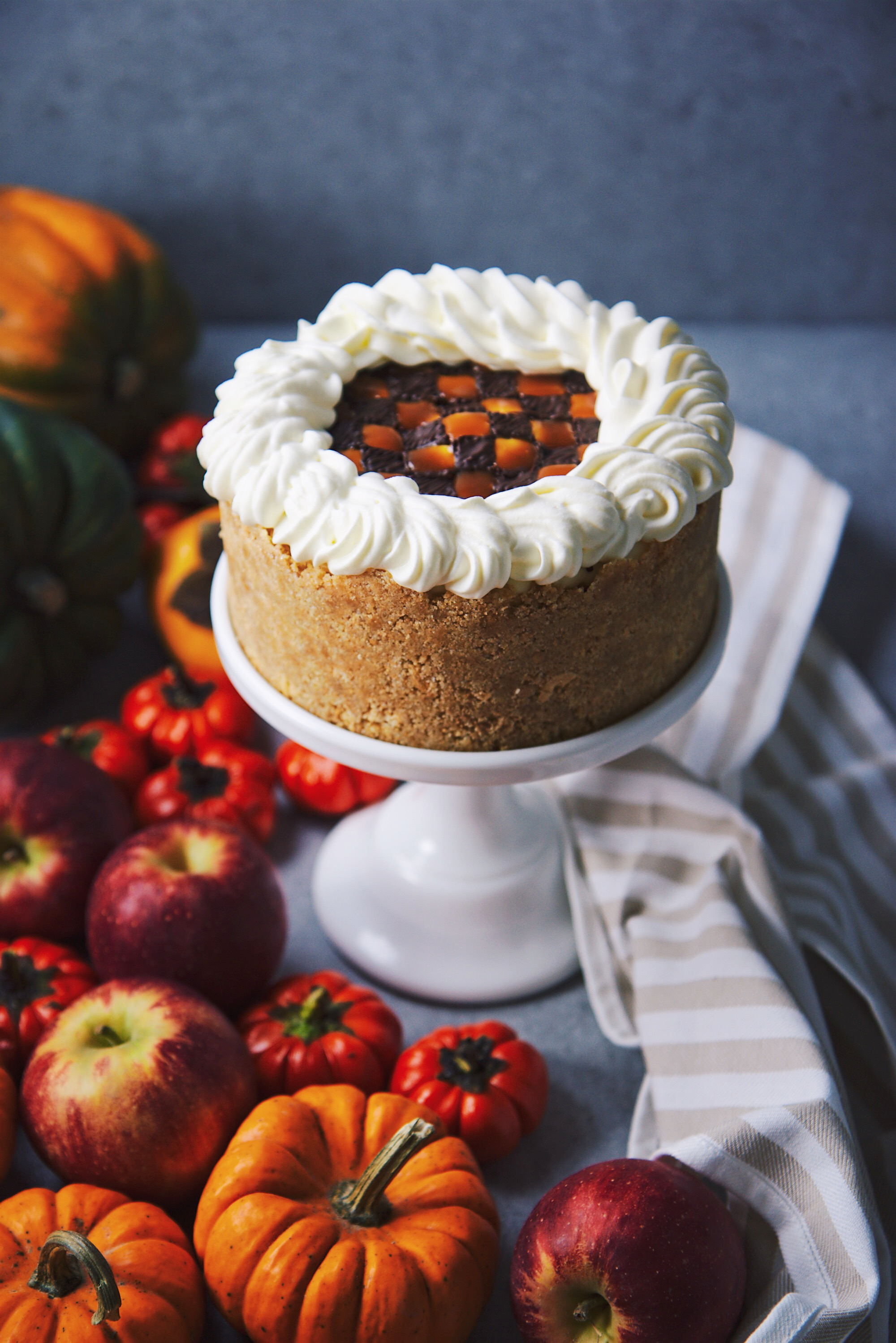 No-Bake Checkerboard Pumpkin Cheesecake
makes 1 6-inch cheesecake
ingredients:
for the crust:
200 grams (about 12 full sheets) graham crackers
75 grams (1/4 cup plus 2 tablespoons) sugar
pinch salt
113 grams (8 tablespoons) butter, melted
for the filling:
455 grams (16 ounces) cream cheese, at room temperature
150 grams (3/4 cup) sugar
20 grams (5 teaspoons) lemon juice, from 1 very juicy lemon
1/4 teaspoon salt
300 grams (1 1/4 cups) heavy cream
7 grams (1 packet, 2 1/4 teaspoons) gelatin
15 grams (1 tablespoon) water
120 grams (1/2 cup) pumpkin puree
1/8 teaspoon ground cloves
3/4 teaspoon ground ginger
1 teaspoon cinnamon
to assemble:
65 grams (1/3 cup) sugar
30 grams (2 tablespoons) butter
40 grams (2 tablespoons plus 2 teaspoons) heavy cream
1/4 teaspoon salt
1 cup heavy cream, cold
1 tablespoon powdered sugar
melted and slightly cooled dark chocolate
directions:
First, make the crust: crush graham crackers into crumbs and mix with the sugar, salt, and melted butter.
Press evenly into your pan and up the sides, then refrigerate.
To make the filling, beat cream cheese, sugar, salt, and lemon juice on high speed with a paddle attachment until smooth and not gritty, about 3 minutes.
Add in the heavy cream and whip on high until thickened.
Stir the gelatin into the water and set aside for 2 minutes; heat it gently in the microwave until it melts.
Mix the gelatin into the cheesecake mixture and allow to thicken for a few minutes.
Portion half of the mixture out and stir in the pumpkin and spices until homogeneous.
Fill two piping bags with each of the mixtures, and pipe alternating concentric circle layers inside the prepared crust.
Refrigerate until set, at least 3 hours and up to overnight.
To assemble, make the salted caramel: place sugar and salt in a heavy bottomed pan over medium heat.
Cook without stirring until the caramel is dark toffee color, then remove from heat and carefully stir in butter and heavy cream.
Allow to cool completely before using.
Whip the heavy cream with the powdered sugar until stiff peaks form.
Make a grid pattern lightly with a knife on the surface of the firm cheesecake; pipe alternating checkerboard squares of chocolate and caramel on top.
Use a star tip to pipe large swirls of whipped cream around the edge of the cheesecake.
Serve at room temperature or slightly chilled.
SaveSave
SaveSave
SaveSaveSaveSaveSaveSave
SaveSaveSaveSaveSaveSave
SaveSaveSaveSaveSaveSaveSaveSave
SaveSave
SaveSave
SaveSave
SaveSave