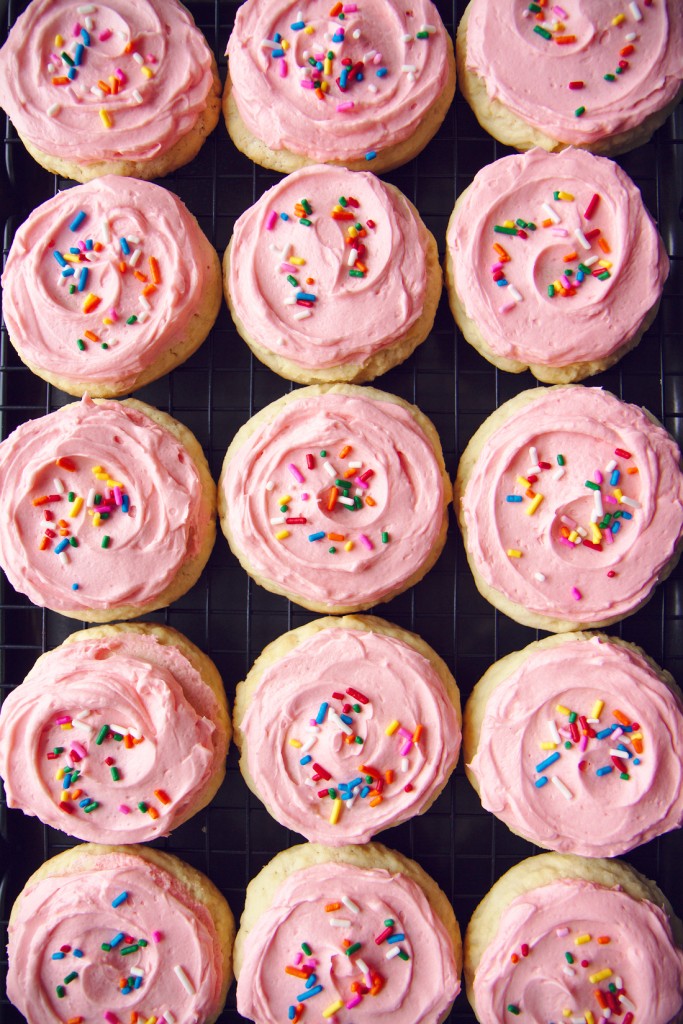 In the end, these things matter most:
how well did you love, how fully did you live, how deeply did you learn to let go?
-Siddhartha Gautama
Happy Valentine's Day!
Here, this sweet little photo story about capturing life's little moments on film is a perfect way to start your day.
"People are just lost in their own world when they're kissing."
Or, in the vein of the links I shared in my last post, here's the app for the 36 questions to fall in love.  Brilliant.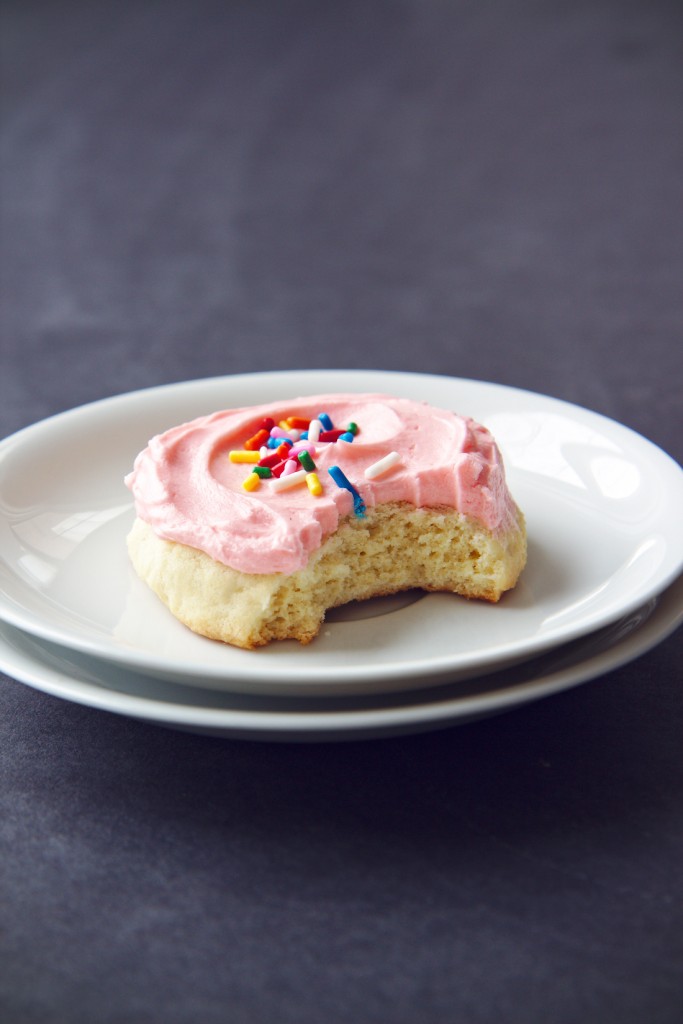 I wasn't going to share these here, but they turned out so darn fluffy and cute that I had to pull out my camera and snap a few shots.
Plus, they're pink.
To share them right after Valentine's would be a shame.
So are these cookies, pink and fluffy and heart-winning, on Valentine's morning.
Still have time to bake for your sweetie?  Make these, they're fast and buttery and therefore universally loved.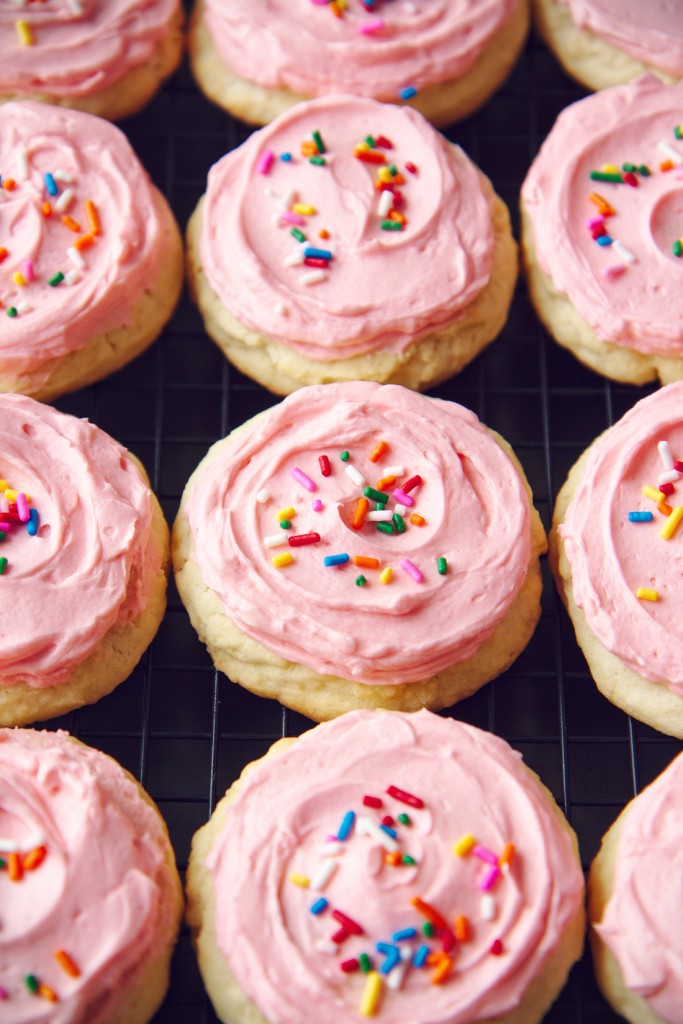 These Lofthouse-like cookies are buttery and rich, with slightly crispy edges and soft, fluffy centers; they're topped with a veritable cloud of thick frosting and a smattering of sprinkles.
The cookie itself is soft vanilla, and it is topped with the creamiest, dreamiest pink American buttercream frosting–the epitome of soft and vanilla!
A light hand of sprinkles finishes them off.
These are classic and simple and delicious.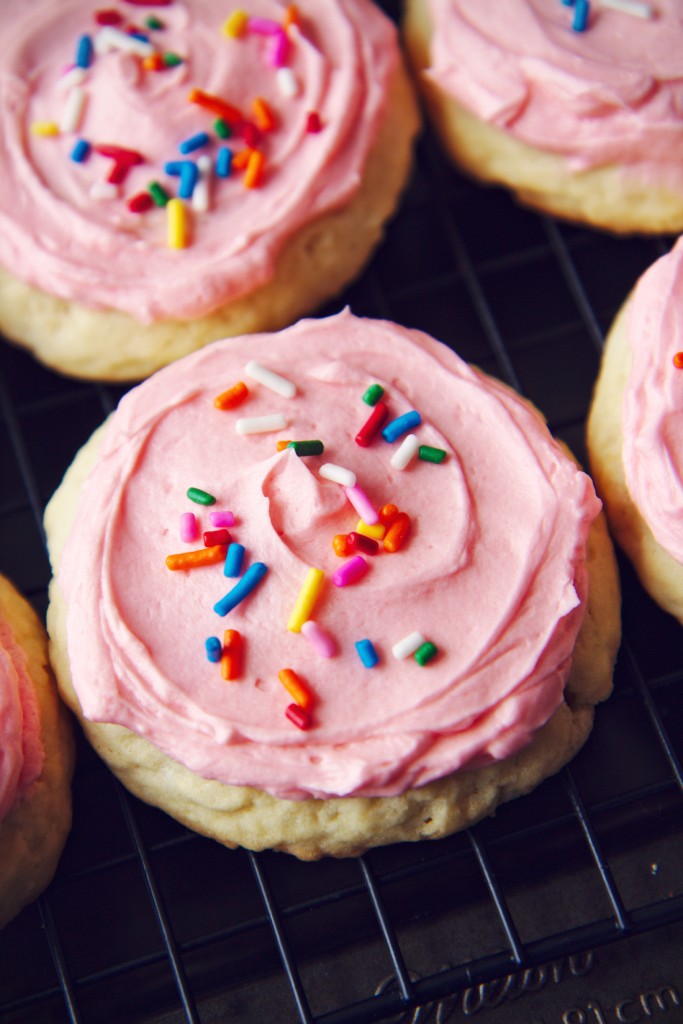 Sending love, bisous, and positive vibrations to all my readers every day, but especially today.
xx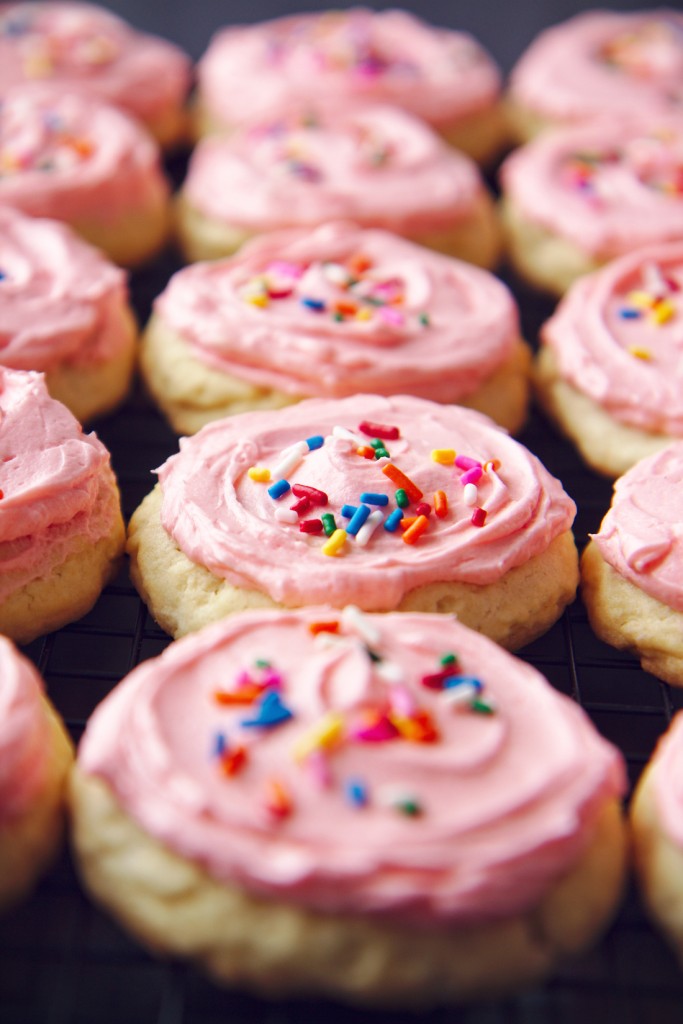 Lofthouse Cookie Clones
cookies portion adapted from Cooking Classy
makes 15-16 large cookies
ingredients:
300 grams (2 1/2 cups) flour
1 tablespoon cornstarch
1 1/2 teaspoons baking powder
170 grams (3/4 cup) unsalted butter, soft
200 grams (1 cup) sugar
1/2 teaspoon kosher salt
1 large egg plus 1 egg white
1 tablespoon vanilla extract
for the frosting:
225 grams (1 cup) butter, soft
1/2 teaspoon kosher salt
500 grams (4 cups) powdered sugar
60 grams (1/4 cup) heavy cream, room temperature
drop red food coloring
sprinkles, optional, for decorating
directions:
Make the cookies: whisk flour, cornstarch, and baking powder together; set aside.
Place butter in the bowl of a stand mixer fitted with the paddle attachment and beat on high speed until very soft, pale, and fluffy, about 2 minutes.
Add in the sugar and salt and beat for 3 more minutes.
Scrape the sides of the bowl and add in the egg and egg white; beat for a full 4 minutes, streaming the vanilla in while mixing.
Scrape the bowl and beat on high speed for 30 seconds to ensure homogeneity.
Add in the flour mixture all at once, then mix on very low speed, increasing the speed as the mixture becomes cohesive.
Once the batter is thick and homogeneous, stop mixing.
Scoop out 1/3 cup size scoops with an ice cream scoop; place on parchment lined sheets.
Using a glass dipped in flour, very lightly press down on the cookies to flatten.
Chill the cookies for at least 15 minutes in your freezer, or 30 minutes in your fridge.
Meanwhile, preheat the oven to 350 degrees F.
Bake each sheet of cookies for 10 minutes.
Remove from oven and let cool slightly on the sheet and completely on a rack.
To make the frosting, place the soft butter and salt in the bowl of a stand mixer fitted with the paddle attachment.
Beat on high speed for 5 minutes, until pale and fluffy.
Scrape the sides of the bowl and begin slowly adding the powdered sugar while mixing on low speed.
Once the sugar is all mixed in, stream in half of the heavy cream and the food coloring.
If it reaches a fluffy, smooth consistency with half of the cream, stop.
If not, stream in the rest of the cream and beat on high speed until incorporated.
Frost the cookies very generously, finishing with sprinkles.