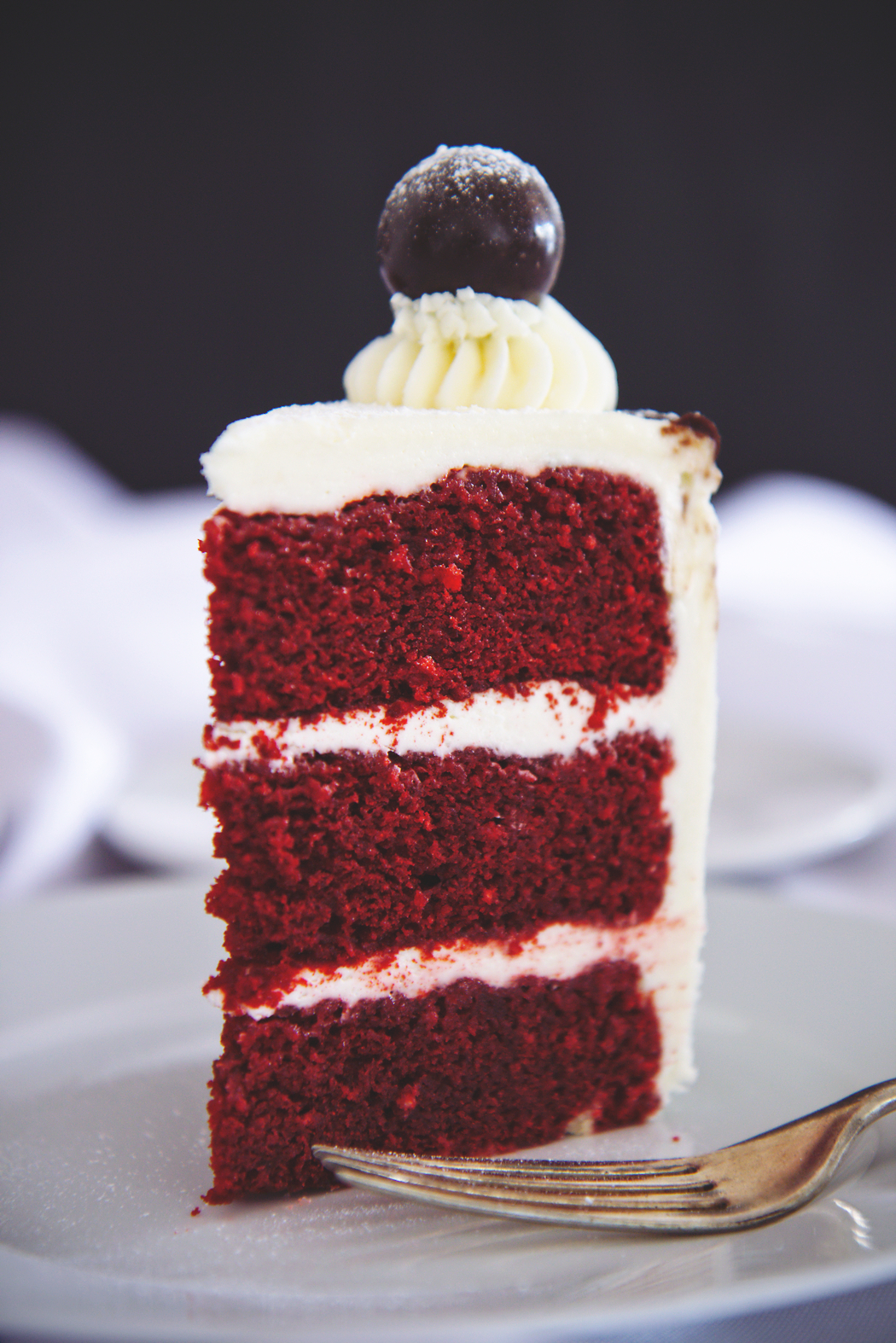 "I fell in love with her courage, her sincerity, and her flaming self respect. And it's these things I'd believe in, even if the whole world indulged in wild suspicions that she wasn't all she should be. I love her and it is the beginning of everything."
― F. Scott Fitzgerald, The Great Gatsby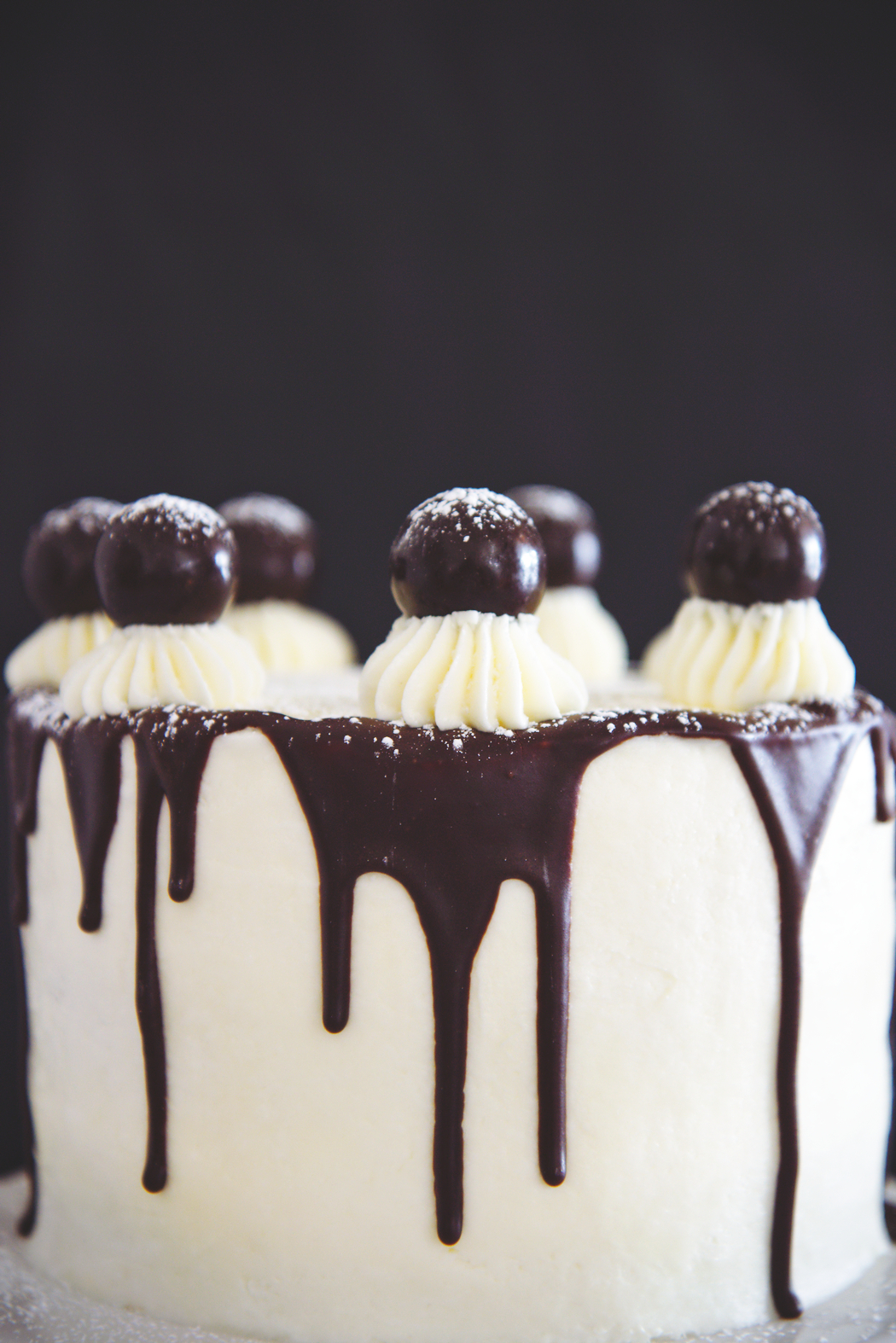 Happy (almost) Valentine's Day!
Here is another cake to add to your to-make-for-loved-ones list.
Other cakes I can think of for V-day:
this most recent chocolate covered strawberry delight
this red-berry strewn cake, accompanied by my favorite poem
these pink and red cakelets, fluffy and elegant
or, for a chocolate fix,
these sexy, whole-wheat (didn't think those could go together? Think again.) brownies with glossy ganache
or, for a French dessert fix,
these petites Madeleines, soaked in tart lemon syrup, sticky and dense and delectable.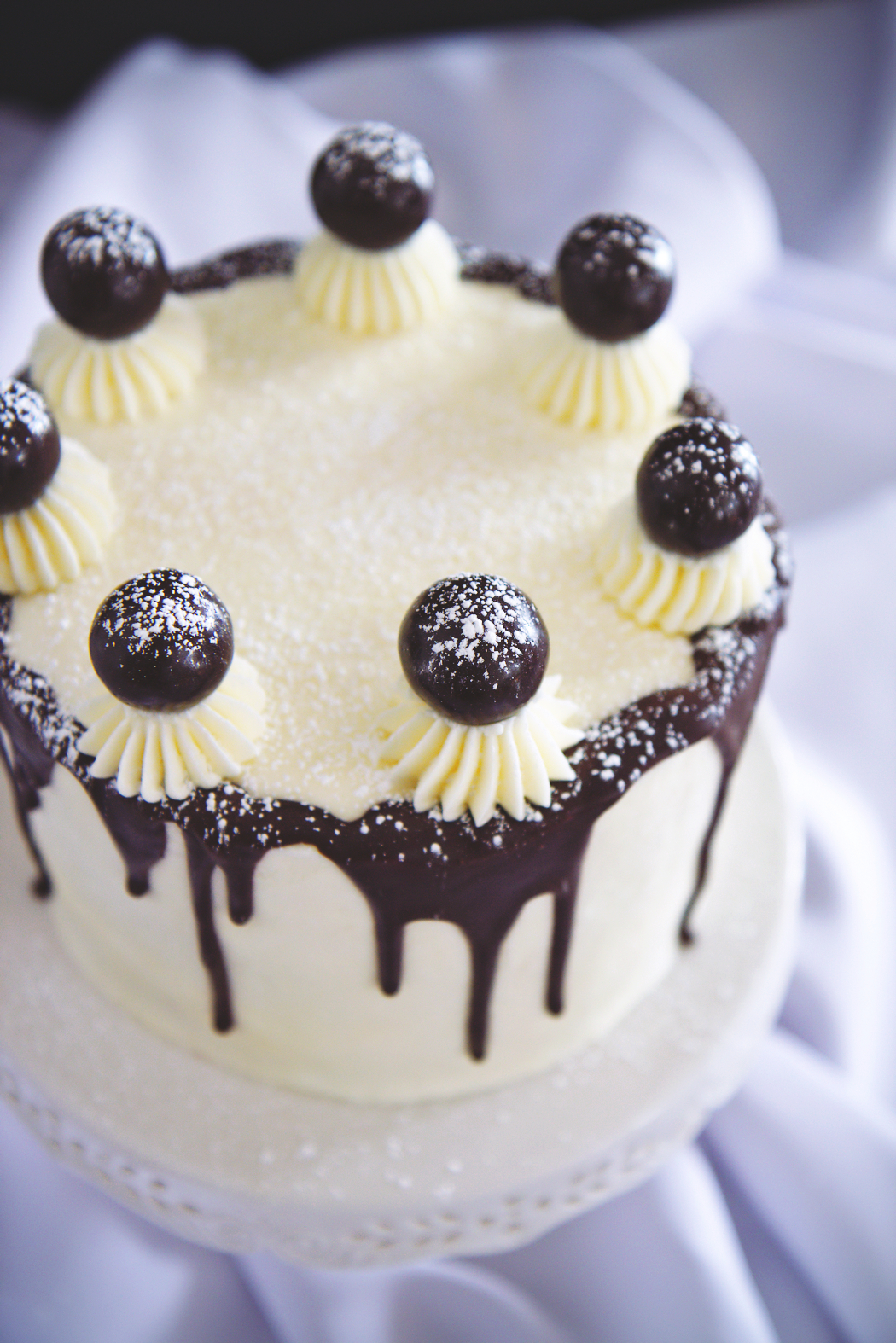 Things that have moved me lately (laugh, cry, feel, and love, love love):
How to fall in love with anyone.
/How to fall out of love with anyone. (lol)
This beautiful, heartwrenching photo story about a couple who both have cancer.  Beautiful.
These terrible valentines.  #6.
This adorable duo.  The tiniest kitten and his best doggie friend.  True love and friendship.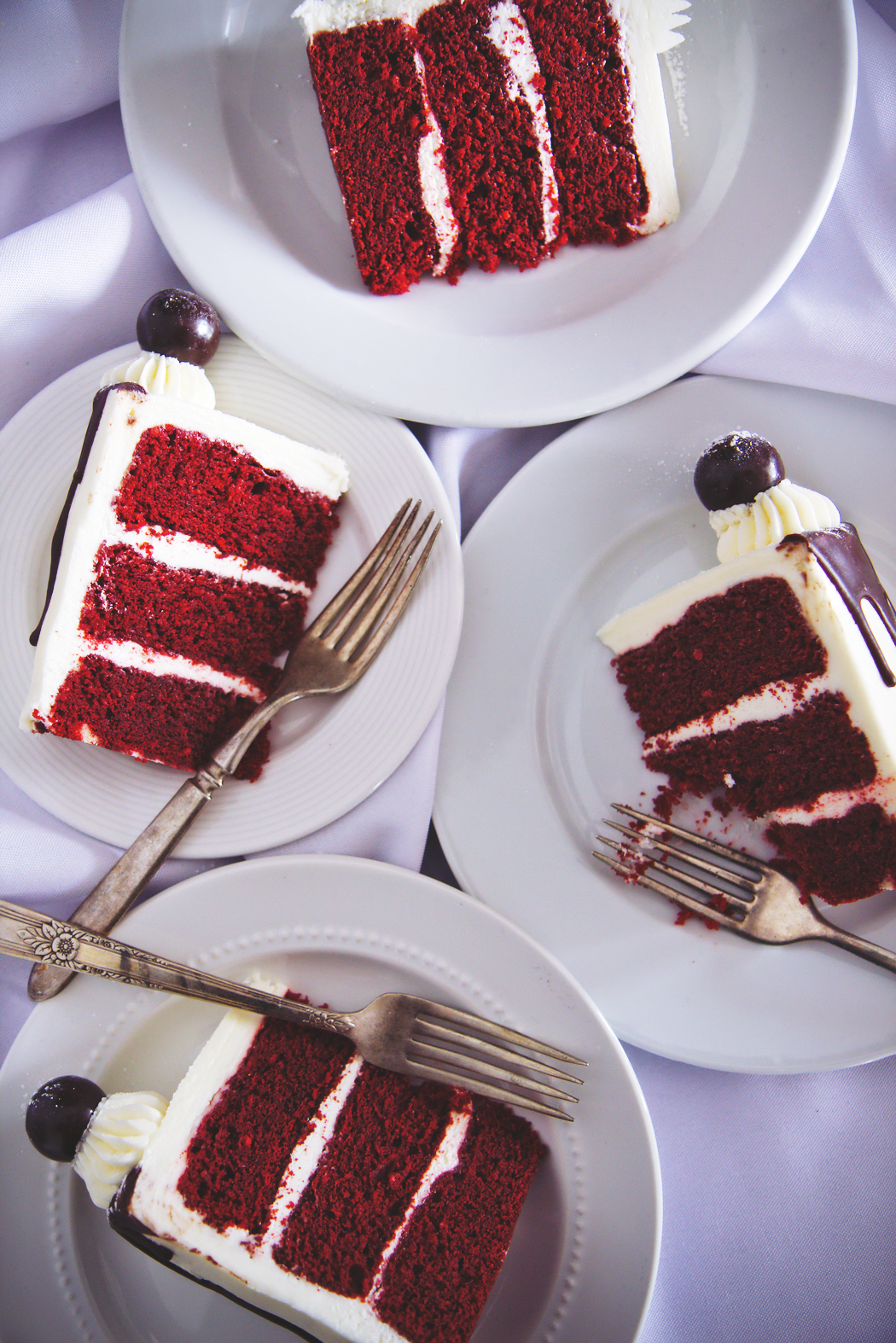 Food I've been drooling over lately:
Ohhhh, these scrambled eggs. These are love on a plate and if I woke up to these with fresh squeezed orange juice and hot, toasted, crispy baguette I would be the happiest girl alive (too bad N doesn't read my blog, this is a gimme).
While I maintain that pie is always love, this pie is extra.
Salty/sweet/floral depending on your honey.
From Four and Twenty Blackbirds, so you know it's good.
(+added bonus of pie tips!)
Churros. You can never go wrong with churros.
Sam, won't you come live with me please?!
This is the most lovely heart shaped bundt cake in the world; and I am the world's biggest sucker for lemon glaze.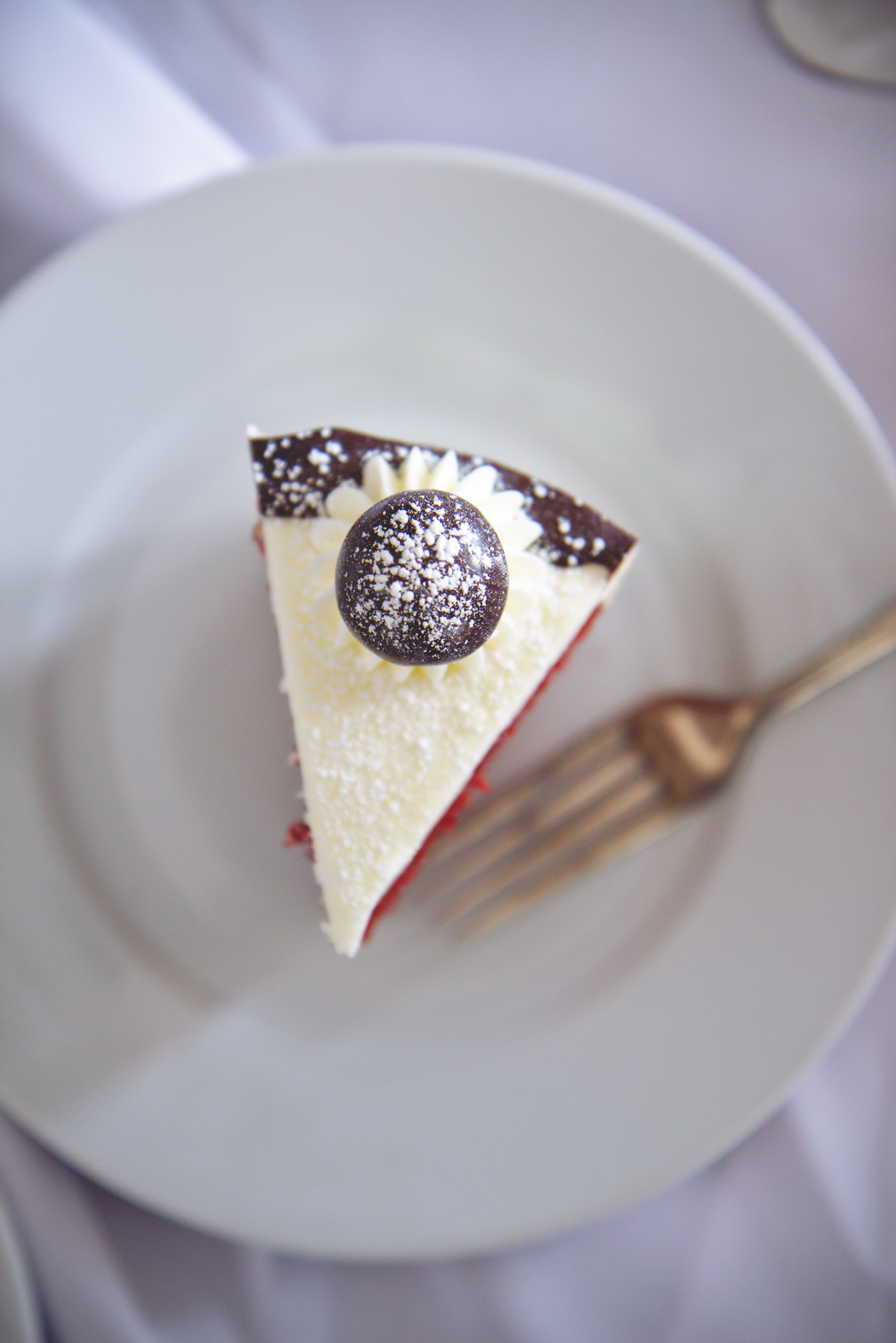 This cake is a 1950s dream.
Red velvet, creamy white frosting, dark chocolate malt balls.
It's the kind of cake you would see in a diner or, if Kerri Russell ever made cakes, one that she would whip up.
Red velvet, in all its dyed and bright glory, is worth the few teaspoons of red No.5 that you will ingest.
Beet cakes will never be red velvet.
I love you, I love beets, and I'm sorry, but they won't be.
When I want a traditional cake, I want it made right.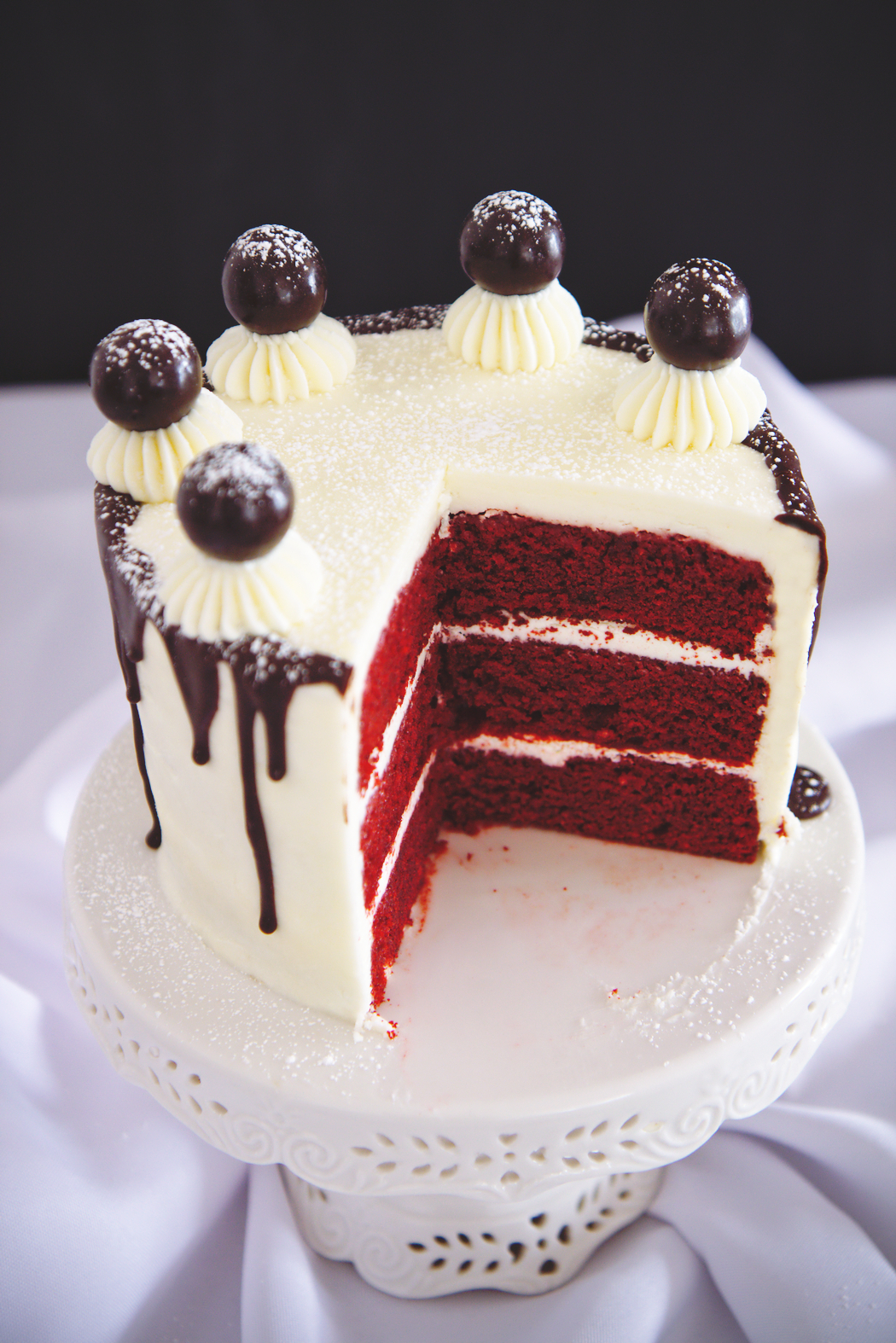 So that's what we're doing here.
Making it the right way.
The red velvet cake is adapted from Magnolia (you know it's going to be good!), and is lusciously moist, with a fine crumb and a distinctive, slightly cocoa-y, buttermilk tangy flavor.
The frosting is a fluffy cloud of cream cheese Italian meringue buttercream, not overly sweet and firm enough to pipe, with a balance of the buttery flavor of a traditional European buttercream and the very necessary and traditional American cream cheese frosting, without which red velvet would not be the same.
The cake is dolled up with lashings of dark chocolate ganache and dark chocolate malt balls, toasty and sweet, and a shower of powdered sugar to finish.
Each thick slice is a little piece of cake heaven, with the traditional flavors of red velvet, made better with extra butter and a touch of chocolate (totally necessary for Lover's day, right!?).
It really is red velvet in all its glory!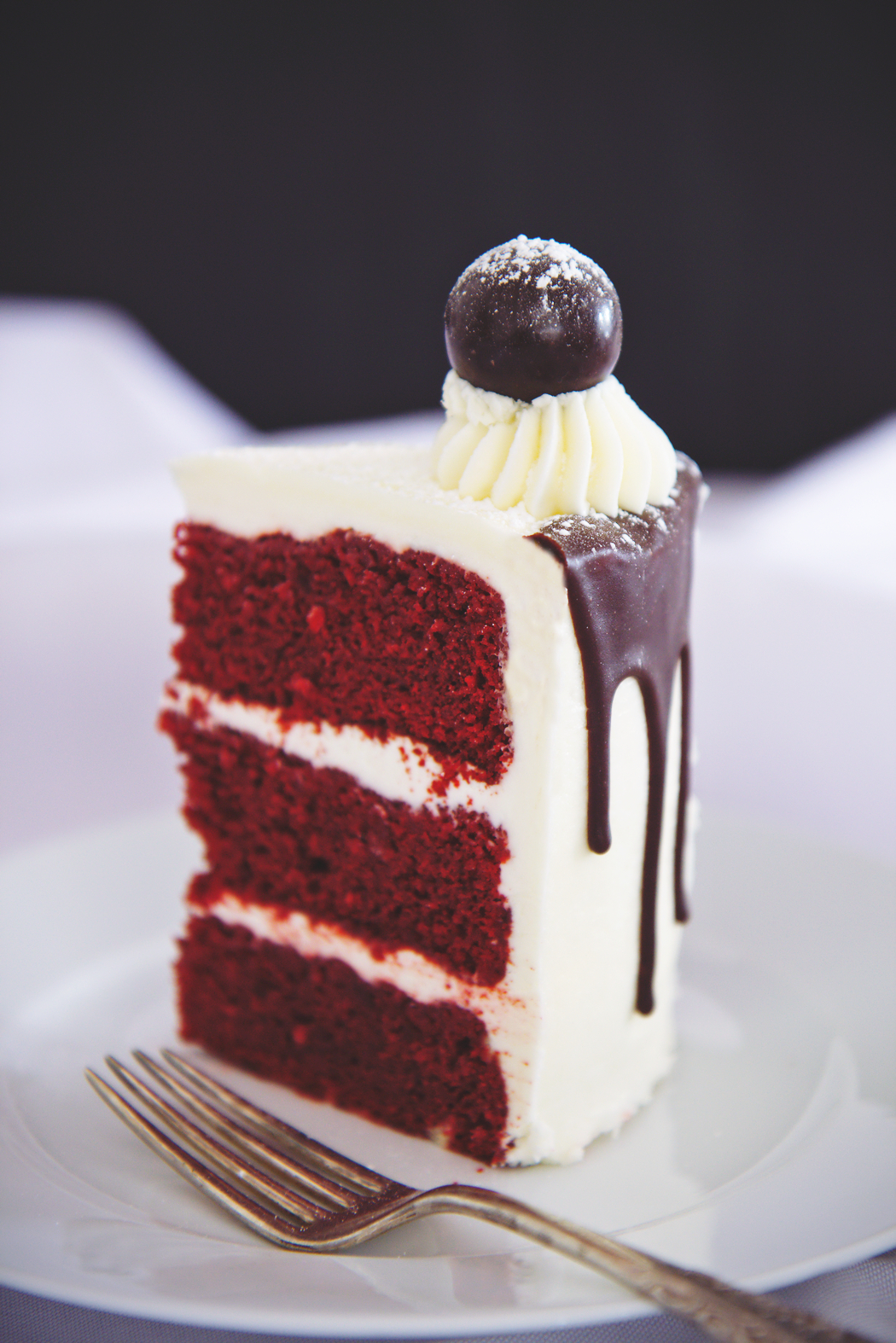 A few notes about this recipe:
You could top this cake with sprinkles or truffles or really nothing at all, the frosting alone is a statement.
If you're not 100% absolutely confident in meringue buttercreams, do not make this one.  It is tricky.  Start with a non-cream cheese meringue buttercream first (like this beautiful pink one), or make a cream cheese frosting like Rosie's or a cooked milk frosting like Pioneer Woman's.
ACV or white vinegar will work in the recipe.
Make sure to chill your cake before pouring hot ganache over it.
Set a timer for beating your eggs/butter (I usually underestimate the time it takes to fully cream butter and sugar).
Red food coloring: I use Americolor.  I know it incorporates seamlessly and it gives me great color with a small amount.
That being said, you could use liquid (you'll need more, maybe ~2 tablespoons) or Wilton (I've had plenty of success with their red food coloring, but it comes in small tubs so I've a huge bottle of Americolor now).
Cocoa: don't use extra dark cocoa, as it might tint your cake darker than you'd like.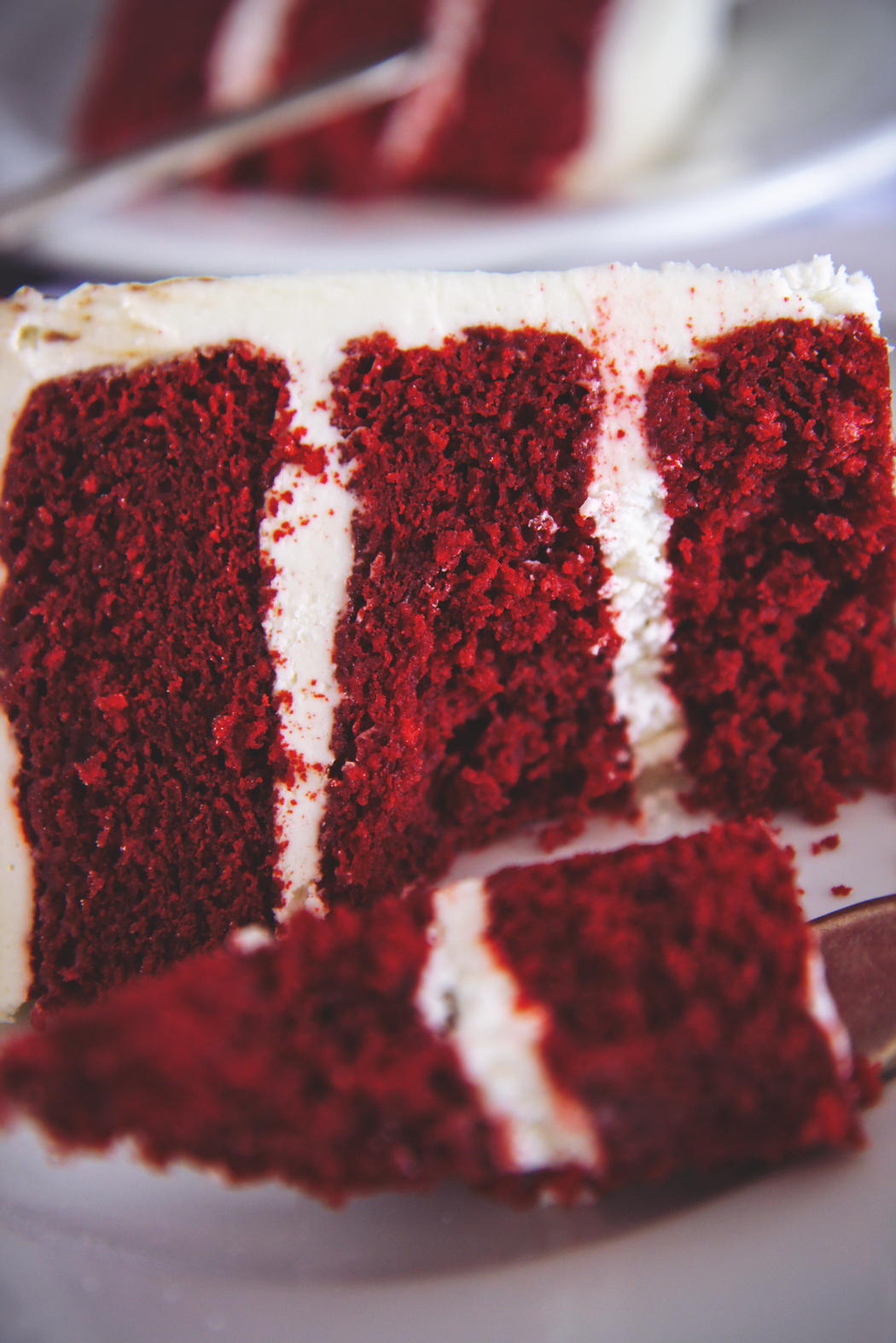 "The sexiest thing in the world is being really smart.
And thoughtful.
And being generous.
Everything else is crap."
—Ashton Kutcher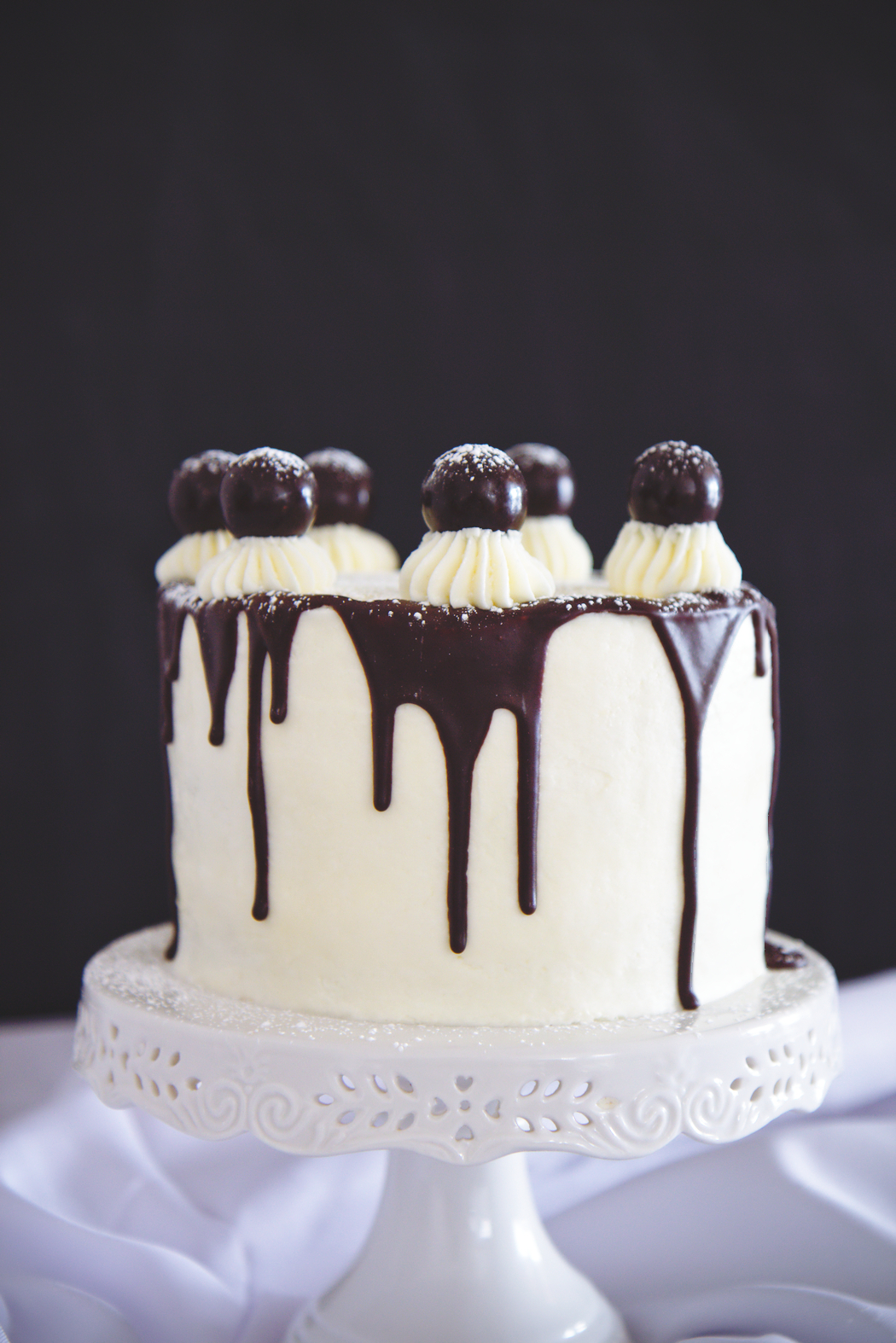 Dolled-Up Red Velvet Cake
makes 1 6-inch layer cake
cake portion adapted from Baking in Pyjamas
ingredients:
for the red velvet cake:
113 grams (8 tablespoons) butter, softened
30 grams cocoa powder
333 grams (1 1/2 cup plus 1/3 cup) sugar
3/4 teaspoon kosher salt
2 eggs
2 teaspoons red gel food coloring
2 teaspoons vanilla extract
240 grams (1 3/4 cups) flour
240 mL (1 cup) buttermilk
1 teaspoon vinegar
1 teaspoon baking soda
for the cream cheese Italian meringue buttercream:
3 egg whites
125 grams (1/2 cup plus 1 tablespoon) sugar
pinch salt
3 tablespoons water
2 sticks of butter, soft but still cool and cubed
225 grams (8 ounces, 1 block) cream cheese
225 grams (2 cups) powdered sugar, sifted
for the ganache:
140 grams (10 tablespoons) butter
60 grams (1/4 cup) half-and-half
pinch salt
200 grams dark chocolate, chopped finely
to assemble:
malt balls
powdered sugar
directions:
Make the cake: preheat oven to 350 degrees F and grease and flour 3 6-inch pans.
Beat butter until soft and light, about 3 minutes if already softened.
Add in the cocoa powder, salt, and sugar and beat for 3 full minutes; the mixture should be glossy and very fluffy.
Scrape the sides of the bowl and add in the eggs, food coloring, and vanilla extract.
Beat for 5 full minutes; the mixture should have tripled in size.
Scrape the bowl and dump the flour on top of the butter.
Place the baking soda over the flour.
Mix the buttercream and vinegar together.
Start mixing the flour into the batter at a very low speed; simultaneously, start drizzling in the buttermilk.
Once all is incorporated, beat on high speed for 20 seconds to ensure homogeneity.
Portion out the batter equally into your 3 pans and bake for 20-22 minutes, until springy to the touch and a tester comes out nearly clean.
Allow to cool completely.
Meanwhile, make the cream cheese meringue buttercream: whip cream cheese until very light and fluffy, about 5 minutes.
Scrape into another bowl and set aside (leave at room temp!).
Place the egg whites into the bowl of a stand mixer fitted with the whisk attachment.
Place the sugar, water, and salt into a small pot over medium heat.
Begin to whip the whites as you heat the sugar syrup; once it reaches 240 degrees F, your whites should be nearly stiff peaks.
At 242-245 degrees F, slowly and carefully drizzle the sugar syrup into the whipping egg whites.
Beat until nearly body temp; add in the slightly soft butter 1 cube at a time.
Continue to whip (even if it looks curdled!) until the buttercream comes together and makes a whapping sound against the bowl.
Scrape the whipped cream cheese into the buttercream and add in 2 cups of sifted powdered sugar.
Slowly mix the icing, increasing once it is nearly homogeneous.
Don't beat too much.
Place in fridge for 5 minutes if needed to slightly firm up.
To frost the cake, do a crumb coat then freeze.
Apply the rest of the frosting, then freeze again.
Use a knife dipped in hot water and then dried off to smooth the icing perfectly, then chill until you drizzle the ganache.
To make the ganache, place the chopped chocolate in a bowl.
Heat the butter and half and half until boiling, then pour over the chocolate and let sit for 5 minutes.
After 5 minutes, whip with a whisk until the ganache is glossy and shiny.
Pour over the edges of the cake.
Pipe little stars on the edge of a cake, then top with a malt ball and a shower of powdered sugar.