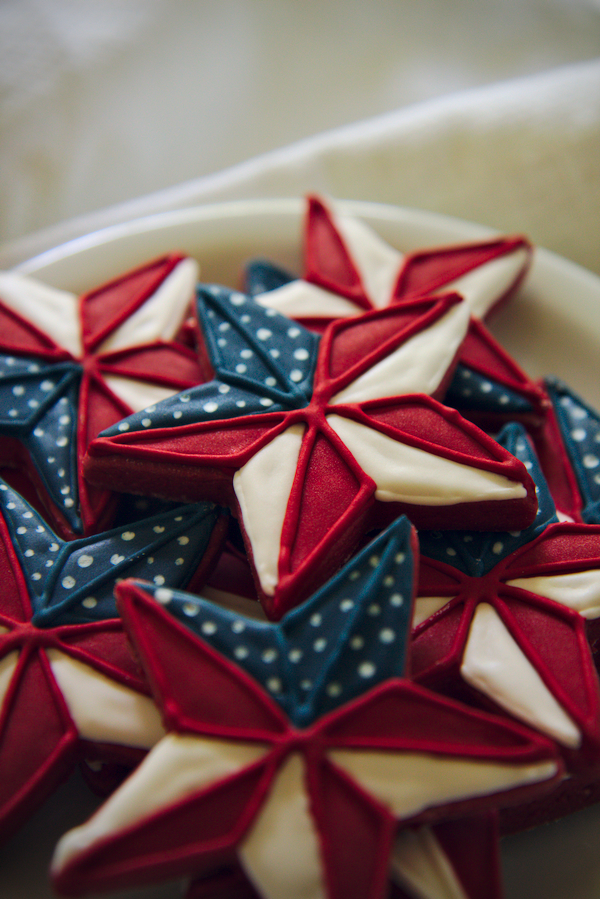 USA!  USA!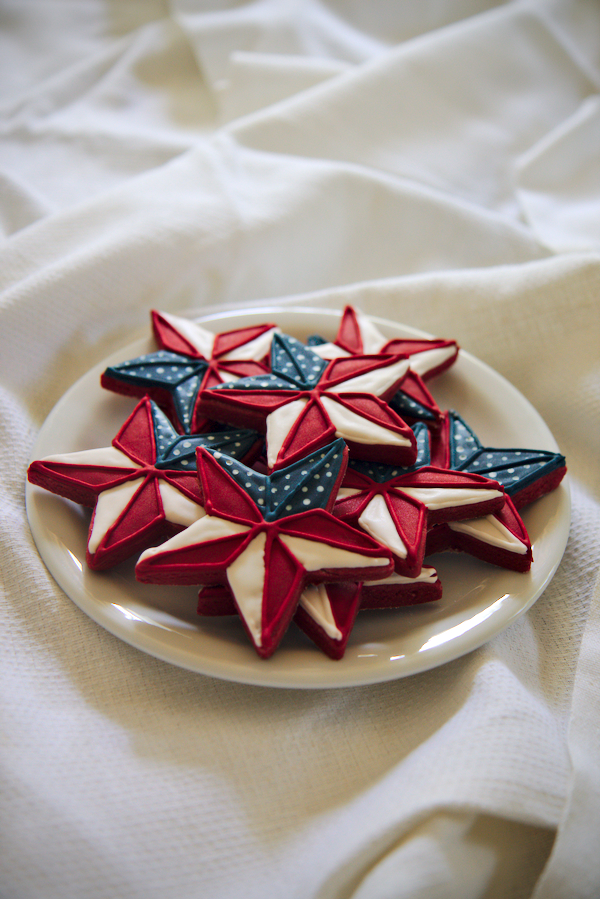 Happy July, people!
Fitting that the 1st of July is scorching hot hot hot–temperatures are forecast to hit 90+ F here in Ithaca.
I plan on spending some time sunning my pale withered skin before watching the Belgium/U.S.A. futbol match with an ice-cold glass of white wine lemonade.
Basically, I don't intend to move much, except to lumber to the freezer for an ice pack for my sweaty neck.
I heard some freak-o reports that it might hail due to the temperature shifts and all… Here's hoping it doesn't.
I am hoping it will cool off just a bit for the Fourth, though.
(Speaking of which, I have more patriotic deliciousness coming your way, so get ready.)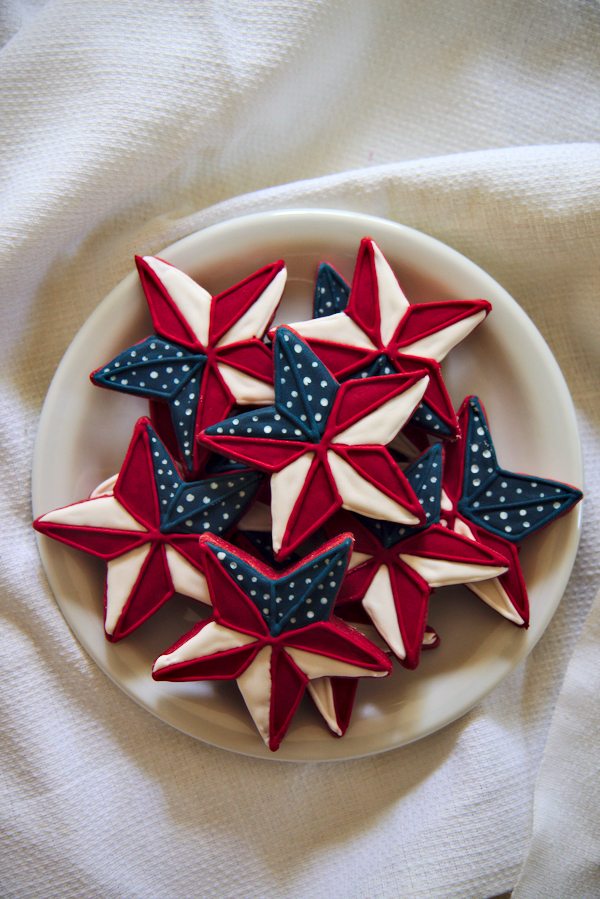 These adorable Pinwheel-Flag cookies are perfect for munching on during today's game or for the Fourth of July!
They start with an amazing red velvet roll out cookie base, which keeps its shape perfectly and stays soft over multiple days.
I decorated my cookies using 1 batch of Bridget's royal icing tinted ivory, red, and blue.
The trick for getting antique-y colors for me was using vanilla extract and a touch of cocoa powder.
The blue, if you would believe it, started out as neon blue but a drop of red and plenty of cocoa powder got it to just the right shade of almost-navy, which contrasted perfectly with the off-white "stars."
These are fun, patriotic cookies that are delicious and pretty and purrrrfect for this time of year.
Give 'em a try, and
Red Velvet Roll-Out Cookies
makes approximately 28 3-inch cookies
ingredients:
2 3/4 cups plus 1 tablespoon flour
1/4 cup cocoa powder
2 sticks (16 tablespoons) butter
1 cup sugar
1 egg
2 scant teaspoons kosher salt
1 teaspoon vanilla extract
1 teaspoon chocolate extract (optional)
1 teaspoon "butter" flavoring (optional)
1 teaspoon red gel food coloring
directions:
Whisk flour and cocoa together.
Place butter in the bowl of a stand mixer and beat for 3 full minutes; add the sugar and scrape the bowl, then beat for 3 more minutes.
Scrape the bowl, add the egg, salt, and extracts, and beat for 3 more minutes.
Scrape the bowl once more, then add in the flour and cocoa powder.
Stir on low speed until the dough comes together.
Form into a disk and wrap in plastic wrap; refrigerate for at least 30 minutes and up to a day.
Once chilled, remove the dough from the fridge and place on a well floured surface.
Roll out to 1/4 inch thickness and cut out shapes as desired; re-roll scraps.
Place on parchment lined sheets and freeze for at least 15 minutes and up to 8 hours.
Preheat oven to 350 degrees F.
Bake cookies for 10-11 minutes, until fragrant and the centers are just set.
Allow to cool completely before frosting with royal icing or buttercream.