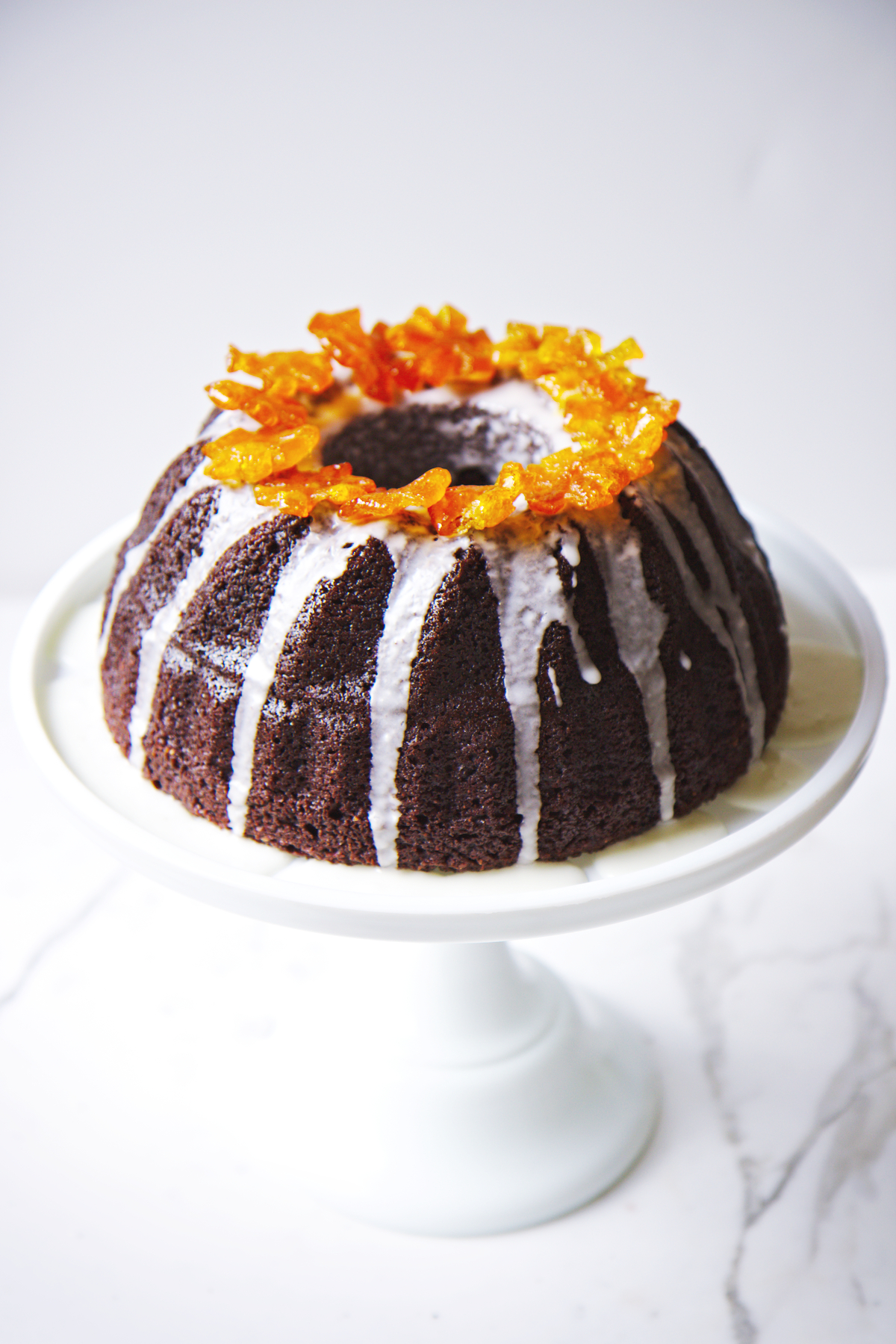 And now we welcome the new year.
Full of things that have never been.
—Rainer Maria Rilke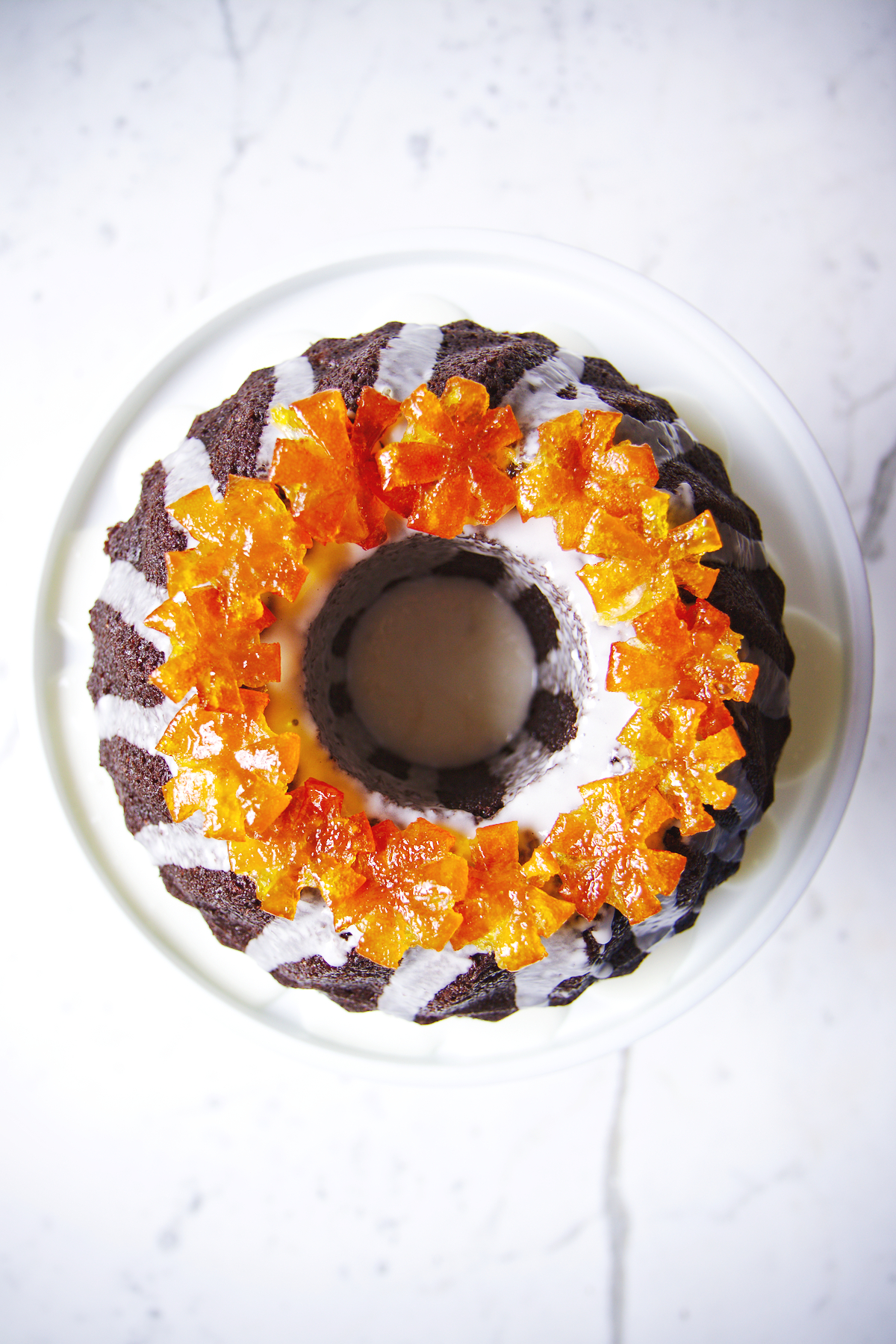 Happy 2016!
I'm a cool seven days late, but no worries—that means we only have 51 weeks left of this year.
That's not me being eagerly pessimistic, people.
It's just a f-a-c-t.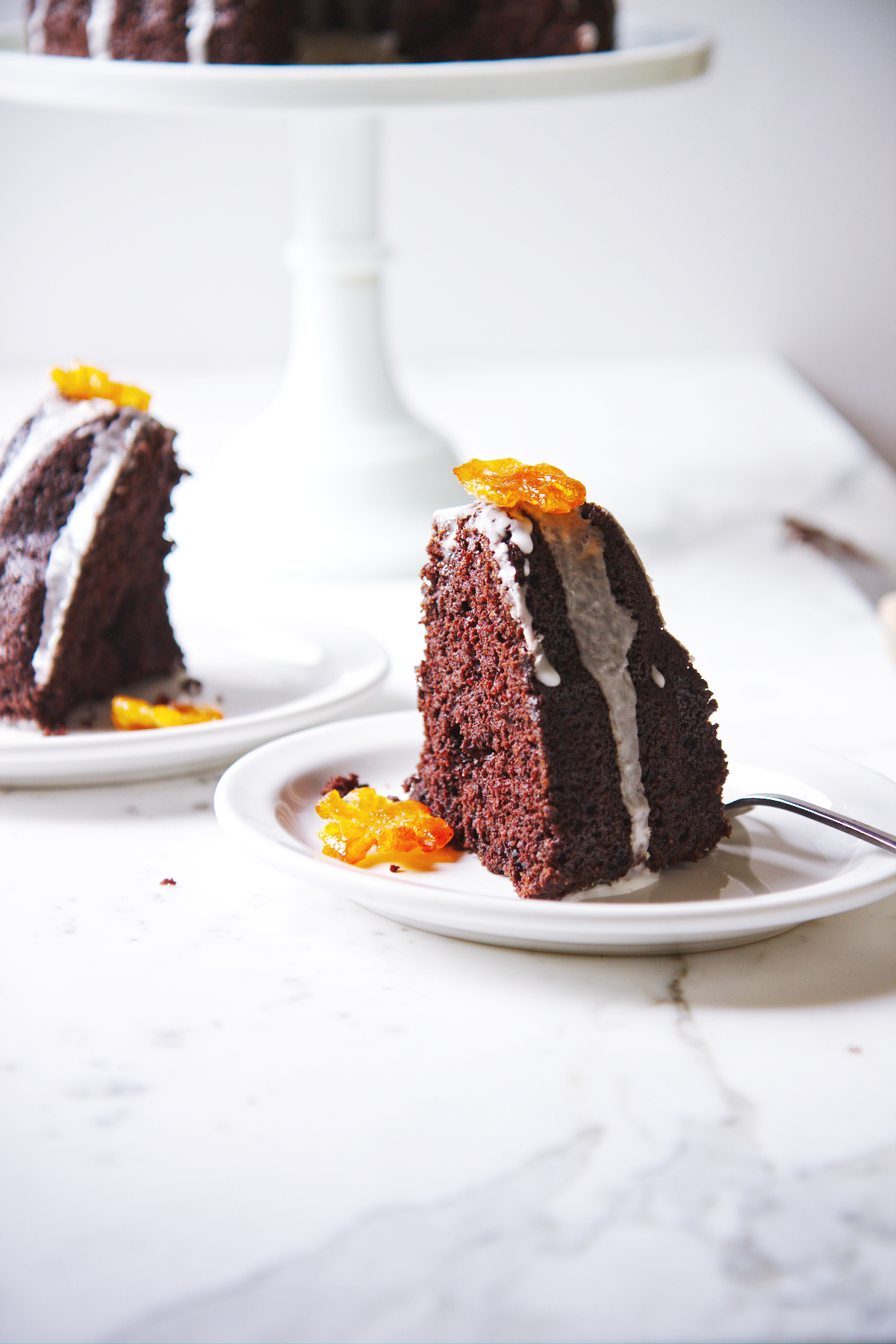 Impossibly, it seems, I'm back at school.
Finishing up my first week of classes, actually.
From the outset—and let's pray for the sake of my sanity and the number of delicious things I manage to make and photograph for the blog—it seems like this quarter will be less busy.
Of course, as I have probably stipulated before, this often has no correlation with how relaxed I feel.
The brain is a wondrous thing, isn't it?!
…says the neuro major…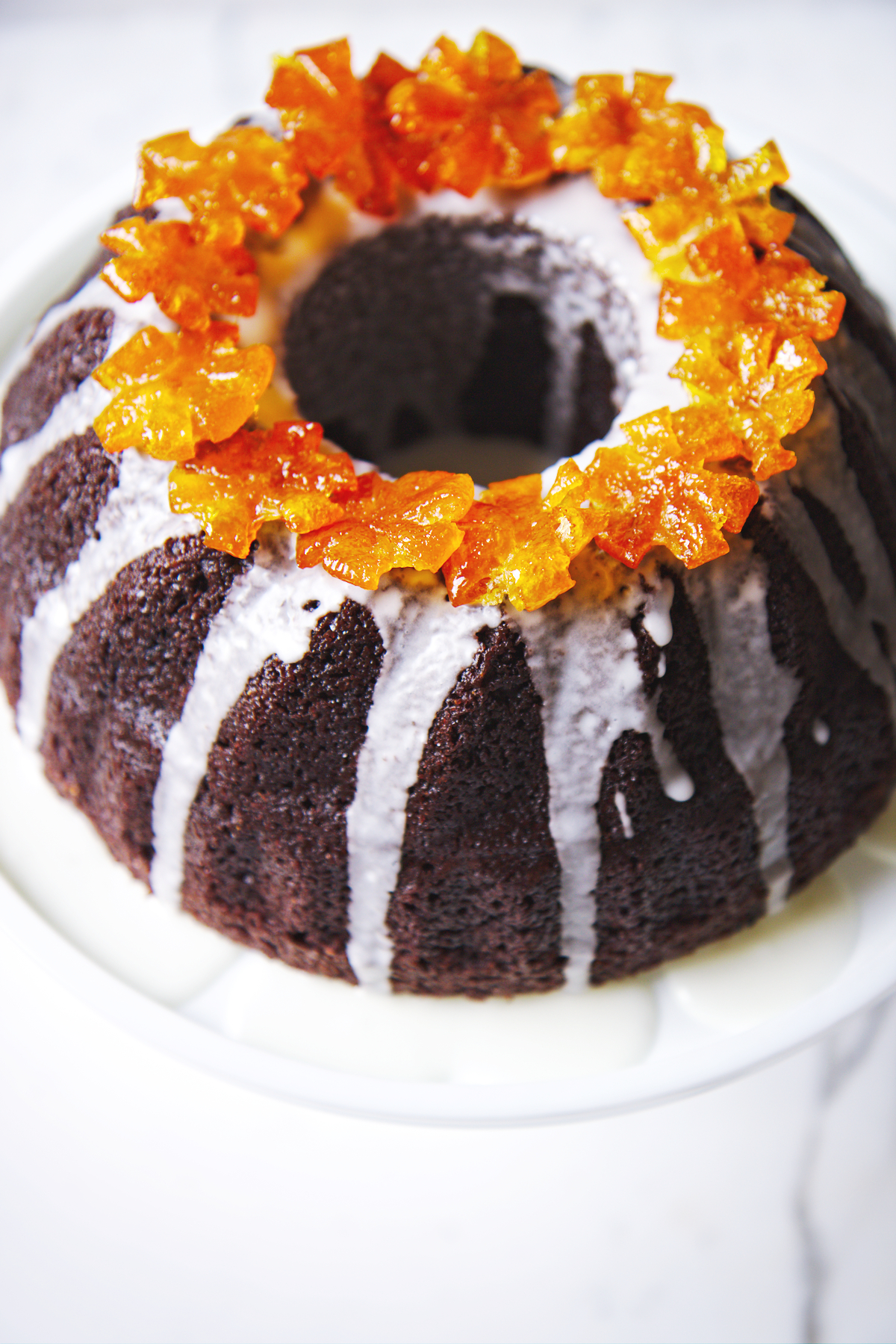 Starting the year off with chocolate all but guarantees a pleasant January, which can be an altogether bleak and dreary month (it's already abnormally slushy here in Chicago).
Today, I'm sharing a dark, moist sour cream chocolate bundt cake: it's one bowl, it comes out of the pan looking simply magnificent and just as tender as a steamed pudding.
It stays soft and has a tight crumb, even over the course of a few days.
A few light lashings of vanilla cream glaze offset the chocolate nicely, although I could definitely see this paired with an equally chocolaty ganache.
Finally, the cake is topped with a golden crown of candied kumquat flowers, an auspicious, chewy, bitter, sweet, sour, and traditional treat for the Lunar New Year, which I have appropriated for this (Western) New Year cake.
Kumquat trees are a sign of prosperity and good luck in Chinese and Vietnamese New Year celebrations, and it couldn't hurt to have some more of that in 2016, right?
Find more in depth (and a very detailed recipe) at the Kitchn.  I halved the recipe (I only made a couple handfuls of kumquats) and followed the instructions to a T and they were delightful.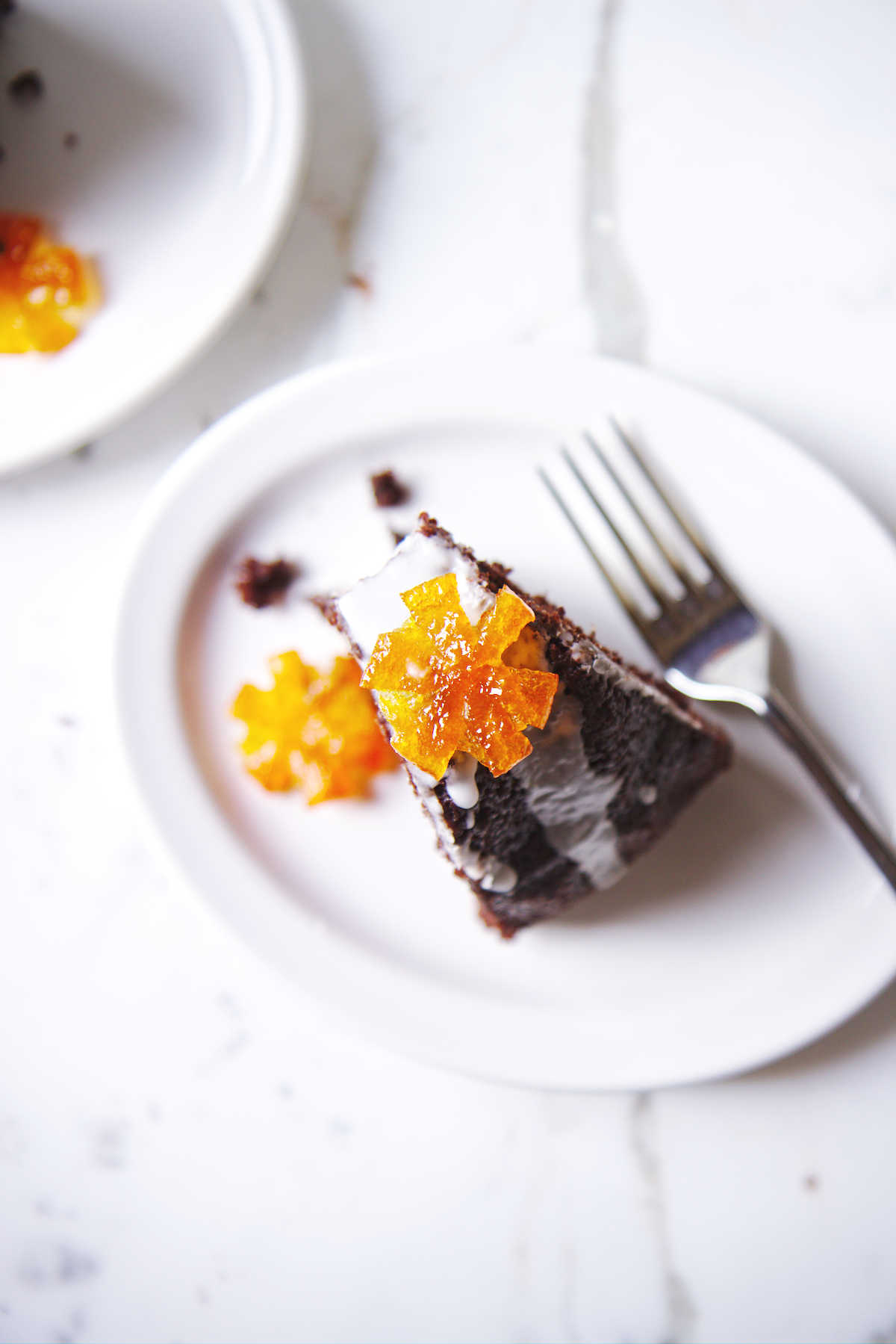 Stars when you shine, you know how I feel
Scent of the pine, you know how I feel
Yeah, freedom is mine, and I know how I feel..
It's a new dawn, it's a new day, it's a new life for me
And I'm feelin' good.
—Nina Simone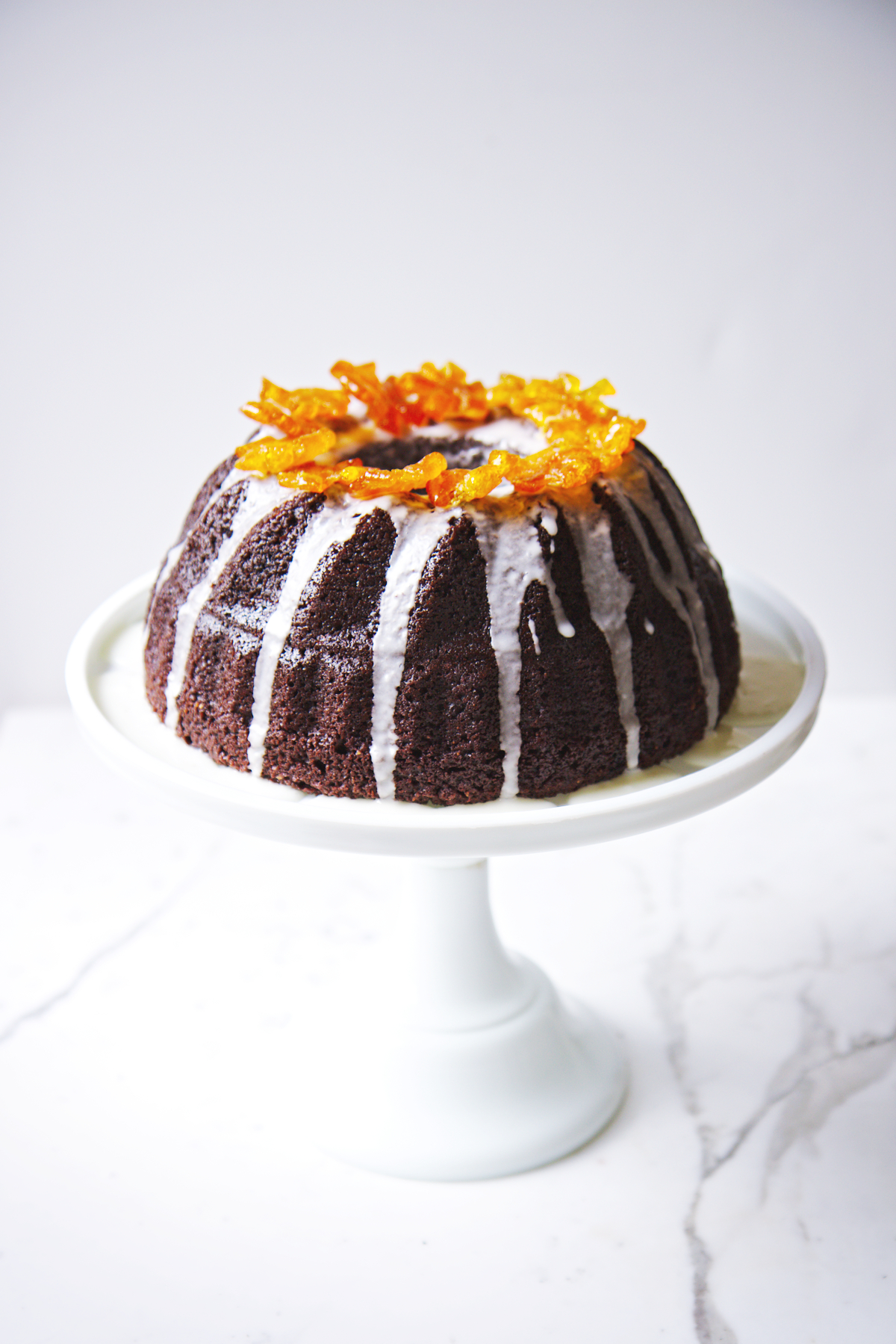 Chocolate Sour Cream Cake
cake portion adapted from Food52; kumquats from the Kitchn
makes 1 10-cup bundt
ingredients:
for the cake:
400 grams (2 cups) sugar
210 grams (1 3/4 cups) flour
90 grams (3/4 cup) cocoa powder
3/4 teaspoon kosher salt
1 teaspoon baking powder
2 teaspoons baking soda
240 grams (1 cup) sour cream
240 grams (1 cup) black coffee
112 grams (1/2 cup) vegetable oil
2 eggs
2 teaspoons vanilla extract
for the glaze:
2 tablespoons cream
225 grams (2 cups) powdered sugar
pinch salt
drop of vanilla extract
directions:
Make the cake: spray a 10-cup bundt pan with baker's spray and preheat oven to 350 degrees F.
Place sugar, flour, cocoa powder, baking soda, baking powder, and salt in a bowl and whisk to combine.
Make a well in the center and add in the eggs, the coffee, the sour cream, the vegetable oil, and the vanilla extract.
Carefully stir to incorporate the wet ingredients, then whisk vigorously a few times to ensure homogeneity.
Pour the batter into the prepared pan.
Bake for 50 minutes to 1 hour, or until a tester comes out with a few moist crumbs.
Allow to cool 10 minutes in the pan before turning out and allowing to cool completely.
To make the glaze, whisk all ingredients together until no lumps remain and pour over the cooled cake.
Decorate with candied kumquats or orange rind.