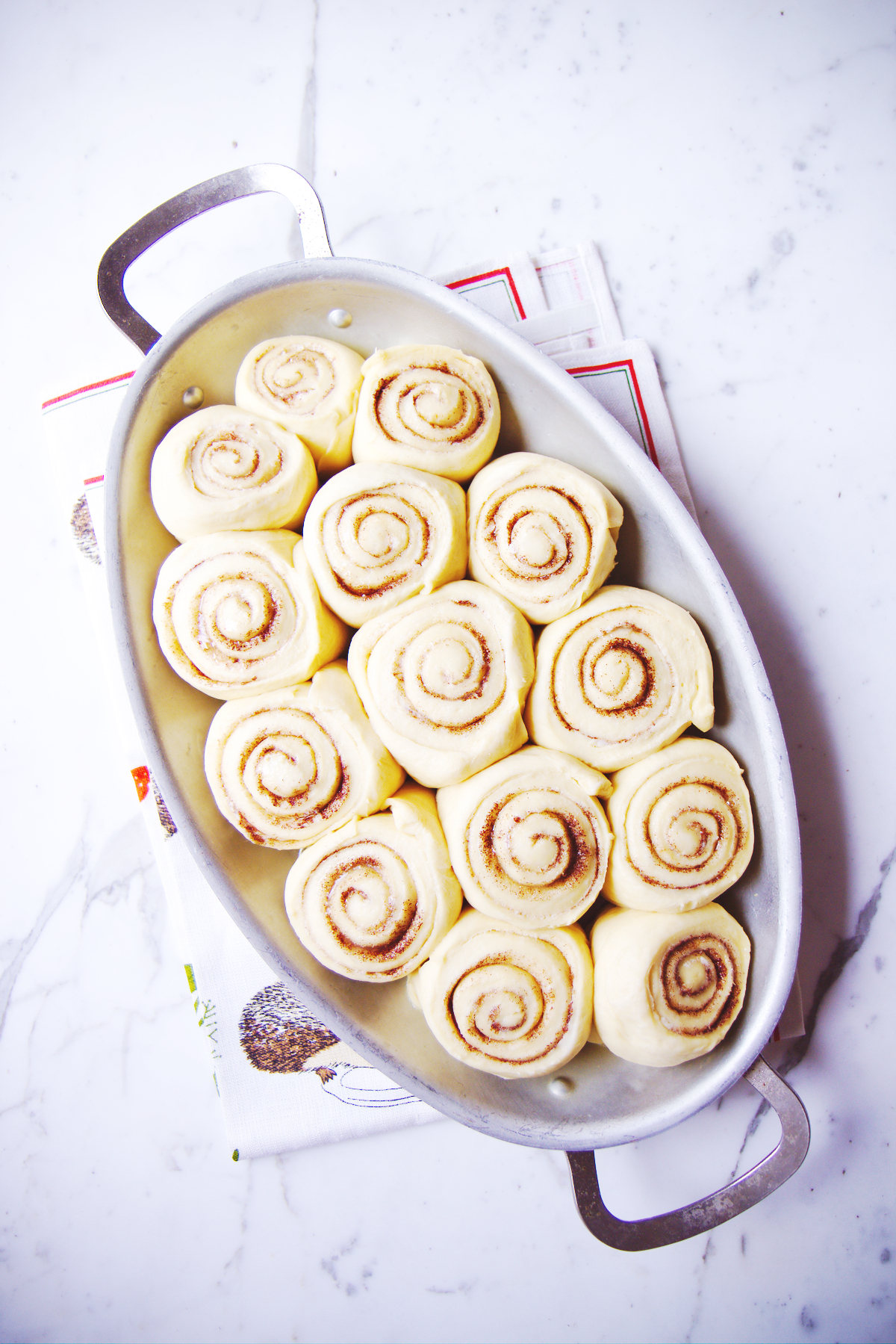 Then the Earth shook, that was all that it took for the dream to break
All the loose ends would surround me again in the shape of your face
What makes me love you despite the reservations?
What do I see in your eyes
Besides my reflection hanging high?
Are you off somewhere reciting incantations?
Sim sala bim on your tongue…
—Fleet Foxes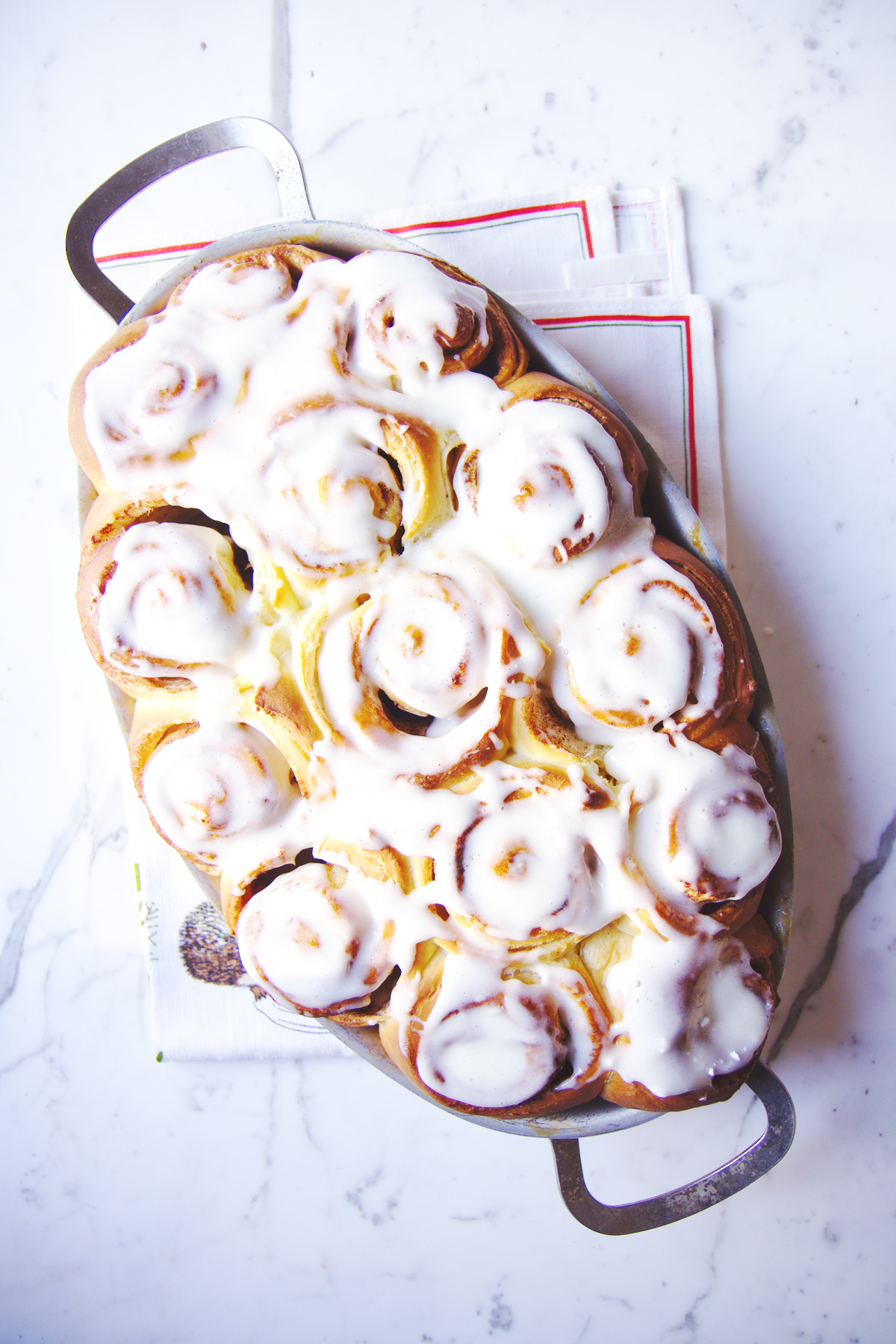 Ever since I was little, there have been certain thought streams that help me settle down and fall asleep.
Particularly in the winter, I imagine myself in the deep arctic, in a little pure white snow cave dug into the side of a hill while a storm howls around the landscape.
I think of each warm piece of clothing I'd don (long johns, leggings, two pairs of my warmest, softest wool socks, gloves and mittens and a cuddly sweater, etc…) and imagine myself, warm and cozy despite the cold.
At that point, sleep drapes itself over my drowsy body, yet another blanket of comfort.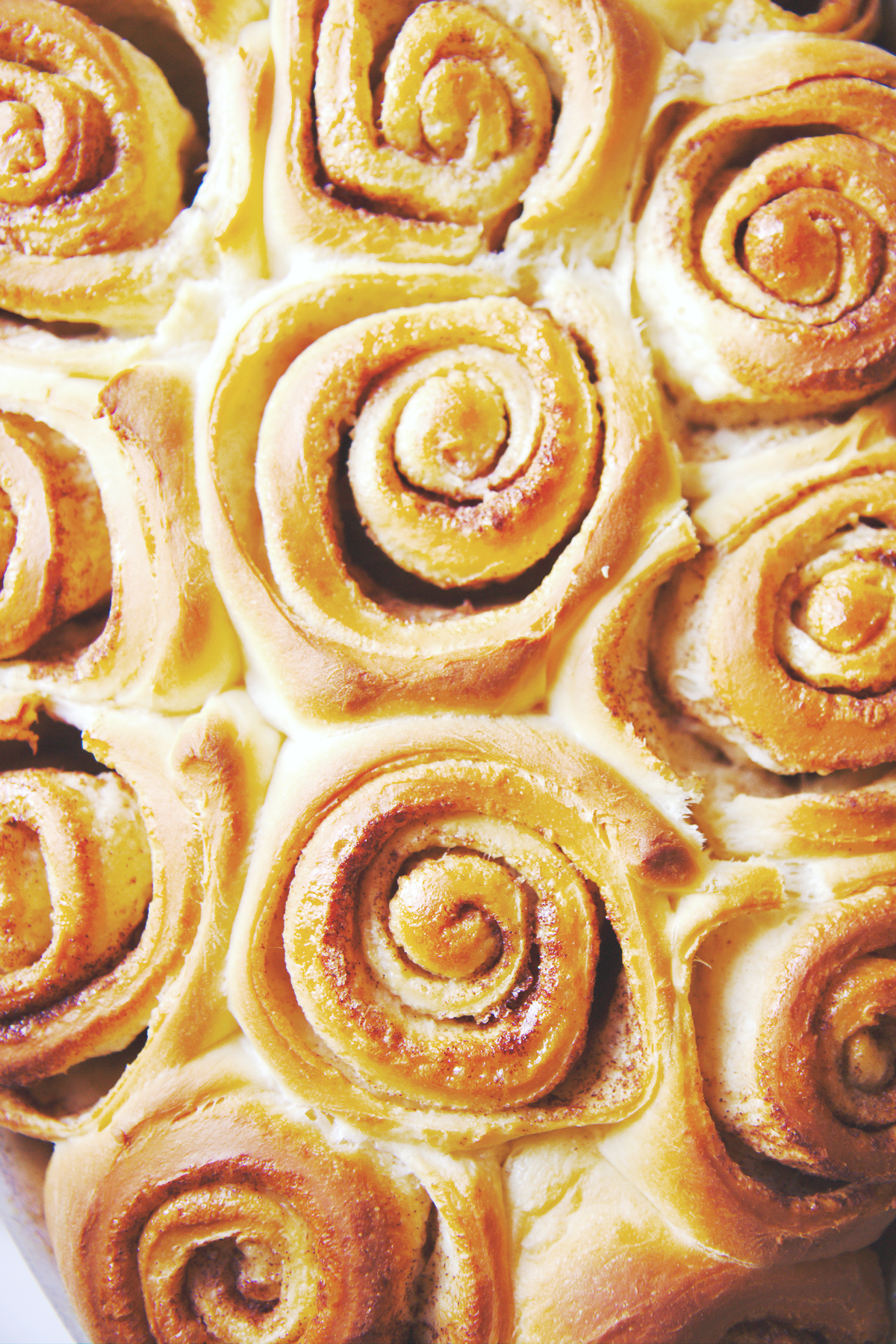 I'd be hard-pressed to imagine anything more cozy than a pan of fresh-baked, fragrant cinnamon buns.
Just look—! at them.  They're snuggled up against their brethren, their nakedness revealing bewitching spirals that hypnotize almost as much as their scent does.
I made these for Christmas morning, because that's really the time to break out your most indulgent breakfast recipes.  Served still-warm with a cup of hot coffee or tea makes for a morning treat that's impossible to top.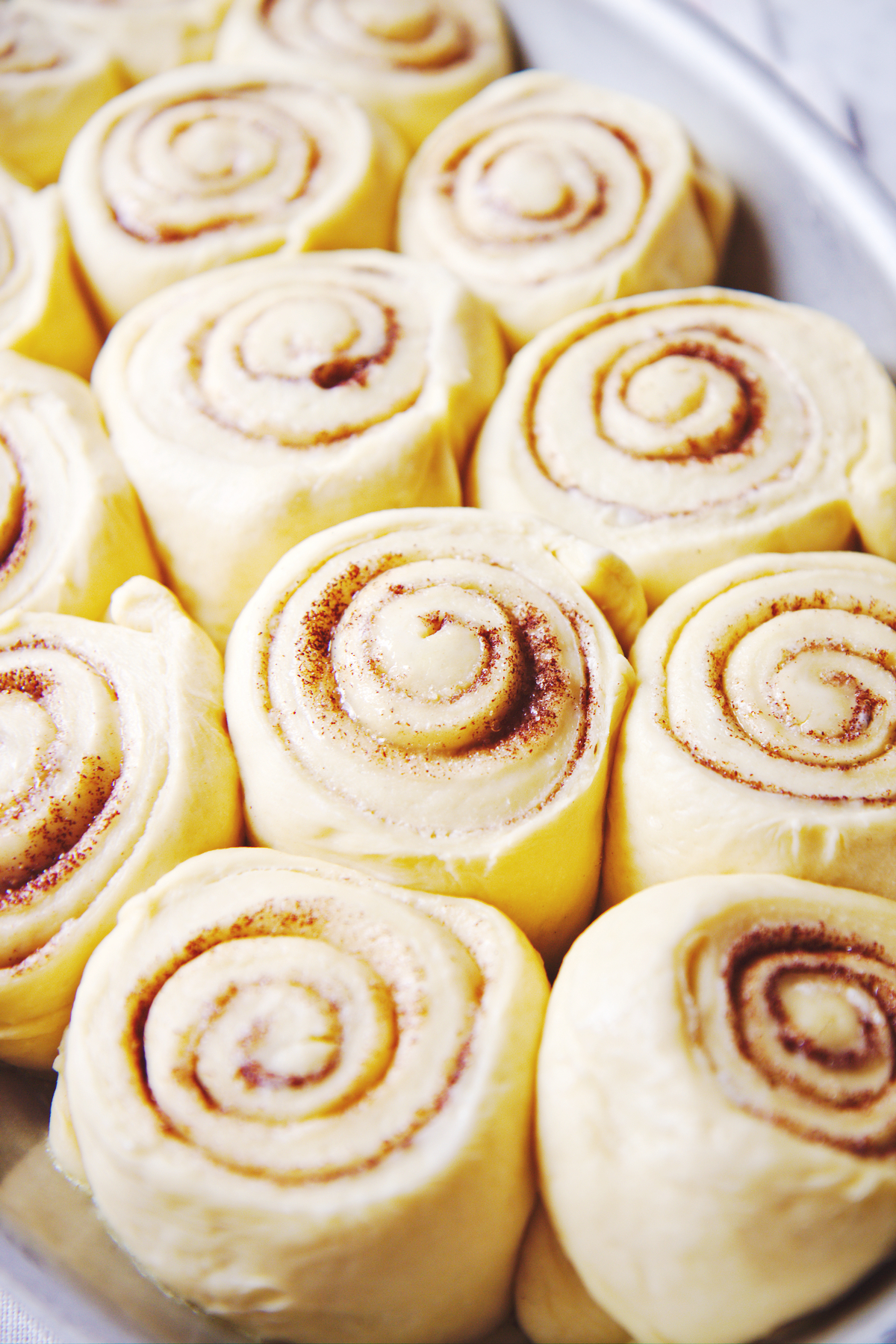 If you want to pull off the magic of warm cinnamon buns on a busy holiday morning, it's definitely imperative to have a reliable and easy recipe.
My requirements for such a recipe:
it must require minimal effort in the AM, because you're going to be preoccupied with other things and no one wants to fuss around in the kitchen for half of the morning
it must be quick in the morning, because if your family is anything like mine, they will be breathing down your neck and threatening to turn to cold cereal by 11am
it must be consistently worth the calories and evening effort; it needs must prep and taste like a dream every time.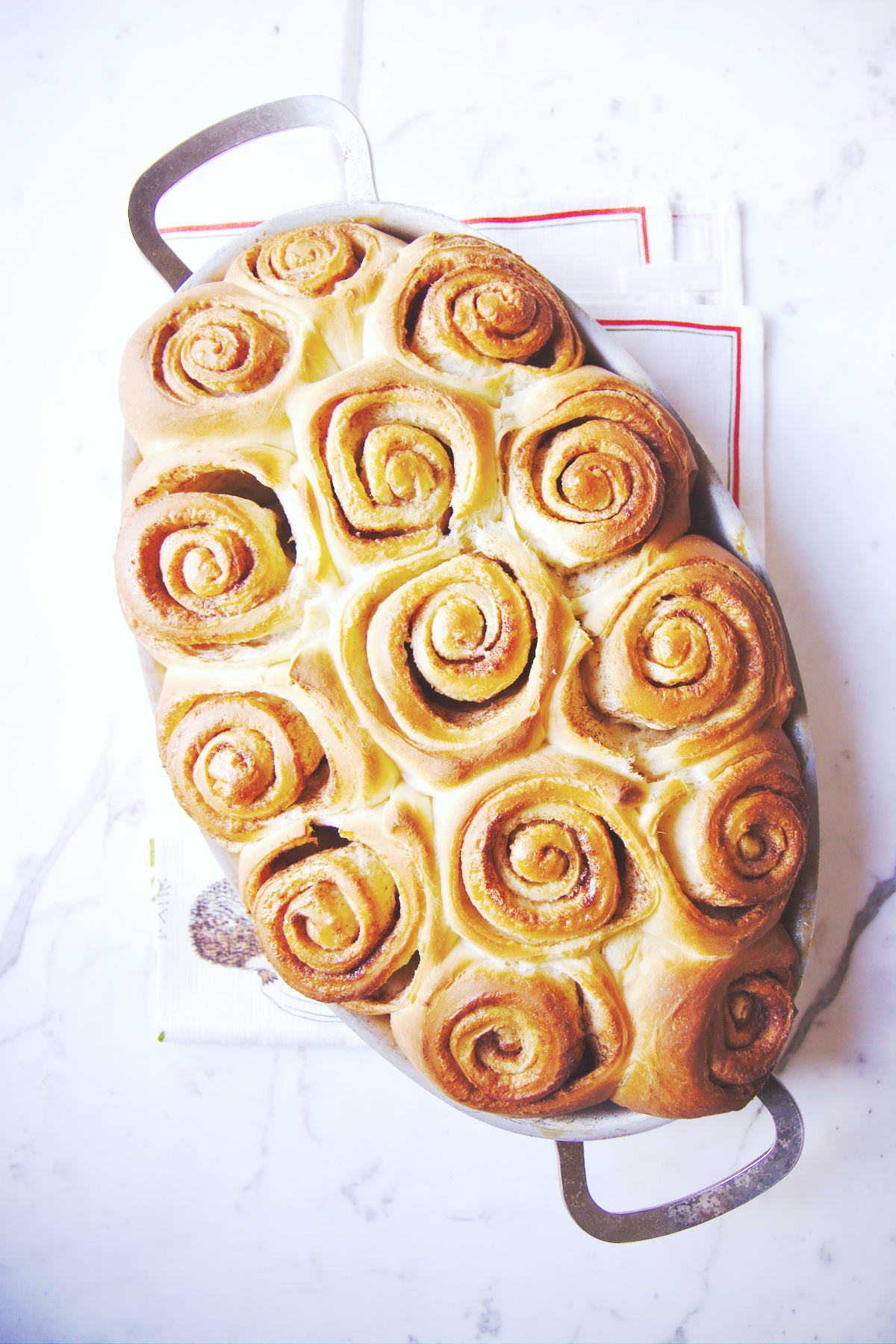 These cinnamon buns fulfill all of my stipulations.
They're easy, fast, and taste like a cloud of sugary, buttery, spicy goodness.
The night before, you make and knead the dough—15 minutes in a stand mixer/3 dishes (1 measuring cup + 2 bowls) dirtied.  Done and done.
The dough, which has similarities to a brioche in its milk- and butter-rich proportions, rises quickly and is smooth, shiny, and supple, making it easy to roll out once risen.
A heap of softened butter and brown sugar and cinnamon gets spread generously over the dough, further enriching the rolls with all-around deliciousness.
Rolled up tight and cut with kitchen string (or floss), they are tucked into a buttered pan and set in the fridge to develop flavor and relax overnight.
In the morning, it's just a matter of taking them out of the refrigerator and preheating your oven; once again, they rise quickly and bake in less than 30 minutes.
A classic cream cheesy glaze is lathered on top, making the already fluffy, buttery buns even more luxuriously sweet and sticky and creating rivals to even Cinnabon buns.
Pinky promise these will make whomever you live with happy.  They are irresistible!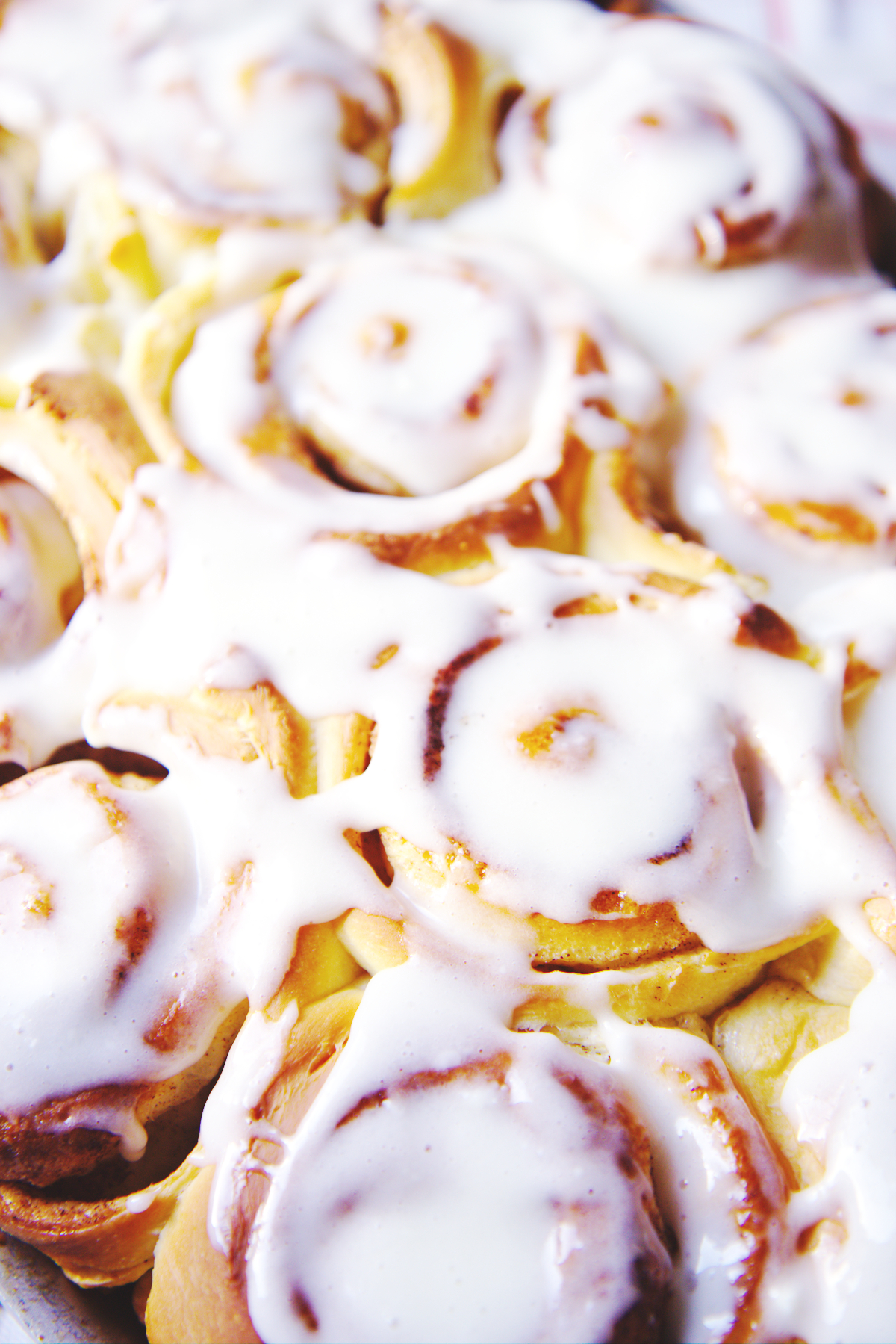 Fluffy Overnight Cinnamon Rolls 
makes 15 large buns
adapted from KAF
ingredients:
for the dough:
240 grams (1 cup) low-fat milk, 110 degrees F
2 1/2 teaspoons active dry yeast
2 eggs, room temperature
75 grams (1/3 cup) butter, soft and cut up
530 grams (4 1/2 cups) flour
1 3/4 teaspoon kosher salt
100 grams (1/2 cup) sugar
for the filling:
75 grams (1/3 cup) butter, soft
210 grams (1 cup) packed brown sugar
3 tablespoons cinnamon
for the glaze:
3 tablespoons cream cheese
1 teaspoon cream
170 grams (1 1/2 cups) powdered sugar
splash vanilla extract
directions:
Make the dough: bloom the yeast in the lukewarm water; set aside to become frothy.
Place flour, salt, and sugar in the bowl of a stand mixer fitted with the hook attachment.
Add in the frothy yeast mixture and stir on low; add in the eggs one at a time and knead until a rough dough comes together; add in the butter one piece at a time, waiting until each is fully incorporated before adding the next.
Knead on medium speed for 10 minutes, or until the dough isn't too tacky and has created a "tornado" shape on the bottom of the bowl.
Dough should not be sticking to the sides of the bowl, but rather, be smooth and even and soft.
Remove from stand mixer bowl and form into a ball; place into a well-greased bowl and oil the top of the dough just a little.
Place in a warm, draft-free place with plastic wrap fitted snugly on top of the bowl.
Once doubled in size (about an hour), punch dough down.
Flour a surface lightly and grease a 9×13 or similar size pan.
Turn the dough out and roll out firmly into a 16″x21″ rectangle; dough should be fairly thin.
It will snap back as you roll it out, so be patient.
Once rolled out, spread the softened butter out all over the dough, leaving a small edge on one long side.
Sprinkle the brown sugar and cinnamon all over the butter.
Starting from the long side opposite the little empty lip, roll up the dough into a snug spiral.
Using a piece of string or flavorless floss or a serrated knife, cut the roll into 12 2″ buns.
Arrange them snugly into the greased pan.
Cover with plastic wrap and refrigerate overnight.
In the morning, remove from fridge and place in a warm, draft-free place.
Preheat oven to 375 degrees F.
When buns have doubled in size, remove plastic wrap and place in oven for 25-30 minutes, until golden brown and fragrant and a tester doesn't stick in the center.
Remove from oven and allow to cool slightly while you prepare the frosting.
Whisk cream cheese and cream together with vanilla extract; sift in the powdered sugar and stir until a thick frosting comes together.
Spread over the still-warm buns in a thick layer.
Allow frosting to set, about 15 minutes, before serving with hot coffee.