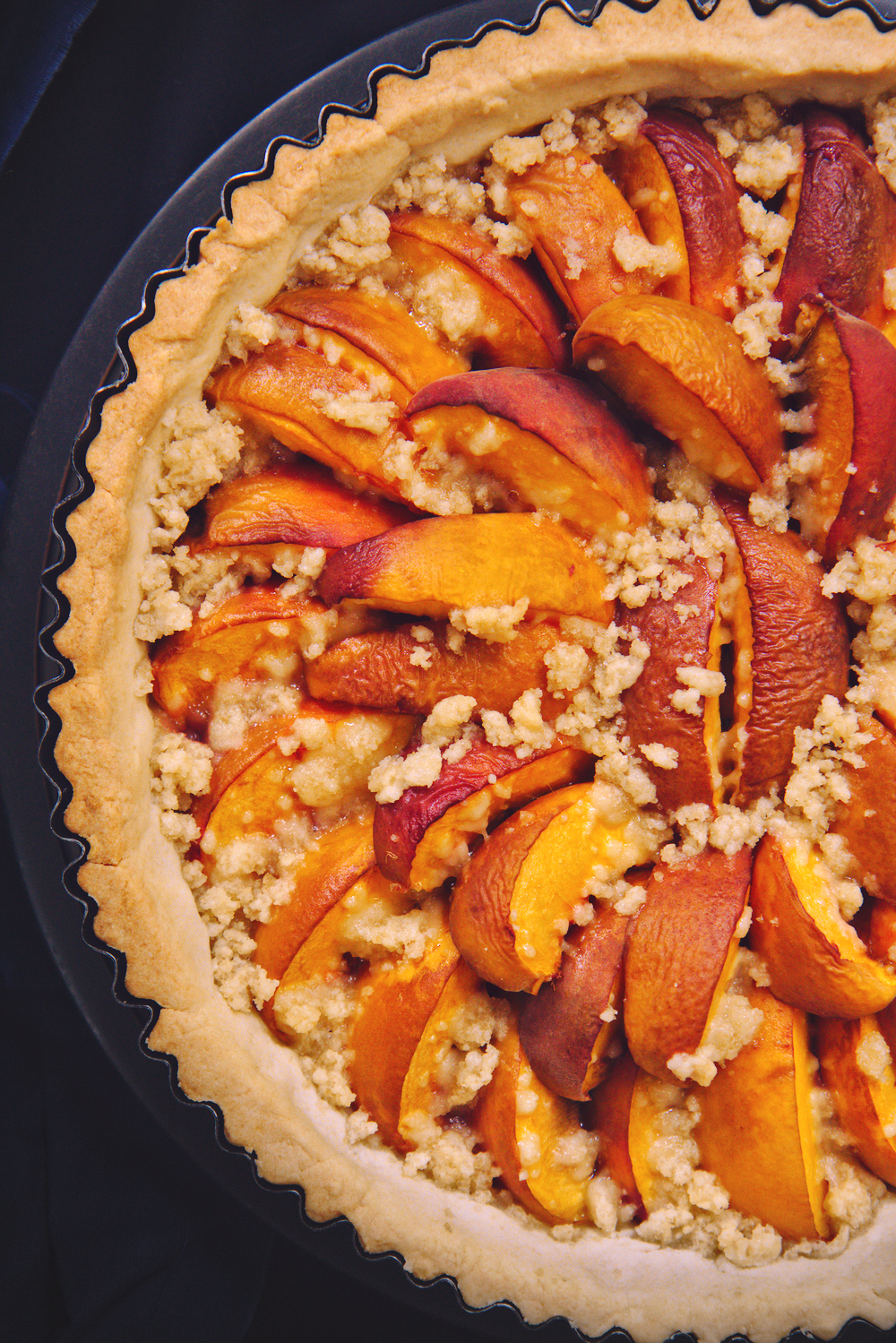 One. Last. Huzzah!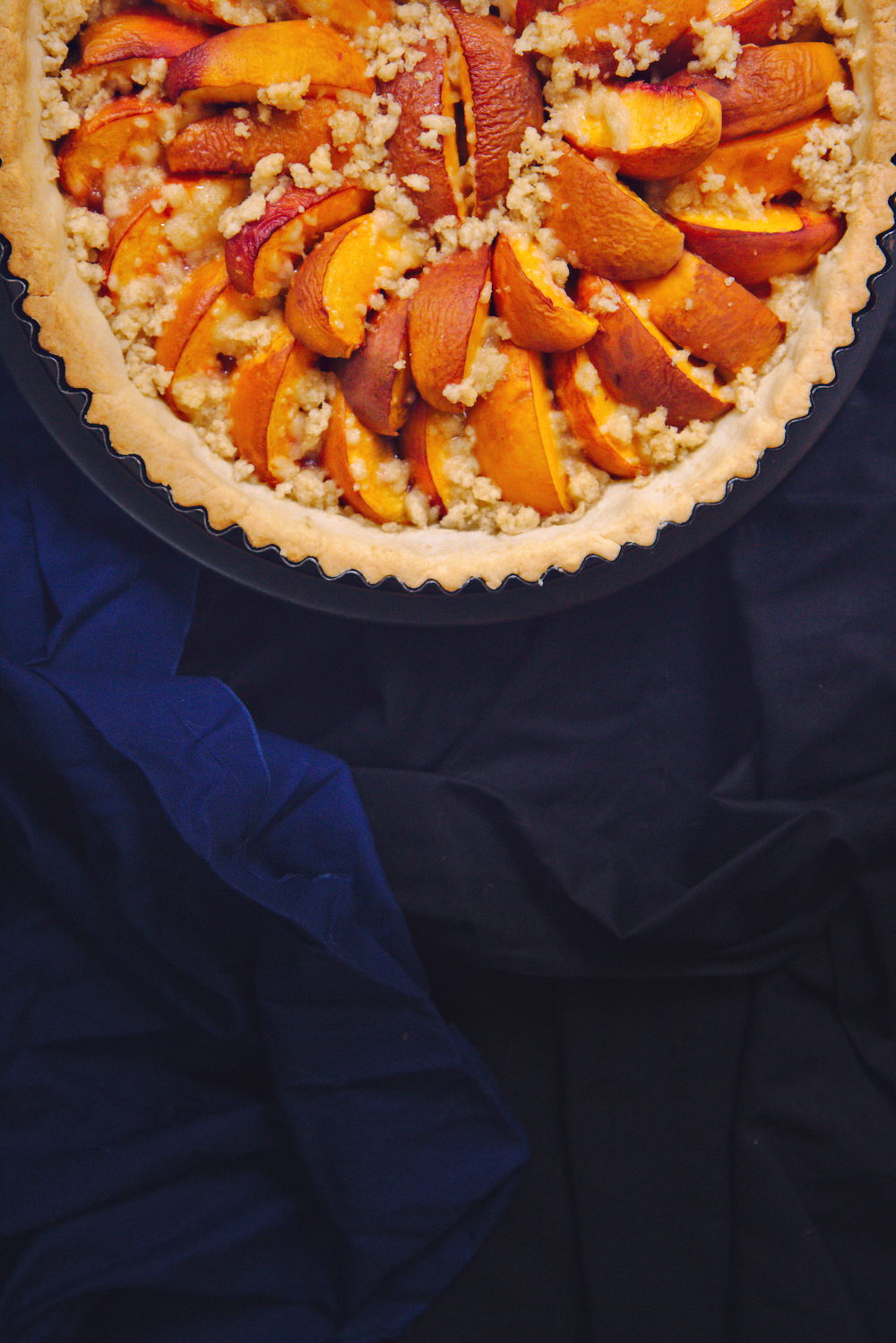 Pears and figs and (gasp!) apples are starting to infiltrate the market, conjuring up sweet dreams of warm spices and cold evenings, of cozy sweaters and endless mugs of tea, of quick breads and winter squash.
(Of Pumpkin Spice Lattes, if you are a white girl Starbucks aficionado…)
But!
Let us not discount those sweetest fruits of summer, the soft skinned, blushing peaches, so soon.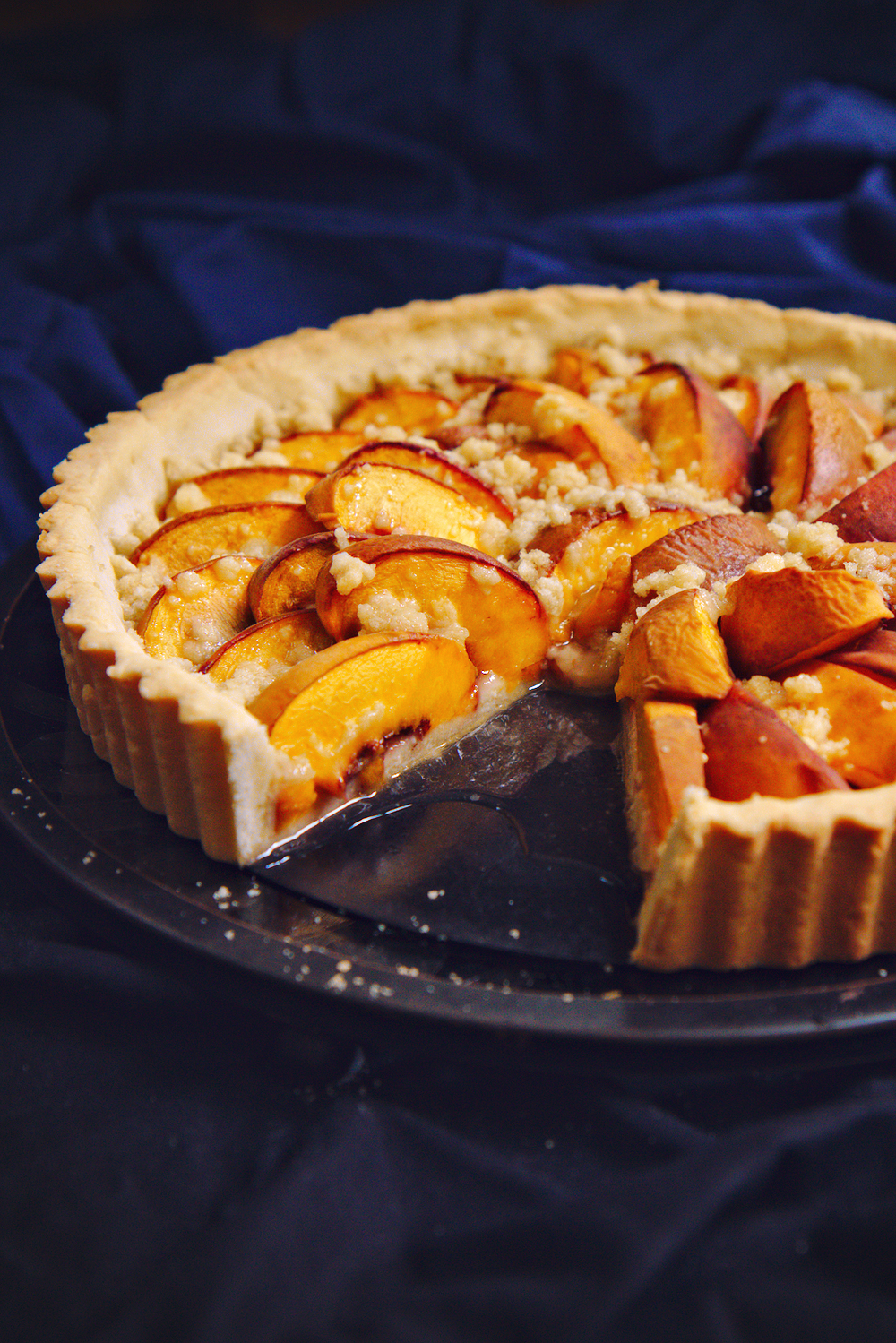 September has descended, aye, and the wind is gustier and cooler, but the long rays of summer sunshine linger, stretching the days even as they grow shorter.
Not many more perfect peaches will cross your path this year, finicky as they can be.
If you should be so lucky to find some, please eat them out of hand, juice dripping down your chin, and enjoy the sun-ripened taste of Pure Summer.
The slightly-less-than-perfect peaches ought to be designated to this tart straight away.
The heat of the oven coaxes out their inherent sweetness, but the simplicity of the tart leaves them intact, rosy skins and brilliant yellow flesh in a stunning sunburst arrangement, surrounded only by buttery pastry and their syrupy brethren.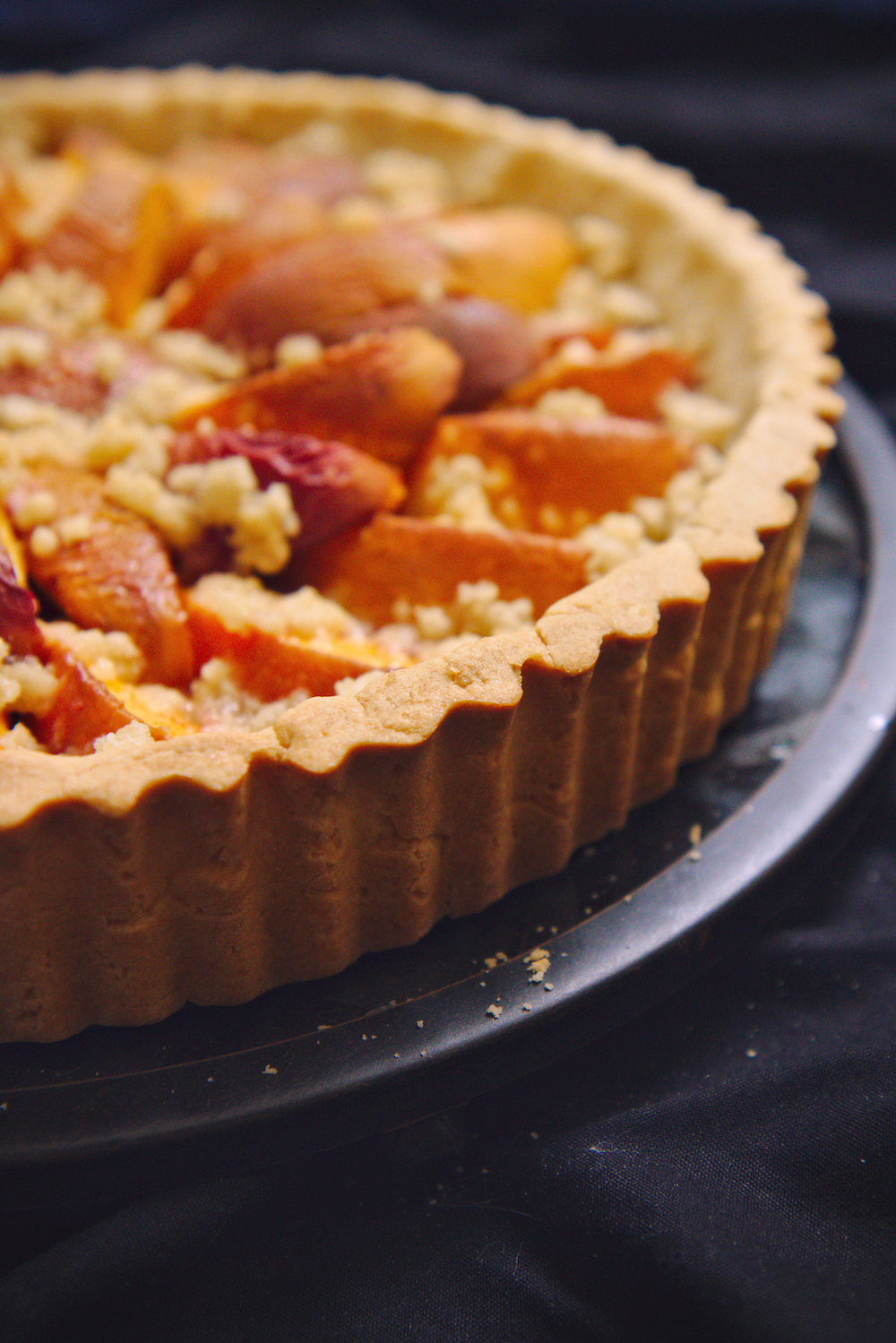 This tart was inspired by Amanda of Food52; we make our respective tarts a bit differently, the biggest difference being my tendency to favor butter over olive oil in pastry cases, but the main idea stays true
Crisp pastry filled with sweet peaches, nestled in tightly and swimming in their own juice, sprinkled with just a touch of buttery, sugary crumble—the only embellishment needed to accentuate a perfectly simple peach tart.
I've made this tart a few times (twice, actually, on the blog, but I'm NOT giving you the first link because I just might die of embarrassment), and it's one of the most popular recipes on Food52, so you know it's going to be good!
It could not be more straightforward to make; the dough is fool-proof and easy to handle; the whole tart comes together in 30 minutes, and bakes in another hour.
One more time, for peaches.
One more time, for summer.
Encore une fois.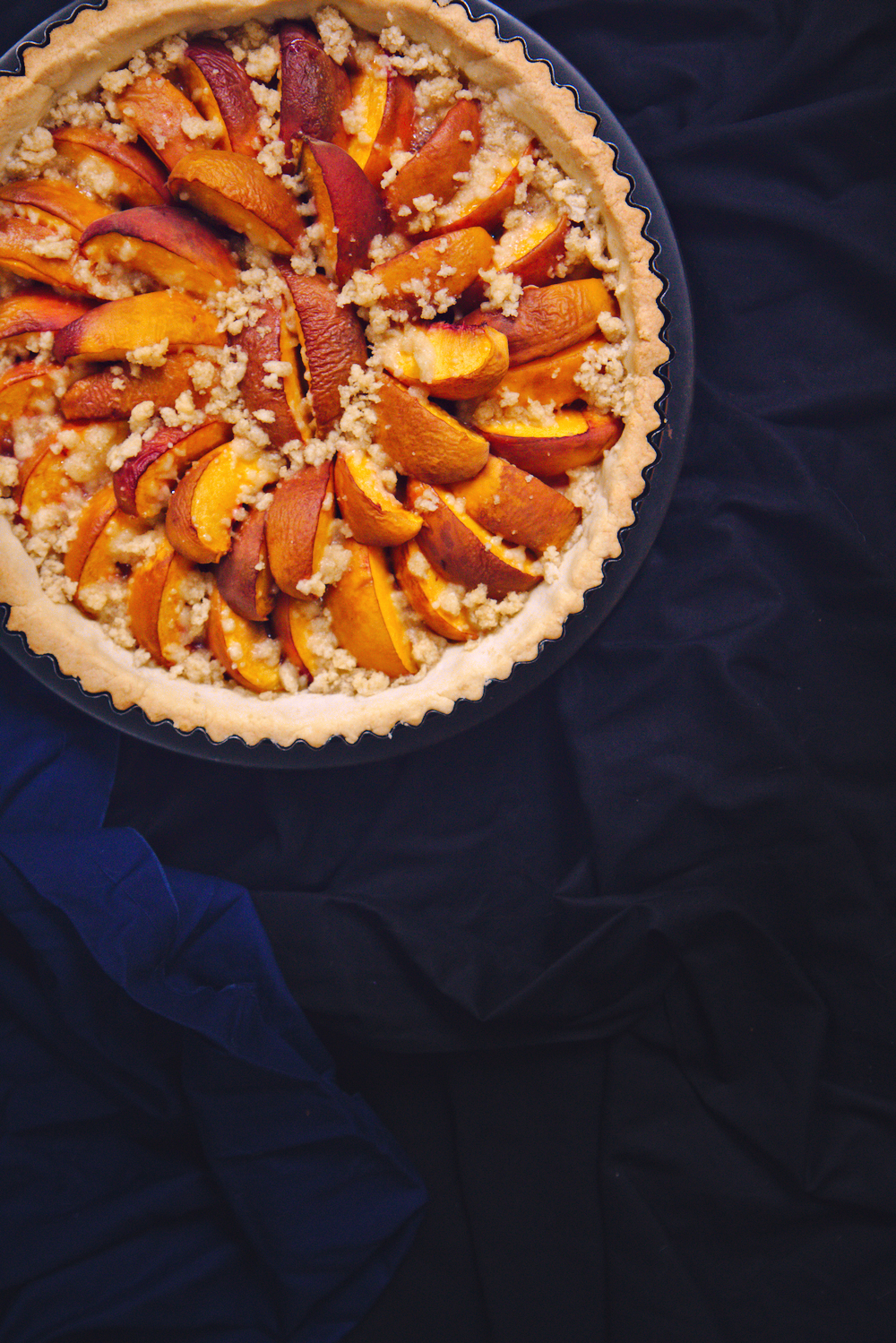 P.S. I know these photos all look exactly alike.
I was rushing a bit so I could pack up some of this tart to accompany my daddy and my brother on their trip to NYC.
It got their approval, and they even saved a sliver for my grandma, who proclaimed it delicious, despite being on the fence about most sweet things.
That's high praise, y'all.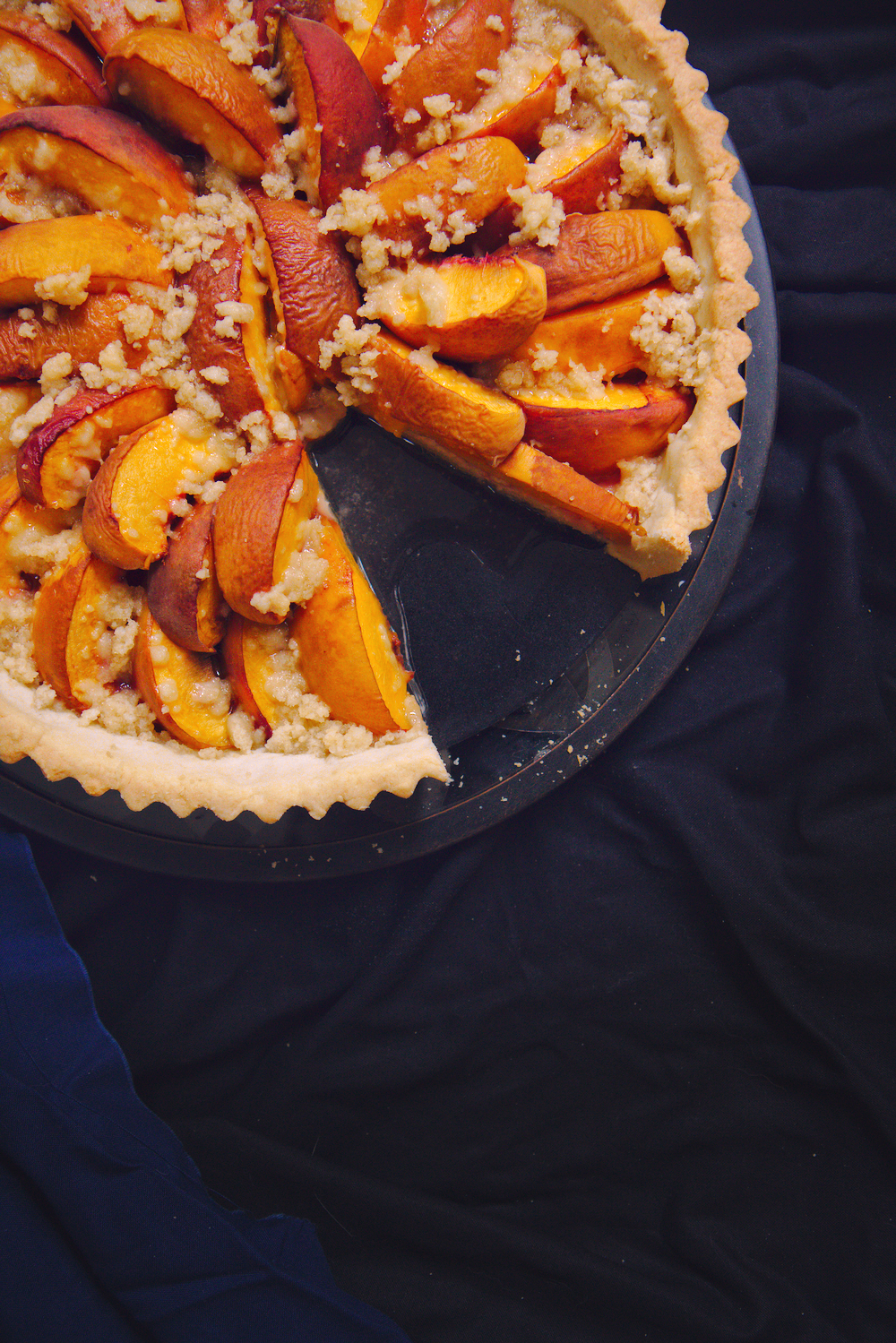 Simple (Perfect) Peach Tart
inspired by Amanda Hesser of Food52
makes 1 10- or 11-inch tart
ingredients:
for the crust:
12 tablespoons (3/4 cup) butter
6 tablespoons (1/4 cup plus 2 tablespoons) sugar
1 egg
1 teaspoon kosher salt
1 3/4 cups flour
for the filling:
6 peaches
2 tablespoons butter, soft
1/4 teaspoon kosher salt
3/4 cup sugar
1 tablespoon turbinado sugar (optional)
6 tablespoons (1/4 cup plus 2 tablespoons) flour
directions:
Make the crust: place butter in the bowl of a stand mixer fitted with the paddle attachment and beat for 3 minutes until soft.
Slowly stream in the sugar with the mixer running, then beat for 4 more minutes (set a timer!) until the mixture is very light and fluffy and pale yellow.
Scrape the sides of the bowl and add in the egg and kosher salt; beat for another 5 minutes (set a timer!) until the mixture is glossy and no longer gritty; it should be very fluffy and have at least doubled in size.
Scrape the sides of the bowl and add in the flour; stir on low speed until the dough comes together.
Crumble the dough over a lightly greased tart pan and gently press it out to even thickness all over the pan.
Place in the fridge to chill.
Meanwhile, preheat oven to 375 degrees F.
To make the crumble for the filling, place butter, sugars, and salt in a bowl and smash together until homogeneous.
Add in the flour and pinch with your fingers until large crumbs form.
Slice your peaches into eighths and arrange snugly into the chilled tart crust.
Sprinkle the crumble all over the peaches, taking care to lightly fill in any gaps.
Bake for 45-50 minutes, until the peaches are juicy and bubbling and the crust is lightly golden.