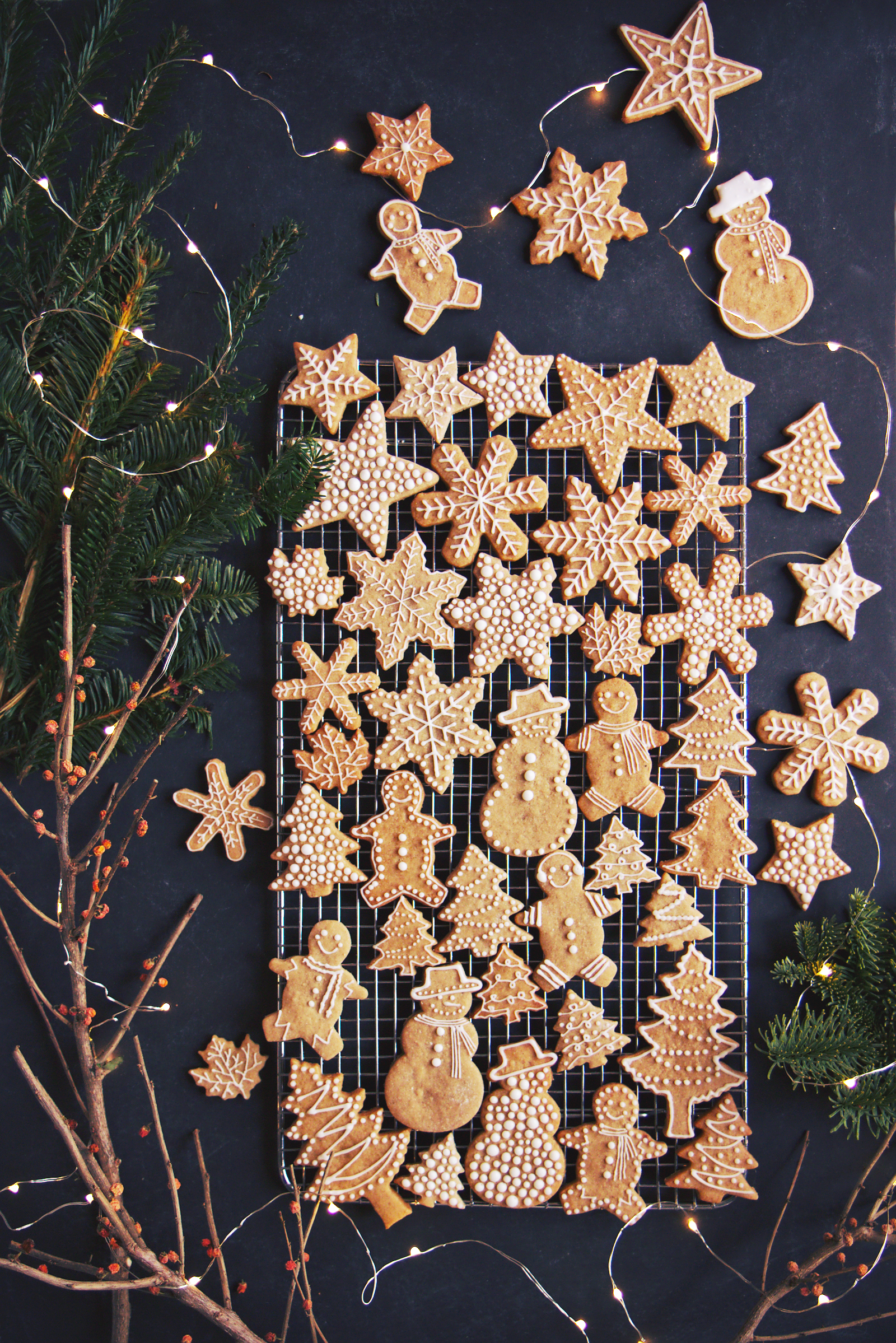 "Always winter, never Christmas."
—C.S. Lewis, The Lion, the Witch, and the Wardrobe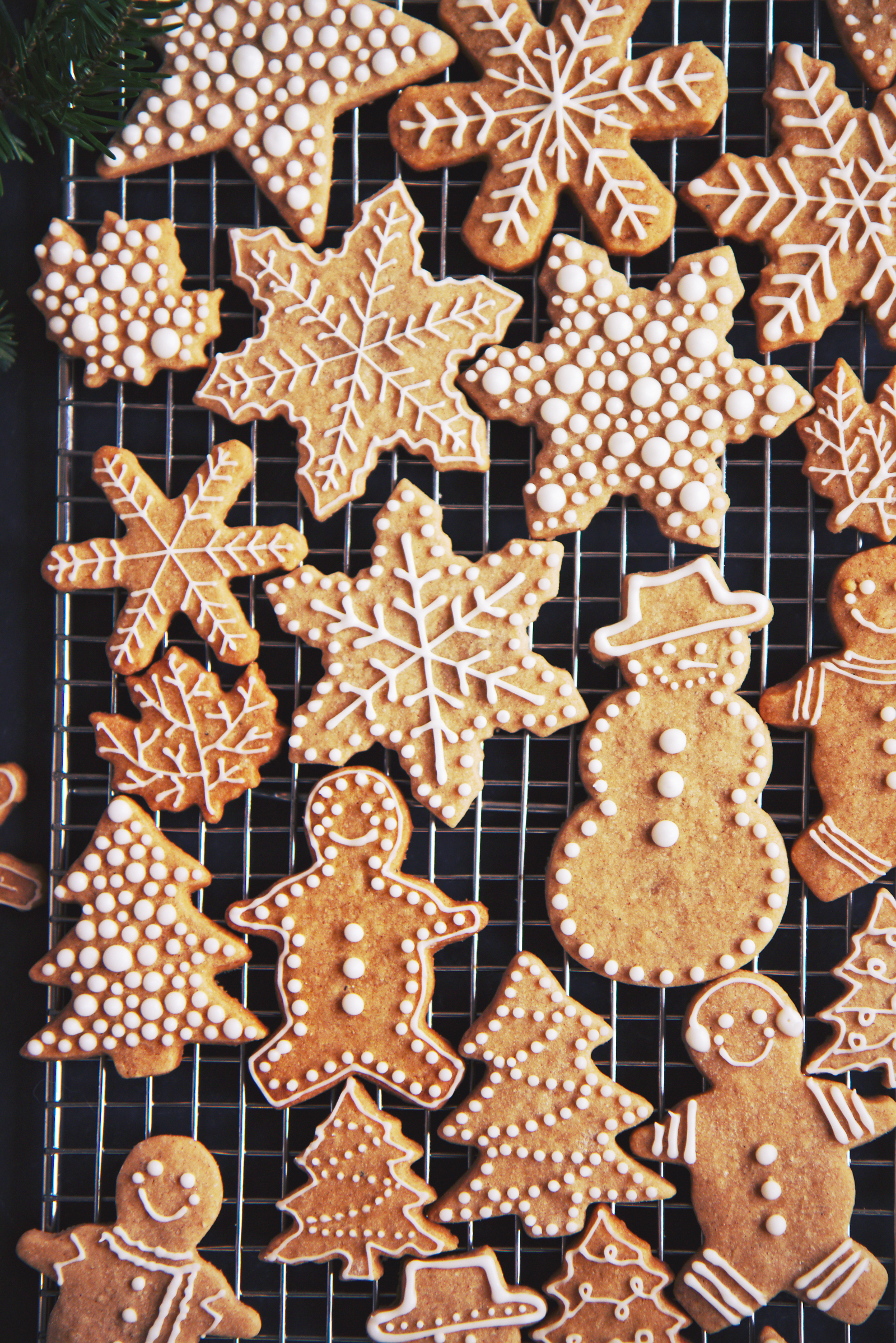 If you need some last-minute inspiration for your cookie boxes, I have rounded up some links of cookies that I've been stunned by lately. I guarantee we can all find some inspo from these amazing creations!
Cindy @ Hungry Girl Por Vida made really gorgeous and creative linzer cookies—with pistachios and lemon curd! Lemon curd is my favorite, so I'm keen to try this flavor combination out.
I'm sure you already saw these all over Instagram, but Tessa (Style Sweet CA) made perfect (as always!) spritz cookies in a collab with Wilton.
Snowballs—buttery and covered in powdered sugar—are always a weakness of mine. Christina (Dessert for Two) made gluten-free matcha and pistachio snowballs, and I want to try these so bad. I can only imagine how well the bitter, greeny matcha tastes when in a butter cookie!
Elizabeth from Brooklyn Supper made cardamom orange sugar cookies, and I'm intrigued.  They look delicate and lovely.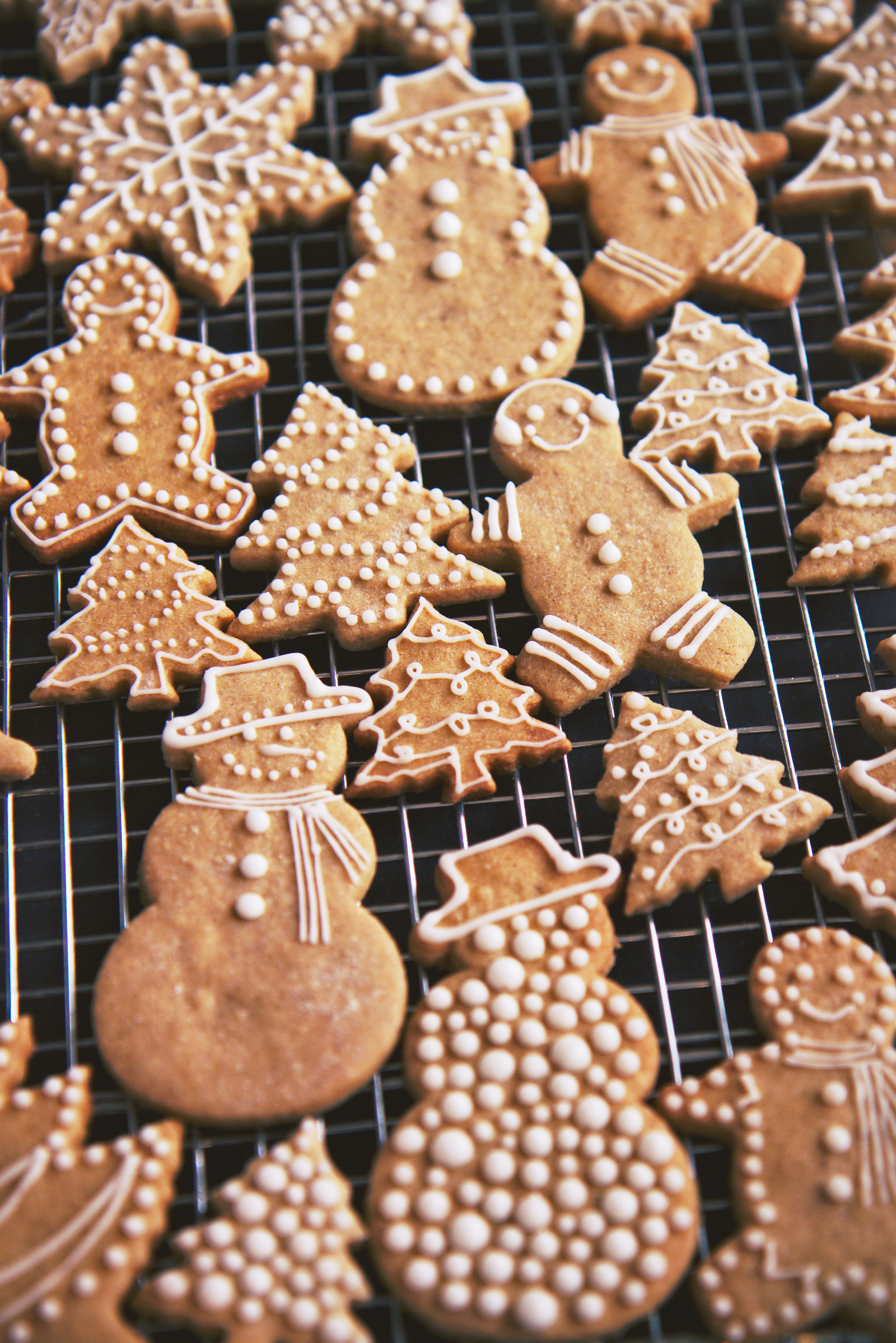 Jes from Whisk and Wanter made these sparkly, adorable girly evergreen cookies. I'm inspired to step up my sugar cookie game after seeing her gorgeous creations!
These super comforting peanut butter and chocolate crinkle cookies from Tieghan @ Half Baked Harvest are a must! The flaky sea salt on the milk chocolate kisses, swoon.
Last year I made some eggnog roll out cookies which were a hit, as well as chocolate peppermint shortbread, cinnamon toast crunch treats, and Russian teacakes.
The year before, it was honey spice and dark chocolate cookies, among others. You can find links through to years even before that, as well, if you really want to do a deep dive!
The fact that I only made two batches of cookies this year makes me feel like a bit of a loser, ugh. I have to remind myself to step back and enjoy what I can—the holidays are a time to be with family and relax, not worry too much about cooking (this isn't Thanksgiving, ha!).
Besides, baking in a different (tiny) kitchen can be frustrating.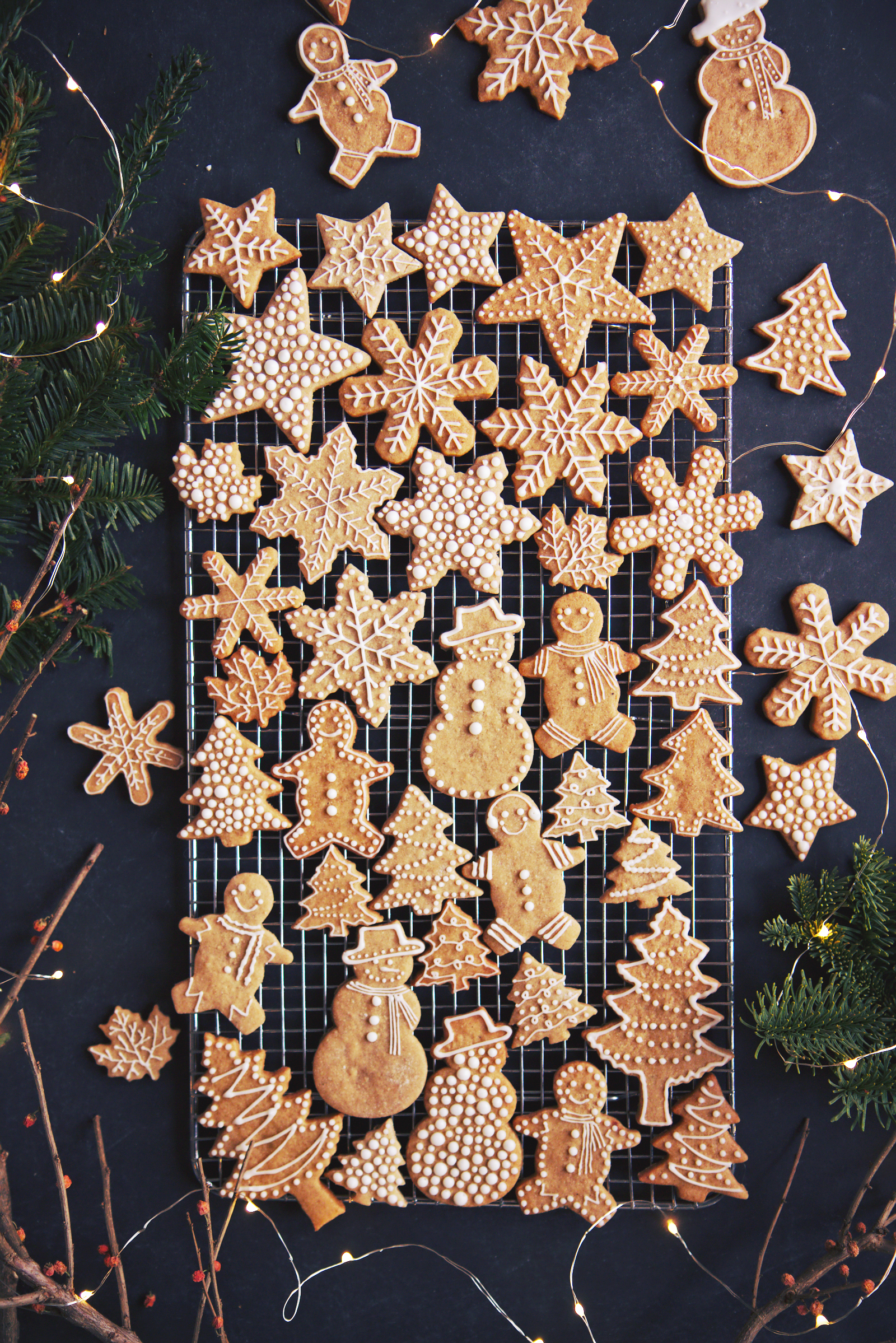 Still, there is nothing, and I mean nothing, that brings me as much winter cheer as gingerbread, and if there was a single cookie I'd like to make and smell baking in my home, it would be these.
I just love the warm spiciness of gingerbread, whether in a layer or bundt cake or cookies crisp or soft.
These gingerbread cookies are crispy and thin—good for gifting and safe for shipping—and they stay fresh for a long time.
They are made with maple syrup and black pepper for a spicy little twist!
These are very similar to Swedish pepparkakor, or ginger thins—they're not as dark and spicy as American style gingerbread, but rather a little lighter in color and in the spices added.
I think they're absolutely addicting and cute, however you choose to decorate them!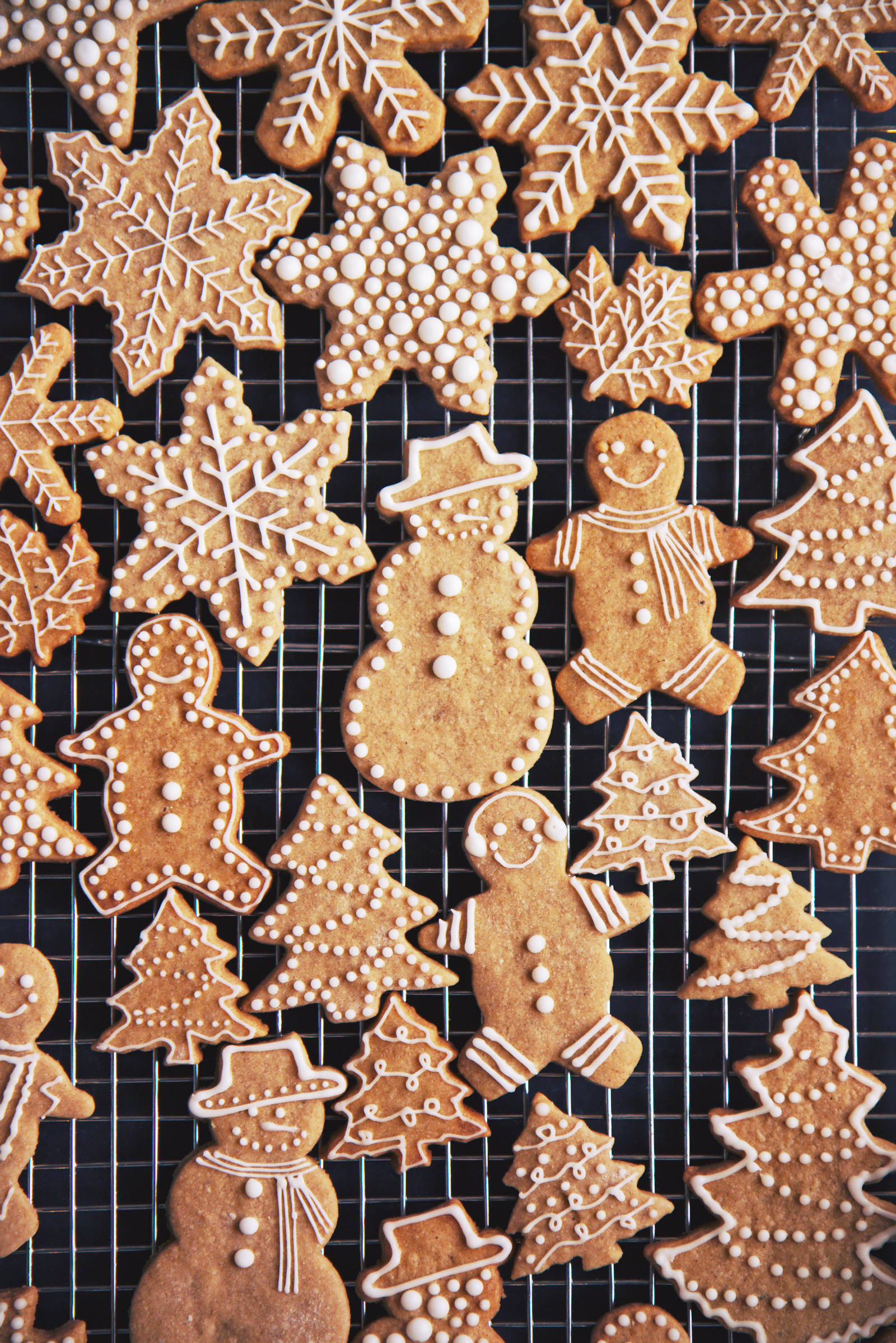 Maple Syrup and Black Pepper Gingersnaps
makes ~60 2-inch cookies
ingredients:
3/4 cup (6 ounces) butter
3/4 cup sugar
1 teaspoon ground ginger
1/8 teaspoon ground black pepper
1 teaspoon cinnamon
1/8 teaspoon ground cloves
1/4 teaspoon ground nutmeg
1/2 teaspoon kosher salt
1 egg
1 teaspoon vanilla
1/2 cup (6 ounces) maple syrup
3 cups all-purpose flour
directions:
Cream butter for 2 minutes to soften.
Add in the spices and sugar and cream for 3 more minutes.
Scrape the bowl and add the egg and vanilla and cream for 2 more minutes.
Scrape the bowl and add the maple syrup.
Beat until well combined, about 1 minute.
Scrape the bowl and add the flours.
Mix on low speed until a dough forms.
Knead once or twice, then wrap well in plastic wrap and refrigerate for at least 30 minutes.
Roll out dough to 1/4 inch thickness on a well-floured surface and cut shapes as desired.
Place on baking sheets and refrigerate for 15 more minutes.
Preheat oven to 350 degrees F.
Bake cookies for 7-10 minutes, depending on desired level of crispness.
Decorate with royal icing, if desired.