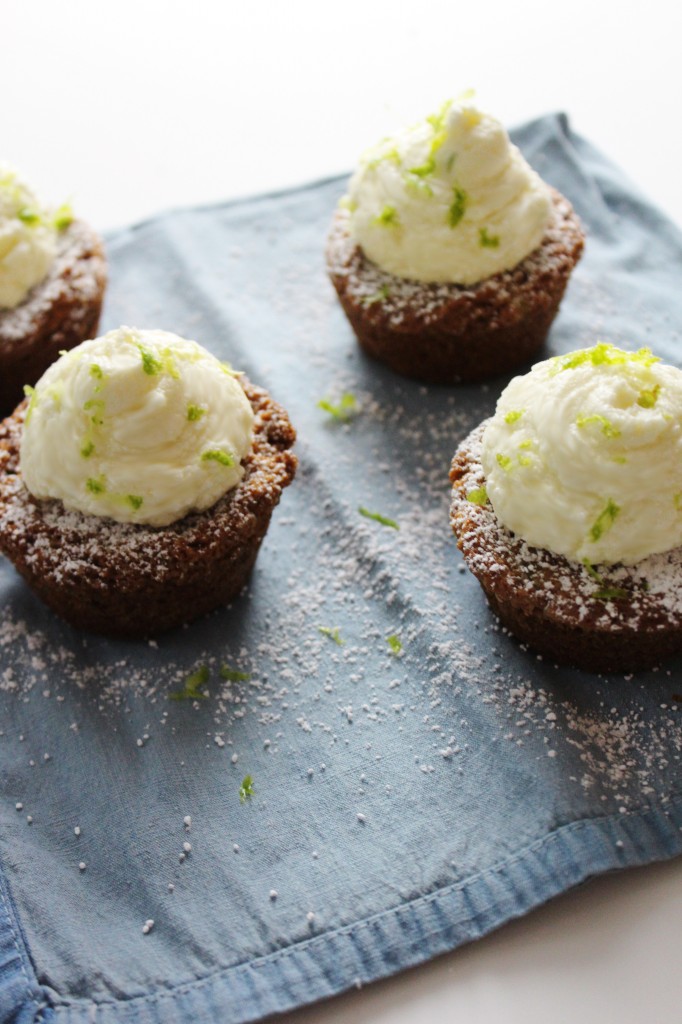 Hello! Welcome to my first post on my "new" blog!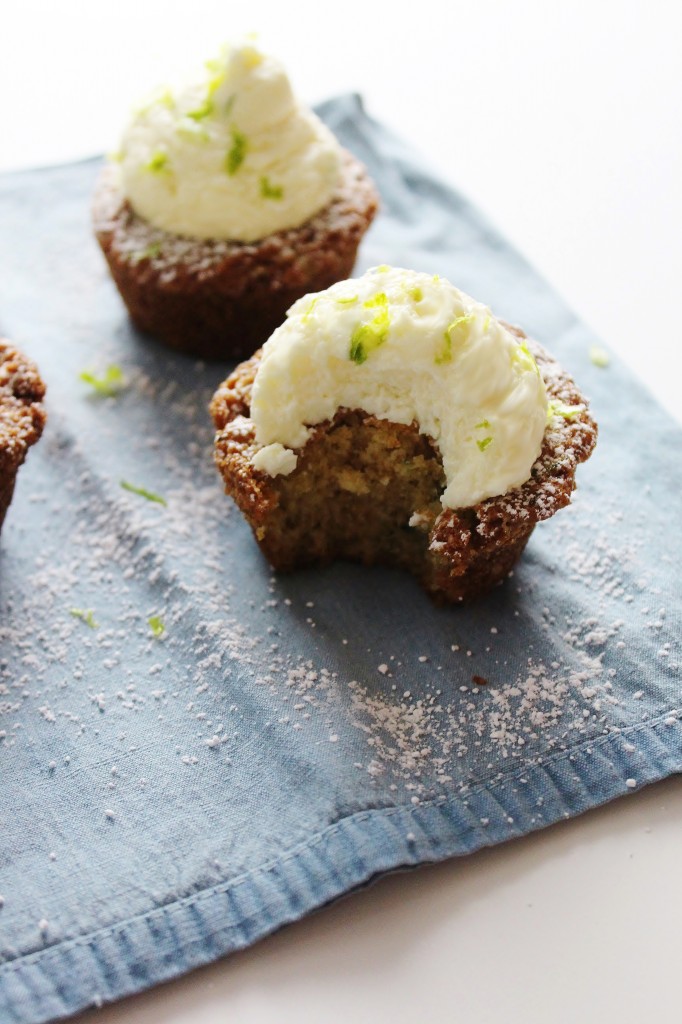 I've spent a bunch of time designing this new website- what do y'all think?
I think it's pretty shmancy, and I'm glad to have my own domain!
You can still access any/all of my posts (yes, even the really old embarrassing ones, though the formatting of those is a bit wonky- it didn't transfer smoothly) and you can search for any items/ click through the tag cloud down at the bottom of the page.
Things should be quicker and less difficult, and hopefully prettier around here!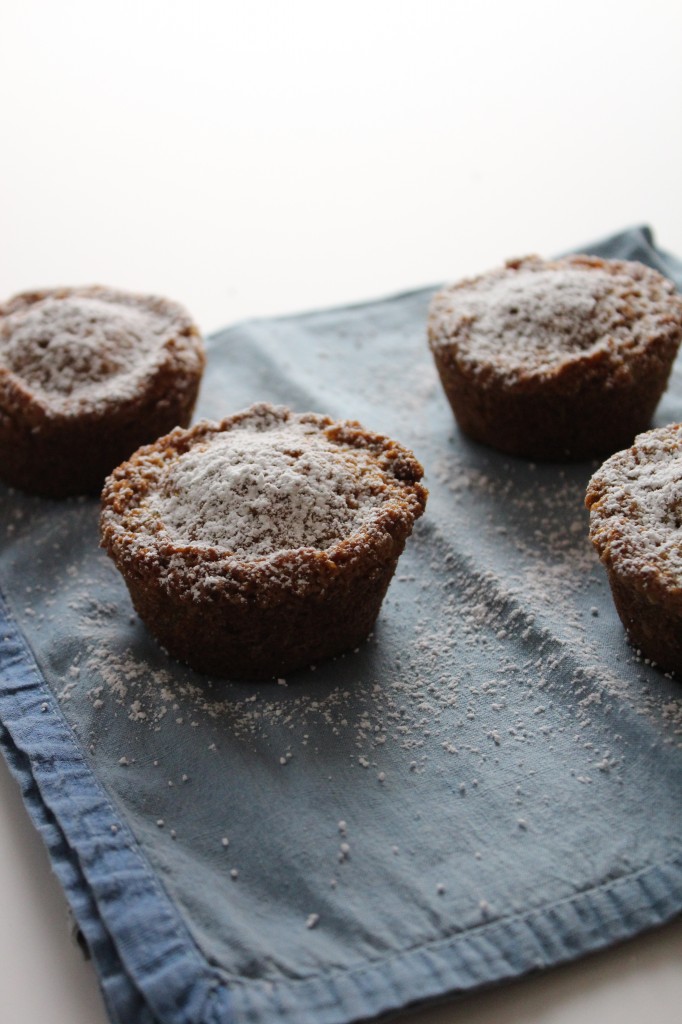 Not much else will change- I'm still going to be posting about yummy treats like these cupcakes.
These little guys make use of something that most people are drowning in this time of year- zucchini!
Instead of baking it into a bread, I made tender little cupcakes.   Zucchini bread tends to be dense, which doesn't translate well into cakes.
Luckily, these are soft and light, with a tight crumb and slightly crispy exterior.
I topped them with a fluffy lime cream frosting, made with mascarpone cheese.
The recipe is quite easy- it's a two bowl, no mixer, 10 minute prep kind of cake.
In addition, it only makes 6 perfect little cakes!  Lovely when you don't want an army of cupcakes to decorate, or you need a quick, sweet fix.
Enjoy, and, again, welcome to the new site!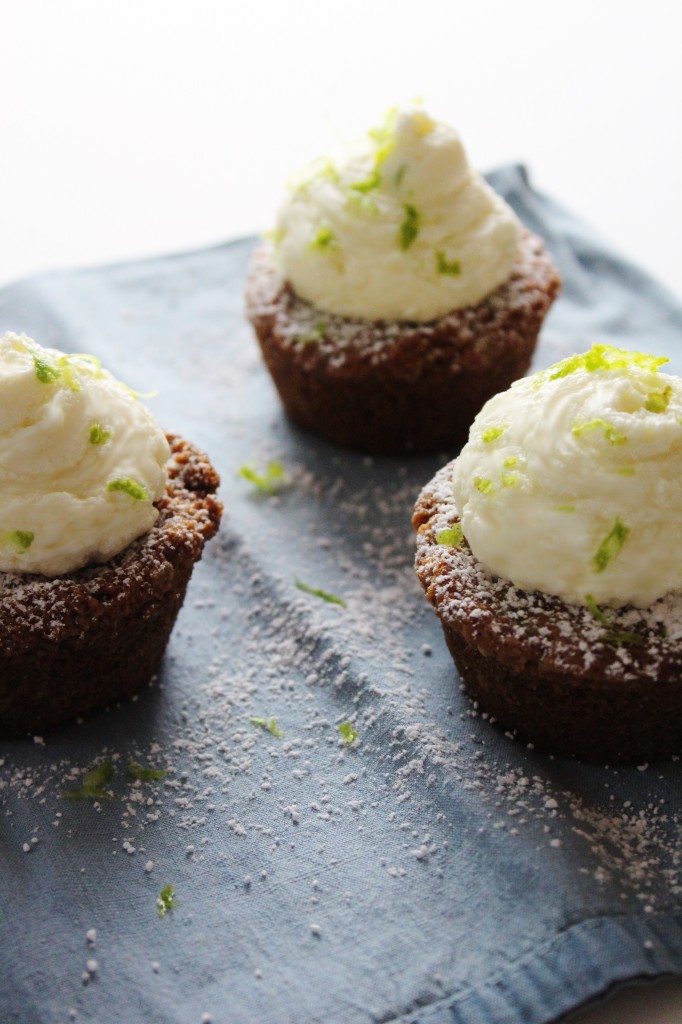 Zucchini Cupcakes with Lime Cream frosting
makes 6
for the cupcakes:
adapted from Chow
ingredients:
1/2 cup plus 2 tablespoons AP flour
2 tablespoons cornstarch
1/4 teaspoon plus 1/8 teaspoon baking powder
1/4 teaspoon baking soda
1/4 teaspoon kosher salt
1 egg
1/4 cup packed brown sugar
1/4 cup sugar
1/4 cup vegetable oil
1 teaspoon vanilla extract
3.5 ounces zucchini (about 1 small/medium squash), grated on a box grater (scant 1 cup grated)
directions:
Preheat oven to 350 degrees F.
Line 6 muffin tins with papers, or grease and flour them.
Whisk the flour, cornstarch, salt, baking powder, and baking soda together.
In another bowl, whisk the oil, egg, sugars, and vanilla together.
Whisk the two mixtures together, then whisk or fold in the zucchini.
Portion the batter out into your muffin tins and bake for 16-18 minutes, until a toothpick comes out clean.
Allow to cool before frosting.
for the lime cream frosting:
ingredients:
6 tablespoons butter, softened
6 tablespoons mascarpone cheese (you can substitute cream cheese here)
zest of one lime
juice of 1/2 a lime
1/3 cup nonfat milk powder
1 2/3 cup powdered sugar
directions:
Beat the mascarpone and butter together until fluffy.
Add in the lime zest and juice and mix until combined.
Add in the milk powder and powdered sugar slowly, while beating.
Continue to beat until frosting is fluffy.
Use immediately or refrigerate for up to 1 day.