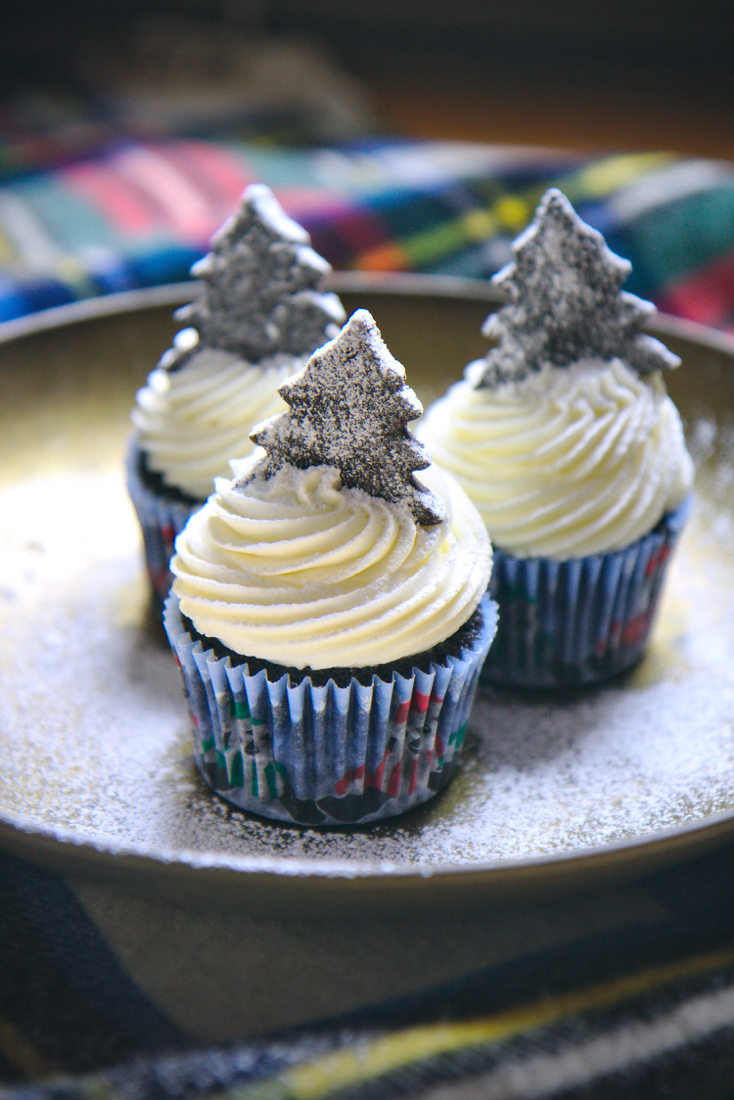 I'm lying on the moon
My dear, I'll be there soon
It's a quiet, starry place
Times were swallowed up
In space we're here a million miles away
There's things I wish I knew
There's no thing I'd keep from you
It's a dark and shiny place
But with you my dear
I'm safe and we're a million miles away
—The Moon Song, Karen O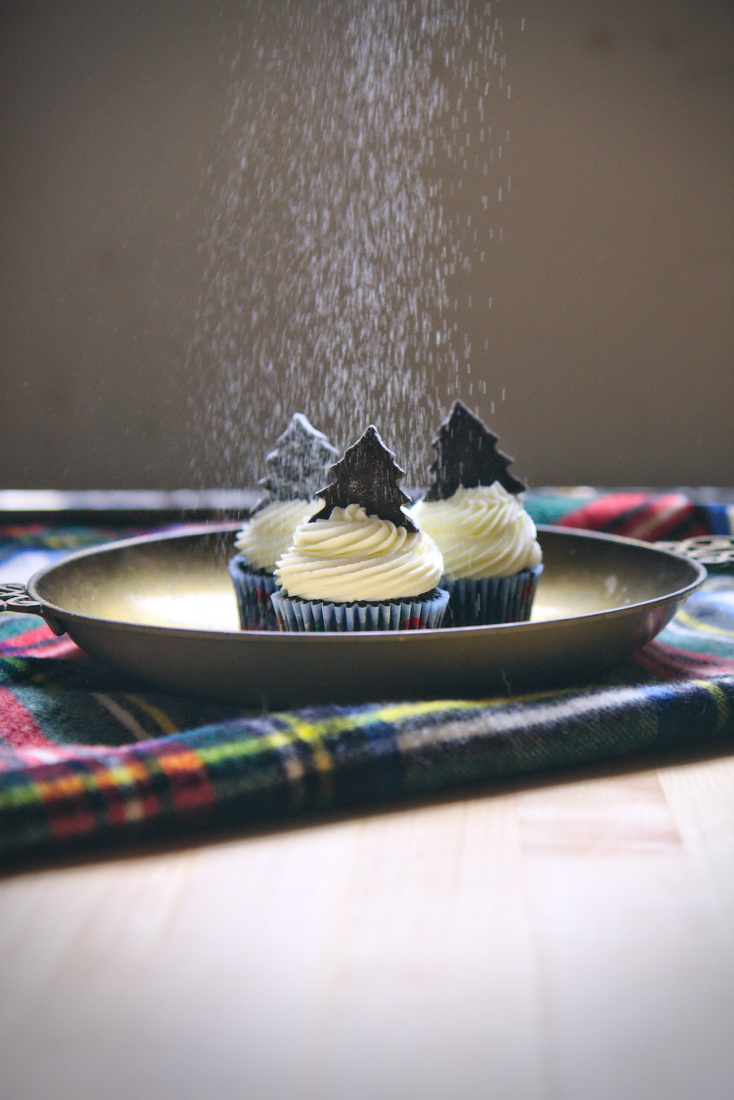 It's grey and dreary here.
Us folks from the Fingerlakes (and upstate NY in general) are used to harsh winters.  We don't get the same kind of wind as Chicago or the volume of snow as Montana, but we do get the grey.
We pride ourselves on braving the cold, sucking it up, etc. etc.
(I'm serious: just the other day, I was told I had gone soft because I was wearing a big down parka and it was only, oh, say, 25 degrees.  Indignant, I cited that it was the only coat I brought home and that I need such a warm one because I live in a place where it gets to negative 50 Fahrenheit with windchill.  This remark was met with narrowed eyes and puffed, unimpressed nonchalance.)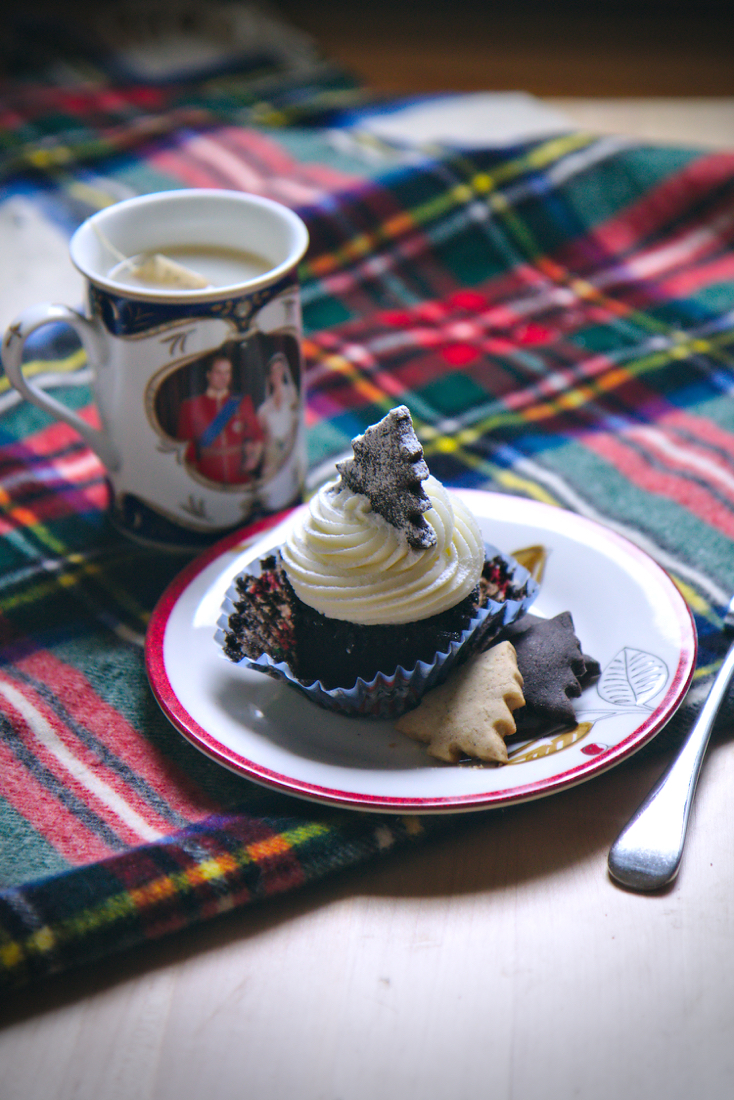 I suppose grey and dreary necessitates naps and snuggles and warm blankets+hot cocoa and plenty of good books and movies, but so does white and fresh, and I am positively certain that I would prefer a few feet of snow over this lingering, dripping rain.
Taking photos in this cursed weather is quite the bear.
In summer, the problem with Ithaca was the green.
All my photos were tinged with the reflections of so many thousands of bright young leaves, impossible to easily wipe out, without inadvertently creating purple food.
Now, in the winter, the problem is the darkness.  Low shutter speeds are prone to shake (guess who didn't bring her tripod with her…), and noise is an eternal annoyance.
Despite this, when I made these little tree-topped cupcakes, I was determined to get the (clichéd) powdered sugar shot.
So, I splayed out on the ground (unfortunately for me, I live in a 2-cat, 1-dog household and was wearing black leggings), with my camera perched on no fewer than 7 big books.
Now, I have another of these clichés to add to my resume.
Previously: here and here and here.
But, I will say, I have yet to get a coveted syrup-pouring shot.
I'm staying patient, friends: it will happen.
Definitely worth the hair-covered lulus.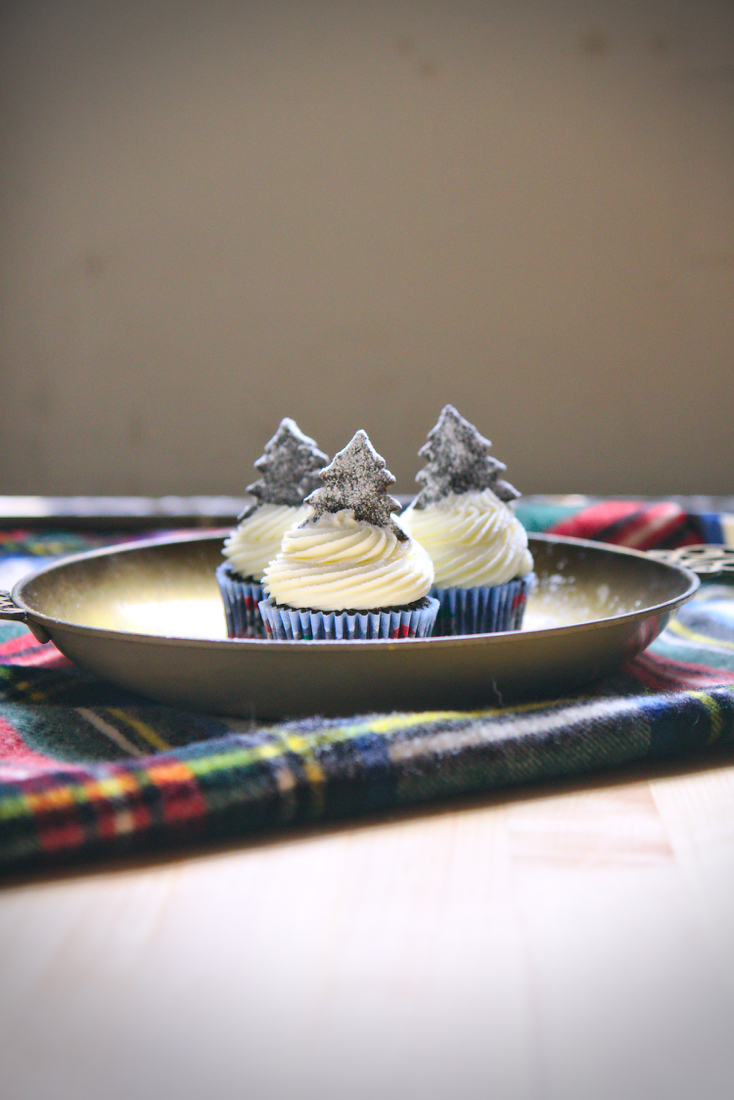 I saw a picture of cupcakes topped with tiny little trees on Instagram forever ago and they have been on my to-make list ever since.
I only had big tree cookie cutters, which were sure to overwhelm the cupcakes.  Luckily for me, I found the teeny-tiniest little tree cutter which is totally twee.
(Twee trees? Hmm?)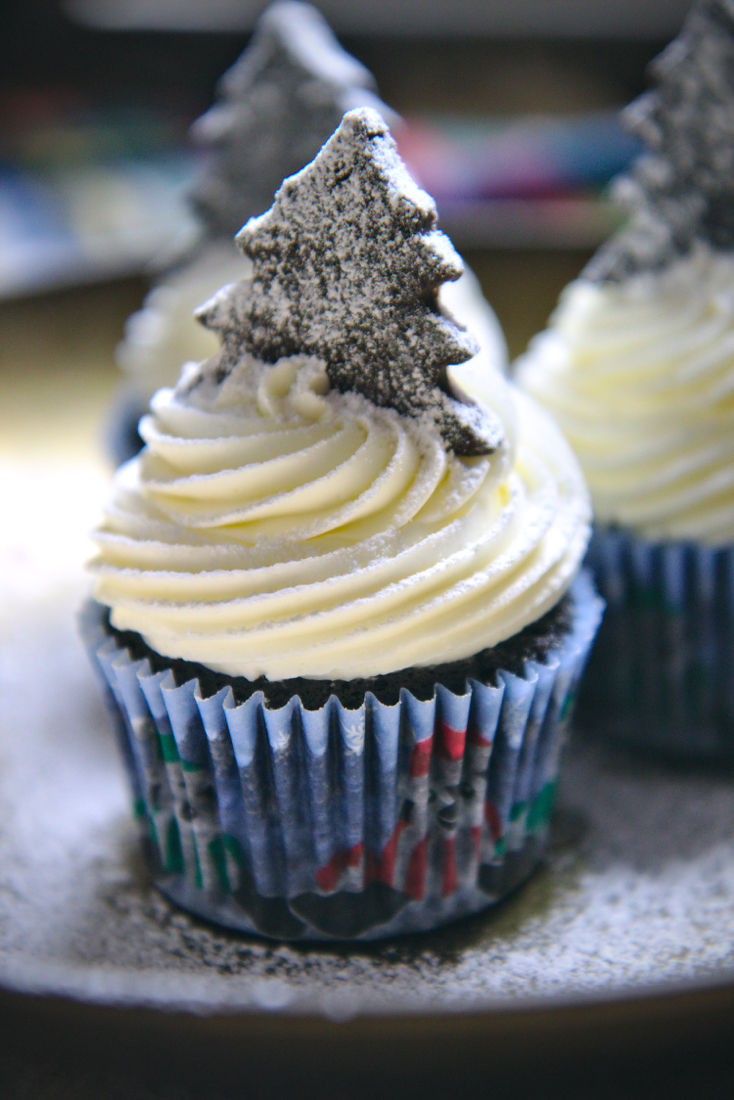 These little cuppycakes are made of the moistest chocolate buttermilk cake ever.  They're springy yet rich, with a good chocolate bite that's sweet with a thin edge of salt.
They're topped with whorls of luscious, silky, peppermint Italian meringue buttercream.  The cool, clear peppermint pairs well with the buttery frosting, and a pinch of salt prevents it from being cloying.
The final touch is a little chocolate cookie, delightfully crispy and crunchy, with a little sprinkle of powdered sugar snow.
Perfect little wintermint cupcakes!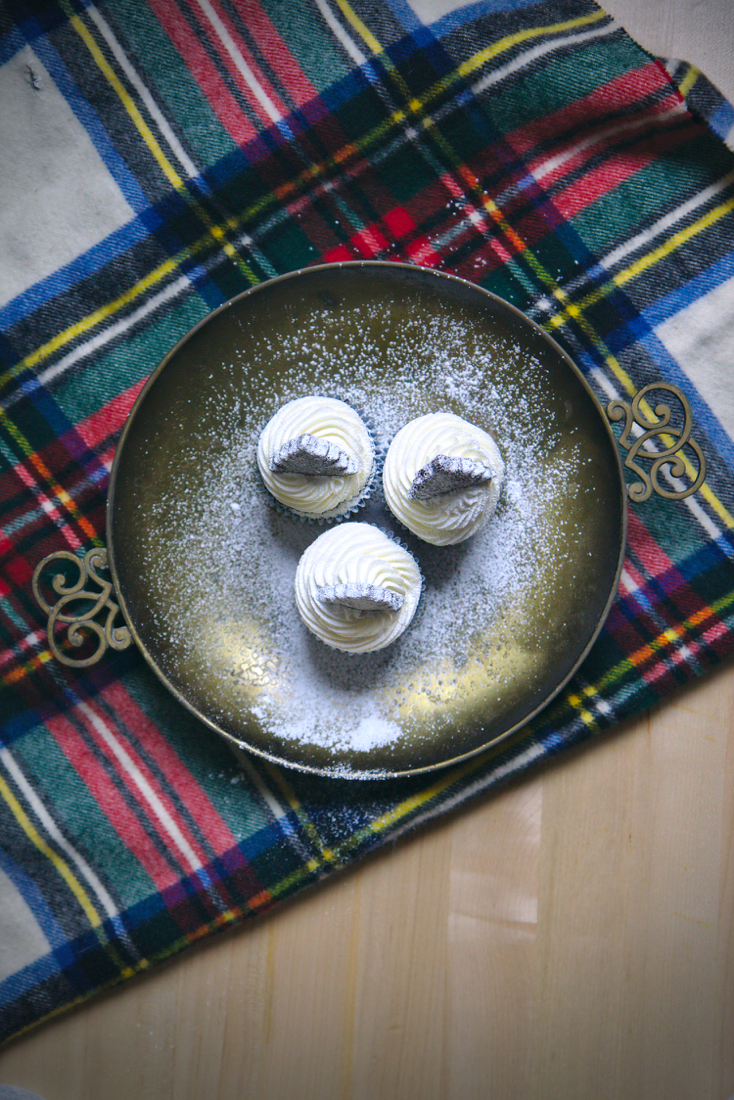 I love the idea of topping cupcakes with little cookies, now.  So many possibilities and combinations!
For that matter, you could top these cupcakes with cookies made of honey spice dough, or regular sugar cookie dough, or any other type of roll-out cookie that you so desire (maybe up the chocolate-peppermint ante with a drop of peppermint extract in chocolate dough?).
If you don't like peppermint, replace it with a drop of vanilla and you have utterly classic chocolate and vanilla cupcakes—equally delicious and versatile!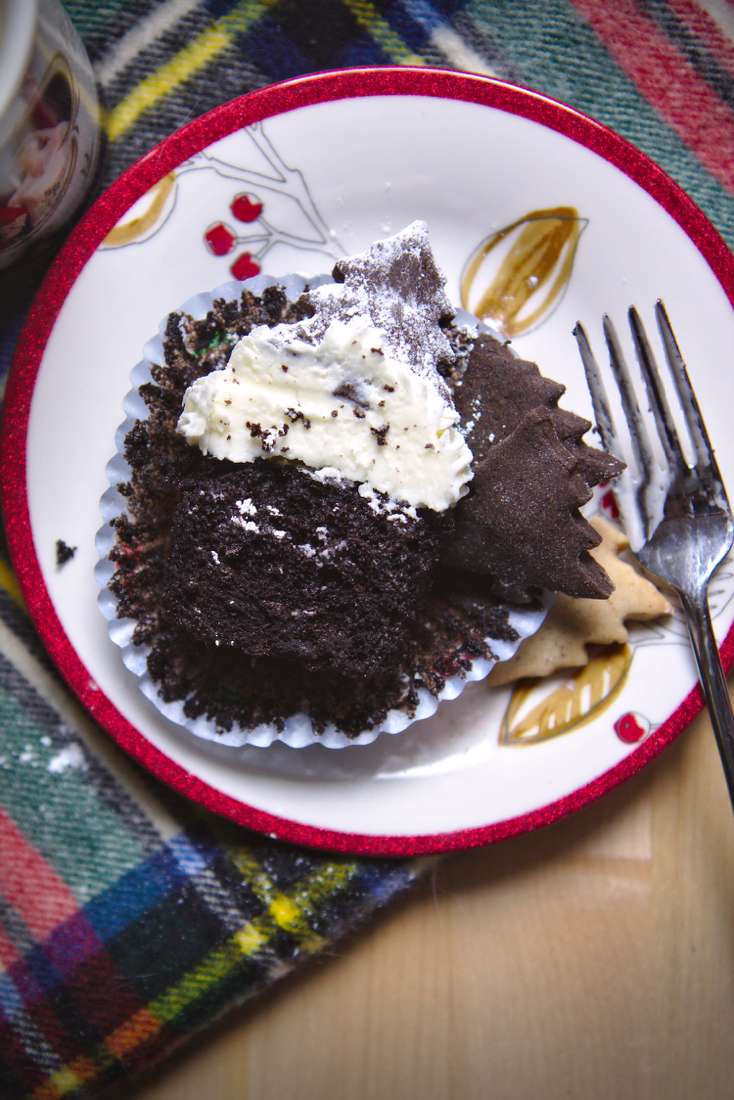 If I can manage, there may be a yule log up here, eking in on Christmas Day itself.
If not, have a happy, safe holiday, and I'll see you on the other side!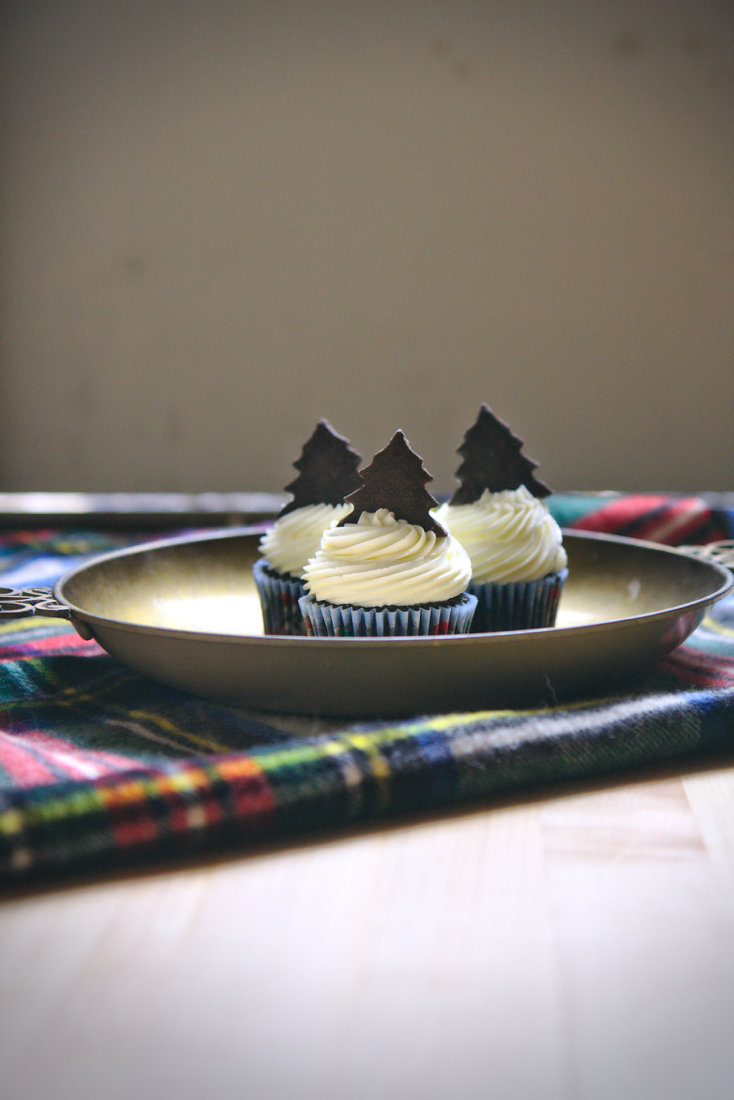 Chocolate Buttermilk Cupcakes with Peppermint IMBC
cupcake portion adapted from Sally's Baking Addiction
makes 7 cupcakes
ingredients:
for the cupcakes:
1/4 cup (20 grams) dark cocoa powder
1/4 cup plus 2 tablespoons (48 grams) flour
1/4 teaspoon baking soda
3/8 teaspoon baking powder
1/4 teaspoon kosher salt
1/4 cup (50 grams) brown sugar
1/4 cup (50 grams) granulated sugar
scant 1/4 cup (40 mL) vegetable oil
1 teaspoon vanilla extract
1 egg
1/4 cup (60 mL) buttermilk
for the peppermint IMBC:
3 egg whites
pinch cream of tartar
pinch kosher salt
1/2 cup plus 1 tablespoon (110 grams) sugar
2 tablespoons (30 mL) water
1 cup (225 grams) butter, cut into chunks, softened but cool
1 drop peppermint extract
directions:
Make the cupcakes: preheat oven to 350 degrees F and line 7 cupcake wells with liners.
Whisk together cocoa powder, flour, baking soda, baking powder, salt, and sugars.
Whisk the oil, egg, vanilla extract, and buttermilk together, then pour into the dry ingredients until the batter is homogeneous.
Scoop 1/4 cup portions into each of the tins.
Bake cupcakes for 15-18 minutes, until springy and a tester comes out nearly clean.
Allow cupcakes to cool completely.
Make the peppermint IMBC: place egg whites and cream of tartar in the bowl of a stand mixer fitted with a whisk attachment.
Place sugar, water, and salt in a small pot over medium heat.
Start to whisk the egg whites.
By the time the egg whites are at stiff peaks, the syrup should be at 240-245 degrees F.
Pour the hot syrup into the meringue while whisking at high speed.
Beat until meringue is cooled, then whip in butter one small chunk at a time.
Beat until the frosting has come together; it should take about 3 minutes at high speed; it should be fluffy and shiny.
Frost the cupcakes as desired; top with chocolate cookies and powdered sugar!