All the cookies!
'Tis the season for cookies.
We alllll know it.
And you know, I ain't mad at it.  Cookies and I get along very well.
Anyways, this year we're stepping up our cookie game.  Right?
Let's give away cookies that take the lackluster cookie platter to the next level.
We started with nutmeg, maple, and rye sugar cookies.
Now, we're doing traditional, but we're doing it a better way.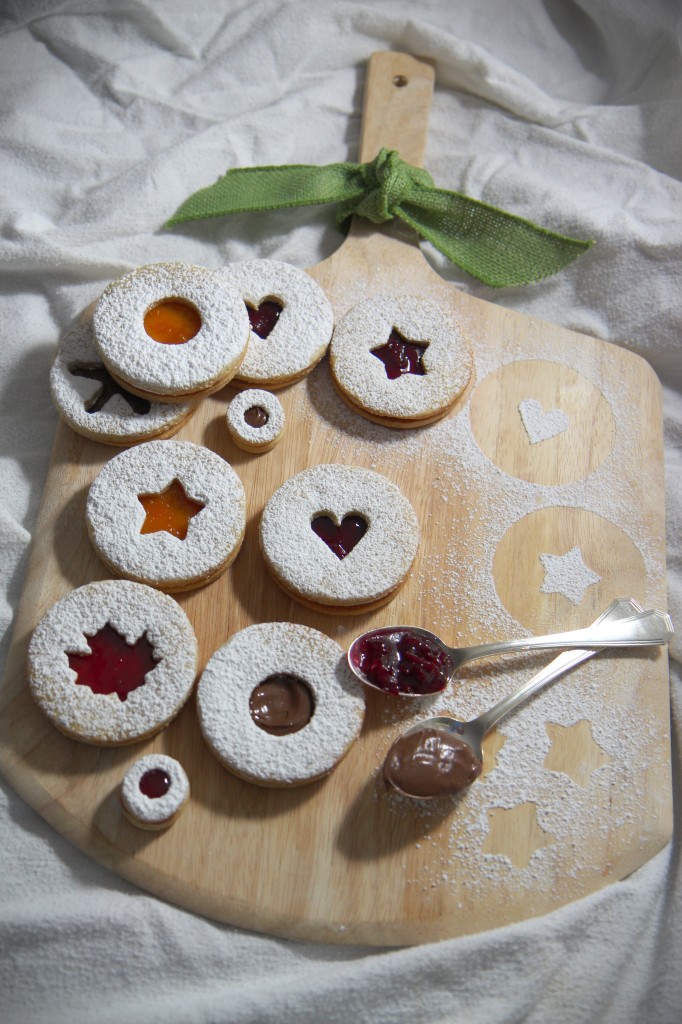 Linzer cookies are totally a staple on holiday cookie platters.
Butter cookies with a cut out, filled with jam.  You've seen 'em.  You've enjoyed eaten them.
Here's the problem: too often they are dry and crumbly, sucking the moisture right out of your mouth and leaving a telltale trail of crumbs down the front of your ugly sweater. (What?! We all do it.)
Or, they're utterly boring.  Not enough punch; plain Jane fillings and plain Jane casings.
Not so with these Linzer cookies!  They've got a hefty pinch of salt, a touch of spice, and fillings with body.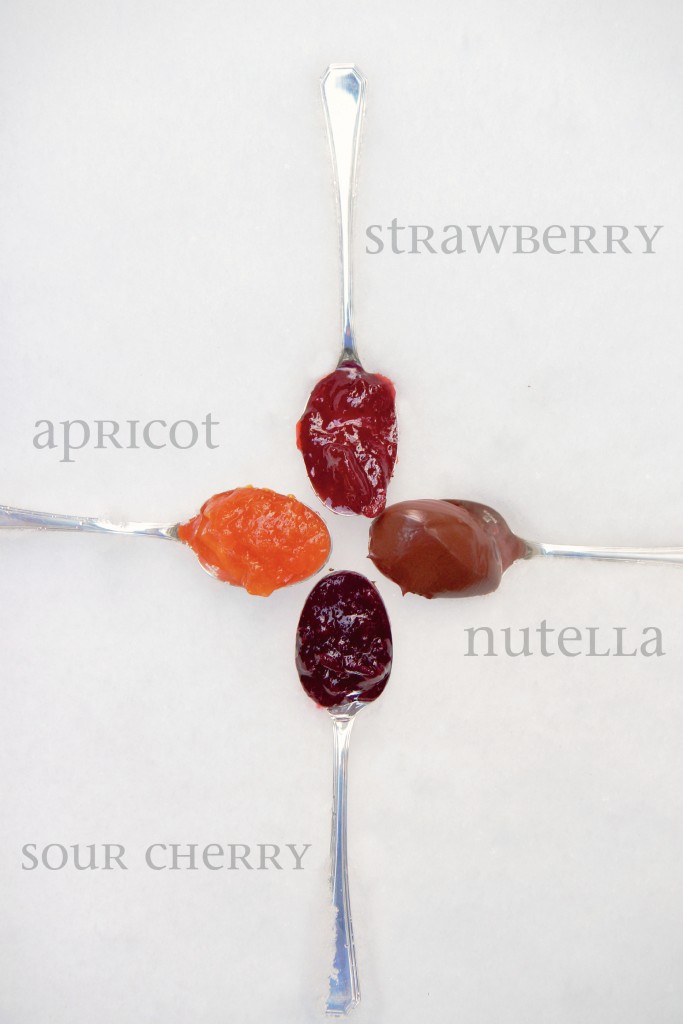 These cookies are made with almond flour and minimal sugar, which means the flavors stay clean and un-muddled on your tongue.
To ensure that they have a good bite, not too crumbly nor too firm, we use a technique most often utilized in making fluffy cakes with tight crumbs: reverse creaming.
Reverse creaming involves whisking all the dry ingredients together, then beating in soft butter followed by the wet ingredients.  It creates a dough with minimal air pockets, meaning your cookies will be nice and flat and less prone to crumbling.
We've got a good base going: lightly spiced and sweetened, with hints of almond and a firm, crisp bite.
Don't mess it up with the fillings!  Use good quality jams.
My favorite was the D'arbo sour cherry jam, which went well with the almond undertones (almonds+stone fruit=magic), and also offset the butteriness of the cookies masterfully, what with its tart, fruity self.
I highly recommend choosing fillings with a little kick.
In the future, I'd add a pinch of cayenne to the Bonne Maman strawberry jam, and a sprinkle of salt to the Nutella.  I'm partial to apricot as is, but I bet an extra touch of nutmeg would work wonders.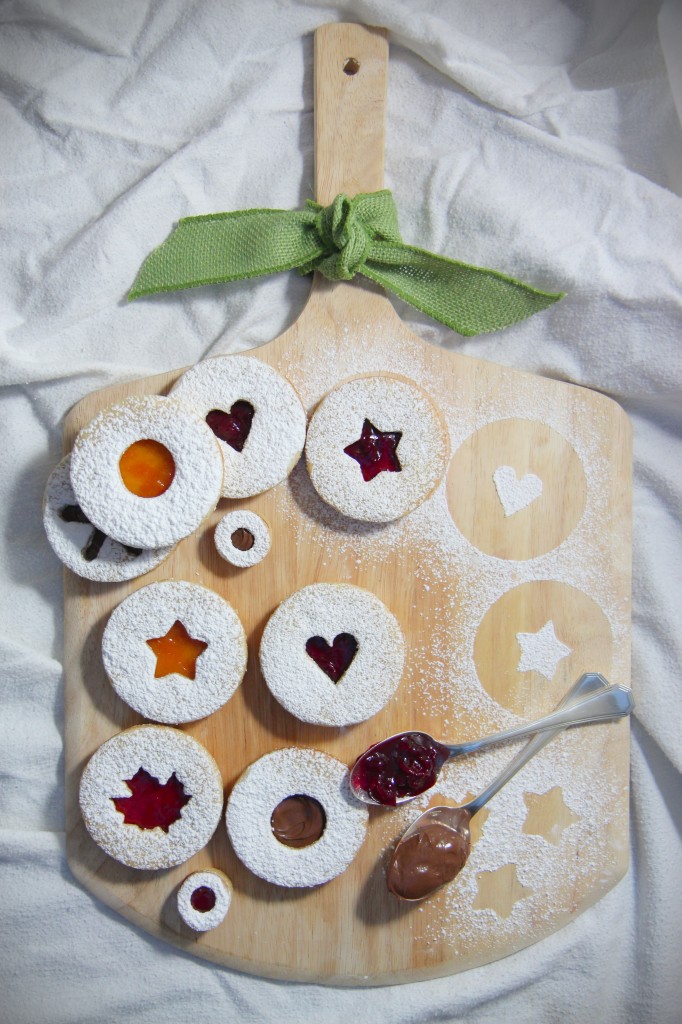 Sorry that my posts haven't been very wordy.  It's the holidays, and my brain is fried.
Holidazed and confused…
More cookies coming your way in a day or so.
Hint: there's peppermint involved.  Get excited.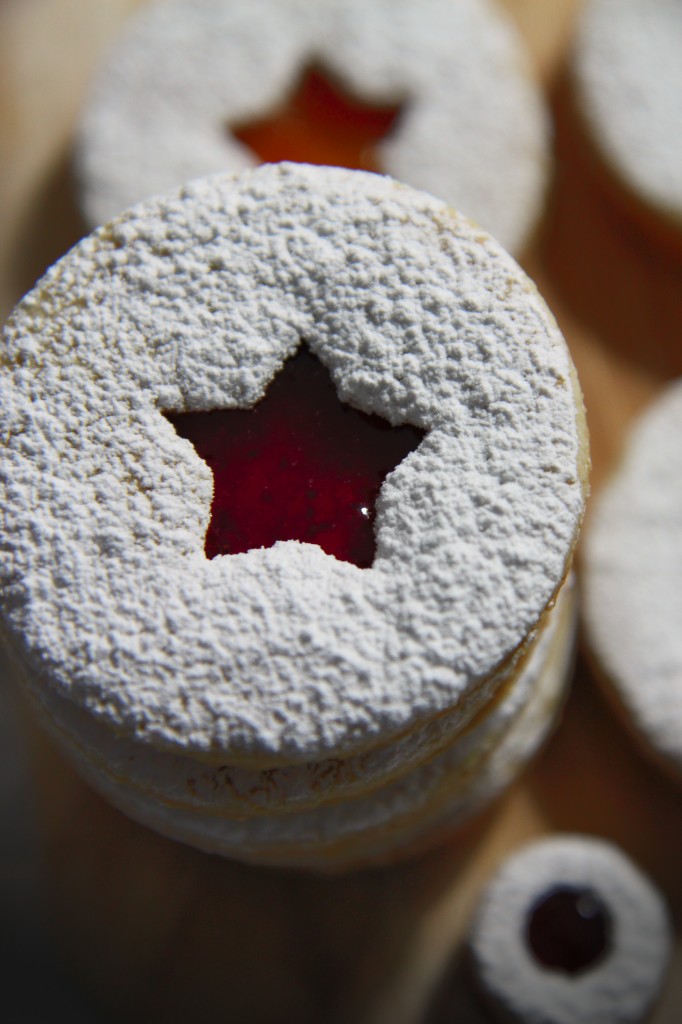 Linzer Cookies
adapted from Martha Stewart
makes approximately 20 large sandwich cookies
ingredients:
5 ounces (1 cup and 3 tablespoons) almond flour or finely ground almonds
3.6 ounces (1/2 cup) sugar
1 teaspoon cinnamon
1/8 teaspoon freshly ground nutmeg
1 teaspoon baking powder
big pinch kosher salt
9 ounces (2 cups plus 2 tablespoons) flour
8 ounces (16 tablespoons) butter, softened and cut into small chunks
1 egg
splash vanilla extract
confectioner's sugar, for dusting
fruit jams or Nutella, as desired
directions:
In the bowl of a stand mixer fitted with the paddle, add the almond flour, sugar, spices, baking powder, salt, and flour and mix to combine.
Add in the softened butter and paddle until the mixture resembles a coarse meal.
Add in the egg and vanilla and mix until a dough forms.
Turn the dough out onto a lightly floured surface and roll out to 1/4 inch thickness.
Cut out circles, and cut a small shape out of half of the circles.
Place onto parchment lined baking sheets and freeze or chill for at least 30 minutes.
Preheat oven to 350 degrees F.
Bake the frozen/chilled cookies for 9-11 minutes, until set and lightly golden.
Allow to cool completely.
Spread 1 1/2 teaspoons of filling of choice onto the cookies without cut outs.
Dust the cookies with the cutouts with plenty of confectioners sugar, then sandwich them on top of the filling and uncut cookies.