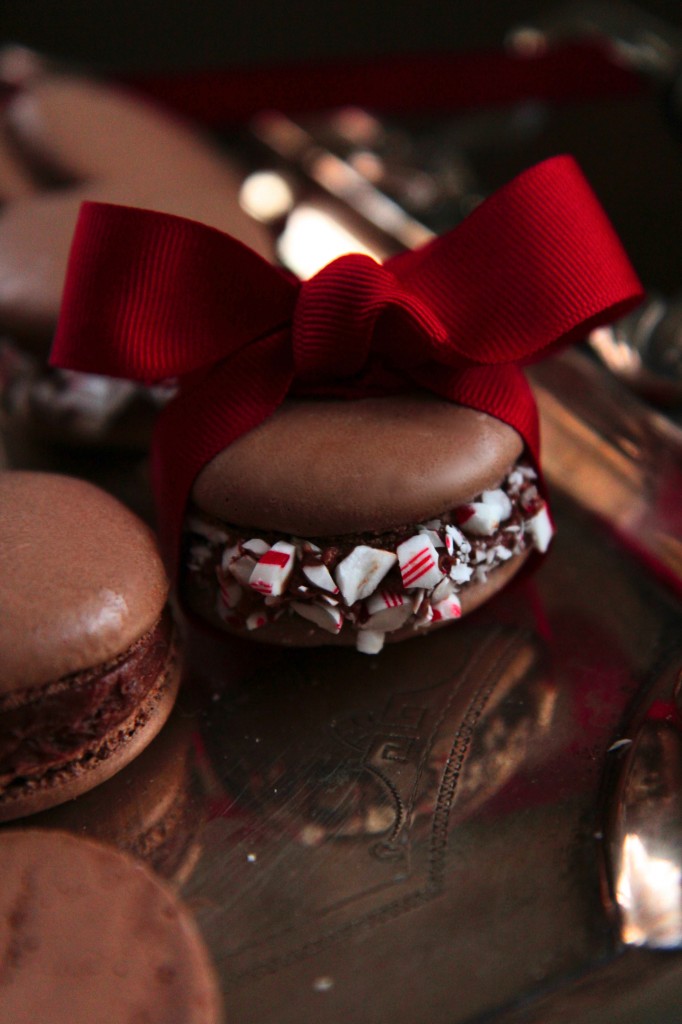 "Oh you fancy, huh?"
-Drake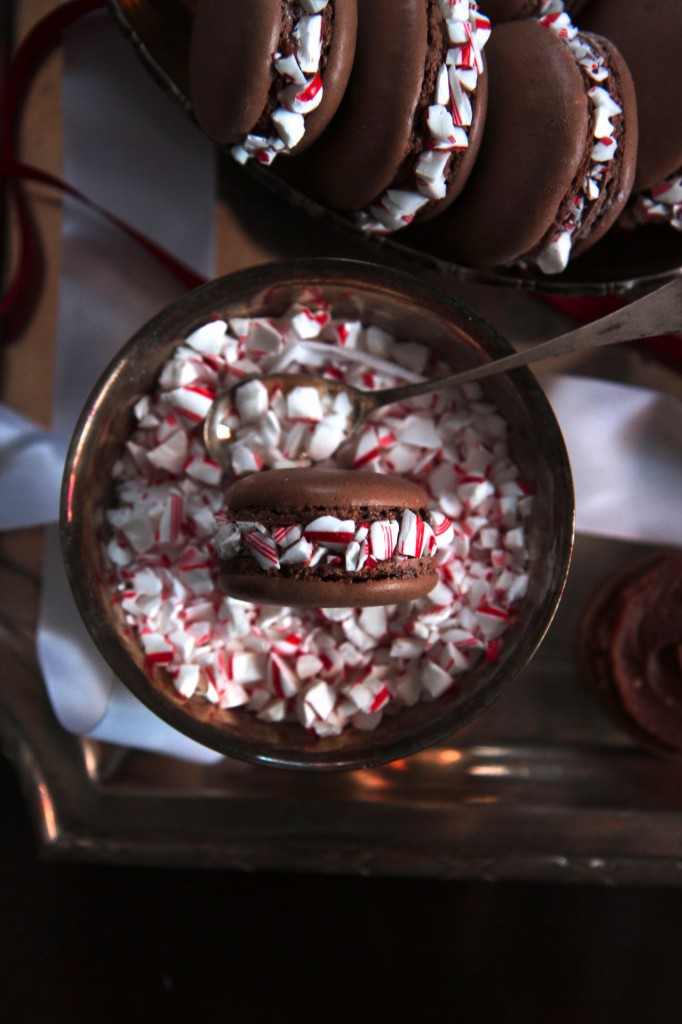 I am a food blogger.
(And I just quoted Drake.  Lest I be smote from this weblog by the fiery foodie gods for doing so, I leave you with these fancy cookies.)
I eat up seasonal themes like they're small batch chocolates, y'all.
If you thought you were going to escape winter unscathed and untouched by pepperminty desserts, hoo boy were you wrong.  Won't you ever learn what a terrible blogger I am?
Remember what happened in the autumn?  How I denied and denied and procrastinated and then DUMPED all the punkin on you at once?
In fact, right after you had thought it safe to dispose of the sad leftover pumpkin in the can sitting in the back of your fridge. (Is that only my family?  My mom liked the can, thus we have 1/2 cup of  month old pumpkin.  Yumbo.)
And you were fed up and almost wrote my blog off.  But you forgave me and we had fika and all was well.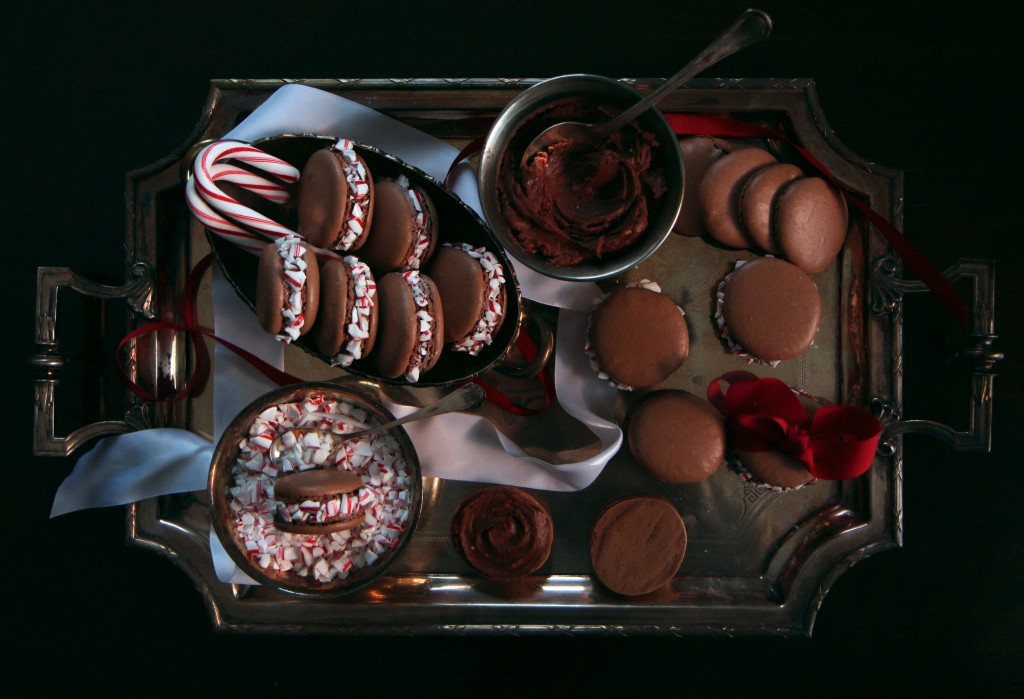 Well, here we go!  I'm coming in hot with peppermint, the cliched classic winter flavor.
Luckily, I got my shit together and this post is still somewhat appropriate, because it's not yet xmas and therefore we all still have candy canes lying around.
Funny thing is, I only intended on having one minty post.  However, these cookies used up a lot fewer candy canes than I anticipated, so I have an entire tupperware full of peppermint bits that must be put to good use.
I told you I was irritating.  Stock up now!  You can take your anger out by smashing them to little bits while you wait for the next inevitably untimely peppermint post.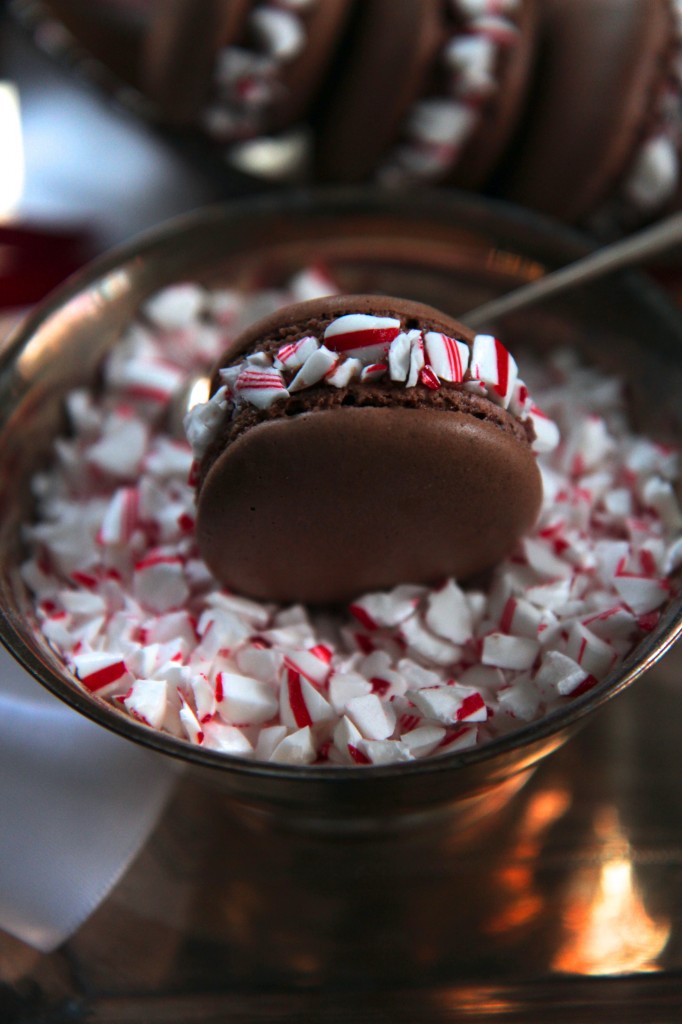 We get our tree from the same farm every year, and have done so since the family moved to Ithaca (prior to my being).
When we were little, we'd always get candy canes after picking out our tree, from a basket a little shed.
Candy canes were always passed out by teachers and kids alike when the holidays neared in school, a sweet little gift that lifted spirits.
Sometimes we'd get candy canes in our stockings.
Candy canes will forever bring about memories of the holidays, of winter, of my favorite time of year.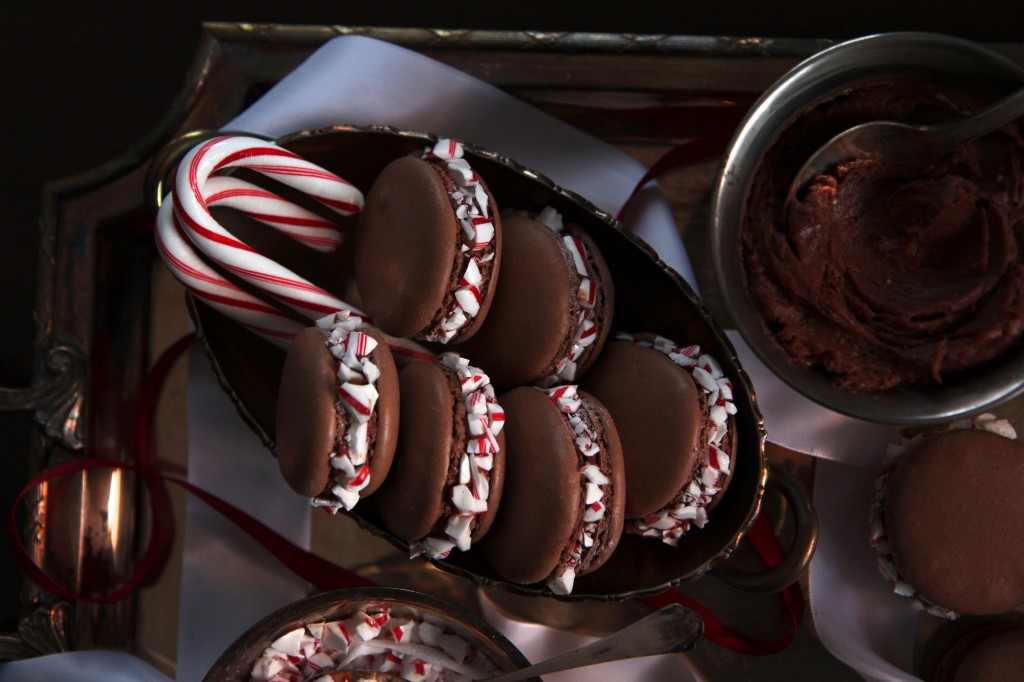 Macs with candy canes?
Yes.  Yes.  Yes yes yes yes.
Chocolate hazelnut shells + chocolate mint buttercream + crushed candy canes.

Need I say more?
But actually.  These were delicious little guys, crisp and filled to the brim with silky buttercream.
The peppermint accents were delightful, a perfect foil to rich hazelnuts and toasty chocolate.
But actually.  So many cookies to share with you.  My head is spinning.  My fingers grow weary of typing.  My oven, well… my oven is always on anyways.
This is part III of our upgraded holiday cookie list.
part I: nutmeg, maple, and rye sugar cookies
part II: Linzer cookies, done right
part III: peppermint chocolate macarons
part IV: ????!?!
You'll have to check back for part IV, you greedy little things.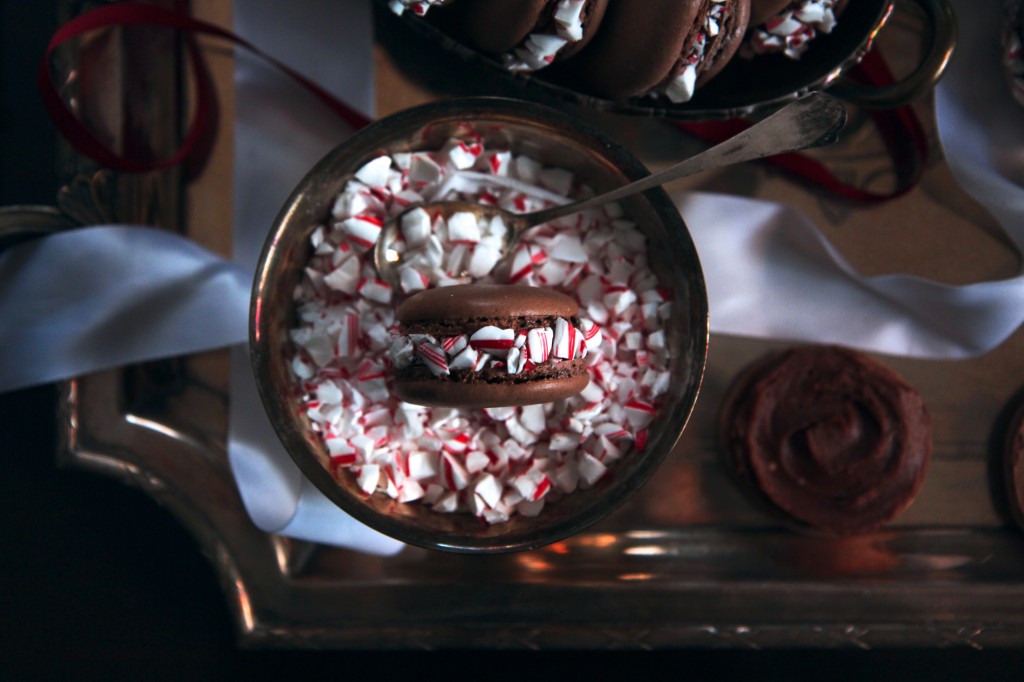 A few quick tips, before I leave you with this addition to your cookie platter.
Bake your macs on a well-insulated baking sheet.  Or, double or triple up.
Make Italian meringue macarons!  Just try it once.  For me.  Because I am a very firm believer in Italian meringue.
Test your batter well and often with the ribbon test: a spatula lifted out of the batter should drip in ribbons, which should disappear back into the rest of the batter within 10 seconds.
Read all of Stella of Bravetart's posts on macarons.
All. of. them.  Definitely worth your time!  She knows what she's doing!
If you try them out, let me know!  I'm always curious about macaron success!
Back soon… With the fourth and final (?) part of this cookie marathon!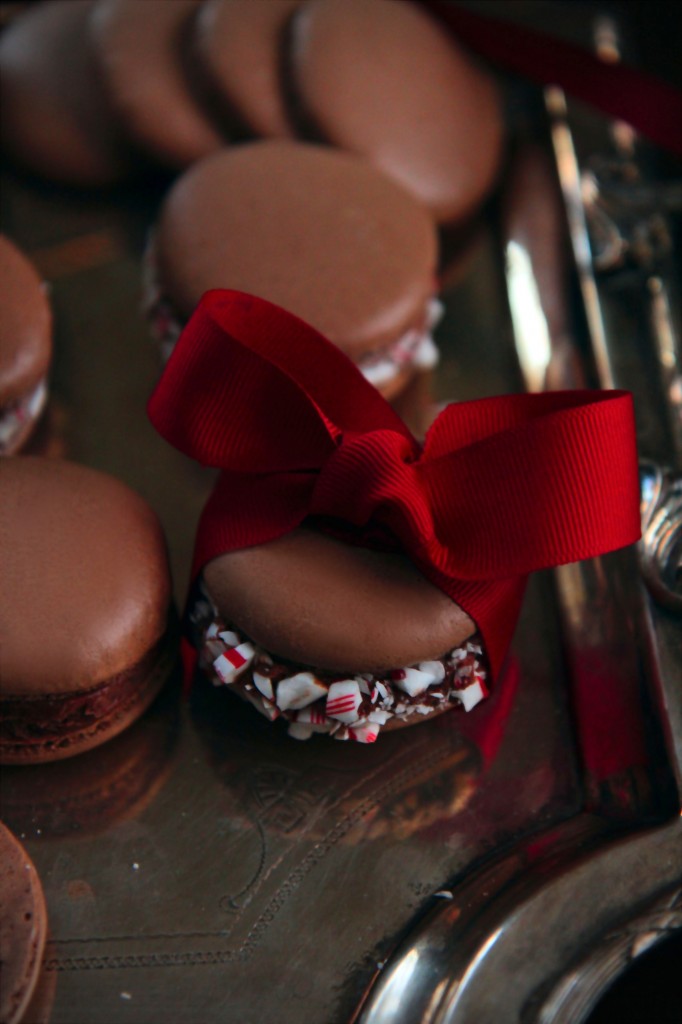 Minted Macarons
ingredients:
for the shells:
adapted from Jo the Tart Queen
130 grams hazelnuts or almonds
25 grams cocoa powder
150 grams powdered sugar
70 grams egg whites (approximately 2 egg whites)
150 grams granulated sugar
30 grams water
70 grams egg whites
pinch cream of tartar (optional)
for the buttercream:
180 grams butter
60 grams dark chocolate, melted
splash vanilla extract
2 drops peppermint extract
70 grams powdered sugar, sifted
1 teaspoon-1 tablespoon heavy cream, as needed to thin
to assemble:
chopped candy canes or peppermint candies
directions:
Make the shells:
Line 3 baking sheets with parchment paper, being sure it lies flat.
Prepare a large piping bag with a large, plain piping tip.
Preheat oven to 325 degrees F.
Place nuts, confectioners sugar, and cocoa powder in a food processor and process until finely ground.
Sift into a bowl and add the first measure of egg whites.
Stir until a smooth paste forms.
Combine the water and granulated sugar in a small sauce pot fitted with a candy thermometer.
Place the second measure of egg whites along with the cream of tartar in a stand mixer and start to whip them on low speed.
Meanwhile, begin to heat up your sugar and water.
When the sugar syrup reaches 242 degrees F, the egg whites should be at soft peaks.
Drizzle the syrup into the whites with the mixer on low speed, then increase speed and whip on high until slightly cooled and meringue is glossy and stiff.
Fold 1/3 of the meringue into the nut paste until the nut paste is lightened up.
Fold in the rest of the meringue and continue to make folding, stirring motions until the batter flows like lava and a spatula lifted out of the batter drips in ribbons.
Place the batter in the piping bag and pipe out small circles, flicking with your wrist to sever the stream of batter.
Allow to dry for a few minutes, then place in the oven and bake until a cookie lifts cleanly off the parchment.
Allow to cool completely, then fill and decorate.
Make the buttercream:
Melt the chocolate and stir until smooth; set aside to cool slightly.
Beat the butter on high speed until very smooth and fluffy; add in the extracts and beat until combined.
Scrape the sides of the bowl very well, then add in all of the chocolate at once and beat on high speed until combined.
Sift the confectioners sugar over top and then beat it in.
If frosting is too thick, add heavy cream one teaspoon at a time to thin.
To assemble, spread a thick layer of buttercream onto one macaron shell; place another one on top and squeeze slightly so that the buttercream slightly protrudes from the sides.
Roll in chopped candy canes.
Allow to age for at least 1 day before eating. (Ahem.)