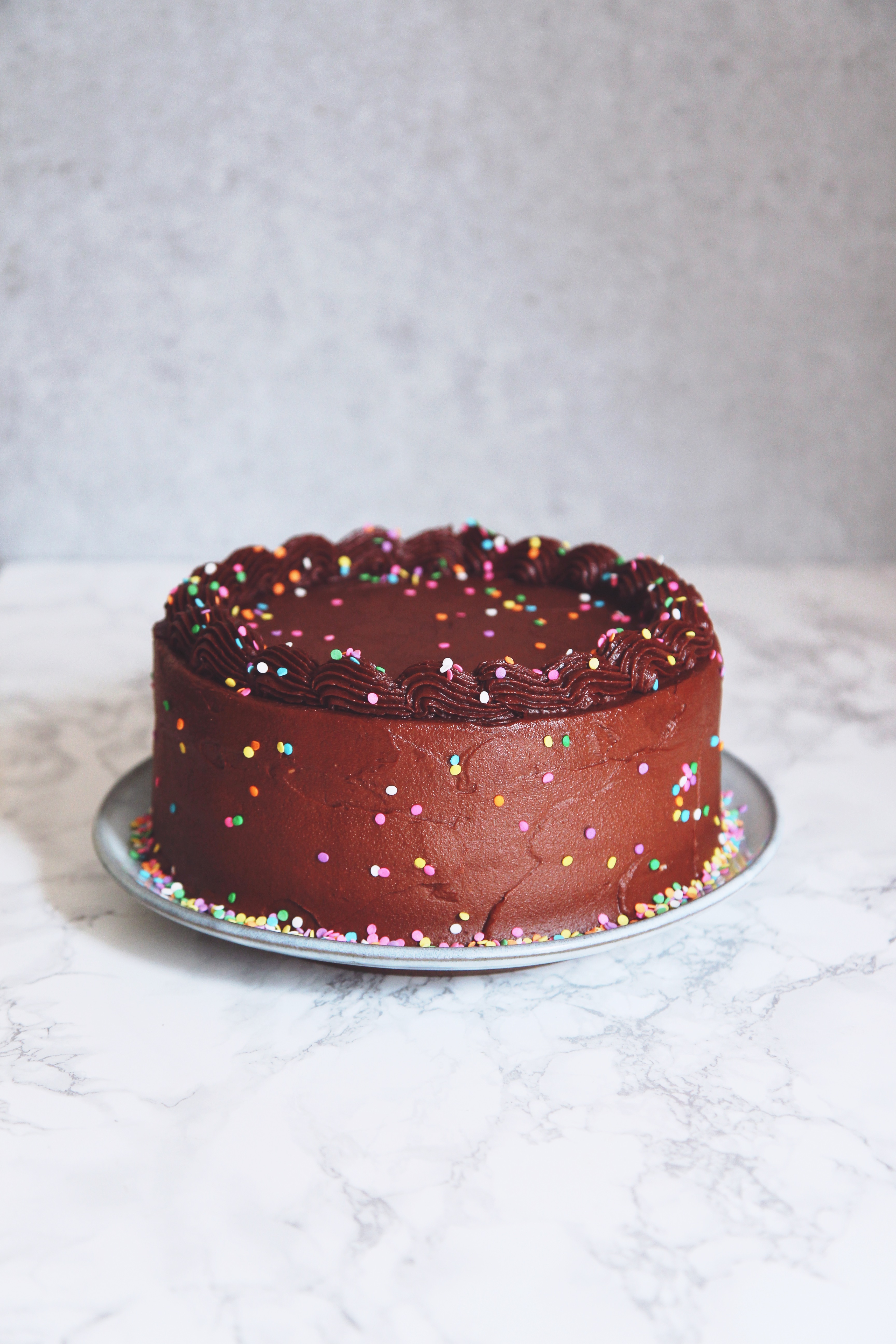 "You see, he was going for the Holy Grail. The boys all took a flier at the Holy Grail now and then. It was a several years' cruise. They always put in the long absence snooping around, in the most conscientious way, though none of them had any idea where the Holy Grail really was, and I don't think any of them actually expected to find it, or would have known what to do with it if he had run across it."
― Mark Twain, A Connecticut Yankee in King Arthur's Court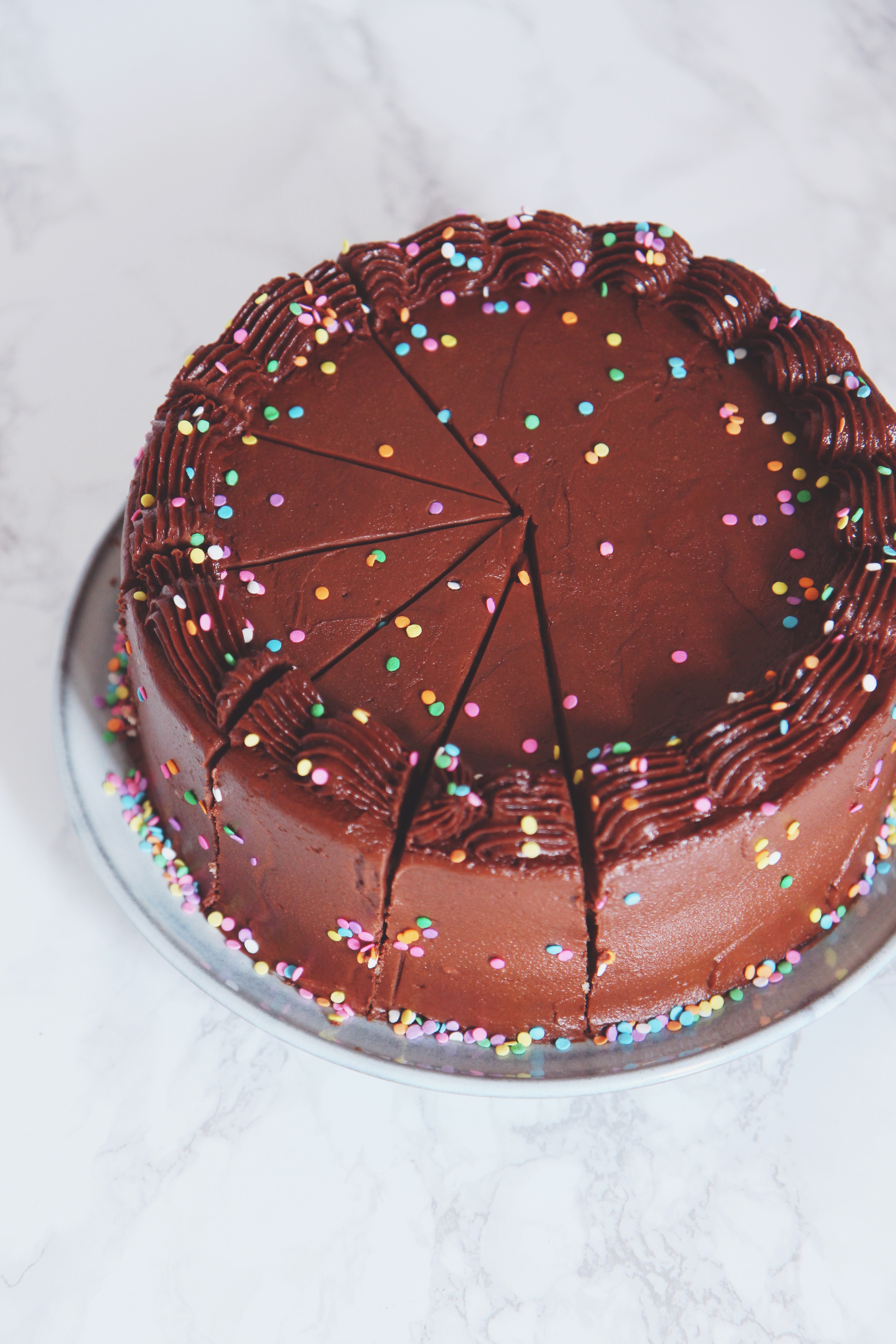 June, June. My first month of funemployment.
Supposed to be relaxed, chilled out, not busy, etc. etc.
Uh-huh.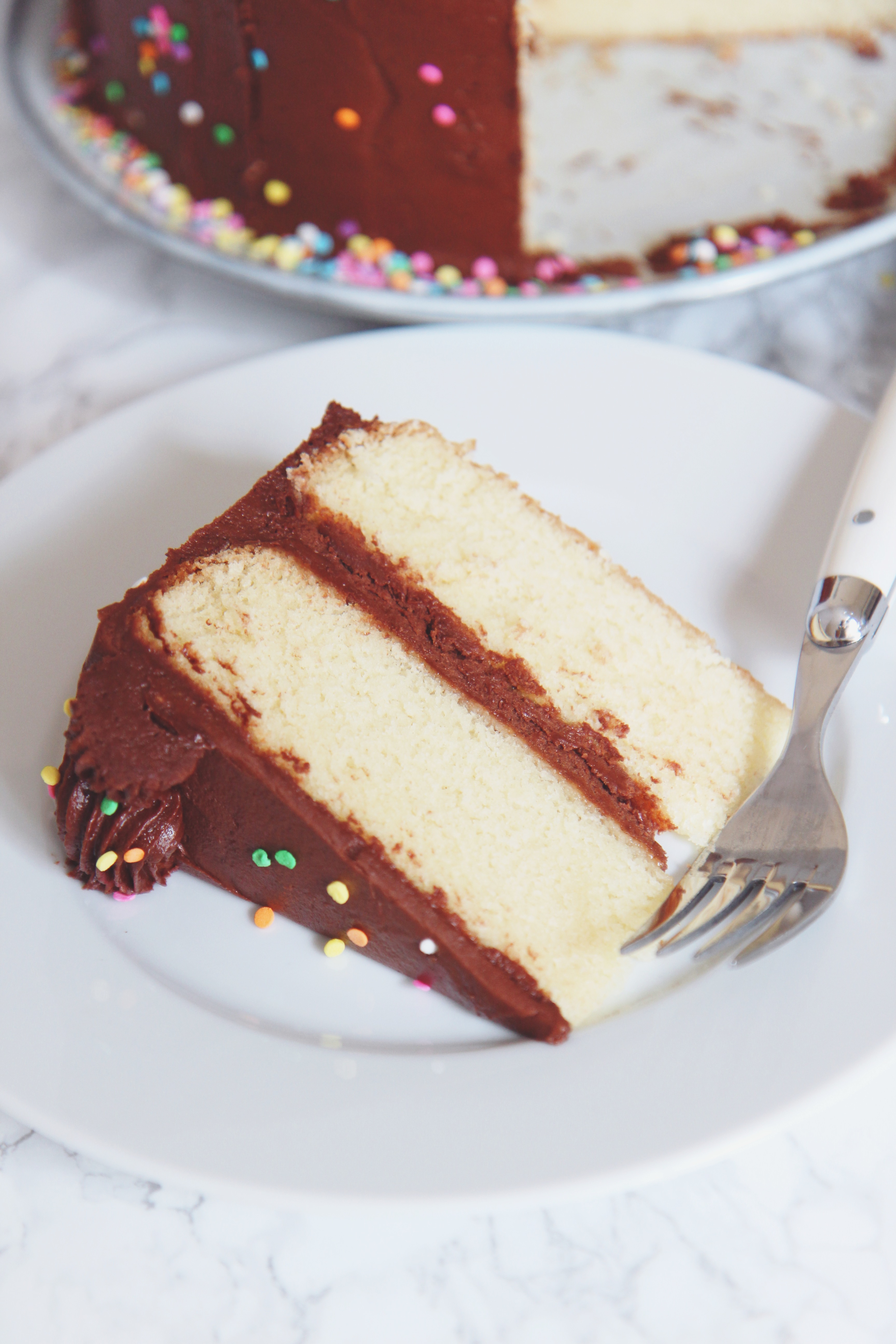 I left my job at Getty at the beginning of this month, with great aspirations to go to my yoga studio all the time and bake up a storm.
But as it turns out, three weeks go by impossibly fast when you have planned on making them go by slowly.
I already feel the familiar and childlike dread of summer, sweet summer, blowing by me.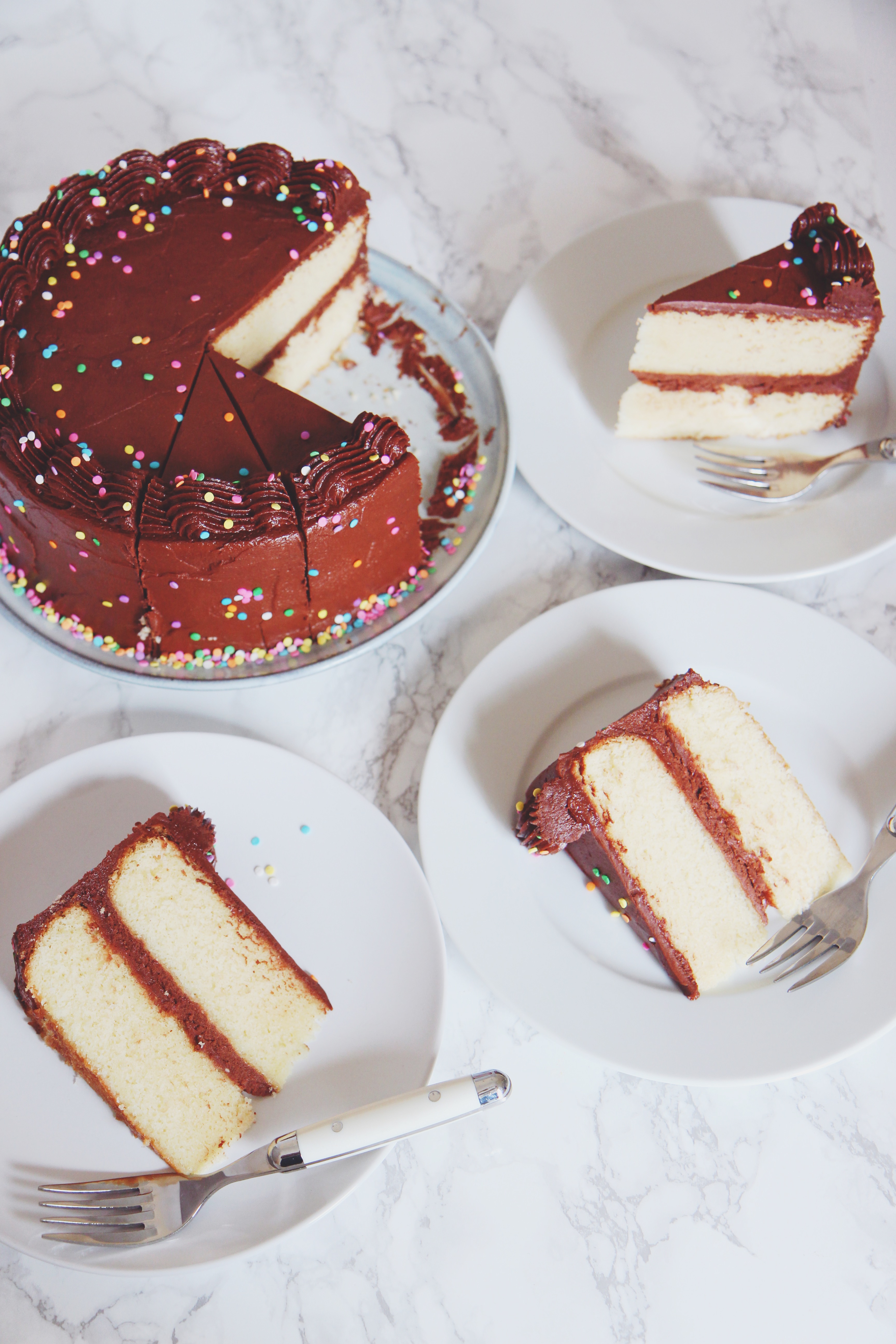 We moved Nati out of his apartment this past week, which brings my tally of moves this summer to two.
I tell you truly, if I never had to move again it would be too soon.
The stress created and effort required by moving make me feel absolutely unlike myself. I'm glad to be done for now.
Next week, we're embarking on a vacation to Québec, and I'm extremely excited to get out of the city and explore new places and foods. I haven't been to Montréal in over five years, and I've never been to Québec City.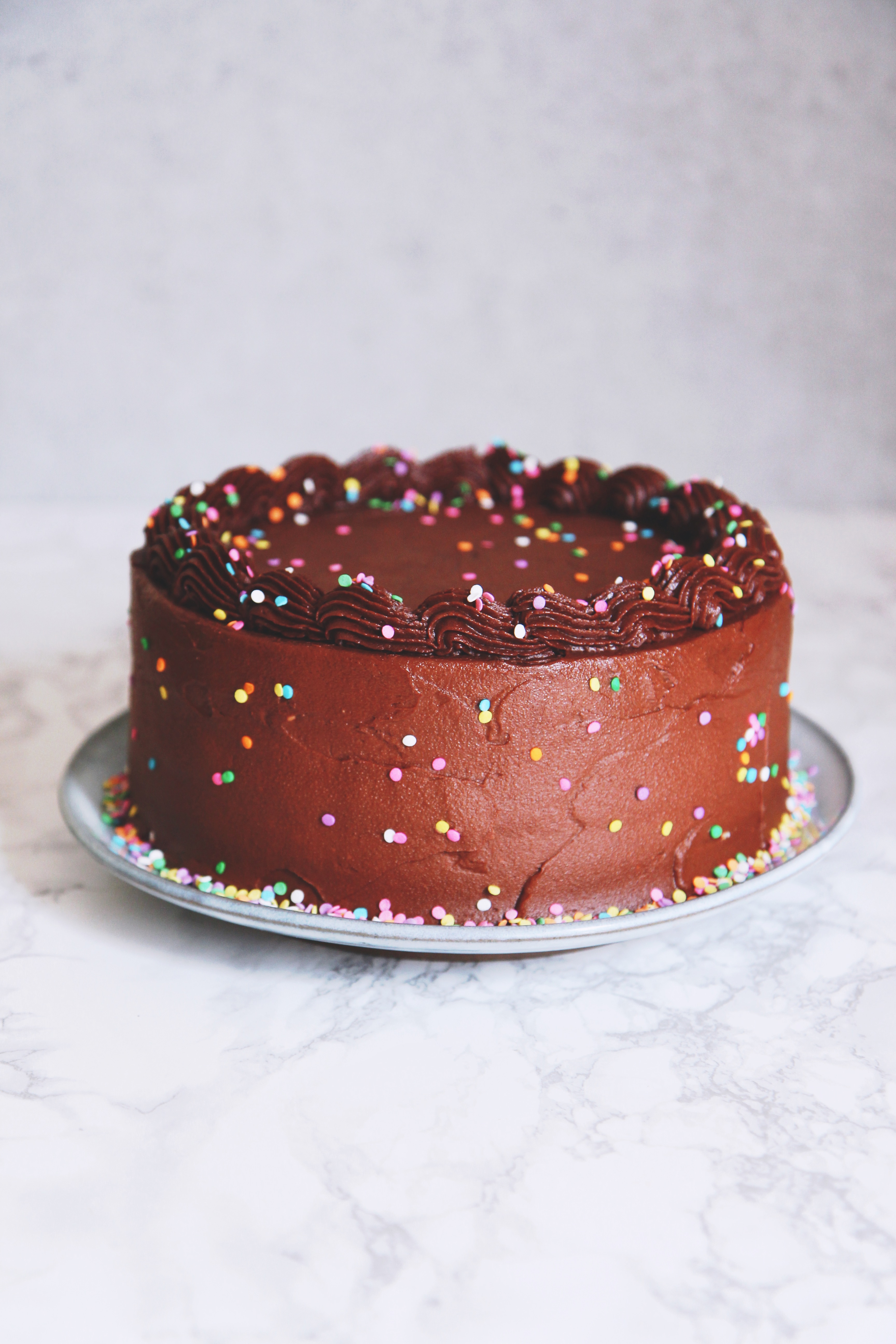 This cake recipe has supplanted my previous holy grail of a yellow cake, which was from Sky High (I do so love that cookbook!) and had reigned supreme for some years now.
It's the Classic Birthday Cake, which is King Arthur Flour's Recipe of the Year.
It's truly excellent and easy to boot! A yellow cake with fudge frosting, which seems like it should be easy to pull off, but really, really isn't.
It is totally suitable for beginner bakers and any celebration; after all, who doesn't like yellow cake with chocolate frosting?!
Even Nati liked this cake, which is no small feat for a cake given his disinclination towards all sweets.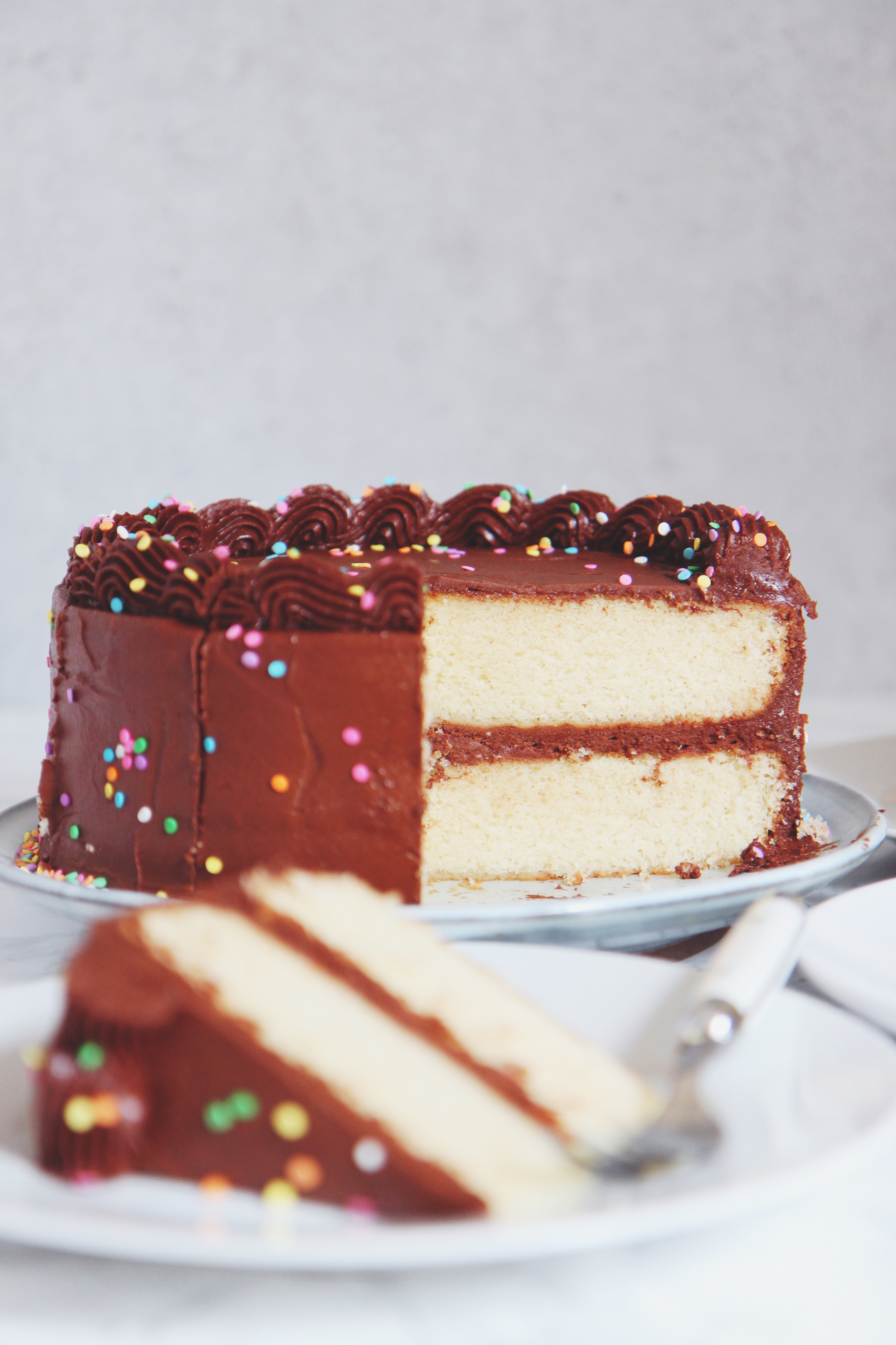 This cake combination is irresistibly classic.
The cake is moist and finely-crumbed; it slices perfectly and stores very well (it was still soft and scrumptious four days after having been baked and refrigerated).
The frosting whips up quickly and lump-free, thanks to the use of hot water to dissolve the cocoa. It has a rich fudgy flavor that balances out the base nicely without being overwhelmingly chocolaty.
The almond extract in the cake isn't strictly necessary, but it adds an excellent nostalgic box-mix like flavor.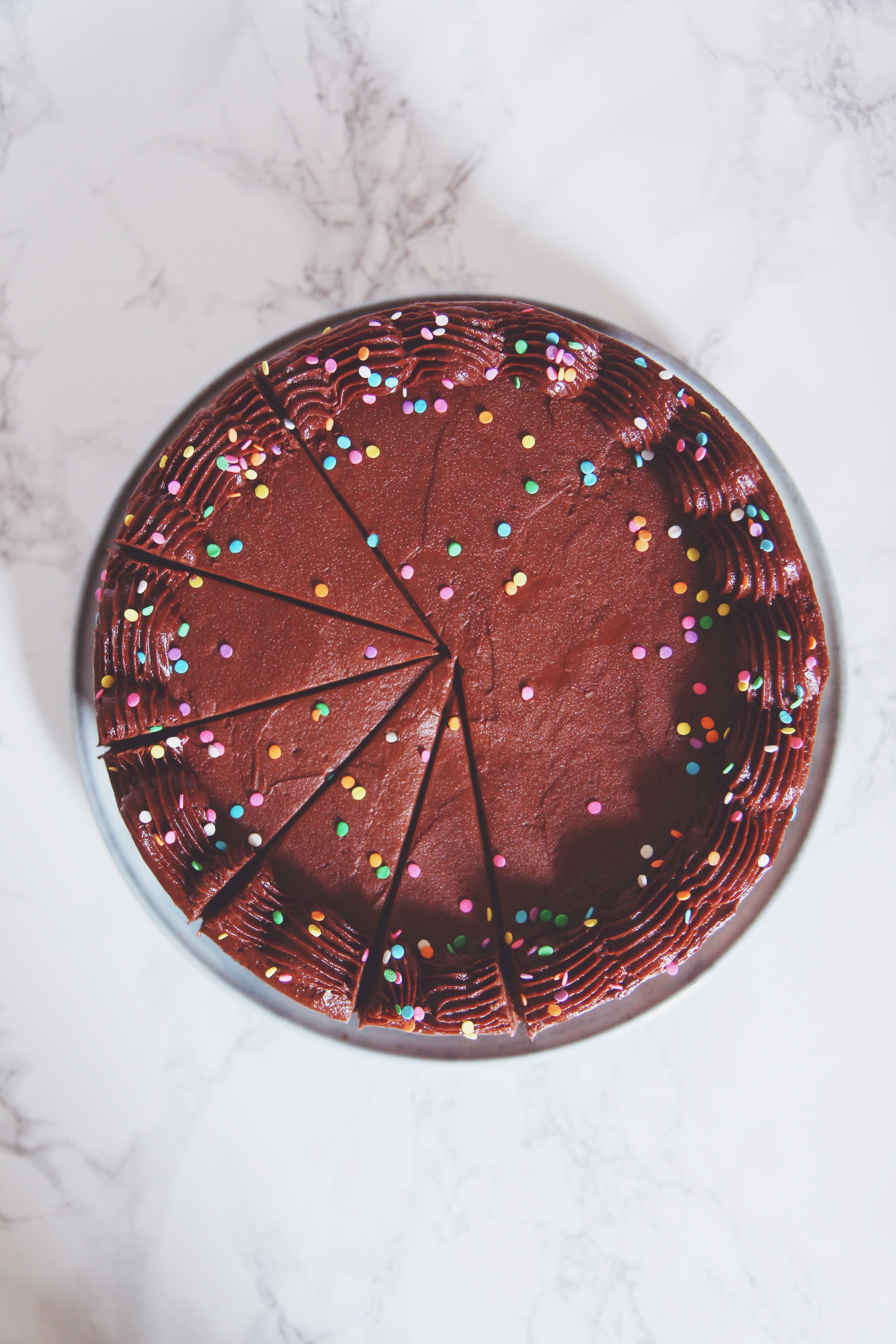 You can find the recipe for this cake over at King Arthur Flour.
They have it by volume, rather than weight, if that's more your style.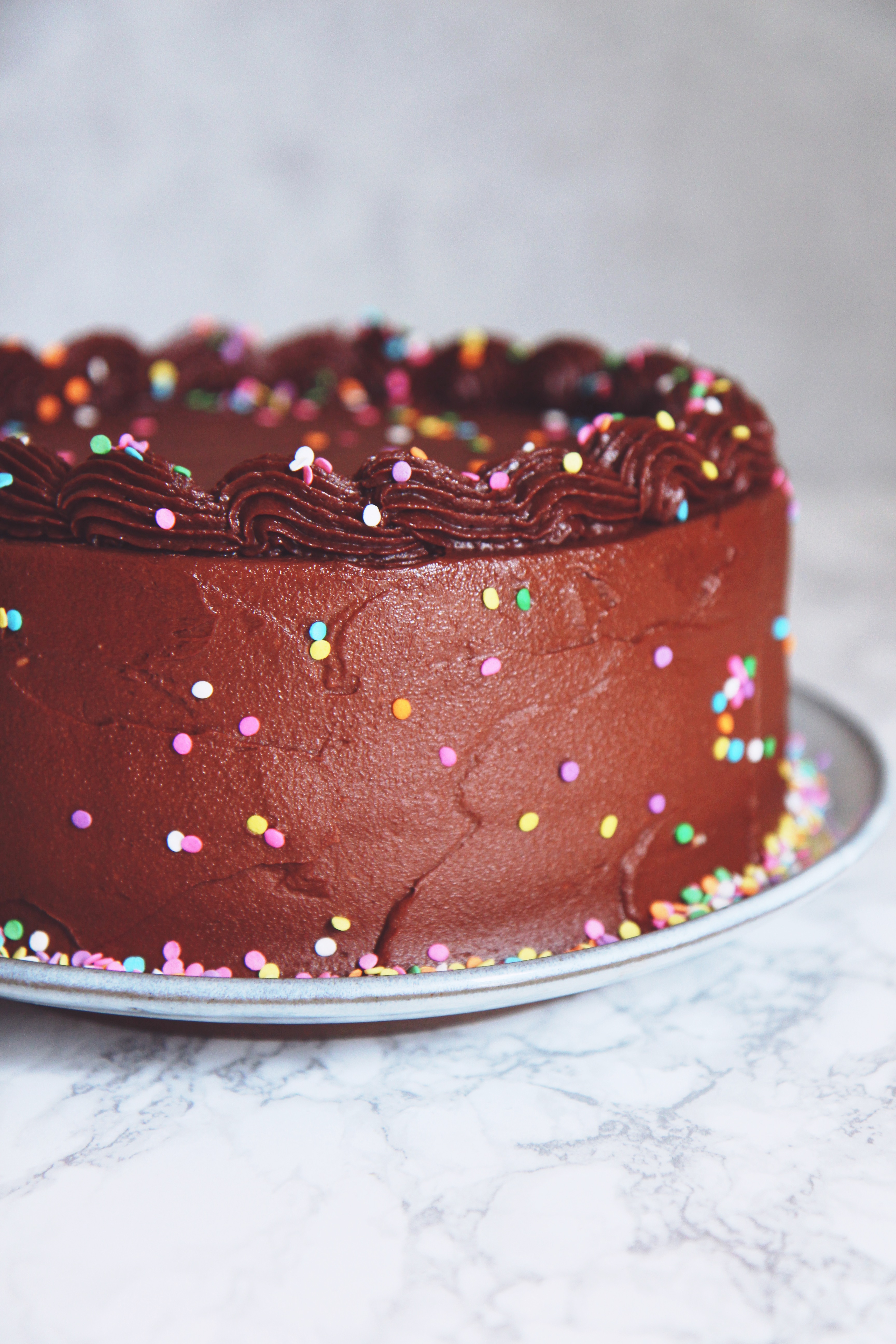 I was provided with product and compensated for this post, in exchange for my honest and fair review. All opinions are my own. Bisous!
for the frosting:
106g natural cocoa powder* (sifted if lumpy)
113g + 340g confectioners' sugar (sifted if lumpy)
1/4 teaspoon salt
74g hot water
14g vanilla extract
227g butter, softened
instructions:
To make the cake: Preheat the oven to 325°F with a rack in the center. Lightly grease two 8" x 2" or 9" x 2" round cake pans; for extra protection against sticking, line the bottom of the pans with parchment rounds (you can cut these yourself or use precut 8" or 9" rounds), and grease the parchment. If your 8" pans aren't at least 2" deep, use 9" pans.
Weigh your flour or measure it by gently spooning it into a cup, then sweeping off any excess.
In a small bowl, combine the flour, salt, and baking powder. Set aside.
In a large mixing bowl, either using an electric hand mixer or a stand mixer with whisk attachment, beat the eggs, sugar, vanilla, and almond extract, if using, until thickened and light gold in color, about 2 minutes at medium-high speed. If your stand mixer doesn't have a whisk attachment, beat for 5 minutes using the paddle attachment. The batter should fall in thick ribbons from the beaters, whisk, or paddle.
Add the dry ingredients to the mixture in the bowl and mix — by hand or on low speed of a mixer — just enough to combine. Scrape the bottom and sides of the bowl, then mix again briefly, to fully incorporate any residual flour or sticky bits.
In a saucepan set over medium heat or in the microwave, bring the milk just to a simmer. Remove the pan from the heat and add the butter and oil, stirring by hand until the butter has melted.
Slowly mix the hot milk-butter-oil mixture into the batter, stirring on low speed of a mixer until everything is well combined. Scrape the bowl and mix briefly, just until smooth.
Divide the batter evenly between the two pans. You'll use about 2 3/4 cups (about 580g) in each.
Bake the cakes until a toothpick inserted into the center comes out clean and the top feels set, 26 to 30 minutes for two 9" pans, or 38 to 42 minutes for two 8" pans; a digital thermometer inserted into the center of the cakes should read 205°F. Remove the cakes from the oven, carefully loosen the edges, and allow them to cool for 15 minutes in the pans. Then turn them out of the pans and transfer them to a rack, right-side up, to cool to room temperature.
To make the frosting: In a large mixing bowl or the bowl of your stand mixer, stir together – by hand or mixer – the cocoa powder, 1 cup (113g) of the confectioners' sugar, and the salt. Stir in the water and vanilla, scraping the bowl if necessary.
Add the butter and remaining confectioners' sugar, stirring to combine. Using an electric hand mixer or a stand mixer with paddle attachment, beat the frosting at medium-high speed for 1 to 2 minutes, until lightened in color and fluffy, stopping halfway through to scrape the bottom and sides of the bowl. When the frosting is ready, scoop out a bit on your spatula; does it seem nicely spreadable? If it's too stiff, beat in water (1 teaspoon at a time) until it's the consistency you want.
To assemble the cake: Place one of the cake layers on a serving plate; tuck pieces of waxed or parchment paper underneath the edge of the cake to keep the plate clean. Spread the bottom layer with about 1 cup of frosting, enough to make a 1/4" to 1/2"-thick layer. Center the second layer bottom-side up (for a flat top) over the frosted layer and press gently to set it in place.
If your schedule permits, place the cake in the refrigerator or freezer, uncovered, for at least 30 minutes (or up to 2 hours) to firm it up. This will make the layers less likely to slide around as you work, and the cake won't shed crumbs as you frost. If you're pressed for time, you can skip this step.
To finish the cake: For the best-looking cake, do the frosting in two steps. First, spread a very thin layer of frosting around the sides and across the top; this is called a crumb coat. You should be able to see the cake through the frosting in spots, it's that thin. Refrigerate the cake for 20 minutes to let this layer set. Again, skip this step if time is a factor.
Once the cake is chilled, use the remaining frosting to coat it thoroughly and evenly. If you have any leftover frosting, you can use it to pipe decorations on the top and/or around the base.
Store the cake, covered, at room temperature, or in the refrigerator if your kitchen is hot. Let it come to room temperature before serving.
Storage information: The cake will keep at room temperature, covered with a cake cover, for up to three days; in the refrigerator, covered, for up to one week, or in the freezer, well wrapped, for up to one month.