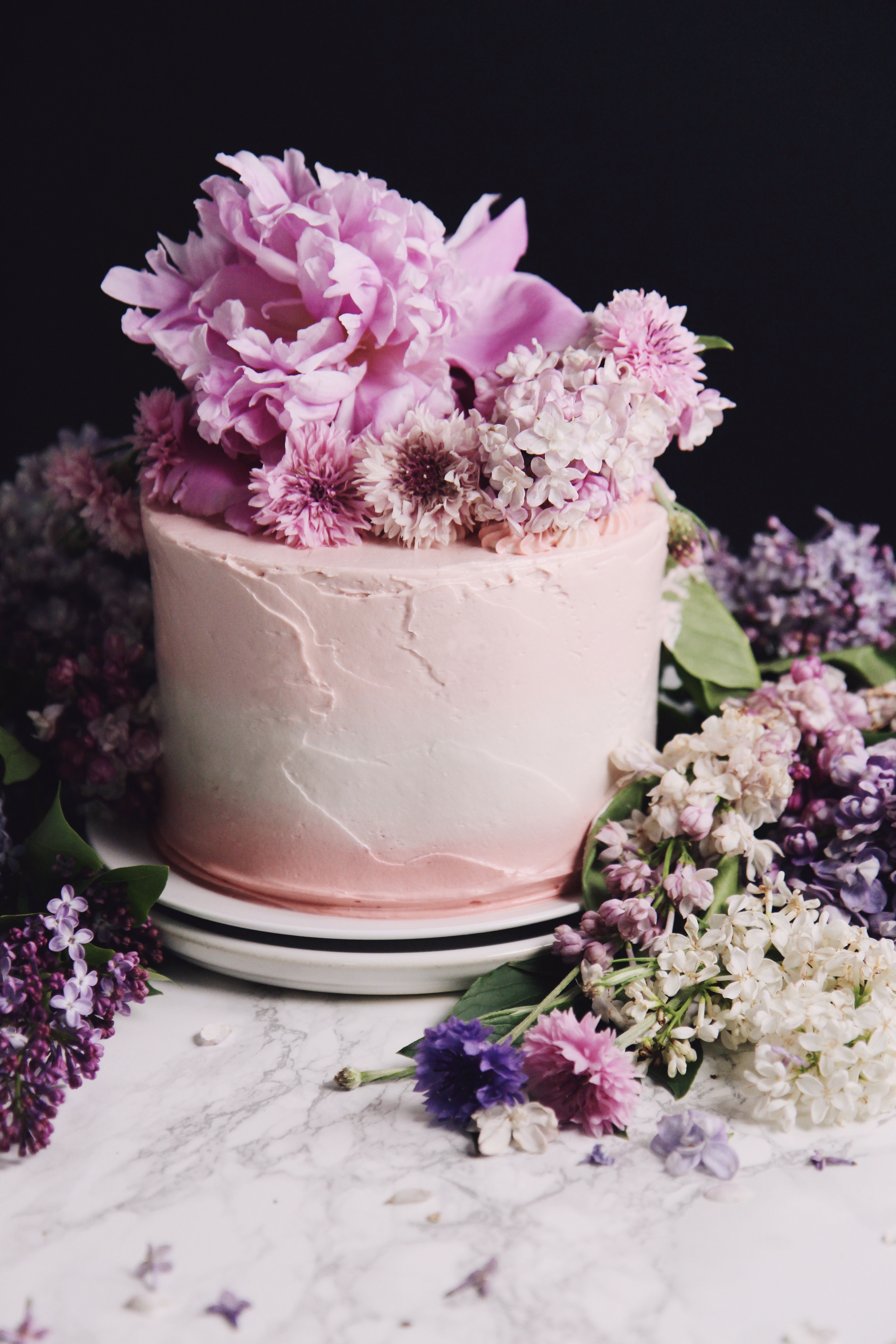 The most essential factor is persistence—the determination never to allow your energy or enthusiasm to be dampened by the discouragement that must inevitably come.
James Whitcomb Riley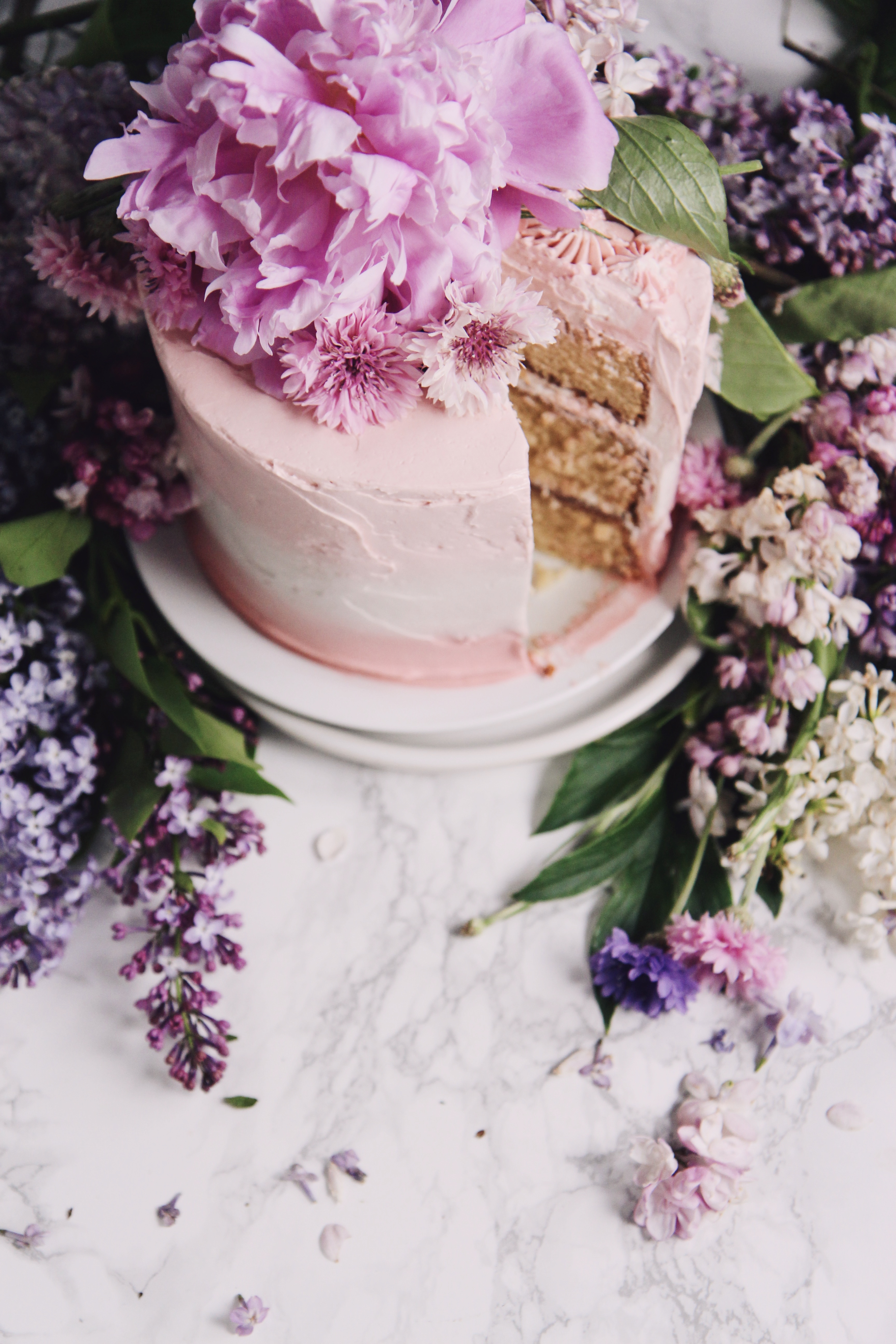 Happy 7th birthday, La Pêche Fraîche.
It's hard to believe how quickly these years have flown by. I would very much like to slow down, please.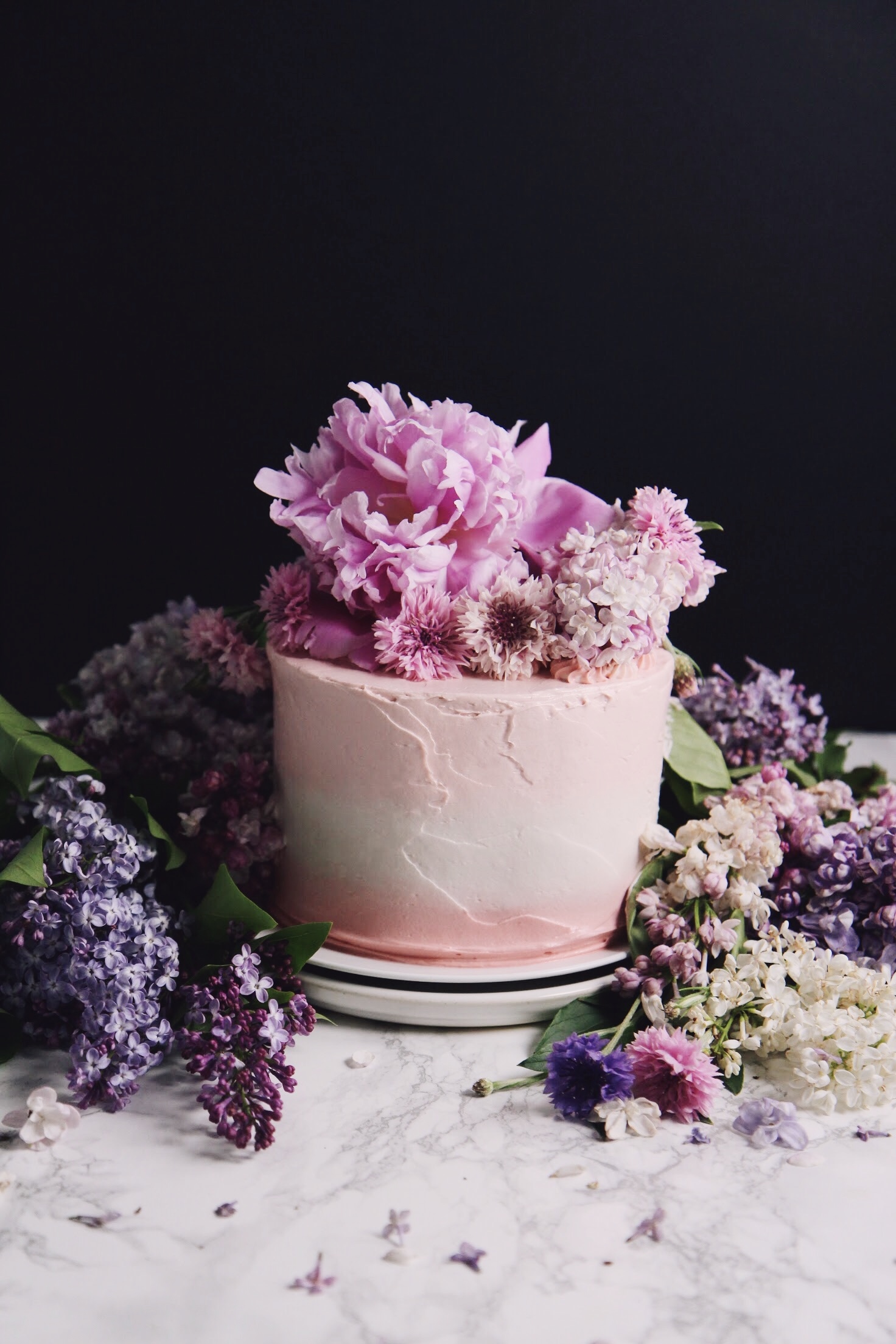 Another trip around the sun as a food blogger, complete.
It's funny; I feel as though every year when this time comes around, my life is swirling up around me, the organic chaos of a thousand thousand petals in the wind.
I am such a creature of persistent habit, and I don't really adapt well to change in my personal life.
I am awkward, and stiff, and as much yoga as I do, my heart does not bend fluidly when confronted with unfamiliar circumstances.
Right now, many of my loved ones are moving, and the feeling that the comforting geographic composition of my family is disappearing is making me anxious.
No matter if it is a goodbye or a see-you-later; neither have ever been my forte. And so, I am forlorn and a little lost.
At the same time, all I want to do is to be able to count a million blessings that I know I am lucky to have, to genuinely enjoy the coming of spring and summer, to appreciate being able to feel this deeply, to cherish a life so filled with vibrant emotion, to celebrate all the little sunshiney things that make my soul smile.
My brain is always a tumultuous dichotomy, and I only ever put it in words here, on this page. Sometimes the words don't come, and what I publish is only a few staccato sentences about the weather and how busybusybusy I am.
La Pêche Fraîche's content and identity is not precisely how it was intended, but it's too late now to go back.
The blog grew up, into and through myself, and my sense of self grew around it.
The two are truly inextricable.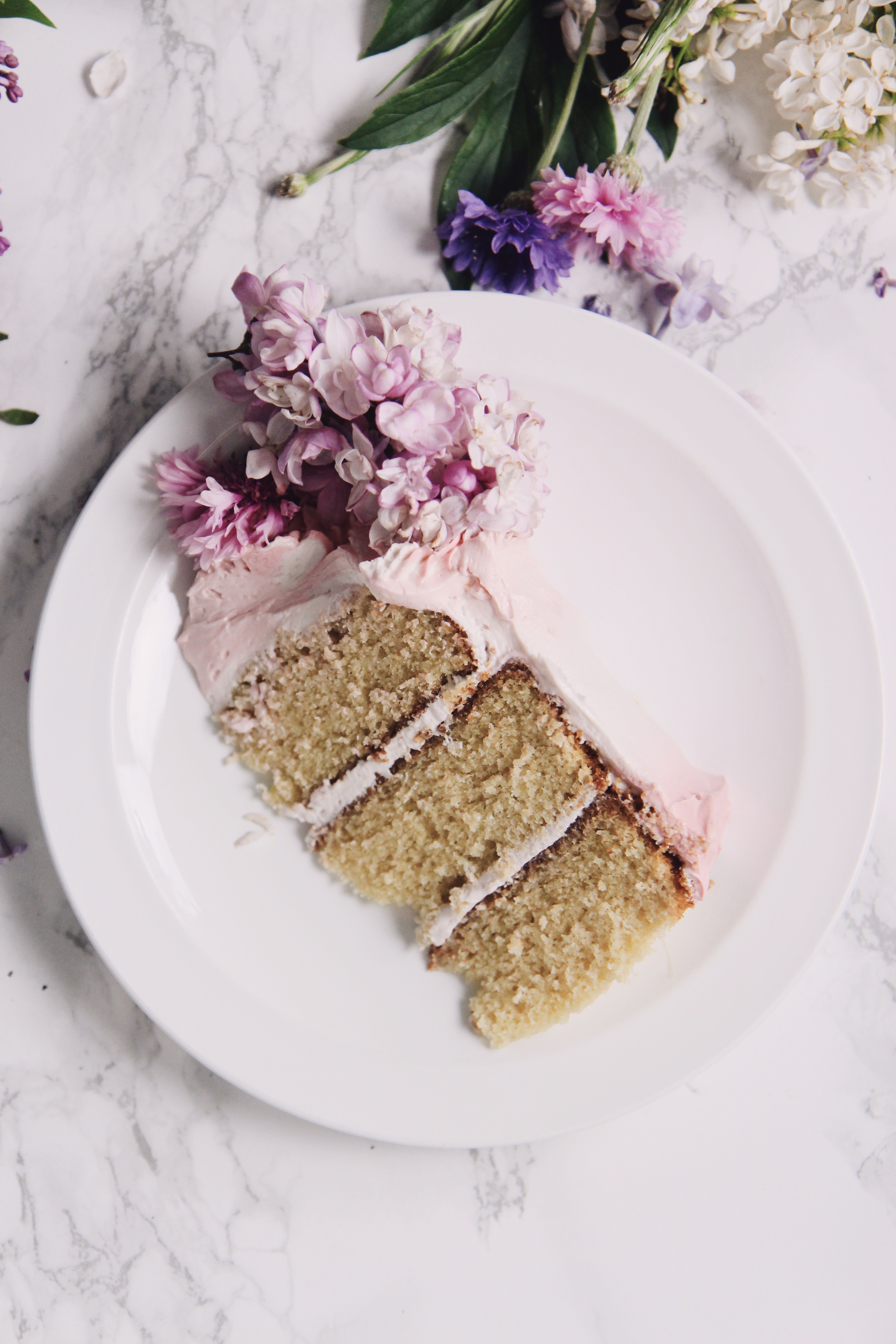 Anyways, thank you all for sticking around with me.
I am truly grateful every day for the opportunity to build and create in this space.
It holds an extremely special place in my heart and soul, and I hope you enjoy spending time here.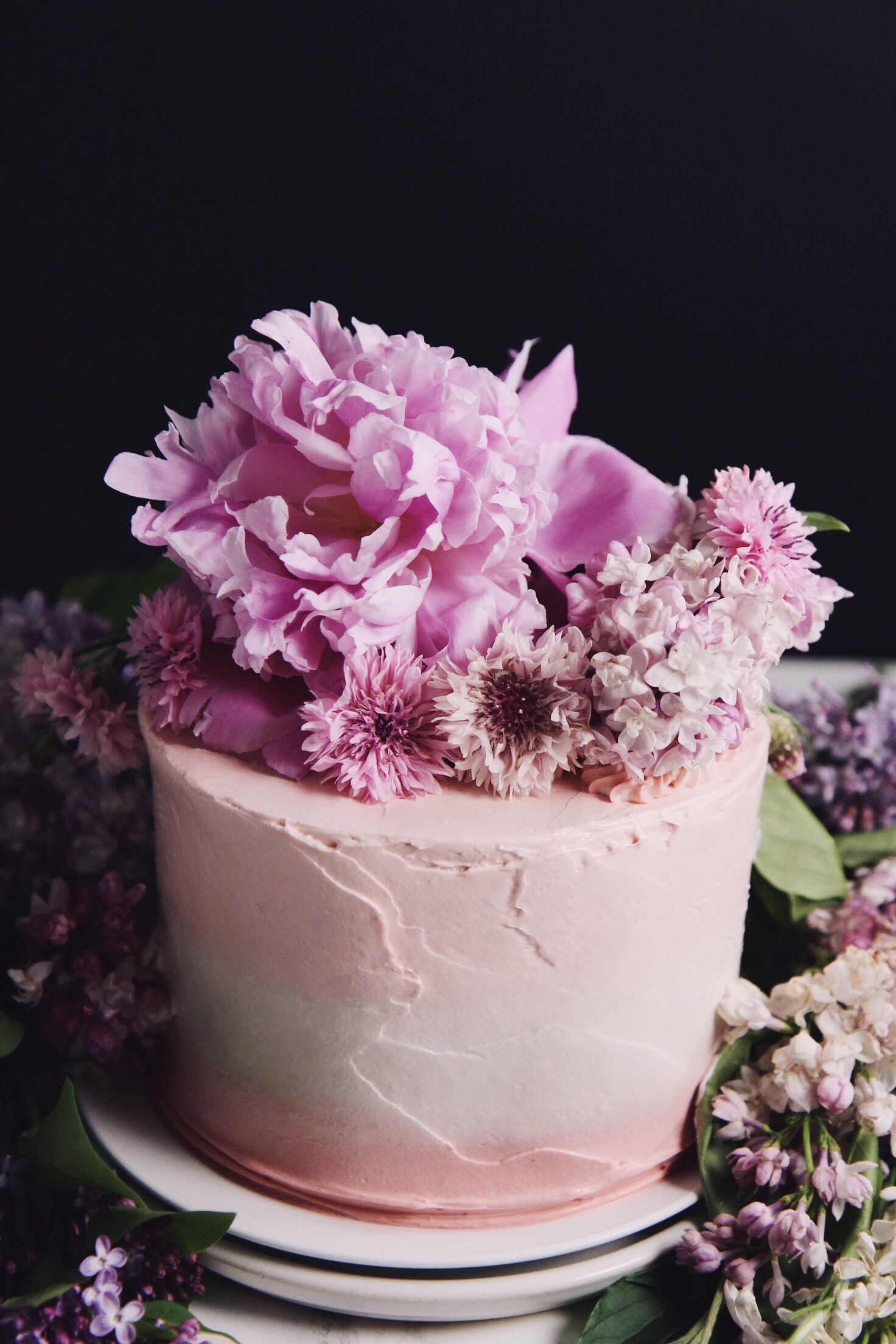 I have a tradition now of celebrating this day with a cake that is at least somewhat pink.
Making this cake was an absolute delight. It was the first recipe I made out of The Vanilla Bean Baking Book. It is Sarah's basic yellow cake recipe, and I barely barely adapted it by subbing in full fat cream and vinegar for the buttermilk and sour cream. I do so like the softness that cream adds to the crumb of cakes.
The cake baked up neatly, solid but not dry, with a toothsome crumb and a fair balance between sweet, rich, and salty. The tops did dome in the oven, so I had to level them out. I didn't mind as I was making a three tiered cake, but if you're going for a 2×8", it may  be a tad shorter than you would expect.
It is a really solid, well-tested recipe.
It is great for beginners or those who are trying to convert from box mix as well!
After leveling the cakes, they are brushed with sticky, sweetened condensed milk and a few drops of amarena cherry syrup.
Stacking them all together is an Italian meringue buttercream, generously flavored with vanilla and another hit of amarena cherry syrup from my precious stash.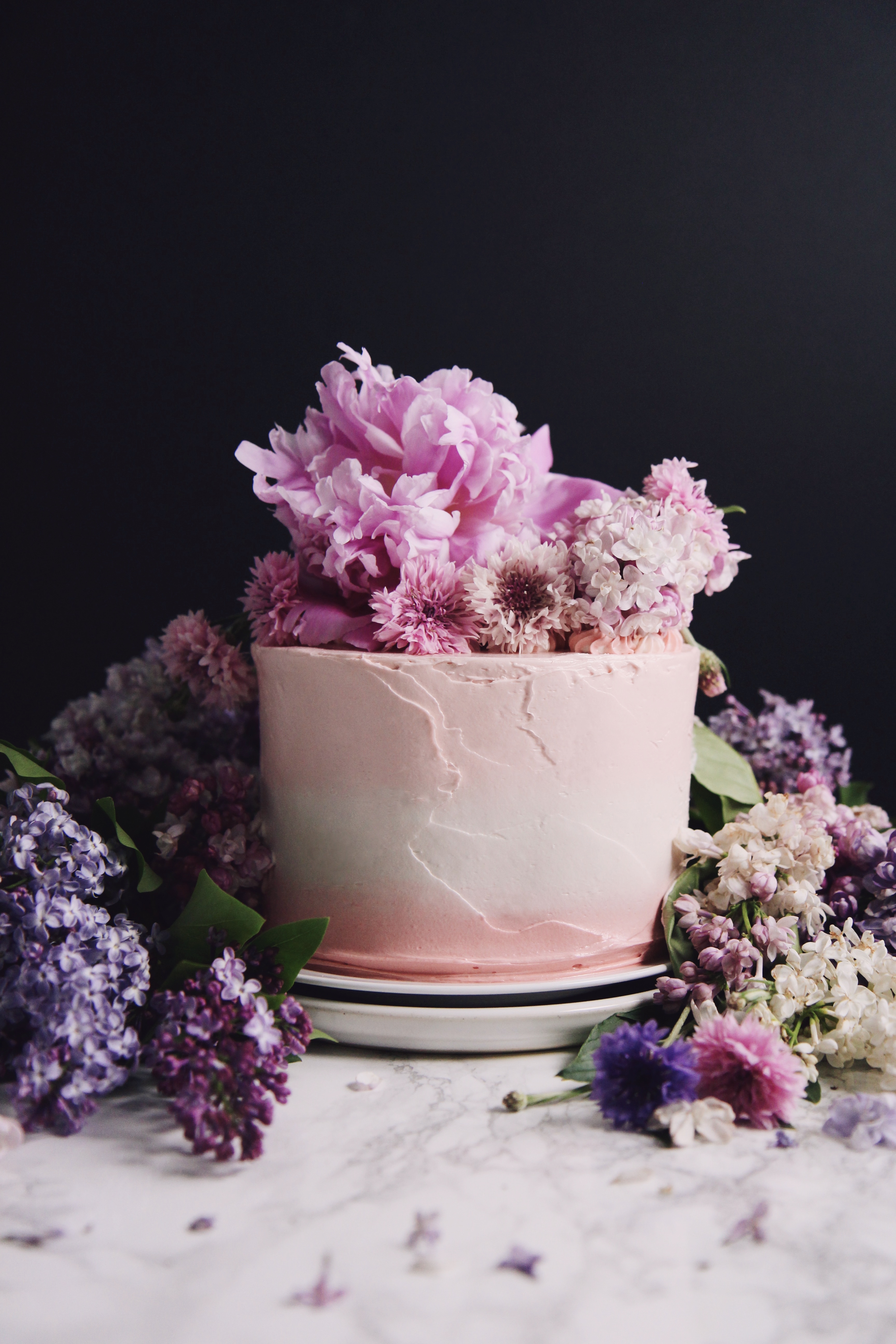 Since this was more of a sunset-washed cake rather than a precisely striped one, I just used a palette knife and a turntable and lazily layered up and blended the colors of frosting.
If you do want a more exact pattern, I suggest either using a cake comb and a small flat piping tip or a jumbo flat piping tip and piping out the stripes.
I always, always use a Wilton turntable, Americolor food coloring, and an Ateco palette knife.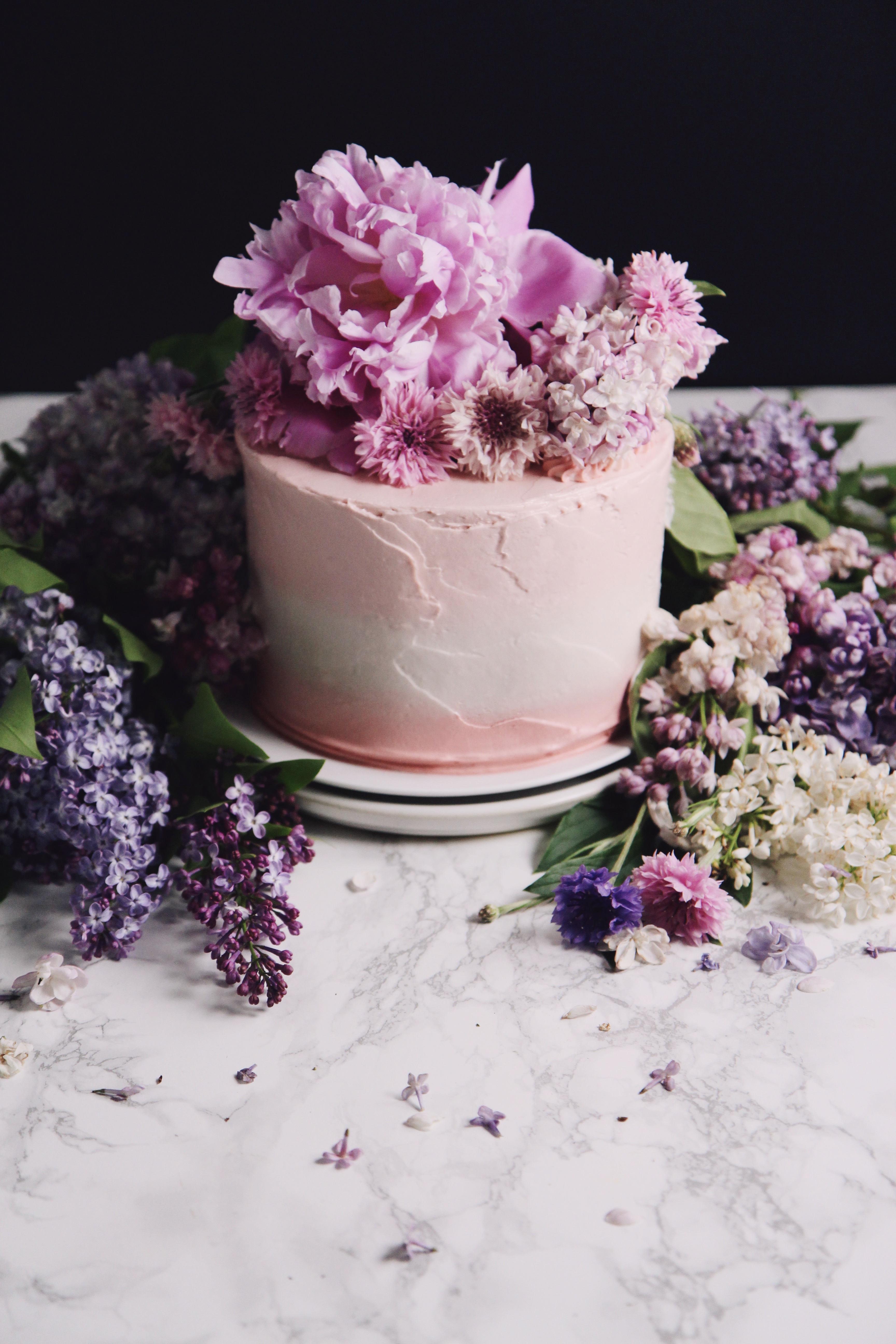 I sourced the beautiful flowers for this cake in the Union Square greenmarket.
Lilacs in every shade, a glorious crowning peony, and brilliant corn flowers.
When I work with flowers, I generally layer up a large amount of frosting (here, I piped with a jumbo star tip) on top of the cake in order to anchor the flowers and also keep them from touching the actual eating-part of the cake.
I scrape off the layer before serving.
If you are working with flowers that you can't absolutely confirm are organic and edible, I suggest you do the same to ensure that the flowers are not contaminating the food.
And thanks to a reader's prompting (!) I also cannot fail to remind you to also wrap and seal the stems, especially if you are inserting them into a cake instead of laying them on top like in this cake. Never eat a flower that you're not sure about, and always consult a medical professional when ingesting flowers/herbs.
Here, I have only used these for presentation, and they were taken off the cake quickly.  If you want to leave them on longer or insert them or eat them, please use your best judgment and utilize professional guides and medical advice when attempting!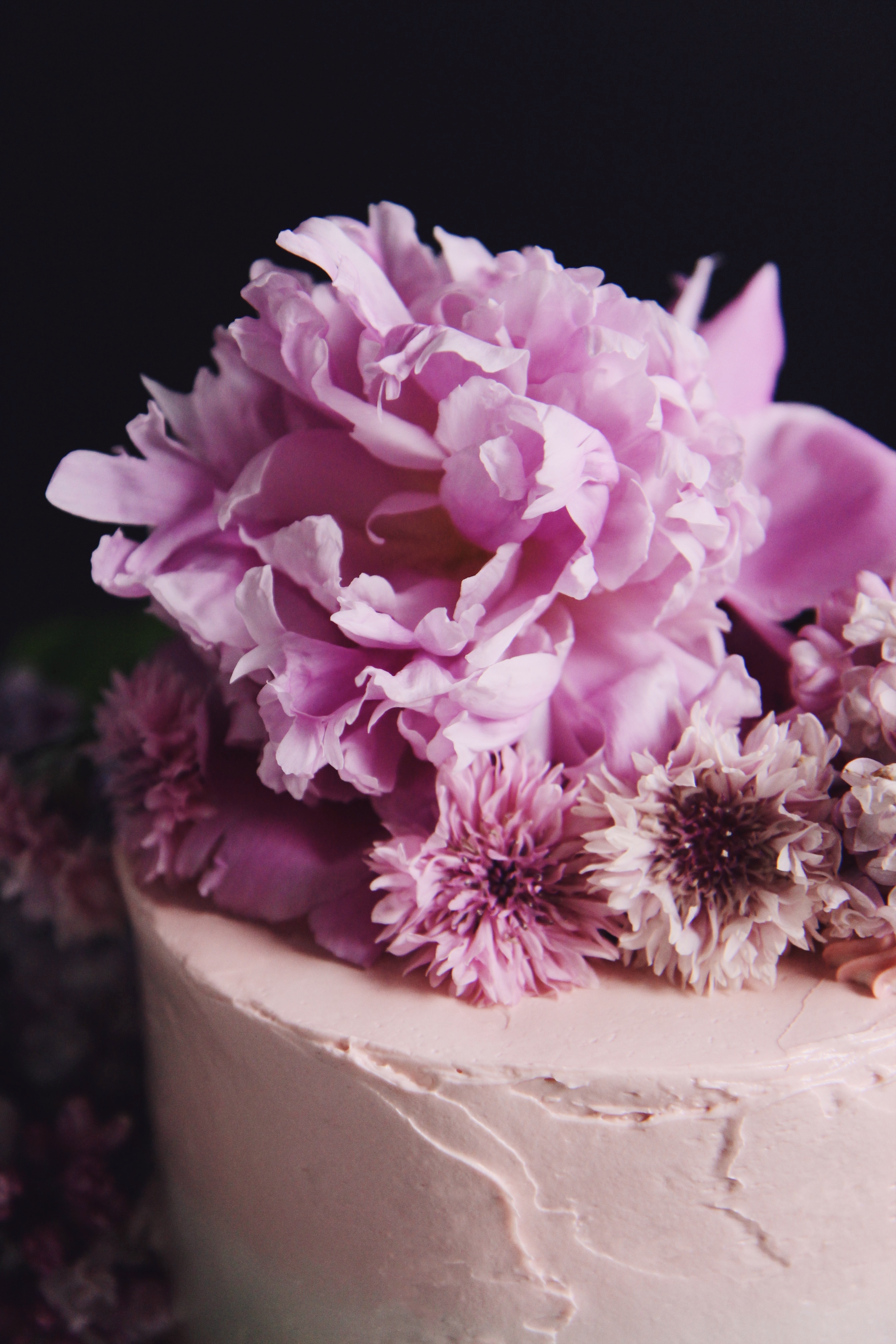 Six years / vegan coconut and chocolate cake
Five years / simple chocolate cake
Four years / eclectic chocolate cake
Three years / vanilla almond cake
Two years / malted milk birthday cake
One year / yikes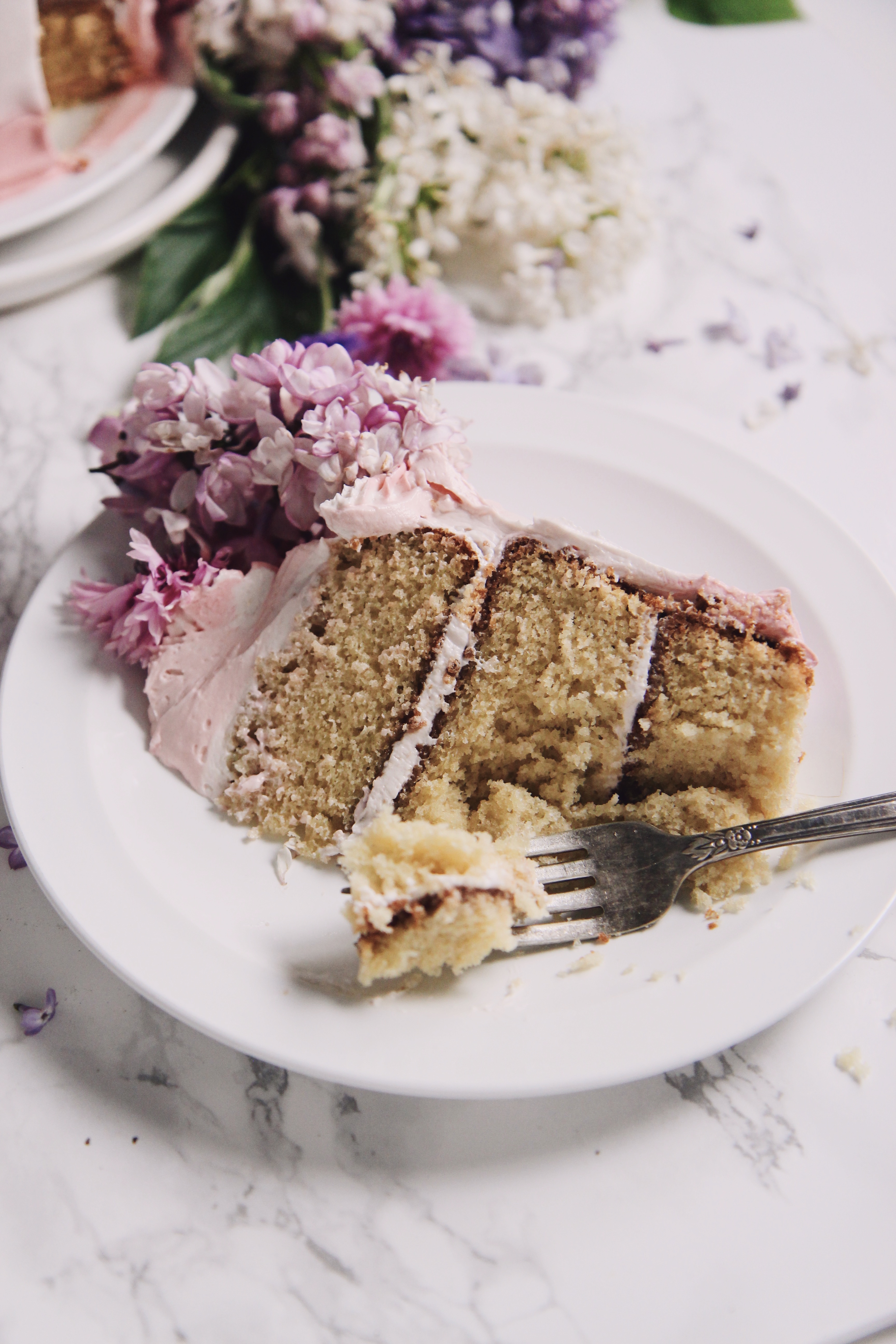 Yellow Cake with Cherry Buttercream
makes 1 3-layer 6-inch cake or 1 2-layer 8-inch cake
cake portion adapted from Sarah Kieffer's The Vanilla Bean Baking Book
for the yellow cake:
3 large eggs
2 egg yolks
1 tablespoon vanilla extract
230 grams (1 cup) heavy cream
2 teaspoons apple cider vinegar
250 grams (2 cups) flour
300 grams (1.5 cups) sugar
3/4 teaspoon baking powder
3/4 teaspoon baking soda
1/2 teaspoon sea salt
227 grams (2 sticks, 1 cup) butter, very soft at room temperature
for the cherry Italian meringue buttercream:
3 egg whites
150 grams (3/4 cup) sugar
45 grams (3 tablespoons) water
1/4 teaspoon sea salt
340 grams (3 sticks, 1 1/2 cups) butter, cut into 1-inch pieces
up to 1/2 cup amarena cherry syrup
red food coloring, as desired
to assemble:
sweetened condensed milk
extra cherry syrup, as desired
red food coloring, as desired
directions:
Make the cake: grease and flour 3 6-inch round pans very well.
Preheat oven to 350 degrees F.
Whisk eggs, egg yolks, vanilla, cream, and vinegar together and set aside.
Stir flour, sugar, baking powder, baking soda, and salt together in the bowl of a stand mixer fitted with a paddle attachment or a deep bowl.
Beginning by slowly stirring, add 1 piece of butter at a time.
The butter should be very soft and incorporate into a rough "paste" with the flour mixture.
Once you have added the last piece of butter, turn speed up to medium and slowly stream in wet ingredients, making sure they are wholly homogeneous.
Scrape the sides of the bowl and mix together for another 15 seconds to ensure homogeneity.
Portion batter out equally into the 3 prepared pans, and place in oven.
Bake for 22-28 minutes, until a tester comes out with only a few moist crumbs and the tops are golden and domed.
Remove and allow to cool in pans for 10 minutes, then flip onto a cooling rack and allow to cool completely.
Once cakes are cooled, level off the domed tops as needed and set aside.
Meanwhile, prepare the frosting: place sugar, salt, and water into a pan over medium heat.
Begin to whip egg whites on high; once the sugar syrup comes to 240 degrees F, the egg whites should be at soft peaks.
Slowly stream the hot syrup into the whipping egg whites, being extremely careful to not splatter the syrup.
Whip on high speed until the meringue has cooled to close to room temperature (or fully room temp, if your butter is completely at room temp).
Add butter one piece at a time, whipping until fully combined.
Once frosting has come together fully, slowly add the cherry syrup one tablespoon at a time, fully incorporating after each addition.
Taste and adjust syrup, adding up to 1/2 cup, as desired.
Portion out frosting into 3 roughly equal bowls and tint to desired color with a drop or two of red food coloring.
Place first cake on cake stand; brush generously with sweetened condensed milk, then brush with a small amount of cherry syrup.
Layer frosting and then the next cake on top; repeat the brushing step.
Finish with the top layer, brushing this one with sweetened condensed milk as well.
Frost with a crumb coat, then refrigerate for at least 30 minutes, until the crumb coat is set.
Using the darkest color, layer a roughly even band around the bottom of the cake.
Wipe off spatula, then make the next band out of the lightest color.
Finish the last part of the sides and the top with the middle shade of frosting.
Using a turntable, begin to spin the cake and smooth the bands together, blurring the lines and creating a watercolor effect.
Once finished, place cake in fridge once more and fill a piping bag with the remaining frosting.
Pipe a thick layer of blobs/stars on top of the cake, particularly if using flowers, with the piping bag.