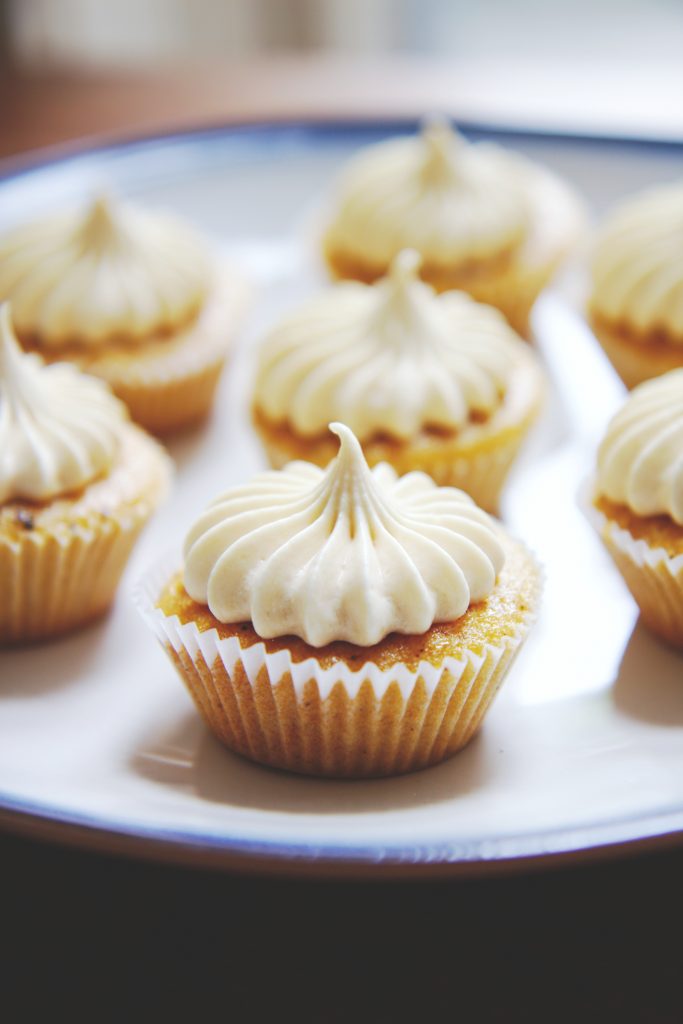 The air was so sweet in New Orleans it seemed to come in soft bandannas;
and you could smell the river and really smell the people, and mud, and molasses, and every kind of tropical exhalation,
with your nose suddenly removed from the dry ices of a Northern winter.
—Jack Kerouac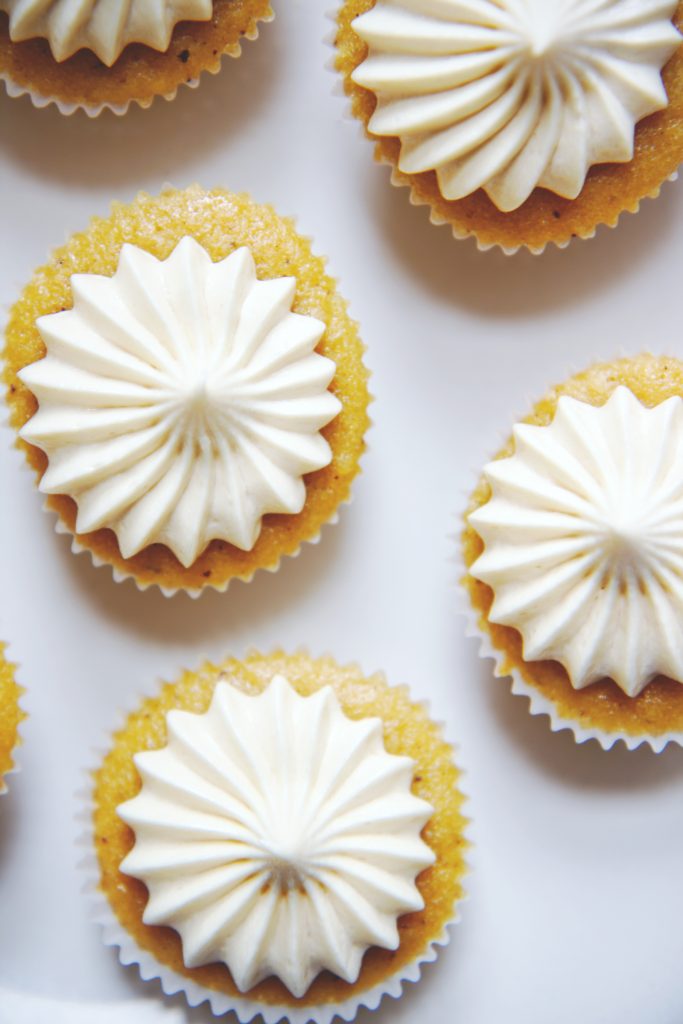 Well, I buried my head in my MCAT studies and found myself at the cusp of a Northern winter, with a chill in the air and the leaves all dead and Thanksgiving fast approaching.
Between school and the current sorry state of our nation's mud-slinging politics, I could do with some serious relaxing tropical exhalations right about now.
I'm sending hugs and brown butter and cake to everyone who has been shaken up by the last week+.
I'm here for anyone who reads this and want to reach out.  It's a confusing and scary time that has left many feeling adrift.
Hold tight—so tight—the things and people you love, and never let yourself lose sight of how important that love is.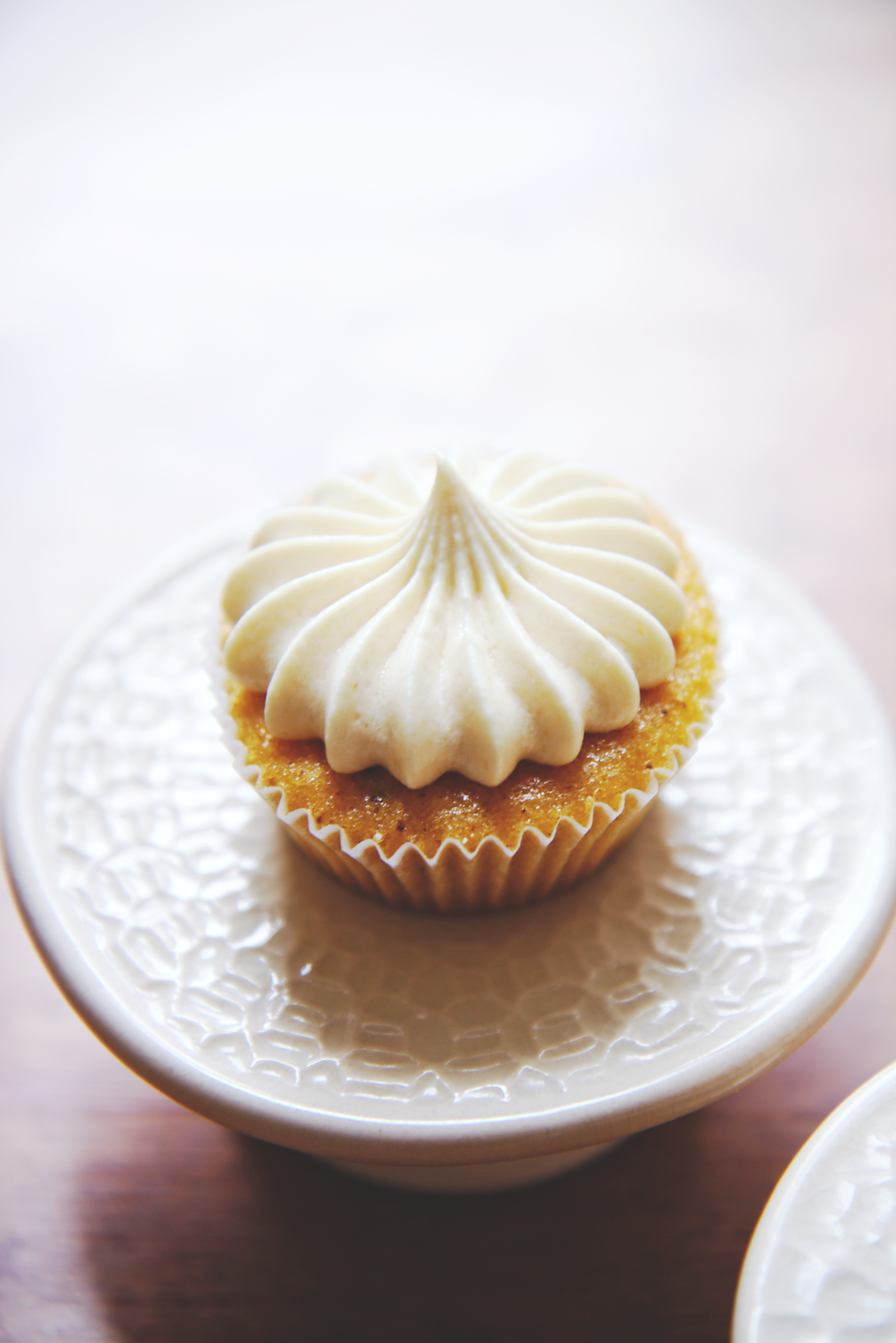 Enter: brown butter and molasses cupcakes, which are basically a hug in cake form.
Or like the best salty-sweet brown sugar and buttery goodness of a chocolate chip cookie, but in cake form.
These will blow. you. away.  One bowl/pot, just a few minutes of prep, and you're in for some comfort.
I made these mini, so they're only two teeny bites of moist brown butter cake topped with a smidgen of salty-sweet molasses buttercream, but as I always say, that just means you can eat more of them.
Mini treats just have a way of being extra addictive and extra adorable, I think.
These would be a cute and low-fuss addition to a holiday spread, Thanksgiving or otherwise. They can be made and frosted up to a day ahead, so that can relieve some day-of stress for all my cooks out there.
They're also small but pack a lot of flavor for their size, so after a heavy dinner, these could be just the ticket.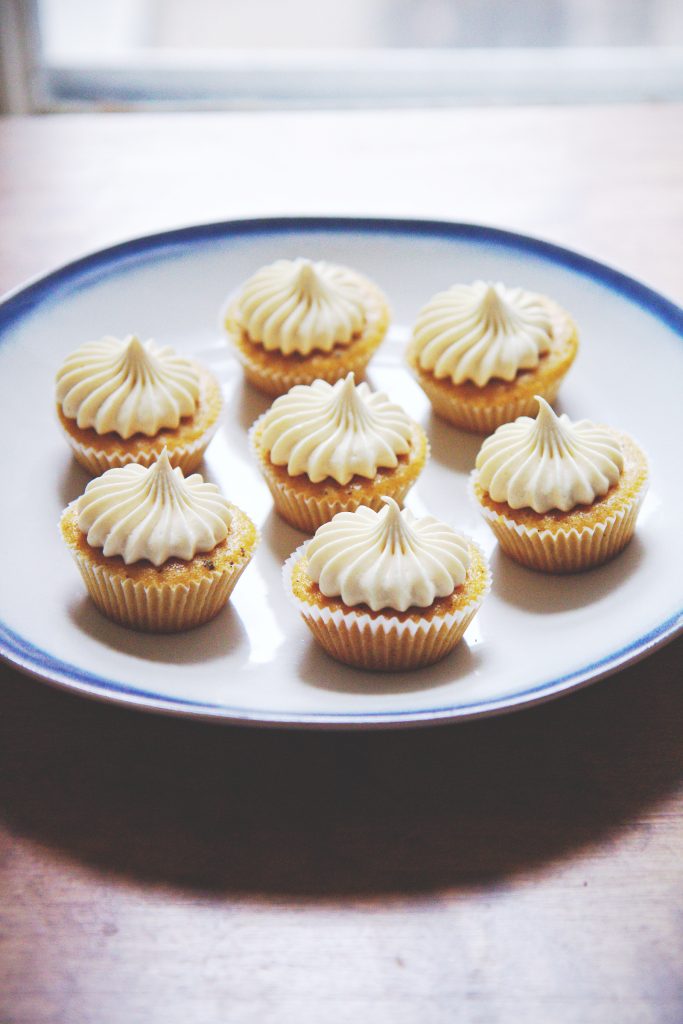 Brown Butter and Molasses Cupcakes
makes 12 mini cupcakes, easily doubled
ingredients:
for the cakes:
90 grams (6 tablespoons) butter, browned and cooled
1/4 teaspoon salt
175 grams (3/4 cup plus 2 tablespoons) granulated sugar
1 teaspoon vanilla extract
1 egg
120 grams (1/2 cup milk) (I used cashew)
135 grams (1 cup plus 2 tablespoons) AP flour
1 1/2 teaspoon baking powder
for the frosting:
90 grams (6 tablespoons) butter, softened
1/4 teaspoon salt, plus more to taste
1 tablespoon molasses
250-375 grams (2-3 cups) powdered sugar, as needed
1-2 tablespoons milk or cream, as needed
directions:
Preheat oven to 350 degrees F.
Line a mini muffin tin with cupcake liners.
Whisk the cooled brown butter, salt, sugar, and vanilla together until fully incorporated.
Whisk in the egg and beat for 3 minutes, until lightened in color.
Add in the milk, then the flour on top, then the baking powder on top of the flour.
Whisk vigorously to combine all ingredients.
Portion batter into your mini cupcake tin and bake for 7-8 minutes, or until a tester comes out with only a few moist crumbs.
Allow to cool completely.
Meanwhile, make the frosting: beat butter on high speed for 3 minutes.
Add in the salt and molasses and beat until incorporated.
Add in the first 2 cups of powdered sugar, then beat until combined and taste: if it needs to be sweeter or thicker, add the next cup of powdered sugar in two batches.
If the sweetness is just right to your taste but it needs to be thinner to be pipeable, add in 1 tablespoon of milk (or 2, if necessary).
Decorate the cupcakes as desired!