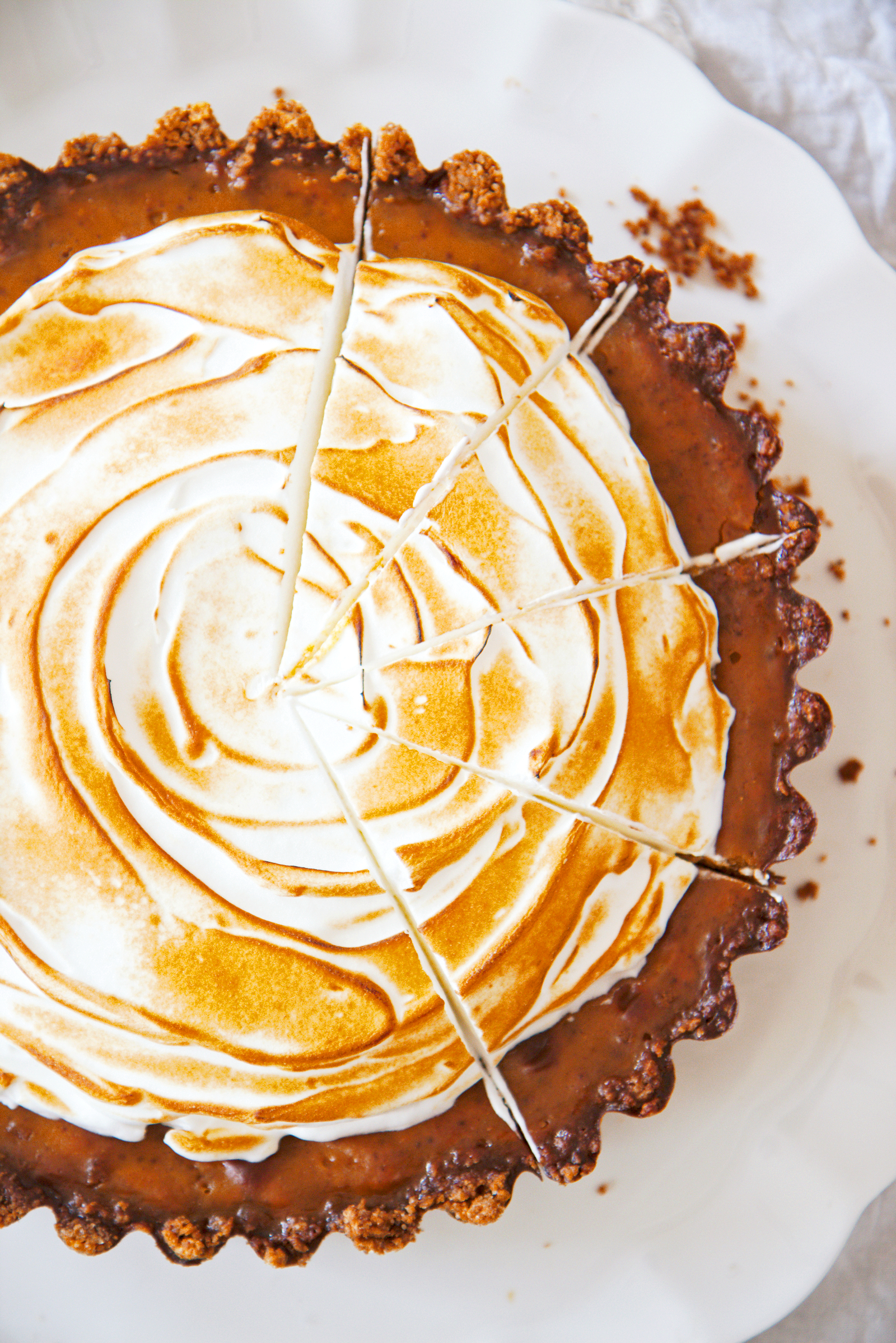 Autumn, the year's last, loveliest smile.
William Cullen Bryant
The word for grateful in French, reconnaisant, is derived from the verb reconnaître: to recognize or acknowledge.
To be thankful is to share your appreciation.
I have so, so many thanks to give this holiday season, in spite of the fragility of 2016 in the face of so many tragedies, differences, and disagreements. I feel strongly that acknowledging good and allowing our spirits to be lifted by it is just as important and crucial to progress as discussing what we feel is wrong or problematic.
I choose to feel lucky and count my blessings, because there are so many people around the world who have too few.
I am grateful for my family, for my partner, for friends near and far, for my school and the opportunities afforded to me, for clean water and laundry and a quiet bed to sleep in at night.
My life and heart are full, and yet I keep space enough to hope for peace and unity, for universal rights and equality, and an end to the bombings of hospitals and schools in Aleppo.
I pray for women and girls around the globe, for animals losing their homes and environments, or in zoos, shelters, or abusive homes, and I pray for Mother Earth.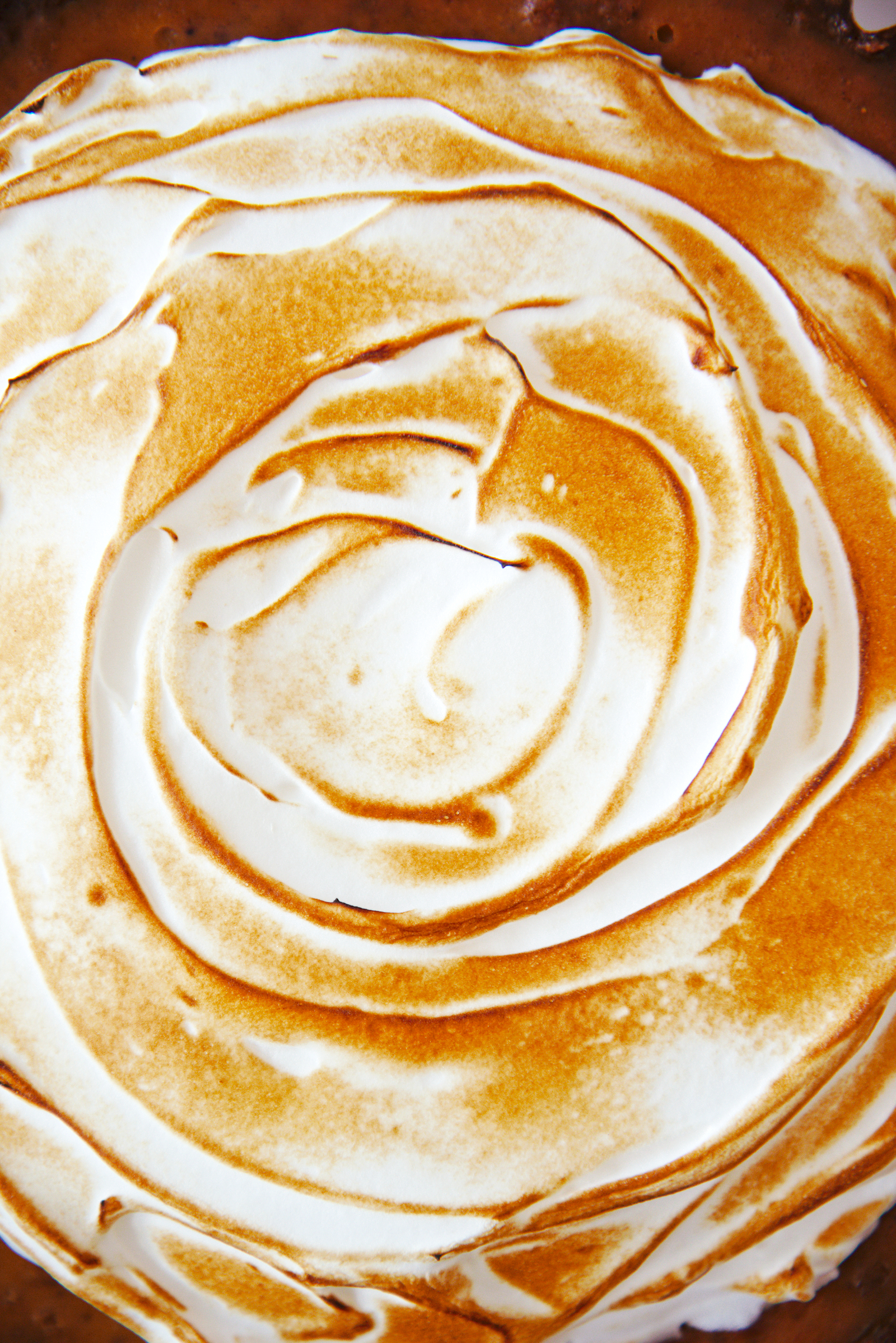 I thought I'd share a few (mostly food) links that have made me smile, or pause and think, or drool lately. I'm thankful for the food blogging community and the creativity that thrives in it.
Inspiration is good for the soul!
Thalia turned 21! She baked herself a glorious chocolate and hazelnut and praline cake (that frosting, omg bye) and also wrote a beautiful post (with pie) about self-transformation.
Michelle wrote some realness about the election and having work to do. So refreshing when so many have just gone on posting about yummy cakes etc. If you didn't read her 5th blogiversary post either, definitely check it out for some food for thought about what's really important about being a blogger.
Cindy's apple + marionberry marzipan crumble with "chewy bits of almond paste throughout the crisp topping" sounds like the best thing, ever. Definitely want to try this over the winter!
Speaking of things I want to try, Jen made an apple rose tart that is perfection embodied. Those swirly slices! I need to try making fruit roses, especially in a dessert, yum.
Adam Ellis is a cartoonist for Buzzfeed and his instagram is guaranteed to make you laugh. Hehe.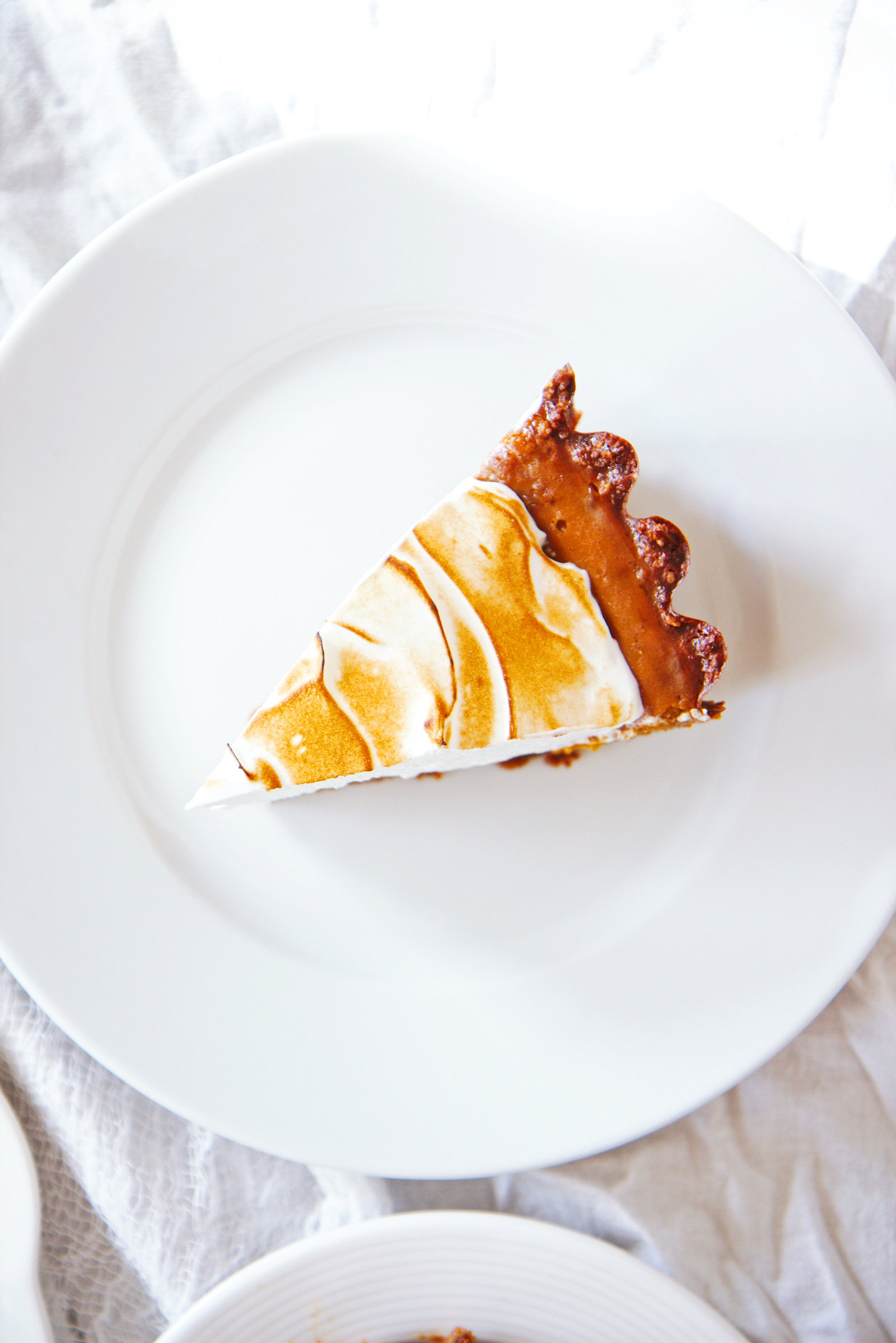 The frosting on Sam's hazelnut cake, holy cow. So shiny and chocolaty! I love the idea of using sour cream to add a slight contrast to the sweetness. Plus, the post is part of a campaign for No Kid Hungry, which is doubly awesome.
Erica made a beautiful pear bourbon pie and shared a sad story and her own urgings for us all to acknowledge and work together to move forward after a divisive political season. I completely understand her hesitation to say anything about politics in a space usually reserved for happy musings, but I applaud her for being bold and sharing some of her feelings.
Those seeking comfort and solace should turn to Beeta's classic chocolate chip cookies, which look pillowy and soft and full of chocolate. I could totally go for a warm cookie and cold milk right about now.
Ellen crying while getting a Medal of Freedom from Obama made me tear up, to be honest. She is so wonderful and this was a momentous honor.
Finally, my pictures are in a Belgian magazine!
You can check out the issue from Creacorner here—spot my Yule Stump cake!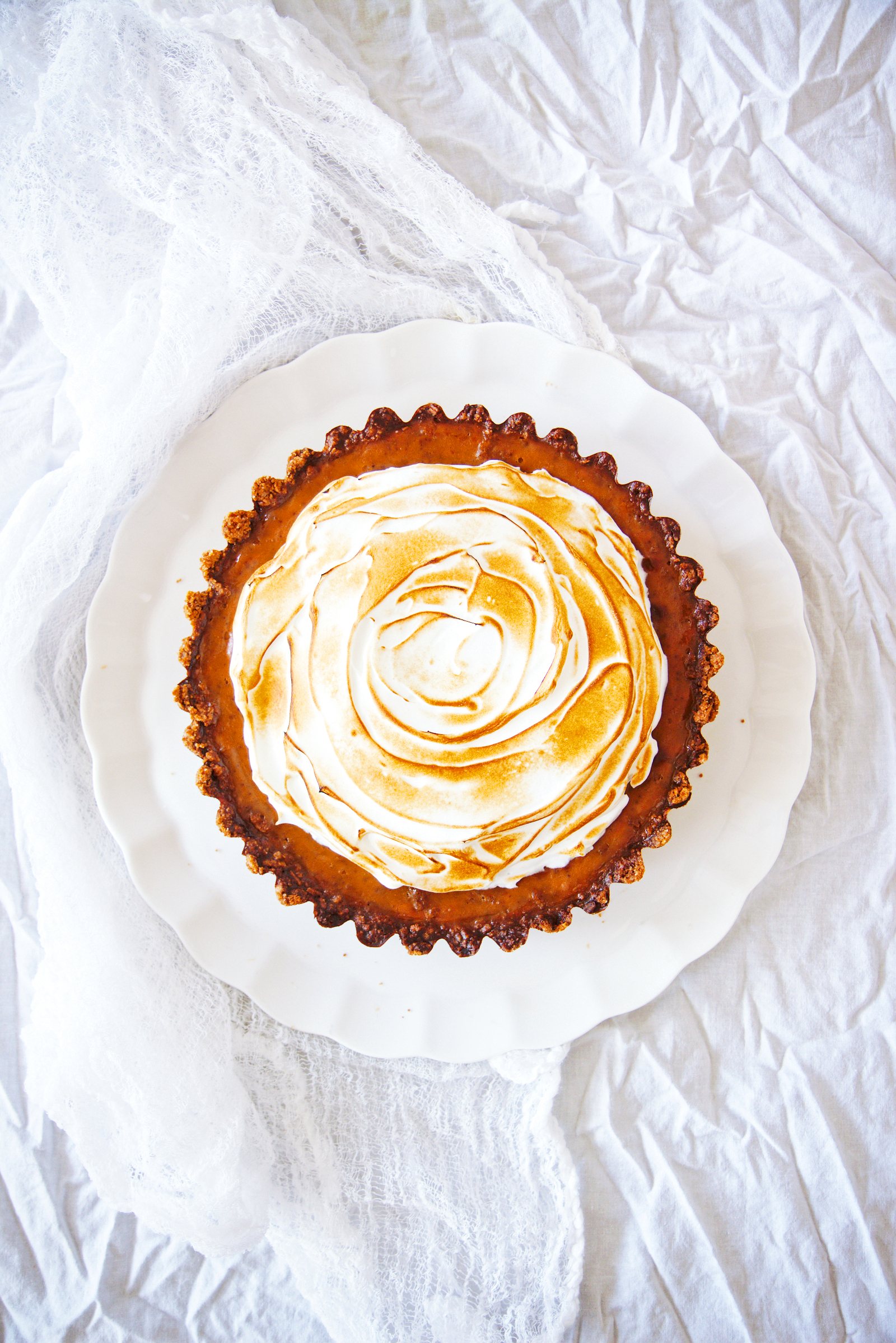 The pie I'm sharing with you guys today comes together in a flash and doesn't require any rolling of crusts, which is something that I know many people dread.
Instead, this creamy, spicy, sweet pumpkin pie has a brown butter graham cracker and cinnamon cereal crust (you know your inner child wants to try this) and a thick swirl of torched, marshmallow-y Italian meringue.
This comes together in a flash and doesn't require any ingredients that aren't already in your pantry.
It's not an enormous tart/pie, so it's good as part of a holiday dessert spread.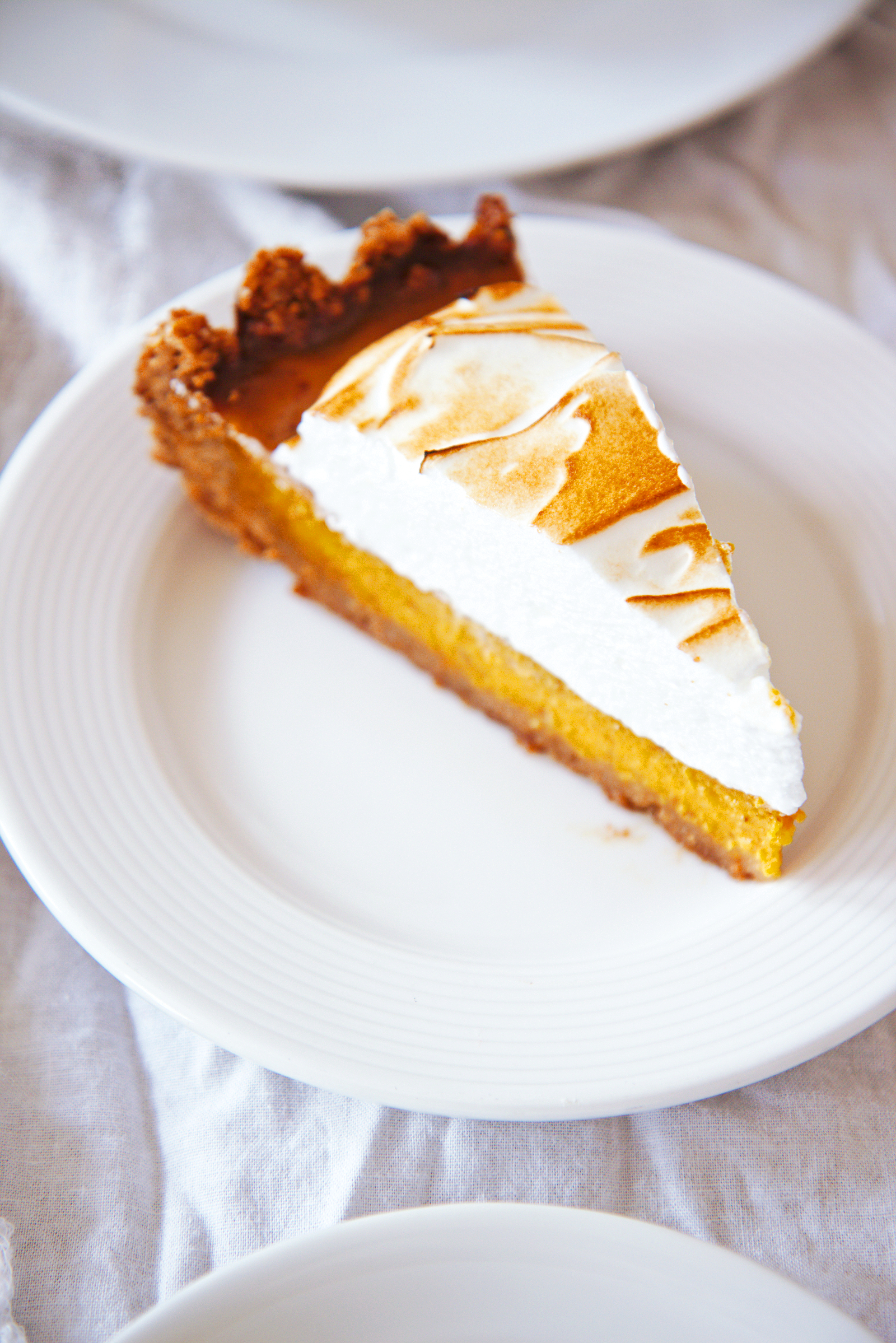 Happy Thanksgiving, friends. I urge you to give your loved ones an extra squeeze and don't be afraid to share what you're thankful for this year.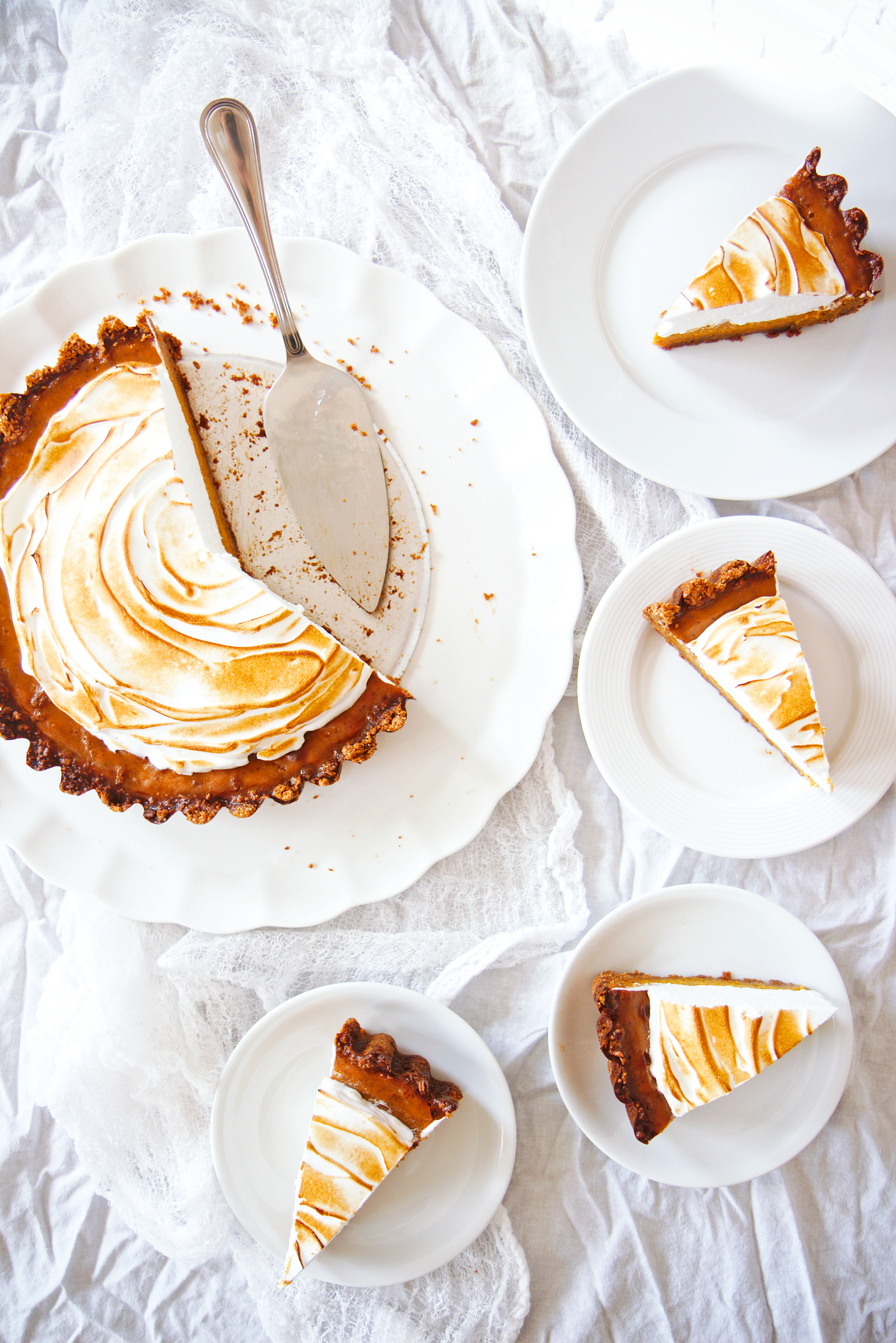 Pumpkin Meringue Tart
makes 1 8- or 9-inch tart or pie
ingredients:
for the crust:
300 grams (2 1/4 cups) crushed graham crackers and/or cinnamon cereal
25 grams (2 tablespoons) sugar
1/2 teaspoon salt
100 grams (7 tablespoons) butter, melted or browned
for the filling:
150 grams (3/4 cup) granulated sugar
1 teaspoon cinnamon
1 teaspoon ginger
1/4 teaspoon cloves
pinch nutmeg
40 grams (1/3 cup) dry milk powder (Note: you can sub 7 ounces evaporated milk for the dry milk powder and water)
120 grams (1/2 cup) water
75 grams (5 ounces, 1 small can) evaporated milk
420 grams (15 ounces, 1 regular can) pumpkin purée
2 eggs
for the meringue:
2 egg whites
100 grams (1/2 cup) granulated sugar
60 grams (1/4 cup) water
directions:
Preheat oven to 375 degrees F.
Make the crust: crush the graham crackers and cereal into crumbs, then pour into a bowl.
Stir the sugar and salt into the crumbs, then pour the brown butter over and stir until the mixture will stick together when pressed.
Pour into an 8- or 9-inch tart or pie pan and press into an even layer.
Place the pan on a sheet pan lined with parchment.
Bake for 10 minutes, until fragrant.
Meanwhile, whisk sugar, spices, and dry milk powder together.
Add the evaporated milk and water while whisking, then stir in the pumpkin until homogeneous.
Whisk in the eggs, scraping the bottom of the bowl to ensure that everything has been incorporated.
Pour into the hot crust and place back in the oven.
Bake at 375 for 30 minutes, then lower the temperature to 350 and bake for 20-30 more minutes, or until the center just barely jiggles when you shake the pan a little bit.
Allow to cool completely.
Make the meringue: place egg whites in the bowl of a stand mixer fitted with the whisk attachment.
Place sugar and water in a small pot over medium heat, fitted with a candy thermometer.
Begin to whisk egg whites while syrup heats up.
Once syrup reaches 245 degrees F, the egg whites should be at semi-stiff peaks.
Pour the hot syrup into the meringue while beating at high speed.
Whip until the meringue is glossy and cooled to body temp.
Spread the meringue over the pumpkin pie and torch it as desired.