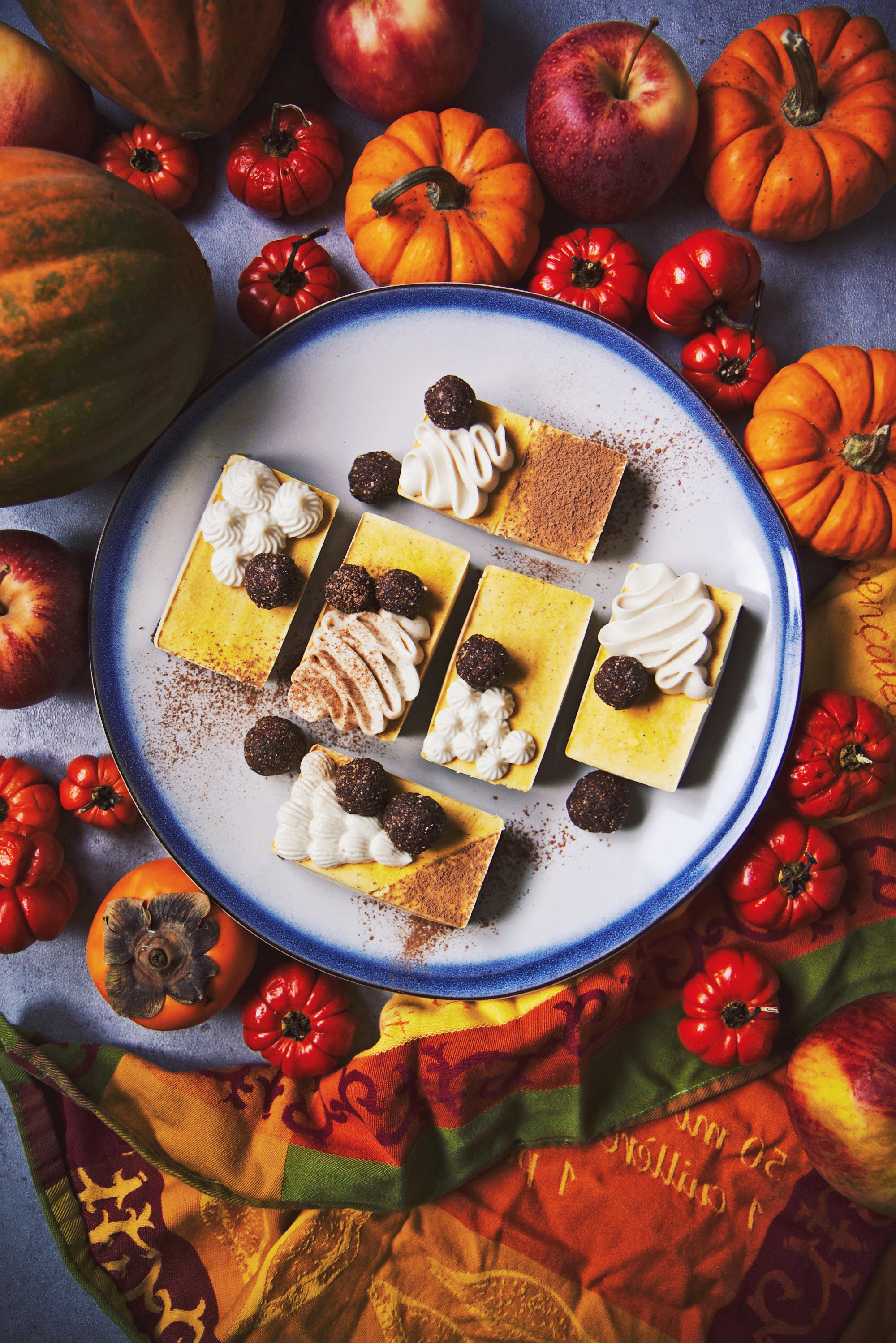 I stand amid the roar
Of a surf-tormented shore
And I hold within my hand
Grains of the golden sand —
How few! yet how they creep
Through my fingers to the deep,
While I weep — while I weep!
O God! Can I not grasp
Them with a tighter clasp?
O God! can I not save
One from the pitiless wave?
Is all that we see or seem
But a dream within a dream?
—Edgar Allan Poe, A Dream Within a Dream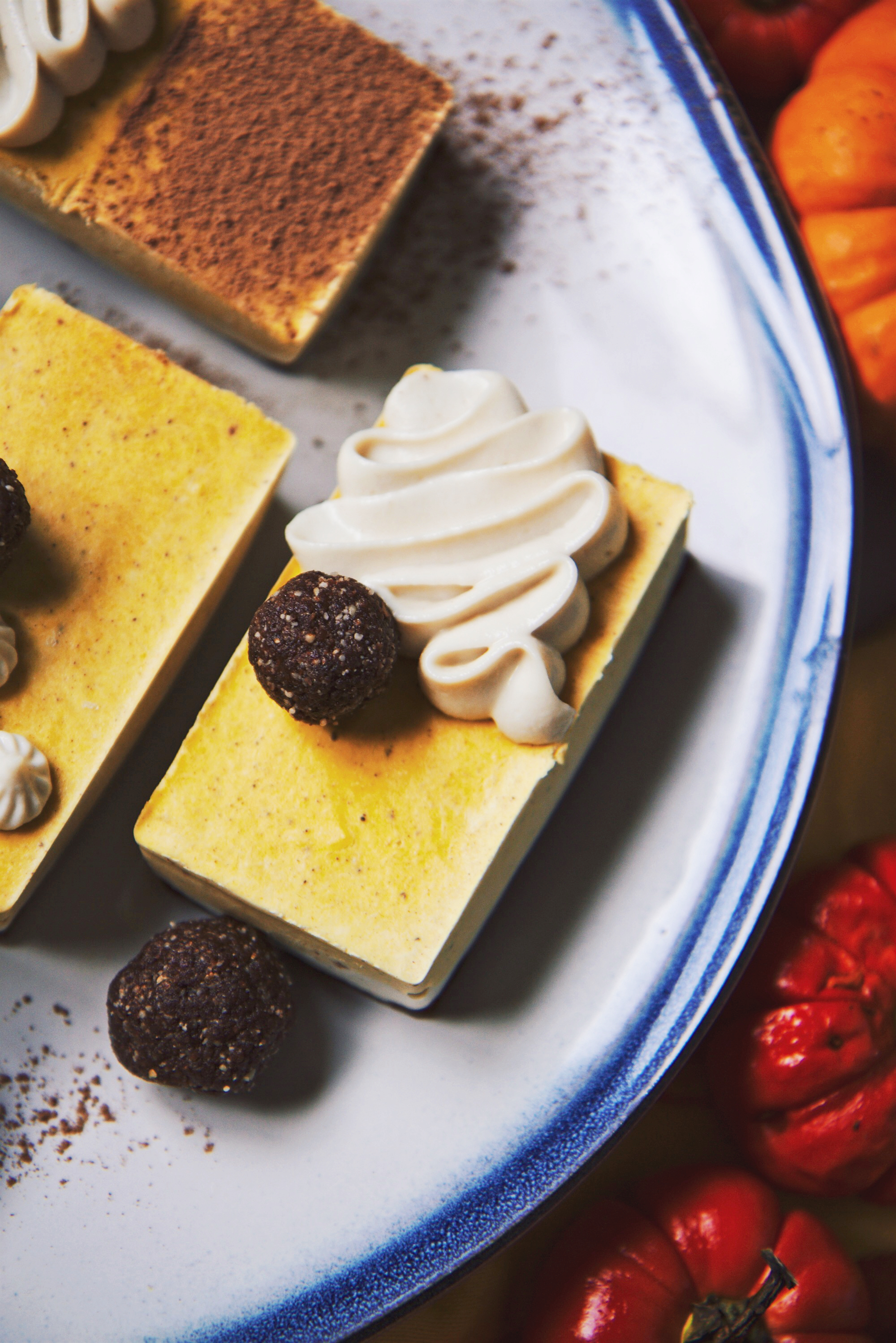 Just a few more days until Thanksgiving!
I can't believe how quickly November has flown by. I guess this means I should get my shit together and start thinking about the holidays now, but inevitably, I won't.
Actually, since I'll be near a Target when I go home (oh baby), maybe I will pick up a few cute decorations to get me ~in the mood.~ We shall see.
I am so excited to be going home. This will be my first vacation time from work since starting in June, and my first time back home for more than two days in over two years. My first Thanksgiving back home without my puppy, Ginger. That will be weird. Who is going to bother me for all of the turkey juices and table scraps?! (And don't anyone dare suggest the cats. They may be hungry, but even their appetites combined could never match a chocolate lab's.)
My life has changed rapidly in the last year (just one year ago we were attempting to prep for Thanksgiving in a teeny city kitchen), which I believe is a symptom of being 22 years old, freshly graduated, in a new city. Certainly I am not unique in this.
But even when I was a student and had midterms to worry about and had to bring my homework or lug my MCAT books back home with me for the holiday, or when I was only going "home" to a temporary home, Thanksgiving was a time of grounding. I know many people face holiday-preparation panic, with which I sympathize. For me, however, the crazy antics that go on in the kitchen, requiring careful planning, are a delight.
Stressful, yes, but everything in life that I love is stressful for me. This is a symptom of having a brain and personality like mine.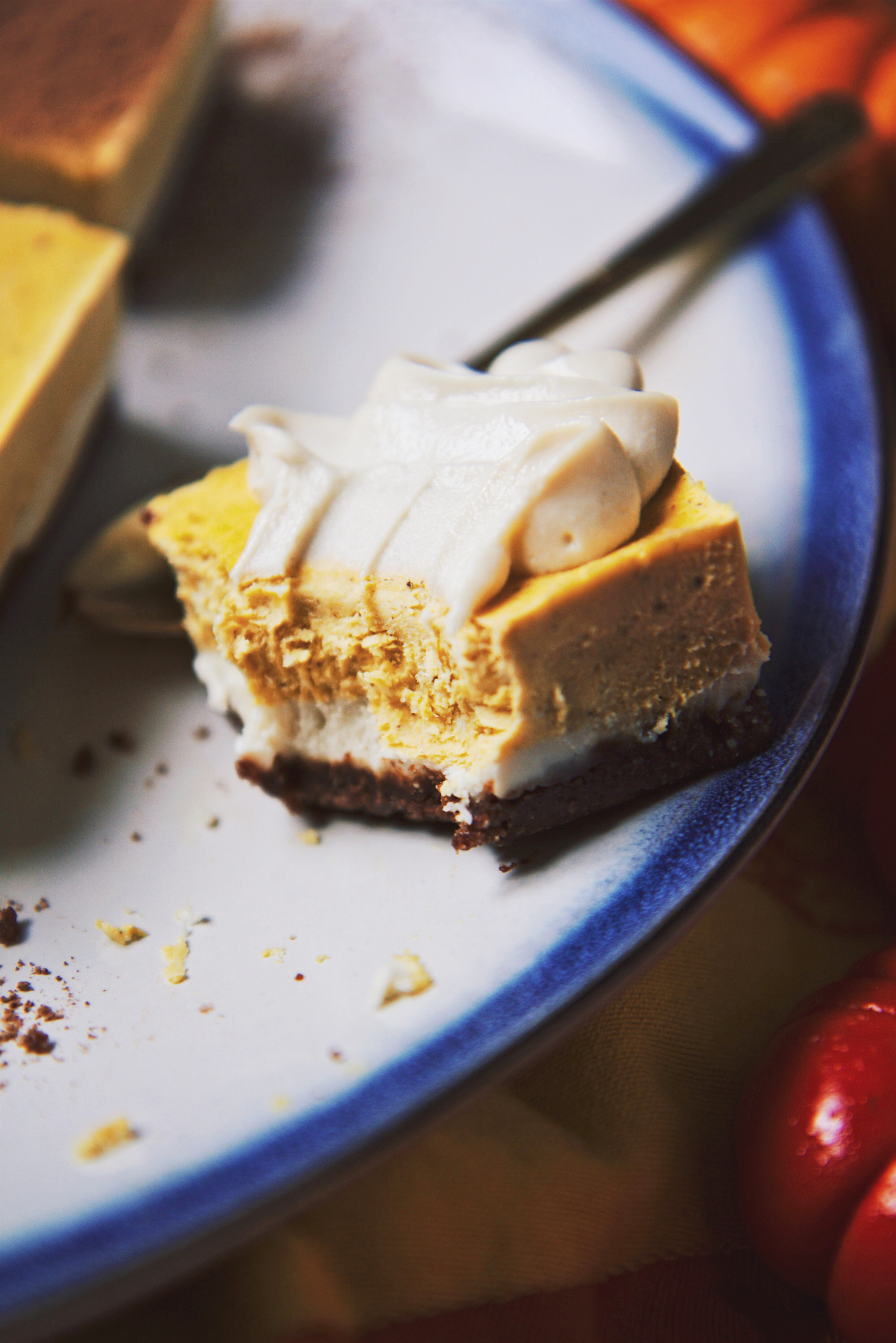 Here are some tried-and-true La Pêche Fraîche recipes that are definitely Thanksgiving appropriate:
This pound cake is a perfect base recipe; I'll be making this in a caramel apple version this year.
Can't not mention this show-stopping checkerboard pumpkin cheesecake; it's no-bake, so an option to take pressure off of the oven.
This pumpkin meringue tart with cinnamon toast crunch crust. Oh YES, it's good.
These brown butter and molasses mini cupcakes. They can be your dessert appetizers. Can we make that a thing?
These sticky sweet pumpkin and condensed milk cakes, which would be fantastic as a sheet cake to serve a crowd.
This apple, pear, butterscotch, and cheddar pie could not be more autumnal and really elevates the apple pie game, y'all.
This double pumpkin (with pumpkin butter and pumpkin purée!) bread is a crowd-pleaser, and can be made dairy-free very easily.
This pumpkin spice, brown butter, chocolate pecan pie is a stunner; what Thanksgiving is complete sans pecan pie?!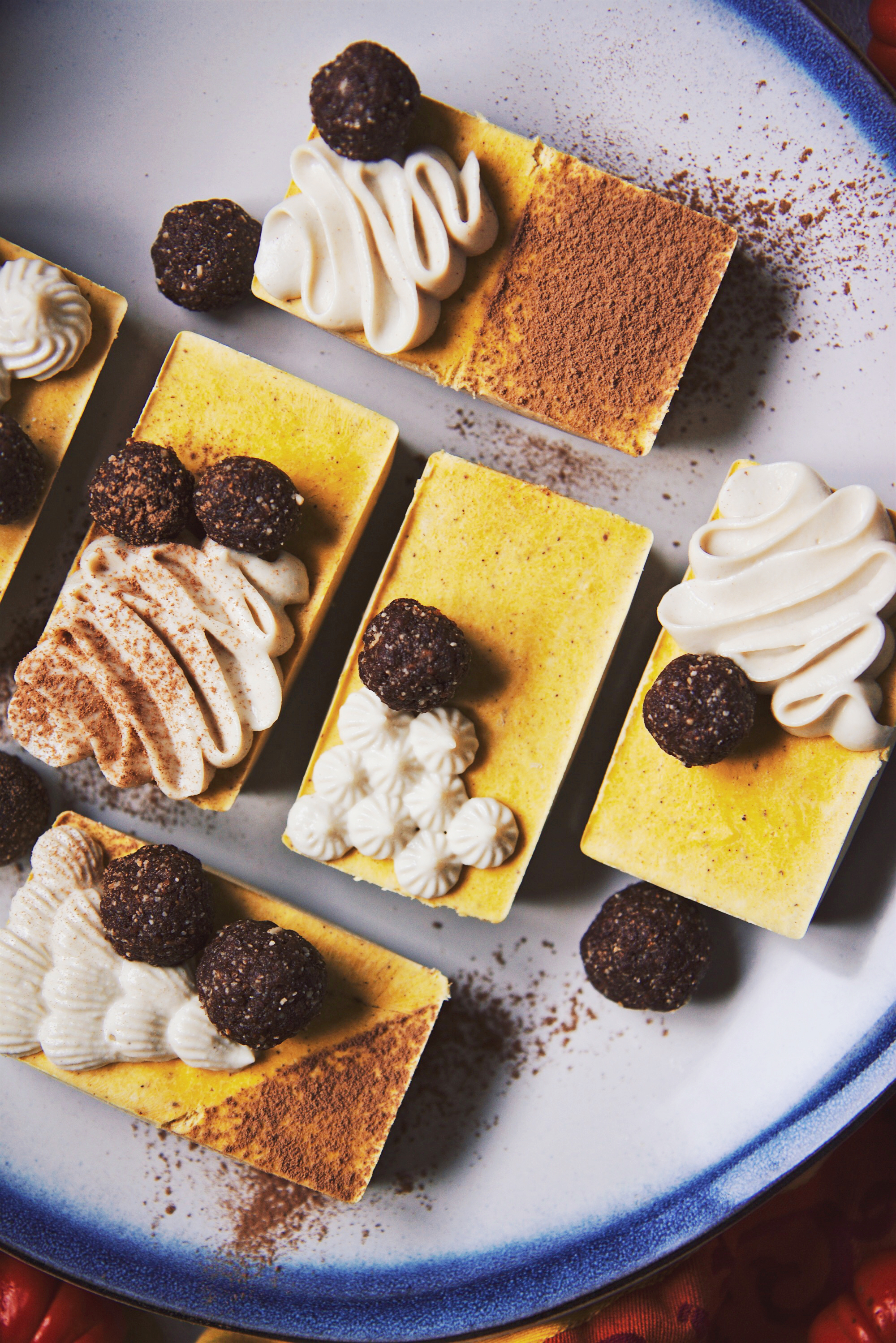 Savory things I'm pocketing for Thanksgiving:
This golden fennel and kale chop from Sprouted Kitchen looks a lot like my go-to kale salad recipe; Sara adds fennel where I add raisins, and I love her twist on it! I might have to throw some into my salad this Thanksgiving.
I make an aioli every year to go alongside roasted vegetables; it's the perfect easy sauce to throw together ahead of time. This year, I'll be adding curry powder and maybe a touch of tahini.
This is the recipe I'm going to try for our cornbread stuffing this year; it looks solid and I love that it's simple and vegan to boot!
Pie-inspo, because, duh:
Marbled chocolate cheesecake pumpkin pie from Adrianna: a mouthful, literally and figuratively. Just gorgeous (those swirls!) and I am personally a huge fan of chocolate + pumpkin.
Brownie. Pie. That is all. (Praise be to Joy and Erin for making me aware of this phenomenon.)
Erin made a chocolate cream pie with whipped peanut butter cream, and I think it would make a welcome break from pumpkin, apple, and cinnamon-spiced things at TGives!
Every post Linda creates is pure magic, and this vegan chocolate meringue pie is no exception. So dreamy, I can get lost in her photography!
Erin says, "[a] pithivier is a crispy, flaky alternative to pie." That is when I stopped reading and started drooling. Her cranberry version looks dope.
Cakes to inspire you this holiday:
Michelle recently celebrated her sixth blog birthday (yay!) and made an autumnal hummingbird cake; it would make a great non-pie addition to the holiday table!
Zoe's poached pear and ginger chocolate cake is something my mama would love; the flavor combination is elegant and classic and never goes out of style.
Tejal Rao wrote a lovely piece about three very different cakes for the holidays; I'm sure the recipes are bang-on (considering the sources!) and I enjoyed reading this one.
Sweet things that aren't pie and cake to take notes on:
Jen makes macarons the same way I do (sucre cuit, or Italian meringue) and put together an awesome tutorial. If you've been scared to try them, this recipe may just be the ticket!
Alana's baked apple cider donuts with maple glaze and cinnamon crumbles sound like the best iteration of apple cider donuts other than the original (piping fresh at the orchard). I love the combination of textures!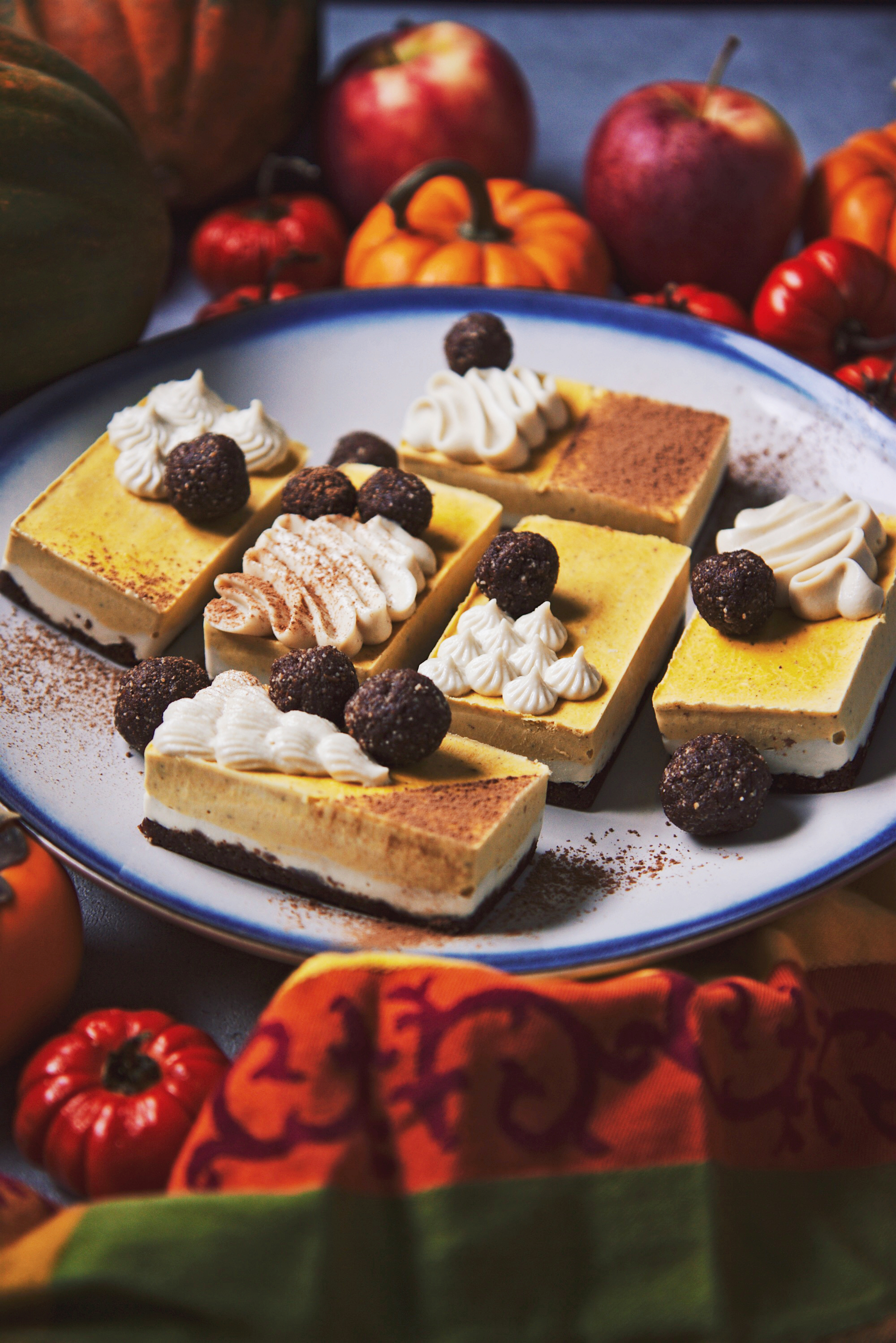 The recipe I'm sharing today is one that will have a proud place on my family's Thanksgiving table, and I guarantee you that people will be shocked when they find out it is vegan, raw, gluten-free, and refined sugar-free.
My taste testers, both of whom had just arrived back from separate spinning classes (freaks) ate these with gusto, unbelieving that in spite of the creamy, indulgent taste, these were a virtuous and appropriate choice for a post-workout snack.
These are raw, vegan pumpkin-spice "cheesecakes" and they will convert even the most annoying of carnivores (ya, I said it, you people can be annoying too).
They are creamy and delicately spiced, with a date and almond cocoa crust and a cashew and coconut filling sweetened with maple syrup and given heft and color from earthy pumpkin purée.
They are a breeze to whip together, as long as you have soaked your cashews (overnight, covered in cold water; nothing fancy necessary).
They come together in a little under 15 minutes (no, I'm serious) and just require the freezer, so making these will free up some in-demand oven time!
Here, I've used this silicon mold, and it works perfectly.
I've been really into making raw cheezcakes lately in all forms, and you can make this in a springform pan as well. If you double this recipe, it will make a very tall 6-inch cake, or a regular 8-inch one.
Be sure to thaw the cake for a few hours in the fridge before serving, so it's not rock solid.
I hope you all have a most wonderful and delicious Thanksgiving!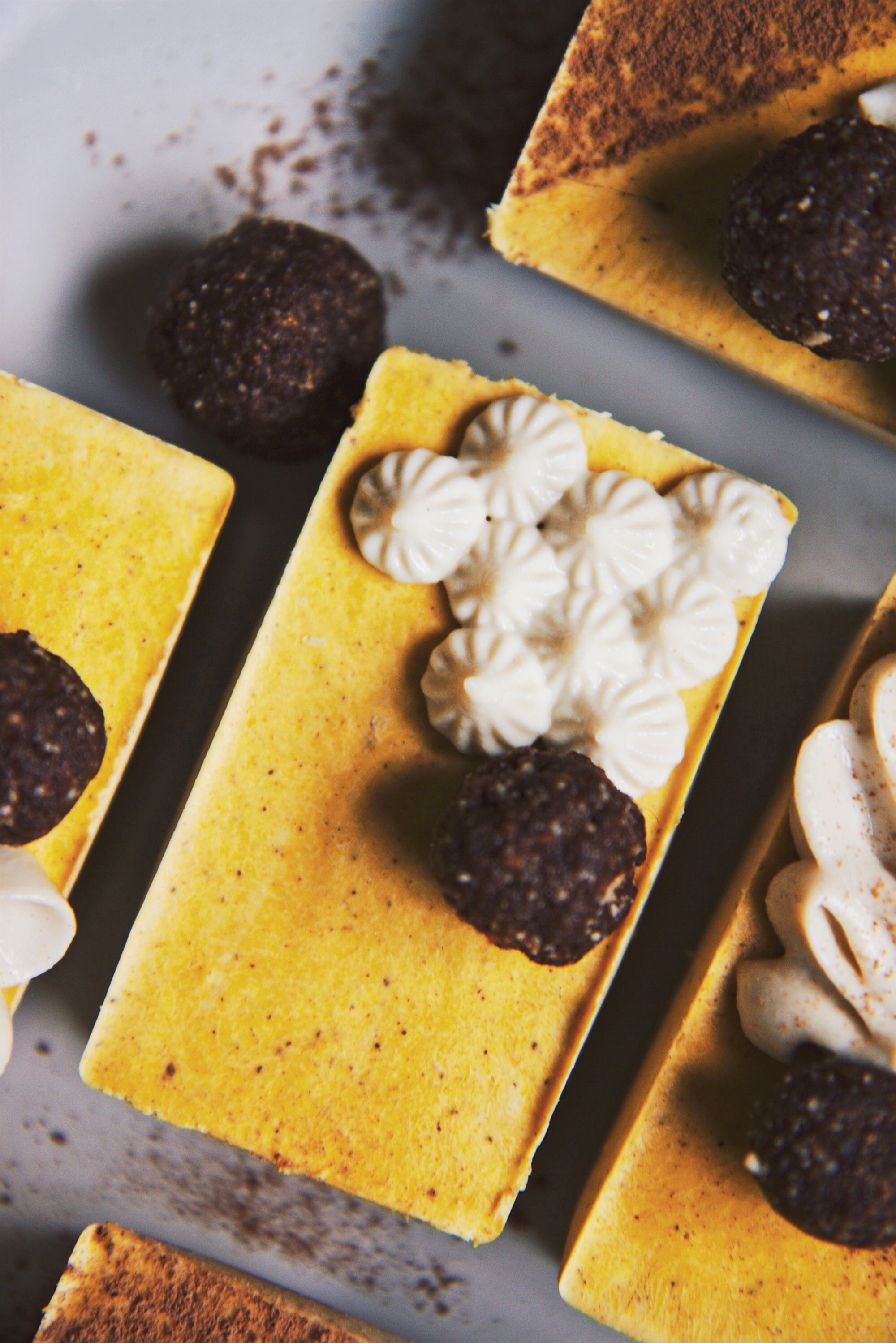 Raw Vegan Pumpkin Cheesecakes 
makes 6 small cheesecakes or 1 8-inch round
ingredients:
for the crust:
140 grams (1 cup) whole almonds
8-10 dates, depending on how juicy they are
2 tablespoons cacao or cocoa powder
pinch sea salt
for the filling:
250 grams (15 ounces) raw, unsalted cashews (soaked*)
50 grams (3 tablespoons plus 1 1/2 teaspoons) coconut oil
150 grams (5.4 ounce can) coconut cream
78 grams (2 tablespoons) maple syrup
60 grams (1/4 cup) pumpkin puree
juice of 1 lemon
pinch sea salt
1/2 teaspoon cinnamon
1/4 teaspoon ground ginger
1/8 teaspoon ground cloves
directions:
*Soak cashews overnight in cold water.
First, make the crust: place almonds, dates, cacao/cocoa powder, and salt in a food processor or blender.
Pulse until a rough meal forms, then press into tins and refrigerate.
Any leftover crust can be shaped into decorations for the tops of the cakes.
Place cashews into a clean blender with the other ingredients for the filling except the pumpkin and spices.
Blend for 5-8 minutes, depending on the power of your blender; filling should be very smooth.
Portion out 1/3 of the filling and pour over prepared crust; place into freezer until hardened.
Add the pumpkin and spices to the remaining filling and blend to combine.
Once the plain base is set (about 30 minutes to an hour), pour the pumpkin filling over top and freeze again until set.
To serve, allow to thaw for 3-4 hours in the fridge; dust with cocoa powder and top with leftover crust decorations.
SaveSave