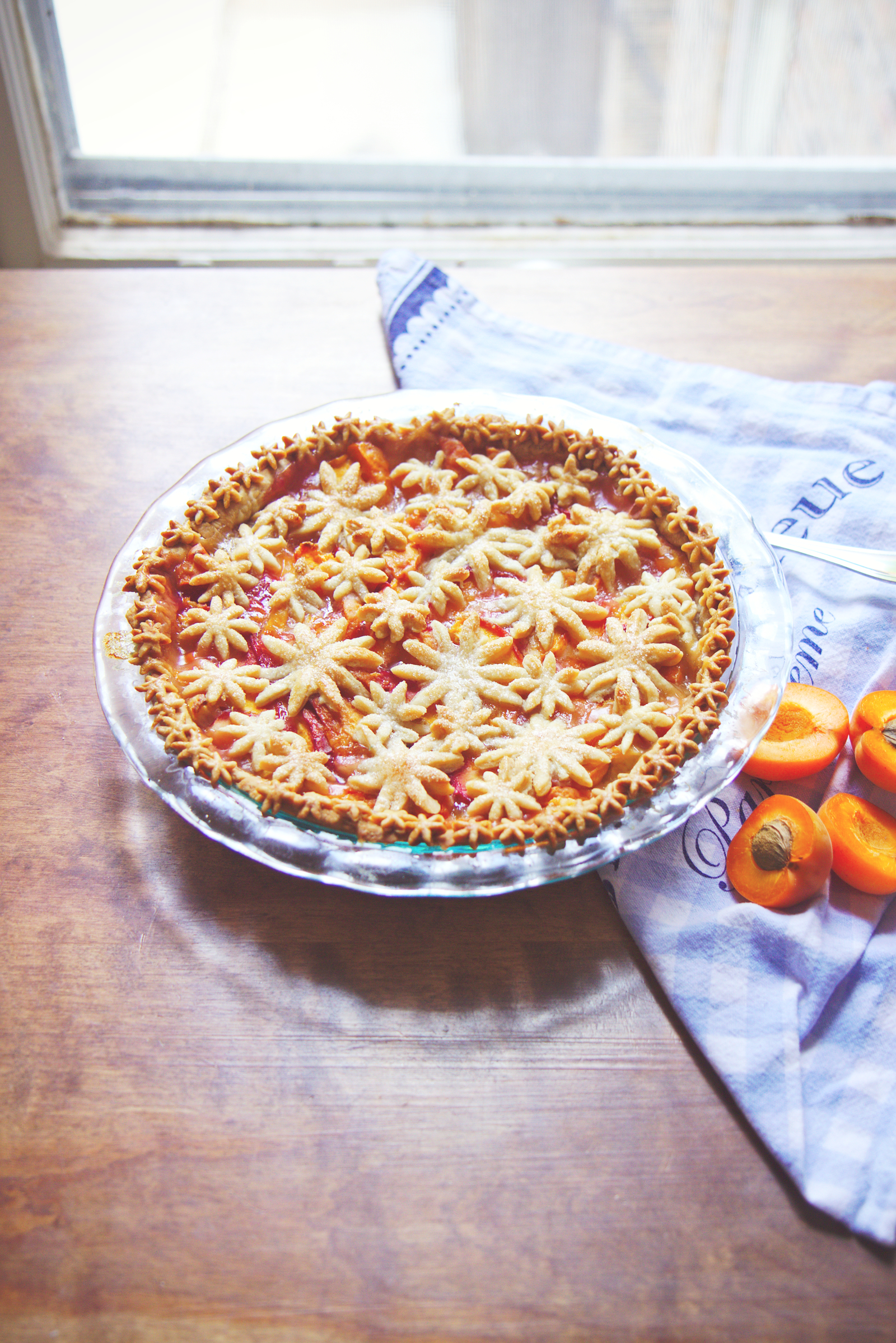 Sajeonogi, or, knocked down four times, rising up five.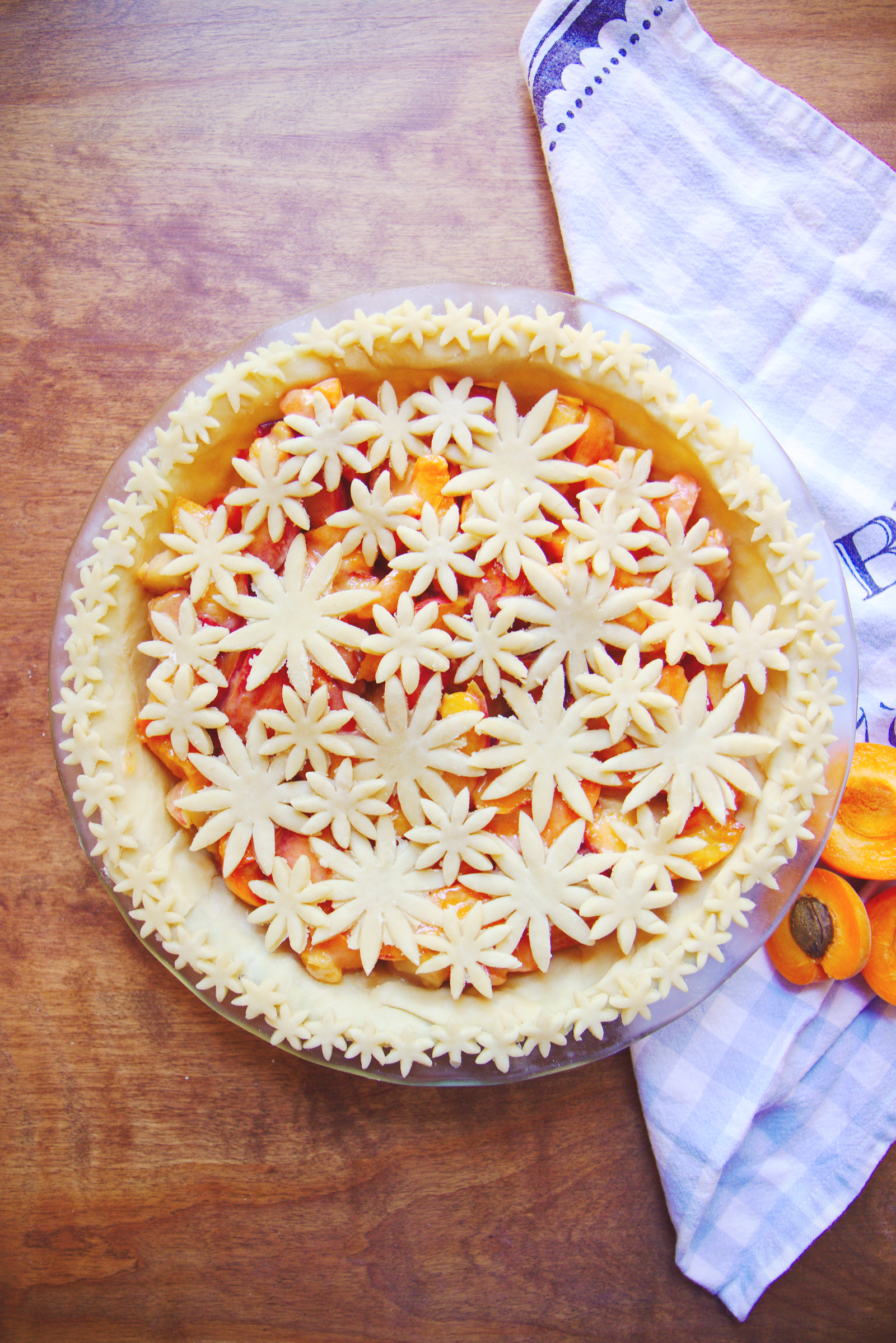 La Pêche Fraîche, or, disappearing four times, reappearing five.
Happy September! I hope you all have enjoyed a glorious summer and have had a relaxing Labor Day weekend.
N's parents were in town for the weekend—they rented a sweet boat and we spent Saturday out on Lake Michigan.
It was beautiful! Chicago is going through a bit of a heatwave right now, so it definitely doesn't feel like summer is gone just yet.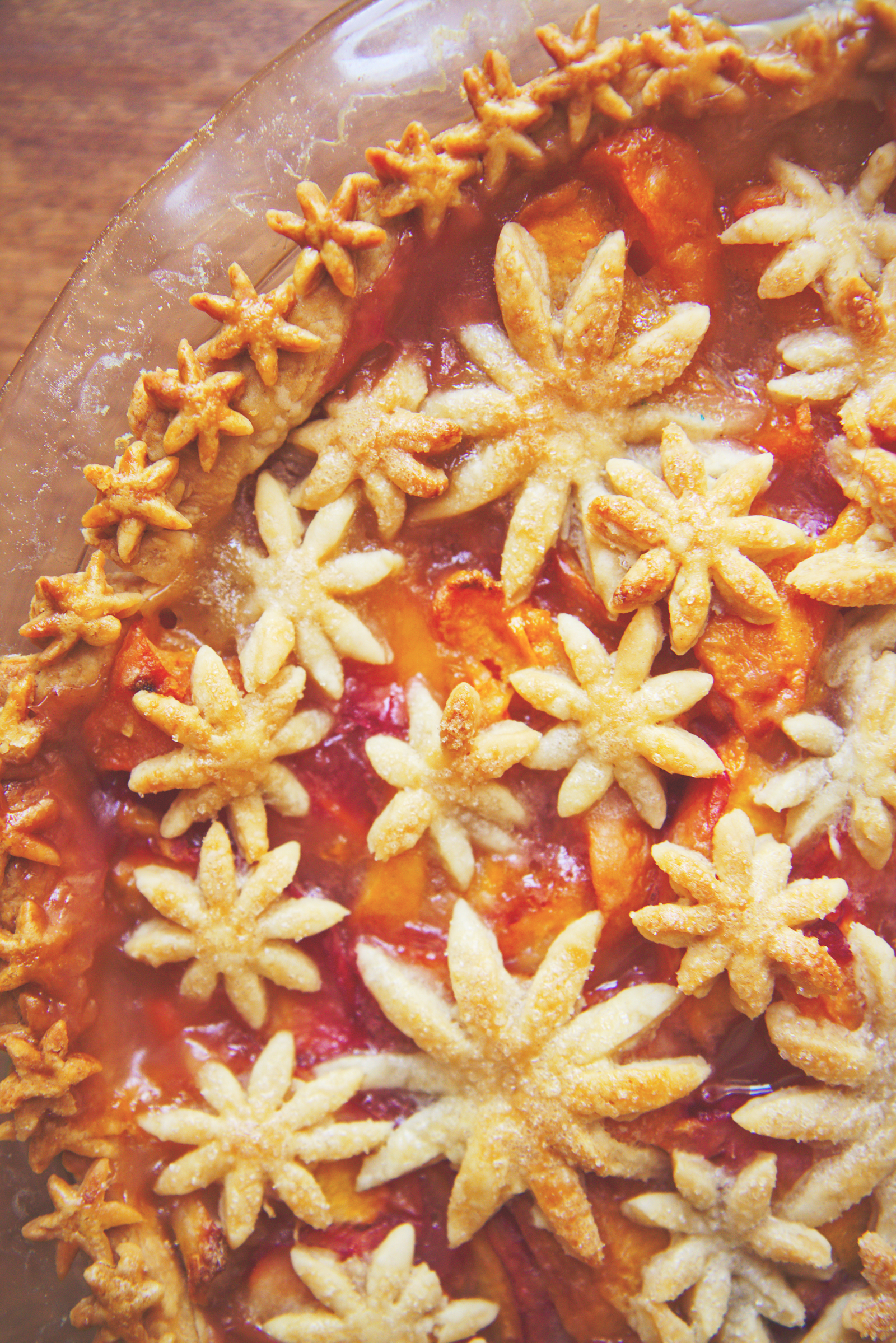 I really can't believe it's September. This month, I will turn 21 (whoa) and go back to school as a senior!
Who knows what this school year will bring. Hopefully success, clarity about the future, and…fun. *heavy breathing*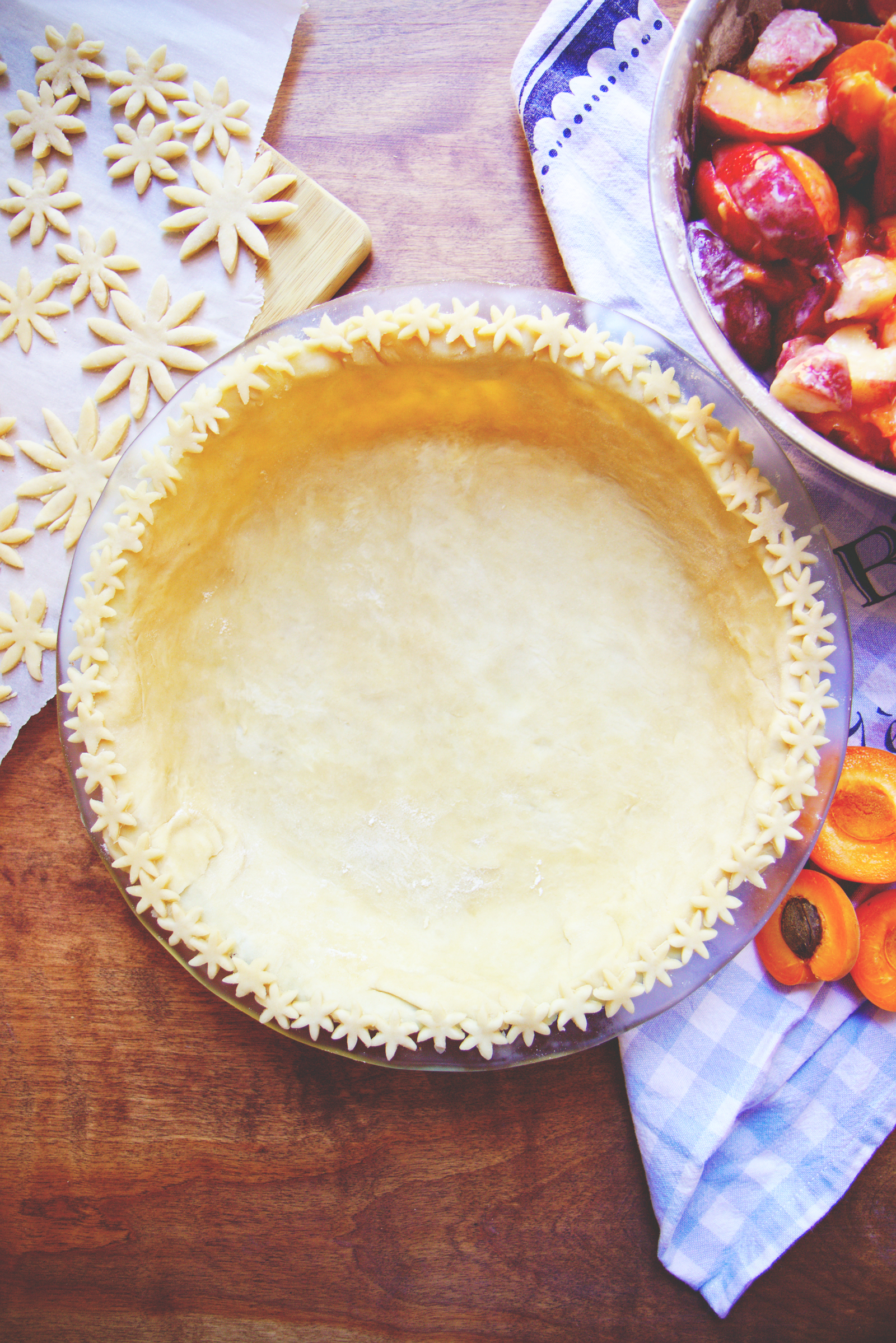 It's crazy to me that people are already posting apple cakes and pumpkin bread and fall flavored lattes and candles alike are popping up.
I mean, there are still late season peaches to be had! There are still fragrant, ripe tomatoes to eat and sweet corn galore.
I do not intend to jump the gun on autumn because after comes winter (!) and that will inevitably be plenty long enough.  No doubt about that.
So this peach and apricot pie is one of my last huzzahs for summer.
There is nothing quite like a perfect stone fruit pie—crunchy, buttery crust meets sweet jammy filling to make, inarguably, one of the most classic and delicious desserts ever.
This recipe keeps it very simple, using sweet and tart apricots and ripe peaches to create a well-rounded filling inside of a crisp, flaky pastry. Instead of a lattice, I cut out daisies using a cookie cutter set and use them to decorate the pie.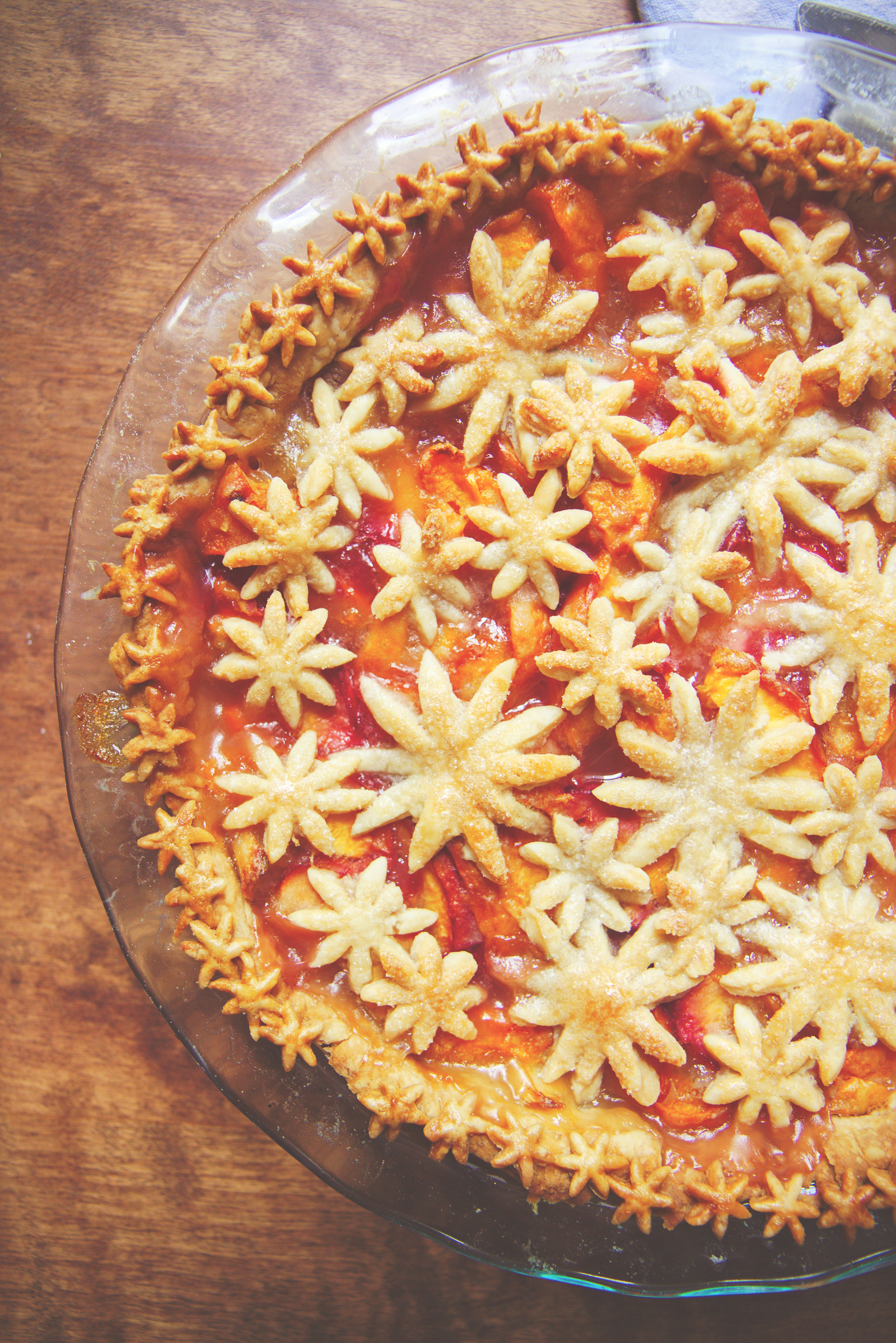 I'm so glad to be back in this space—I'm slowly finding my way back to the kitchen, too, so I can have some fresh new material to share with you all!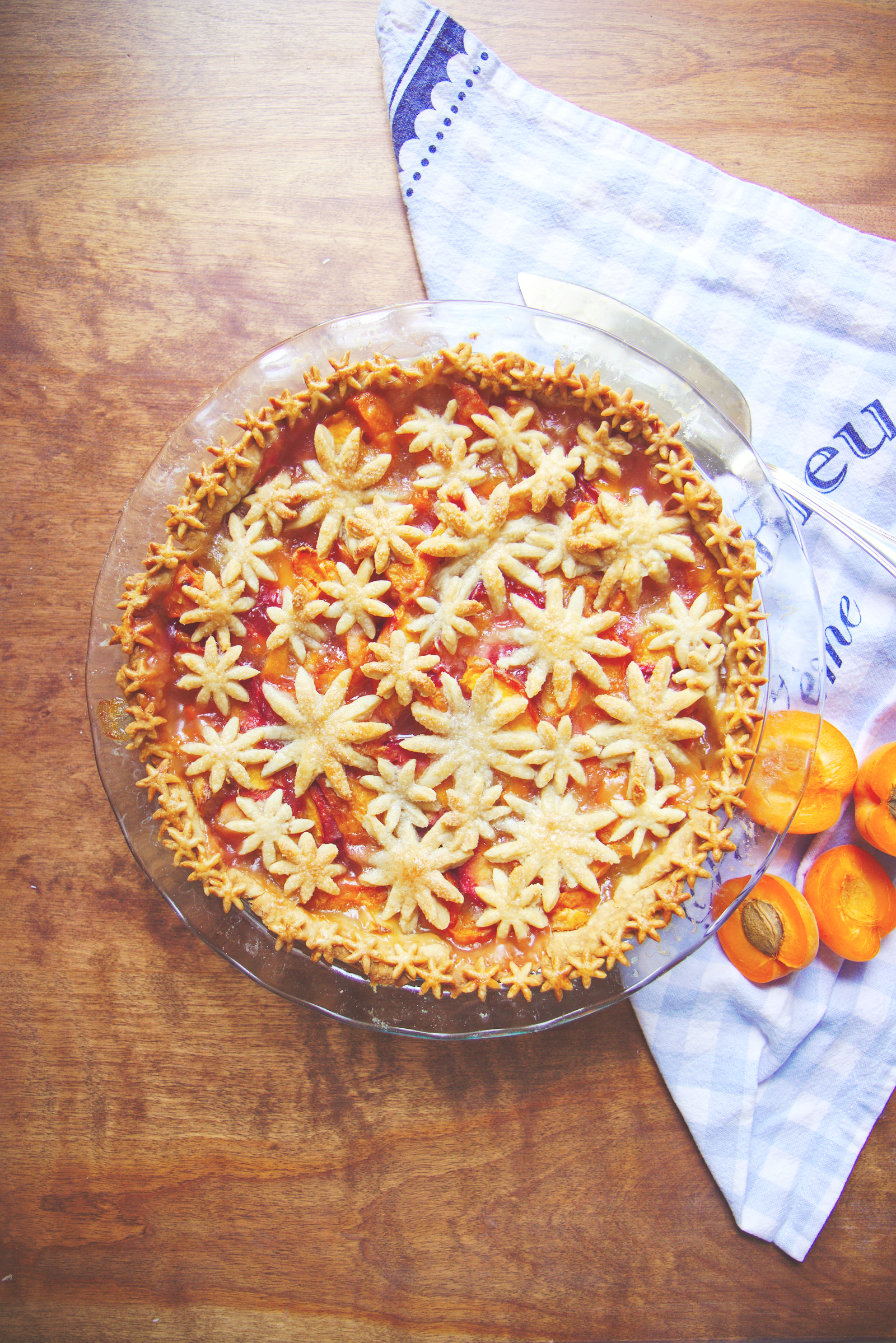 Apricot and Peach Pie
makes 1 10-inch pie
ingredients:
for the crust:
2 1/2 cups AP flour
1 1/2 teaspoons kosher salt
1 tablespoon sugar
14 tablespoons cold unsalted butter
6-8 tablespoons ice water, or as needed
for the filling:
8-10 apricots, sliced
2-4 peaches, sliced (you should have approximately 3-3.5 pounds of fruit)
1 cup sugar (if fruit is very sweet, reduce to 3/4 cup)
juice from 1/2 lemon
5 tablespoons flour
1 tablespoon cornstarch
to assemble:
1 egg beaten with 2 teaspoons water
sanding or raw sugar, optional
directions:
Make the crust: cut butter into small pieces and place in freezer for at least 15 minutes.
Whisk flour, sugar, and salt together in a large bowl.
Add in the butter cubes and cut and rub using your fingers until the largest pieces are about the size of peas.
Slowly add in the ice water, 1 tablespoon at a time, until the dough comes together in a shaggy but cohesive ball.
Divide dough into two disks, wrap well in plastic, and refrigerate for  15 minutes.
Take the dough disks out and roll one out to a 14-inch diameter circle.
Carefully place into a pie dish, then place in fridge.
Roll out the other disk and cut into desired shapes (or strips, for lattice); place the shapes onto a cookie sheet lined with parchment paper and place in the fridge.
Prepare the filling: slice fruits into 1/2 inch thick slices, then place into large bowl with juice of 1/2 lemon.
Whisk sugar, flour, and cornstarch together, then pour over the fruit.
Stir filling together and let sit for 10 minutes.
Preheat oven to 400 degrees F.
Remove pie dish from fridge and scoop fruit into the shell, leaving the excess juice from the fruit in the bowl.
Decorate with the chilled shapes, then brush with egg wash and sprinkle with sugar.
Bake for 10 minutes at 400 degrees F, until top is beginning to brown; reduce temperature to 350 degrees F and bake for 45 minutes, until juices are bubbling and top is golden brown (if crust begins to brown too quickly, cover with aluminum foil for the remainder of the baking time).
Allow to cool completely before cutting.
Enjoy with whipped cream or vanilla ice cream.