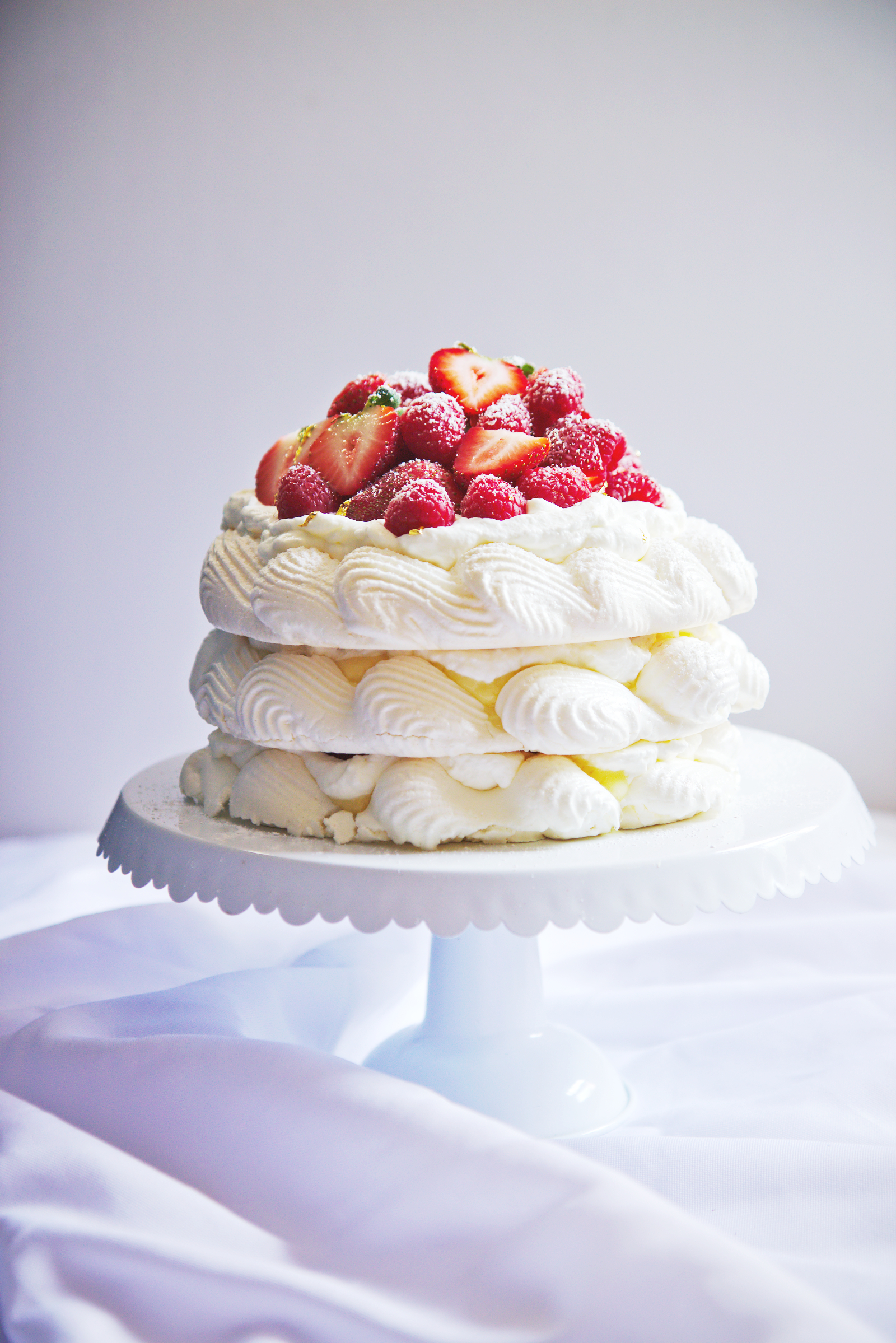 "Strange is our situation here upon earth.
Each of us comes for a short visit, not knowing why, yet sometimes seeming to a divine purpose.
From the standpoint of daily life, however, there is one thing we do know: That we are here for the sake of others…for the countless unknown souls with whose fate we are connected by a bond of sympathy. Many times a day, I realize how much my outer and inner life is built upon the labors of people, both living and dead, and how earnestly I must exert myself in order to give in return as much as I have received and am still receiving."
― Albert Einstein, Living Philosophies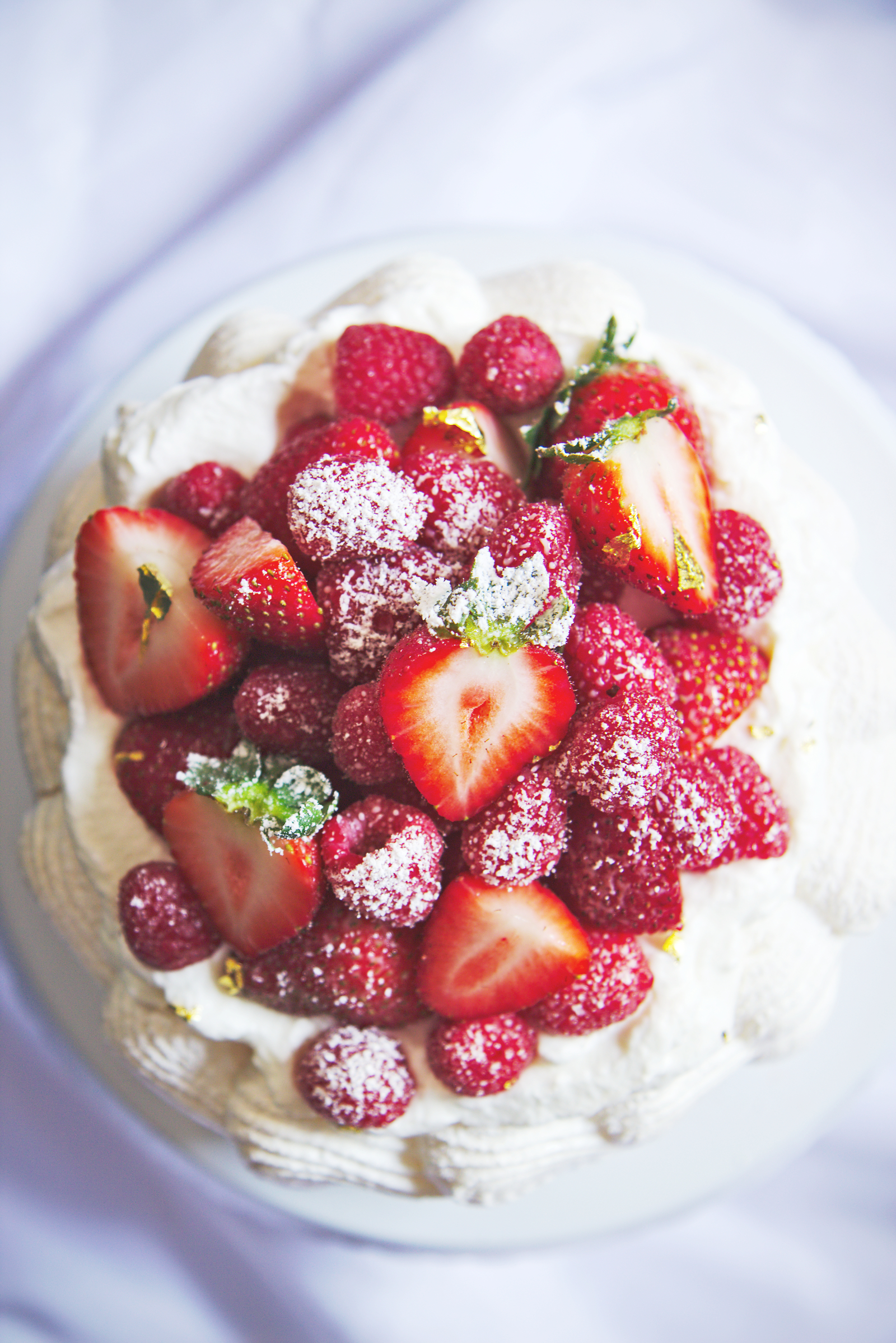 Three years ago, on the cusp of adulthood—18 starry-eyed years come and gone—I was packing up to come to UChicago.
Growing up in two big ways, simultaneously.
I was scared and melancholy to say goodbye to my so-called childhood and my home, my whole body jangly with nerves.
Things are very different this time around: I'm turning 21, about to start my last year of college—comfortable in my home away from home.
I'm supposed to already be an adult, but I'm not at all sure if I'm more confident in where my life seems to be heading. The only thing I'm certain of is that time has, miraculously, begun passing much, much faster.
I always feel this way on my birthdays (but it's not a feeling exclusive to my b-day. Because, neuroses and all).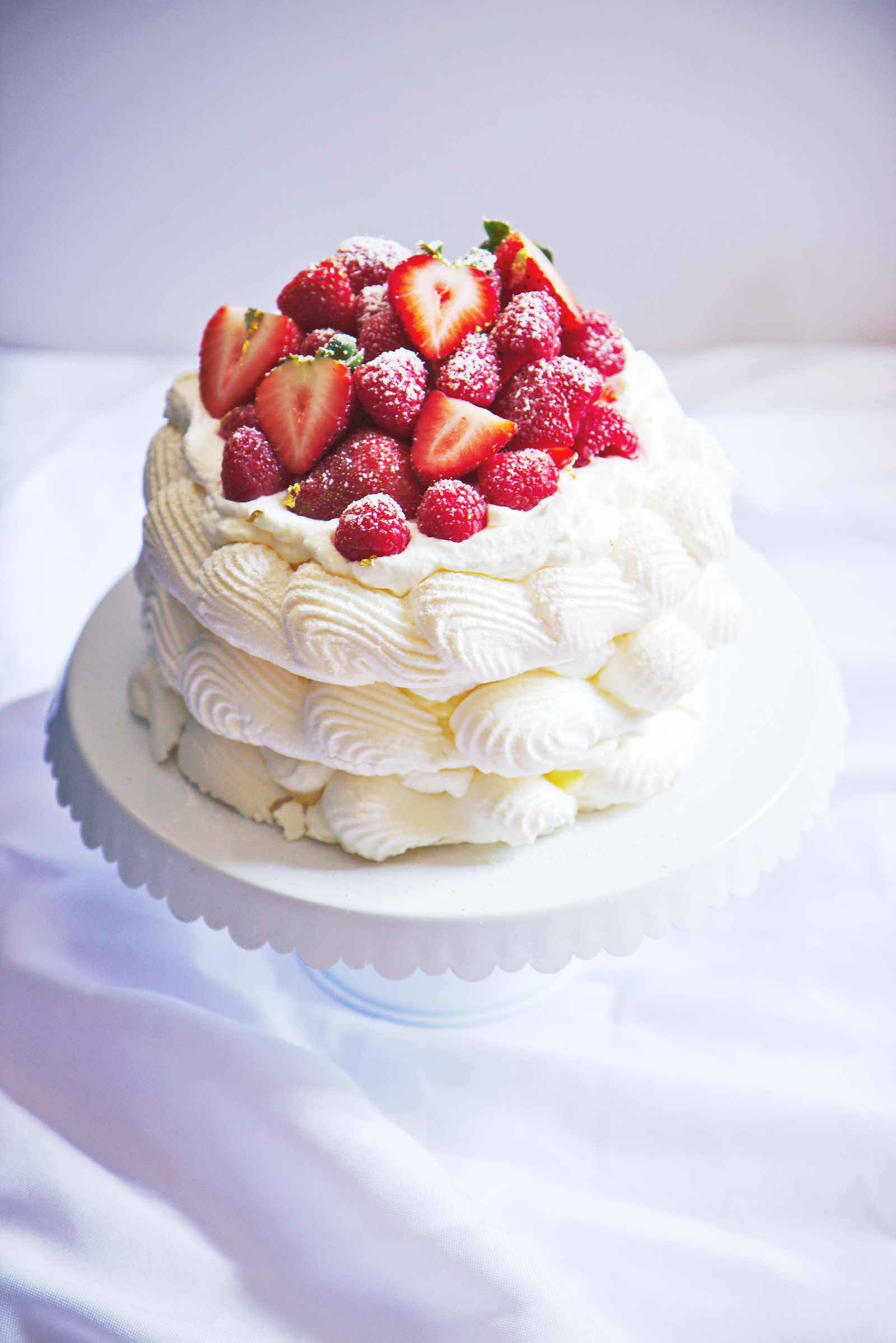 This is the first birthday that I will not spend in Ithaca, in the home I grew up in.
It feels a little strange, to be sure, to not be sitting at the kitchen counter writing this and eating cake.
It's also the first birthday I will spend away from my amazing parents, who have given me everything and more over the years.
When I'm not with them, I never don't miss them. But I'm indulging in a ~little~ extra pining today. It is the first, after all!
Luckily for me, I got to FaceTime them this morning and this afternoon, Nati surprised me with flowers, so I know I won't feel too discomfited today.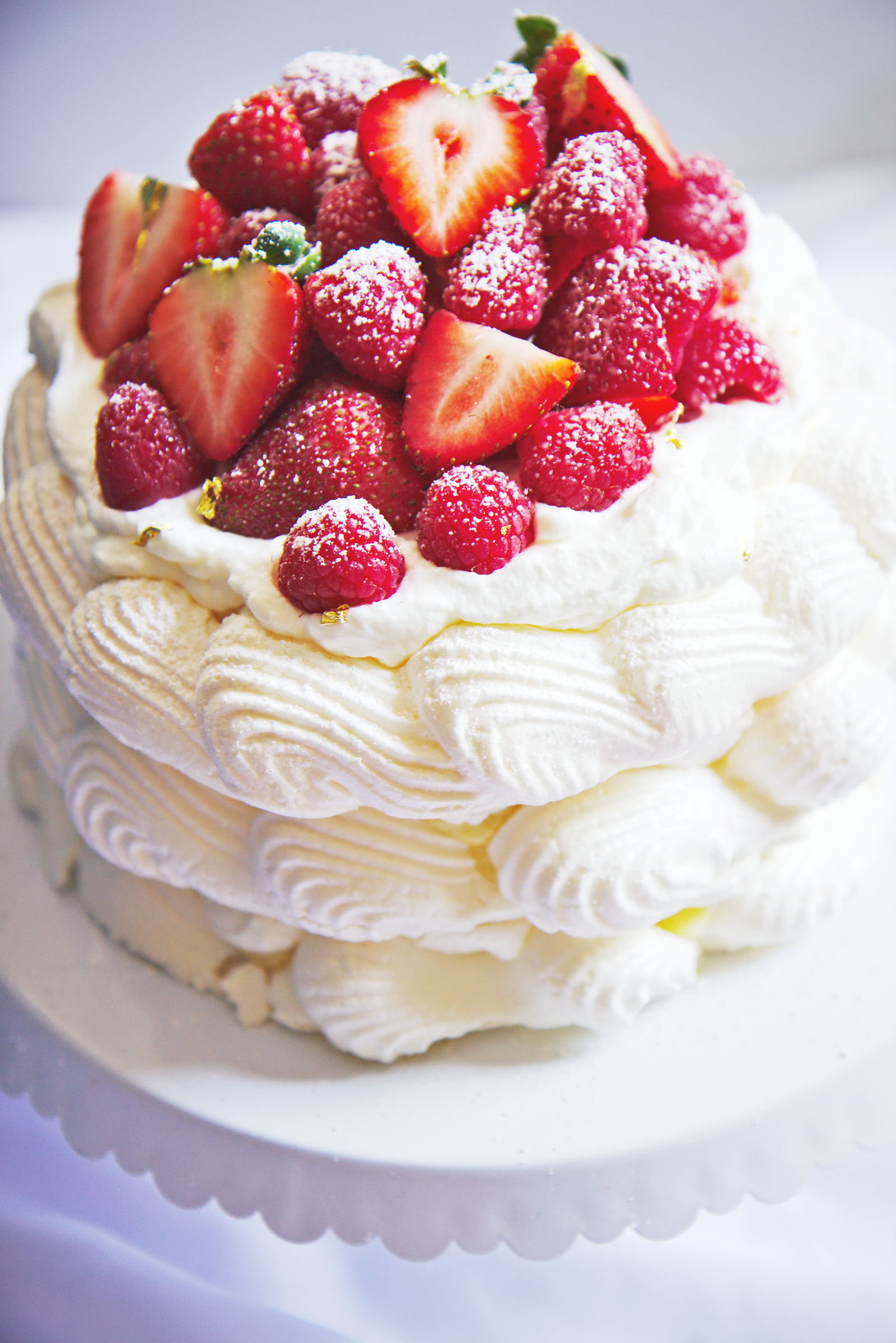 Pavlova is my favorite dessert, which is why I like to have it for my birthday cake!
I kept this one simple and classic, with three layers of crisp meringue, marshmallow-y on the inside, fluffy whipped cream, tart, luscious lemon curd, and strawberries and raspberries.
They almost inevitably crack and begin to slide and crumple when you try to cut a slice, so I usually go the loser route and stick the whole thing in a bowl when this happens.
Voilà, Eton mess!
If the prospect of your lovely pastry ending up a wonky mess in a bowl makes you nervous, take a couple shots and just cut the damn thing. With determination, I think it can be done.
Otherwise, pavlova taste just as good when scooped with a spoon.
Take it from me.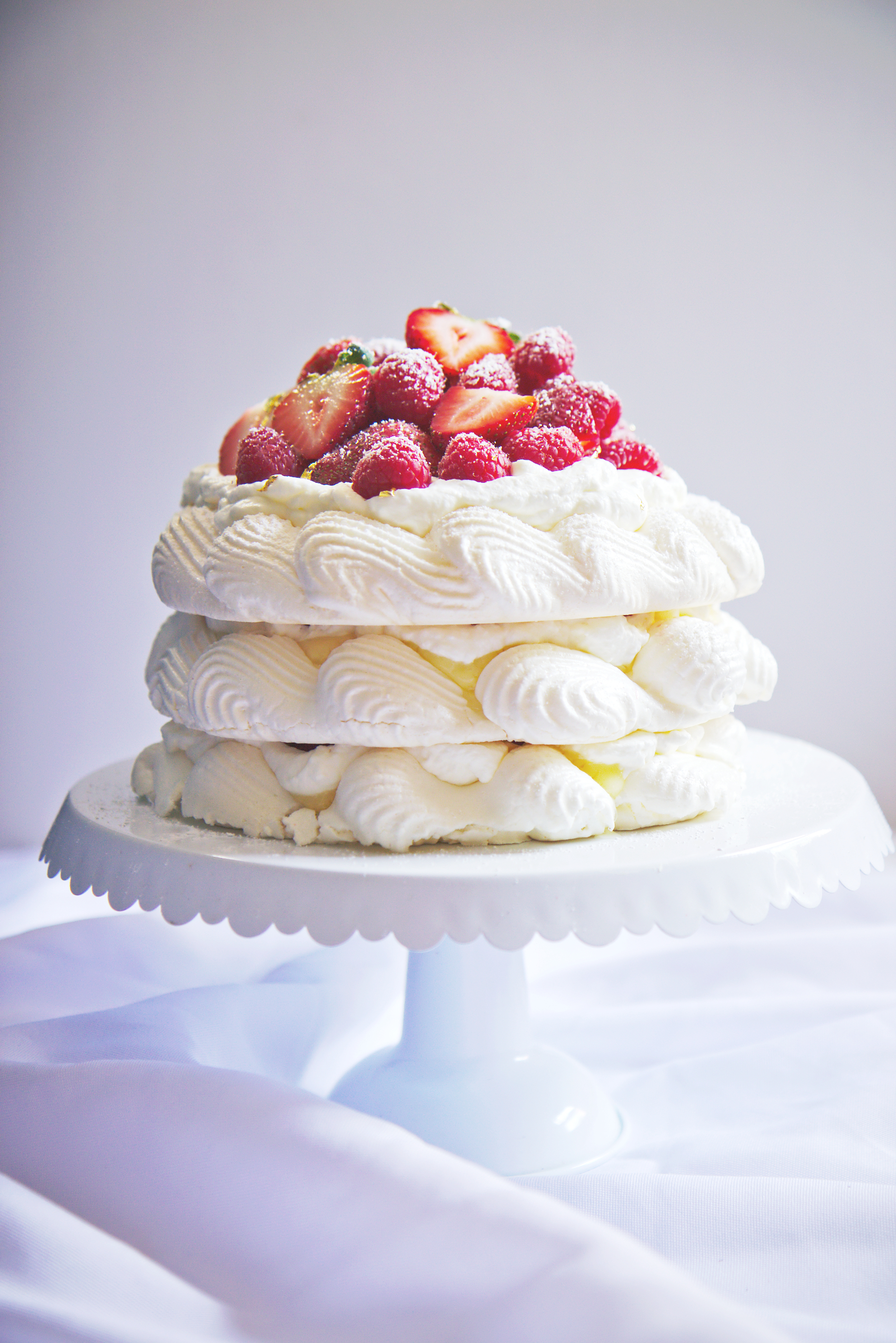 Birthday pavlovas, previously:
18 years old
20 years old
(…And a New Year's pavlova, for good measure.)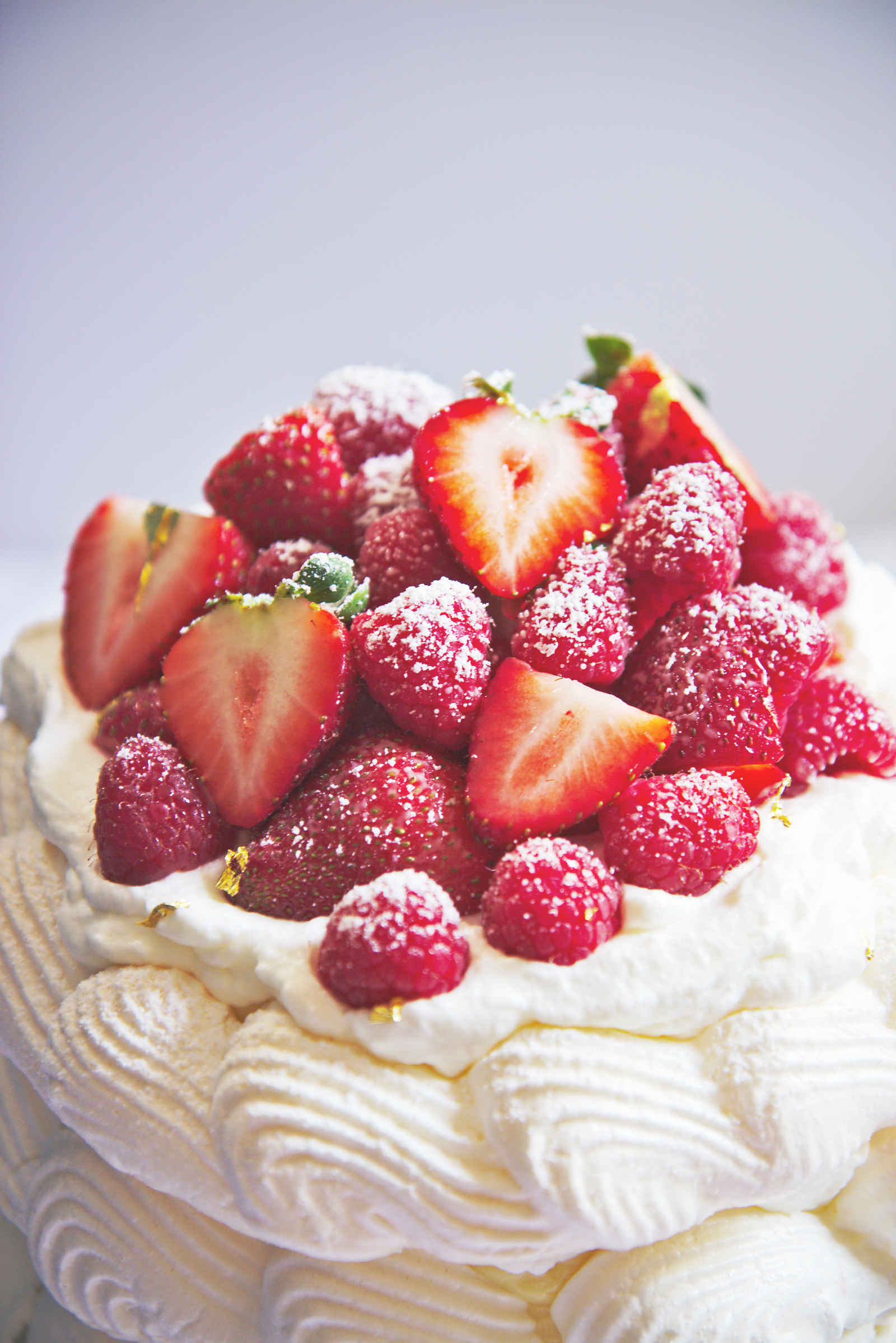 Lemon Berry Pavlova
makes 1 3-layer 8-inch cake
ingredients:
for the meringue:
8 egg whites
1 tablespoon vinegar
400 grams (2 cups) sugar
1 tablespoon cornstarch
pinch of salt
for the lemon curd:
5 egg yolks
480 grams (2 cups) water
200 grams (1 cup) sugar
56 grams (1/2 cup) cornstarch
55 grams (1/4 cup, 4 tablespoons) butter
zest of 2 lemons
juice of 3 lemons (approximately 1/2 to 1/3 cup)
1 teaspoon vanilla extract
to assemble:
1 1/2 cups heavy cream
1 teaspoon cornstarch
2 tablespoons powdered sugar
1 punnet raspberries
10-15 strawberries
powdered sugar, optional
directions:
Make the meringue: preheat oven to 250 degrees F and line 2 baking sheets with parchment; draw 3 8-inch circles on the paper.
Place egg whites in the bowl of a stand mixer.
Add the vinegar and start to whip.
Stir the sugar, cornstarch, and salt together.
As the egg whites become frothy, add the sugar mixture in tablespoons, until the meringue is glossy and shiny and all of the sugar is incorporated.
Using a piping bag fitted with a French or star tip, pipe the meringue into circles on the parchment.
Bake for 2 hours, then turn off the oven and allow to cool inside the   oven to prevent cracks.
Meanwhile, make the lemon curd: place water in a pot over high heat; bring to a boil.
Stir in the cornstarch and sugar and bring back to a boil while stirring constantly; mixture will be quite thick and opaque.
Remove mixture from heat and, whisking vigorously, add the egg yolks.
Return to heat and bring back to a boil while whisking the entire time.
Remove from the heat and stir in the butter; whisk until an emulsion forms.
Add in the lemon zest, juice, and vanilla and whisk until incorporated.
Allow to cool completely, pressing plastic wrap over the top to prevent a skin from forming.
To assemble, whip the cream to stiff peaks, then stir in the starch and sugar.
Layer the meringue disks with lemon curd, then whipped cream, then a few berries in between; pile the rest of the berries on top and dust with powdered sugar, if desired.