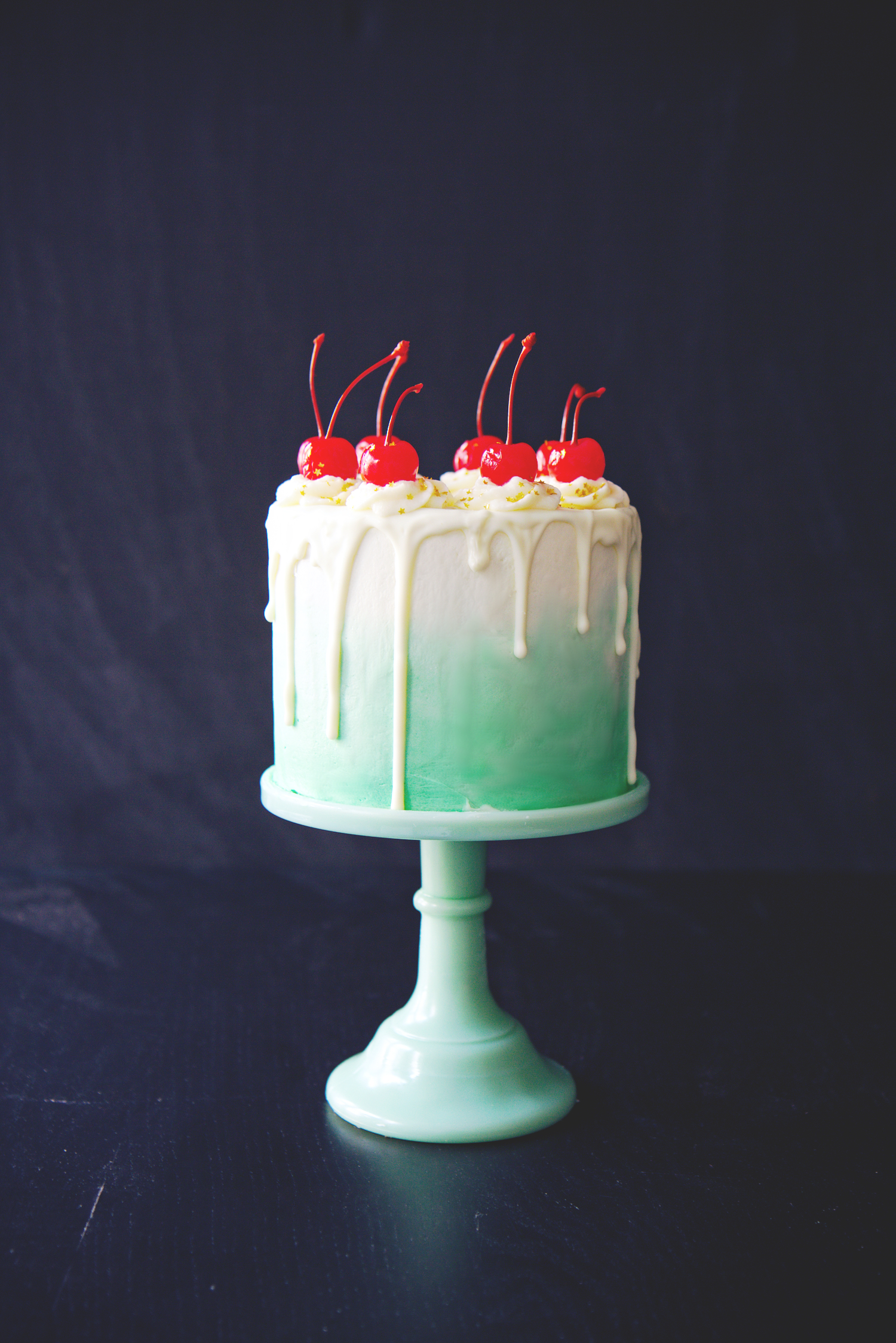 If a man who cannot count finds a four-leaf clover,
is he lucky?
—Stanislaw Lem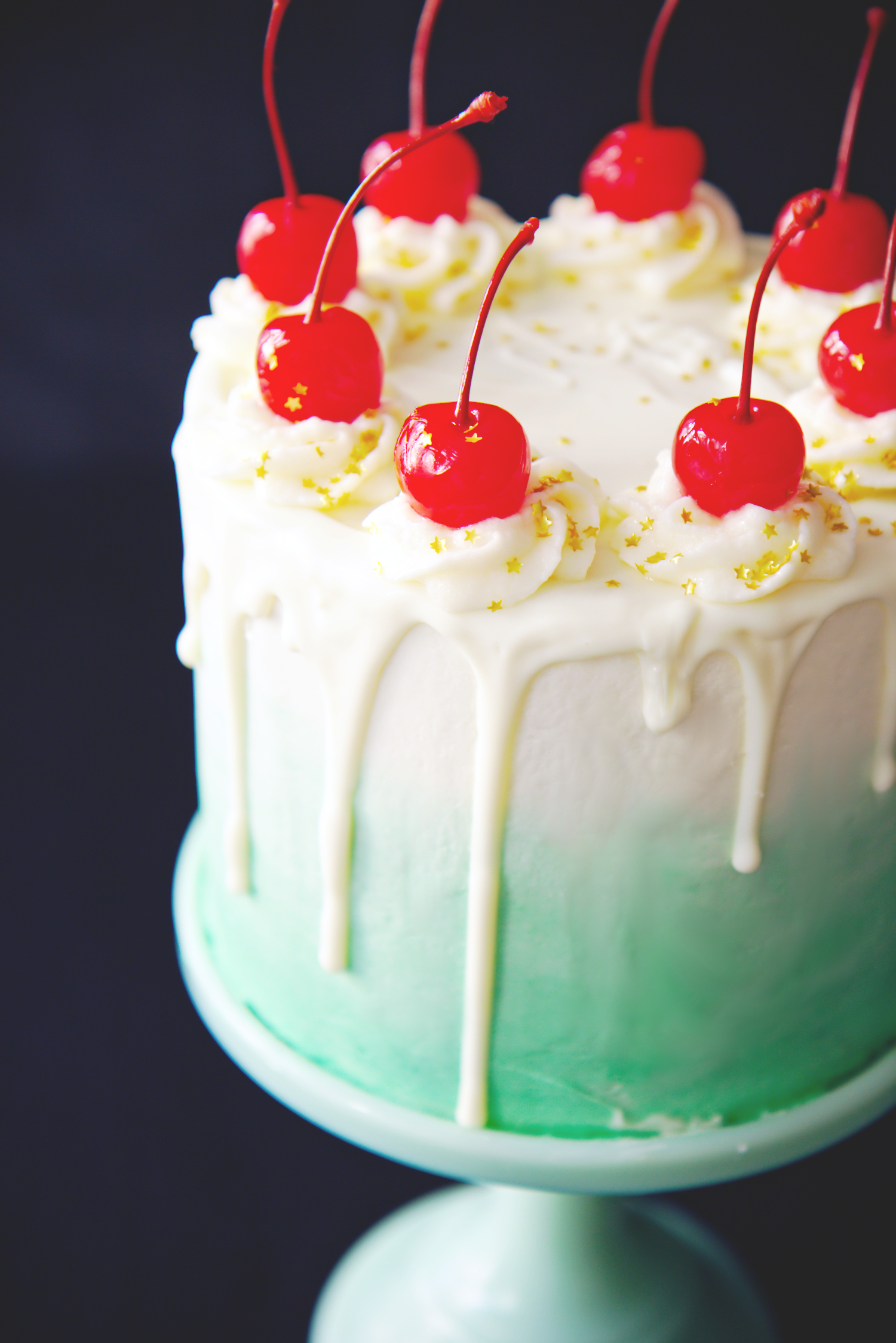 Happy St. Patrick's Day!!
Also, happy last day of finals for me!  I'll be taking my last test (neurobiology) this afternoon and then packing up to fly to California on Friday with my parents!
I'll be spending a few days in L.A. (Venice) and then going to Palm Springs for the rest of the week.
I'm excited for rest, relaxation, and sunshine.
(Any restaurant/sightseeing recommendations would fall on eager, grateful ears!)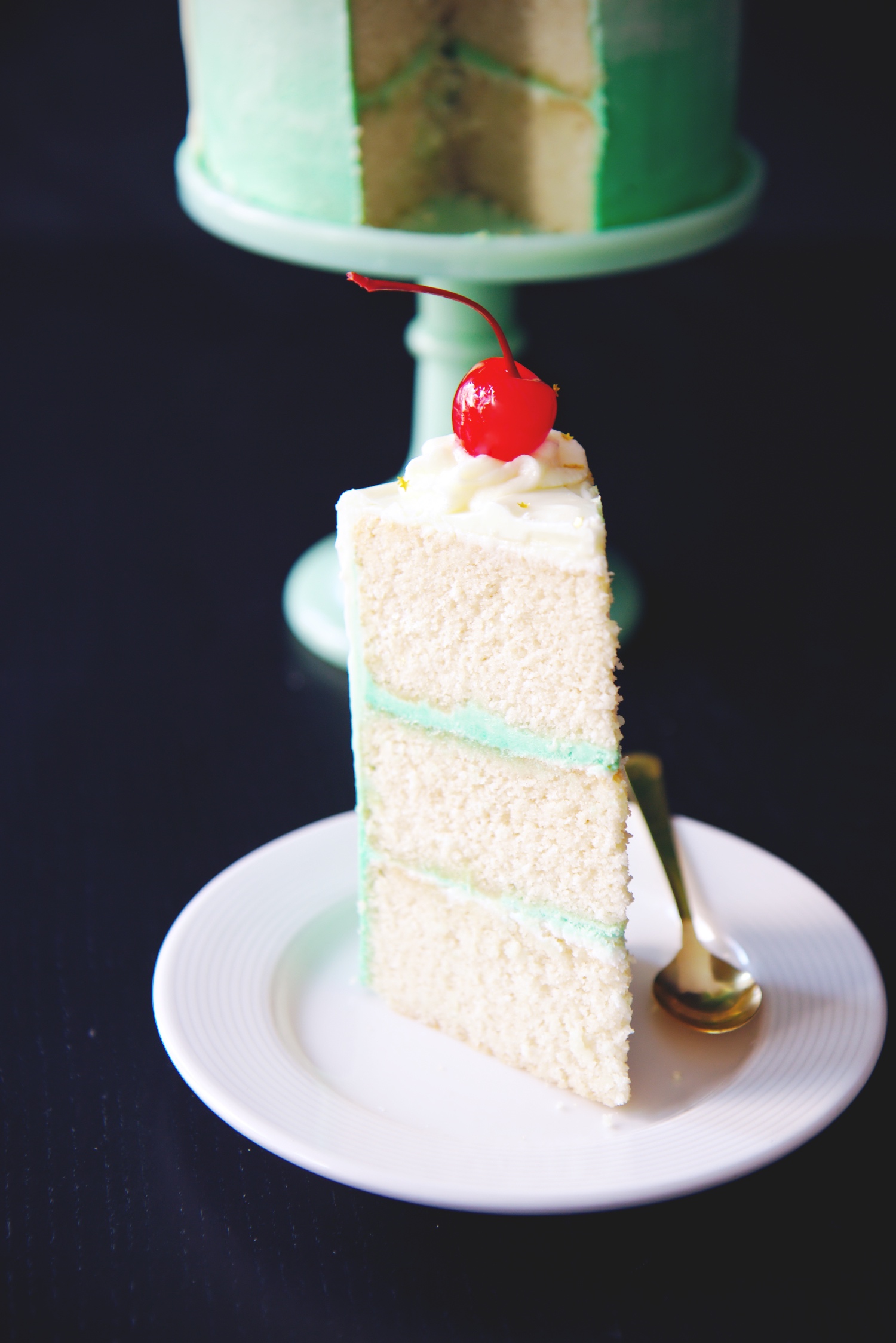 Two holiday posts in one week, with Pi Day being only 3 days ago.
It's feeling like Christmas or Valentine's Day all over again!
I do become frustrated that my blogging occasionally morphs into this frenzy: bake bake bake right before a big day, barely and frantically squeezing every post out that I want to get to so I don't miss it and have to wait a year.
It's by virtue of my schedule and how activities have been prioritized in my life lately.  At the beginning of this quarter, I promised things would be different and more regularly scheduled.
That didn't exactly happen, although my post frequency has been decidedly more consistent than the end of last year.
My frustration doesn't stem from obligation—this is my space, it conforms to fit my needs and abilities, etc. etc.—but rather, from the fact that this journal is a part of myself, and neglecting it for too long leaves me itchy and antsy to create and indulge my suppressed artistic side.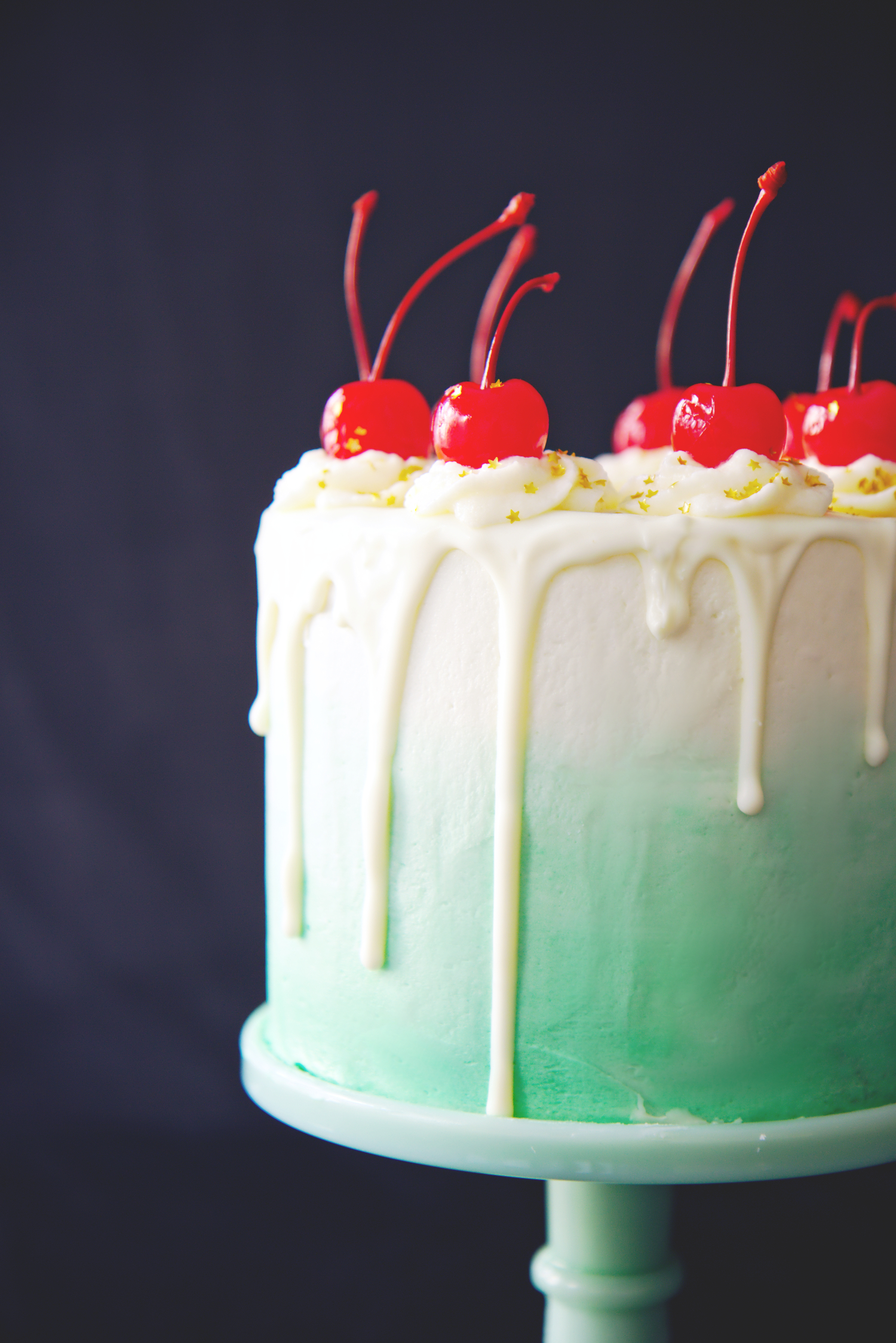 I'm sharing something a little trashy with plenty of food dye in it today, because I've been plotting of this cake for ages and I'll be damned if I miss St. Paddy's again this year (as I did in 2014… Sigh).
Since Nati has a car at school now, I accompany him on his occasional late night McDonald's runs.
I'm a strict vegetarian and eat fairly healthfully, so there's nothing I get there (although I do usually mooch some fries, as is a girlfriend's duty); about a month ago, though, I received some serious inspiration from none other than our local Mickey D's.
That's because early in the spring, the infamous harbinger of the change in seasons appeared on the drive through billboard:
the Shamrock Shake.
I've never had one (apparently it has 54 ingredients, which is a little scary considering it's a milkshake), but I know its premise: a mint shake with a little cream and a cherry on top.
I knew it had to be cake.
Specifically, a St. Patrick's Day cake.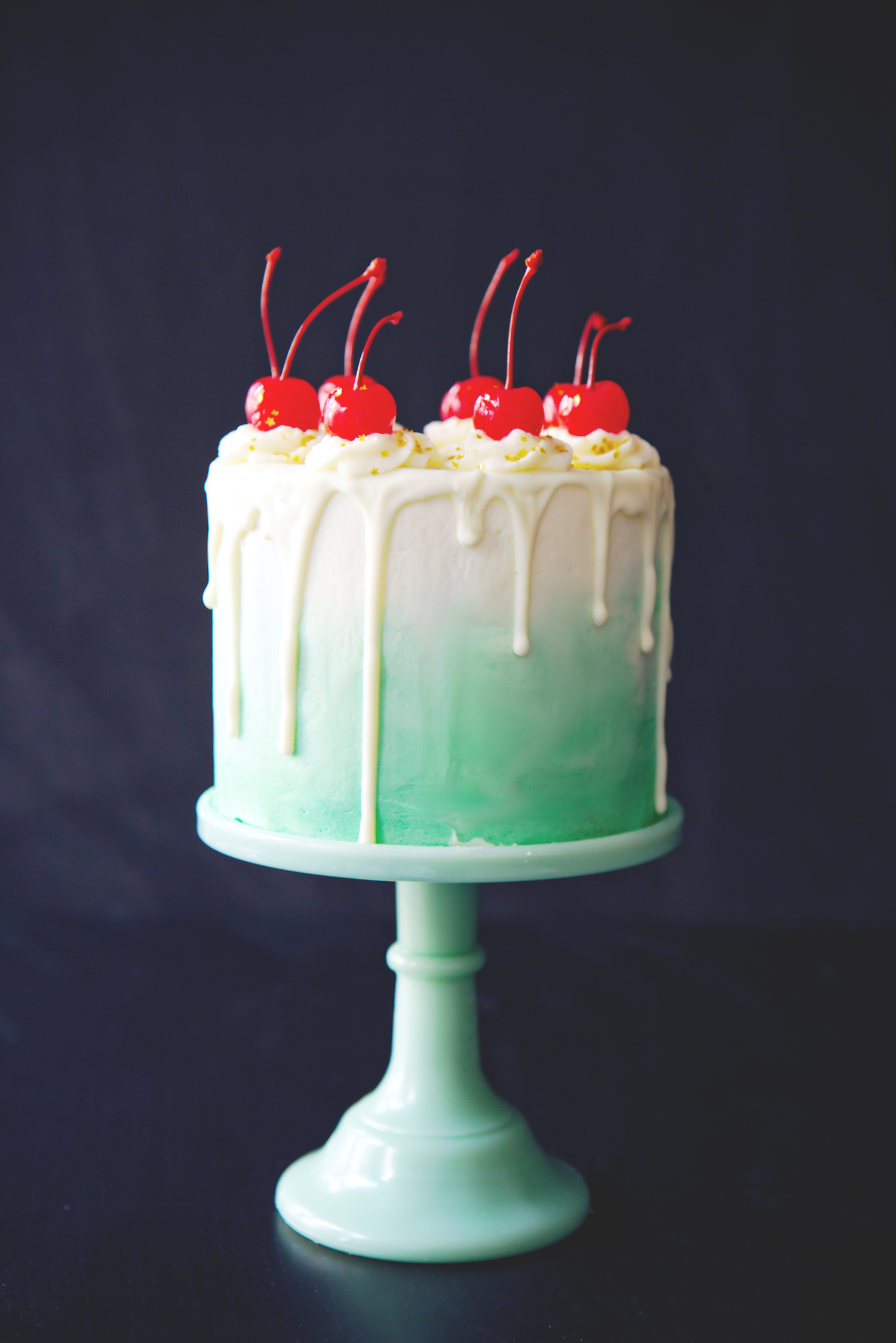 This Shamrock Shake cake (Shamrock Cake?) was thus conceived and created.
It's a dense, vanilla white cake, moist and dependable (and made with the reverse creaming method), frosted with an light ombré wash of pale, pastel green buttercream with a hit of salt and mint.
A drip of creamy white chocolate adds some sweetness and cuts the mint, and eight bright red maraschino cherries, dusted with a few gold stars for good luck, finish the cake perfectly.
It's actually a very simple cake, but looks extremely pretty and appropriate for the time of year.
If your friends like mint flavored treats, then they'll love you forever if you share this with them.
It got good feedback from mine, certainly.
In fact, my Irish friend Peter told me I could reference his praise and his homeland as testimony.
So, in spite of the somewhat trashy, very American origins of this cake, a real live Irishman appreciated and approved of it.
I call that a victory.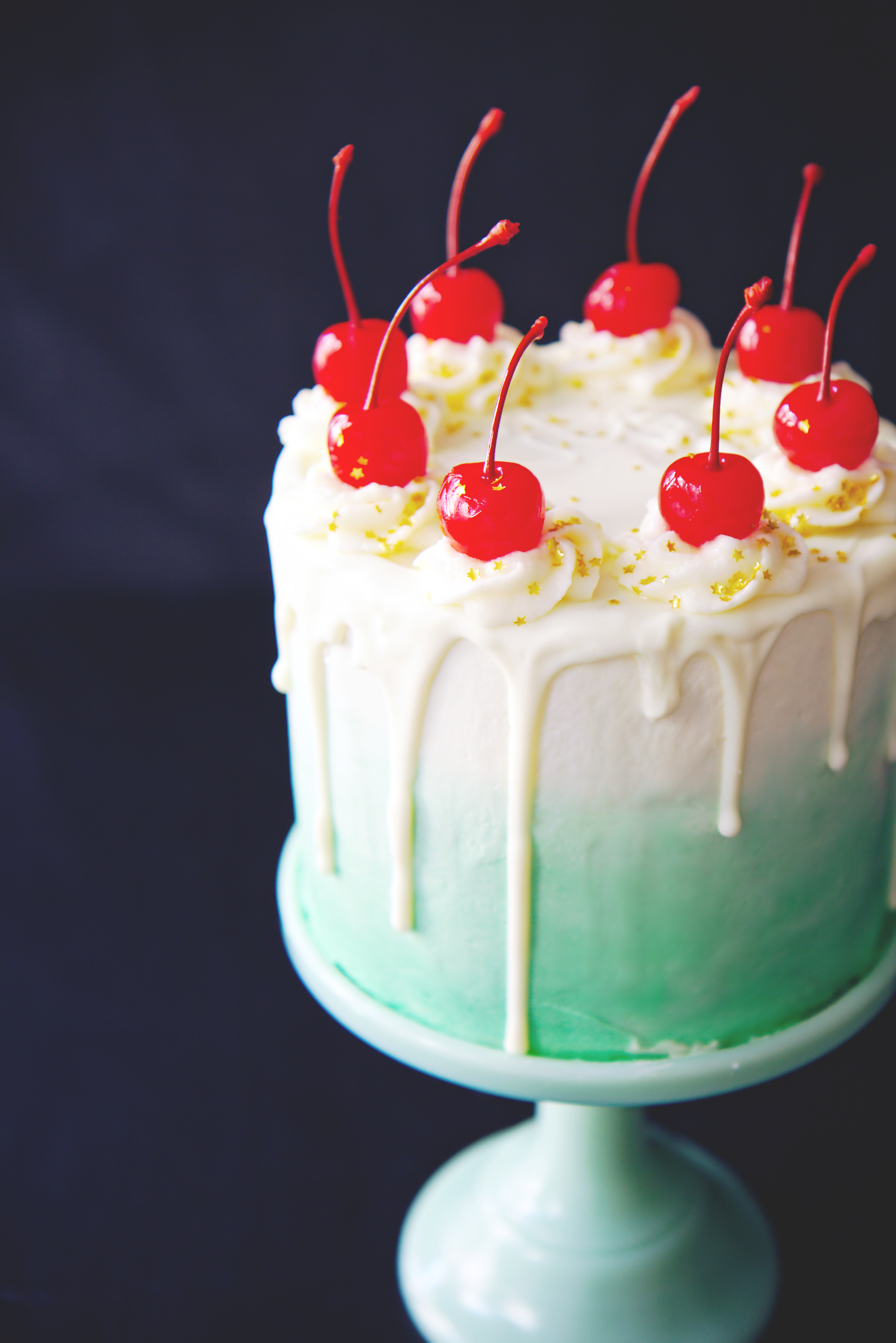 Shamrock Shake Cake
makes 1 3-layer 6-inch cake
ingredients:
for the cake:
240 grams (2 cups) flour
30 grams (1/4 cup) cornstarch
4 teaspoons baking powder
1 teaspoon kosher salt
350 grams (1 3/4 cups) sugar
5 egg whites
1 teaspoon vanilla extract
240 grams (1 cup) milk
160 grams (1 1/2 sticks, 6 ounces) butter, cut into cubes
for frosting and assembly:
270 grams (2 1/2 sticks, 10 ounces) butter, softened
1/2 teaspoon table salt
460 grams (4 cups) powdered sugar
30-60 grams (2-4 tablespoons) cream, as needed
1 teaspoon mint extract or oil
green food coloring
white chocolate
maraschino cherries
gold luster stars
directions:
Preheat oven to 350 degrees F and grease and flour 3 6-inch round pans.
Place butter in a bowl and microwave for 30 to 45 seconds, until very slightly melted and soft.
Place flour, cornstarch, baking powder, salt, and sugar in the bowl of a stand mixer and mix until combined.
Whisk milk, vanilla extract, and egg whites together in a measuring cup.
With the mixer running, add the melty butter into the flour mixture a few tablespoons at a time; allow the mixer to run for about a minute, until the batter is coarse and sandy and no visible pieces of butter remain.
With the mixer running on low, stream in the milk and egg mixture; increase speed to high and beat for 1 minute until homogeneous and smooth.
Divide into prepared pans.
Bake for 16-20 minutes, until a tester comes out with only a few moist crumbs.
Allow to cool completely.
To make the frosting, beat the softened butter for 3 minutes, until light, fluffy, and doubled in volume.
Add in the salt and sugar and mix on low speed until combined; add cream slowly (spoonful by spoonful, mixing after each one) if the frosting is too thick.
Add the mint extract.
Divide the batter into two bowls; add a little bit of green food coloring to one of the bowls.
To decorate the cake, place one layer on a cake stand and top with 1/2 cup frosting.
Repeat until all 3 layers are stacked.
Working with just the green frosting, add it on in a thick layer to the bottom half of the cake.
Repeat with the white frosting for the upper half of the cake, saving 1/2 a cup for later.
Use a large spatula to blend and smooth the frostings together.
Once smooth, place in the fridge to chill.
Melt the white chocolate very gently in the microwave; pour or pipe over the edges of the chilled cake.
Using the extra white frosting, pipe some poofs on top of the cake with a french tip or a star tip.
Place a cherry on top of each poof and follow with some edible gold star glitter.