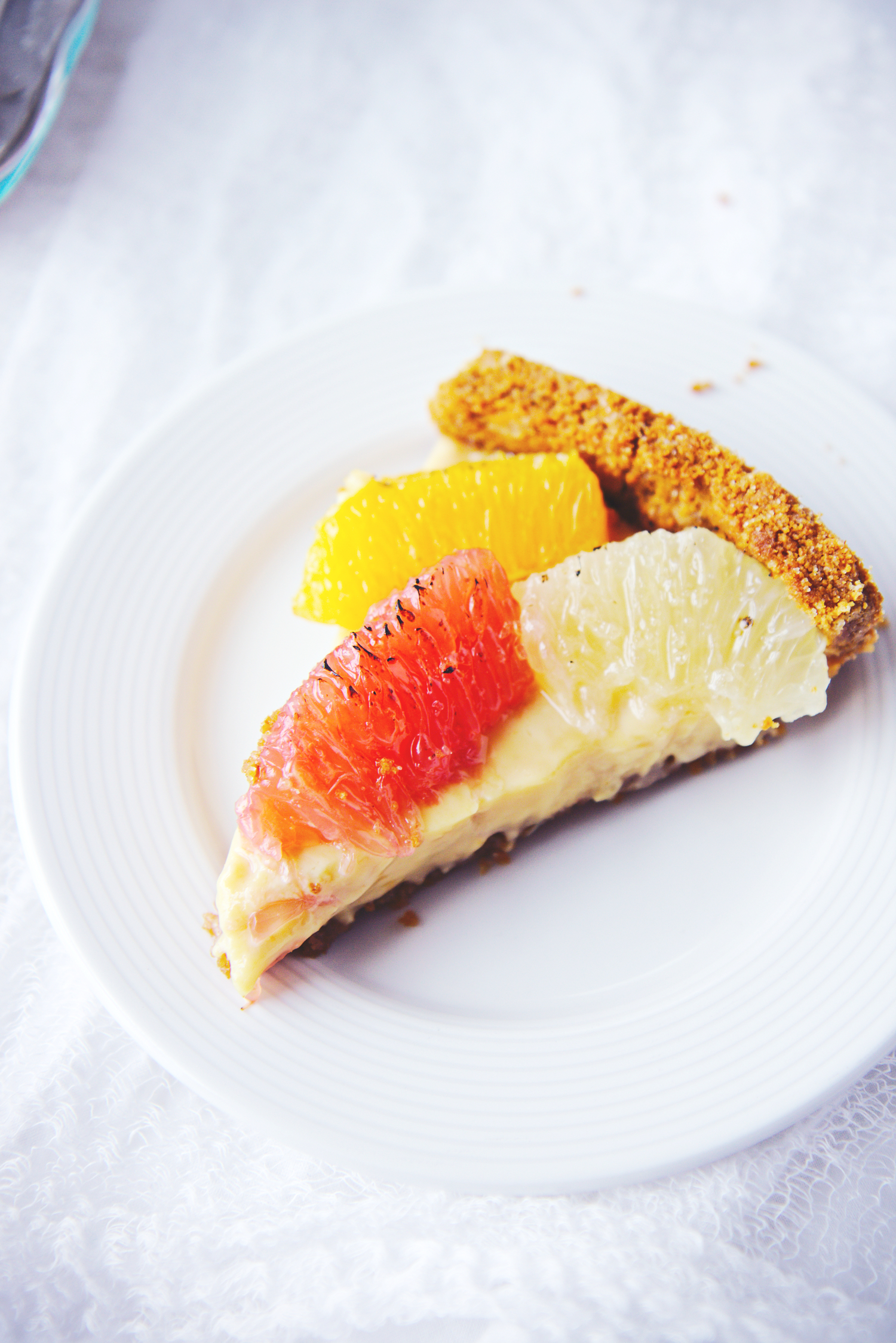 Cosine, secant, tangent, sine,
Three point one four one five nine,
Square root, cube root, BTU,
Sequence, series, limits too. Rah.
—Unofficial UChicago football cheer
(See here for a fantastically written article about a very nerdy tradition at my school, which is the nerdiest of the nerdy)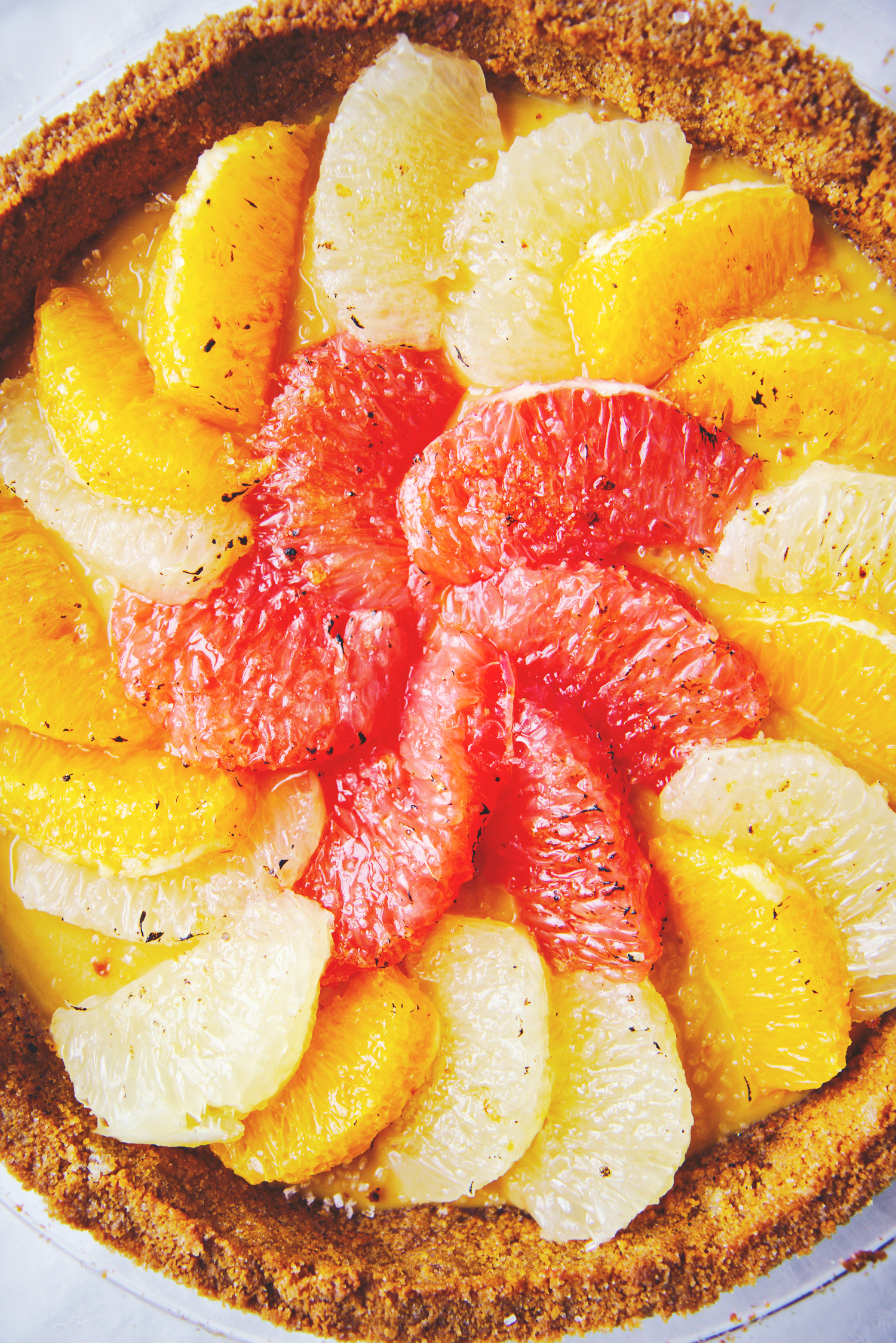 (Themistocles, Thucydides, The Peloponnesian War,
X squared, Y squared, H2SO4.
Who for? What for? Who we gonna yell for?
Go, Maroons.
Logarithm, biorhythm, entropy, kinetics,
MPC, GNP, bioenergetics!
Maximize and integrate, titrate and equilibrate—
Go, Maroons.)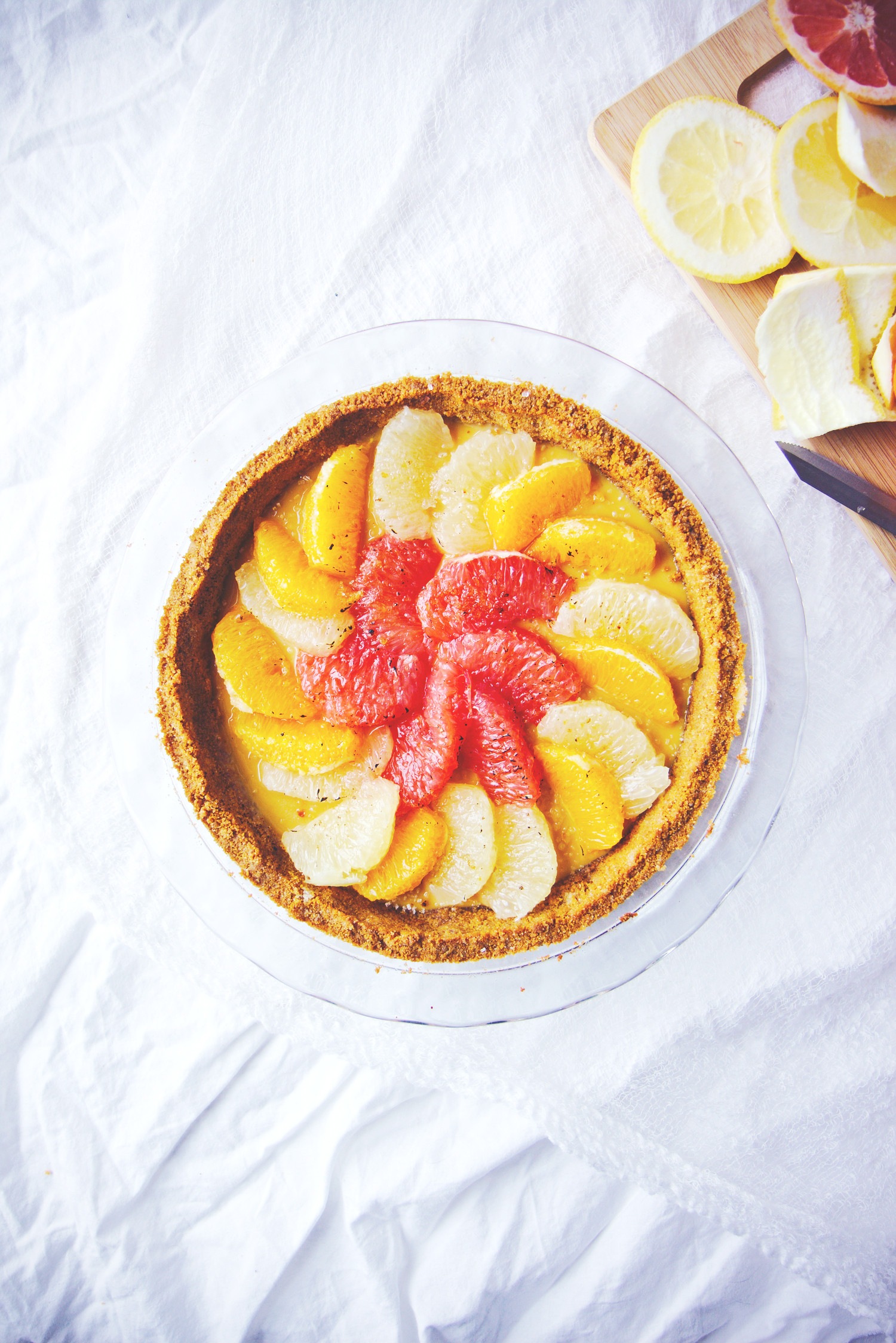 Happy Pi Day!
3.14, and I'm posting this at 1:59 so we get 3.14159.
(Last year, 3/14/15, at 9:26:53, the date was 10 digits of Pi!)
Pretty much every baking/food blogger is sharing a pie today.  It's only right, right?
Shamefully, I've never shared a pie on Pi day.
I haven't shared many pies at all, truth be told.  Which is weird, because I really like making and eating pie.
My last pie was made at Thanksgiving, and it was this insane apple, poached pear, butterscotch, and cheddar cheese beaut.  It was even shared on Buzzfeed (woot!) but has since faded into the recesses of my mind/tastebuds/blog archives.
If you want real (and regularly scheduled) pie envy, go see Michelle, who has undertaken a pie a month for 2016. Color me inspired! Her pies are gorgeous and her photography of late has been b o m b.
High fives, Michelle! Keep being the most impressive, please and thank you!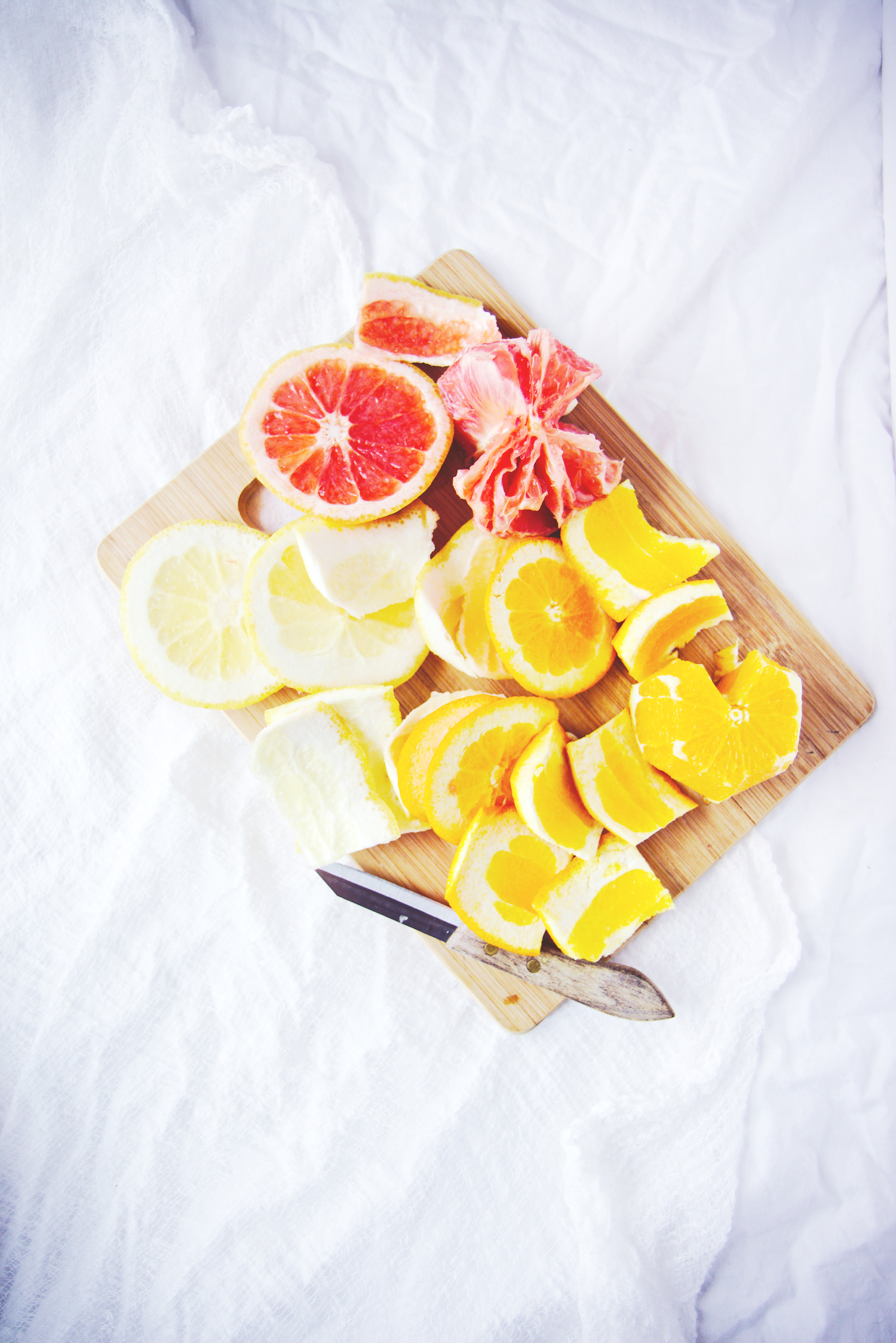 The pie I'm sharing today is definitely worthy of reviving the pie portion of my site.
It's a creamy, custardy lime pie, full of sweetened condensed milk and egg yolks in a crunchy, buttery, toasty graham cracker crust topped with brûléed suprèmes of white and ruby red grapefruit and a navel orange.
It's mostly the classic key lime pie (less the key limes) from the back of the sweetened condensed milk can, with the addition of a non store-bought graham crust and a heap of torched, bittersweet citrus segments.
The creamy filling contrasts brilliantly with the slightly bitter, sour fruit and the sweet, wheat-y crust.
Key lime pie has always—and will always—be in my personal favorite top 3 pie flavors.
I dropped this off at N's fraternity house, and it was demolished. According to one ~taste tester~, my good friend Colton, it was "unreal" and "like an addiction," as in, none of them could stop eating it, even if they tried.
Not only does this make me very happy, but it's also a good indication of how yummy this combination is!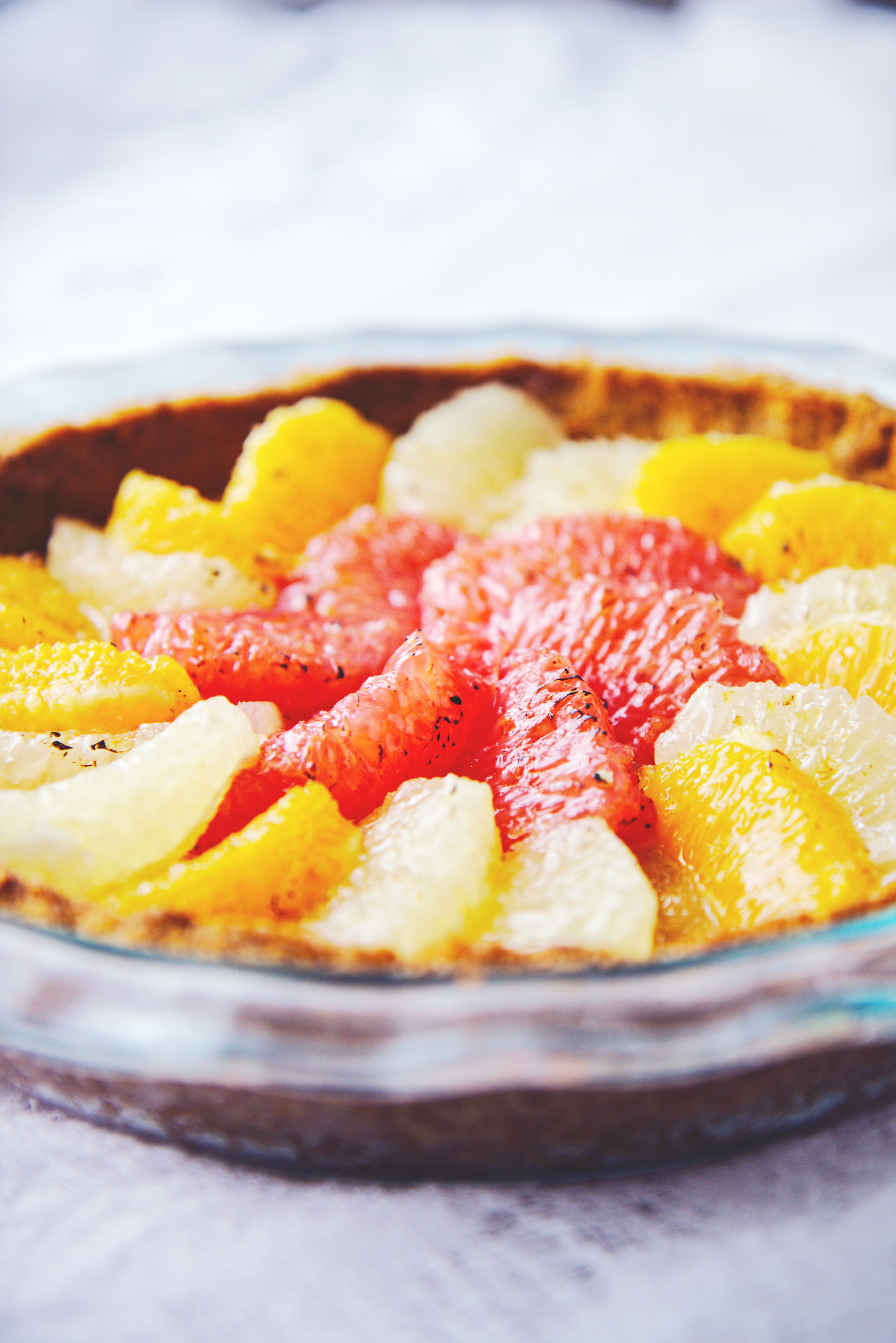 One last note about this pie…
In spite of the title of this post, there is no need to suprème your fruit. Seriously.
Unless you're thinking to yourself: "YES. this is what I went to culinary school for 2 years for!  My time to shine!" or
"what's the big deal about suprèming? I do it every Sunday for my weekly goat cheese, blood orange, and arugula salad!"
then it's probably not worth it.
Slice up your peeled fruits like this, or cut 'em like this.
If, like me, you've seen this technique done on T.V. but have never had any formal knife skill training and are still silly enough to want to try it, please buy extra citrus fruits.
Because it's kind of a pain and you'll probably mash a lot of segments along the way. I know I did.
No matter how the citrus is arranged on top of the pie, it will be delicious and beautiful.  Just a word of warning advice.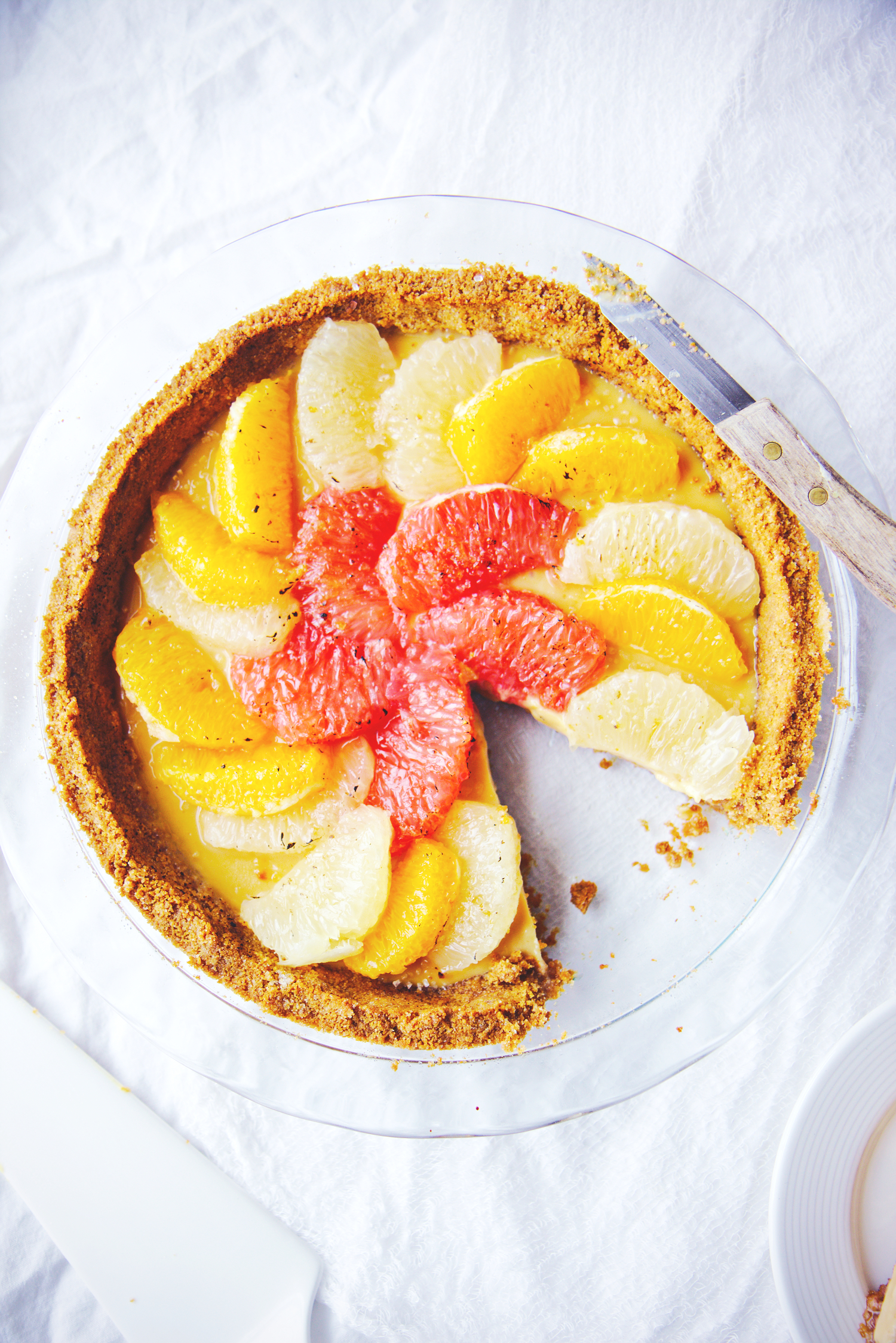 Brûléed Citrus and Lime Pie
makes 1 9-inch pie
ingredients:
300 grams (2 cups) graham cracker crumbs
112 grams (4 ounces, 1 stick) butter, melted
pinch salt
100 grams (1/2 cup) sugar
for the filling and topping:
400 grams (14 ounces) sweetened condensed milk
135 grams (1/2 cup plus 2 tablespoons) lime juice (I used 2 limes and 1 lemon)
5 egg yolks
1 white grapefruit
1 ruby red grapefruit
1 navel orange
turbinado sugar, optional
directions:
Preheat oven to 350 degrees F, and ready a 9-inch pie dish.
Stir graham cracker crumbs, butter, salt, and sugar together until sandy and coarse.
Firmly press into pan using your fingers and a measuring cup.
Bake in preheated oven for 8 minutes, then remove and let cool slightly.
Meanwhile, whisk the sweetened condensed milk, lime juice, and egg yolks together vigorously until a smooth and homogenous mixture forms.
Pour into cooling pie crust and bake for 15 minutes.
Remove from oven and let cool completely, at least 1 hour + some time in the fridge.
In the meantime, suprème your grapefruits and orange and arrange on a plate the way you want them.
When the pie is cool, lightly dry each slice of citrus with a paper towel and arrange on top of the pie.
Sprinkle some turbinado sugar on top (liberally) and brûlée with a blow torch.
Serve chilled or at room temperature.