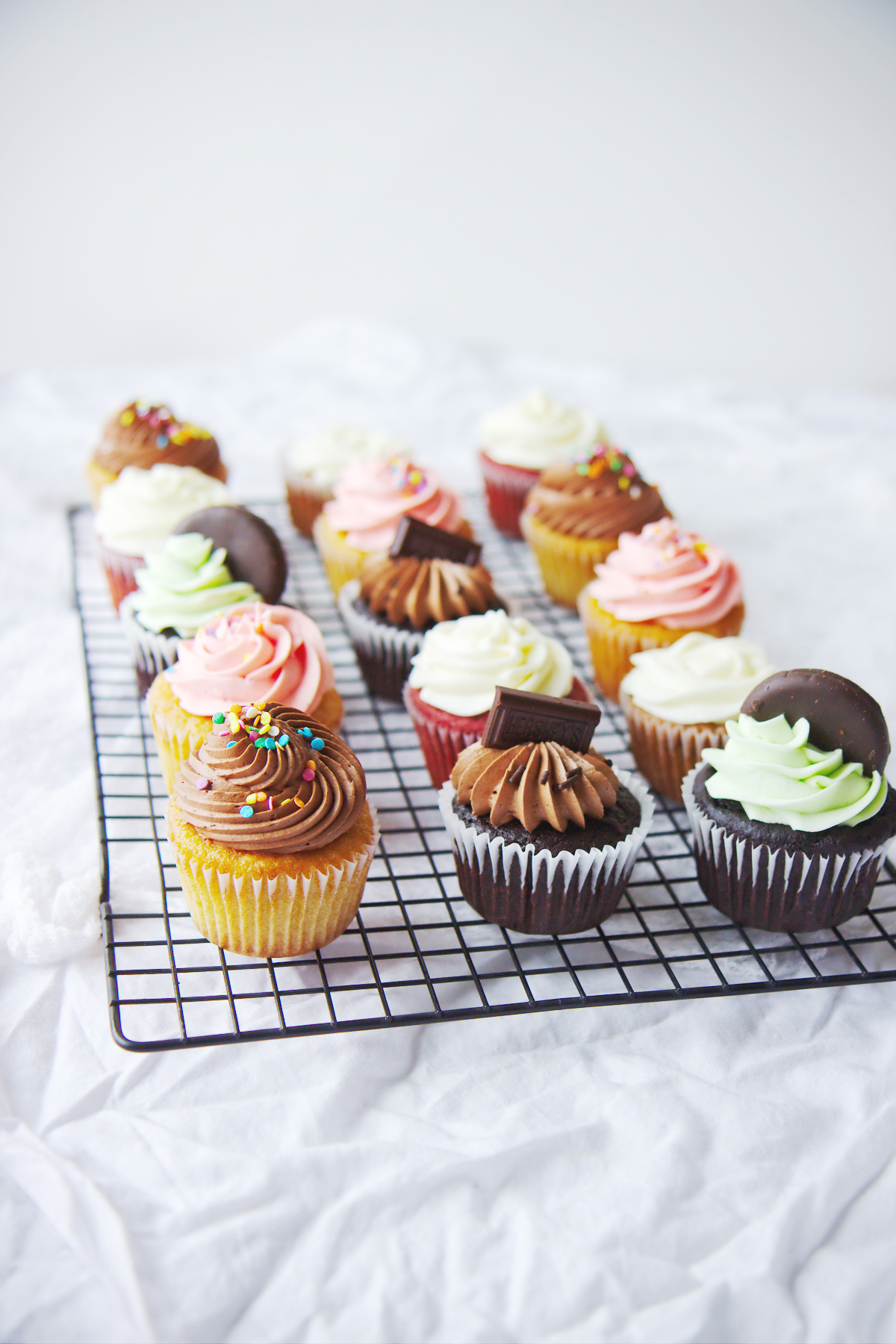 Did you think I was a city big enough for a weekend getaway?
I am the town surrounding it, the one you've never heard of but always pass through
There are no neon lights here, no skyscrapers or statues
but there is thunder, for I make bridges tremble
I am not street meat, I am homemade jam thick enough to cut the sweetest thing your lips will touch
I am not police sirens, I am the crackle in a fireplace
I'd burn you and you wouldnt take your eyes off me
I am not a hotel room, I am home
I am not the whiskey you want. I'm the water you need
Don't come here with expectations and try to make a vacation out of me.
Rumi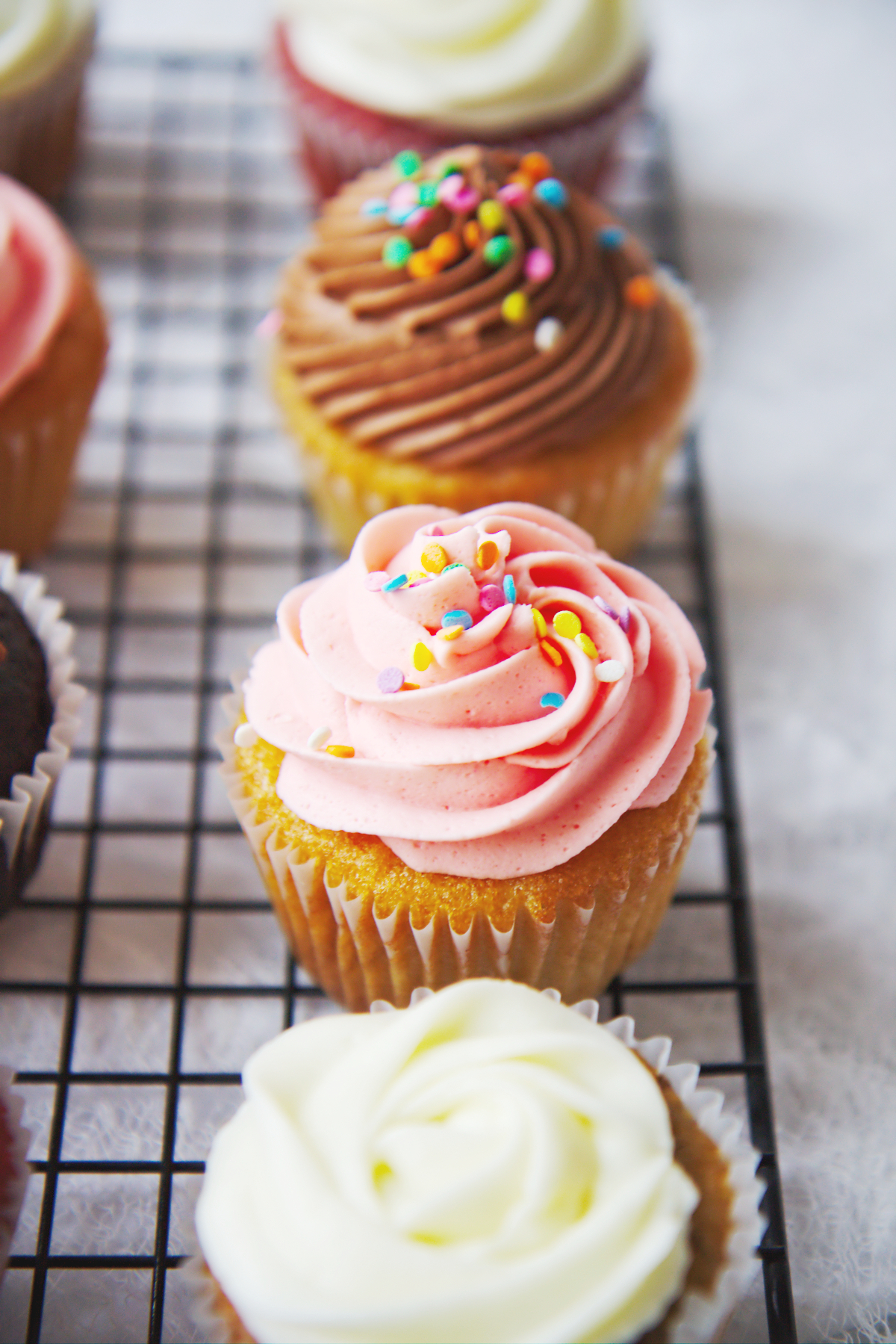 Hello friends!
Since we last connected, I escaped Chicago to warm, sunny California for the best spring break ever with my parents.
We first went to LA and stayed in Venice Beach for a few days—right on the ocean.  It was beautiful, and the food we had was generally spectacular.
It's much easier to find fresh produce and food when you live in California, where essentially everything grows!
We managed to go to Gjelina twice, once for brunch and the other for our last dinner in Cali.  It is (mostly) as amazing as everyone says it is.  I had 1 (one) disappointing squash blossom scramble that had too much mint for my taste, but that being said, my parents liked it.
The goat and cow labneh on toast with jam, olive oil, and sea salt was an absolute knockout of a dish: creamy, fatty, crunchy, salty, sweet, fruity etc. etc.
The lemon ricotta pancakes with blueberry compote are another must.
My favorite from dinner was the charcoal gemelli, which was outstanding and incredibly well balanced despite being quite rich.
We also went to the Rose Café and tried boba from a few different places.  Even the mediocre places were leagues above any Hyde Park slushie impostors.
(On that note, my wonderful boyfriend just bought me some dried boba and stainless steel straws so that I can make my own at home… Dangerous!)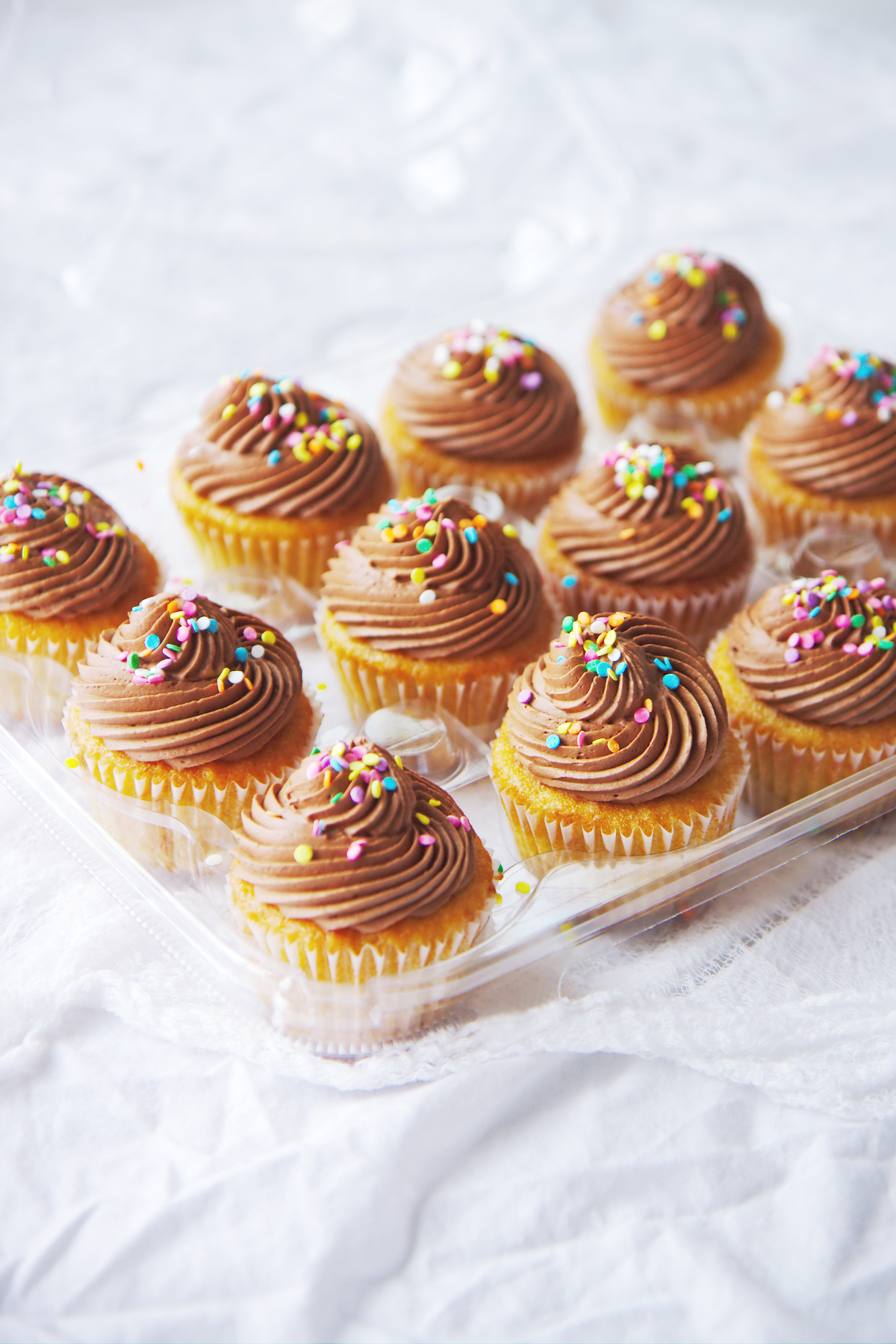 We had a rented grey Mustang convertible, which we drove to the Coachella Valley.  We stayed in Palm Springs, at the Saguaro, which is a fabulously retro motel-turned-hotel painted in all neon hues.
Our favorite breakfast place was definitely Cheeky's, which seemingly always has a very long queue, but is totally worth it.  The crispy buttermilk waffle tasted just like an ice cream cone and the cheddar scones were more like biscuits, with buttery, flaky layers that easily soaked up runny egg yolks.
We had date shakes at Great Shakes, because I was dying to try a date shake (the California desert has lots of date farms). Talk about dangerous—each shake comes with a mini cake donut on the straw, and the store front is filled with retro candies for just a few quarters each.
We headed back to LA the day before our departure.
I got to have lunch with lovely Courtney from Fork to Belly at Mendocino Farms, which has dooope sandwiches.
She's in Iceland right now! I feel like Iceland is so photogenic, with all I've seen from Linda and Betty and Ashlae. I'm looking forward to seeing her photos, for sure.
Anyways, she's the first blog friend I've met in person, and it was so fun! In a weird sense, it's a novel way of interacting with people whom I already respect and in whom I take interest and, often, laugh along with weekly as I read their writing.
Definitely a great part of the trip.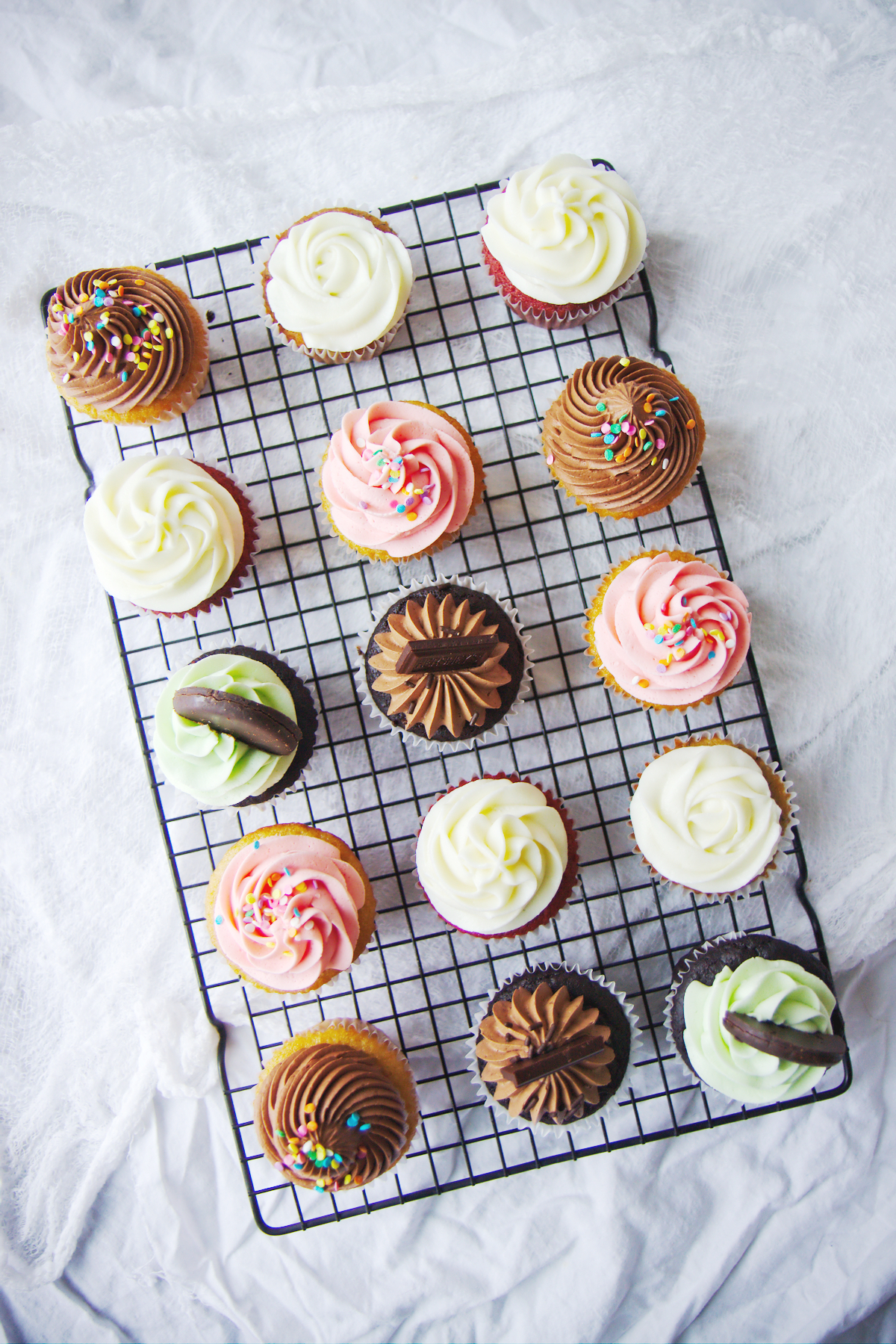 Also during this trip, I found out that my Shamrock Shake Cake was chosen as a finalist in @feedfeed 's Bob's Red Mill best home baker contest!
I didn't end up winning, sadly, but I want to give a huge thank you to everyone who took the time to vote for me, and, of course, all of you who support me here by reading my blog!
Amazingly, the picture I shared on Instagram of these cupcakes to encourage my followers to vote for that contest garnered 735+ likes… Like, whoa.
Not that Insta is the best—really, it's actually among the worst—metric of happiness, but that's never happened to me before, so I was pretty excited.
I guess people still like cupcakes, even though they've been out of vogue for some time now.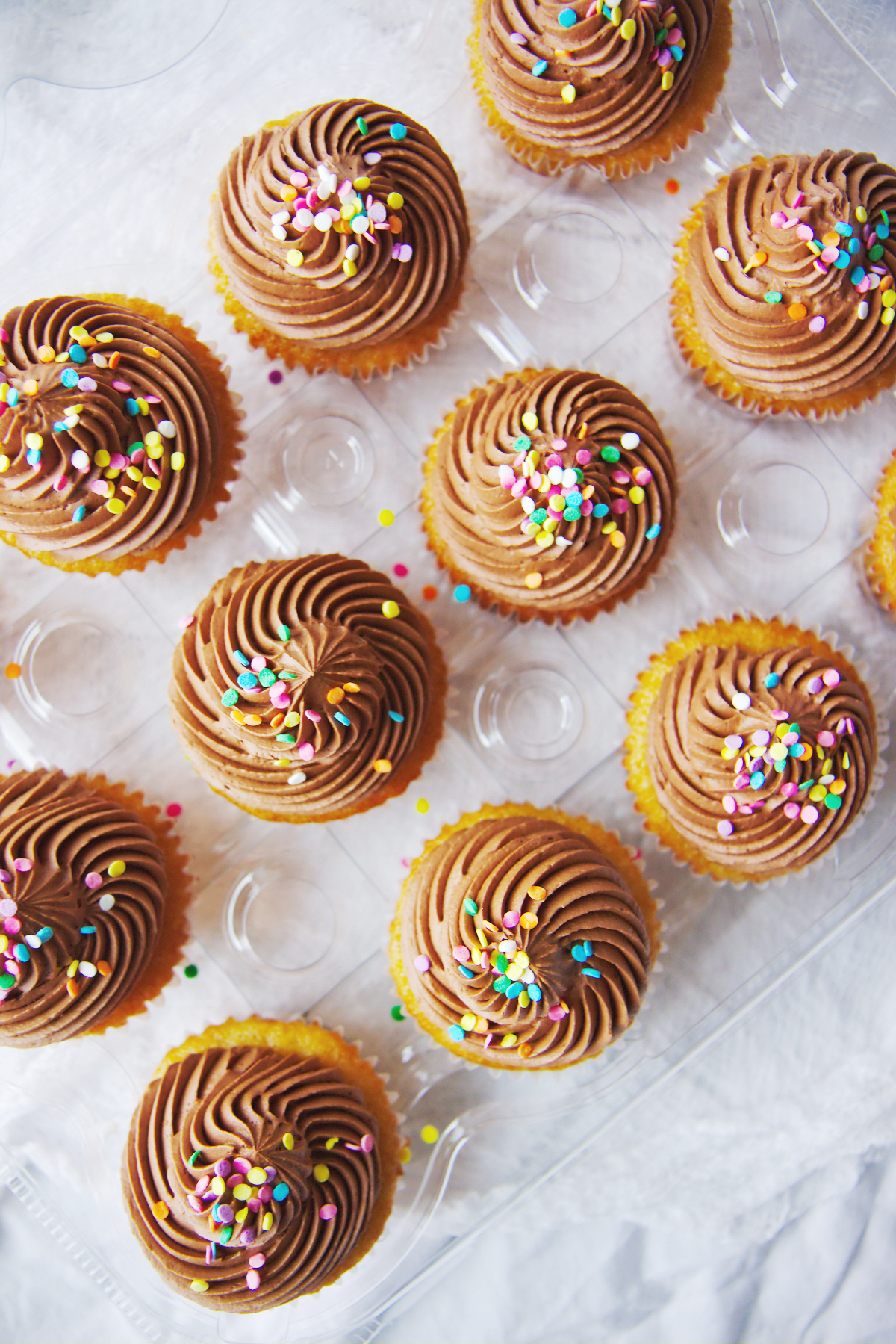 The cupcakes shown are a sampling of the 200 I made for my sorority's annual fundraiser for our sister charity, CASA (just like I did last year).
Lord, having done it once before did not make it that much easier this year—except that I had the foresight to buy an extra cupcake tin so I could make 24 at once.
Other tips if you ever want or agree to make an obscene number of cupcakes or baked goods for an event:
First of all, numbers are everything. Type or write out everything you need to make in recipe form, exactly how you're going to make it (i.e. some of my recipes were for 12 cupcakes, I doubled them and wrote down the doubled recipe for 24).
Next, multiply each recipe by however many times you need to make it (I had to make 3×24 vanilla cupcakes) to calculate how much of each ingredient you'll need for that particular flavor/recipe.
Doing this for all your recipes gives you the exact amount of flour/butter/sugar etc. you'll need in total, so you can purchase just the right amount—not too much and not too little!
For example: I needed 64 ounces of buttermilk/sour cream/yogurt for the cupcakes, so I purchased a 64 ounce container of plain yogurt.  I scraped it to the last gram on my last batch of cupcakes. So satisfying!
Secondly, plan ahead. When are you going to make everything? What can be made ahead? When does butter need to come out of the fridge to soften?
When things are made, where will I store them prior to the event or while other components are prepared?
How will I transport all these goodies?
I rely on my trusty plastic cupcake containers: they have very high domes, so no frosting ever gets mussed up in travel.  They also seal very tightly, so cakes don't dry out if made ahead.
They also are washable, so you don't have to dispose of them after one use.  Instead, you can use them over and over (they come in handy when gifting cupcakes!).
When they have reached the end of their lifecycle, you can recycle them.  Perfect.
Third, make like a Top Chef and do your mise en place. Take out the flour, sugar, vanilla, salt, baking powder and soda before you start making your recipe.
If you're using a scale, keep it out and turned on. Don't bother putting away any of your ingredients until you're done cooking for the day—fumbling in cabinets wastes time.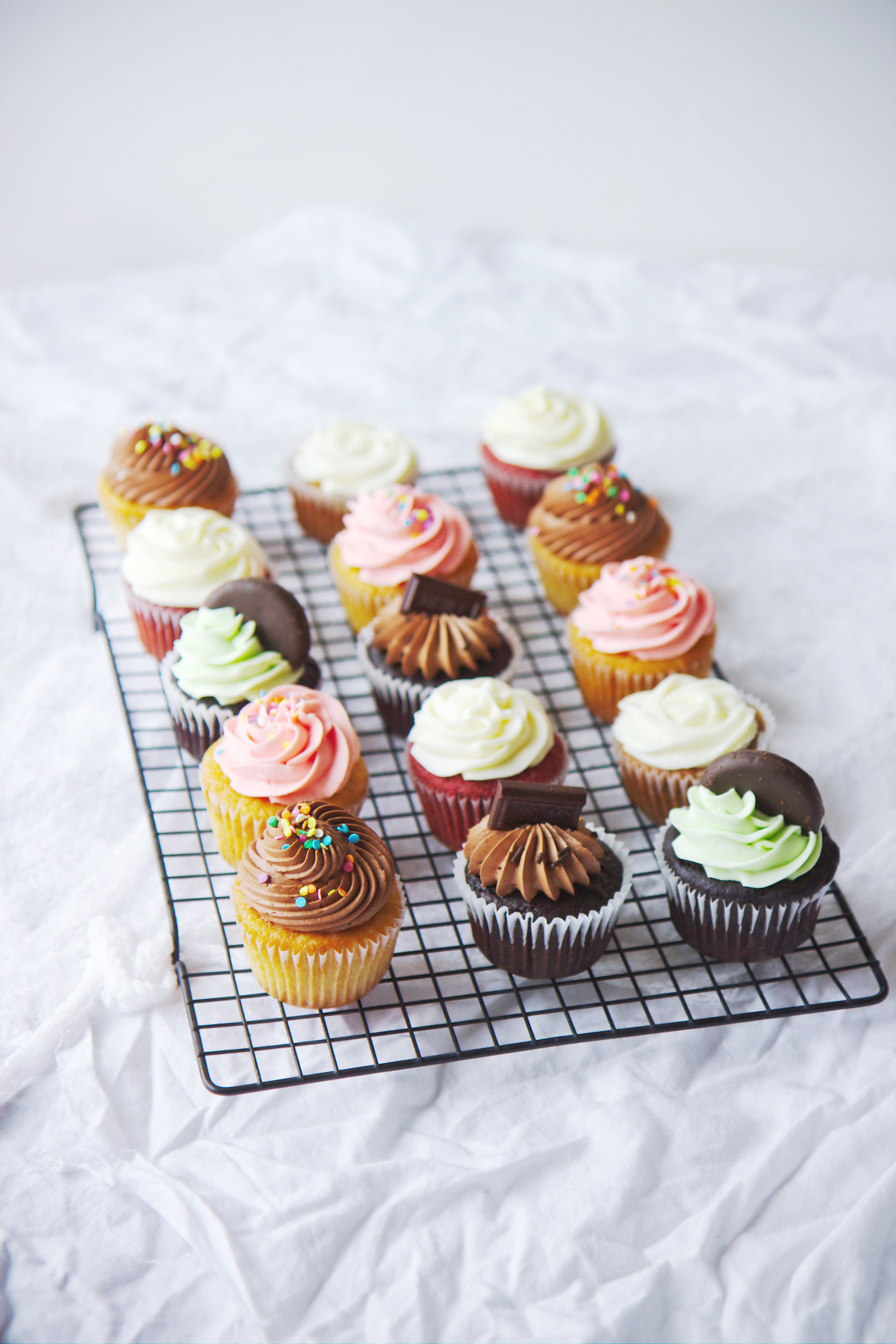 The flavors I chose to make were as follows:
vanilla sprinkle,
vanilla chocolate,
thin mint,
triple chocolate,
red velvet,
banana cream cheese,
lemon, and
caramel.
(Not pictured: lemon and caramel.)
I'm sharing the vanilla chocolate recipe today, because it's my own perfected version (I've made a lot of vanilla cupcakes in my short time here on Earth) and I felt as though these came out the best out of all.  I'm picky, though.
Recipes/references for some of the other flavors will follow.
The caramel cupcakes were the vanilla base with a vanilla frosting that had half of this caramel recipe mixed in, and more drizzled over top.
I used this recipe for red velvet cupcakes (doubled).
I used this recipe, which is perfect, for the chocolate cupcakes.
These banana cupcakes are wonderfully moist and save well, to boot—so they're my recipe of choice.
The mint frosting was similar to this cake.
The cream cheese frosting I used on the red velvet, banana, and lemon cupcakes was similar to this cake or this one.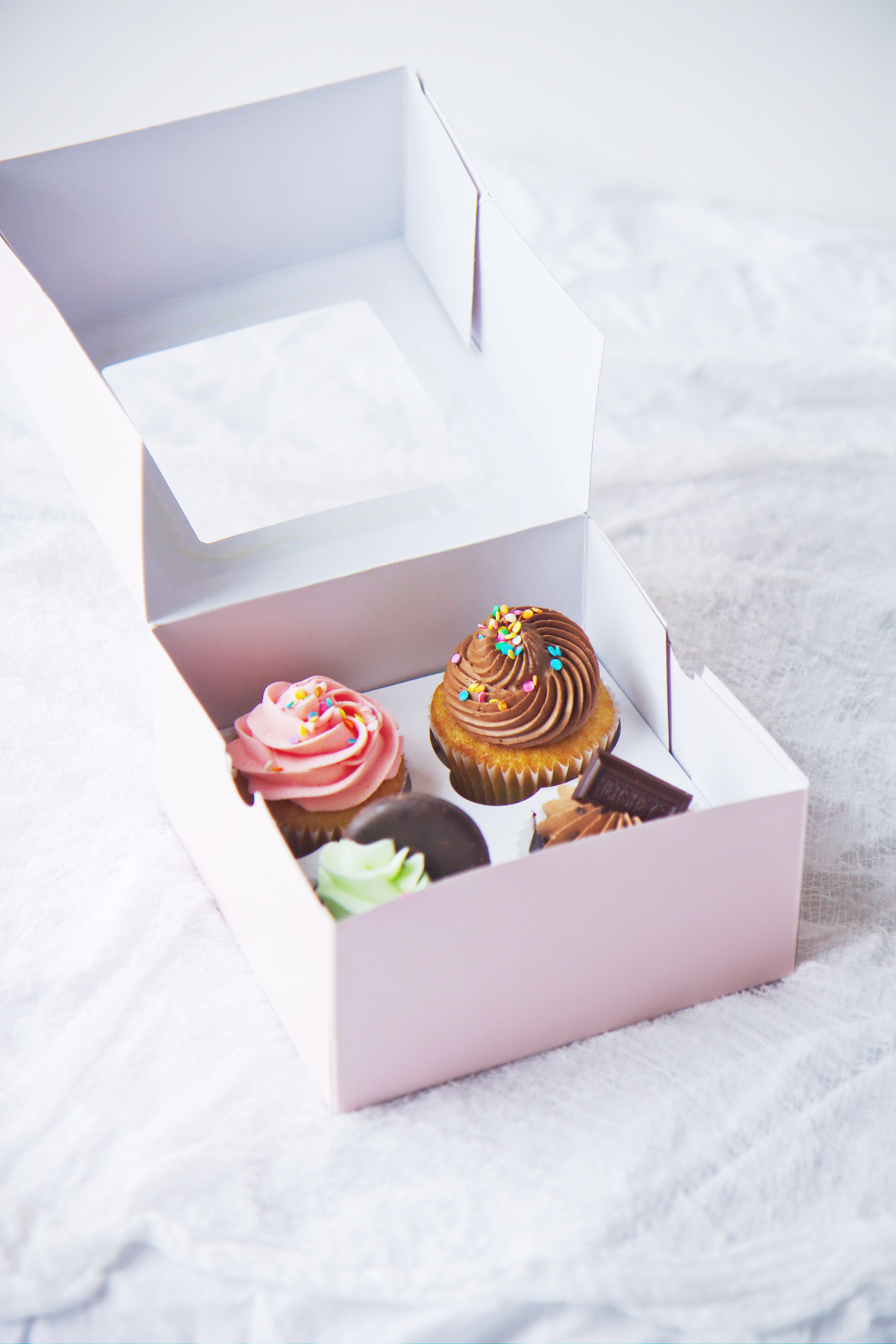 So I made these cupcakes for the pre-event, which leads up to the actual Mr. University talent show that we host; it's meant to heat up interest and donations the week before.
Nati kindly drove me, chattering and sweating and shaking with nerves—the cupcakes carefully laid out in the trunk of the car—to the event, where I unloaded box after box with mounting relief.  Not a single smashed cake or a single errant swipe of frosting.
The event itself was hilariously fun, as always, and was more successful than ever: two years ago, Theta raised 40K for CASA of Cook County.  Last year, 46K.
This year, we raised an astonishing 65,000 dollars in two and a half short, frenzied weeks.
We are so grateful for everyone who donated.  More importantly, though, the kids whom this will benefit will be grateful, and more will have the chance to have an advocate in the court system, as they search for a forever home.
Everyone needs a measure of stability and warmth and love in their lives, especially in chaotic, lonely times like moving through the foster system. CASA provides this. And I'm proud to have been part of an event that supported such a fantastic organization.
Brava!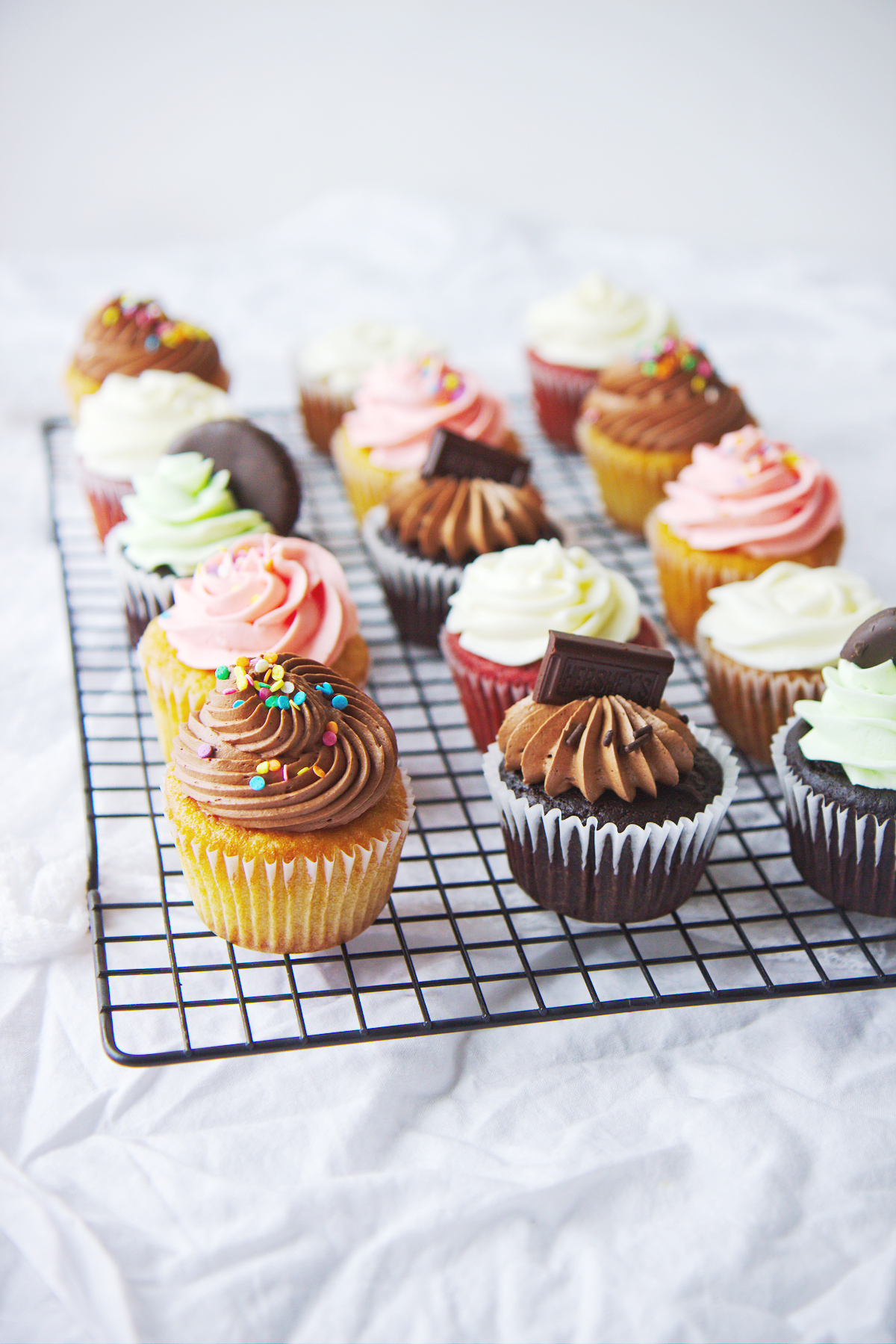 This post has been lengthy, so I'll leave you with the recipe.
These cupcakes are moist from the yogurt, bake up without any domes or uneven surfaces, are a one-bowl affair, and are just plain dependable.  It's hard to beat a good yellow cupcake with sweet and a little salty chocolate frosting.
The frosting has a generous amount of dark chocolate and cocoa powder in it; you can add up to 1/2 a cup of Nutella to it if you want to amp up the flavor even further.
These are simple but well-loved.
The recipe is tried and true—I hope you like and use it as much as I have!
P.S. The sprinkles are, IMHO, a necessity.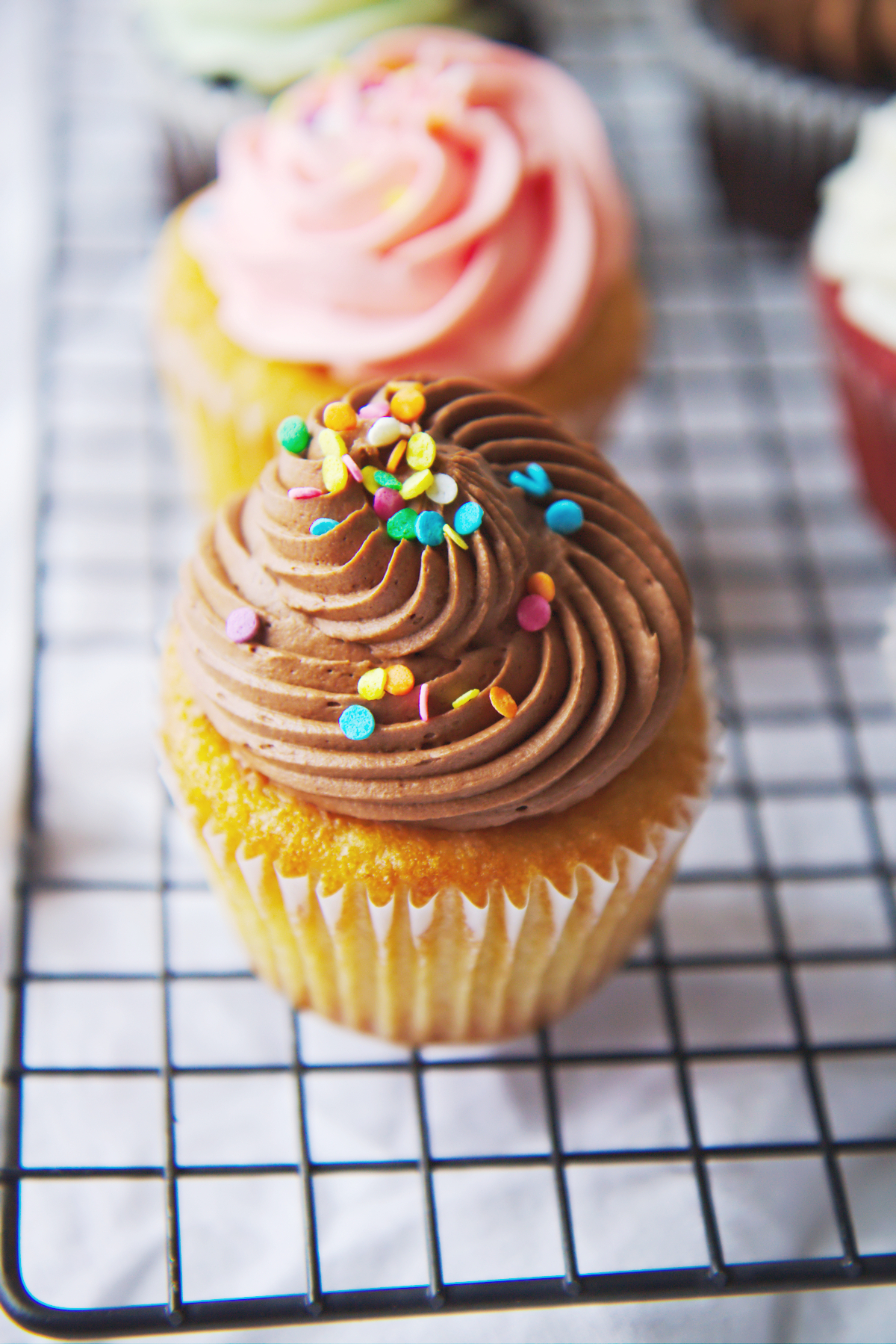 Perfect Vanilla and Chocolate Cupcakes
makes 24 cupcakes
ingredients:
for the cupcakes:
300 grams (2 1/2 cups) flour
1 teaspoon baking powder
1 teaspoon kosher salt
4 eggs
300 grams (1 1/2 cups) sugar
1 tablespoon vanilla extract
225 grams (1 cup) vegetable oil
227 grams (1 cup) plain yogurt or buttermilk
for the frosting:
560 grams (2 1/2 sticks, 10 ounces) butter
1 teaspoon kosher salt
15 grams (2 tablespoons) cocoa powder
112 grams (8 ounces) bittersweet chocolate, melted and cooled
400 grams (3 cups) powdered sugar
30-60 grams (2-4 tablespoons) half-and-half or milk
2 teaspoons vanilla extract
directions:
Make the cupcakes: preheat oven to 350 degrees F and line 2 cupcake tins with cupcake papers.
Whisk the eggs, sugar, vanilla, and vegetable oil together.
Add in the yogurt and whisk to combine.
Add the flour, baking powder, and salt on top and carefully stir until homogeneous.
Portion out in 1/3 cup scoops into the papers and bake for 12-15 minutes, or until a tester comes out with only a few moist crumbs attached.
Allow to cool completely.
Meanwhile, make the frosting: place the butter and salt in the bowl of a stand mixer fitted with the paddle attachment.
Beat on high for 3 full minutes.
Add in the cocoa powder and beat for another minute, until no lumps remain.
With the mixer beating on high, stream in the melted and cooled chocolate; when incorporated, start slowly adding in the powdered sugar (turn down the mixer if the sugar is flying out).
Add the vanilla extract when the sugar is incorporated.
If the frosting is too thick, add in the half-and-half one tablespoon at a time until it is the appropriate thickness.
Frost cupcakes as desired (add sprinkles)!