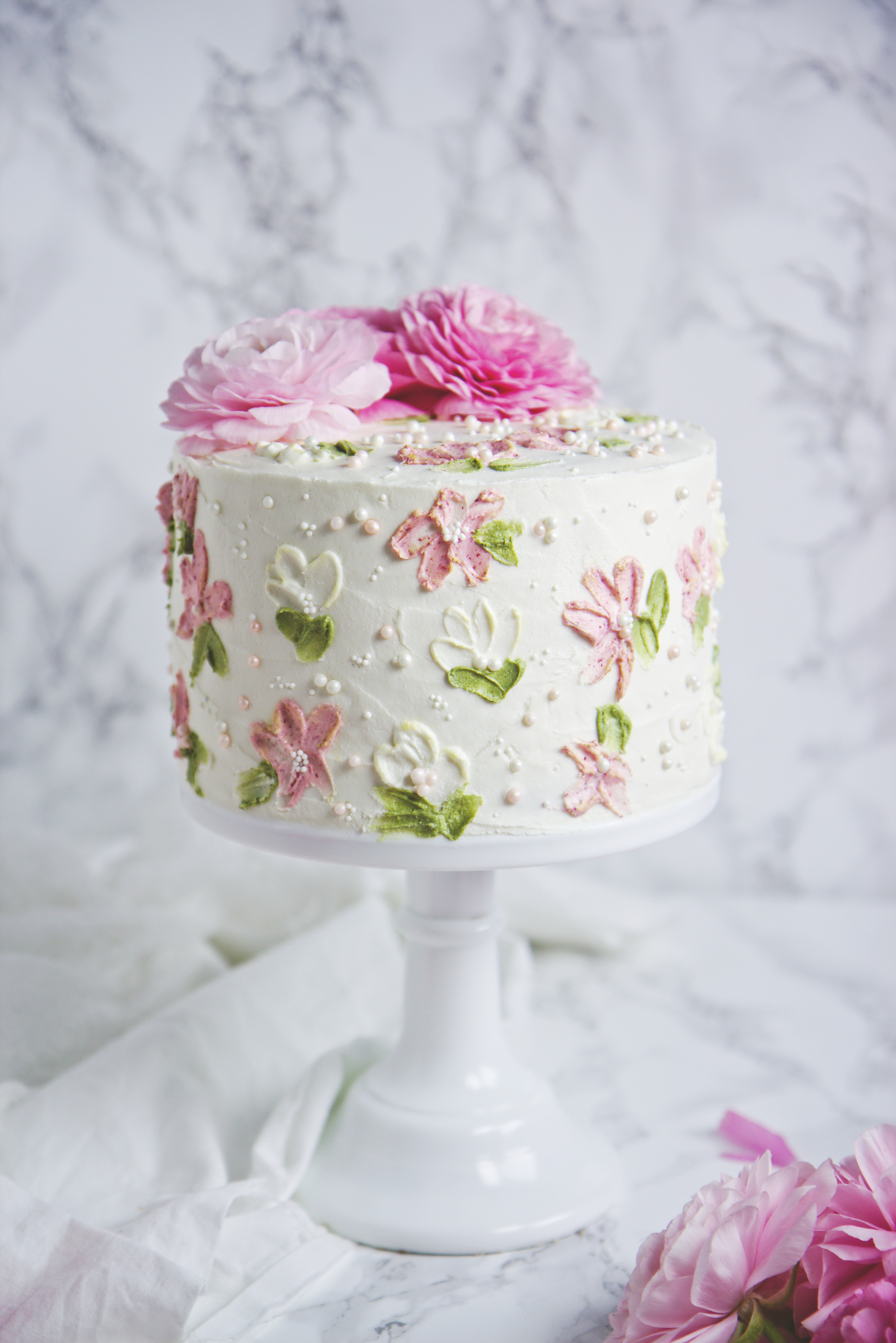 Always you have been told that work is a curse
and labour a misfortune.
But I say to you that when you work you fulfill a part of Earth's furthest dream, assigned to you
when that dream was born,
And in keeping yourself with labour you are in truth
loving life,
And to love life through labour is to be
intimate with life's inmost secret.
—Khalil Gibran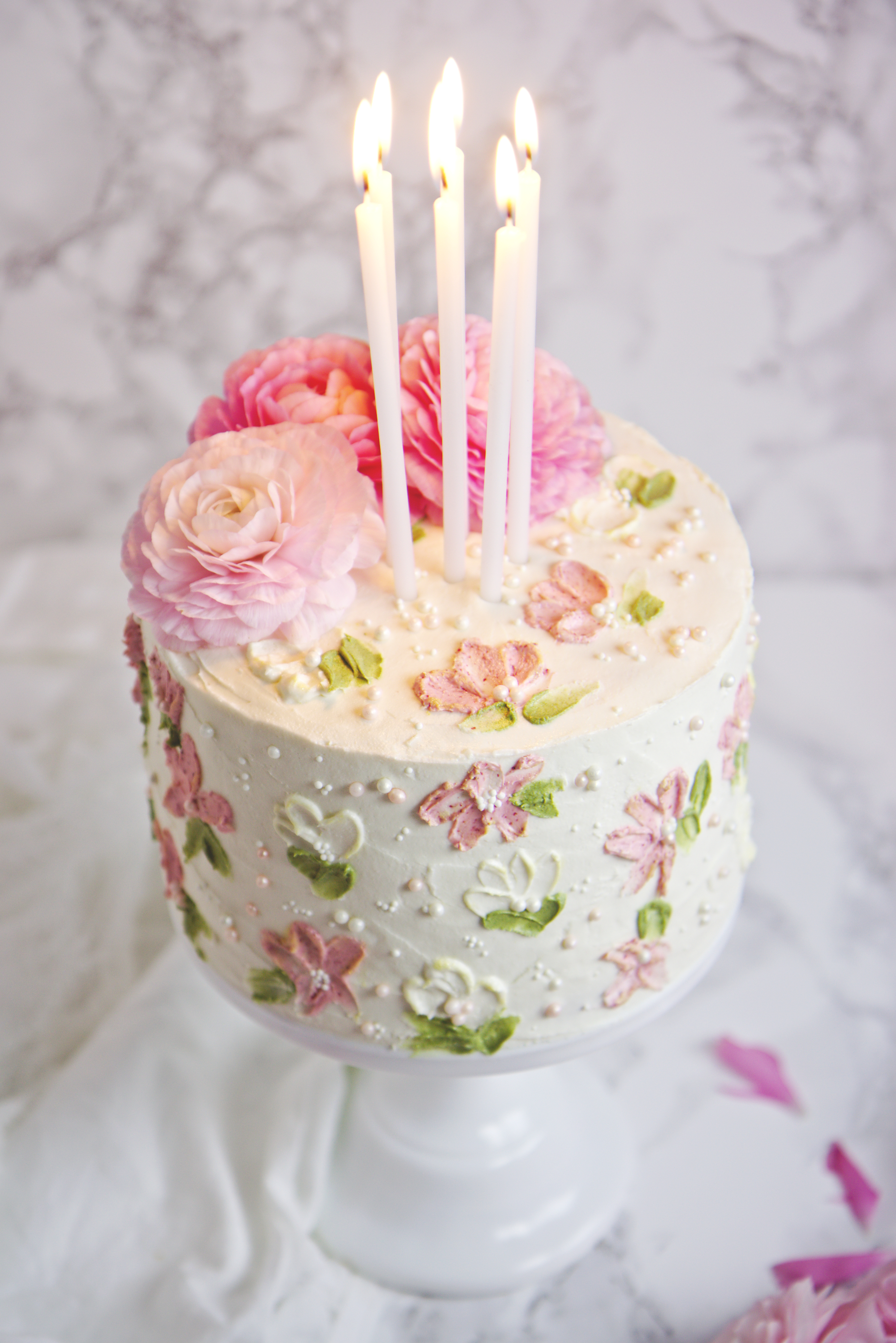 Happy sixth birthday, La Pêche Fraîche!
I can't believe that these past years have flown by so quickly.
Six seems impossibly long. I swear I was celebrating two years just a moment ago, in my house's common room in our dorm.
But I can't deny it: it's 2018, and the first time I hit publish was May 30th, 2012.
2012! I was an angsty 16-year old junior in high school, still taking AP Chemistry. I don't think I even had my full driver's license yet.
Now I'm an angsty 22-year old. Looking back on now in 6 years, I'm sure I'll think I didn't even have a properly-sized apartment yet.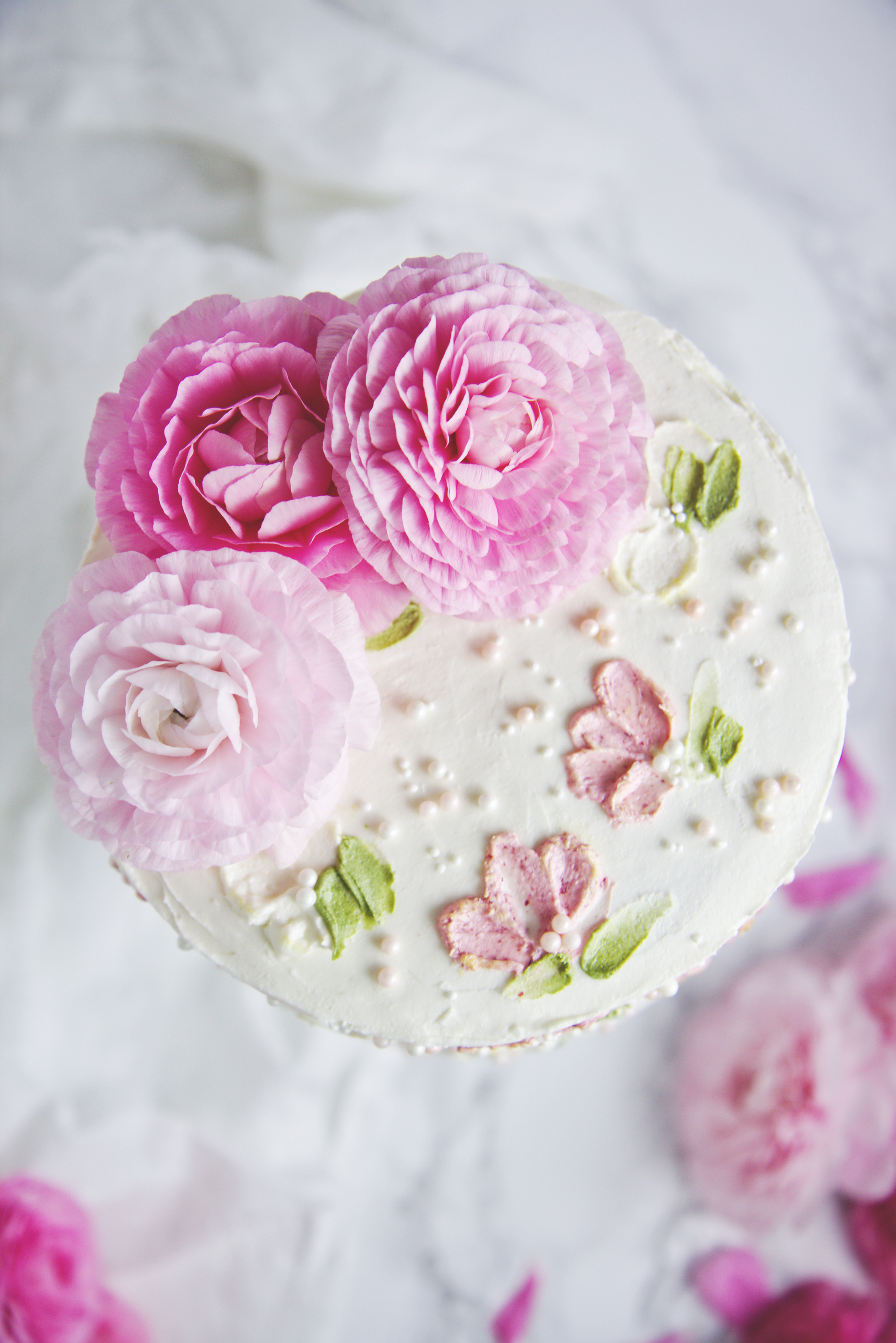 In six years, will I still be running this space?
I suspect so, but expect nothing. Life takes on so many bizarre shapes, which I know well enough even as young as I am. What is certainly undeniable is that being a blogger, an internet writer, has become folded into my sense of self. Inextricably.
I don't consider La Pêche Fraîche to be my alter ego, or a nickname, or anything like that. In fact, I don't think of the title often—it is mildly disconcerting to ponder about.
LPF is, at once, of me and defining to me. I am the creator, but the implications of the final product are more than I think the pieces that I put in. What I mean is that when I think of this blog, I think of it as an independent piece of the world, when in reality it is simply a promulgation of my private self.
It does not—it cannot—exist apart from me. But somehow, in the ether, it does. Would that make it harder to put down and walk away from, or easier? I don't know.
It is impossible to say whether La Pêche Fraîche, the fresh peach, is me, or if I am it.
It can be as difficult to pick up a mirror and look with clarity at yourself as to break your gaze and put it down. Narcissus, indeed.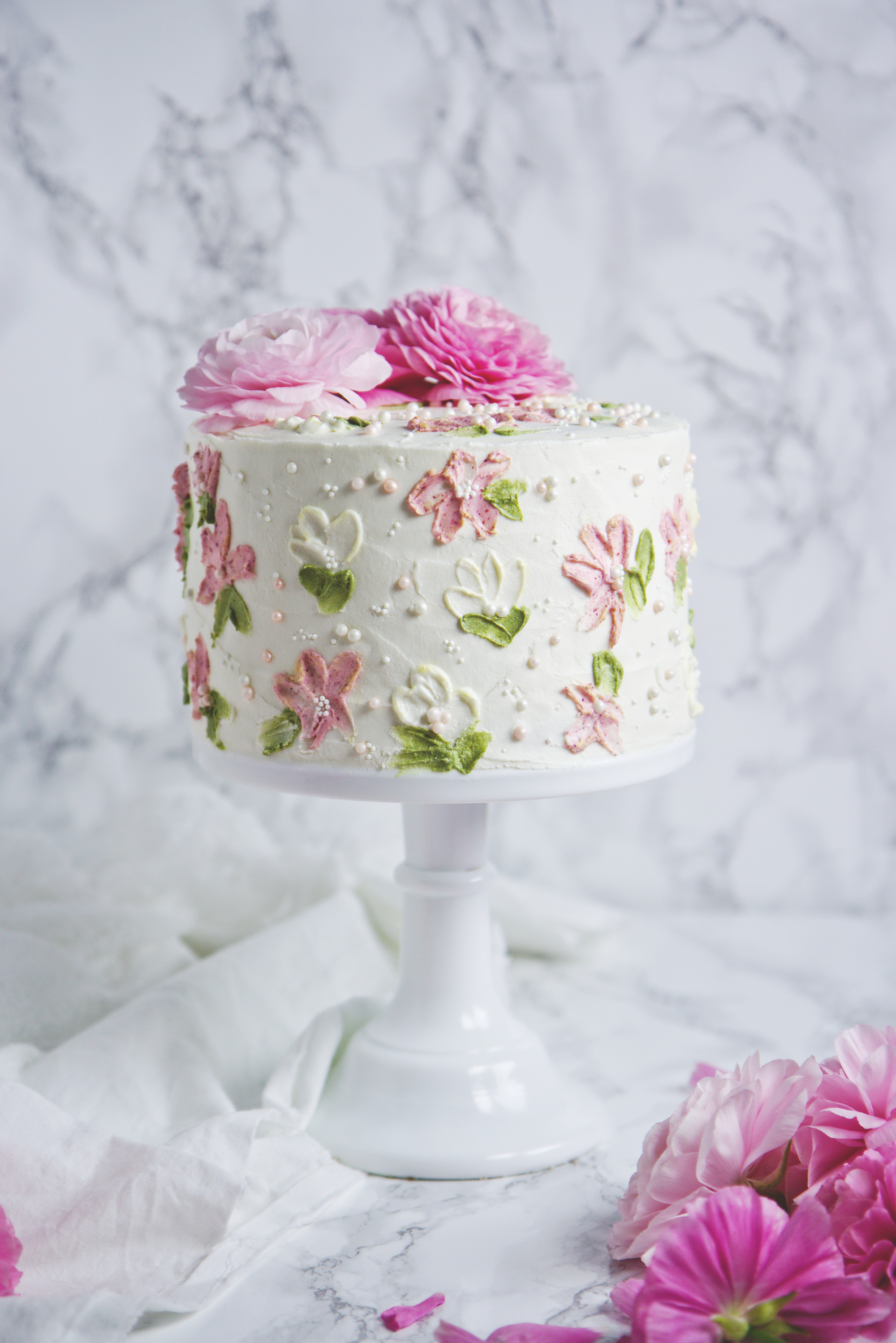 This beauty of a cake is a triumph of coconut and chocolate.
The vegan coconut cake is wonderfully chewy, with a texture that is dense and moreish.
Coconut oil provides the luxurious mouthfeel, and coconut milk keeps the whole cake extremely moist.
It is soft in the center, with a light, springy crumb.
Between the layers, a softly salted coconut and chocolate ganache is thickly spread for a rich, deep contrast to the sweet and silky coconut buttercream.
Delicate, naturally dyed (freeze-dried raspberries and matcha!) flowers are laid on the cake, alongside little seed pearl sprinkles.
The whole effect is super girly and kawaii, and would be perfect for a tea-party, or a celebration of any kind.  I love the hand-painted effect of the flowers, although I think I need more practice with the technique to really get it down pat.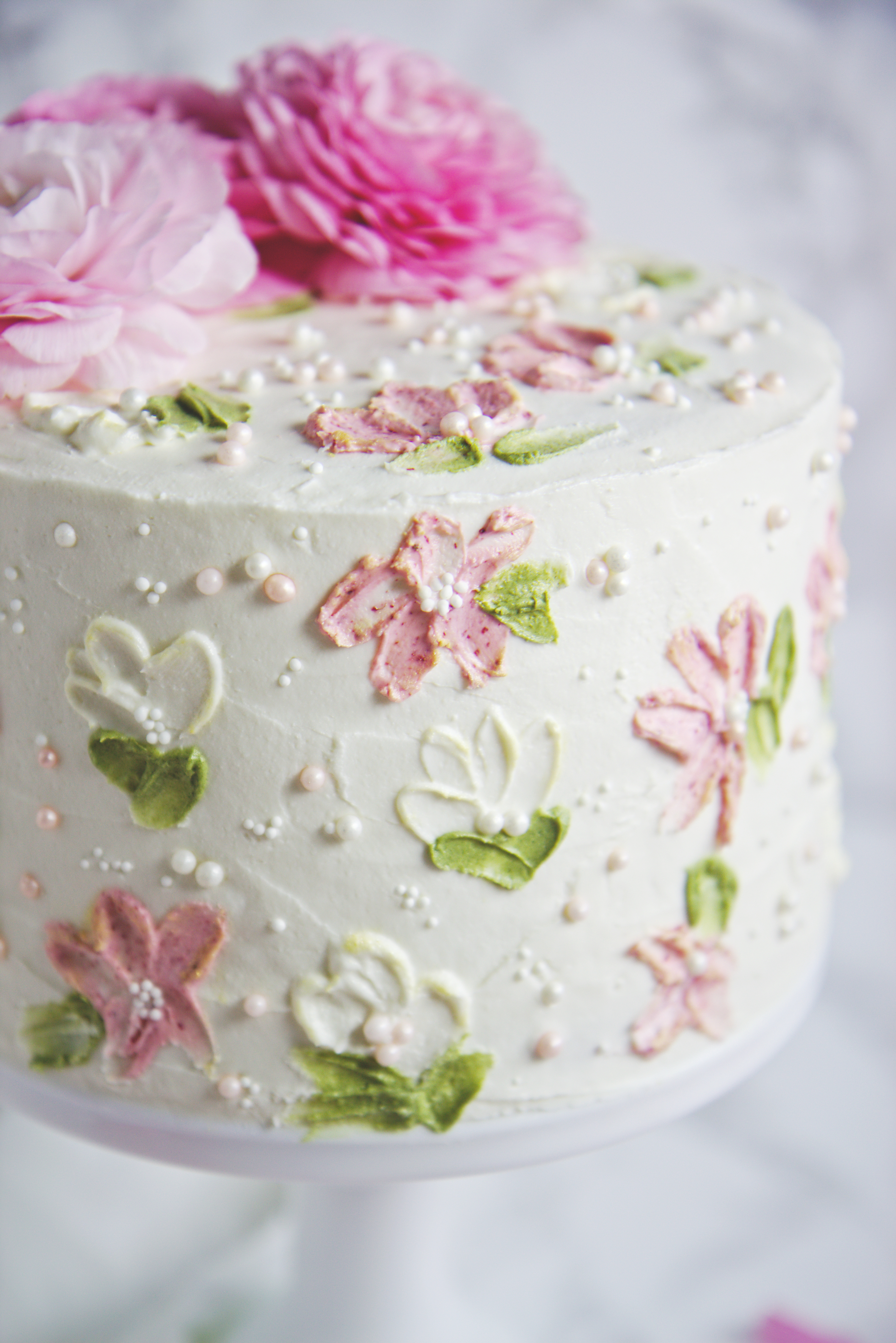 Five years / simple chocolate cake
Four years / eclectic chocolate cake
Three years / vanilla almond cake
Two years / malted milk birthday cake
One year / yikes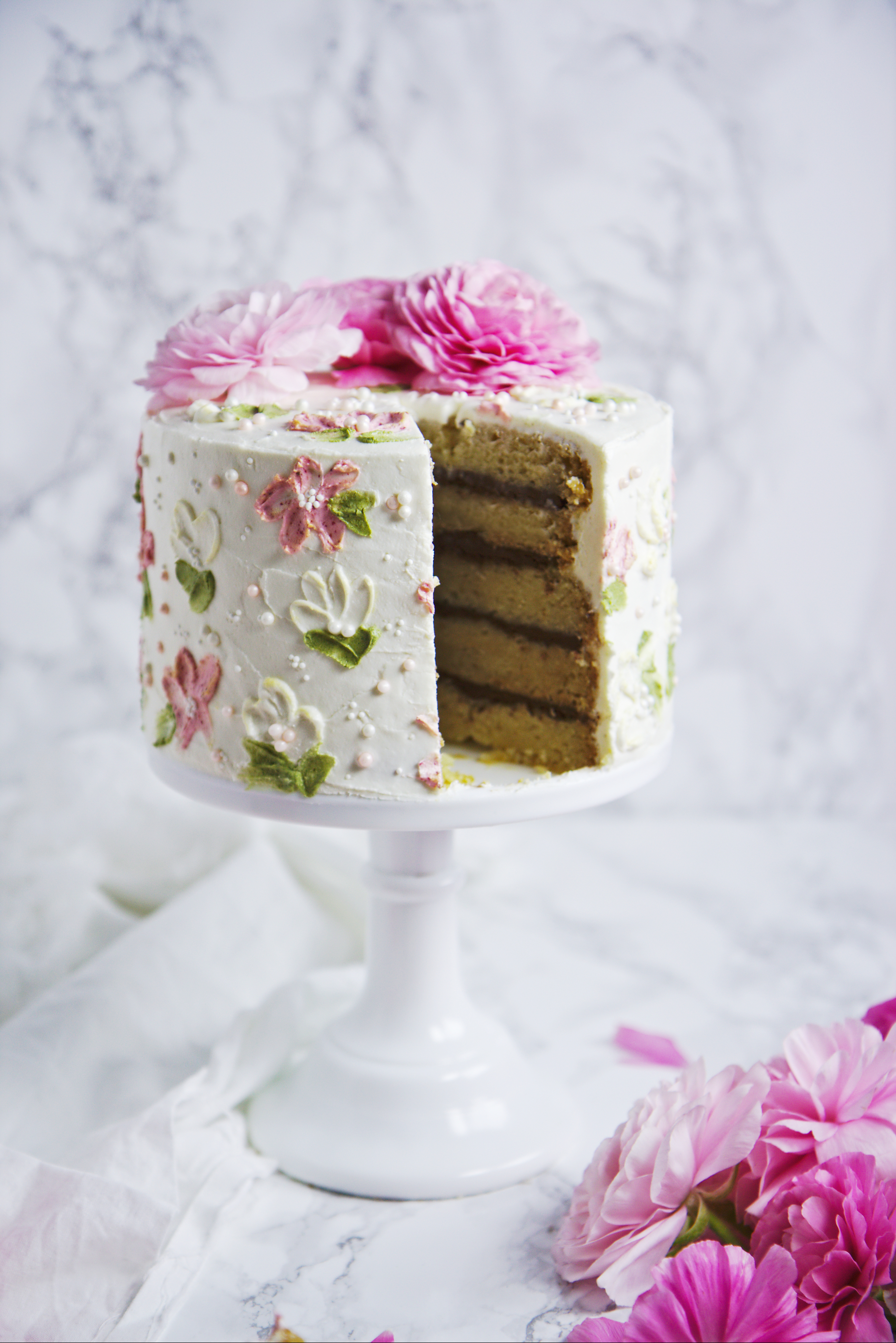 Thanks for your support, dear readers. It means the world to me.
Everything here is for you.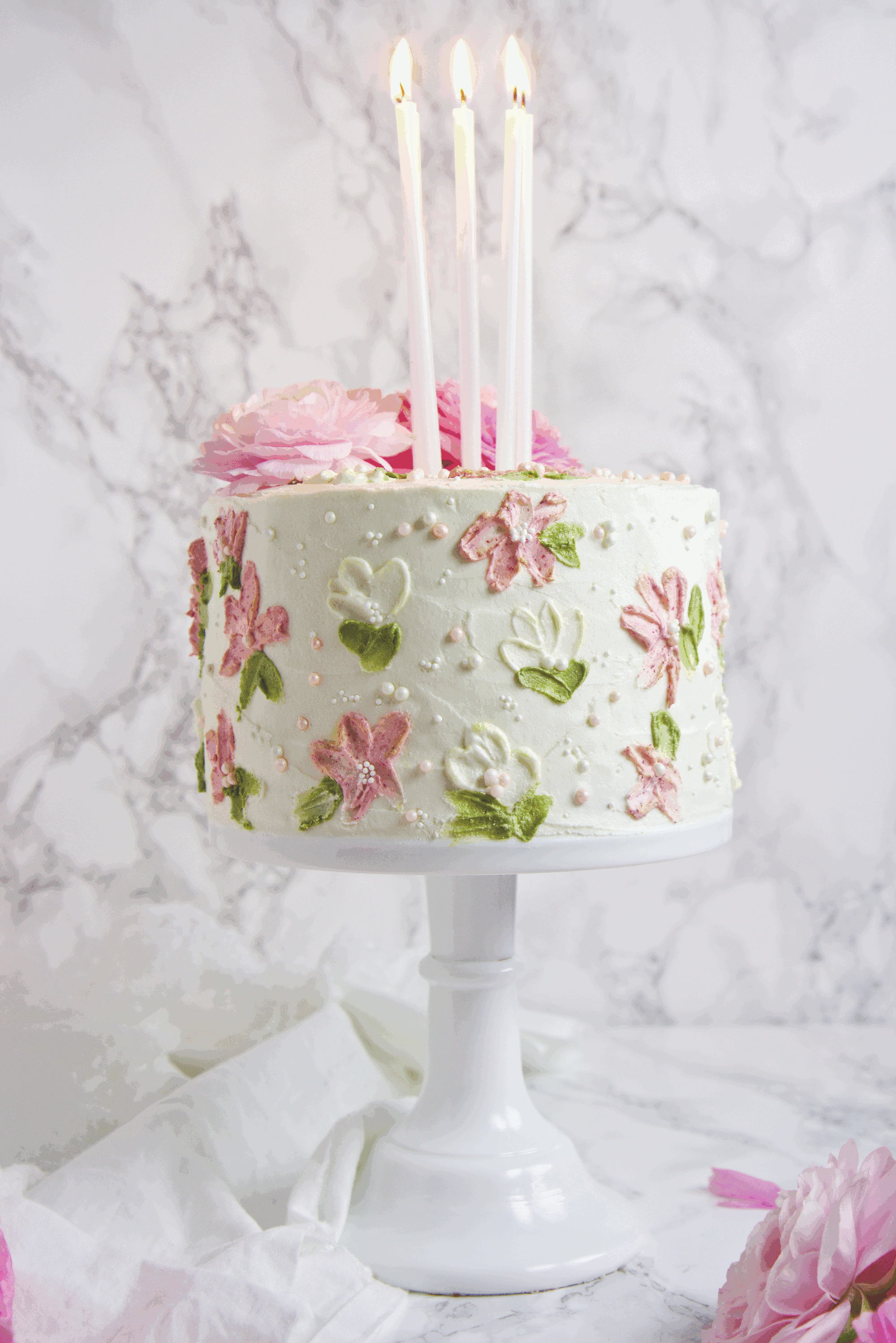 Vegan Coconut and Chocolate Cake
makes 1 5 or 6 layer x 6-inch layer cake
ingredients:
for the cake:
360 grams (3 cups) AP flour
400 grams (2 cups) sugar
2 teaspoons baking soda
1 1/4 teaspoons salt
480 grams (2 cups) canned coconut milk
200 grams (1 cup) coconut oil, liquid
30 grams (2 tablespoons) vinegar
for the chocolate ganache:
150 grams (5 1/2 ounces) dark dairy-free chocolate
30 grams (2 tablespoons) coconut oil
1/4 teaspoon salt
120 grams (1/2 cup) full fat coconut milk, well shaken/stirred
for the buttercream:
170 grams (1 1/2 sticks) Earth Balance or other vegan butter substitute
30 grams (2 tablespoons) coconut oil
1/2 teaspoon salt
625 grams (5 cups) powdered sugar, or as needed
45-75 grams (3-5 tablespoons) coconut milk, or as needed
crushed freeze-dried raspberries, matcha powder, and sprinkles, to decorate
directions:
Make the cake: preheat oven to 350 degrees F and grease and flour 3 6-inch pans.
Whisk flour, sugar, baking soda, and salt together, and make a well in the center.
Stir in coconut milk, coconut oil, and vinegar until the batter is smooth.
Fold the shredded coconut into the batter and pour into prepared pans.
Bake until a tester comes out with just a few moist crumbs, or about 20-25 minutes.
Allow to cool completely.
When cakes are cool, split in half (one of my layers split incorrectly, so I only had 5 layers in this cake).
Make the ganache: heat chocolate gently in the microwave in 15 second bursts until 1/2 melted.
Add in the coconut oil and heat until the chocolate is 2/3 melted.
Set aside; heat the coconut milk and salt until warmed, about 20 seconds.
Whisk the chocolate vigorously while adding in the coconut milk; whisk until glossy and fully melted.
Set aside until cooled to room temperature.
Whip the cooled ganache until it is fluffy and lightened in color, about 1 minute.
Spread in between the layers of cake and place in fridge to set while you make the buttercream.
Meanwhile, make the frosting: place butter, coconut oil, and salt in the bowl of a stand mixer fitted with the paddle attachment.
Beat on high speed for 2 minutes, until very light colored and doubled in volume.
Scrape the sides of the bowl and add in 4 cups of the powdered sugar 1/2 cup at a time, beating on high speed after each addition.
Add in 2 tablespoons of coconut milk and beat on high speed to incorporate.
Scrape the bowl and taste the frosting; if it is too thin, add the next cup of powdered sugar; if it is too thick, add another tablespoon of milk at a time.
If it is too buttery, add the extra cup of powdered sugar plus 2 tablespoons milk and beat on high speed for another minute.
Split out 2 small portions of frosting (one about 3 tablespoons and one about 2 tablespoons) add the crushed freeze-dried raspberries (to the larger portion) and matcha (to the smaller portion), if desired, and beat to combine.
Frost cake, being sure to have a fridge nearby for when the frosting gets soft (the coconut oil doesn't hold up well in high temperatures).
To make the flowers, use the edge of a palette knife or a small teaspoon to smear one petal/leaf at time.
Decorate with pearl sprinkles and fresh flowers!
SaveSave
SaveSave
SaveSave
SaveSave
SaveSave
SaveSave