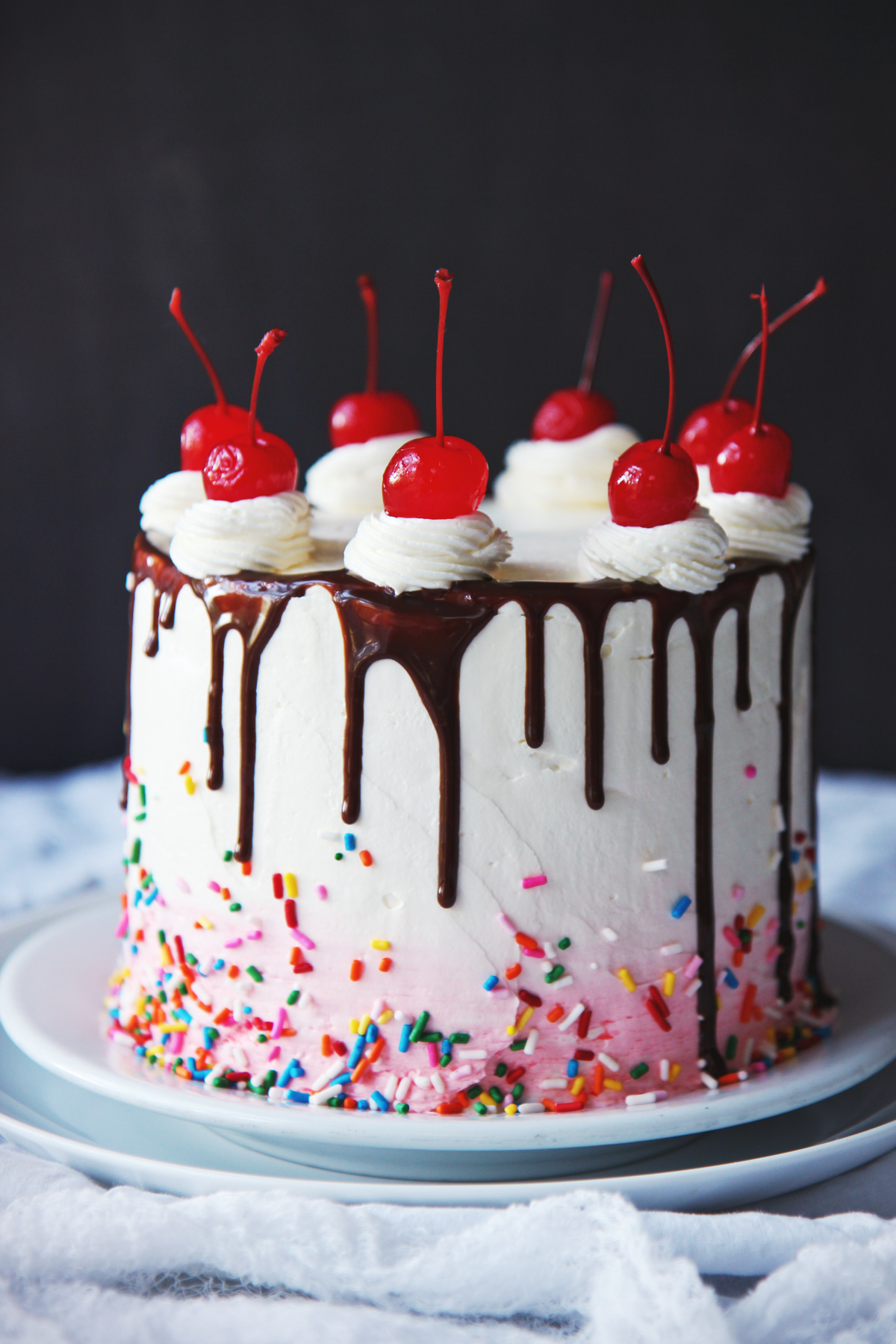 "I began to realize how important it was to be an enthusiast in life.
He taught me that if you are interested in something, no matter what it is, go at it at full speed ahead.
Embrace it with both arms, hug it, love it and, above all, become passionate about it.
Lukewarm is no good. Hot is no good either.
White hot and passionate is the only thing to be."
—Roald Dahl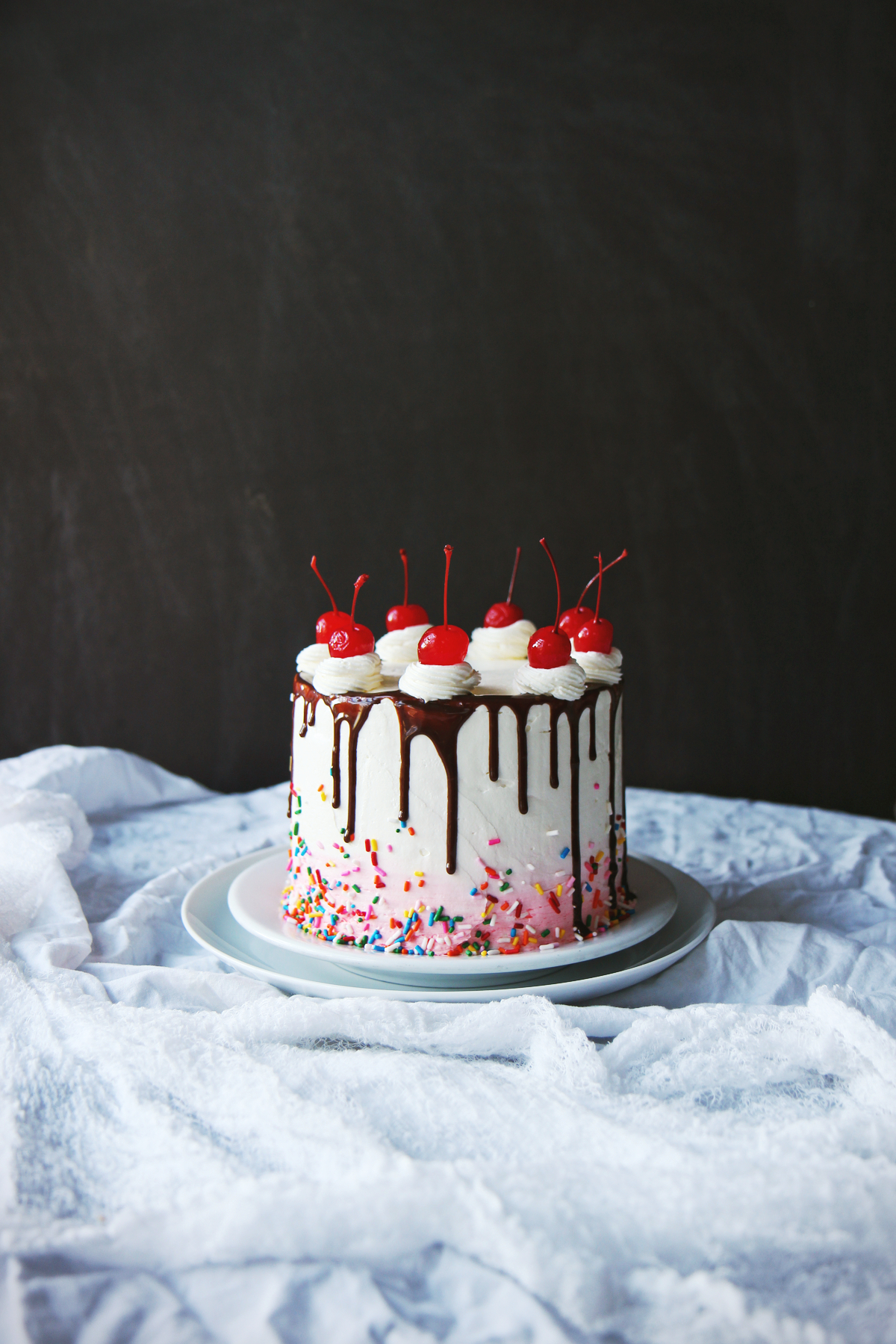 One more trip around the sun has served to ripen cette petite pêche, giving it a deeper, sweeter significance with each passing month and each published post.
One more trip around the sun has seen me splashing liters of digital ink across this page with endless photos and words that are too often few and far between.
Has seen me splashing tears and buttermilk on counters and in posts alike.
Another year has made me ever so much more grateful for everyone who populates this web page.
Has reminded me, with every post and every pin, how proud and devoted I am to LPF.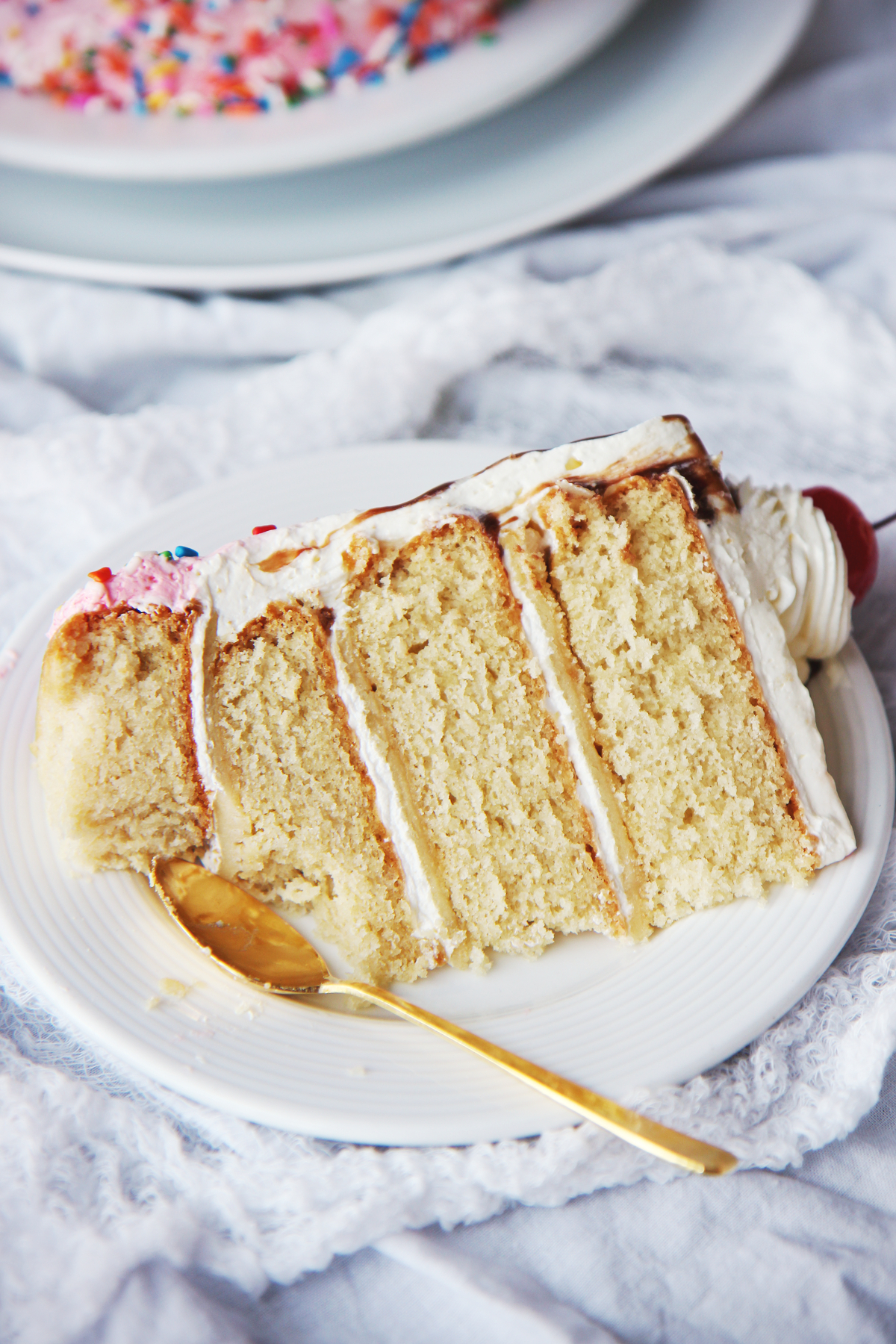 A blink is all it took for three years to pass me by.
I was in high school just yesterday—I swear—concentrating all my effort into thinking of a name that was just right for the wildly successful blog (*eye roll*, high schoolers) that I meant to start just as soon as, well… I thought of a name.
And yet somehow this year, old high school friends scattered across the country world will graduate from university.
And it was just yesterday that I made my first successful meringue buttercream, and my first (and only) batch of perfect macarons, and tasted the heaven that is pavlova.
Amazing how quickly time passes.
Every event that reminds me of a year passing—an anniversary, a blogiversary, a birthday, a tearful memory—pushes me back into perspective, squarely on my bottom.
And so here I sit, in wondrous rapture, as the pages of the calendar flip by comically quickly, as if blown by the breath of Father Time himself.
Awesome and deeply unsettling, isn't it?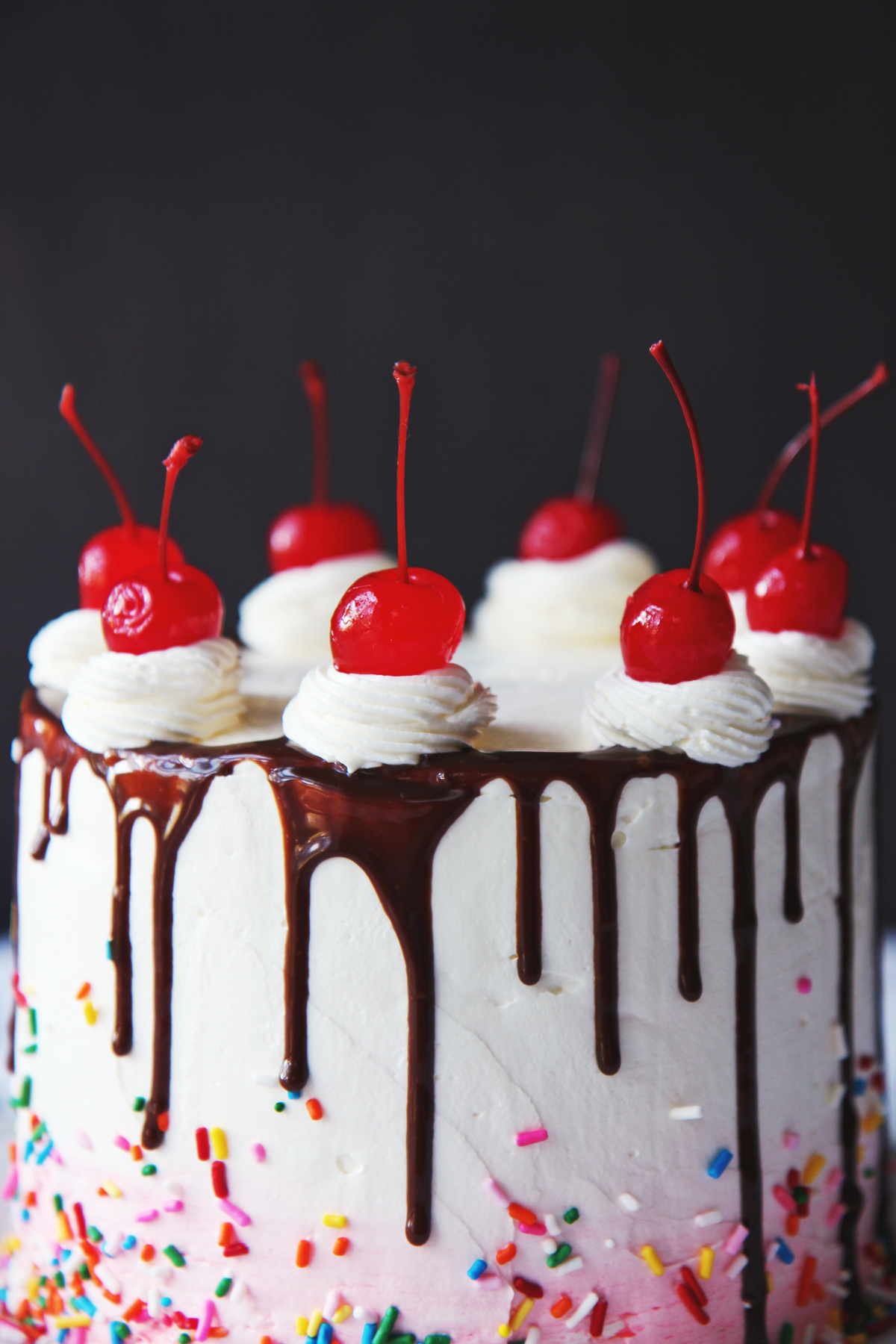 "I have stumbled and stubbed toes, sliced fingers and scrubbed dishes; I have burned wrists and knuckles and cookies countless, have made nine thousand messes and used an entire herd of cows' butter; I have dropped cakes and dropped things on cakes, have cried and sworn and studied and laughed on the kitchen floor.
I have planned meticulously and tasted liberally and danced in sheer delight; I have spat out failures and hoarded successes.
I have moved and survived, have mourned and celebrated, have resisted and adapted, have failed and succeeded.
I have given in and given up.
I have poured my heart and soul and dozens of cups of cream into La Pêche Fraîche.
I have closed my eyes and stuck the pan in the oven and then, terrified, let go."
—Deuxième, May 29 2014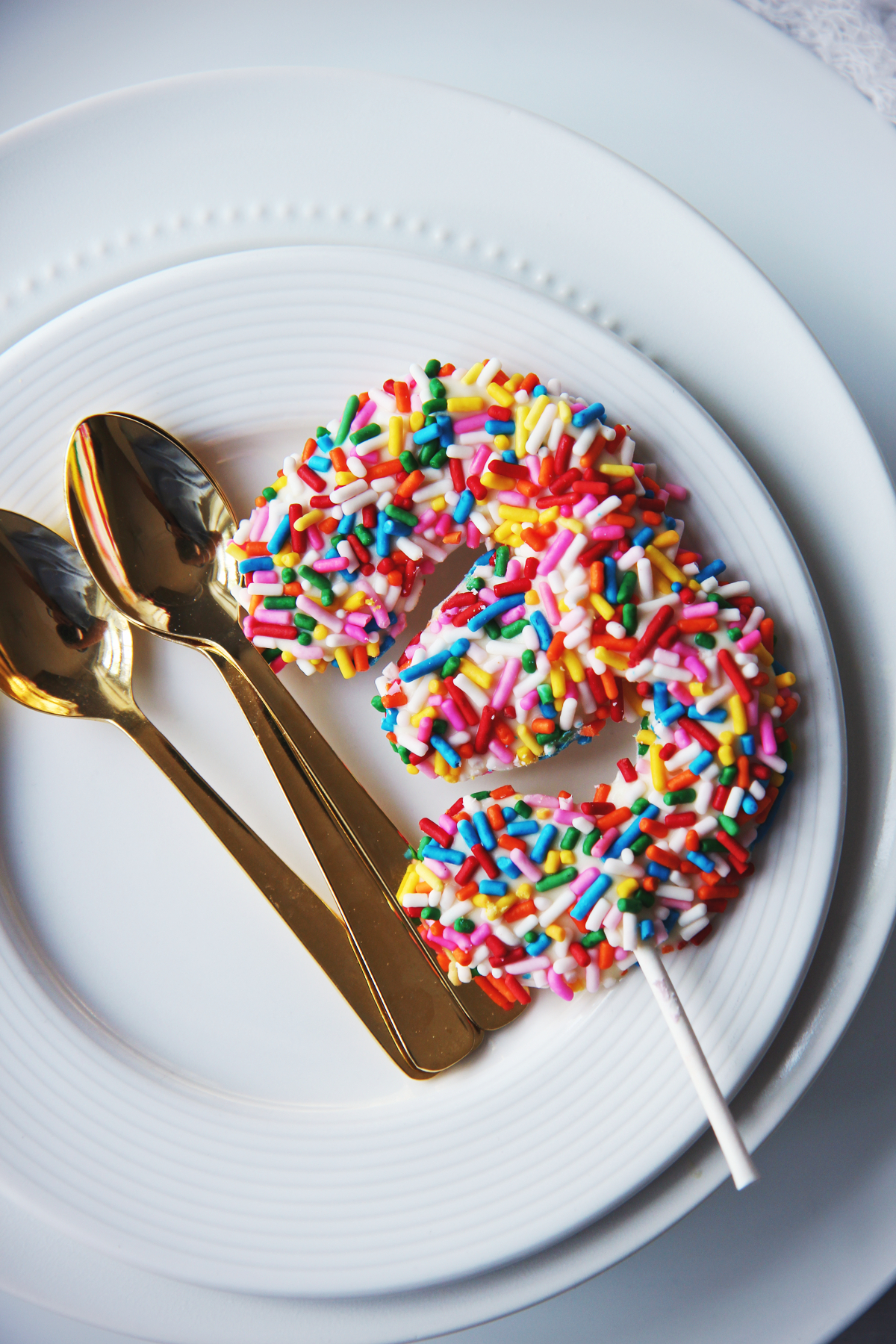 I thought I'd share a few of my favorite gems from this past year.
This matcha cake, with early (too early) berries.
This lemon, black pepper, and strawberry tårta.
The ultimate chocolate-chocolate cake.
This crumbly, buttery vanilla bean and pine nut shortbread.
My daddy's birthday cake: modern black forest (+macs!).
Speaking of macs, chocolate+summer fruit macarons.
Starred and striped red velvet roll-out cookies for the fourth.
Whole wheat peppermint mocha brownies.  For my Starbucks lovers out there.
Dark chocolate and honey spice "gingerbread" men!
Fat, fluffy Lofthouse clone cookies.
Elegant, chocolate dipped vanilla bean shortbread.
My two absolute favorites:
This nutso "souche de Noël," with eggnog layer cake, chocolate ganache, marzipan holly, and adorably realistic meringue mushrooms.  An insane cake that took lots of dedication—but the end result was well worth it.
This red-fruited Victoria sponge, with drippy goat cheese and sour cream filling.  Another version of this, with fluffier filling, is on my to-make list this summer.  There are honestly few better ways to use a plethora of ripe, fresh fruit.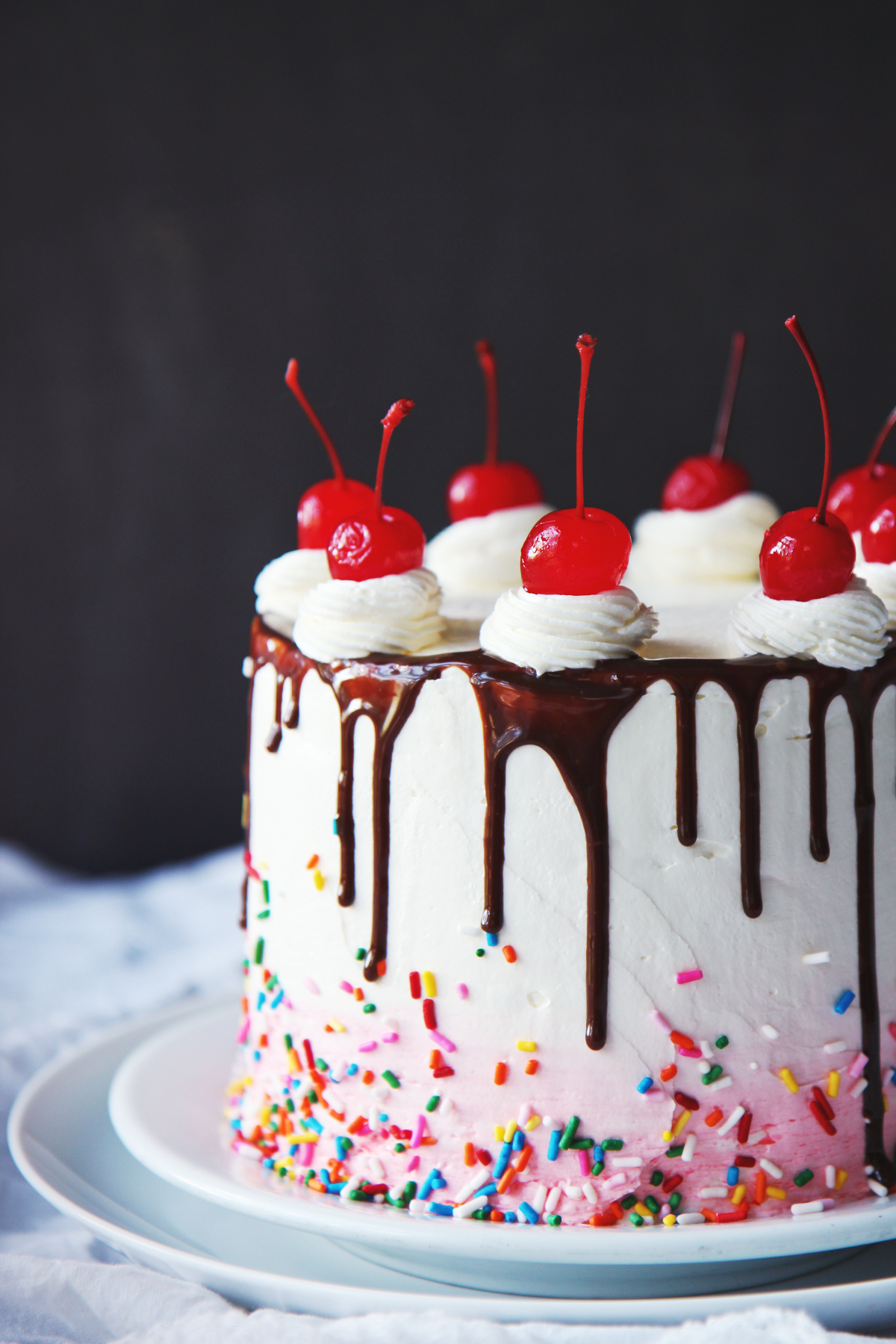 And of course, here's the link to last year's blogiversary cake.
(And the year before, I suppose.)
This adorable cake is worthy of a celebration in and of itself.
I knew this year had to include pink and sprinkles, in the same vein as last year.
I wanted candles, but couldn't find any red "3" candles for a reasonable price (weird?) and I left my special tall candles (carefully saved from last year's cake) back home in NY for God knows what reason.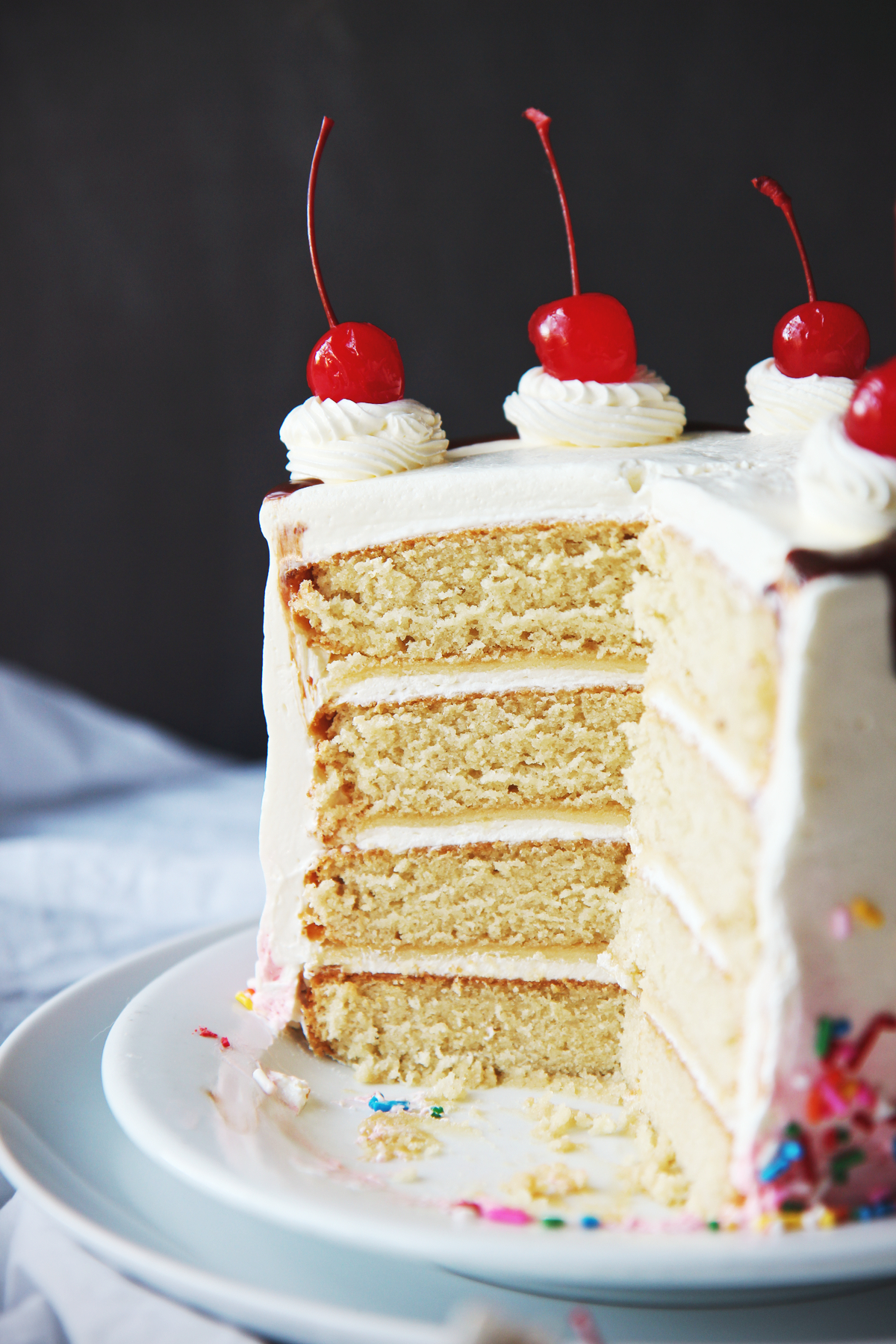 And so, with a little planning and a lot of preparation, I made a cake with sprinkles, and a tinge of pink, and it was the happiest little thing I think has ever come out of my oven.
I knew I wanted to use the marzipan that I found beneath the coconut in my pantry (oops); I knew I wanted maraschino cherries, which compliment almond so well.
I knew that I didn't want any almond extract, because even the slightest heavy hand makes that stuff unbearable.
The sprinkly 3 that I fashioned out of white chocolate and a scavenged lolly stick was too large for my dainty cake.
I stuck it on for kicks at the end of shooting, but I didn't like how it looked—too clunky, in my humble opinion.
(That's okay… after all, it was just white chocolate and sprinkles, and tasted juuuust fine in little nibbles.)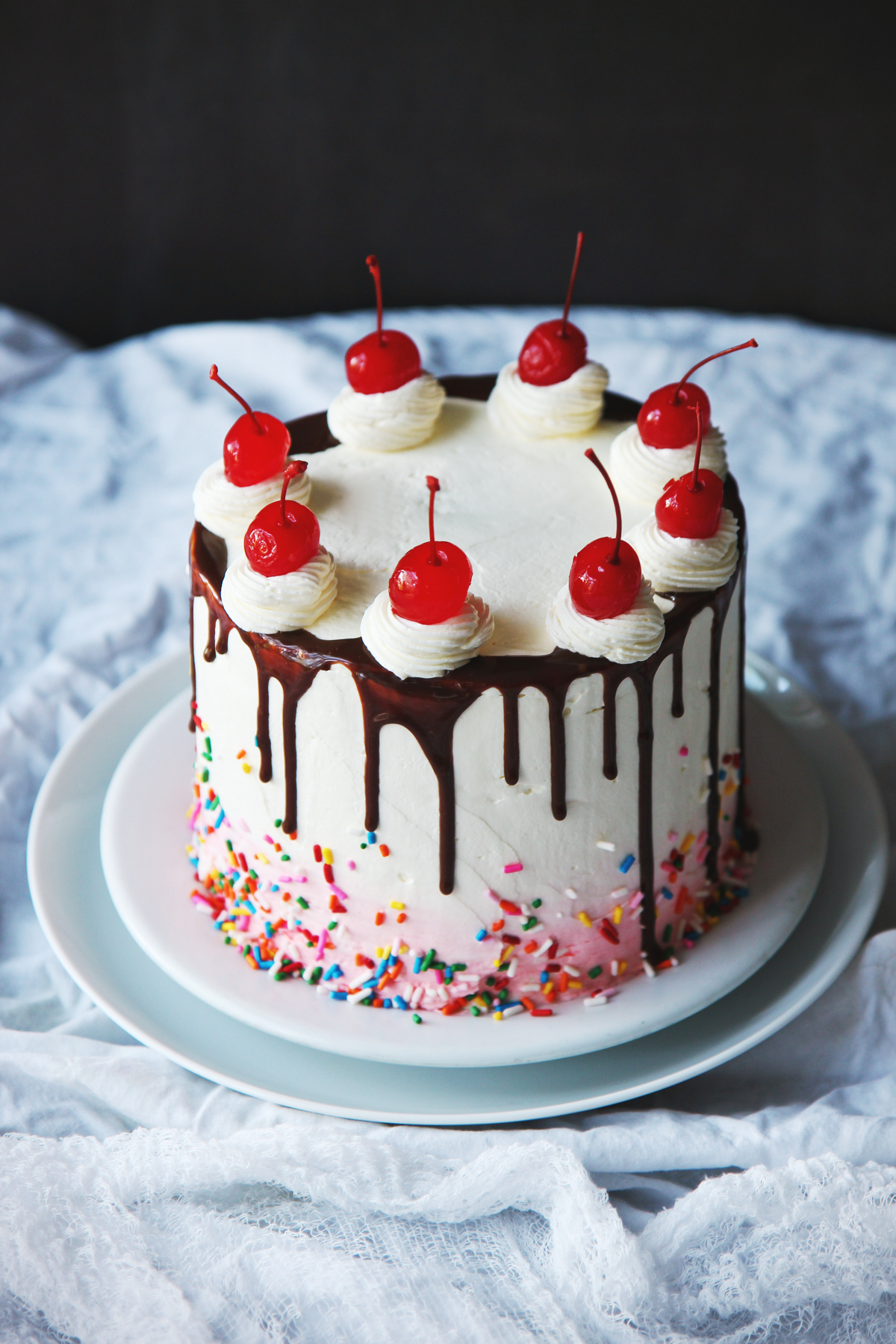 What resulted was the fluffiest vanilla almond cake, flavored with a touch of almond milk and vanilla extract, kept soft and supple with a little cornstarch, with a baking time that, despite using only egg whites, kept the crumb moist.
I covered it in my favorite glossy, shiny Italian meringue buttercream, which is by far my favorite frosting.
It's like a buttery cloud, ever so slightly sweet-and-salty, that compliments the fluffy cake perfectly.
Too heavy of a frosting would have weighed each bite down; I wanted a cake that would melt in your mouth and leave a whisper of sugar, vanilla, and almond behind.
I tinted a tiny amount of frosting with cherry juice and a drop of red gel coloring, leaving it a perfectly pale pink.  I used this around the bottom of the cake for a teeny-tiny amount of ombré.
The layers of the cake were each fitted with a perfect circle of chewy, sweet marzipan, which added the exact amount of almond flavor that I was hoping for, and kept the texture of each bite interesting.
Finally, a few lashings of milk chocolate ganache, creamy and decadent and, importantly, not overwhelmingly chocolaty, crowned the edges of the cake.
A handful of sprinkles, and 8 perfect maraschino cherries finished off the cake.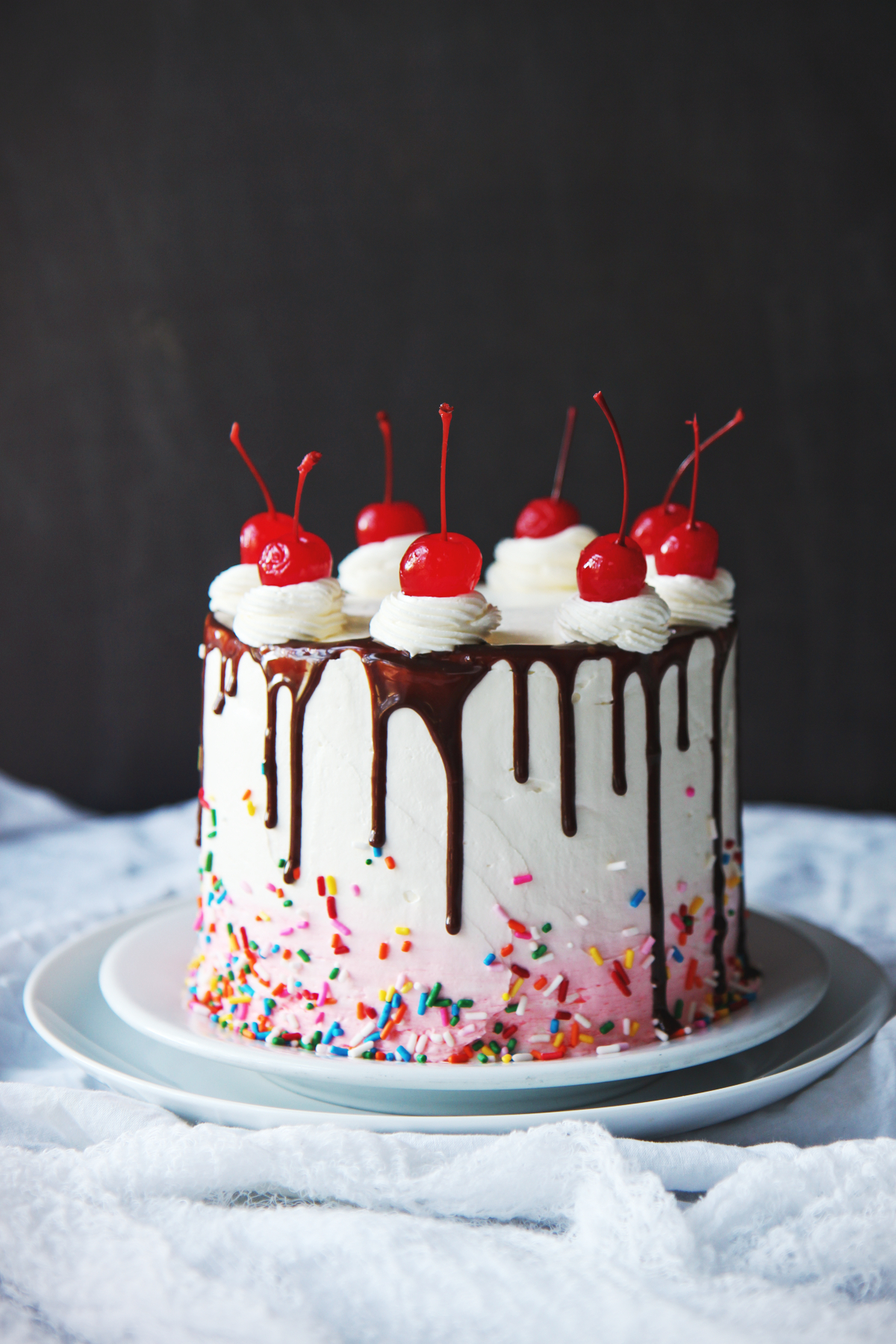 I think it looks rather like an ice cream sundae—cheery and happy—how can this cake not make you smile?
It was delicious, and the people with whom I shared it loved it (phew).
This is exactly the cake I wanted to create for this special 3-year blogiversary.
I want this blog to make people smile; I want to share yummy, beautiful things.
Who knows how long this blog will continue?
I hope for many years to come, but I don't know.
We can only take each day and make the most of it.
I, personally, will have my cake and eat it, too, for as long as I possibly can.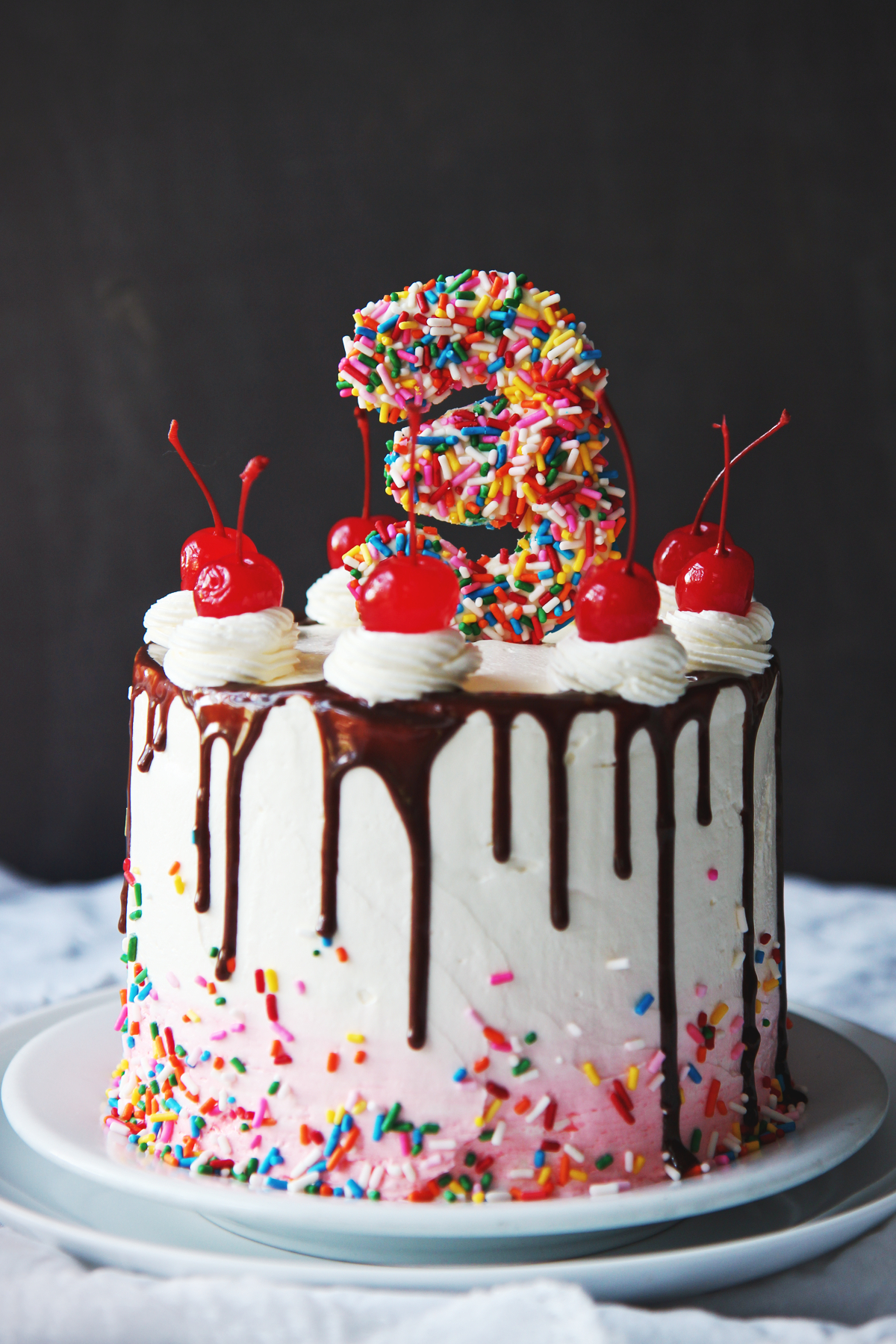 Thank you, friends, for supporting La Pêche Fraîche.
Every click, every visit—I appreciate you.
This blog would be nothing without you.
This blog is for you.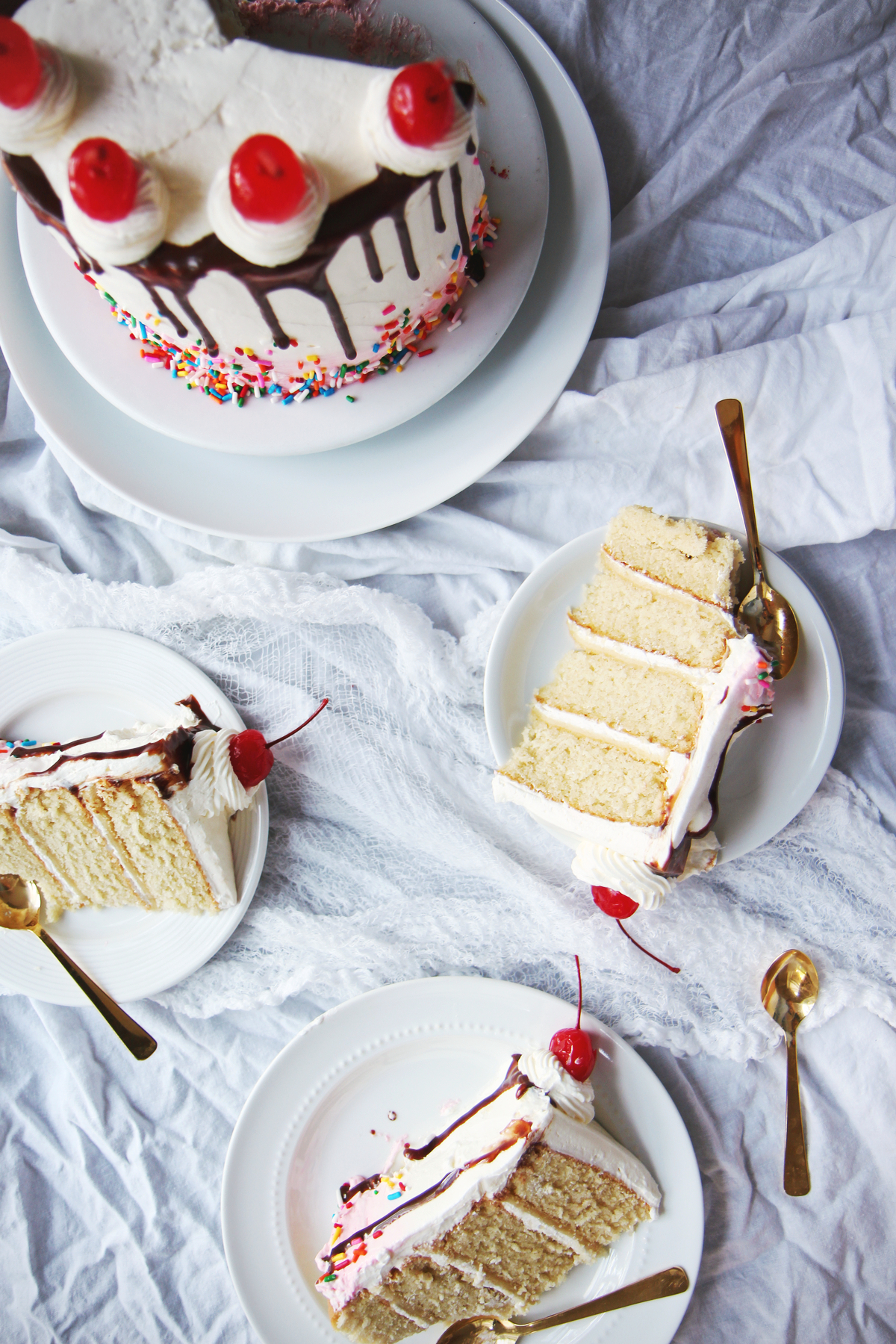 "I'm just someone who likes cooking and for whom sharing food is a form of expression."
—Maya Angelou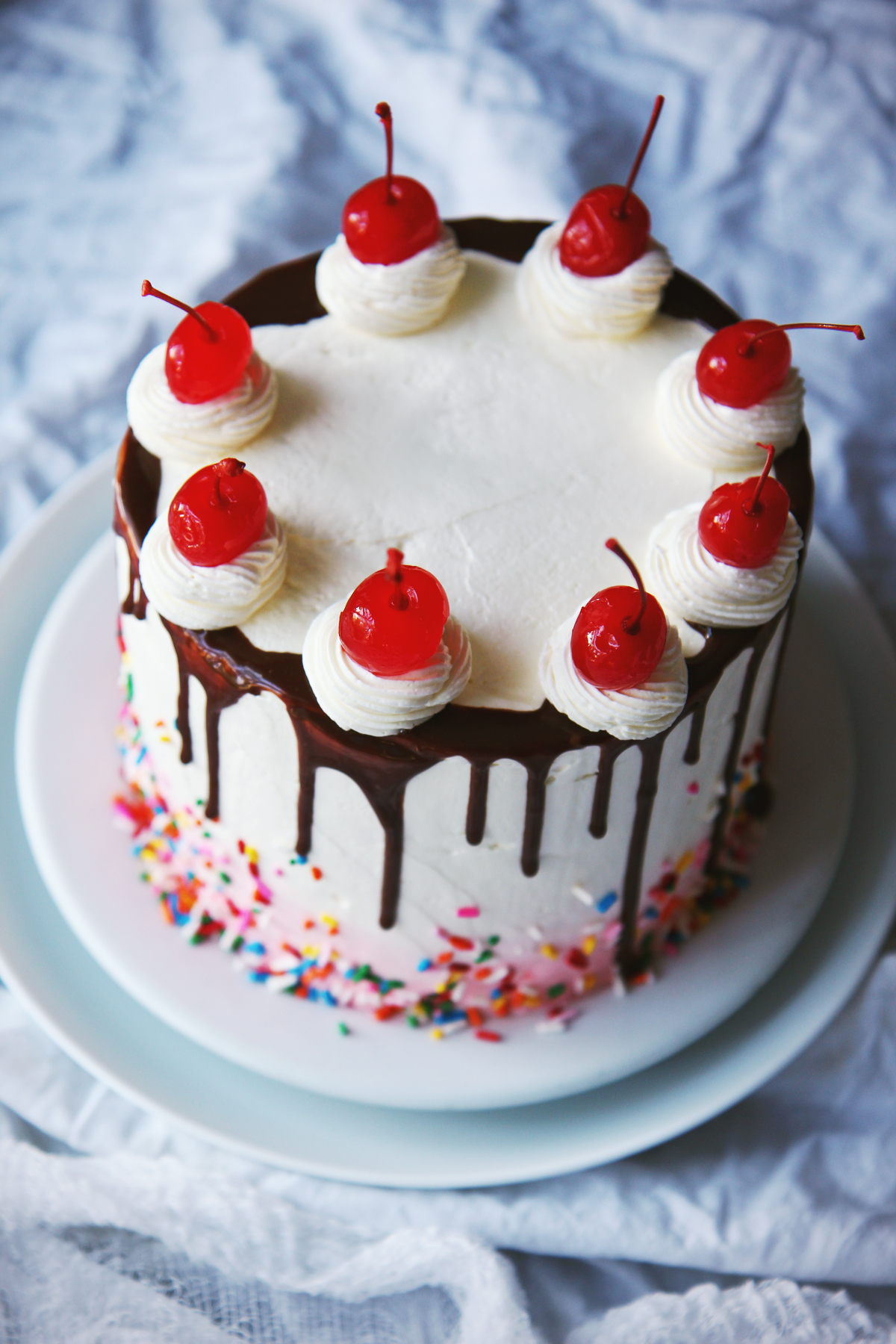 Vanilla Almond Cake
makes 1 4 layer 6-inch cake
ingredients:
for the cake:
240 grams (2 cups) flour
30 grams (1/4 cup) cornstarch
350 grams (1 3/4 cups) sugar
1 heaping teaspoon kosher salt
1 tablespoon plus 1 teaspoon baking powder
175 grams (6 ounces) butter, soft and cut into pieces
240 mL (1 cup) almond milk
170 grams (6 ounces, 6 large) egg whites
2 teaspoons vanilla extract
for the frosting:
200 grams (7 ounces, 7 large) egg whites
200 grams (2 cups) sugar
75 mL (5 tablespoons) water
1/2 teaspoon kosher salt
565 grams (20 ounces, 5 sticks) butter, cubed and softened
to assemble:
200 grams (7 ounces) marzipan
50 grams (1 3/4 ounces) milk chocolate, chopped finely
45 mL (3 tablespoons) heavy cream
drop of red food coloring, if desired
sprinkles, if desired
jar of maraschino cherries, if desired
directions:
Make the cake: preheat oven to 350 degrees F and grease and flour 4 6-inch round pans.
Mix flour, cornstarch, sugar, salt, and baking powder together in the bowl of a stand mixer fitted with the paddle attachment.
Add in the softened, cubed butter one piece at a time at a low speed until the mixture looks like sand and the butter is fully incorporated.
Whisk the almond milk, egg whites, and vanilla extract together, then slowly pour into the batter with the mixer running.
Scrape the sides of the bowl and beat on high speed for 30 seconds to ensure homogeneity.
Portion batter into the prepared pans.
Bake for 20-22 minutes, or until the cakes are golden and the tops spring back to the touch.
Cool completely on a rack.
To make the frosting, place sugar and water and salt in a small pot over medium heat.
Simultaneously, place the egg whites in the bowl of a stand mixer fitted with the whisk attachment and begin whipping them on medium speed.
When the sugar syrup reaches 240 degrees F, the egg whites should be nearly at stiff peaks.
Carefully pour the sugar syrup into the whipping egg whites.
Continue whipping at high speed until the meringue has cooled to body temperature and is glossy and shiny.
Beat in the butter one tablespoon at a time, until it has all been incorporated into the buttercream.
Whip on high until the buttercream is fluffy, soft, and shiny, about 7 minutes.
To assemble the cake: roll out the marzipan to 1/8 of an inch thickness and cut 3 6-inch round circles out.
Layer a cake round, a 1/3 cup of buttercream, and 1 marzipan circle; repeat twice more, until you place the top layer on.
Crumb coat the cake and place in the fridge for at least 15 minutes.
Meanwhile, remove 2/3 cup of the buttercream and add a drop of red food coloring and 2 tablespoons of maraschino cherry juice; stir well to combine.
Remove the cake from the fridge and finish frosting the top and 3/4 of the sides with plain buttercream, leaving the bottom 1/4 with just a crumb coat (reserve the rest of the plain buttercream)
Place the cake in the fridge for at least 15 minutes.
Meanwhile, make the ganache: place chopped chocolate and cream in a small bowl and microwave on medium power for 30 seconds-1 minute until the chocolate is 2/3 melted.
Whisk vigorously until the ganache has come together and is shiny and smooth.
Set aside to cool slightly.
Take the cake out of the fridge and add the cherry buttercream to the bottom 1/4, spreading it up to create a slight ombre effect.
Apply sprinkles to the bottom of the cake, as desired.
Refrigerate for 5 more minutes.
Carefully pour a little of the chocolate ganache around the rim to create drips.
Refrigerate for 5 more minutes.
Fill a piping bag with the reserved plain buttercream and pipe small swirls on top of the cake; place a maraschino cherry on top of each swirl.