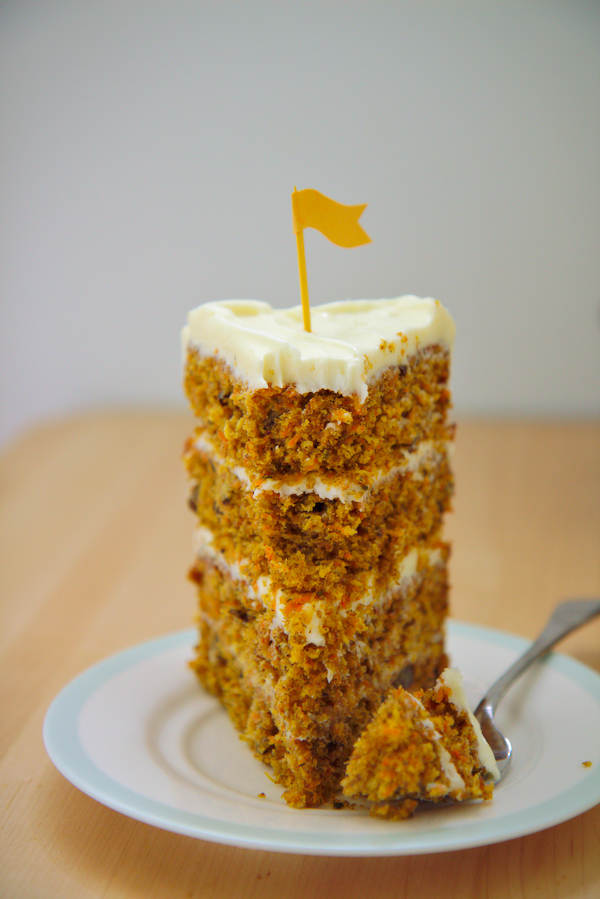 Raise your hand if you've ever felt personally victimized by carrot cake.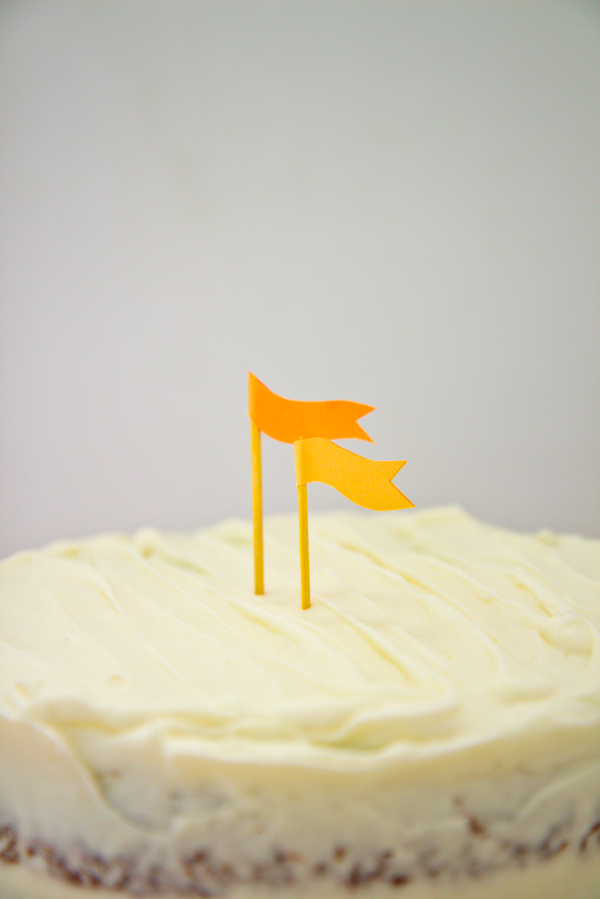 Carrot cakes are (generally) overly sweet and fatty.
Cloying sugar covers up the rich earthy undertones of the carrots.
Oil is added until the batter is slick and shiny, and when baked, greasy.
On top of this, a thick, sugared crust of cream cheese frosting, which is literally just fat and pounds of icing sugar.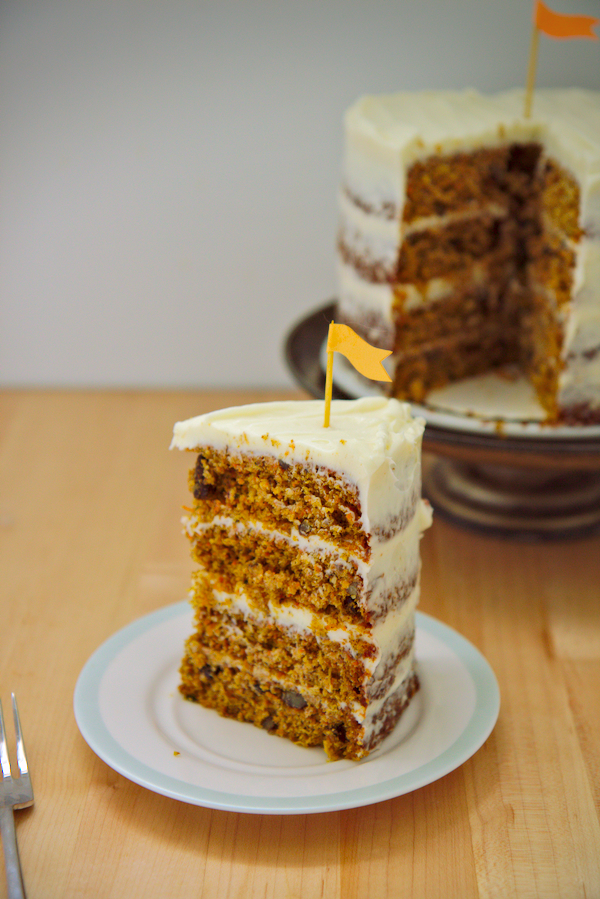 Too much sugar and too much fat—not that anyone is really under the impression that traditional carrot cake is intended to be healthy, but there is such a thing as too much of a yummy thing.
Carrot cakes have all the potential in the world, and too often they fall painfully short of delicious.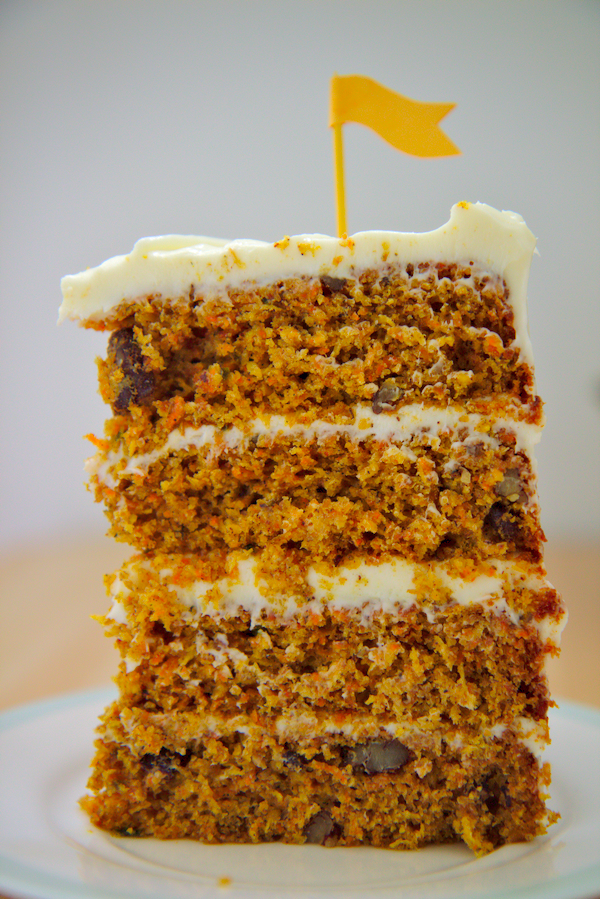 Carrots, after sugar beets, have the most natural sugar of any vegetable.  As root vegetables, this sweetness is accompanied by a rich, round earthiness and, when cooked, a pleasant chewiness.
A whole pound of them form the base of this cake, shredded into tiny threads that all but disappear, leaving a moist, coarse crumb.
Carrots are accompanied by nutty rye flour, sweet, buttery pecans, round coconut oil and peppery olive oil, and shredded coconut that melts into the finished cake.
I reduced the sugar and oil in this recipe, replacing the standard canola oil with olive and coconut and taking the sugar down by 1/4.
Both are supplanted by a mashed up banana, which gives body and sweetness in a more wholesome way.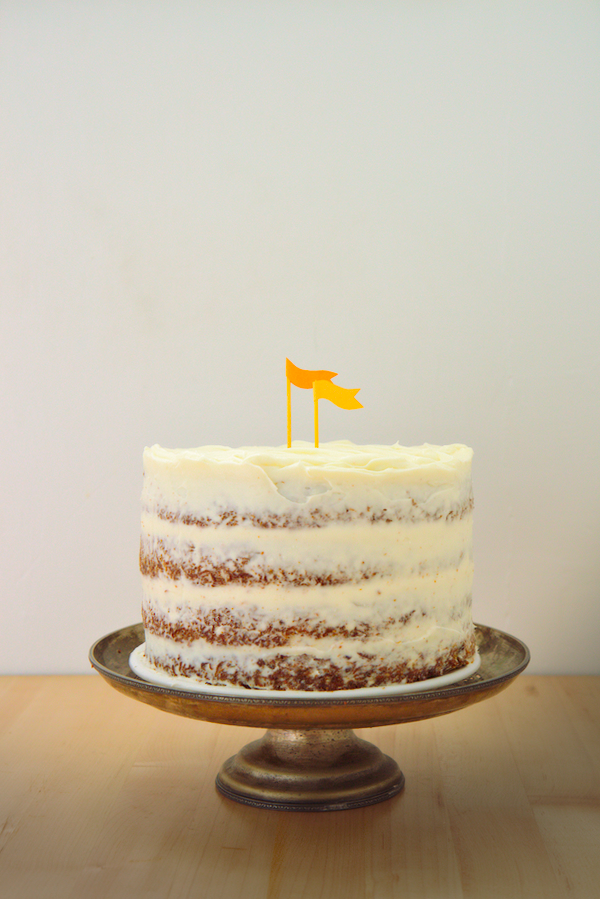 This adds up to a carrot cake full of textures and flavors, without the slick of oil and heaps of sugar.
It's carrot cake, but better.
It's a touch more healthy, but that's not the point—the point is to make this cake more respectable, more complex.
Take back carrot cake, people.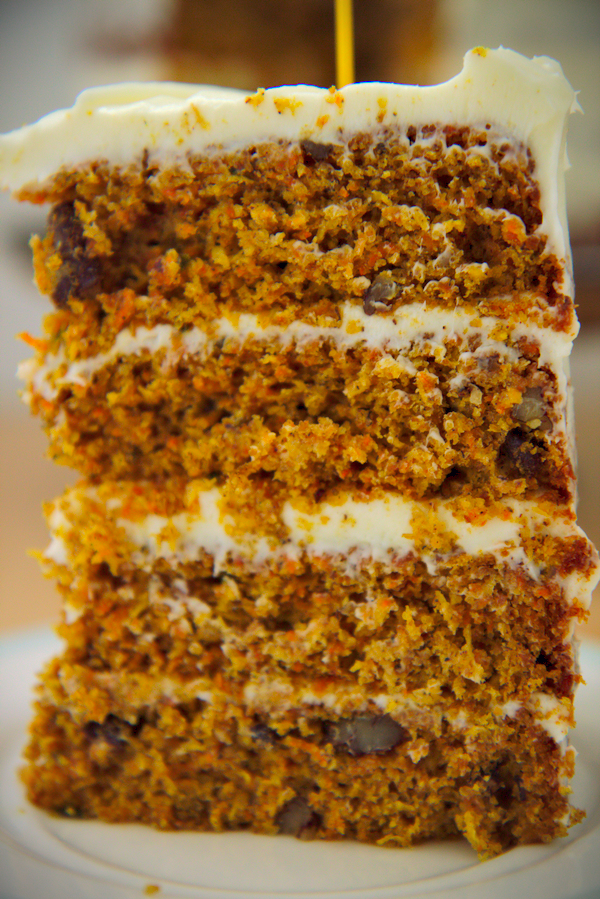 After reducing the amount of sugar and fat in the cake itself, I made a batch of cream cheese frosting that was on the smaller side, and much less sweet than the standard.
In order to be able to not add 1 1/4 POUNDS of powdered sugar to the frosting, I add in powdered milk, which adds body and extra flavor without the cloying sweetness.
This gets spread in a thin layer all over the cake, making it look a little naked but still pretty, IMHO.  Most of the frosting is saved for the top, and it doesn't crust over with sugar, but remains creamy.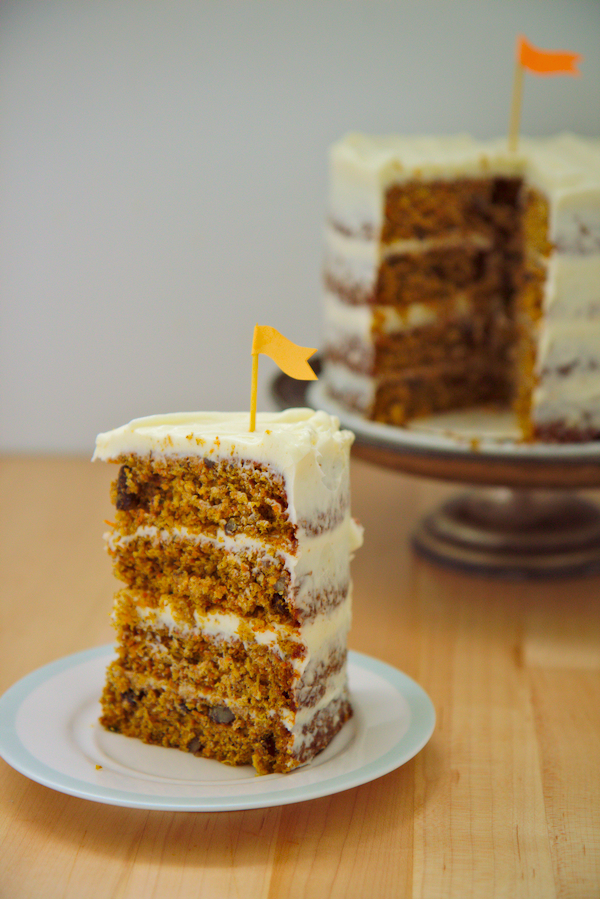 Words have escaped me when I sit down to write, lately.
I don't have much to complain about say.
I suppose I don't feel much inspired by my life of late—not that it's boring, but it is rather relaxed and quiet—and it leads me to be quite quiet on the blog.
I realize that many of you don't come for the words, so I am deciding that whether they flow or not, I shall share the recipes and photos that I have in my (long) backlog.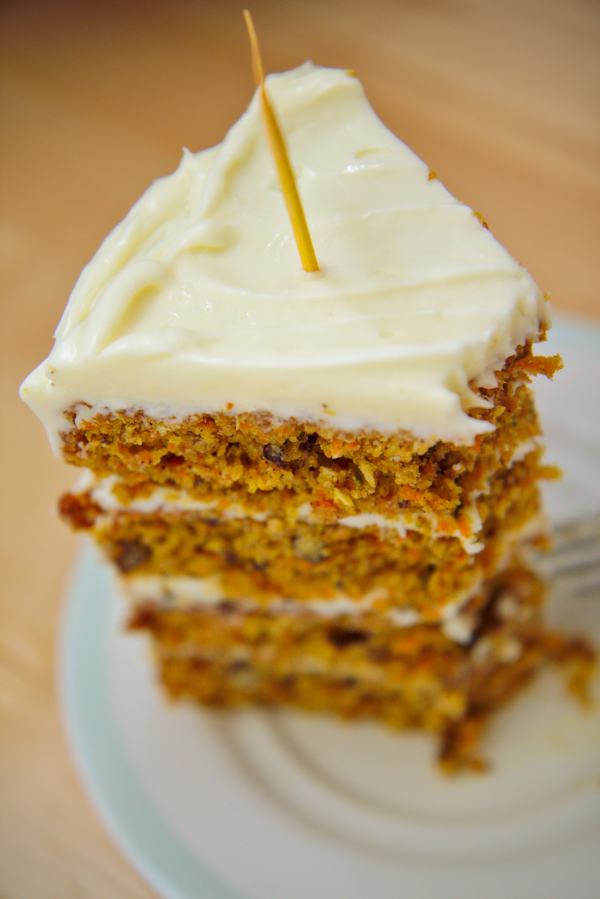 Maybe my next post will have more words.  Maybe not.
xx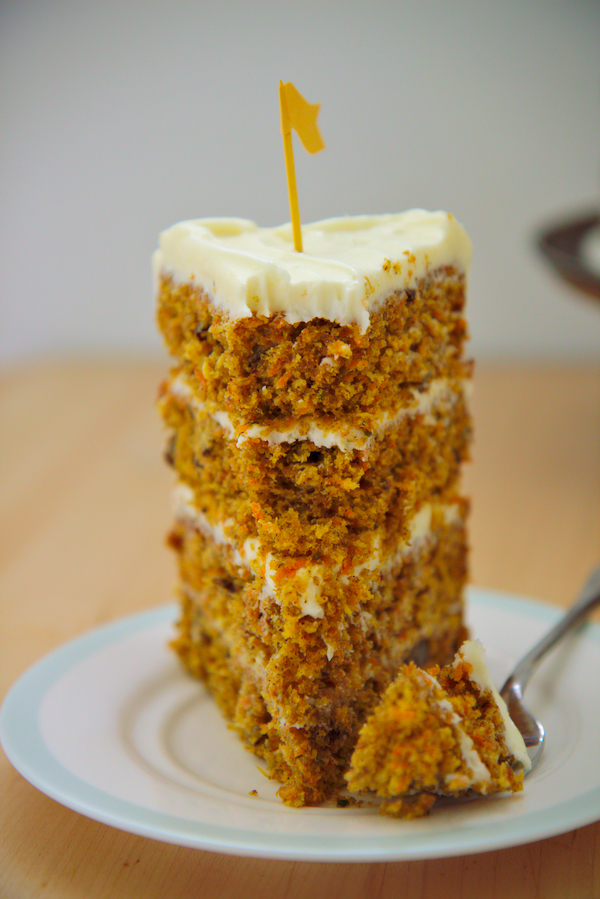 Rye Carrot Cake
adapted from Dorie Greenspan
makes 1 4×8 or 3×9 inch layer cake
ingredients:
for the cake:
1 cup all-purpose flour
1 cup rye flour
2 teaspoons baking powder
2 teaspoons baking soda
1 scant pound carrots
1 cup chopped pecans
1 cup desiccated coconut (sub shredded coconut)
1/2 cup raisins (optional)
1 1/2 cups sugar
1 teaspoon kosher salt
1/4 cup plus 2 tablespoons olive oil
1/4 cup coconut oil
1 medium banana, mashed
4 large eggs
2 tablespoons maple syrup
for the cream cheese frosting:
12 ounces (1 1/2 packages) cream cheese, softened
6 ounces (1 1/2 sticks, 12 tablespoons) butter, softened
pinch kosher salt
1 cup dry milk powder
1 1/2-2 cups confectioner's sugar
directions:
Make the cake: preheat oven to 350 degrees F and grease and flour 4 8-inch round baking pans.
Stir flours, baking powder and baking soda together.
In a food processor with the finest shredder attachment disk or with a cheese grater, shred the carrots as finely as you can; set aside.
Whisk sugar, salt, oils, and banana together very briskly, until completely combined and smooth.
Beat in each of the eggs and the maple syrup; whisk until completely smooth.
Add in the dry ingredients and carrots and stir to combine; when almost combined, add in the pecans, coconut, and raisins.
Scoop even amounts of the batter into the pans and smooth out with a spatula or butter knife.
Bake for 40-45 minutes, until a tester comes out clean and the tops of the cakes are springy to the touch.
Remove from oven and allow to cool for 10 minutes; turn out of pans and allow to cool completely.
Make the frosting: beat butter on high speed until softened and almost white, about 5 minutes.
Add in the cream cheese and salt and beat for 3 more minutes, until completely homogeneous.
Sift the powdered milk and powdered sugar over the mixture in 4 parts, beating on high speed for 1 minute between each addition.
Scrape the sides of the bowl and beat for another minute; taste for sweetness.
To assemble the cake, spread 1/3 cup frosting between each layer and thinly frost the sides; use the remaining frosting to coat the top in a thick layer.
Serve at room temperature.