misty blue + white rose too.
eleven moons above me and you.
golden rose color of the dream I had, this timeless day,
you stole my heart away.
—from a tatine tisane candle wrapper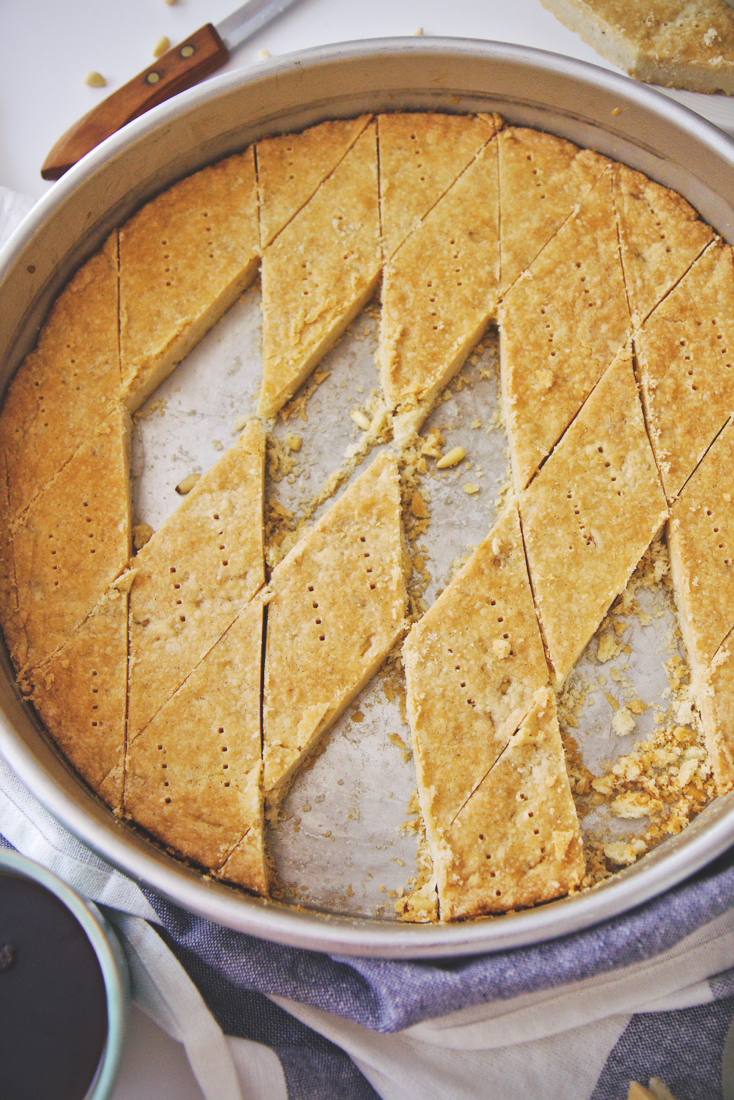 My new room is filled with candles.
The gleaming gold bookshelf is teeming with flickering flames,
dispersing their sweet burnt smell and comforting yellow light.
This house is starting to feel like home; there are paintings on the walls and placemats on the dining room table; china in the built-in, keys hanging on hooks, and clothes in closets.
There's Latin translations and Foucault readings and all manners of chemistry problems strewn about our study area.
The sound of keys tapping and voices mingling fills our apartment at night, as we share bowls of popcorn and commiserate about the trials of second year at UChicago.
Has it really only been a week of classes?
Lord almighty.
It feels like it's been forever and yet, paradoxically, it feels like it's been 2 seconds.
How how how how how.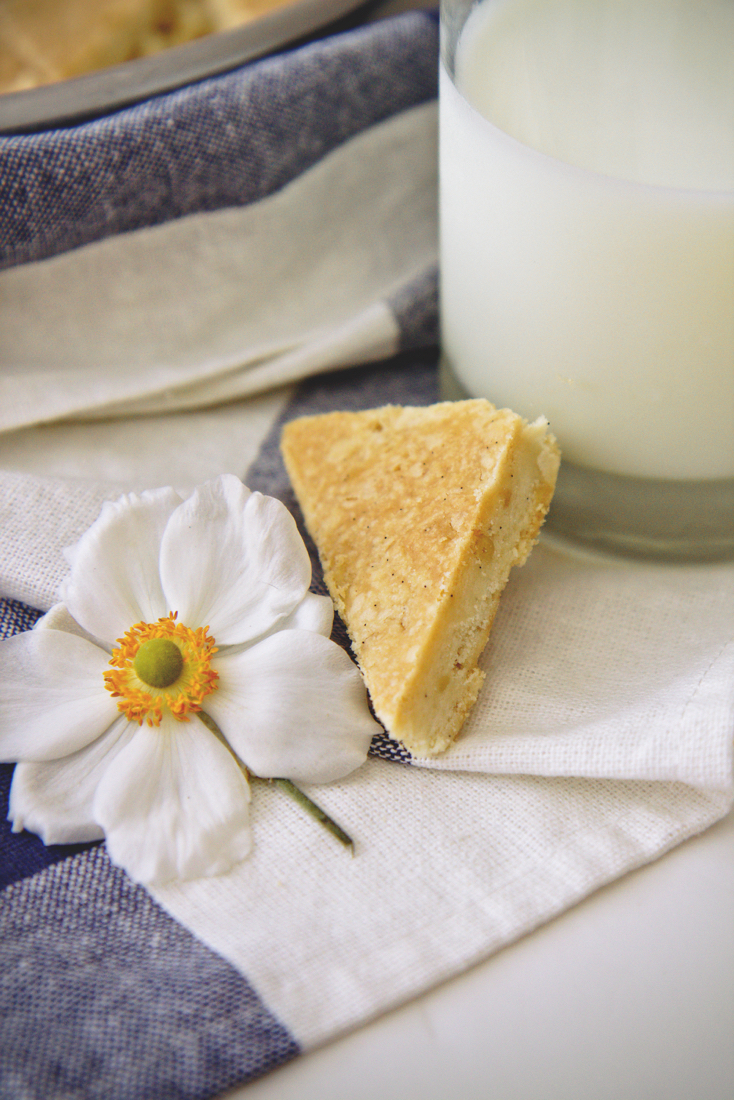 This is the first thing I baked in my apartment.
As soon as we had gas, I was lighting that baby up to bake some shortbread. I had been dreaming of it.
(Our oven doesn't have numbers on the dial, doesn't indicate when it's heated, and is generally a scary health hazard. Oh well.)
We brought some of this shortbread to our upstairs neighbor-friends as a reverse housewarming gift.
Easy way to make friends: bring cookies.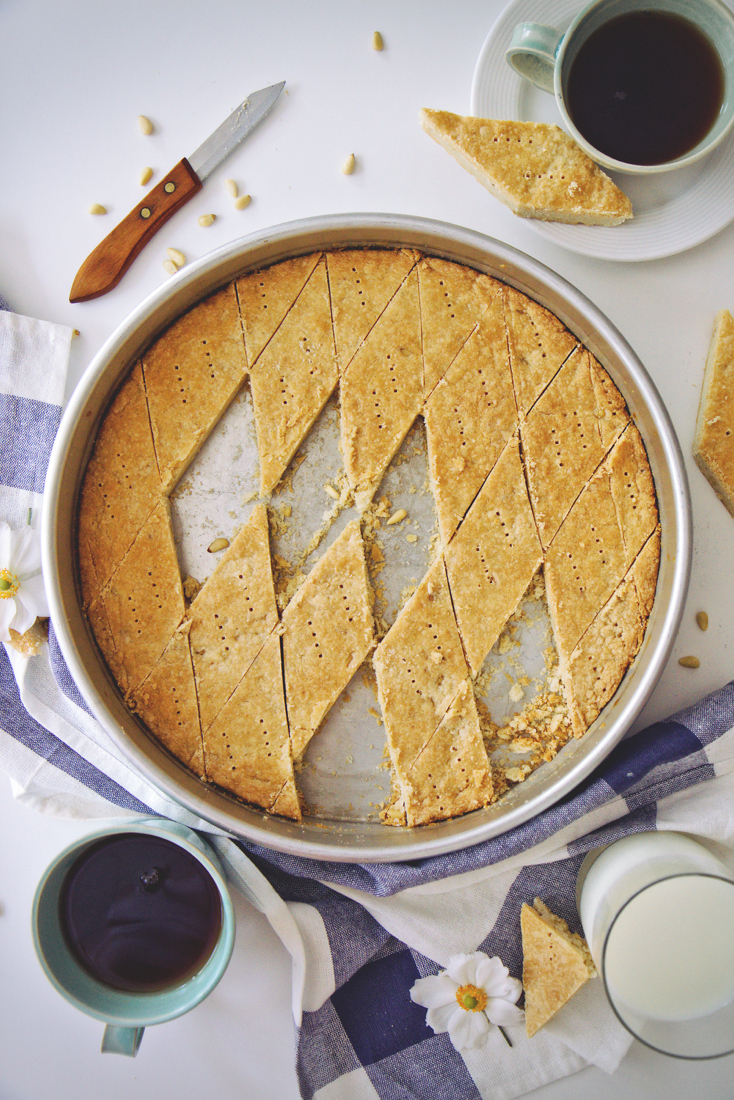 This shortbread is so good, it was gone in a day.
Slightly crumbly, melt-in-your-mouth buttery, faintly sweet with a hit of flaky sea salt.  Savory, smoky pine nuts accentuate the richness of the butter, and a whole vanilla bean adds the sweetest perfume to the cookies.
They're addicting, to say the least.
The recipe produces something quite similar in texture to Walker's, but with a more complex flavor profile.
You must serve it with hot tea with cream, and definitely share it with new (and old) friends.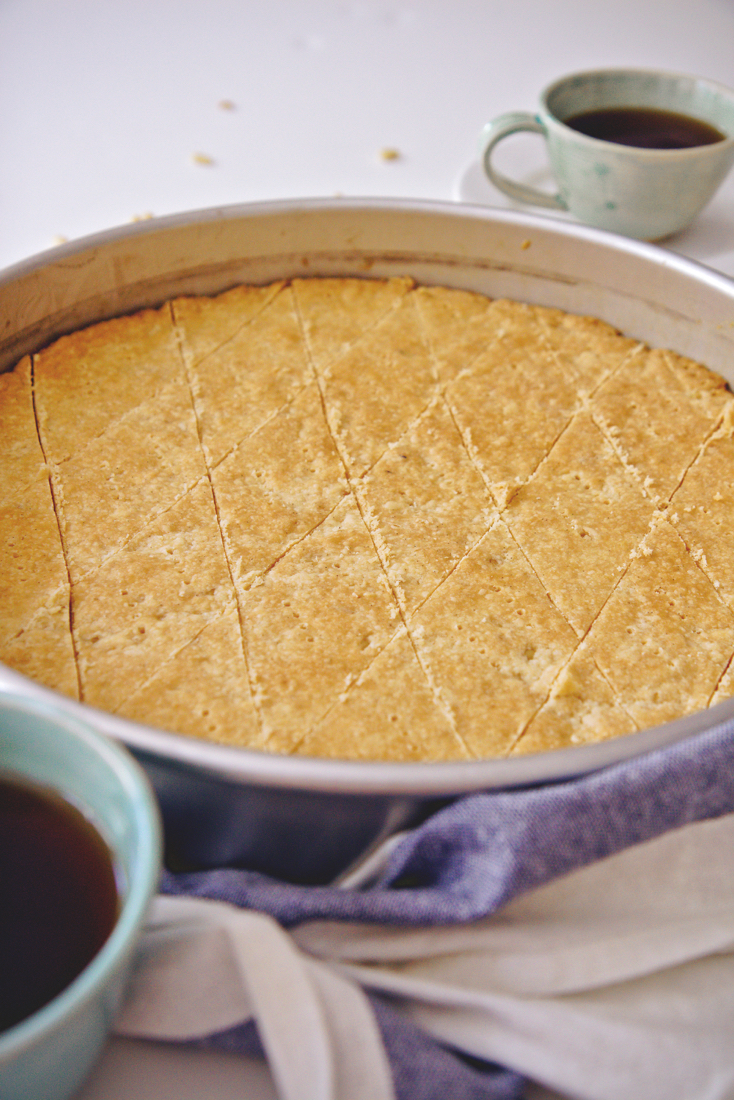 Pine Nut and Vanilla Bean Shortbread
makes 1 12-inch round, or 2 thicker 6- or 8-inch rounds
ingredients:
1 1/2 cups (3 sticks) unsalted butter
scrapings of a vanilla bean
heaping 1 1/2 teaspoons flaky sea salt, or a slightly heaped teaspoon of kosher salt
1 cup plus 2 tablespoons confectioner's sugar
1/4 cup cornstarch
2 3/4 cups all purpose flour
1/3 cup pine nuts, roughly chopped
directions:
Grease and flour a 12-inch round pan.
Place butter in the bowl of a stand mixer fitted with the paddle attachment.
Beat on high speed for 3 minutes, until fluffy and light.
Add in the slat and vanilla bean and beat for 2 more minutes to further aerate it.
Scrape the bowl and add in the confectioner's sugar and cornstarch.
Stir on low speed until combined.
Scrape the bowl and add in the flour; again, stir on low speed until fully combined.
Add in the chopped pine nuts.
Scrape the dough into the prepared pan and gently press it into an even layer (dough will be slightly sticky and very soft).
Place in the fridge to chill for at least 1 hour and up to 1 night.
Preheat oven to 350 degrees F.
Score chilled dough and prick all over with a fork.
Bake for 50 minutes-1 hour, until toasted and fragrant and a toothpick comes out clean.
Remove from oven and rescore lines with a sharp knife.
Allow to cool, then remove from the pan with a very sharp knife and a cake server (some will inevitably crumble).
Serve with cream tea.