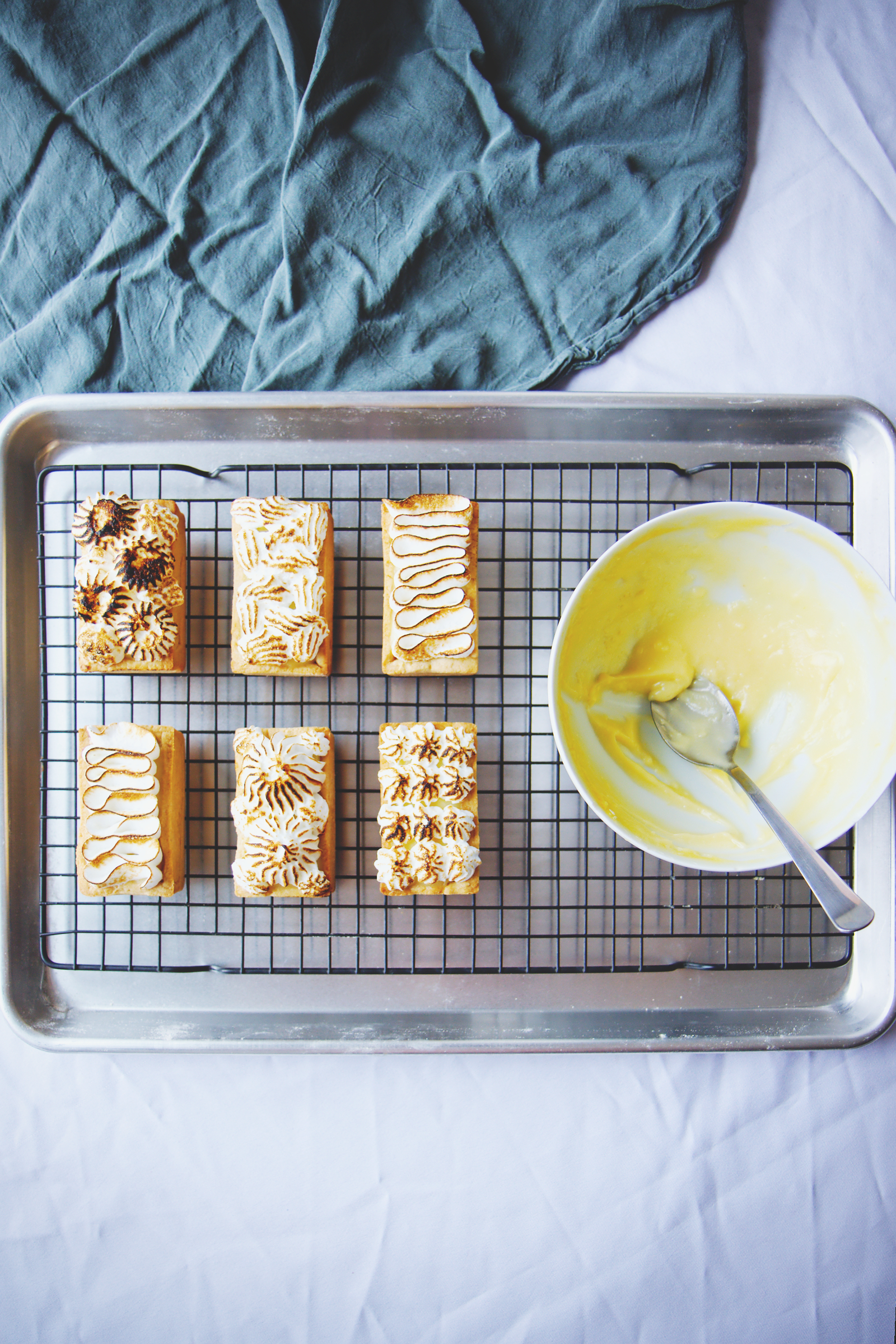 The butterfly counts not months but moments and has time enough.
—Rabindranath Tagore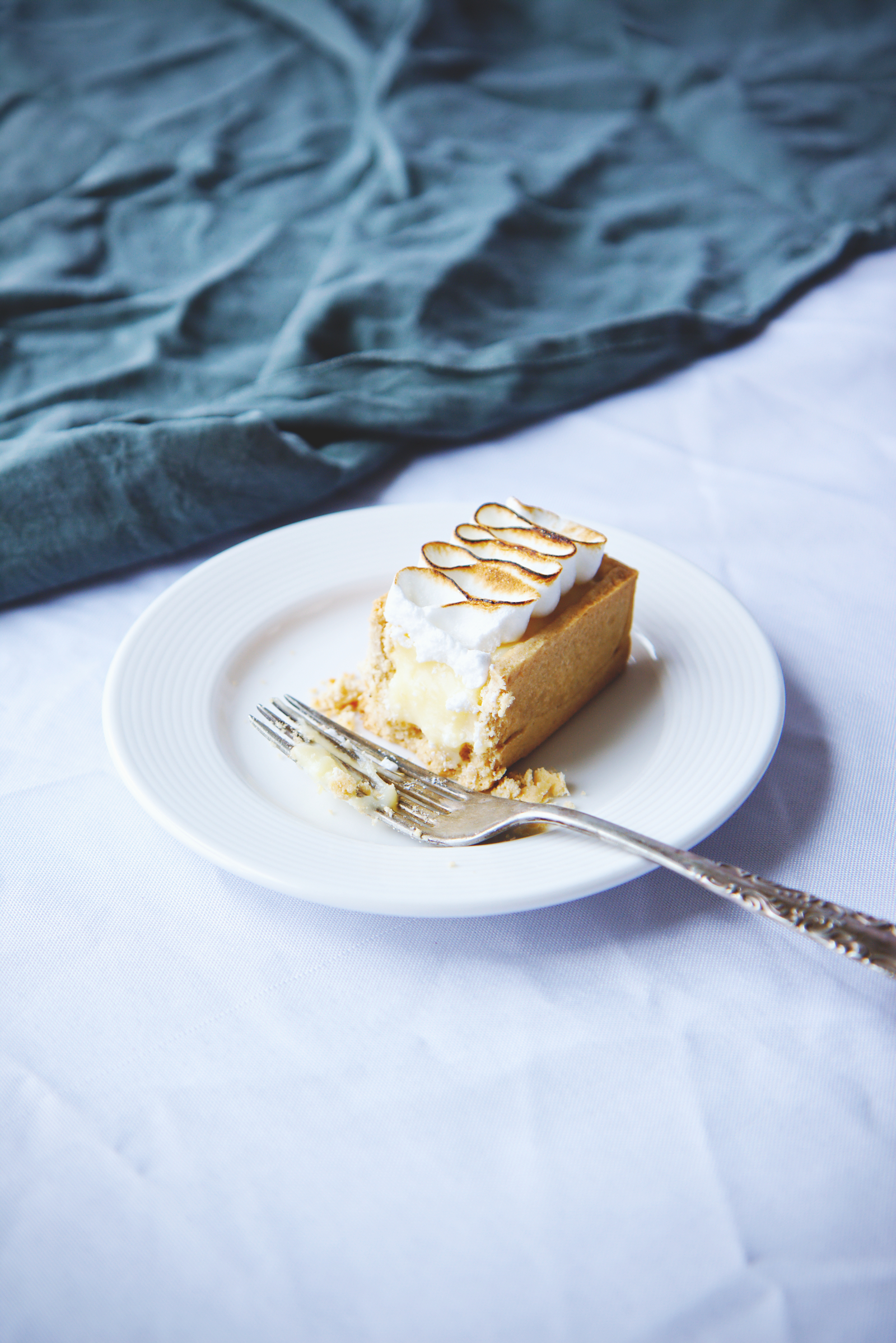 Happy New Year my friends!
I am as belated as anyone could expect (1/24 of the year is already gone) of my sporadic blogging schedule.
Nevertheless, I hope your year has started out brilliantly and smoothly. And I hope whatever resolutions you resolved have been a fulfilling part of the beginning of 2017. May they become habits and continue for the long run!
I have been studying non-stop for my MCAT, which will be mercifully finished in exactly 4 days/96 hours… Annnndd cue the oh-my-god-that-is-terrifyingly-soon panic attack.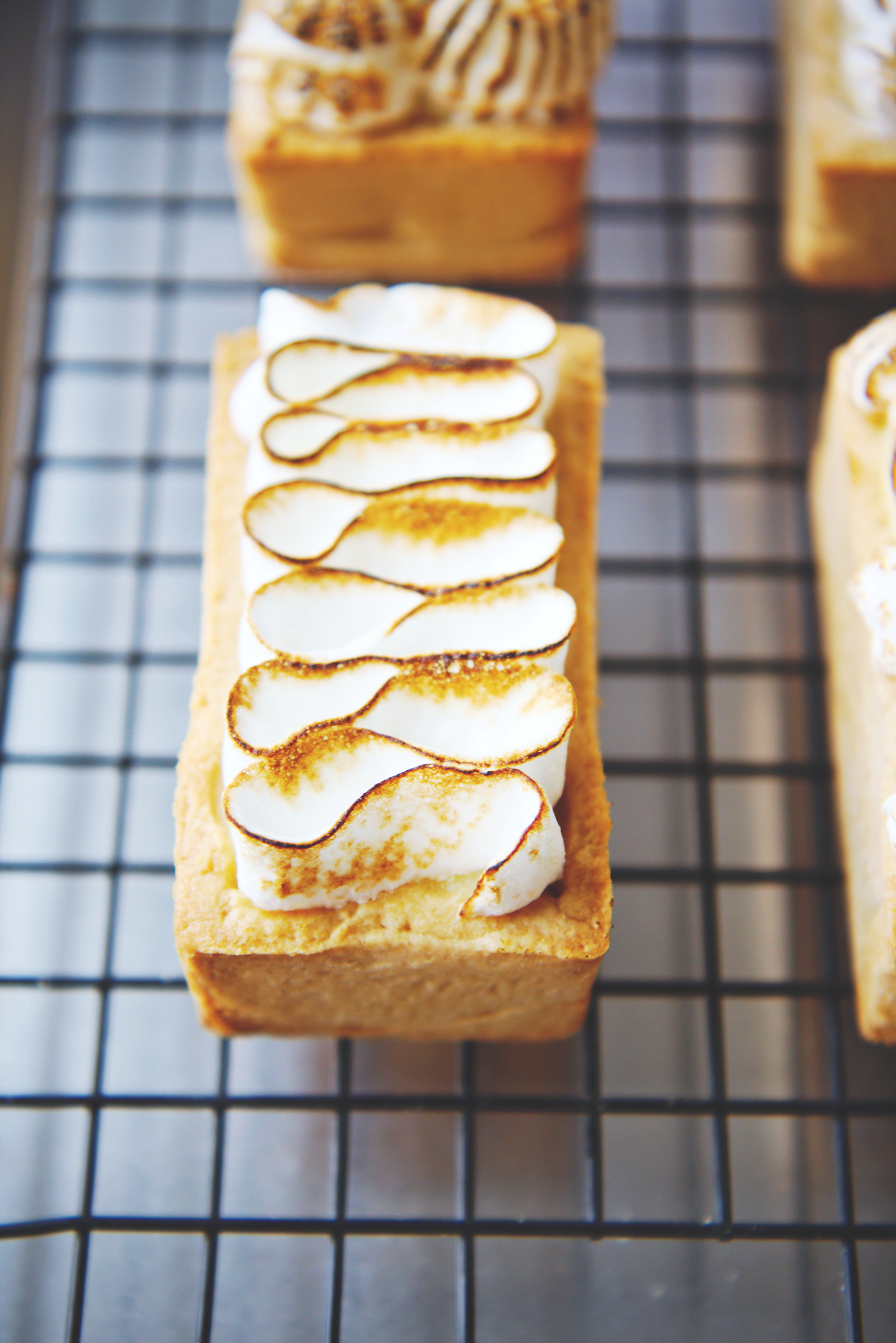 Anyways, I haven't done much of anything fun or new in 2017. I've been getting back into a regular gym/lifting routine after doing yoga for all of December, and that feels damn good.
(On that note, anyone have any really good music they've been grooving to at the gym? I need to update my playlist ASAP.)
I want to clean out my closet (especially since I'm leaving it in just a few short months, ACK!) and give my room a deep clean, but right now I'm barely getting laundry done, let alone dusting and wiping and organizing.
I guess my fresh start will come more towards February! Or March! Or… It can always be Spring Cleaning.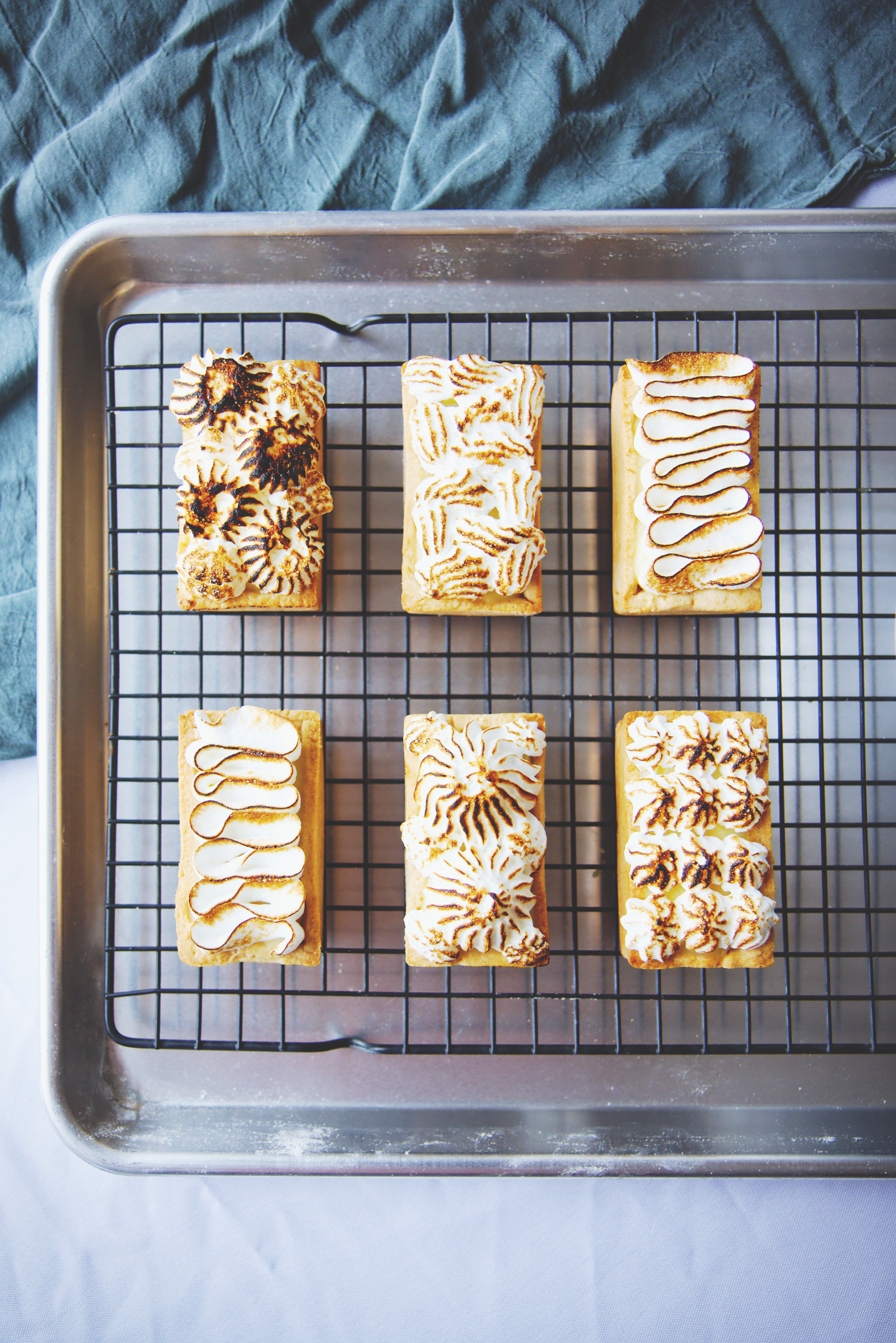 Starting off the blank slate of this year with something light and lemony feels right.
Three years ago (HOW) I made this pavlova with Greek yogurt, thyme, and berries for the same reason.
These cute little tarts are made of a buttery, whole wheat shortbread base (the WW actually adds a nice hint of nuttiness), filled with simple, creamy lemon curt, and topped off with some sweet, toasted (~er… burnt) meringue.
I love the shape of the rectangle tarts—I used a silicon mold—but you could definitely make this in an 8-inch pan.
It's a quick recipe that's sure to impress, and perfect for a lighter January treat!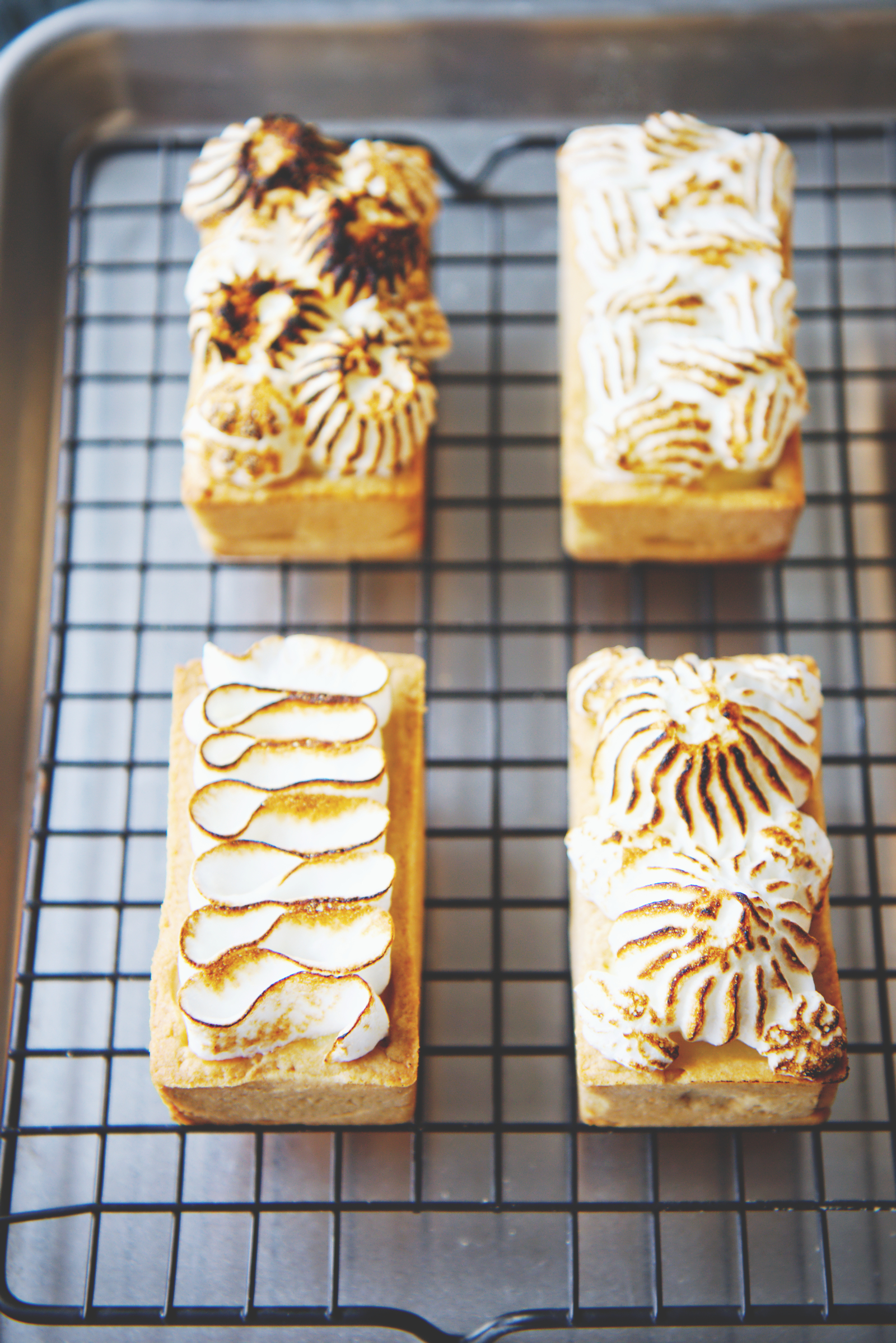 Back soon with cake! And Valentine's treats, hopefully. x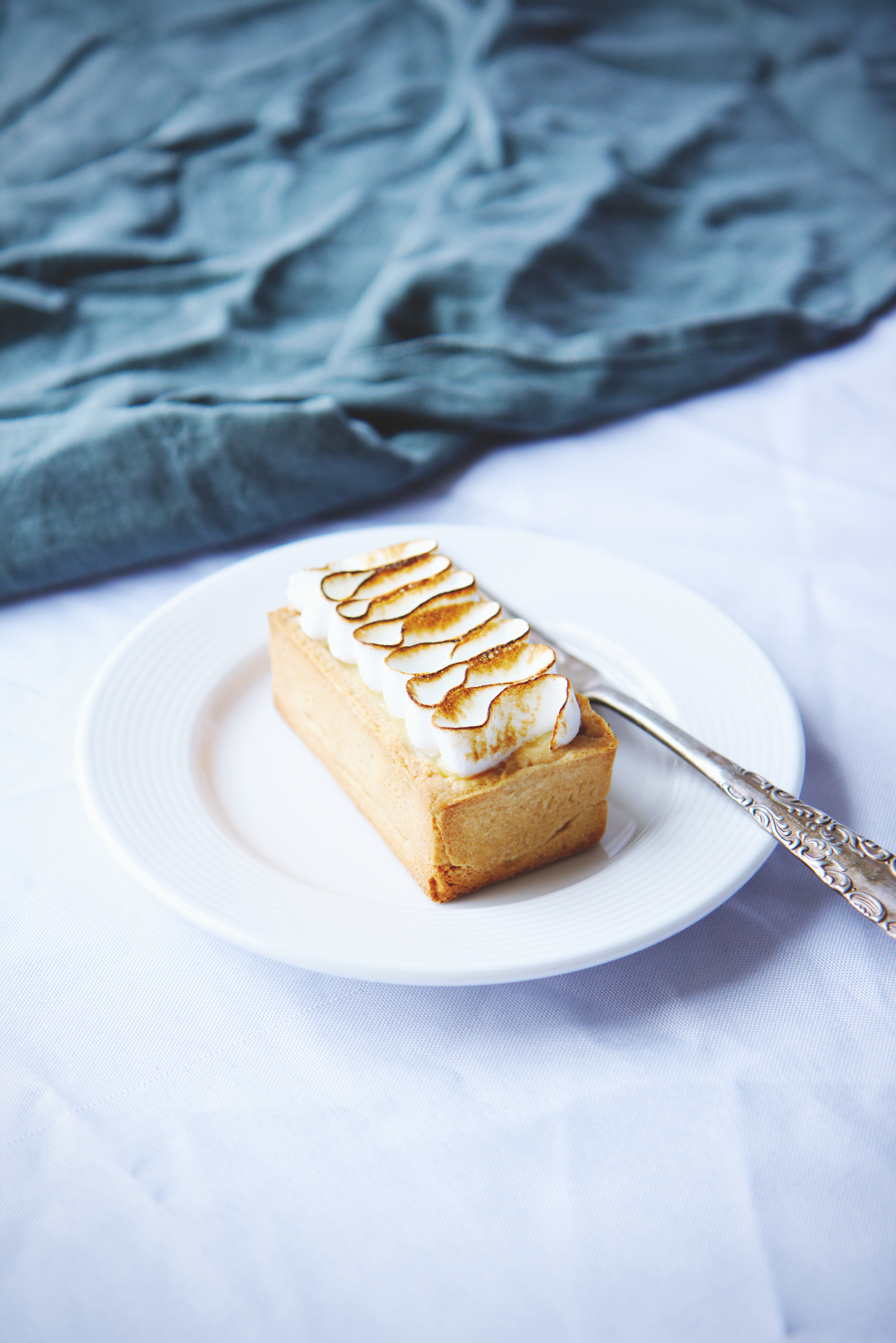 Whole Wheat Lemon Meringue Tarts
makes 8 small tarts or 1 8-inch tart
for the crust:
240 grams (2 cups) AP flour
120 grams (1 cup) white whole wheat flour
225 grams (2 sticks) unsalted butter
200 grams (1 cup) sugar
1 egg
1 1/2 teaspoons kosher salt
2 teaspoons vanilla extract
for the lemon curd:
3 medium egg yolks (or 2 extra-large)
240 grams (1 cups) water
100 grams (1/2 cup) sugar
28 grams (1/4 cup) cornstarch
27 grams (1/8 cup, 2 tablespoons) butter
zest of 1 lemons
juice of 1 1/2 lemons (approximately 1/4 cup)
1/2 teaspoon vanilla extract
for the meringue:
2 egg whites
100 grams (1/2 cup) sugar
45 grams (3 tablespoons) water
directions:
Make the crust: place butter, sugar, eggs, salt, and vanilla into the bowl of a stand mixer and beat on high speed for 5-6 full minutes, or until completely homogeneous, fluffy, light in color, and doubled in volume.
Stir in the flours until dough comes together; roll out to 1/4 inch thickness and line tart pans/pan of choice.
Prick all over and then freeze for at least 15 minutes.
Preheat oven to 350 degrees F; bake tart shells lined with foil and weighted with pie weights, dry rice, or beans for 8-12 minutes, depending on size and thickness of crust.
Crust should be dry to the touch, golden, and fragrant when done.
Meanwhile, make the lemon curd: place water in a pot over high heat; bring to a boil.
Stir in the cornstarch and sugar and bring back to a boil while stirring constantly; mixture will be quite thick and opaque.
Remove mixture from heat and, whisking vigorously, add the egg yolks.
Return to heat and bring back to a boil while whisking the entire time.
Remove from the heat and stir in the butter; whisk until an emulsion forms.
Add in the lemon zest, juice, and vanilla and whisk until incorporated.
Allow to cool completely, pressing plastic wrap over the top to prevent a skin from forming.
Fill cooled tart shells with chilled lemon curd.
Make the meringue: place egg whites in the bowl of a stand mixer.
Add the vinegar and start to whip.
Stir the sugar, cornstarch, and salt together.
As the egg whites become frothy, add the sugar mixture in tablespoons, until the meringue is glossy and shiny and all of the sugar is incorporated.
Using a piping bag fitted with a French or star tip, pipe the meringue onto the tarts, then torch if desired.