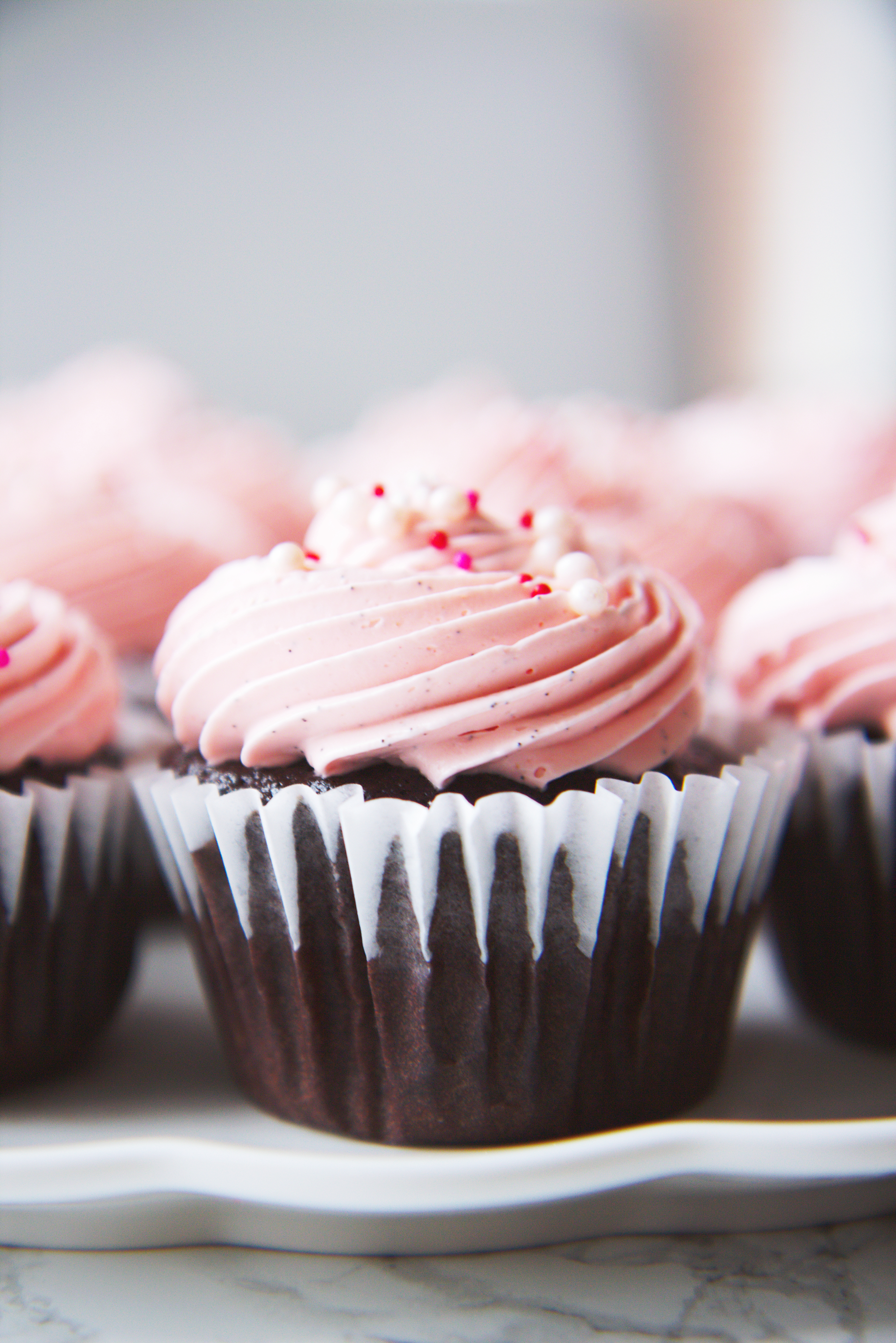 My blood is a rushing river.
My heart is a burning bridge.
—Pavana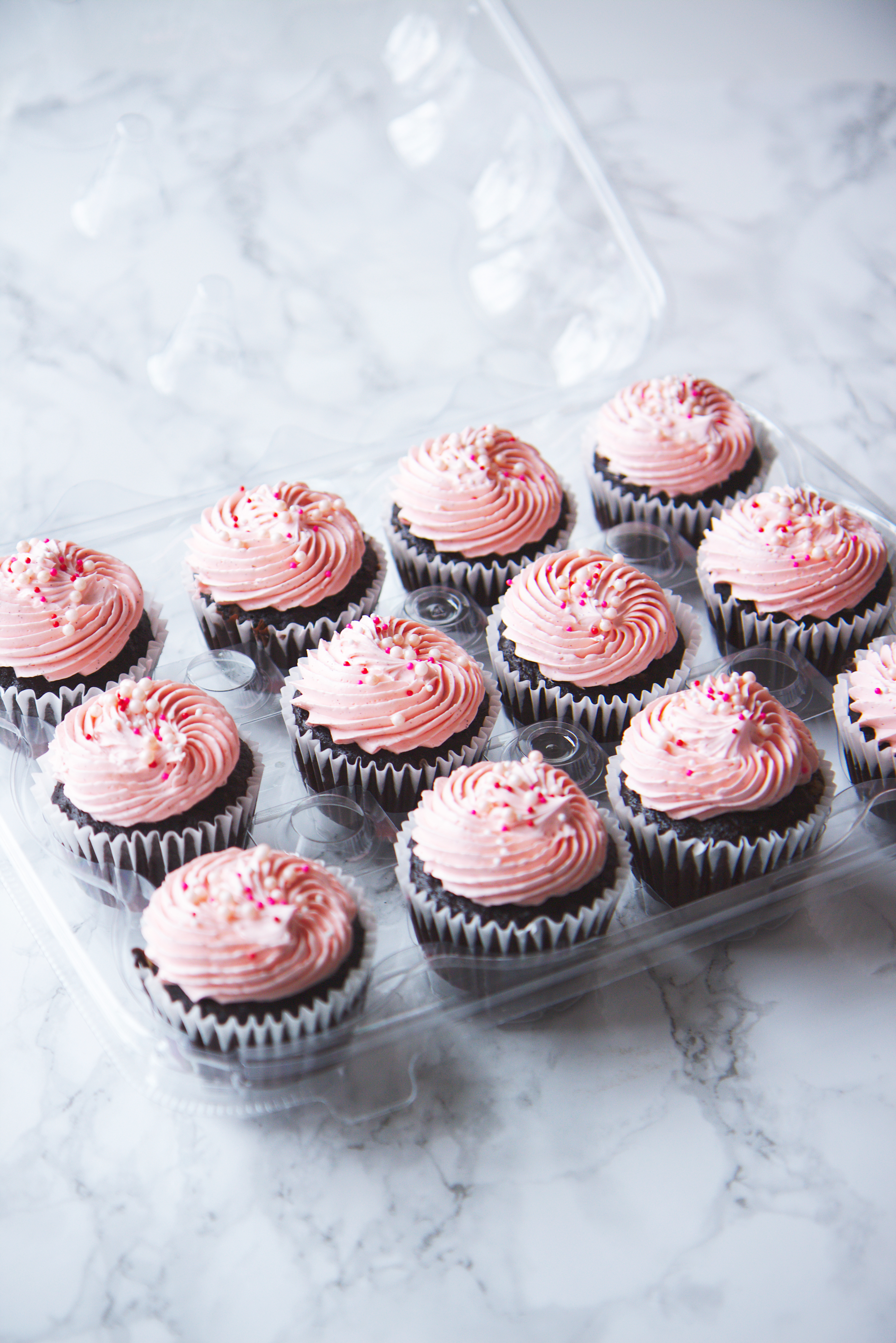 February, how did you come so quickly?
And how is it so warm? It is freaking everyone out. I don't want to enjoy too much, given that we're supposedly guaranteed another six weeks of winter (although we haven't truly had any winter here in the Windy City).
Today, it's 50 degrees and raining, and all I wanted this grey morning, what with the soft patter of rain on my windows, was the pull the covers back over my head and sleep for the entire day.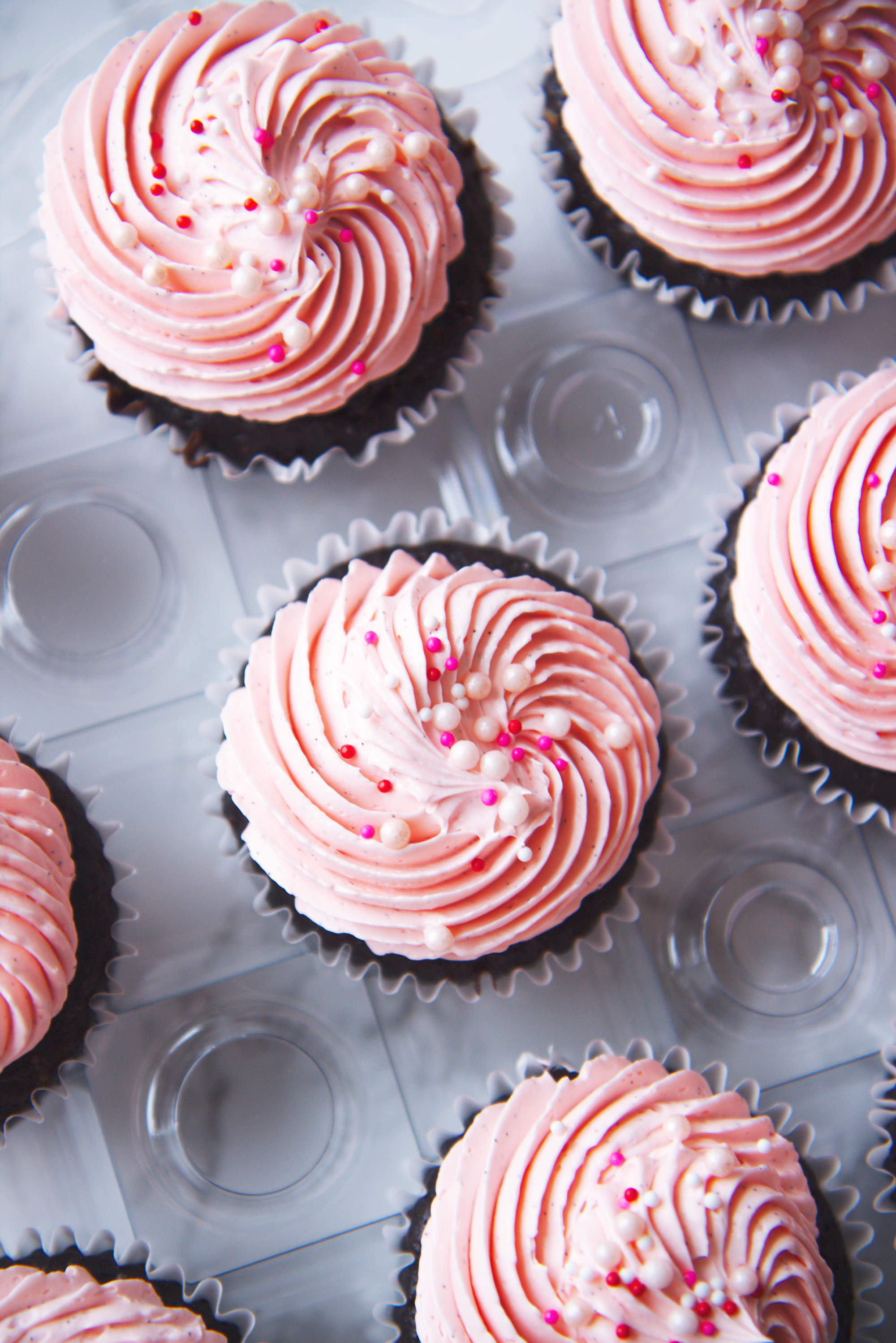 I am going to keep is short here, today.
My theme of the month is humble and grateful love.
I want to share it with those who matter the most to me, but also with everyone in the orbit of my life.
We could all do with more widespread love. Share some with your partner, your neighbor, your friends and your frenemies.
Show someone that you are thankful for everything they have given you—their energy, their attention, their love and affection—and give it back in kind.
Put some effort into an unexpected act of kindness. No need to brag or tell anyone about it.
It will make you feel amazing too.
Humble. Grateful. Love.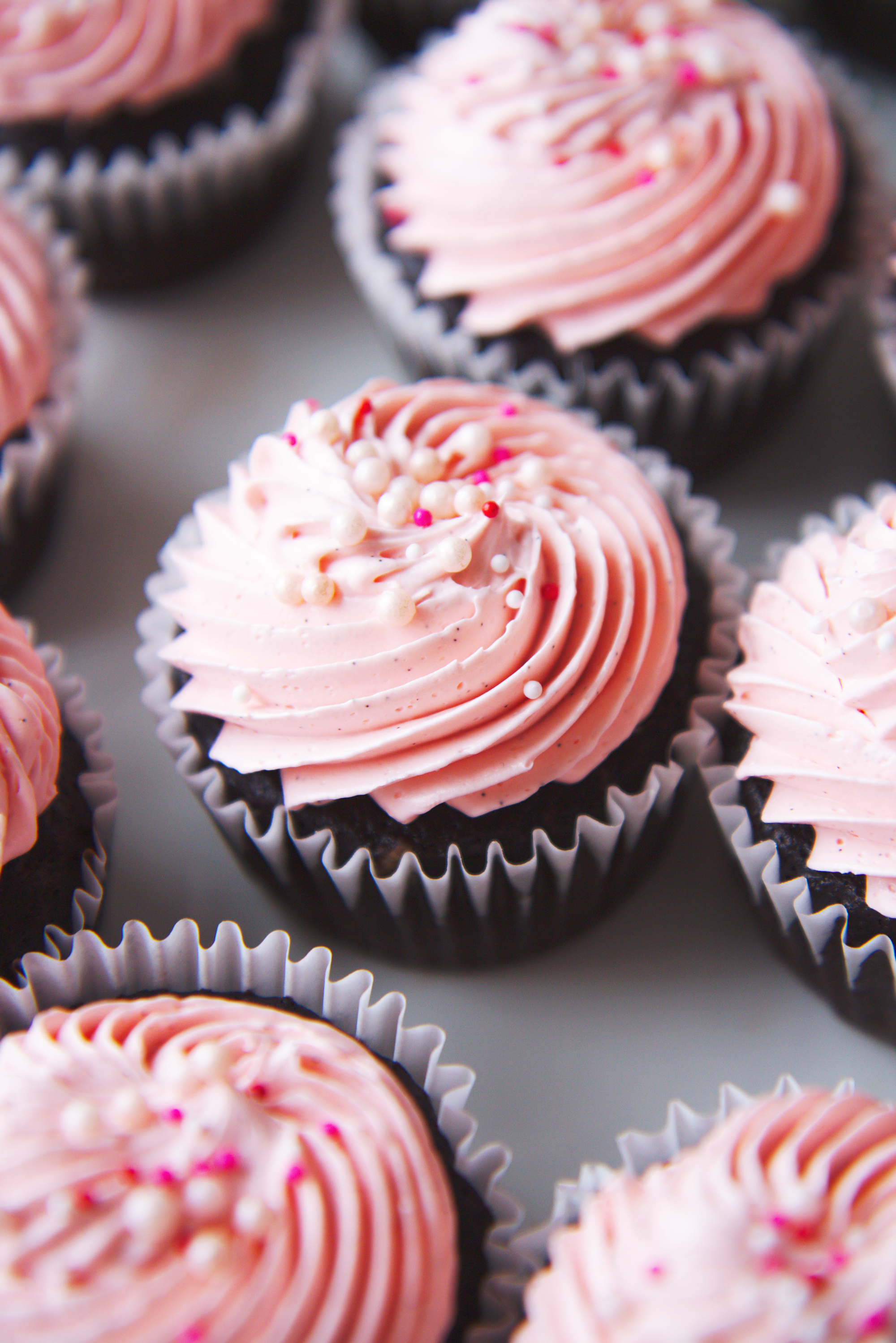 Today's treats are these simple mocha and vanilla bean cupcakes.
They're cheekily festive, with their pastel pink frosting and bright sprinkles on top, but you could leave out the food coloring and come away with a very elegant black and white cupcake.
The base of the cupcakes is my go-to: one bowl, one whisk, comes together in 15 minutes and bakes in just 10. The cake is moist and fluffy, and it is the perfect base for a big swirl of frosting.
The frosting is an Italian meringue buttercream: like a cloud of light, whipped buttery goodness. Its flecked with the seeds of two full vanilla bean pods and a big pinch of salt—dreamy.
These cupcakes are simple but adaptable—swirl different flavors into the frosting to customize it, and top with whatever sprinkles or chopped bits you so desire.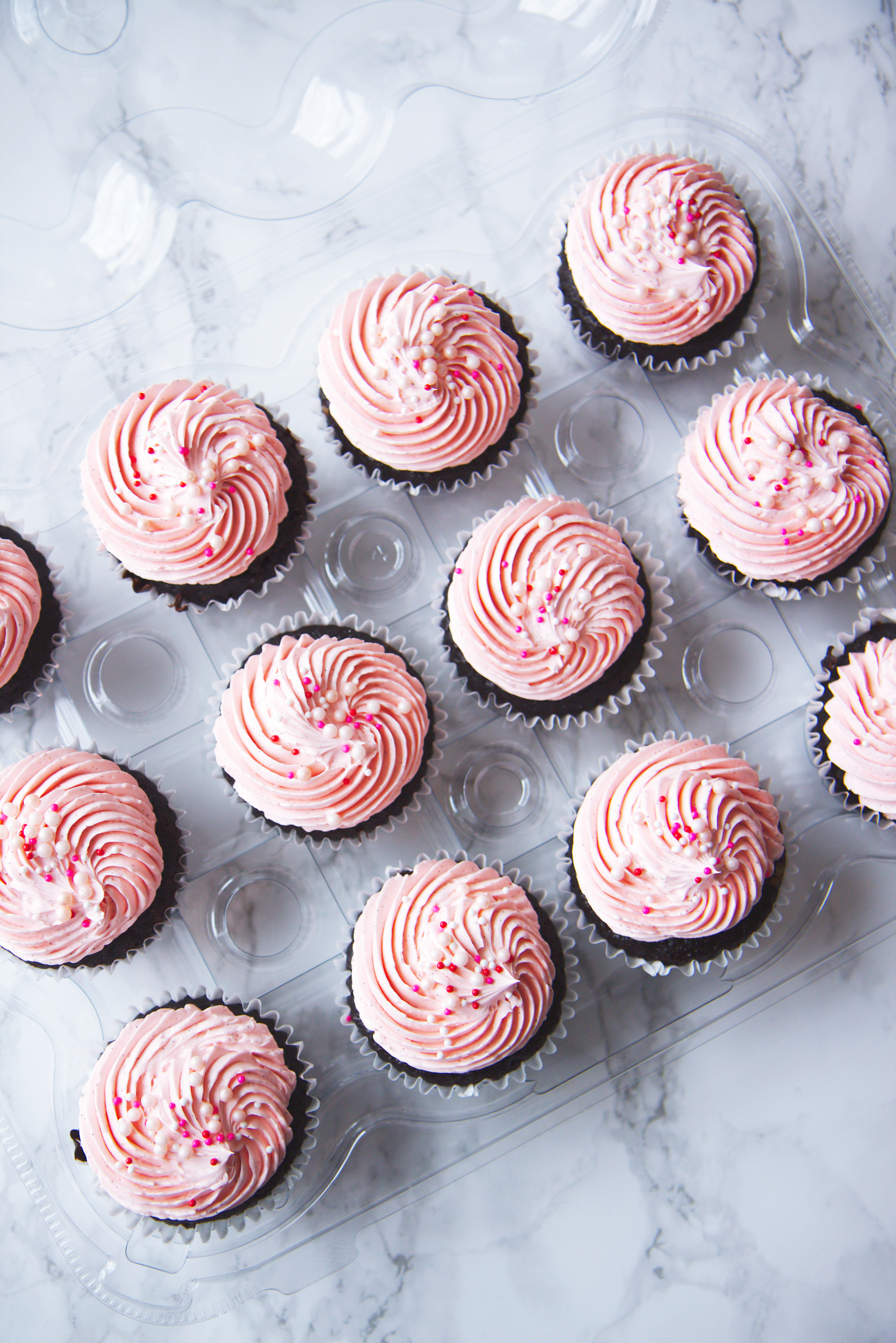 "You have to understand, that no one puts their children in a boat unless the water is safer than the land."
—Warsan Shire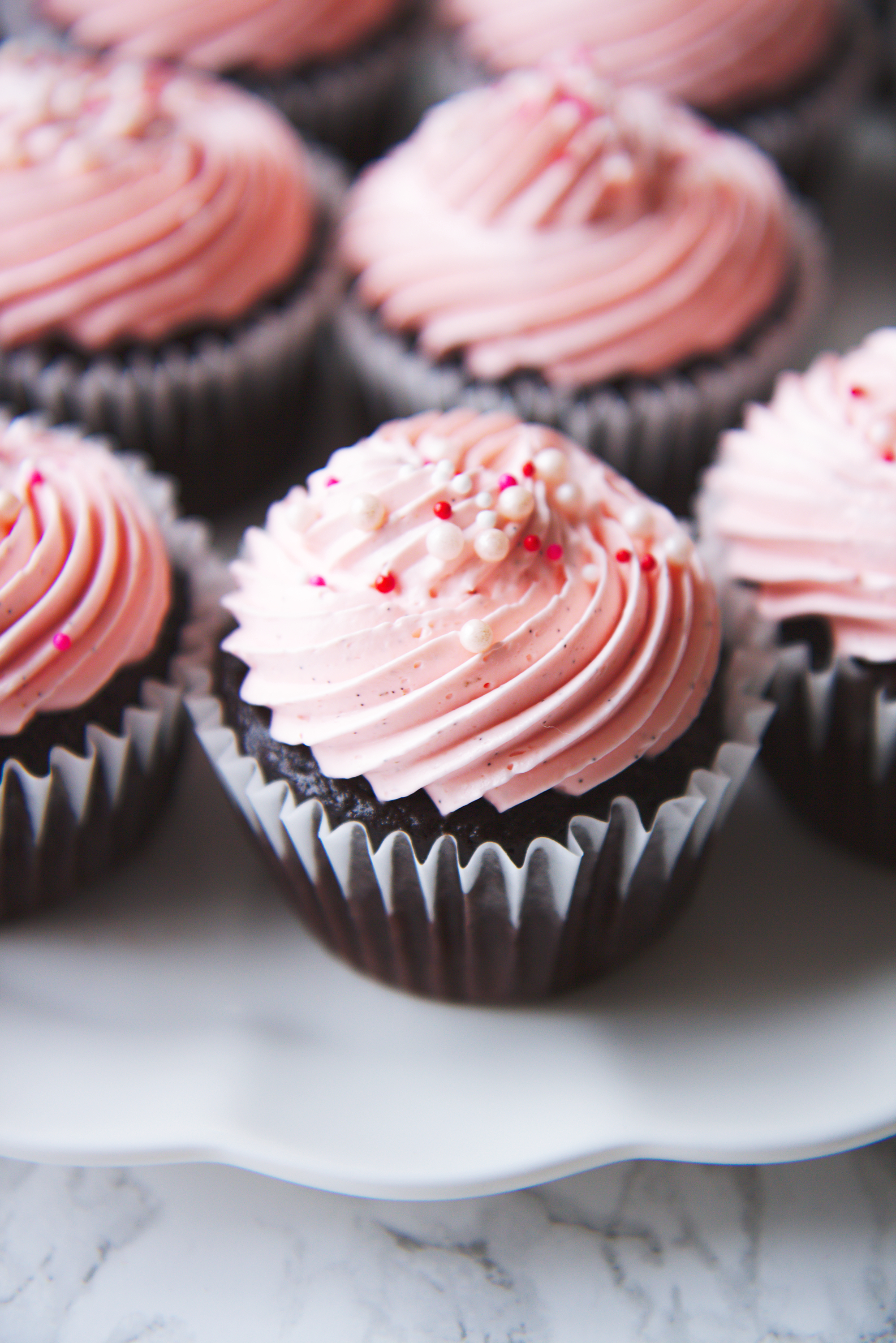 Mocha and Vanilla Bean Cupcakes
cake portion lightly adapted from Sweetapolita
ingredients:
for the cupcakes:
95 grams (3/4 cup) all-purpose flour
150 grams (3/4 cup) superfine sugar
60 grams (1/2 cup) dark Dutch-process cocoa powder
1 teaspoon espresso powder
1 teaspoon baking soda
1/2 teaspoon baking powder
1/2 teaspoon salt
120 grams (1/2 cup) buttermilk, room temperature
80 grams (1/3 cup) coffee, hot
42 grams (3 tablespoons) vegetable oil
1 egg
for the frosting:
3 egg whites
150 grams (3/4 cup) sugar
45 grams (3 tablespoons) water
1/2 teaspoon kosher salt
335 grams (3 sticks, 1 1/2 cups) butter, softened
scrapings of 2 vanilla beans
few drops pink food coloring
directions:
Make the cupcakes: line 1 cupcake tin with liners and preheat oven to 350 degrees F.
Whisk flour, sugar, cocoa powder, espresso powder, baking soda, baking powder, and salt together in a bowl.
Pour in the buttermilk, coffee, and vegetable oil and whisk until half incorporated; add in the egg and whisk until the batter is all combined.
Portion out into the liners (about 1/4-1/3 cup per cupcake), and bake for 10-12 minutes, or until a tester comes out with a few moist crumbs.
Meanwhile, make the frosting: place egg whites in the bowl of a stand mixer.
Place sugar, salt, and water in a small pot.
Begin to heat the sugar mixture on high as you whip the whites on medium speed.
When the syrup reaches 245 degrees F, your egg whites should be at firm soft peaks (almost hard peaks, but not dry).
Drizzle the syrup into the meringue with the mixer running; whip on high until cooled to body temperature.
Beat in butter one or two tablespoons at a time.
Beat buttercream on high speed until thick, glossy, and fluffy, about 4 minutes, then beat in vanilla bean and pink food coloring until tint is as desired.
If buttercream is too soft, refrigerate for 20 minutes.
Decorate cupcakes as desired, and top with sprinkles!